Breakfast is served in under 15 minutes with this delicious (and dairy-free) Blender Lemon Blueberry Pancakes recipe!
Find all our healthy pancake recipes in one place, and bookmark THIS link to reference next time you're in the pancake-making mood!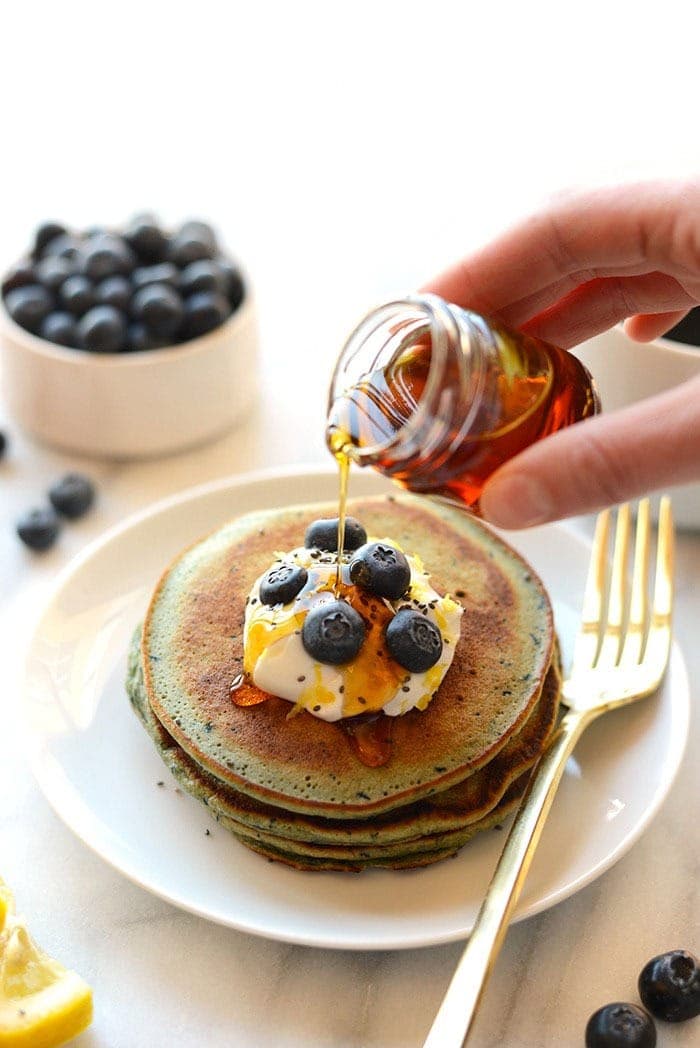 Lemon + Blueberry = LOVE
This is one of those recipes that I voluntarily tested like 4 times BECAUSE IT IS THAT GOOD. Man I could seriously eat these pancakes 3 times a day for a whole week and not get tired of them! Lemon + blueberry has seriously been my jam lately. That flavor combination is the epitome of Spring.
Pancakes in a Blender?!
So…FFF has lots of pancake recipes and we wanted to make this one extra special. Insert: the blender!
Before we develop a new recipe on FFF we discuss how we can:
dirty the least amount of bowls as possible
cook it as fast as possible
make it as healthy as possible.
This recipe literally dirties 2 things: a blender and a skillet. PANCAKES IN A BLENDER…MIND BLOWING. We promise you'll love it.
How to Make Lemon Blueberry Pancakes
You literally throw all of the ingredients into the blender and whirl away. The coolest part about this recipe is that the blueberries turn the batter BLUE! I'm like a child when it comes to colored food. Once again…MIND BLOWING.
To get the amazing lemon blueberry flavor in this recipe we used fresh blueberries (but frozen bluebs will also work!) and a combination of lemon extract and lemon zest. Num num num. Don't skimp on the lemon zest…so good!
And because this recipe makes 16 pancakes, you may need to save some for later, so we're also showing you how to freeze and reheat these breakfast beauties below 🙂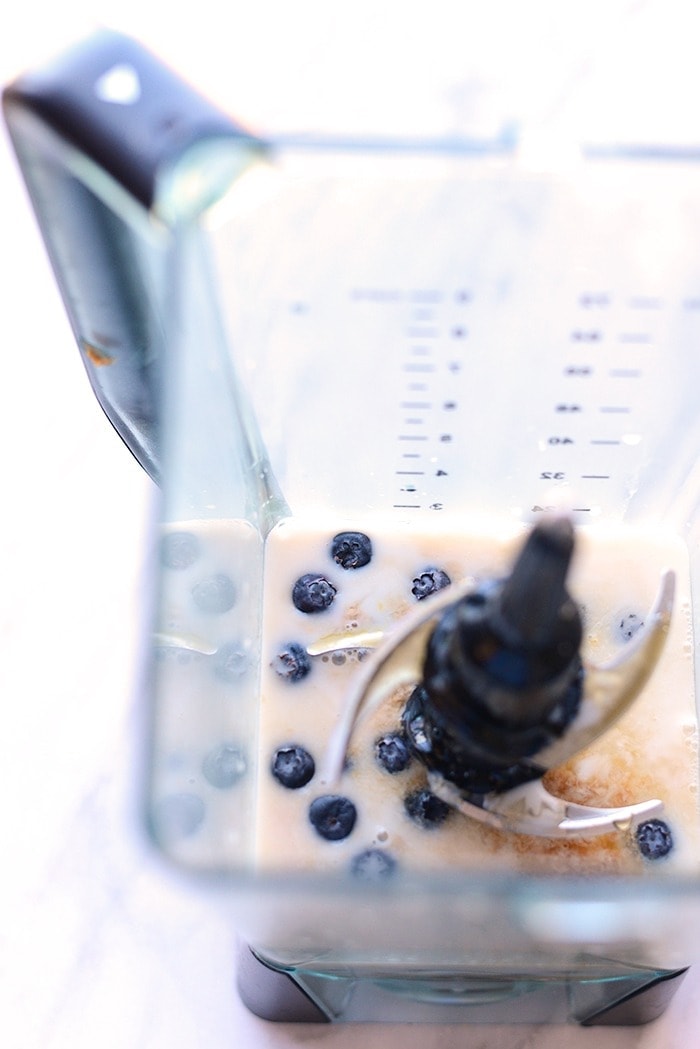 Freezing Pancakes
First, let your pancakes cool completely. The reason we do this is so that the pancakes can come down to room temperature and stop producing so much moisture (steam). This will prevent freezer burn in the freezer.
Then, stack 1 serving of pancakes (2 pancakes) together. Tightly wrap them in a piece of plastic wrap or a Ziploc bag. Make sure to remove as much air as possible (this is also to prevent freezer burn).
Place pancakes in the freezer and freeze for up to 3 months. Make sure to write the type of pancakes and the date you're freezing them on the outside of the bag or plastic wrap!
Reheating Pancakes
Option 1: Thaw lemon blueberry pancakes in the refrigerator overnight. Then, microwave for 60 seconds in the morning.
Option 2: Place frozen pancakes directly in the toaster and toast on medium until warm all the way through.
More Pancakes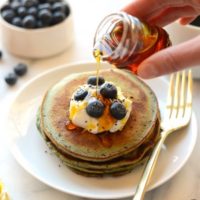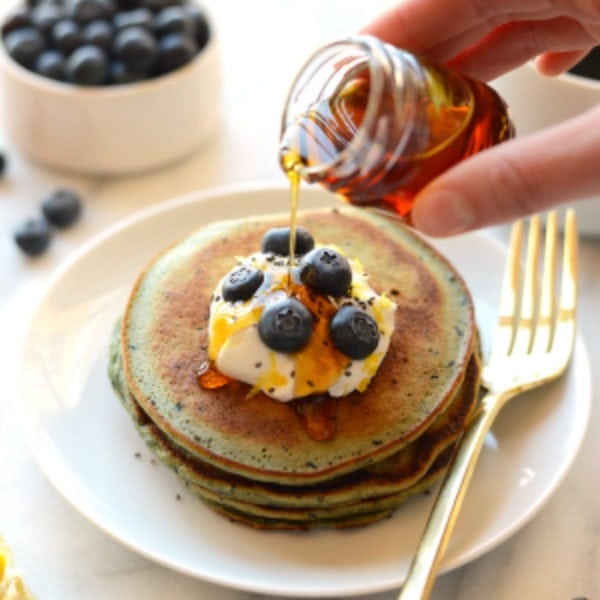 Blender Lemon Blueberry Pancakes
Breakfast is served in under 15 minutes with this delicious (and dairy-free) Blender Lemon Blueberry Pancakes recipe!
Instructions
Place blueberries, banana, eggs, vanilla extract, unsweetened almond milk, honey, and lemon extract in a high-speed blender.  Blend on high until smooth.

Add in the rest of the dry ingredients and blend on high until smooth. Finally, add melted coconut oil and blend until smooth. At this point, your mixture should be thick, but thin enough to pour into pancakes. If it's too thick, add a splash more almond milk.

Turn a skillet to medium heat and spray with coconut oil cooking spray. Using a 1/4 cup scoop, pour batter onto skillet. Cook for about 1 to 2 minutes or until bubbles start to form on your pancakes. Flip and cook for an additional 1-2 minutes.

Serve immediately with your favorite pancake toppings!
Nutrition facts
Calories:
396
kcal
Carbohydrates:
61
g
Protein:
10
g
Fat:
14
g
Fiber:
8
g
Sugar:
20
g