Straight from The Well Plated Cookbook, this Butternut Squash, Chicken and Wild Rice Casserole is the ultimate Fall dish!
Packed with chicken, butternut squash, wild rice and more delicious savory flavors, you'll be making this all season long.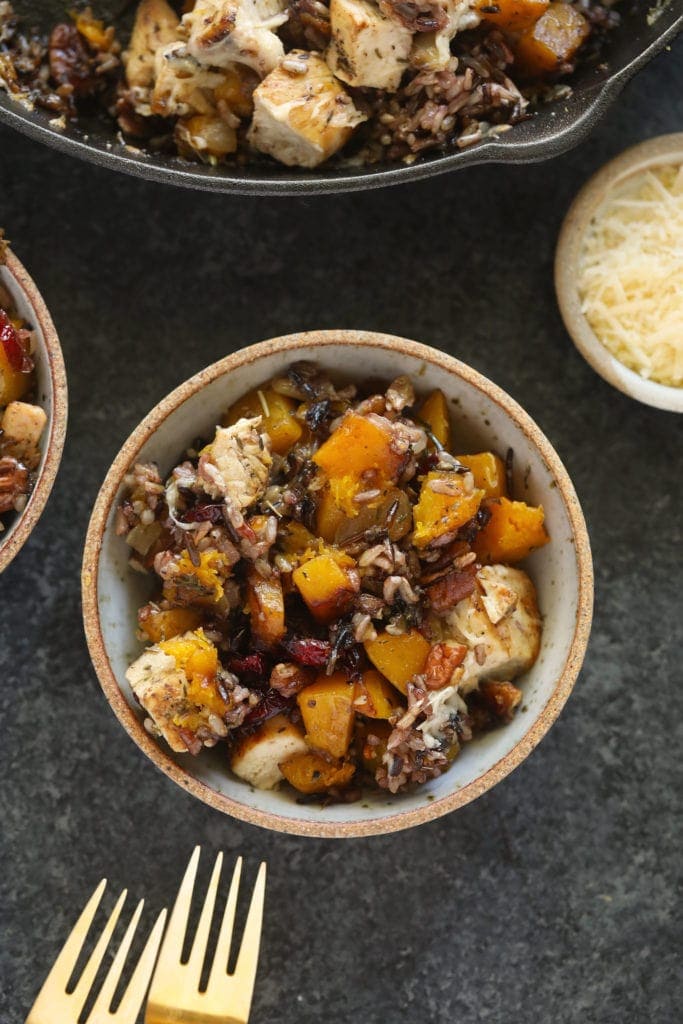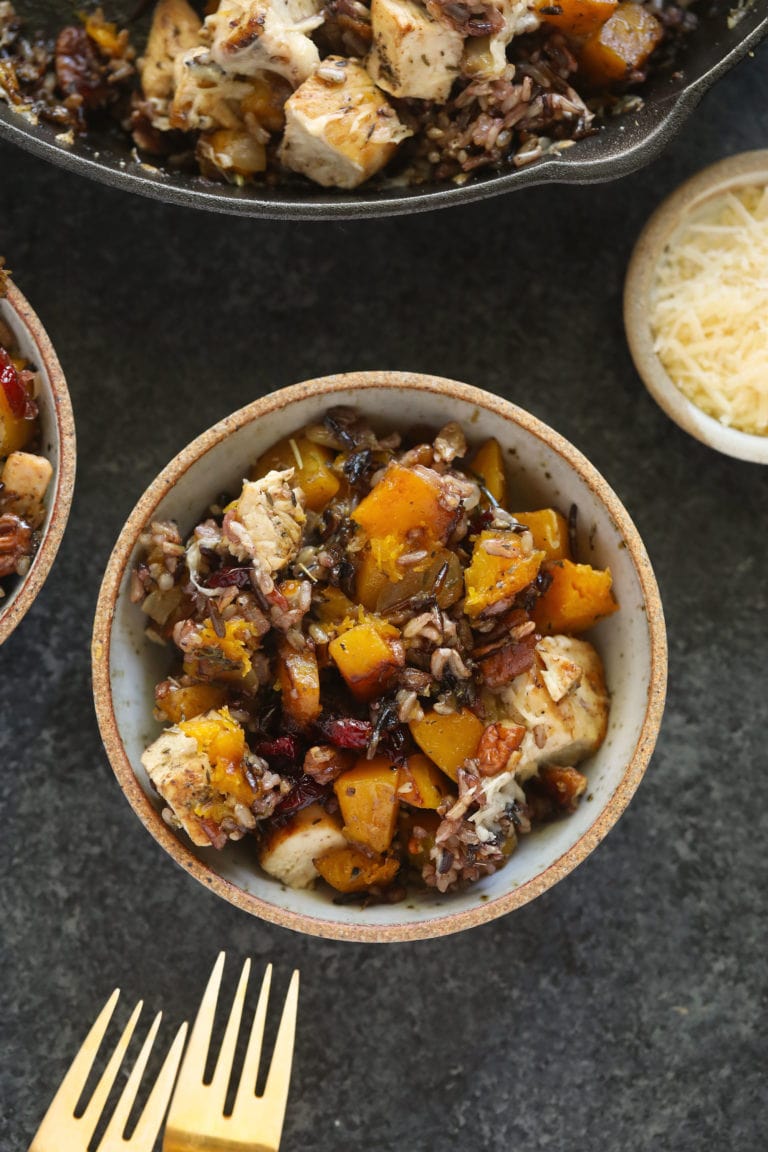 The Well Plated Cookbook is Here!
The Well Plated Cookbook is finally out, and we are love love loving all these delicious recipes (there are over 130 of 'em in this cookbook!). When Erin says that these recipes are fast, healthy recipes you'll want to eat — she's 100% right!
Packed in this gorgeous cookbook are amazing recipes for every meal — recipes that pack ingredients you can find at a regular grocery store (no obscure ingredients you'll never use again!), healthy swaps for classic midwestern dishes, and recipe hacks that help you put a healthy meal on the table every day.
Fall Flavors in a Bowl
It was a chilly day in Minneapolis when we made this recipe, so we were really feeling in the mood for Fall flavors. And this recipe is straight up FALL flavors all together in one place. We're talking wild rice, butternut squash, fresh herbs, pecans, dried cranberries and savory chicken. YUM.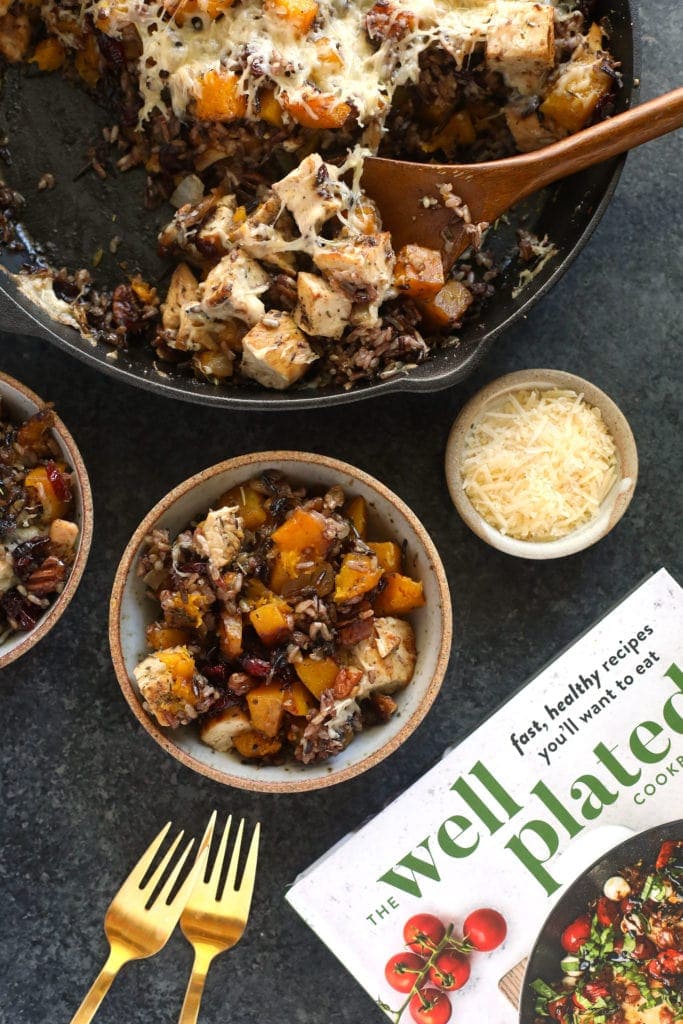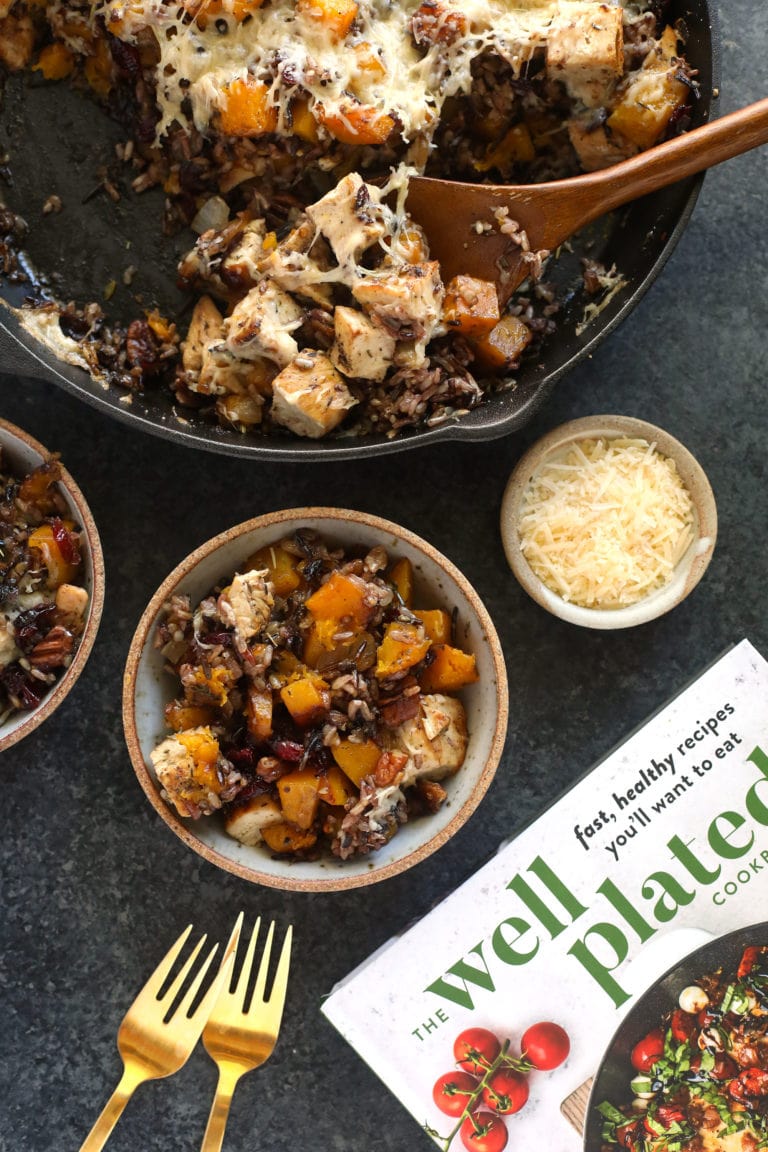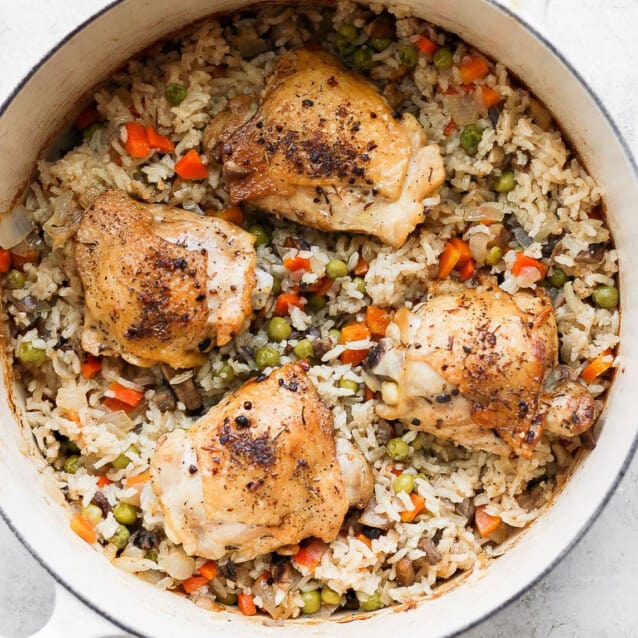 Become a Pro at Cooking Chicken!
We'll teach you everything you need to know on how to cook chicken perfectly every time + we'll share our top chicken recipes when you subscribe to our emails today!
This Casserole is Great for…
Meal Prep: This butternut squash, chicken and wild rice casserole will stock you up for a few days of lunch and dinner. Plus, it can be easily reheated. Dare we say it tasted EVEN BETTER on day 2?!
Serving a Crowd: Looking to serve your whole family? This recipe is just perfect for that because It serves 6-8 and is as hearty as can be.
Balanced Meal: Get your protein, veggies, and grains all in one dish!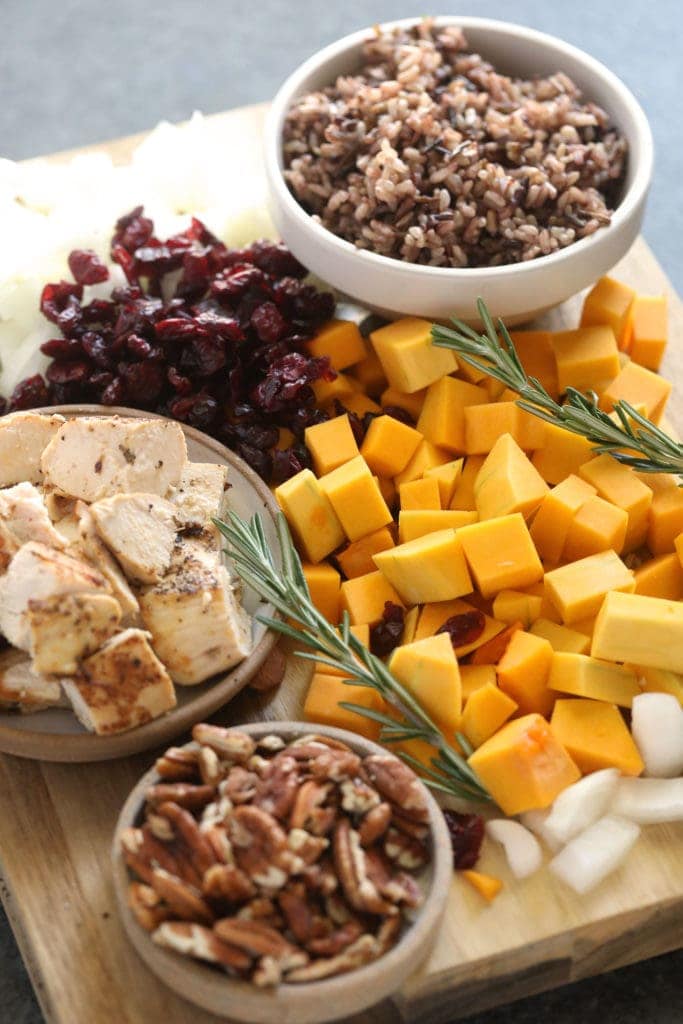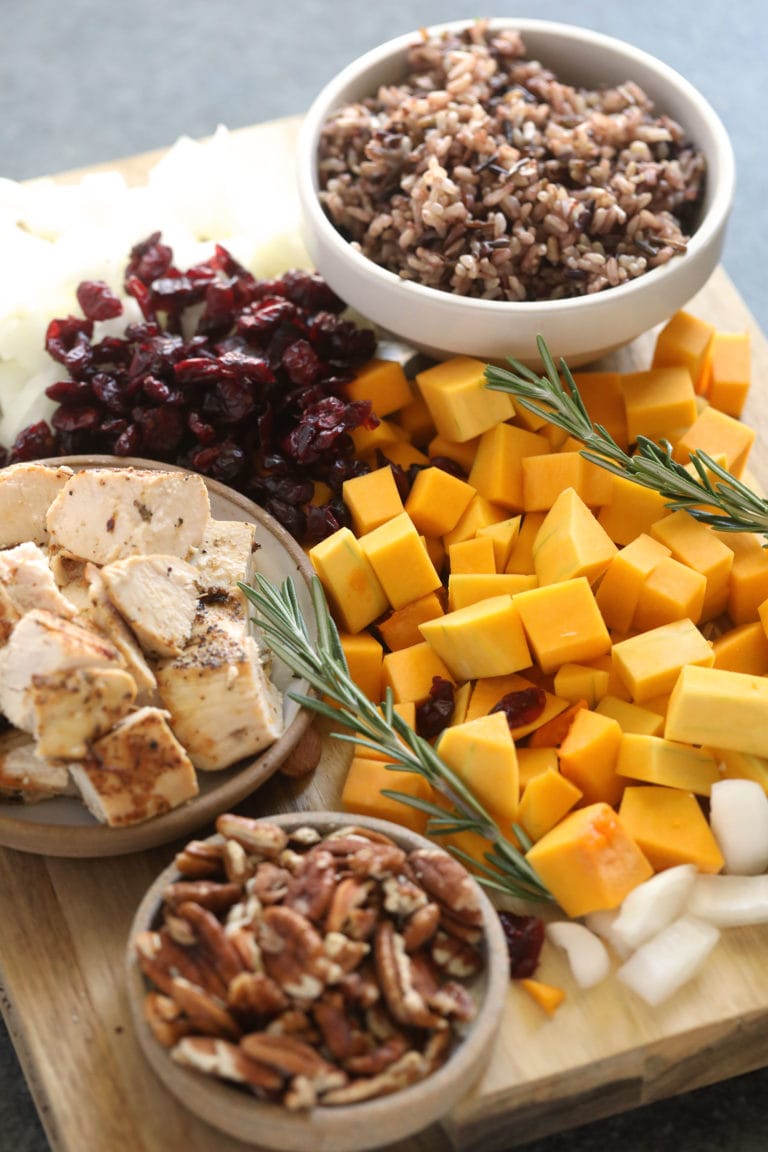 Easy Swaps
Make It Meatless: Swap the chicken for 2 (15- ounce) cans of rinsed- and- drained reduced-sodium white beans, such as great Northern or cannellini beans. Add the beans to the squash in step 5.
Other Cuts of Chicken: Swap out the 1.5 lbs. boneless skinless chicken thighs for 1.5 lbs. boneless skinless chicken breasts. If you have leftover chicken from cooking a whole chicken, simply use 1.5 lbs of any cut!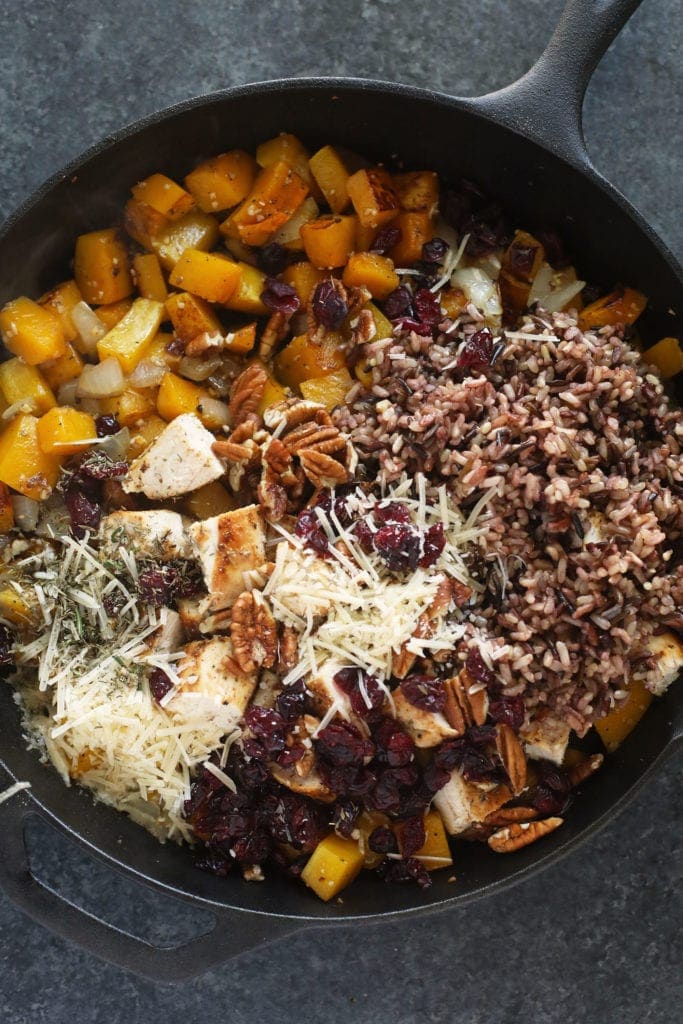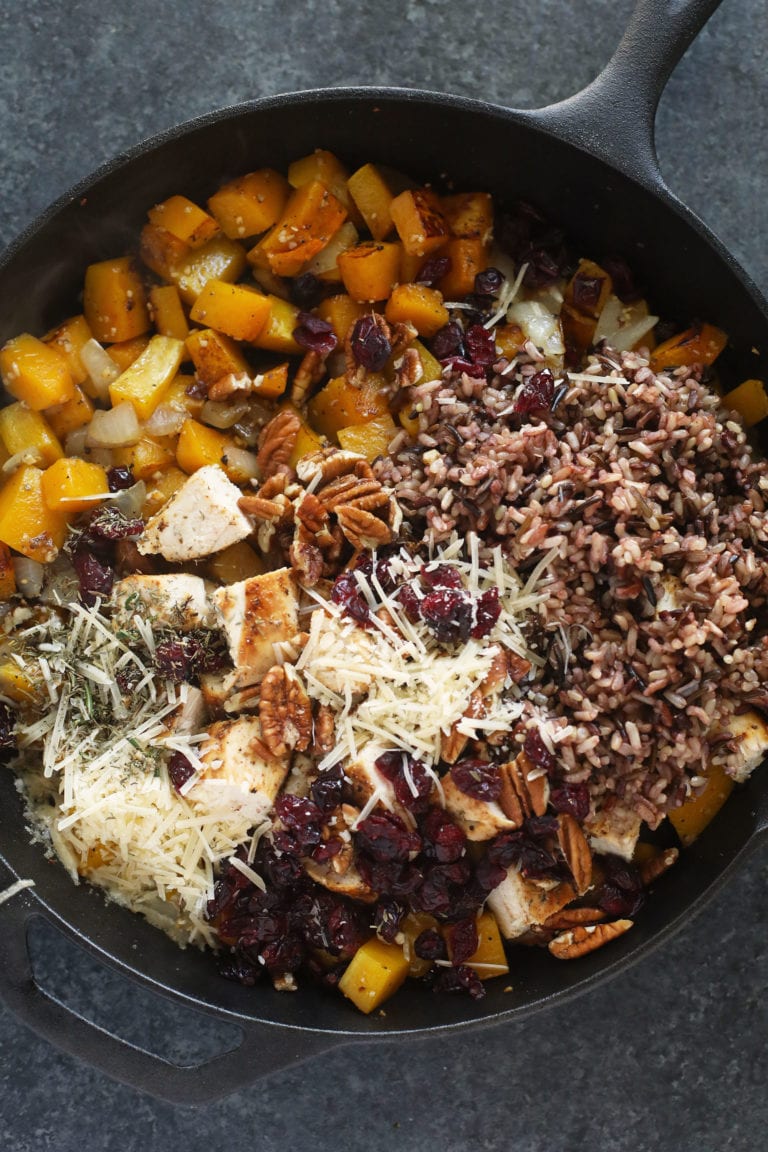 How Long Will This Casserole Keep?
Most chicken casseroles like this one will last 3-5 days in the fridge.
Storage tip: make sure to store your casserole in an airtight container with the lid on.
Freezer Instructions
To Freeze: Bake the casserole completely, then let cool to room temperature. Cover it tightly, then freeze for up to 3 months.
To Thaw and Reheat: Let thaw overnight in the refrigerator, bring to room temperature, then cover with foil and reheat in a 350°F oven until warmed through. Be sure to use a pan that is freezer and oven safe.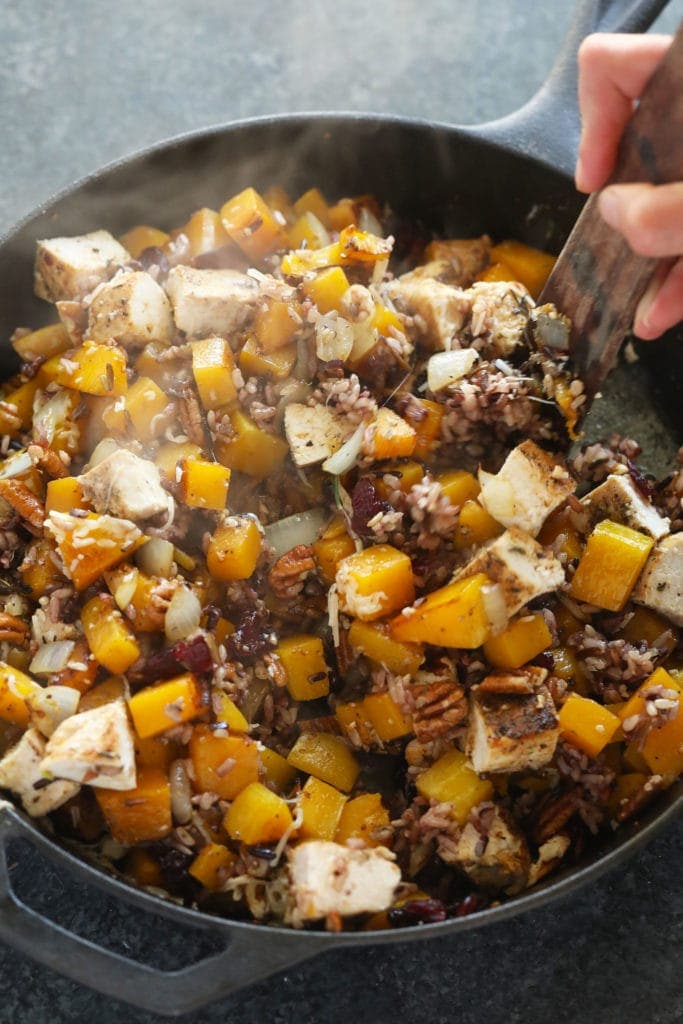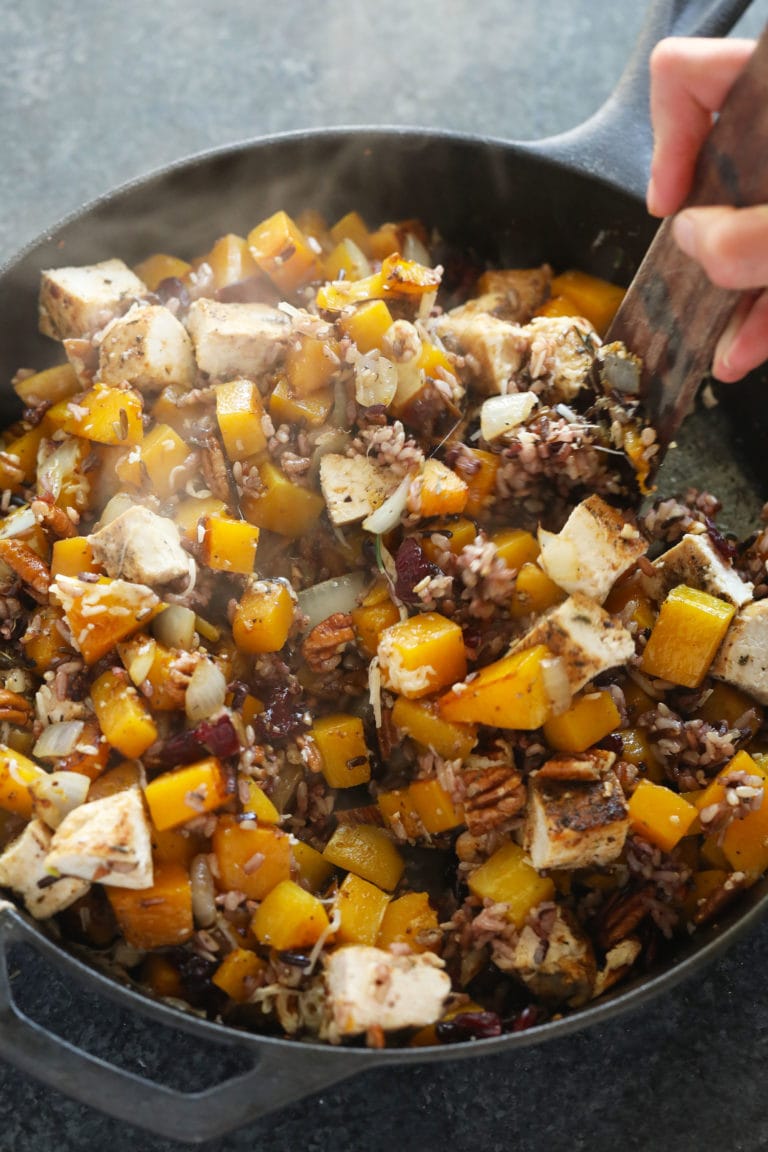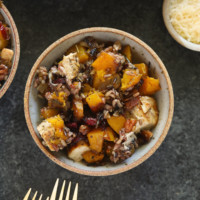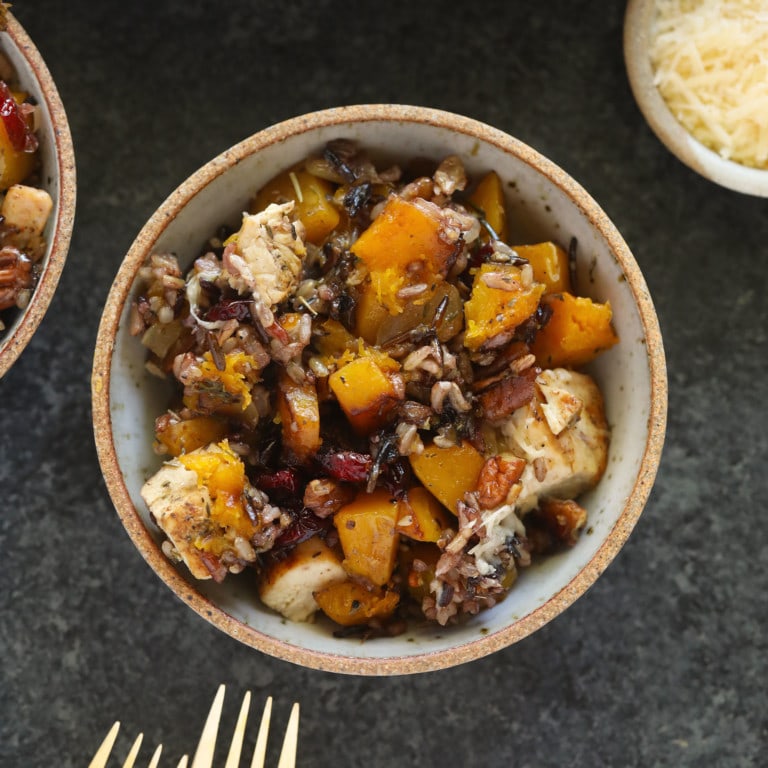 Butternut Squash, Chicken and Wild Rice Casserole
Straight from The Well Plated Cookbook, this Butternut Squash, Chicken and Wild Rice Casserole is the ultimate Fall dish!
Ingredients
1

cup

uncooked wild and brown rice blend

1.5

pounds

boneless

skinless chicken thighs, trimmed of excess fat

4

tablespoons

extra virgin olive oil

divided

½

teaspoon

kosher salt

divided

½

teaspoon

ground black pepper

divided

1

small butternut squash

about 1½ lbs.

1

medium yellow onion

cut into ¼- inch dice (about 1½ cups)

1

tablespoon

chopped fresh thyme

plus additional for garnish

¾

cup

dried cranberries

½

cup

shredded Parmesan cheese

about 2 ounces, divided

½

cup

roughly chopped raw pecans or walnuts
Instructions
Cook the rice according to the package instructions. Drain off any excess cooking liquid and set aside (you should have about 3 cooked cups).

Place a rack in the center of your oven and preheat the oven to 425° F. For easy cleanup, lay a large piece of aluminum foil or parchment paper in the bottom of a 9×13-inch baking dish. Arrange the chicken thighs in a single layer on top, tucking the loose side portion of each thigh underneath. Drizzle with 2 tablespoons of the oil. Sprinkle with ¼ teaspoon salt and ¼ teaspoon pepper. Bake on the center rack of the oven until the chicken thighs reach 165° F on an instant- read thermometer at the thickest part, about 20 minutes. Immediately transfer from the dish to a plate and cover. Let rest 10 minutes. Reduce the oven temperature to 350 degrees F. Discard the foil or parchment and keep the pan handy.

While the chicken cooks, peel the butternut squash and trim off the top and bottom ends. Cut the neck away from the round base, then stand the base up on its flat end and cut it in half from top to bottom. Scoop out the seeds and discard. Cut the squash (both base and neck) into ½- inch cubes (you should have about 4 cups cubes).

In a large, deep skillet with a tight- fitting lid, heat the remaining 2 tablespoons oil over medium heat. Add the squash, onion, and remaining ¼ teaspoon salt and ¼ teaspoon pepper. Sauté until the onion begins to soften, about 2 minutes. Cover and cook, stirring occasionally, until the squash is tender but still retains some chew, 6 to 8 minutes.

Once the chicken has rested, cut it into bite- sized pieces. Add it to the pan with the squash, then add the thyme, cranberries, ¼ cup of the Parmesan, and the rice. Stir to combine.

Lightly coat with nonstick spray the same 9×13- inch dish you used to bake the chicken (no need to wash it in between). With a large spoon, scoop the squash and rice mixture into the dish, spreading it into an even layer.

Bake for 15 minutes, then remove the casserole from the oven and sprinkle the nuts and remaining ¼ cup Parmesan on top. Bake 8 to 10 additional minutes, until the cheese is melted and the nuts are toasted and crisp. Sprinkle with additional chopped fresh thyme and serve warm.
Nutrition facts
Calories:
475
kcal
Carbohydrates:
46
g
Protein:
26
g
Fat:
23
g
Fiber:
7
g
Sugar:
18
g