This one-pan cauliflower taco skillet uses riced cauliflower in place of white or brown rice and is made with tons of veggies, beans, and taco fixing.
This is seriously one of my favorite cauliflower rice recipes. It's so easy to make, ready in 30 minutes, and healthy!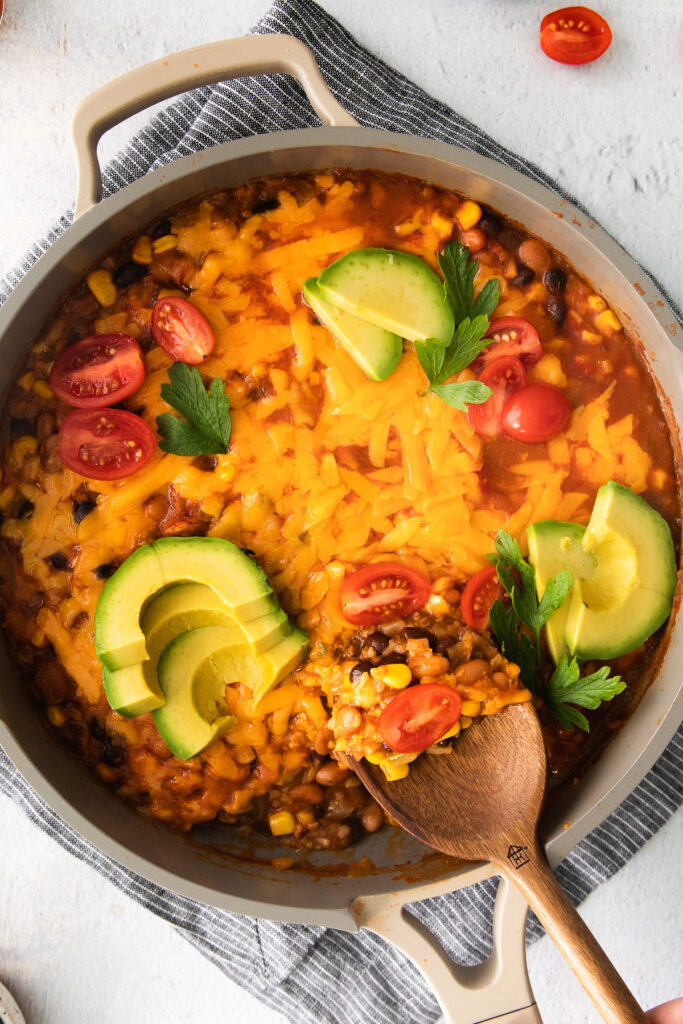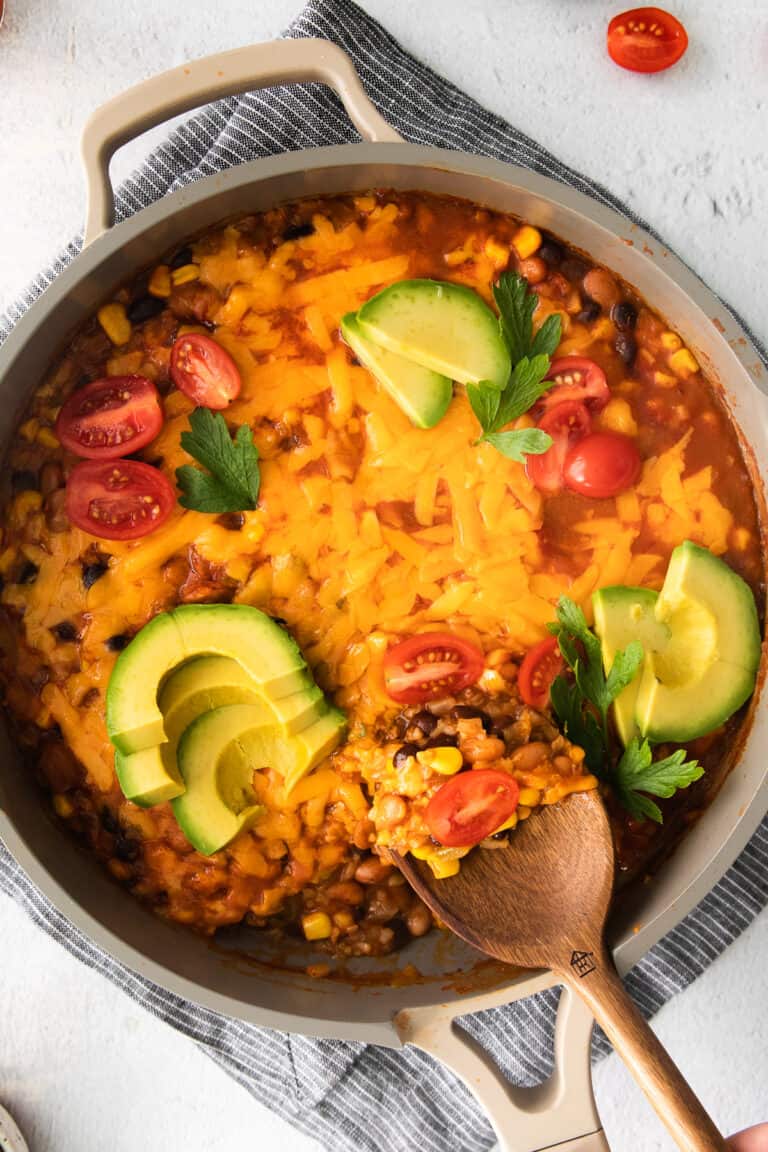 Get your taco fix with this veggie-packed low-carb taco skillet. It's made with riced cauliflower, tons of veggies, beans, and homemade taco seasoning.
Best Taco Skillet
You guys are obsessed with our Mexican Beef Skillet and rightfully so. It has all of those yummy Mexican flavors plus rice, beef, veggies, and beans.
After many requests to recreate our Mexican Beef Skillet with cauliflower rice, here we are! This cauliflower taco skillet has similar flavors but uses riced cauliflower instead of rice and no meat to make it vegetarian.
It also has tons of beans, veggies, cheese, and our incredible homemade taco seasoning that everyone raves about.
Why make this taco skillet?
Vegetarian: a protein and fiber-packed meal that's 100% plant-based.
Naturally gluten-free: 100% made from scratch and naturally g/f.
Kid-friendly: the kids are going to gobble this up!
Uses only canned/frozen goods: this is the kind of meal you want to make when you have no fresh food in the house. This recipe uses only canned and frozen goods with the exception of an onion.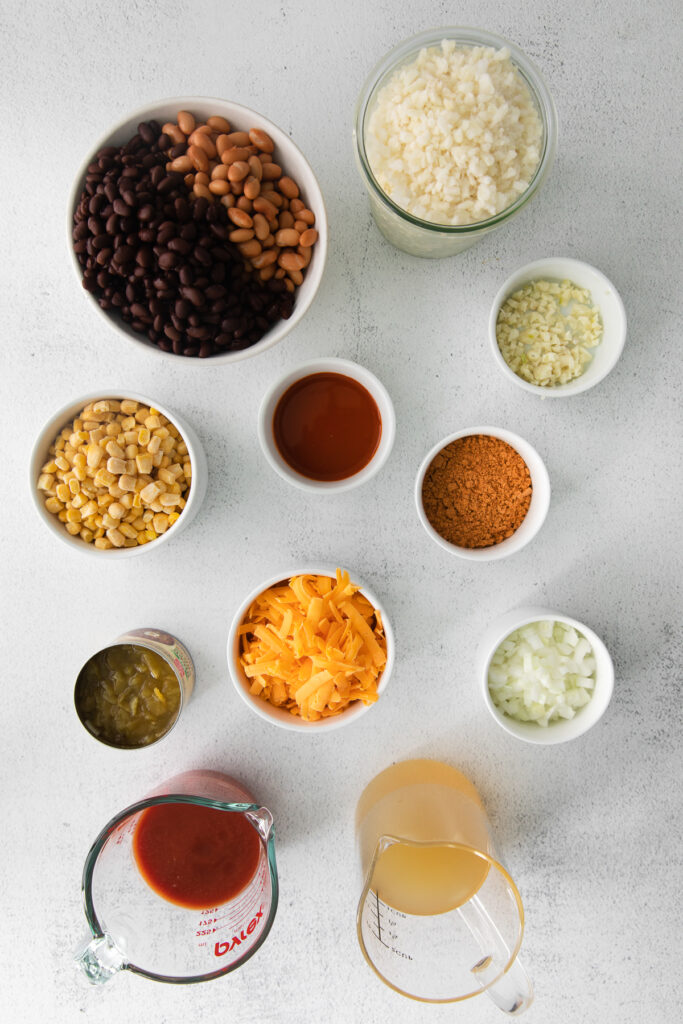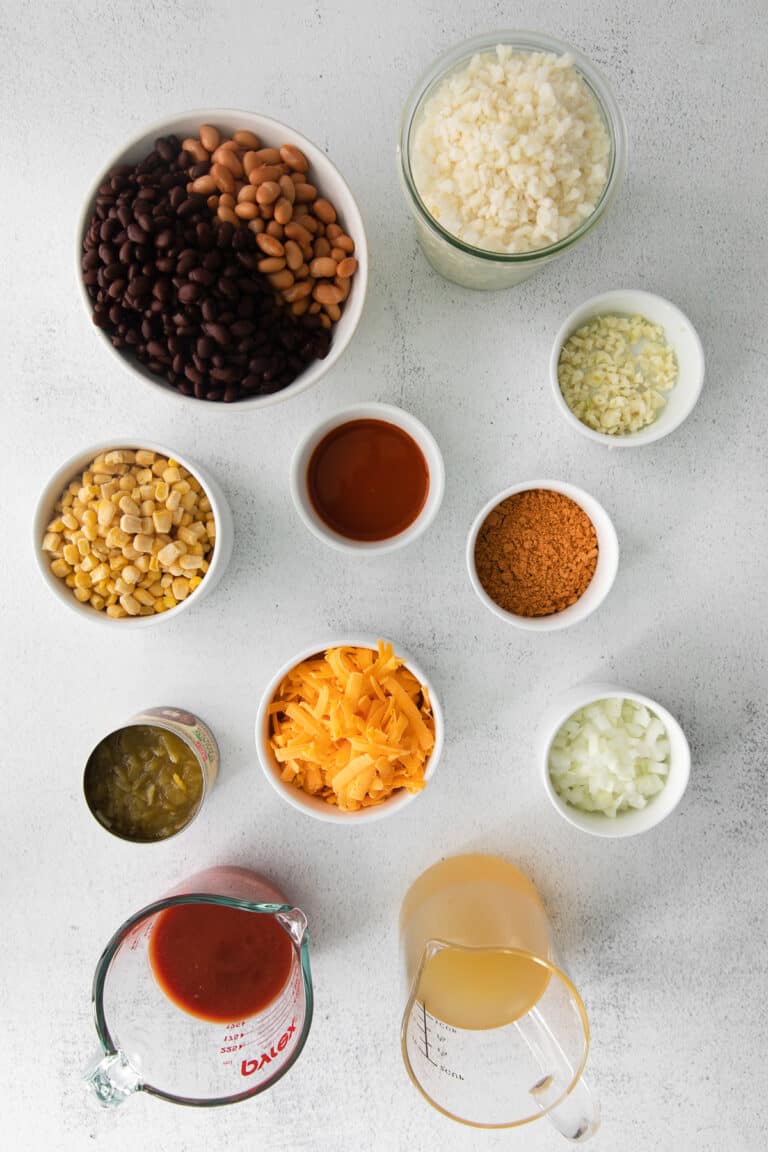 What You Need
What I love about this easy dinner recipe is that you only need frozen goods and packaged goods. Meaning, you could keep this recipe in your back pocket when you're really in need!
Frozen Goods
Frozen corn: any kind of frozen corn works. Heck, you can even use canned!
Frozen riced cauliflower: feel free to use your favorite brand. See notes below on fresh vs. frozen.
Packaged Goods
Vegetable broth: vegetable broth adds nice flavor and saltiness to this dish. You can also use chicken broth or water.
Taco seasoning: we highly recommend using our homemade taco seasoning recipe. The flavors are out of this world.
Beans: both pinto and black beans are recommended.
Green chiles: I love that green chiles are mild, yet add so much flavor. Feel free to swap them for a few tablespoons of canned jalapeños.
Tomato sauce: adds a richness to this one pot meal.
Hot sauce: a little bit of heat and a little bit of vinegar are all you need. It helps bring out all of the flavors.
Shredded cheese: every taco skillet deserves all the cheese.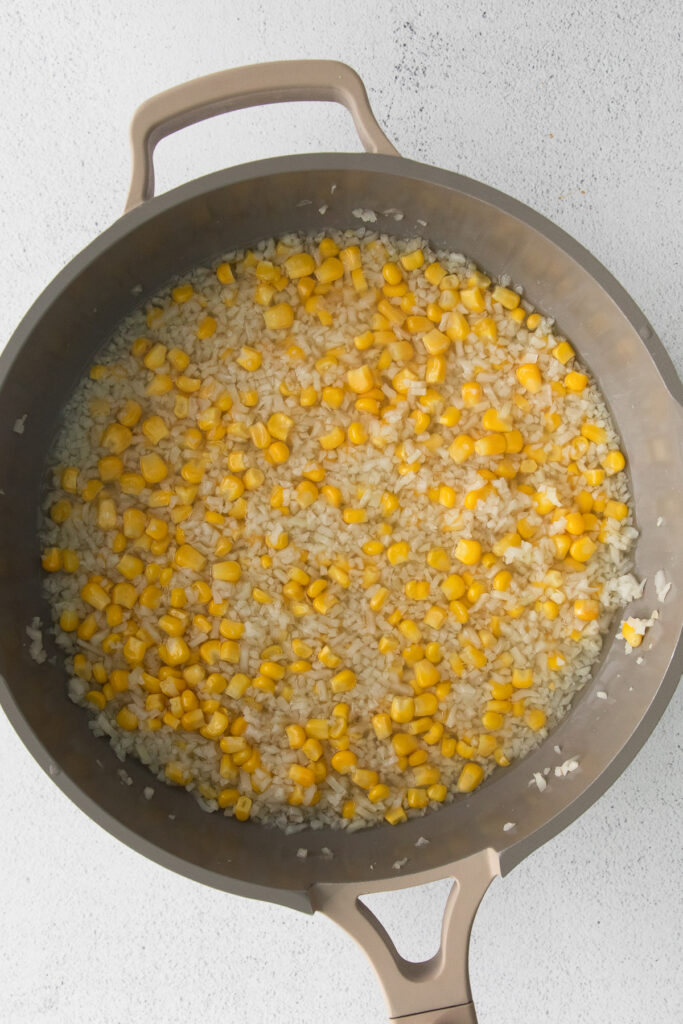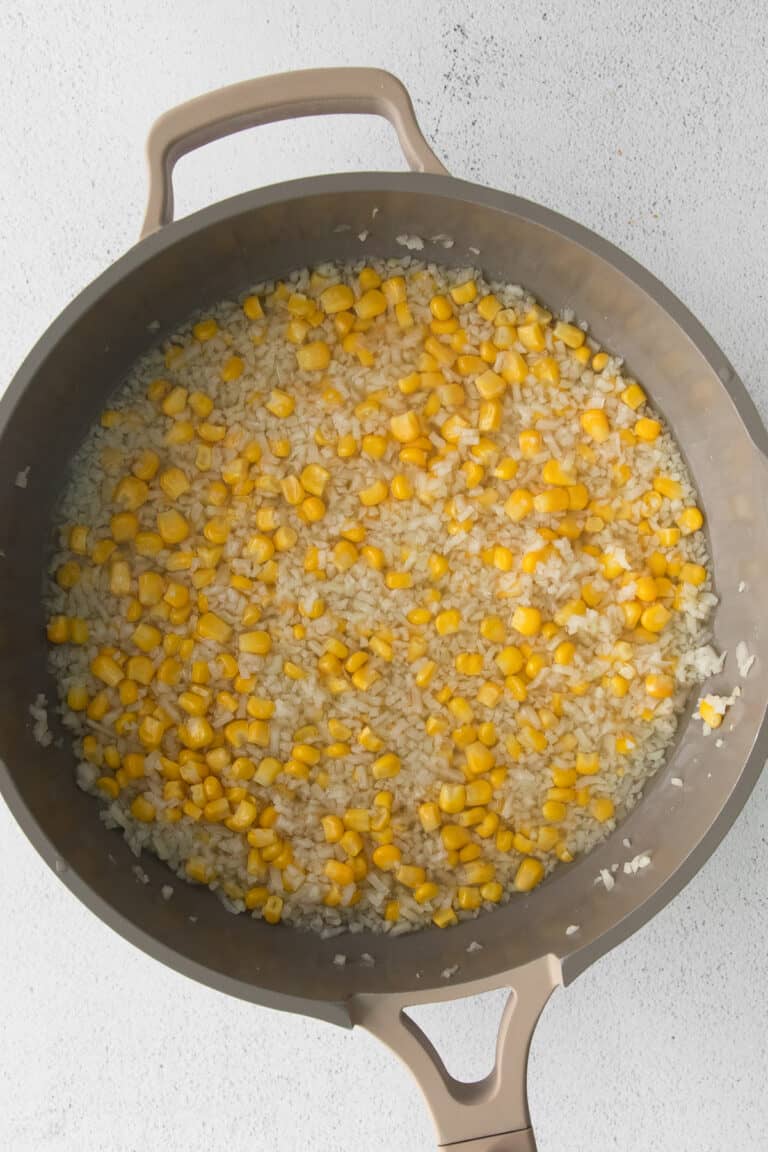 All About the Cauliflower Rice
Many of you have asked us to make a taco skillet recipe similar to our ground beef skillet recipe, but with cauliflower rice so that it's lower in carbs. Well, it is folks, we'd like to introduce you to one of our favorite cauliflower rice recipes.
What is cauliflower rice? Cauliflower rice is made from 1 ingredient –> cauliflower. It's small bits of cauliflower chopped finely into rice form. It looks similar to rice, but it's actually just cauliflower.
Does cauliflower rice taste like rice? While cauliflower rice resembles rice, it doesn't have the same chewy texture that rice does.
Is cauliflower rice healthy? Yes! Cauliflower rice is 100% cauliflower. It's low carb and packed with vitamins and minerals.
Can I sub cauliflower rice 1:1 to other rice products? Unfortunately, the answer is no. I know it's not what you want to hear, but cauliflower rice does not cook as rice does with a 1:1 ratio of rice to liquid.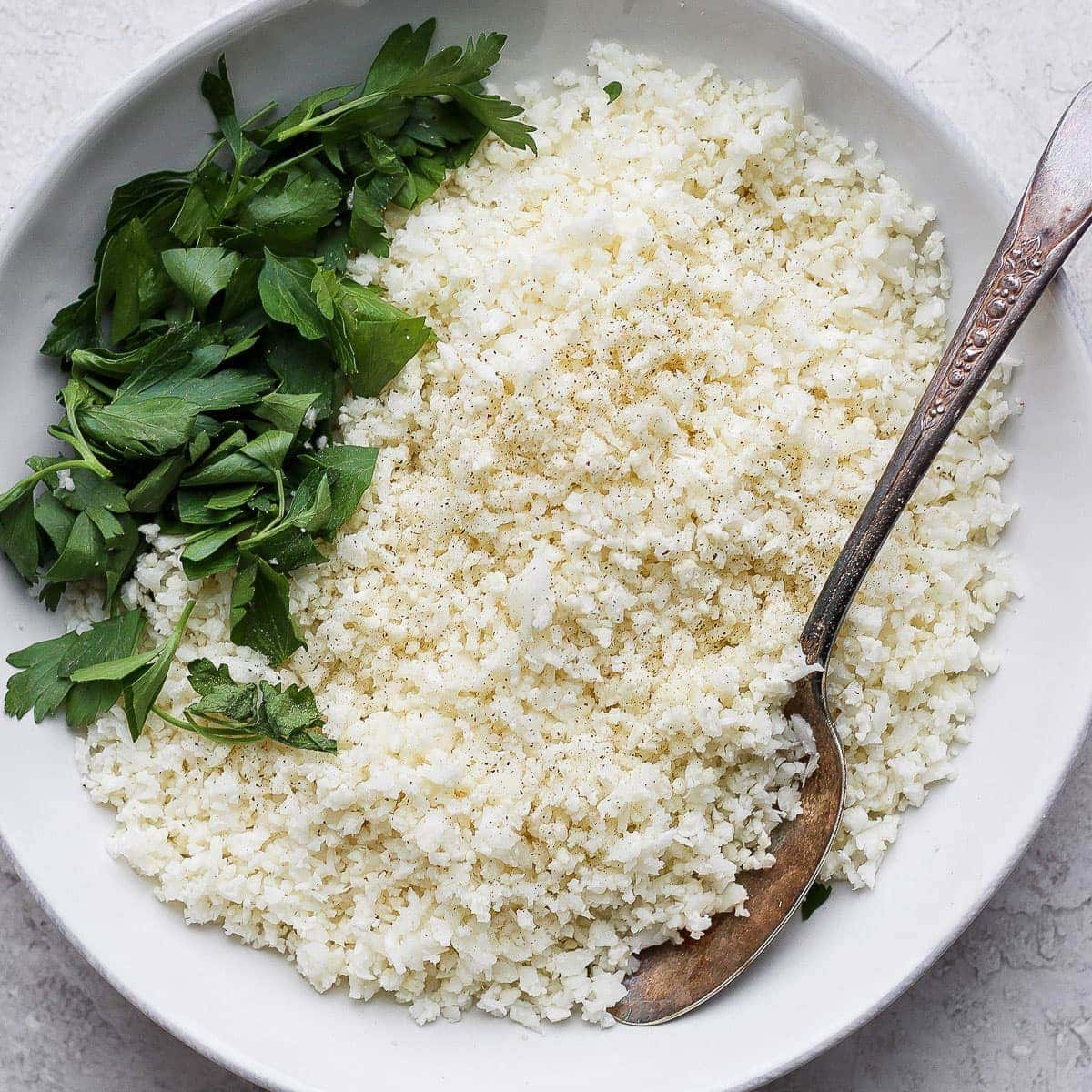 How to Make
Cauliflower Rice
Do yourself a favor and make cauliflower rice at home. There is only one ingredient you need to make cauliflower rice and it's cauliflower!
Get Recipe
Do I have to use frozen cauliflower rice for this recipe?
While we have only tested this recipe with frozen riced cauliflower, we are confident that any kind of riced cauliflower will work.
Can I use fresh cauliflower rice?
Feel free to swap the frozen riced cauliflower for fresh cauliflower rice 1:1.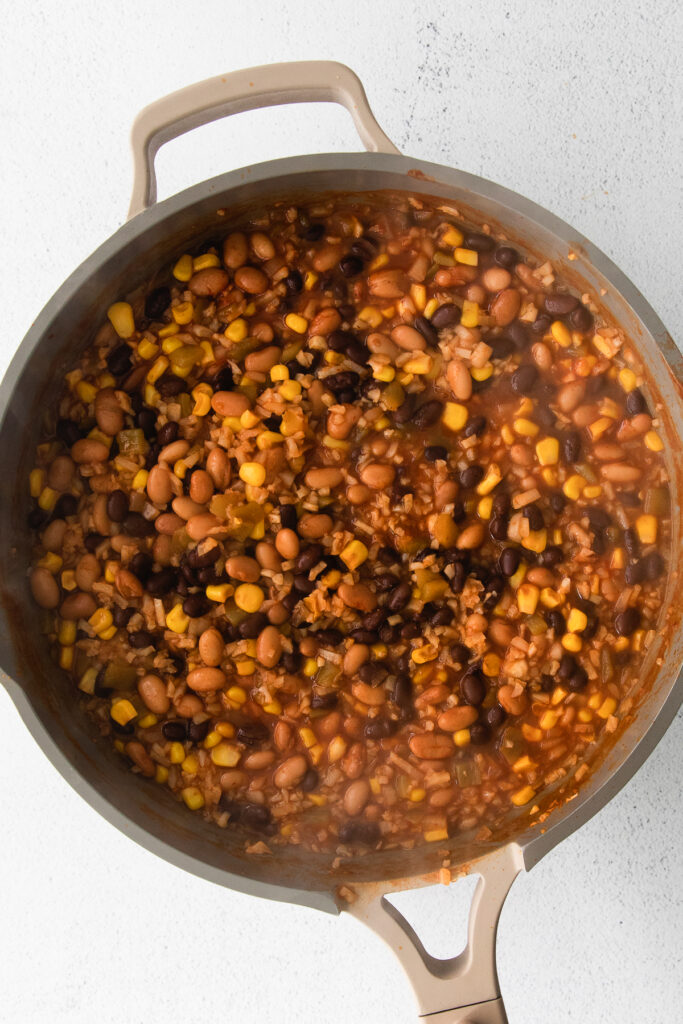 How to Make a Cauliflower Taco Skillet
Steam Frozen Veggies
Place frozen riced cauliflower and corn into a skillet. Add vegetable broth and stir with a wooden spoon. Turn heat to medium/high and let steam for around 5 minutes.
Add the Rest
Add the rest of the ingredients: spices, beans, garlic, onion, taco seasoning, tomato sauce, hot sauce, and green chiles. Mix to combine everything together. Cover again and let steam for 5 more minutes.
Add Cheese
Remove the lid and sprinkle on a generous amount of cheese. Place the lid back on and let cook until the cheese fully melts.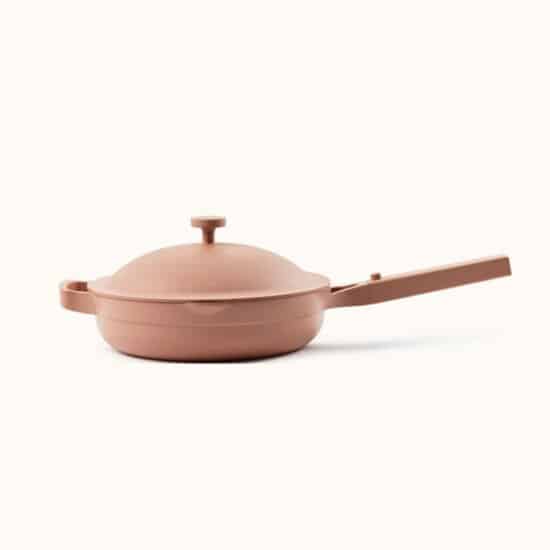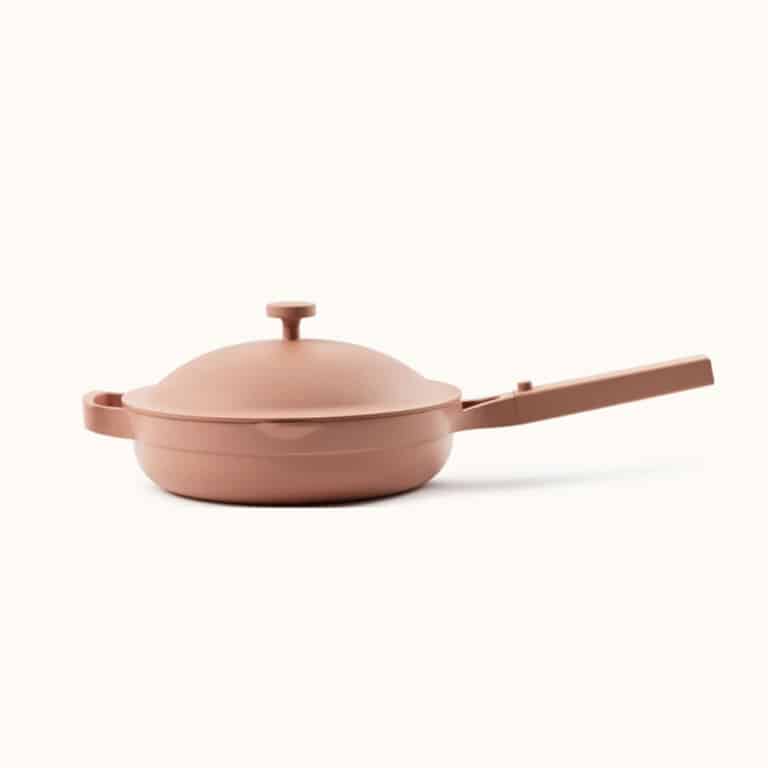 Try it!
Always Pan
The Always Pan is our favorite pan for sauteing, steaming, frying, and simmering. It's a nonstick pan that we highly recommend.
Buy now!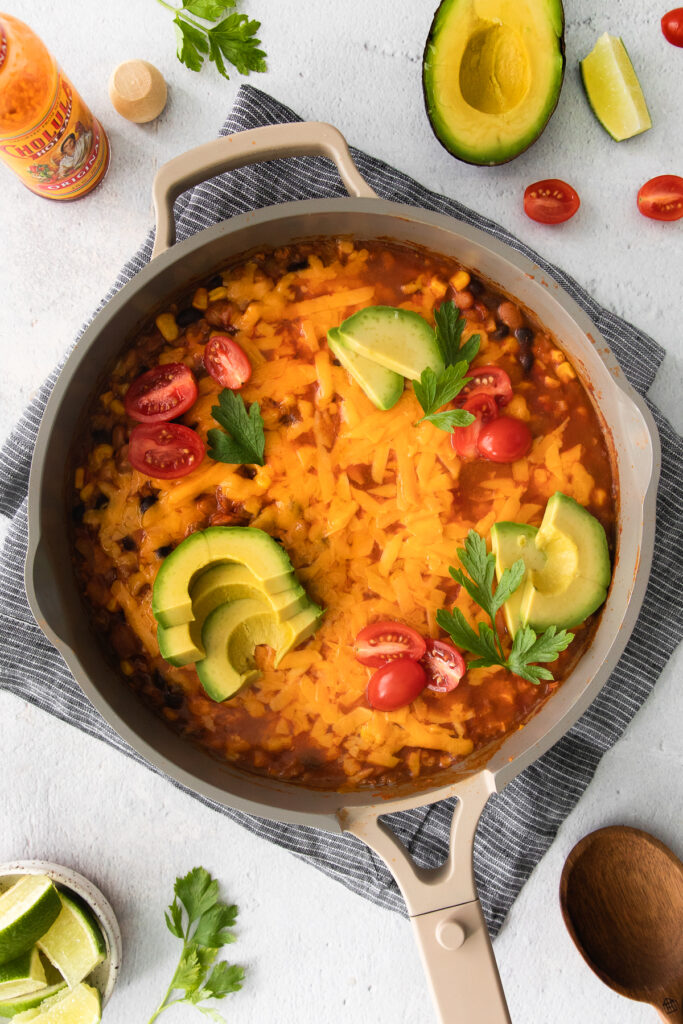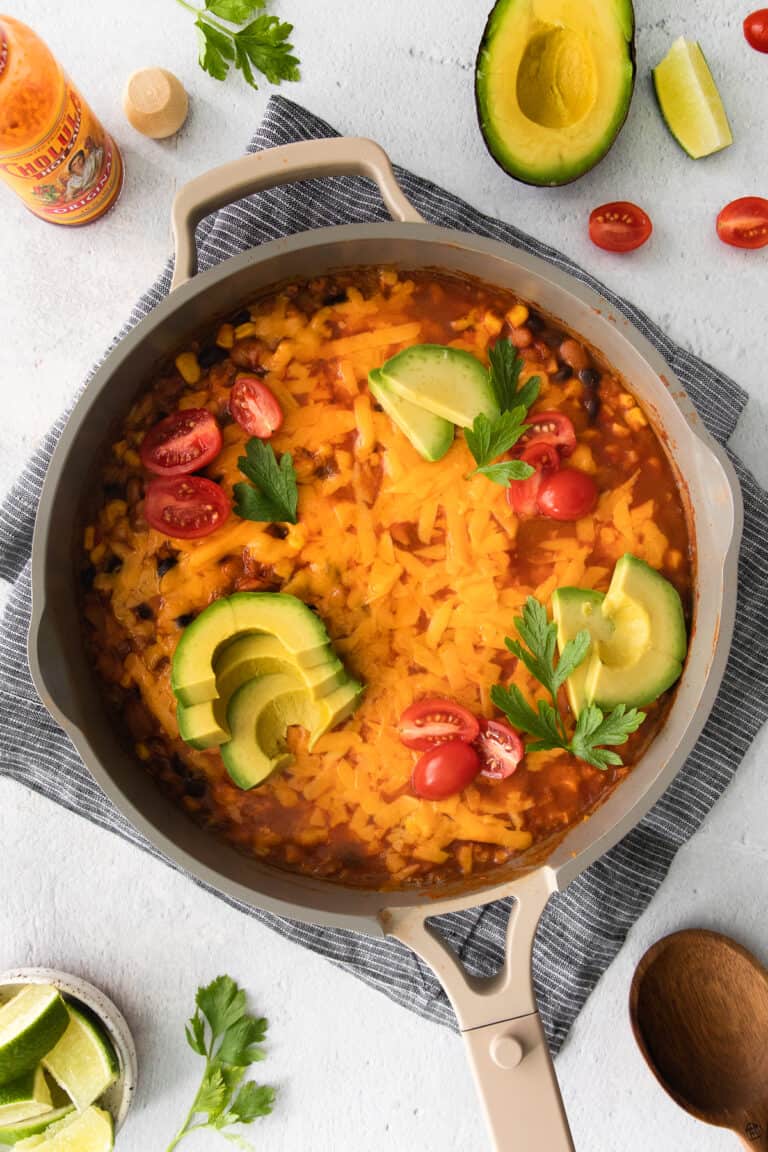 Serve
The great thing about this cauliflower taco skillet is that there are many different options when it comes to serving!
Bowl: eat it as is in a bowl with your favorite toppings such as avocado, cilantro, sour cream, and a side of tortilla chips
Tacos: fill a few street corn tacos with this filling and top with jalapeños and pico de gallo.
Burrito: fill a large burrito tortilla with the cauliflower filling and then add some fajita veggies.
Nachos: top tortilla chips with this taco skillet and sprinkle on more cheese. Serve with our vegan cheese sauce.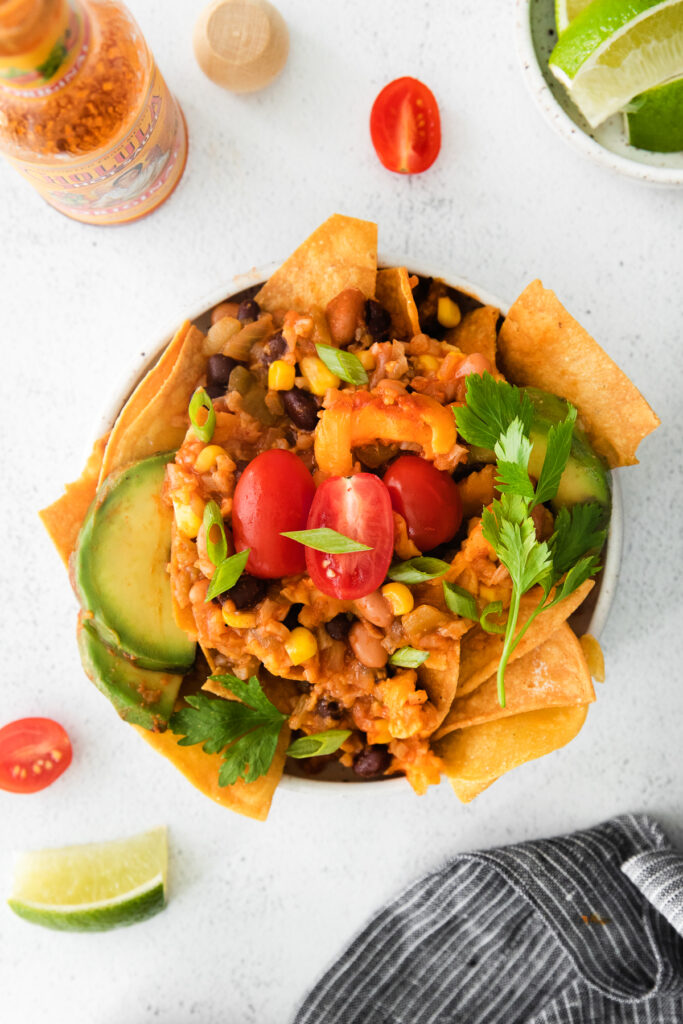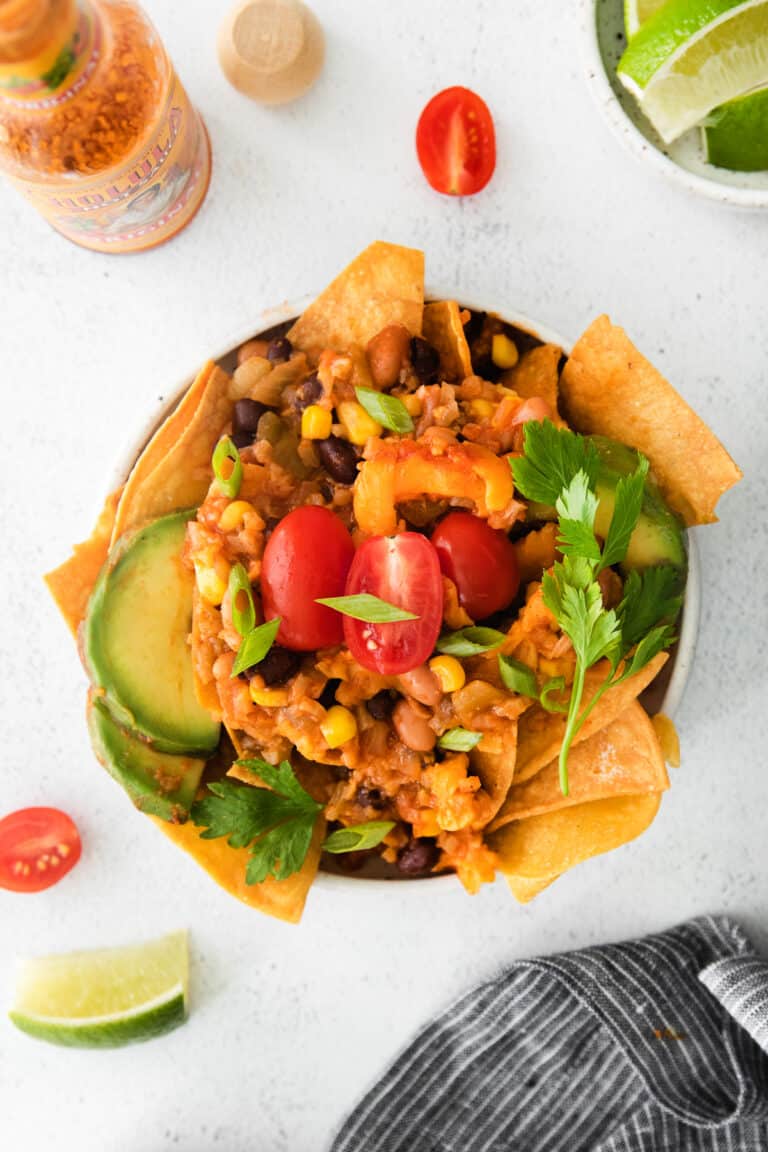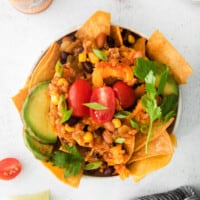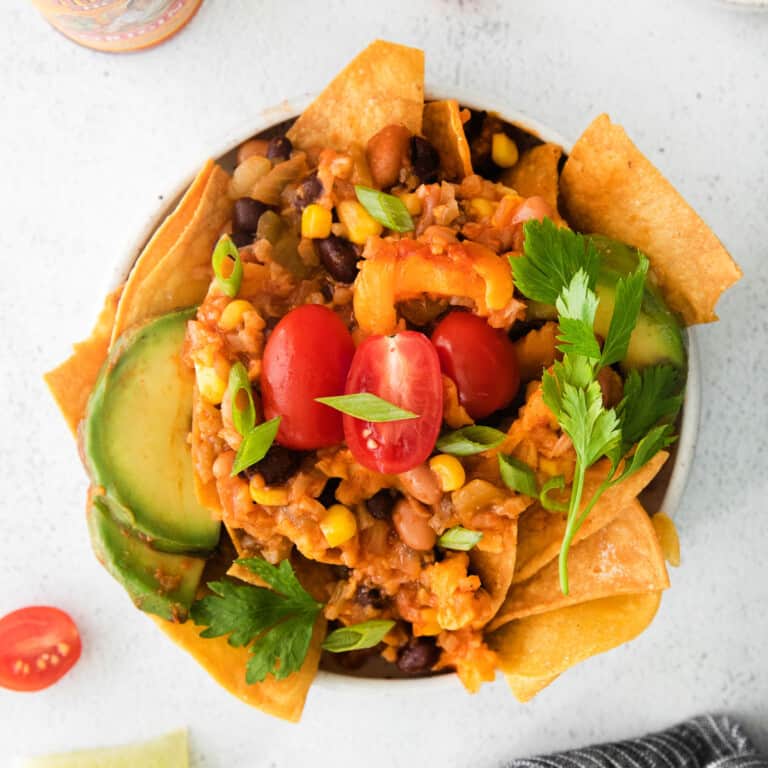 Cauliflower Taco Skillet (+More Cauliflower Rice Recipes)
Say hello to one of our favorite cauliflower rice recipes -- Cauliflower Taco Skillet! It's made with only frozen and canned ingredients and ready in under 30 minutes. Plus, it's protein and veggie-packed and naturally vegetarian and gluten-free.
Ingredients
10

oz.

Riced Cauliflower

frozen

5

oz.

Super sweet corn

frozen

1

cup

vegetable broth

3-4

tablespoons

homemade taco seasoning

to taste (store bought is not as flavorful and will not be enough seasoning)

¼

medium yellow onion

minced

1

tablespoon

minced garlic

15

oz.

canned pinto beans

drained and rinsed

15

oz.

canned black beans

drained and rinsed

4.5

oz.

canned green chiles

1/2

cup

tomato sauce

2

teaspoon

hot sauce

or 1 teaspoon apple cider vinegar

1

cup

thick cut shredded cheddar cheese

Salt

to taste

Toppings: fresh cilantro

sliced avocado, Greek yogurt, and fresh sliced cherry tomatoes.
Instructions
Place frozen riced cauliflower and frozen super sweet corn into a large skillet. Add 1 cup vegetable broth and use a wooden spoon to break up the veggies and mix. 

Turn the heat to medium/high and place the cover on top. Let steam for around 5 minutes, mixing every so often.

Add in taco seasoning, onion, garlic, beans, green chiles, tomato sauce, and hot sauce and mix until everything is combined. Cover again and let cook over medium/high heat for 5 more minutes. 

Uncover and mix again. Do a taste test and add salt and hot sauce, as needed. Finally, sprinkle on 1 cup of shredded cheddar cheese and place the top back on. Let the cheese melt for around 3-5 minutes.

Serve with fresh cilantro, sliced avocado, Greek yogurt/sour cream, and fresh sliced tomatoes. Eat in a bowl with tortilla chips, or in a burrito.
Tips & Notes
Nutrition information does not include toppings.
Feel free to add ground beef or chicken to this recipe if you're looking to add even more protein.
Nutrition facts
Calories:
453
kcal
Carbohydrates:
71
g
Protein:
26
g
Fat:
7
g
Fiber:
18
g
Sugar:
7
g