Do you love Chilis Chicken Enchilada Soup? Us too! No you can make a big bowl of chicken enchilada soup that tastes just like Chili's version.
Make this delicious enchilada soup for a hearty, but simple soup for any day of the week!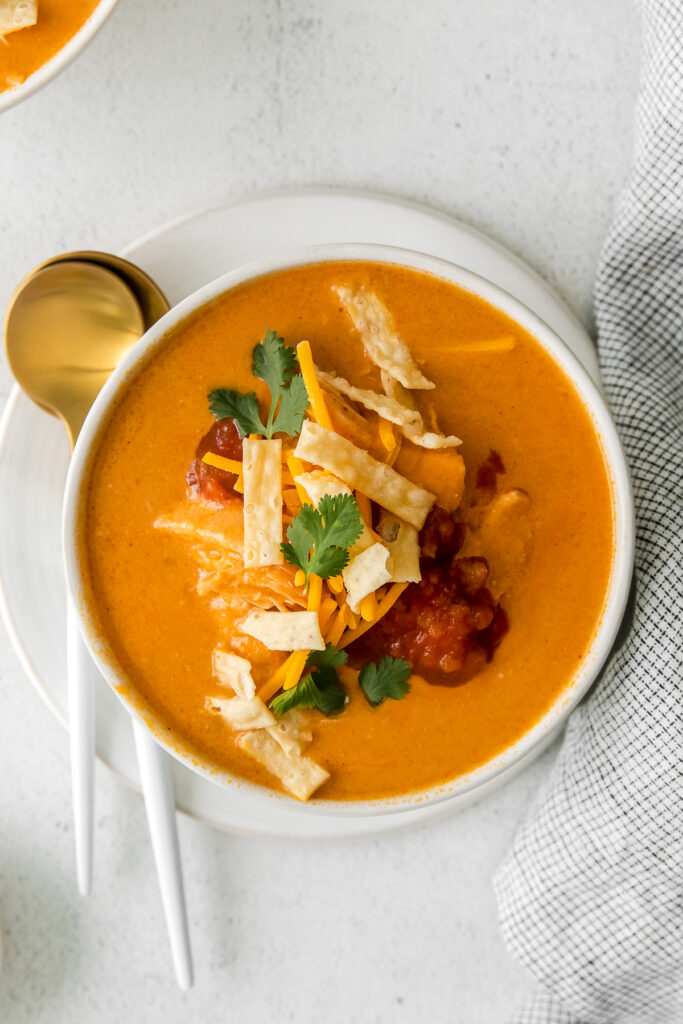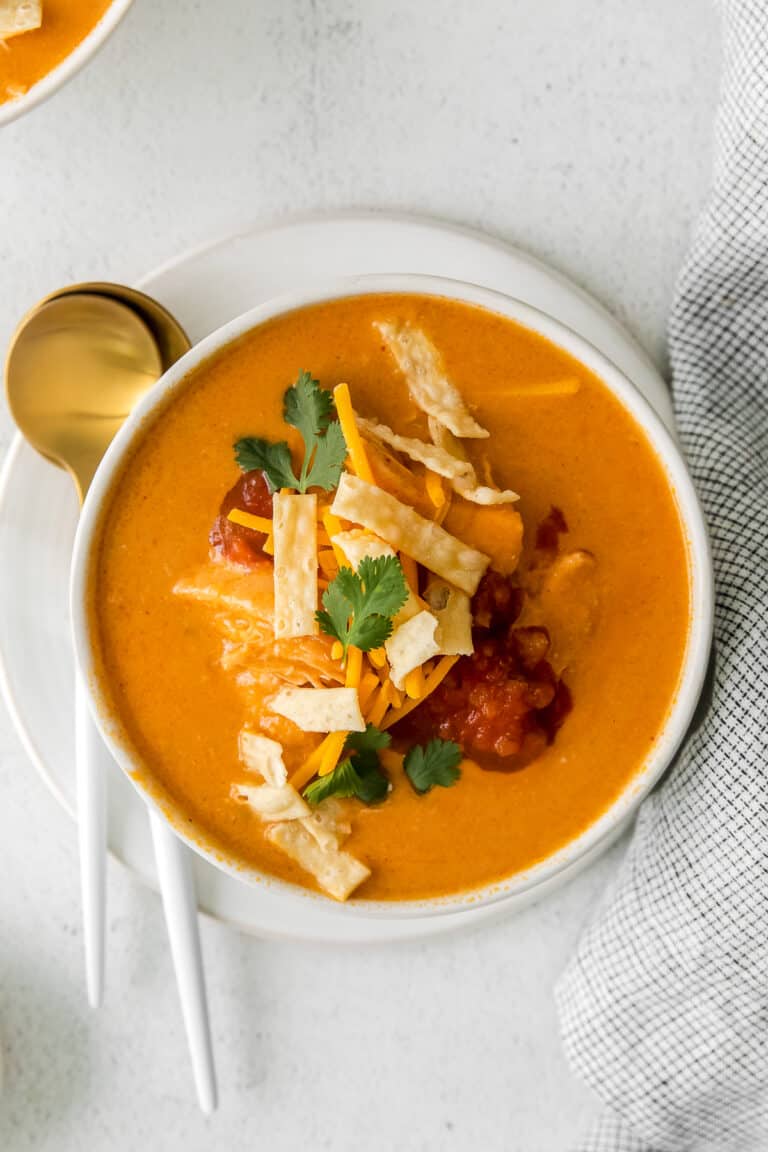 Chili's Chicken Enchilada Soup Dupe
There is nothing like a big steaming bowl of Chili's Chicken Enchilada Soup, especially when there's a little bit of a chill in the air. We went and tried a big bowl of Chilis's enchilada soup and recreated it so you can make it anytime at home!
all things we love about this soup
It tastes exactly like enchiladas, but in a bowl. So if you're an enchilada fan, this soup is going to blow your mind.
This chicken enchilada soup is ready in under 1 hour.
You learn a new way to thicken soup; with masa harina.
Don't forget, it tastes exactly like the Chili's version!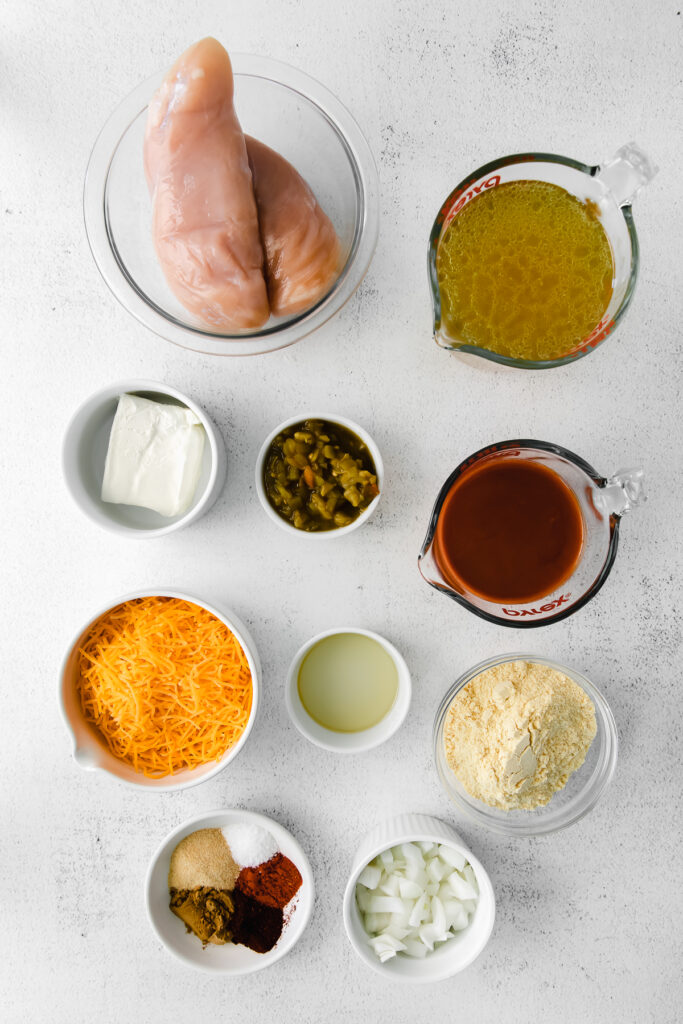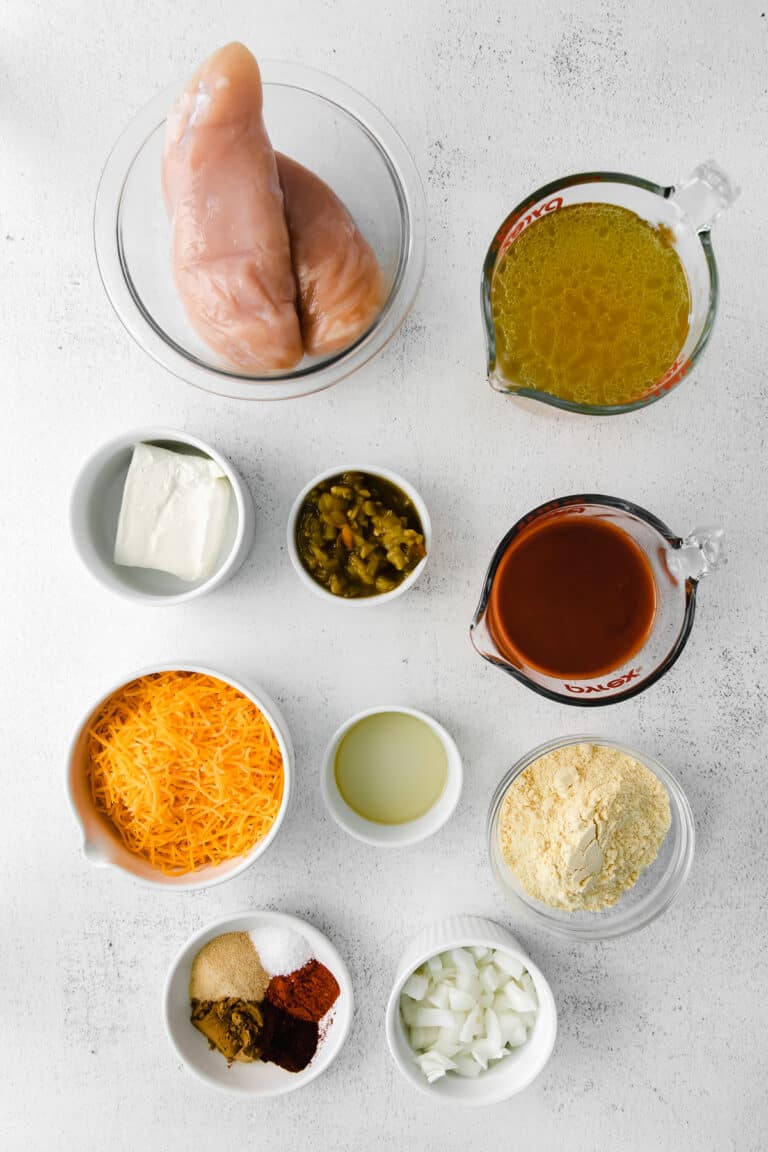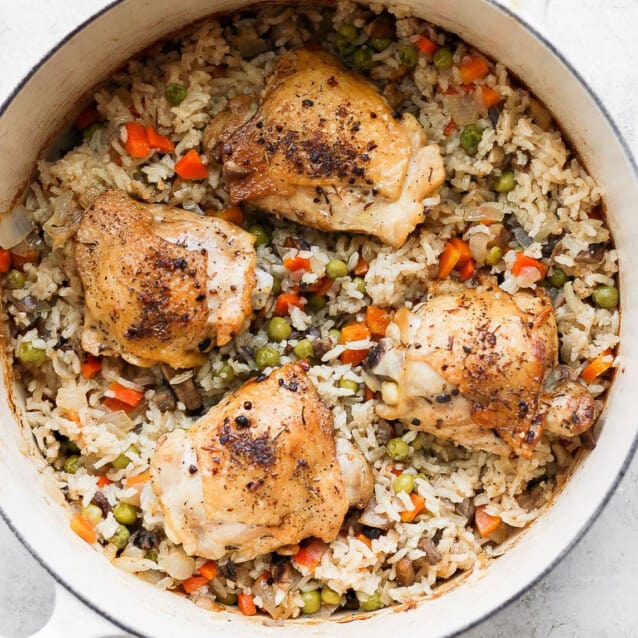 Become a Pro at Cooking Chicken!
We'll teach you everything you need to know on how to cook chicken perfectly every time + we'll share our top chicken recipes when you subscribe to our emails today!
Ingredients You Need
The ingredient list for this enchilada soup is short. There are 2 ingredients that are crucial to getting this soup to taste like Chili's version. Do not skip the enchilada sauce or the masa harina.
Spices (cumin, garlic powder, chili powder, paprika, salt) – one way we give this enchilada soup a ton of flavor is creating a dry rub for the chicken. It is a delicious combination of classic enchilada flavors.
Boneless skinless chicken breasts – you are going to shred these chicken breasts after they are cooked in spices and broth.
Olive oil – any time you need oil you can always use your preferred oil, we love olive oil and you use this olive oil to the sear your chicken.
White onion– the onion in this soup adds a delicious flavor base to any soup.
Green chilis – add flavor, a bit of spice, and depth with green chilis.
Enchilada sauce– one reason this enchilada soup tastes like enchiladas is because there are key ingredients used in enchiladas like enchilada sauce! Feel free to make homemade enchilada sauce or simple use store bought enchilada sauce. We love the Frontera brand enchilada sauce.
Chicken broth – any broth will work for this soup, but we used chicken broth.
Masa harina– masa harina is a corn flour that you use to thicken your enchilada soup.
Cream cheese– the creaminess of this soup comes from a little bit of cream cheese. Do not skip it if you want a delicious and creamy soup.
Shredded cheddar cheese– this chicken enchilada soup is finished with shredded cheese that melts to perfection.
What is Masa Harina?
Masa harina is most commonly known as corn flour. It is technically corn dough that is dehydrated and ground into a flour so when you simply at water to the masa harina, you have corn dough. That dough is usually used to make tortillas.
Knowing that masa harina can turn from flour to dough in minutes it seems like the perfect thickener for enchilada soup. That also means you have to use masa harina with caution or it could turn your soup into a thick brick.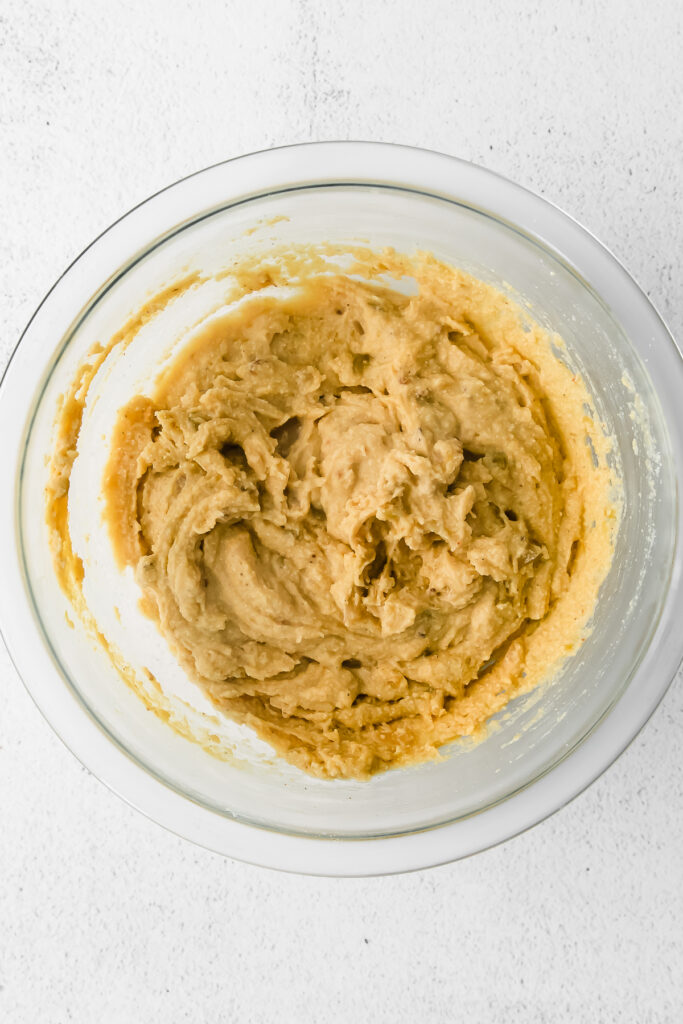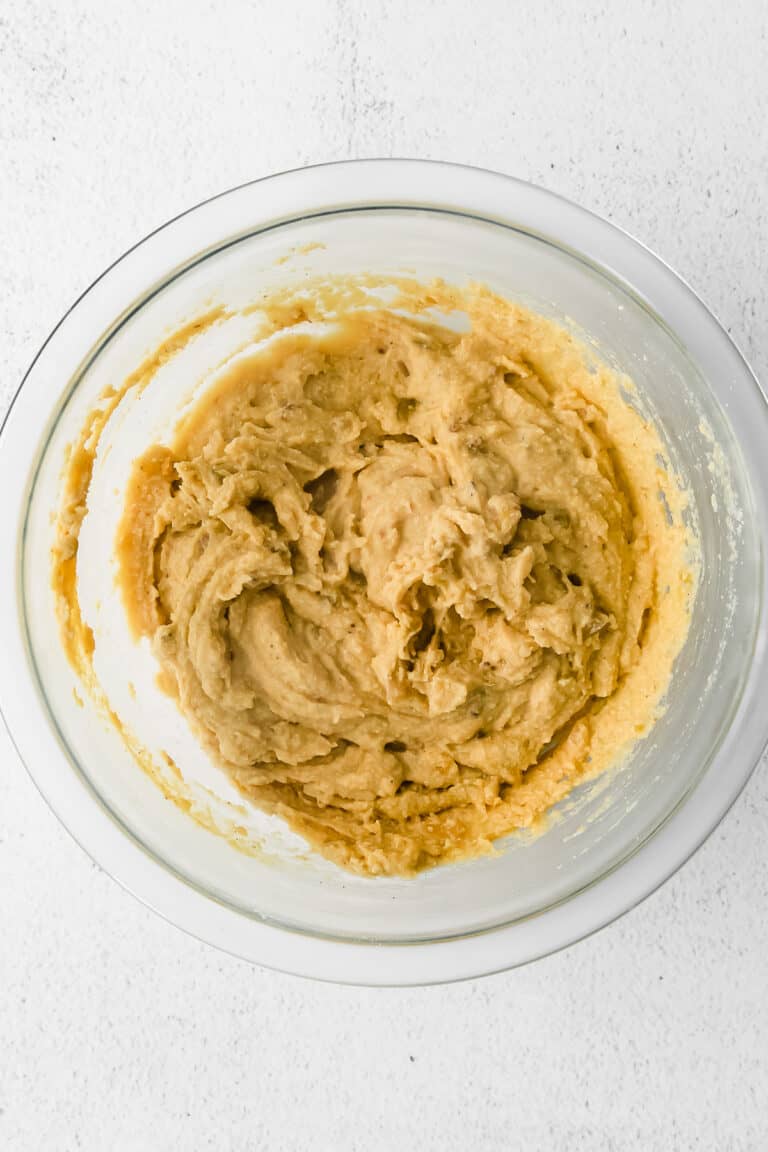 Don't Forget this
When you are making this soup, start with only 1/2 cup of masa harina. If your soup isn't as thick as you'd like, add 1 tablespoon of masa harina at a time to the soup until it reaches your desired consistency.
Things to Consider Before Making this Soup
Prepare ingredients before starting.
It is always a great idea to measure out all of your ingredients before starting any recipe, but especially for this soup. Measure out your spices, get your masa harina ready, and this recipe will be ready in no time.
Use chicken thighs instead.
Want to bring this soup to the next level? Feel free to use chicken thighs instead of breasts. It leaves you with fattier soup with a bit more depth of flavor.
Add some spice.
This enchilada soup is very flavorful, but if you are looking for a little kick there are a few different ways you can make this soup spicy. Below are some great options.
Add 1 teaspoon of red pepper flakes to the dry rub that you put on the chicken.
Use jalapeños instead of green chilies.
Add 1-2 tablespoons of hot sauce to the soup.
Use spicy enchilada sauce.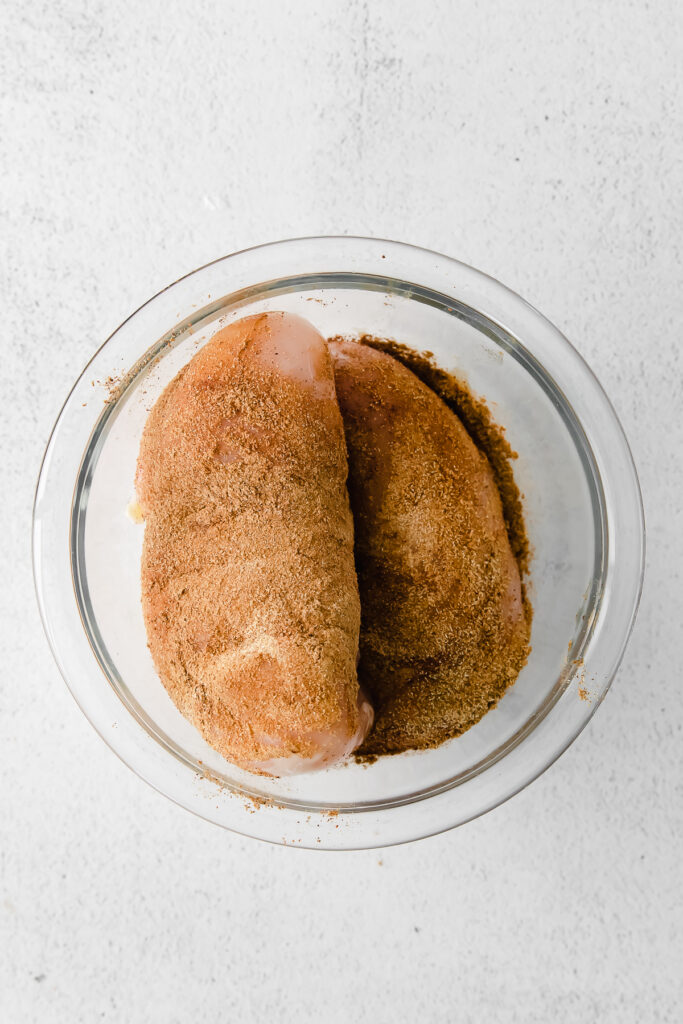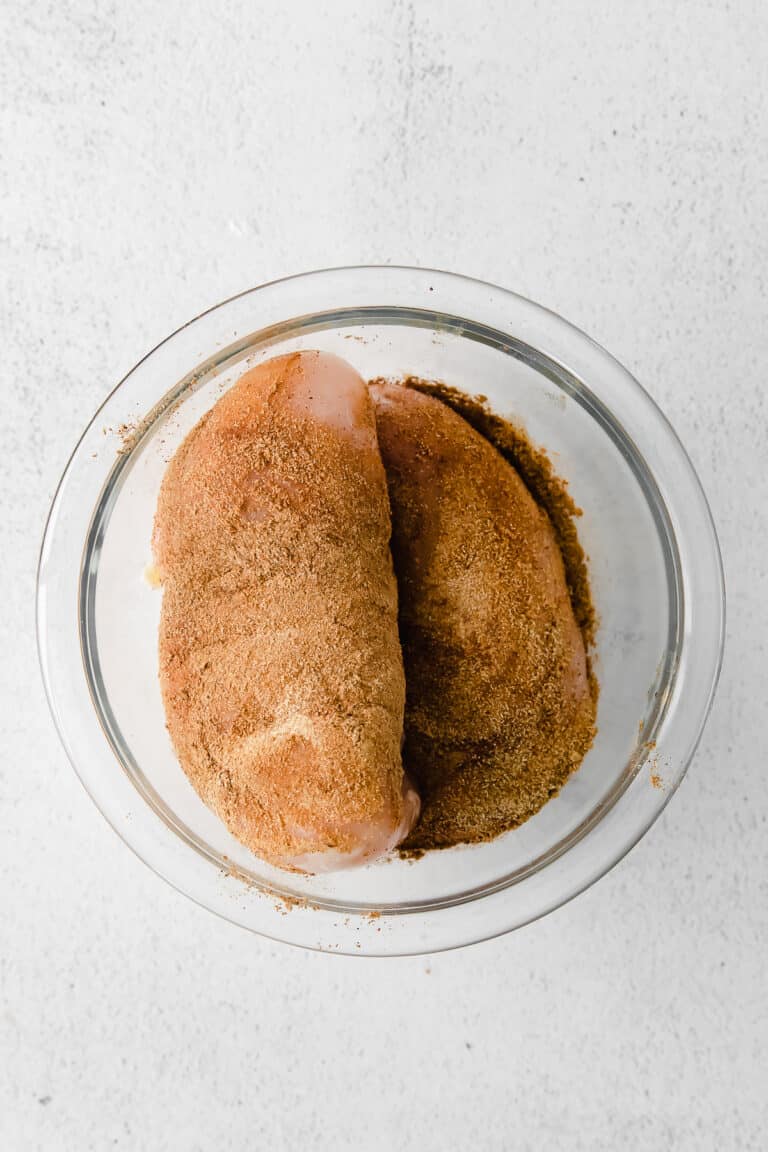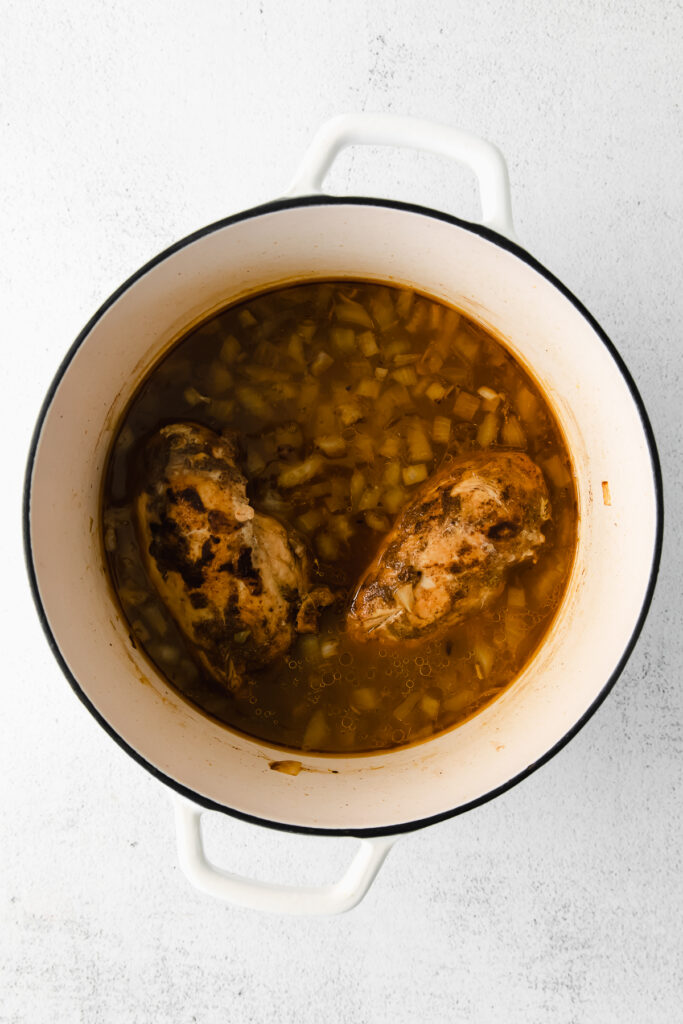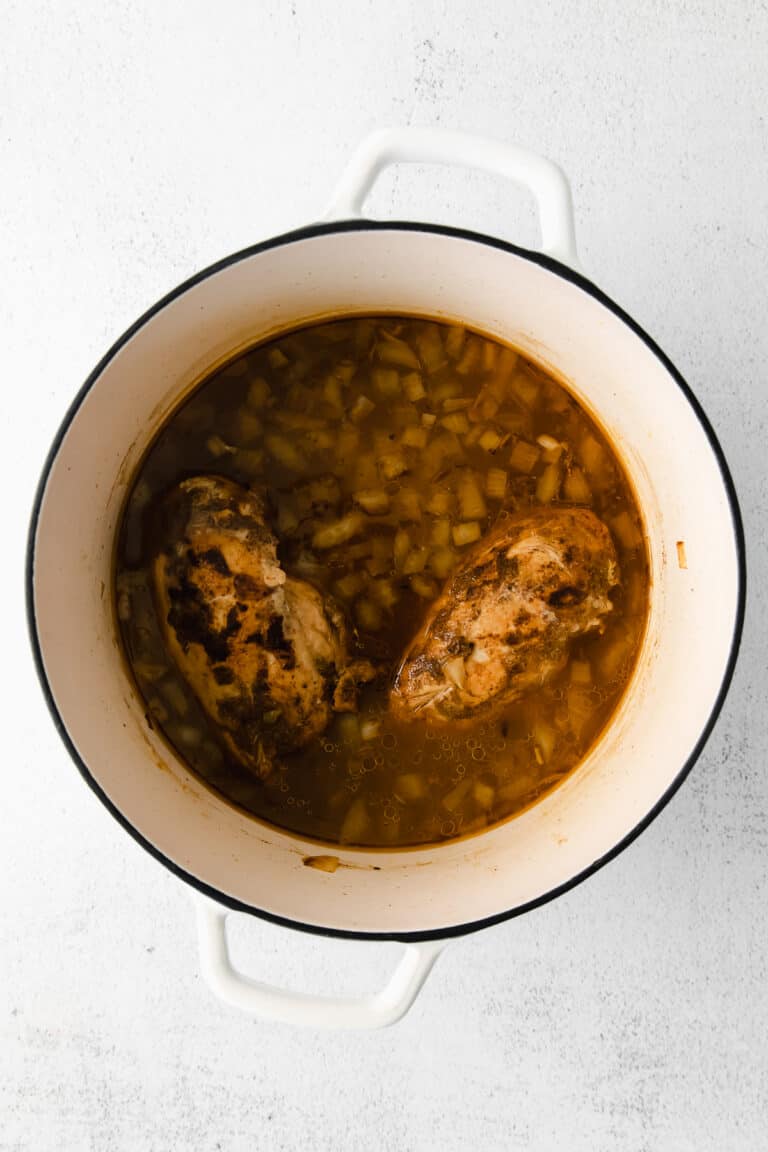 How to Make Chilis Chicken Enchilada Soup
Dry rub the chicken. Mix all of the seasonings together in a small bowl and then sprinkle them over the chicken breast.
Sear the chicken. Heat olive oil in the dutch oven that you are using to cook the soup. Sear the chicken on both sides until brown and then remove the chicken from the pot.
Sauté the onions. Add the onions to the same dutch oven and sauté the onions in all the delicious chicken juices and spices.
Add the chicken broth. Add the green chilies and chicken broth to the pot and bring to a boil. Let the chicken cook in simmering broth for 5-7 minutes.
Remove + shred the chicken. Remove the chicken from the pot and carefully shred the chicken with two forks. Set the chicken aside for a moment.
Prepare the masa harina. Remove 2 cups of the hot broth from the pot and add it to a large bowl. Add 1/2 cup of masa harina to the hot broth and whisk. The mixture will thicken quickly.
Add the rest of the ingredients. Add the masa haraina and the rest of the ingredients to the pot.
Thicken the soup. Allow the soup to simmer for 20 more minutes to thicken.
Add the cheese! Finally, remove the pot from the heat and add the cream cheese and cheddar cheese to the soup. Stir in the cheese until melted.
Eat it up. You chicken enchilada soup is ready! Serve it with shredded cheese, cilantro, or do what Chili's would do and sprinkle some tortilla strips over the top of the soup and enjoy.
remember it's a thick soup
This chicken enchilada soup is a thicker soup so don't be alarmed. If the soup turns out too thick for your liking add extra broth to the soup at the end!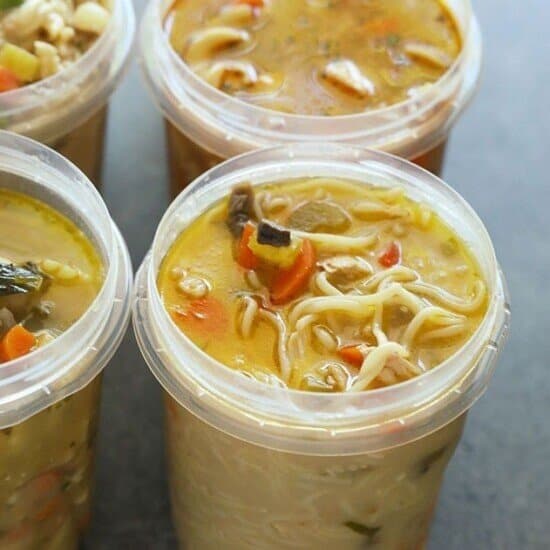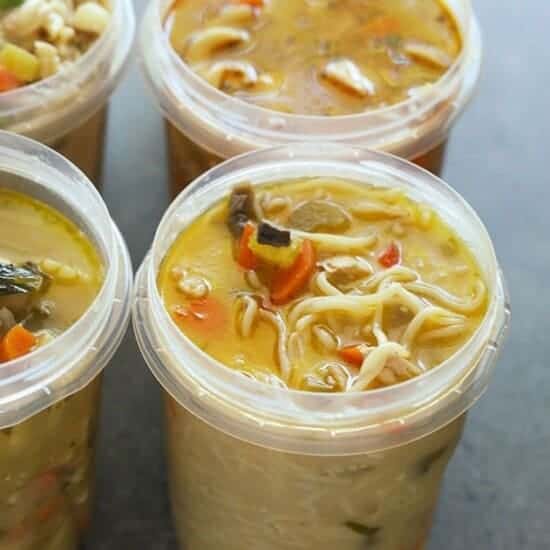 Tutorial
How to Freeze Soup & Chili
Learn how to freeze soup and chili with this easy How to Freeze Soup tutorial. We'll share all of our tips and tricks to perfect freezer soup.
Get Recipe
Serving Suggestions
We suggest serving this soup with lighter toppings since it is such a decadent soup. Fresh cilantro, red onion, or a little salsa would be delicious.
Storage
Let this soup cool completely before placing it in an air tight container and store it in the refrigerator for 3-4 days.
A note on Reheating
We suggest reheating this soup on the stovetop over low heat. You will need to add 1-2 cups broth to thin out the soup as it will thicken in the refrigerator.
Can I Freeze this Soup?
We do not suggest freezing this soup!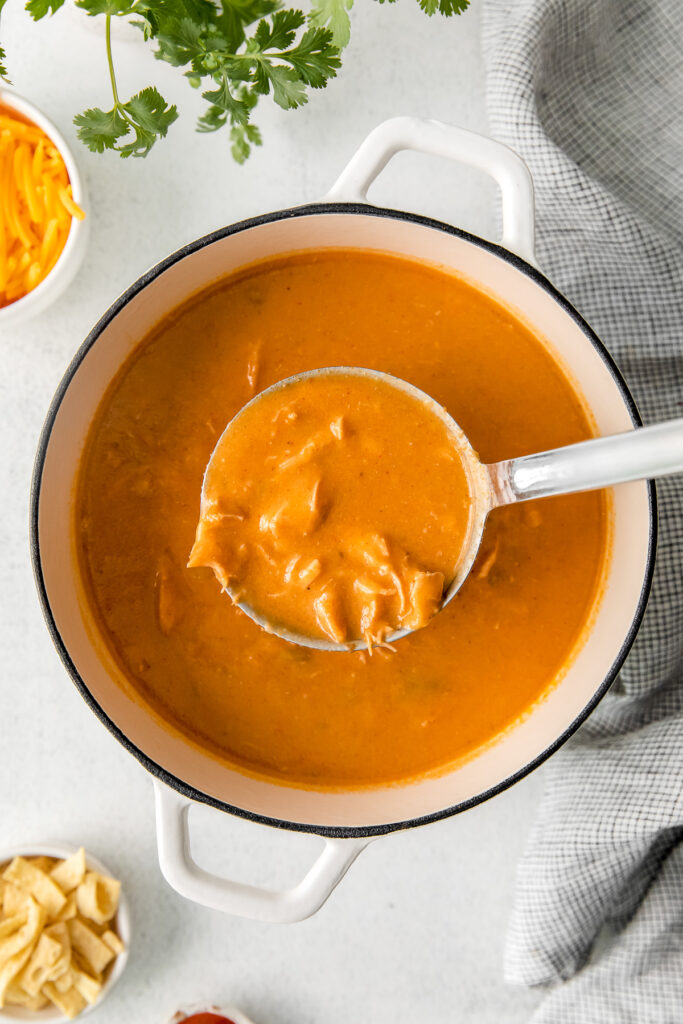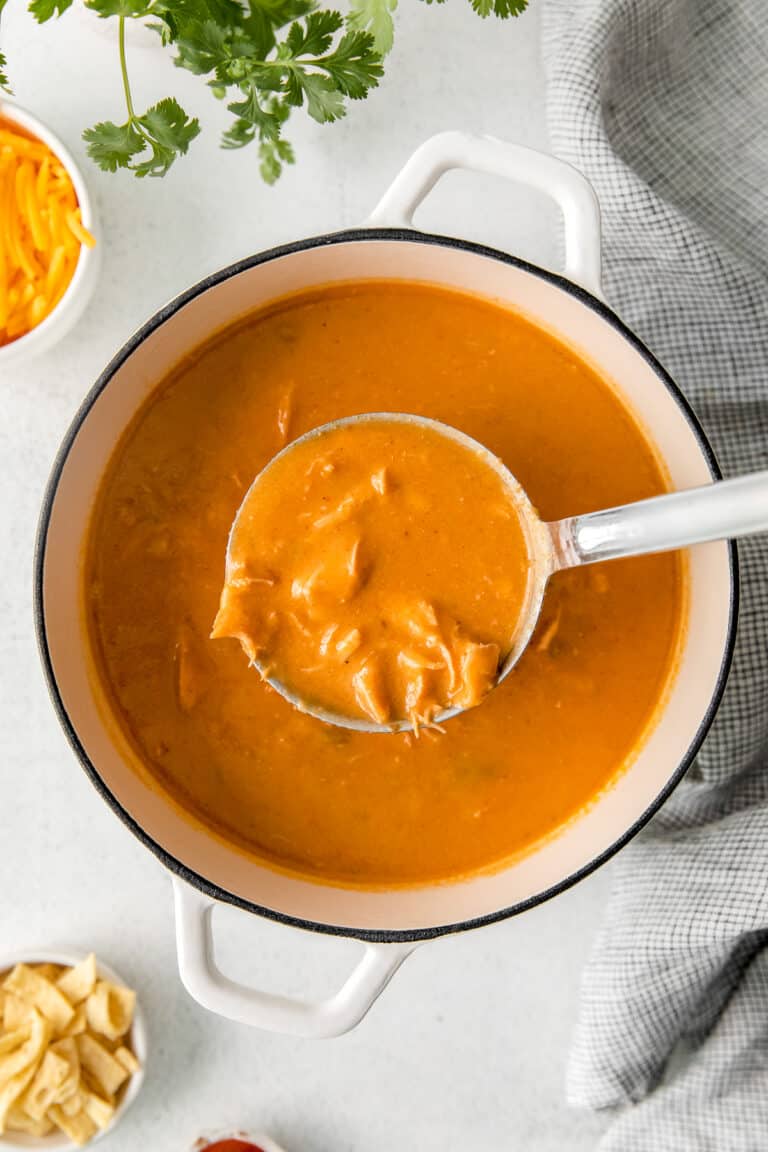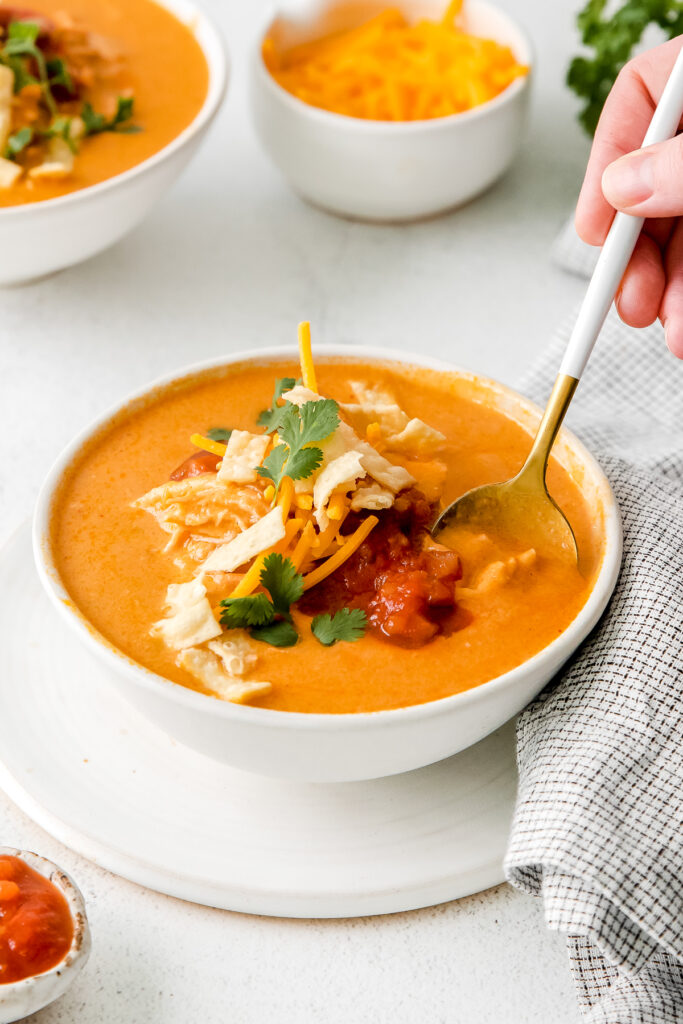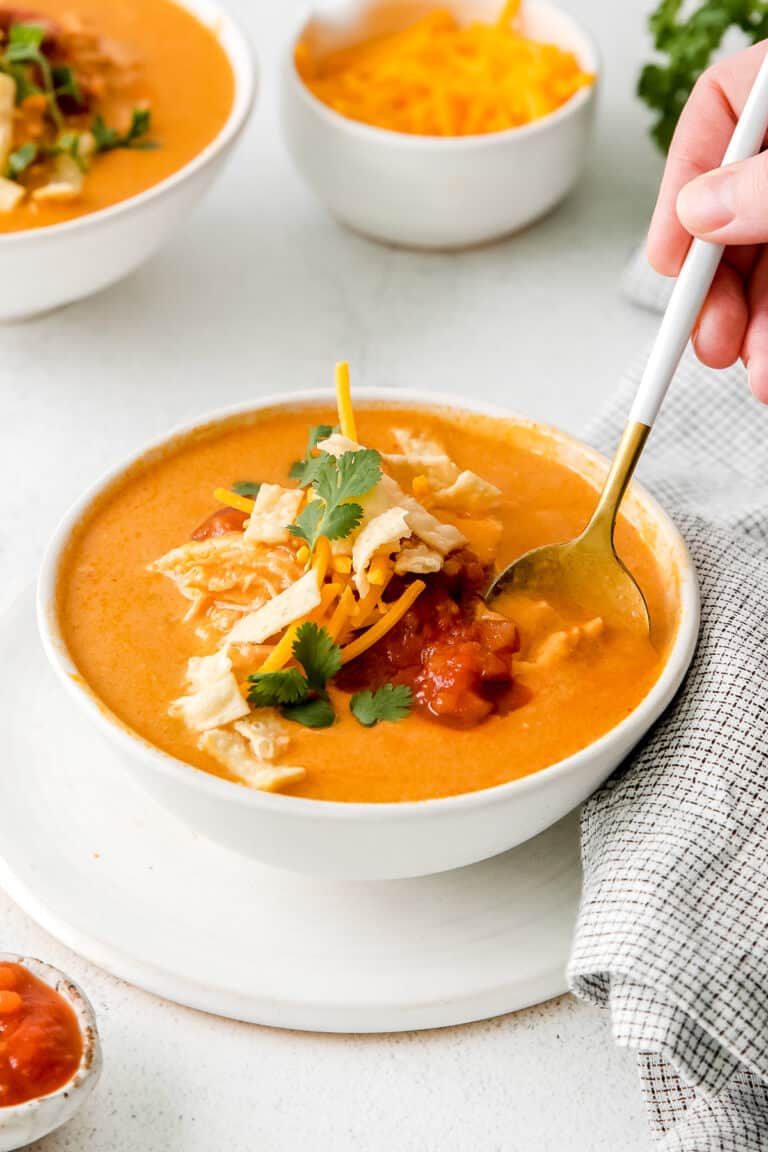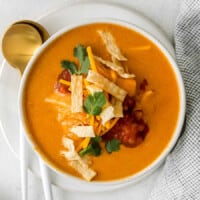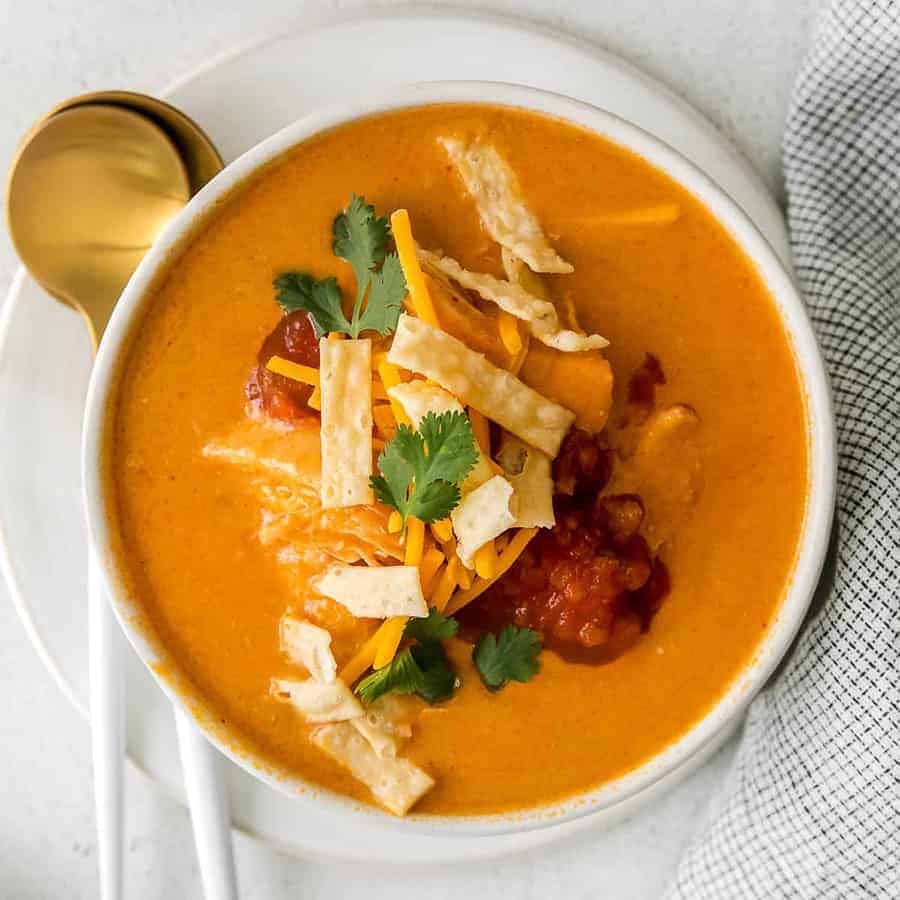 Chilis Chicken Enchilada Soup
This Chilis Chicken Enchilada Soup is made with simple ingredients like chicken breast, broth, and spices with an added secret ingredient as the thickening agent! 
Ingredients
2

teaspoons

ground cumin

separated

2

teaspoons

garlic powder

separated

1

teaspoon

chili powder

1

teaspoon

paprika

¾

teaspoon

salt

1

lb.

boneless skinless chicken breasts

2

tablespoons

olive oil

½

large white onion

diced

1

4-oz.

can green chilis

1

cup

red enchilada sauce

6

cups

chicken broth

1/2

cup

masa harina

+ more if you need it*

4

oz.

cream cheese

softened and cut into cubes

2

cups

shredded cheddar cheese
Instructions
First, add 1 teaspoon cumin, 1 teaspoon garlic powder, and 1 teaspoon chili powder into a bowl and mix. 

Sprinkle the chicken breasts with the spices. Be sure the chicken breasts are fully coated. 

Heat a large pot or dutch oven over medium/high heat. Add olive oil. 

When olive oil is fragrant, add the chicken breasts to the pot and brown on both sides for about 1-2 minutes. Remove from the pot. 

Add onions and ¼ teaspoon of salt to the pot and sauté for 3-4 minutes. 

Next, toss the green chilis with the onion and add the chicken back into the pot. 

Pour the chicken broth into the pot and bring to a boil over high heat. 

Turn heat to low and simmer the chicken for 5-7 minutes or until fully cooked (when the internal temperature is 165ºF). Remove chicken from the pot and shred the chicken with two forks. Set aside. 

Carefully, remove 2 cups of hot broth from the pot using a measuring cup and add the broth to a bowl. 

Whisk 1/2 cup of the masa harina into the hot broth. The mixture will thicken very quickly.  

Add the thickened broth to the pot and whisk into the onion and broth mixture. 

Add the paprika,1 teaspoon cumin, 1 teaspoon garlic, remaining salt, enchilada sauce and shredded chicken to the pot and mix until combined. 

Heat the soup over medium heat for 20 minutes, stirring occasionally to make sure that nothing sticks to the bottom of the pot. 

After 20 minutes, remove the pot from the heat and add the cream cheese cubes to the soup and stir until it is melted and combined. 

Sprinkle the cheddar cheese into the soup and whisk until the cheddar cheese melts. 

Serve the soup with tortilla strips and a sprinkle of cheddar cheese. 
Tips & Notes
*Masa harina is the thickening agent used for this soup, start off with using just 1/2 cup and if you would like a thicker soup add a little more at a time at the end until the soup reaches desired consistency. 
Nutrition facts
Calories:
413
kcal
Carbohydrates:
16
g
Protein:
33
g
Fat:
21
g
Fiber:
1
g
Sugar:
4
g