This quick recipe for homemade corn fritters are made with whole corn kernels, white whole wheat flour, pickled jalapeños, and green onions. This recipe is perfect for a side dish for any BBQ or an easy weeknight side.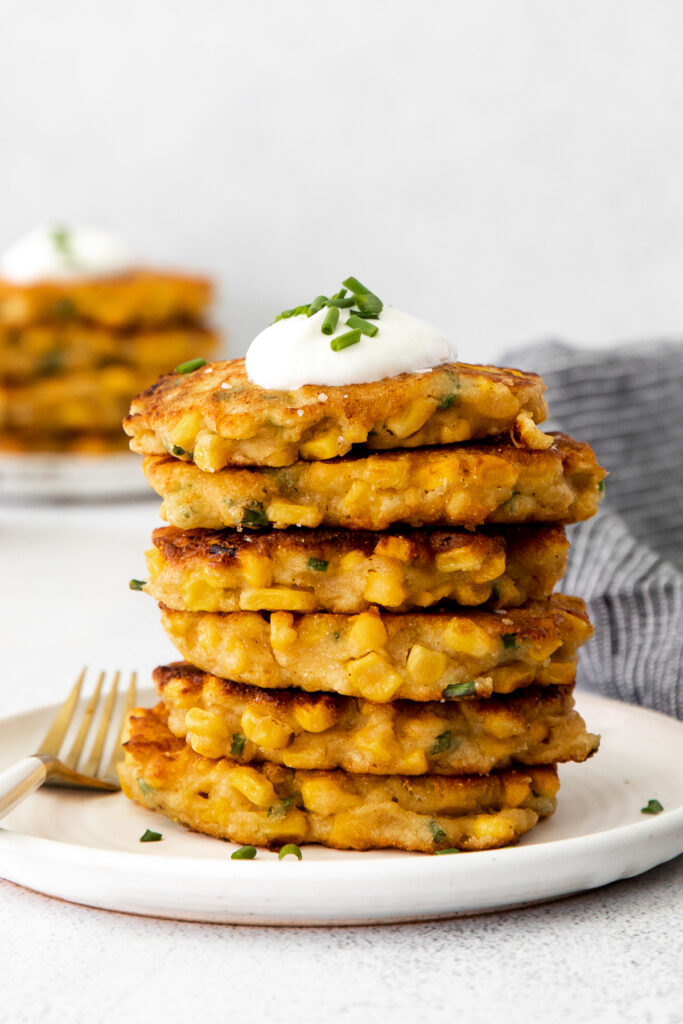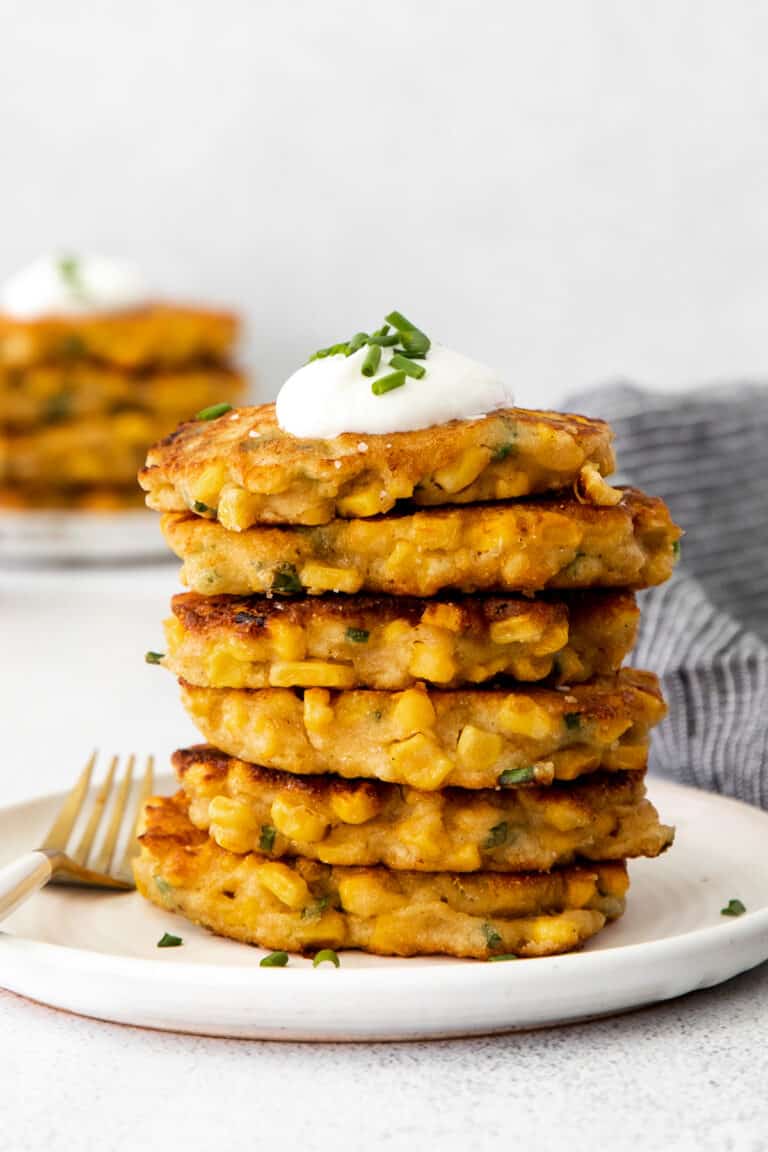 The Crispiest Healthy Corn Fritters
Whether you are a savory breakfast person or you need to use up some left over corn in a side dish, these corn fitters are for you. Corn fritters are known for being deep fried, but have no fear, not these fritters.
why we love these corn fritters
You can freeze them if you make too many.
They have a great salty + spicy flavor.
The are not deep fried!
You can make them as a simple summer side dish OR for a savory breakfast.
Ingredients You Need for Corn Fritters
White Whole Wheat Flour- using white whole wheat gives these a little fluff along with a hearty texture. If you only have all purpose flour, that would work too!
Baking powder– just like any pancake, you gotta add a little something to fluff them up.
Salt- you need a little bit of salt in the batter and then a dusting of salt after the corn fritters are done. Don't skip the salt!
Canned jalapeños– oh baby, the canned jalapeños give these corn fritters a mild kick and a lot of flavor. Feel free to use canned green chiles if you need to.
Sweet corn– the star of this recipe is obviously the sweet corn. No matter what type of sweet corn you use, be sure it is thawed and dry.
Chives- the chives give these corn fritters a light and summery taste. Mix some in the batter and save some for garnish.
Unsweetened almond milk– we thin the corn fritters batter out with a little almond milk. *We suggest keeping some additional almond milk out in case you need to thin your batter out if it sits out too long.
Large eggs – make sure you are using large eggs and not medium or XL.
Olive oil– the fat in this fritter batter is olive oil. We also use olive oil as the cooking oil.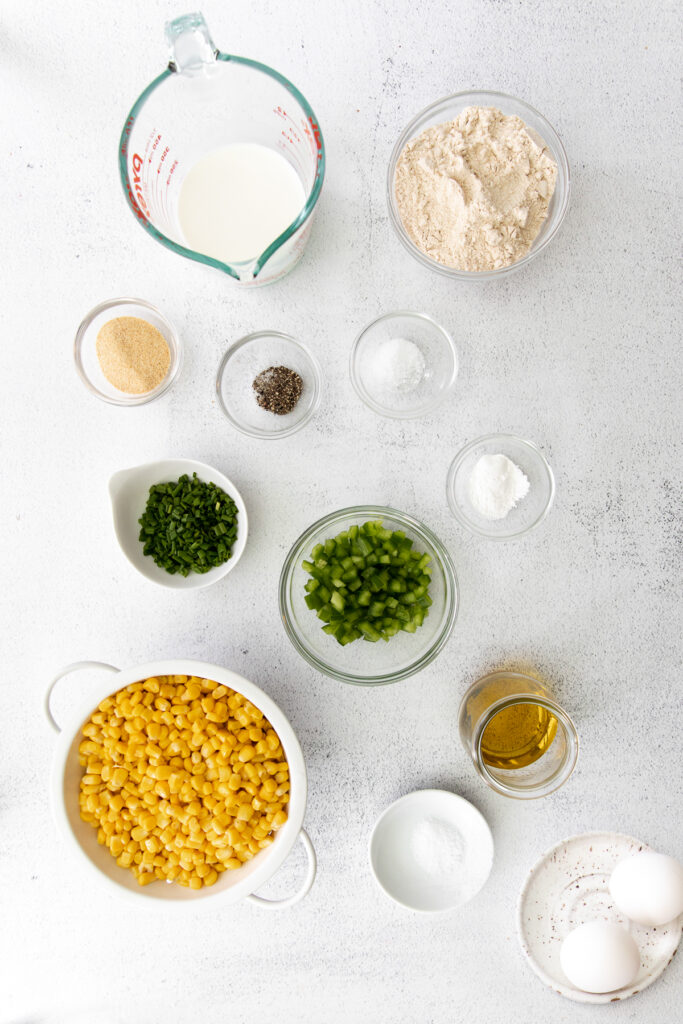 Keep These Things In Mind
Fresh, Frozen, or Canned Corn
You can use any type of sweet corn. You can use left over corn on the cob (cut off the cob), frozen corn that has been thawed, or canned corn that is drained and rinsed.
Don't Forget the oil
Don't be scared of the oil! You want your fritters to be golden brown and to do that you need to use a bit of olive oil. The corn fritter batter will soak up the oil so you will need to add a little oil before each batch of corn fritters.
Salt is important
Corn fritters are known for being a bit salty. To avoid over salting you can skip the salt in the batter and sprinkling the corn fritters afterward with salt will take the corn fritters to the next level.
How to Make Corn Fritters
Mix dry ingredients. Add the flour, baking powder, garlic powder, salt and pepper to a bowl and whisk them all together until combined.
Add wet ingredients. Add the corn, eggs, olive oil, and almond milk to the dry ingredients and whisk the dry ingredients with the wet ingredients until the batter is thick. You want to batter to be the consistency of pancake batter. If the batter feels too thick, feel free to add a bit more almond milk.
Heat cast iron pan. Heat a large cast iron pan over medium high heat.
Add oil. When the pan is hot, add the olive oil to the pan.
Scoop batter. Using a 1/4 cup scoop, scoop the batter into the pan and create a circle shape out of the fritter batter. Scoop a few corn fritters into the pan, but be careful to not overcrowd the pan.
Cook corn fritters. Cook the corn fritters for 2-3 minutes on each side or until golden brown.
Remove + Salt. Remove the fritters from the pan, sprinkle with salt and serve immediately.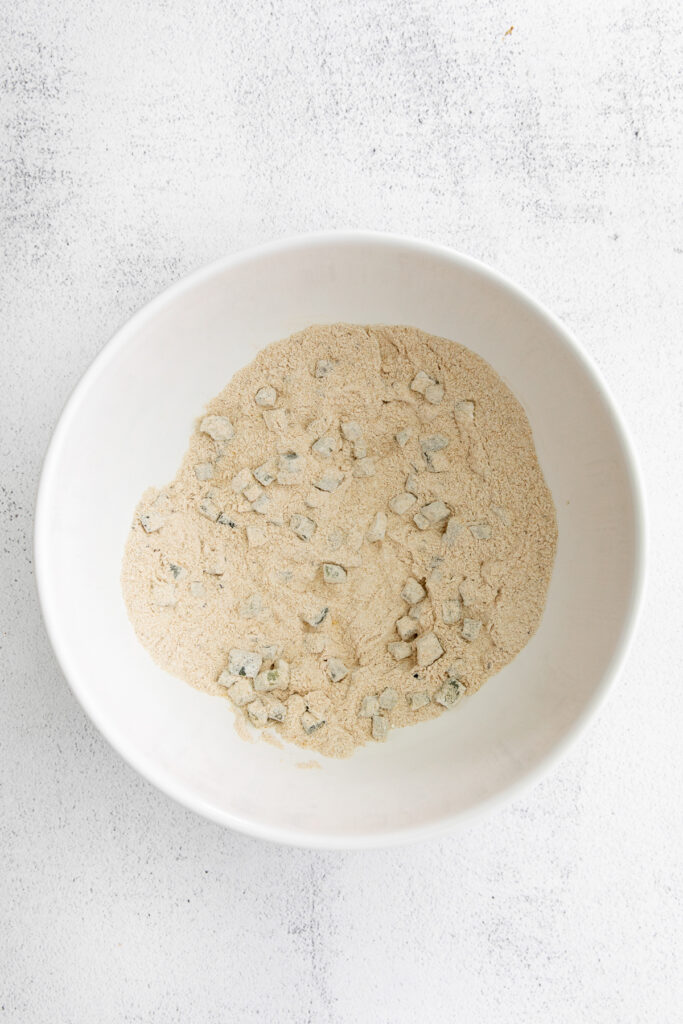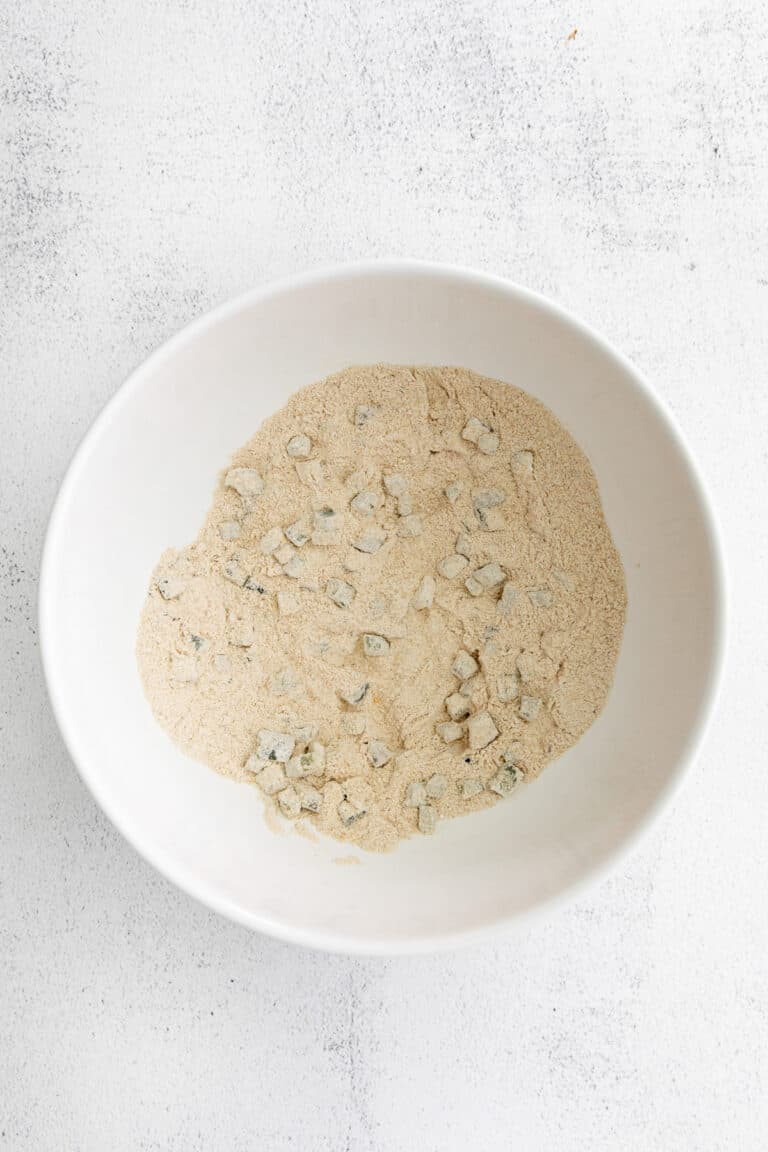 How to Make Corn Fritters Extra Crispy
How do you get corn fritters crispy without deep frying them? Great question. Here are a few simple ways to get yourself some corn fritters.
Use a cast iron skillet.
Make sure you are using enough oil. Adding oil to the pan in between batches is helpful.
Be sure your batter is thin enough. If the batter is too thick it will cook faster on the outside but leave the inside of the fritter soggy.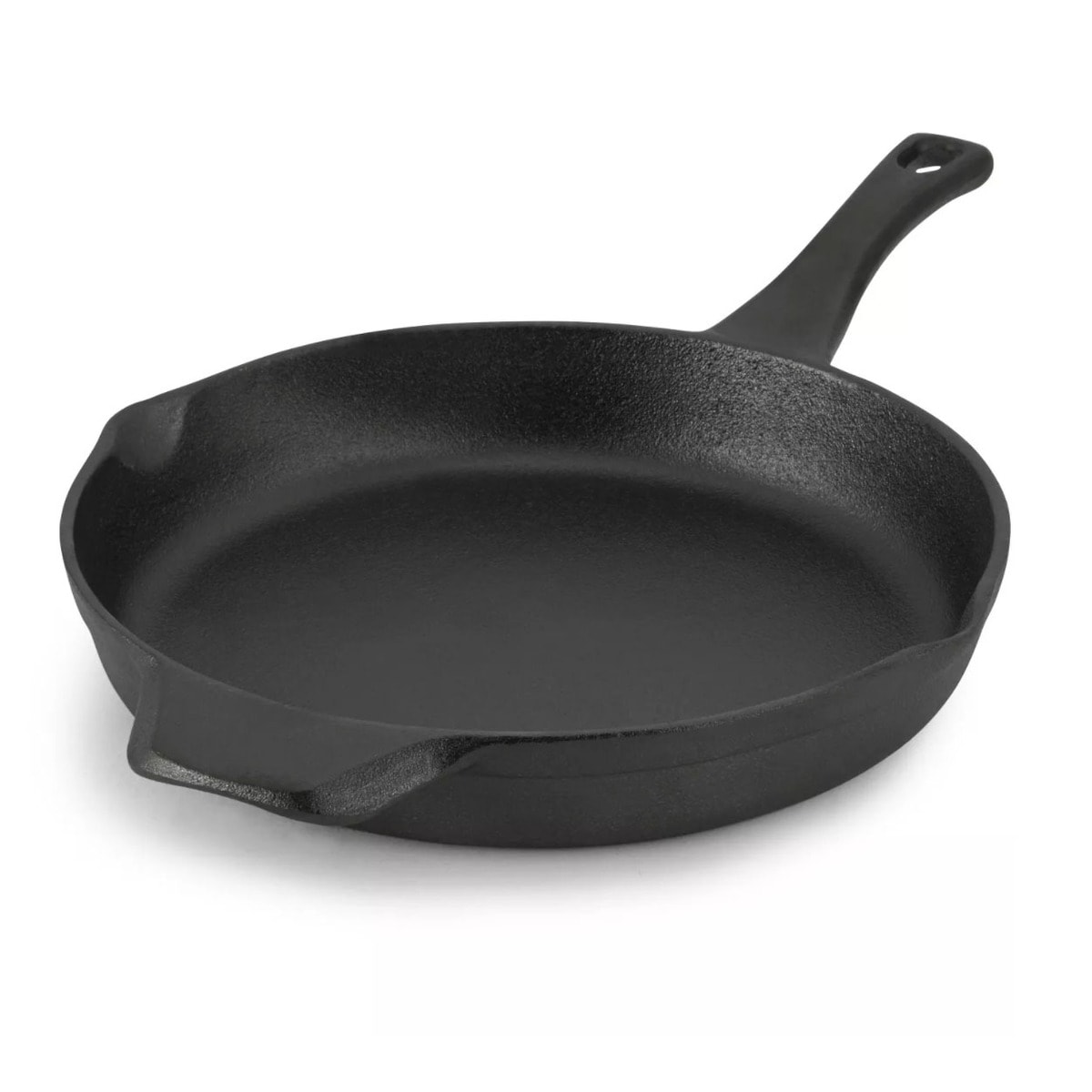 the best
Cast Iron Skillet
Get yourself a cast iron skillet to make the crispiest corn fritters!
Get One!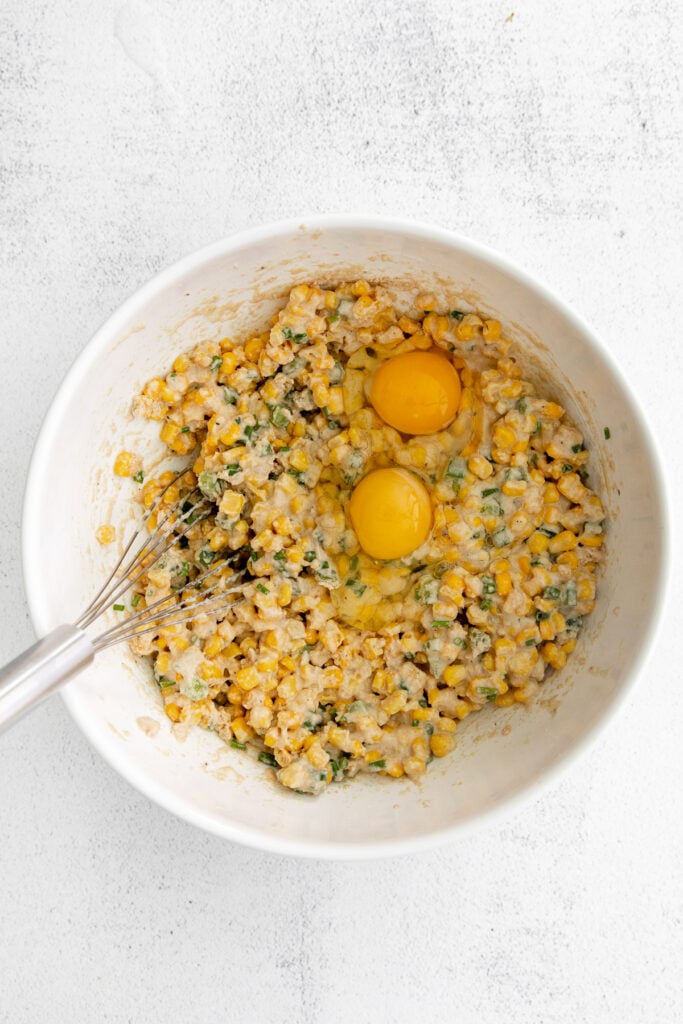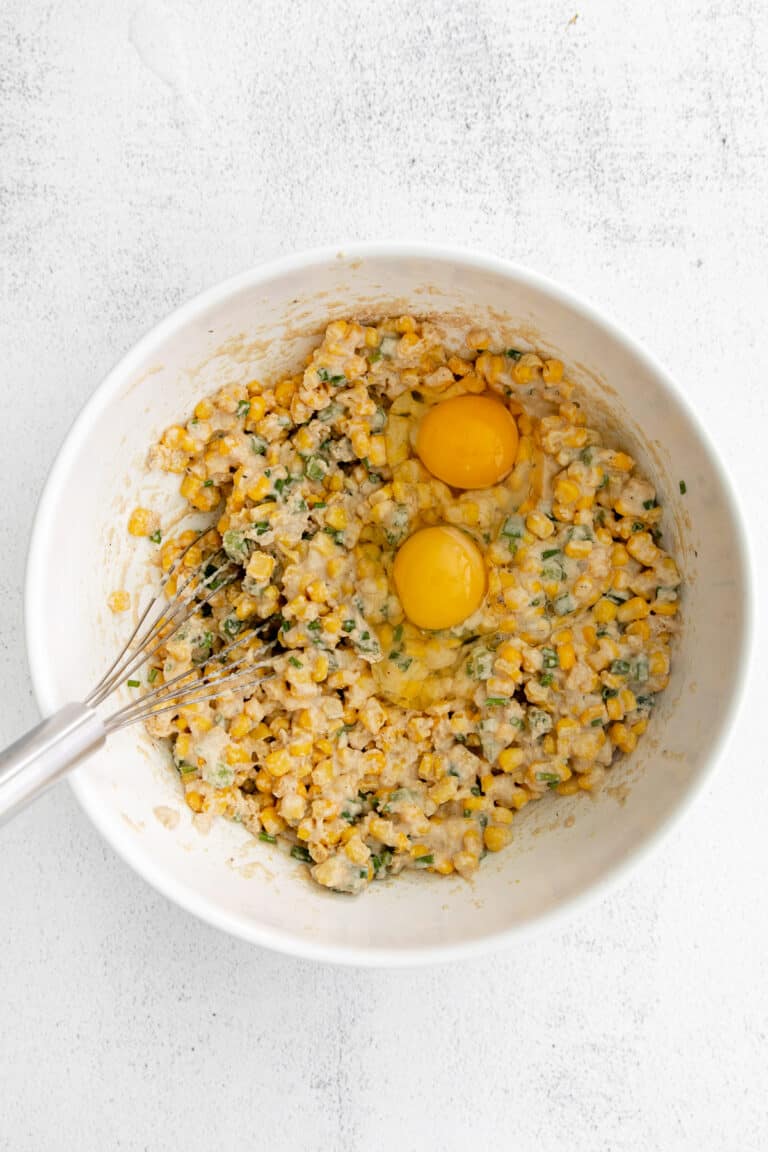 Corn Fritter Variations
Make them Cheesy
This is a dairy free recipe, but you could really take these corn fritters up a notch and add 1/2 cup of cheddar cheese to the batter.
Add Some Protein
If you are looking to make these fritters more of a full meal, you can add a little protein by adding 1/2 cup of pinto beans or 1/4 pound of ground cooked turkey sausage to the batter. You may need to add a bit more almond milk to the batter.
Change up the toppings
We went with simple toppings for these corn fritters, Greek yogurt and chopped chives.
Bacon bits
Sour cream
Grated cheese
Top the tater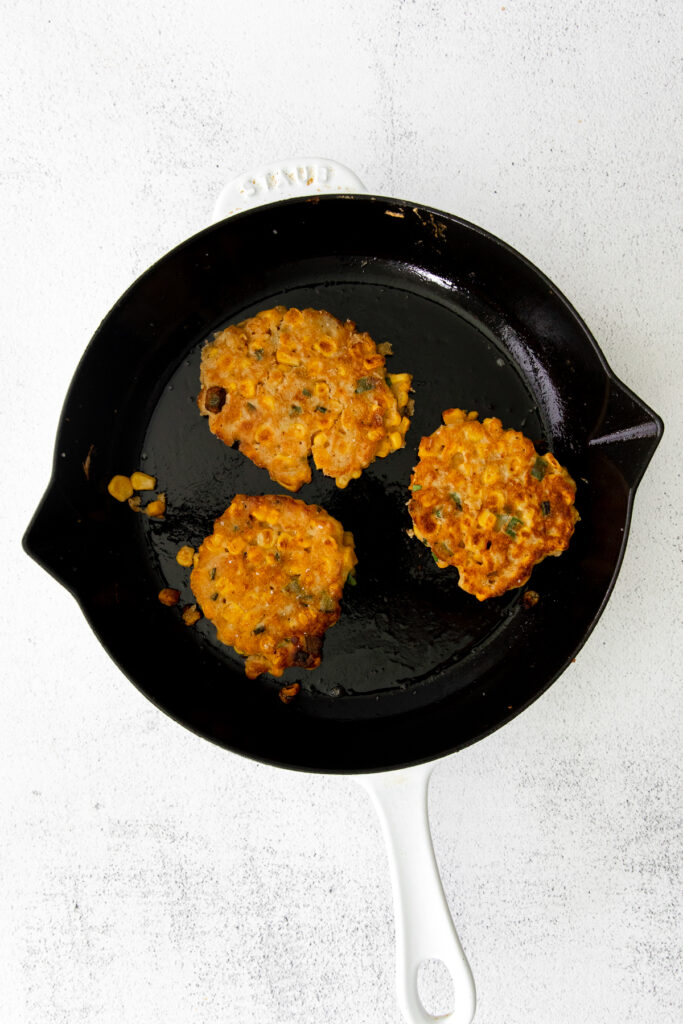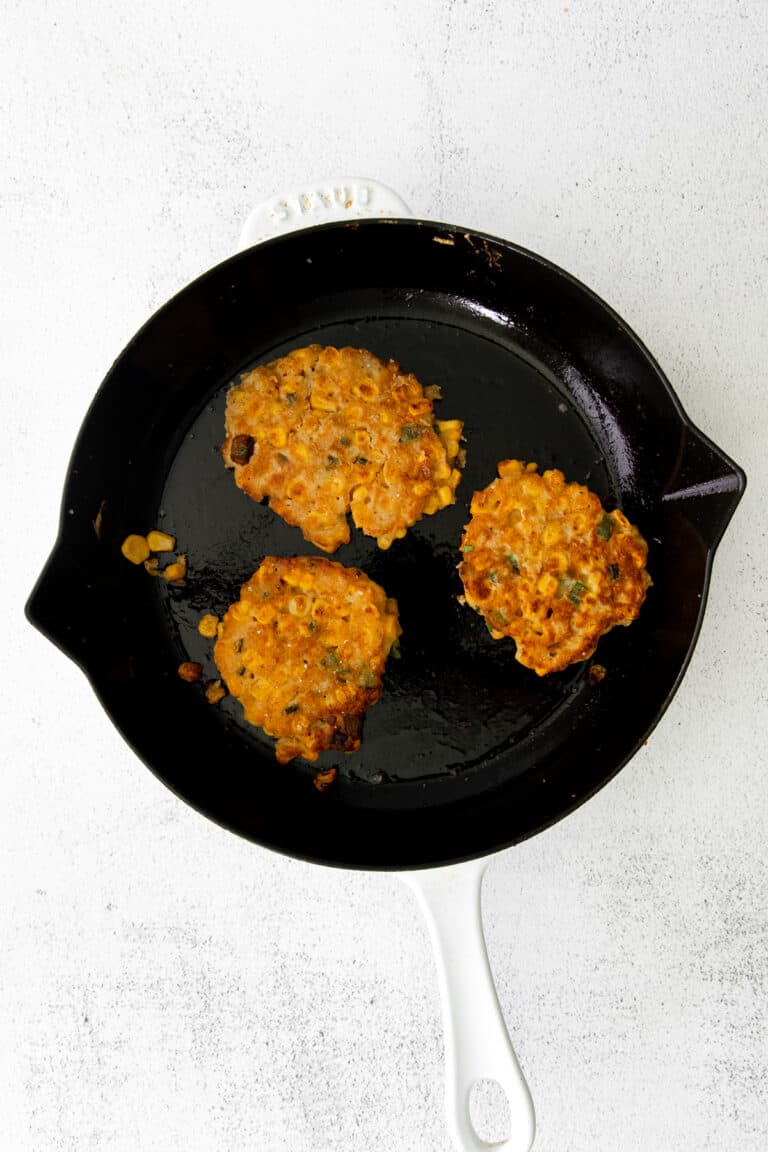 What to Serve with Corn Fritters
You have so many options when it comes to serving these corn fritters, you have a few options. They can be breakfast, lunch, dinner, or a side dish. If you are serving these fritters for breakfast we highly recommend serving them with a fried egg.
Below are a few dishes that would be perfect for pairing with these corn fritters.
Perfect Scrambled Eggs- Make fluffy scrambled eggs every time with this perfect scrambled eggs recipe. Step by step simple fool proof instructions to make the best scrambled eggs ever!
Carnitas-This carnitas recipe sits in the slow cooker all day in delicious juices. It is shredded and crisped up in the oven for the most delicious carnitas you'll ever eat!
Grilled BBQ Chicken- Grilled BBQ Chicken is hands-down one of my favorite summer meals. Whip up this healthy grilled chicken breast recipe on the grill with your favorite bbq sauce!
Storing Preferences
These corn fritters can be stored in an air tight container in the refrigerator for up to 5 days or you can freeze these in a freezer safe container or plastic bag for up to 3 months.
To reheat these fritters from frozen, we suggest placing them in the toaster for a tasty golden brown corn fritter.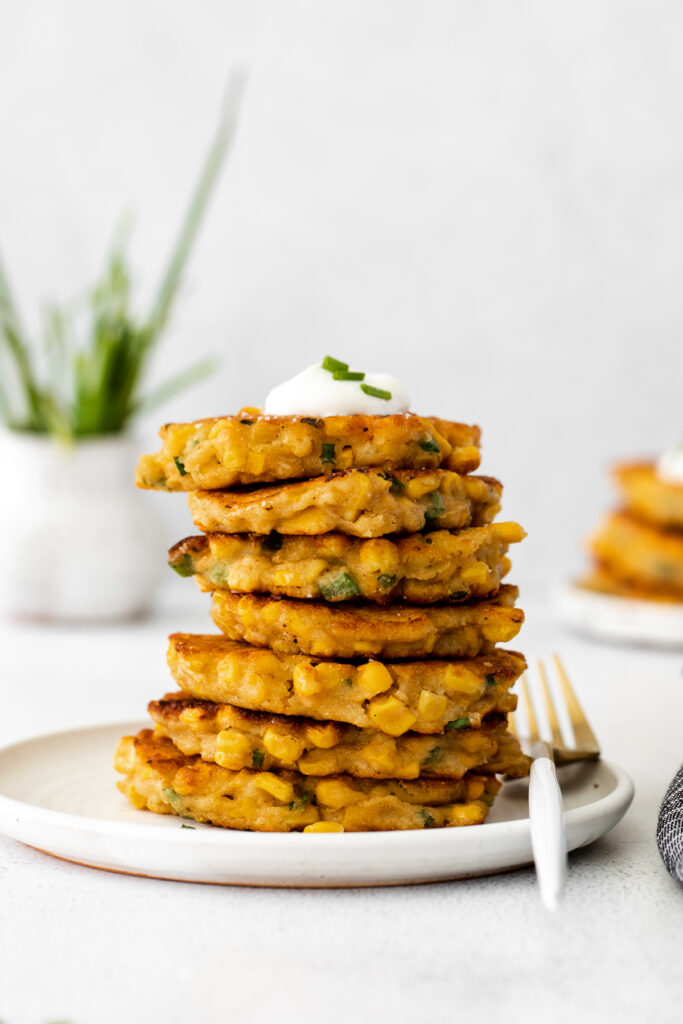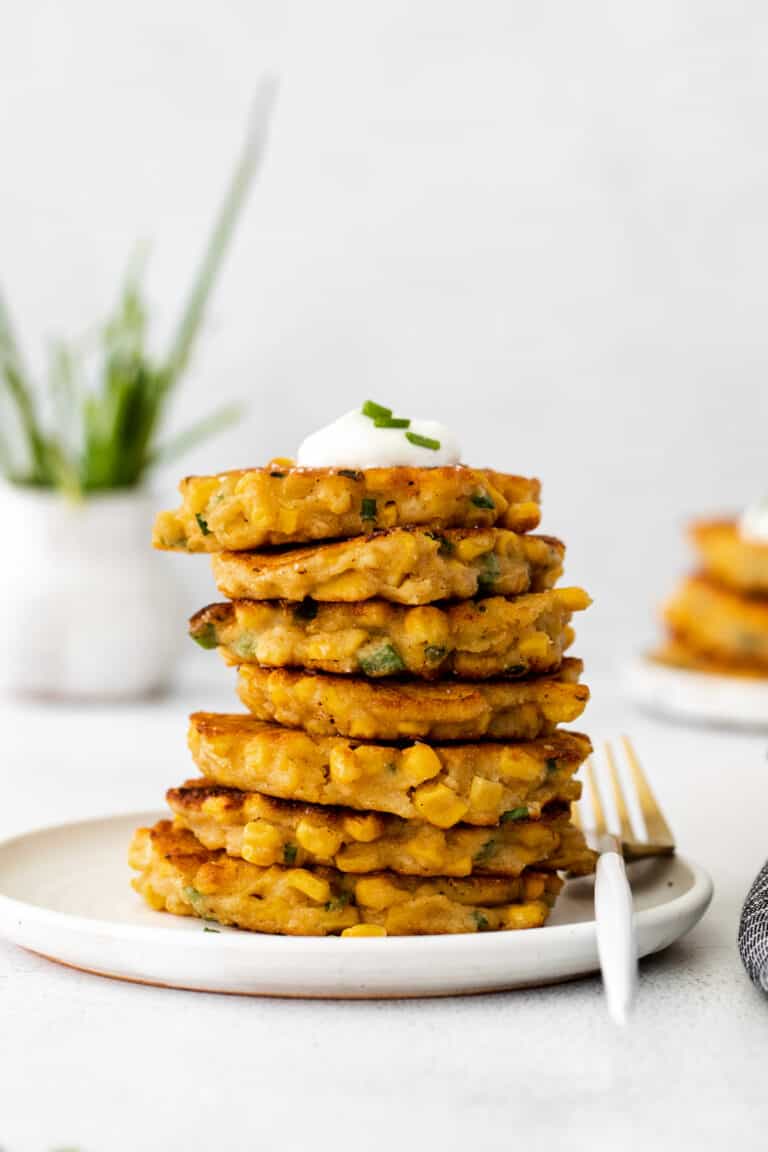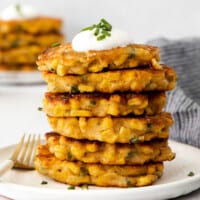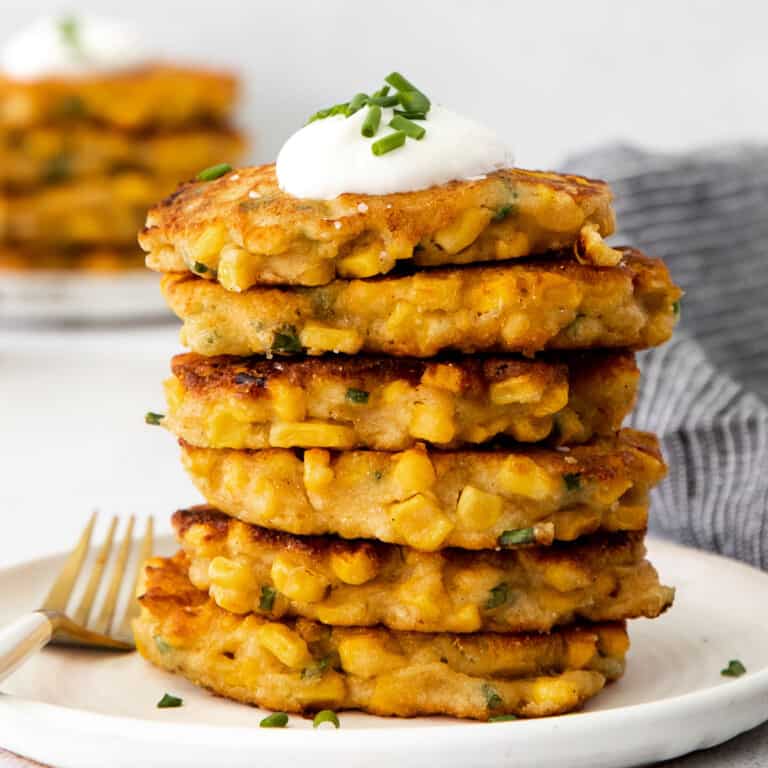 Corn Fritters
This corn fritter recipe takes less than 30 minutes to whip together. Grab your corn kernels, green onions, and the other ingredients. 
Ingredients
1

cup

white whole wheat flour

1

teaspoon

baking powder

1.5

tablespoons

garlic powder

1

teaspoon

salt

separated

½

teaspoon

ground pepper

3

tablespoons

canned jalapenos

chopped

3

cups

sweet corn

we used 2 15-oz. cans, drained rinsed

¼

cup

minced chives

plus more for garnish

3/4

cup

unsweetened almond milk

2

large eggs

¼

cup

olive oil

divided
Instructions
Add the flour, baking powder, garlic powder, ½ teaspoon salt, pepper and jalapeños into a large bowl and whisk the ingredients together until combined. 

Next, add the corn, chives, almond milk and 1 tablespoon of olive oil to the dry ingredients and mix together. 

Lastly, add the two large eggs to the batter and whisk to combine. 

Heat a large cast iron skillet over medium heat and 1 tablespoons of olive oil to the skillet. 

When the olive oil is fragrant use a ¼ cup measuring cup to scoop the batter into the cast iron.

Spread the fritter out into a thin pancake shape. Scoop 1 or 2 more fritters into the cast iron if there is space. Do not over crowd the skillet. 

Cook each fritter for 2-3 minutes on each side or until golden brown. Remove the fritters from the cast iron and sprinkle with additional salt. 

Repeat until all of the fritters are prepared. Be sure you add a little more olive oil to the cast iron in between batches. 

Serve with Greek yogurt and garnish with more chopped chives. 
Nutrition facts
Calories:
372
kcal
Carbohydrates:
52
g
Protein:
17
g
Fat:
11
g
Fiber:
11
g
Sugar:
6
g