This easy chickpea salad is so delicious served on its own or as a chickpea salad sandwich. It has all of the flavors of a chicken salad, but is plant-based!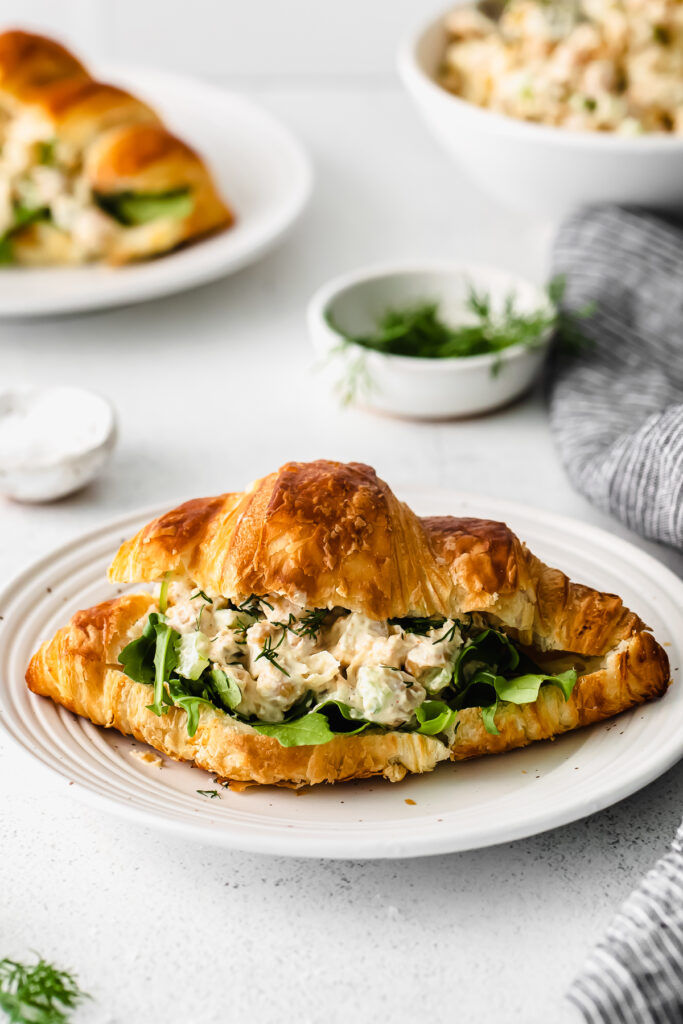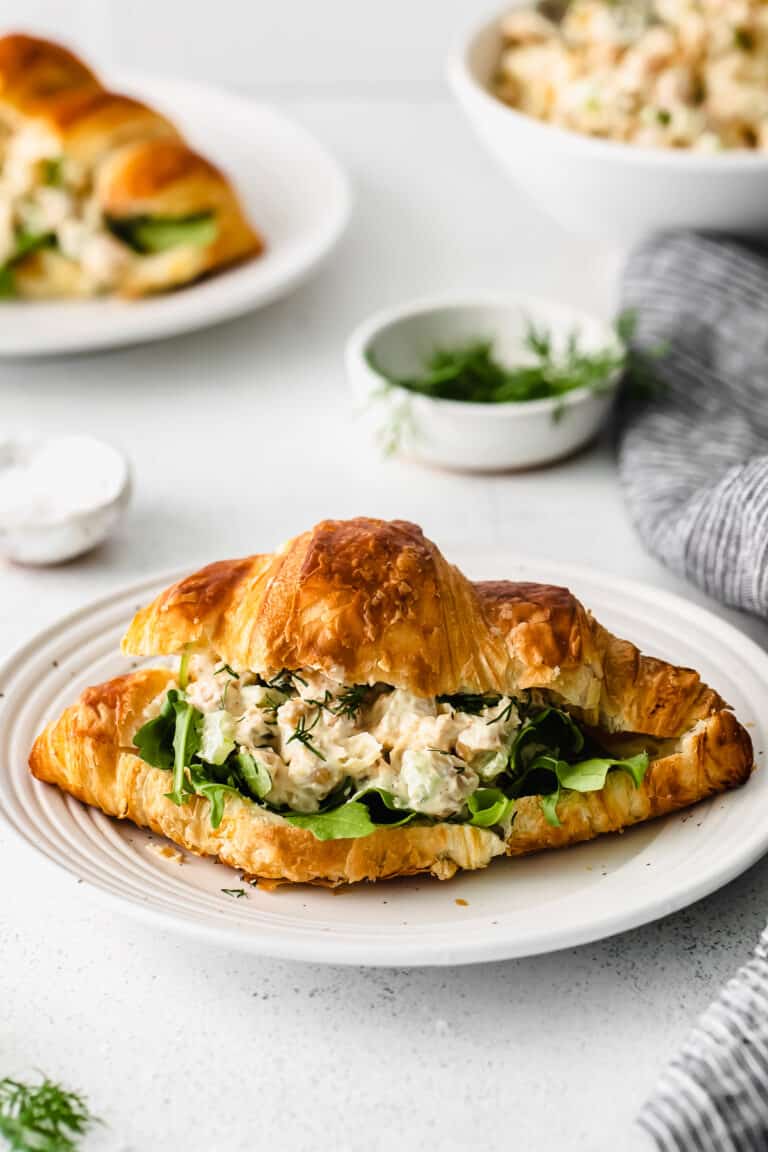 A Chicken Salad but with Chickpeas!
If you love chicken salad like we do, then you are going to absolutely love this chickpea salad! It has all of the same dilly, mustardy, mayo-ey flavors, but is made with mashed chickpeas instead of shredded chicken.
Chickpea salad is such a fabulous way to get a plant-based meal in while packing in the fiber and protein.
What does this chickpea salad taste like?
Chickpea salad tastes similar to classic chicken salad. The sauce is made from mayo, fresh dill, lemon juice, and Greek yogurt making it the perfect savory salad. This is why some people actually call this "chickpea chicken salad."
Are chickpeas healthy?
Garbanzo beans are high in fiber and protein and are an excellent plant-based option for those looking to decrease their meat consumption.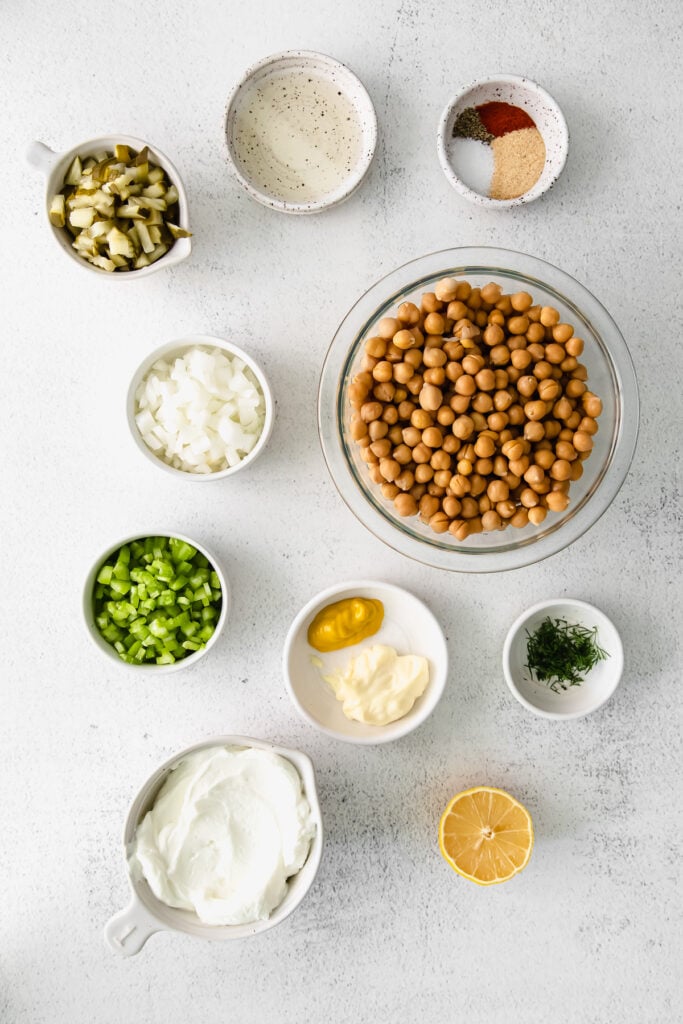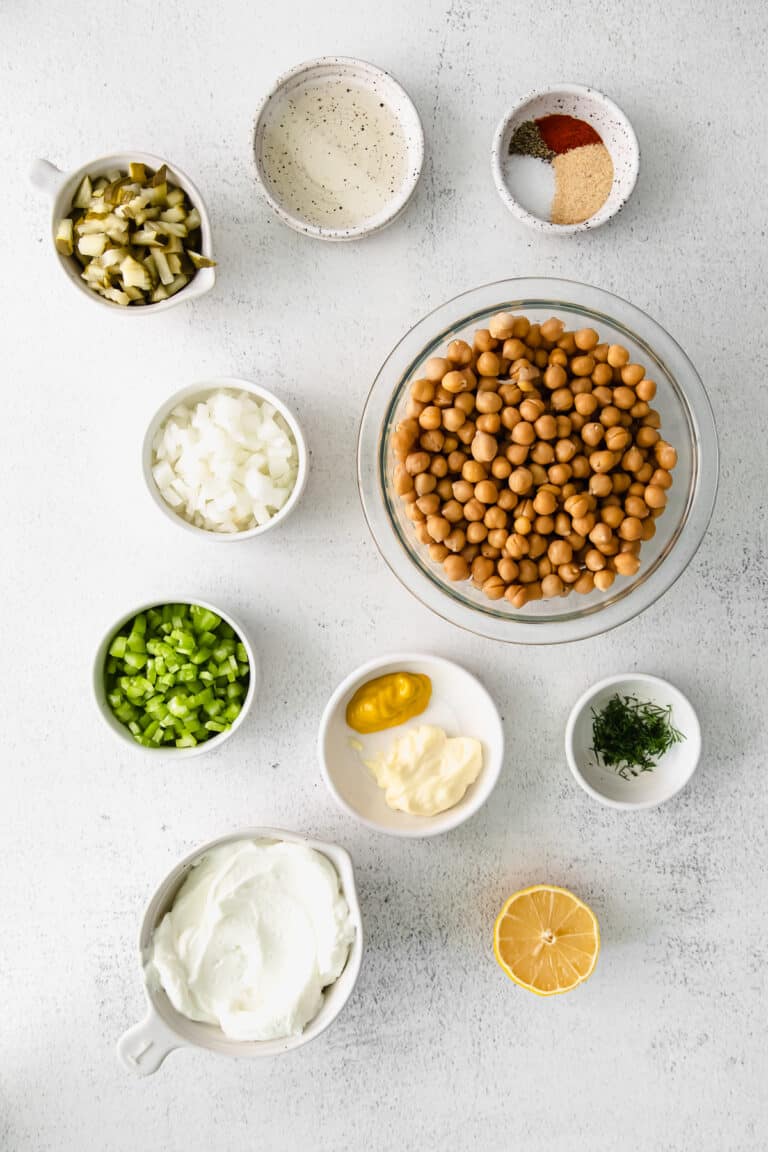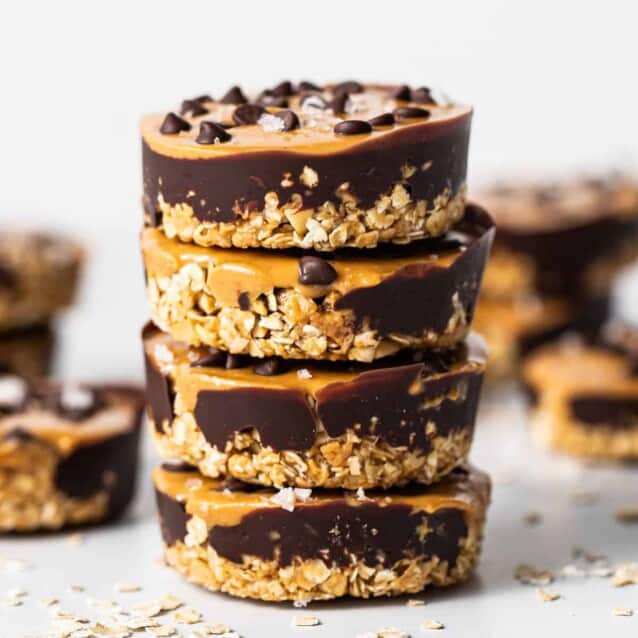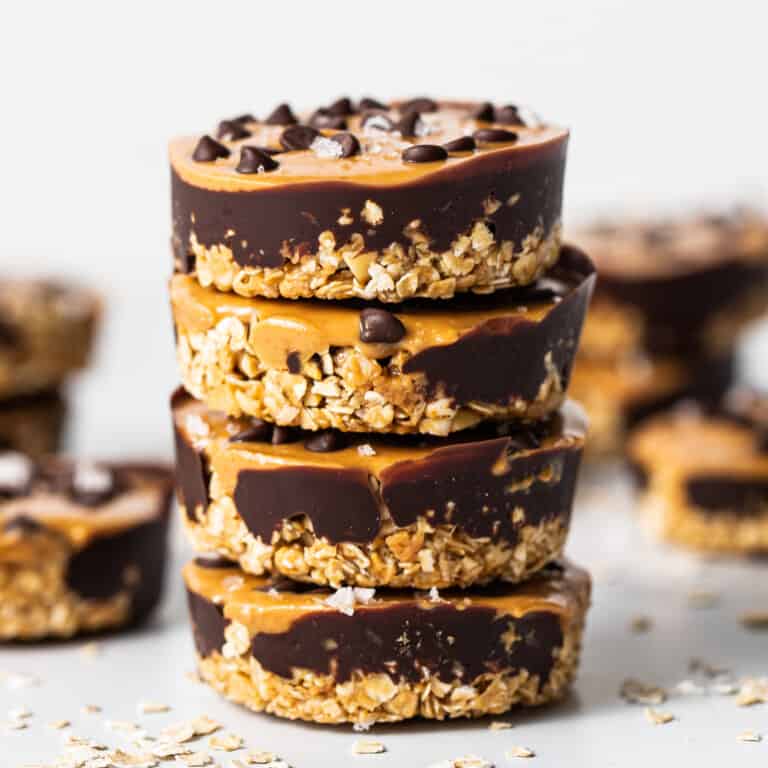 Get our Top 10 5-Star Recipes!
Join our email list for new recipes and BONUS: get our top 10 ⭐️⭐️⭐️⭐️⭐️ recipes e-book!
What You Need
The "Meat"
The "meat" of this salad is chickpeas. You'll need 2 cans and we recommend taking the extra time to remove the casings from the garbanzo beans. The texture is so much better and it only takes a few minutes.
Are chickpeas and garbanzo beans the same thing?

Yes, chickpeas and garbanzo beans are the same thing.
Veggies
Celery: celery adds a great crunch and another veggie.
White onion: onion always adds great flavor. In this recipe, we're using white, but you can also use yellow or red.
Pickles: pickles are our secret weapon. Not only do they add another veggie, but their tangy flavor is so yummy in garbanzo bean salad.
Sauce
Greek yogurt: Greek yogurt is the base of the sauce. We prefer full-fat Greek yogurt, but you can use any fat percentage.
Mayo: mayo is a classic chicken salad flavor and it's a must in this chickpea salad.
Lemon juice: a little citrus balances out all of the flavors.
Pickle juice: pickle juice adds vinegar without adding vinegar.
Yellow mustard: we love the tang yellow mustard adds to this sauce.
Spices: spices needed include garlic powder, salt, pepper,a nd paprika.
Fresh dill: fresh dill is a must! It adds a freshness and dill is just a wonderful flavor for this chickpea salad recipe.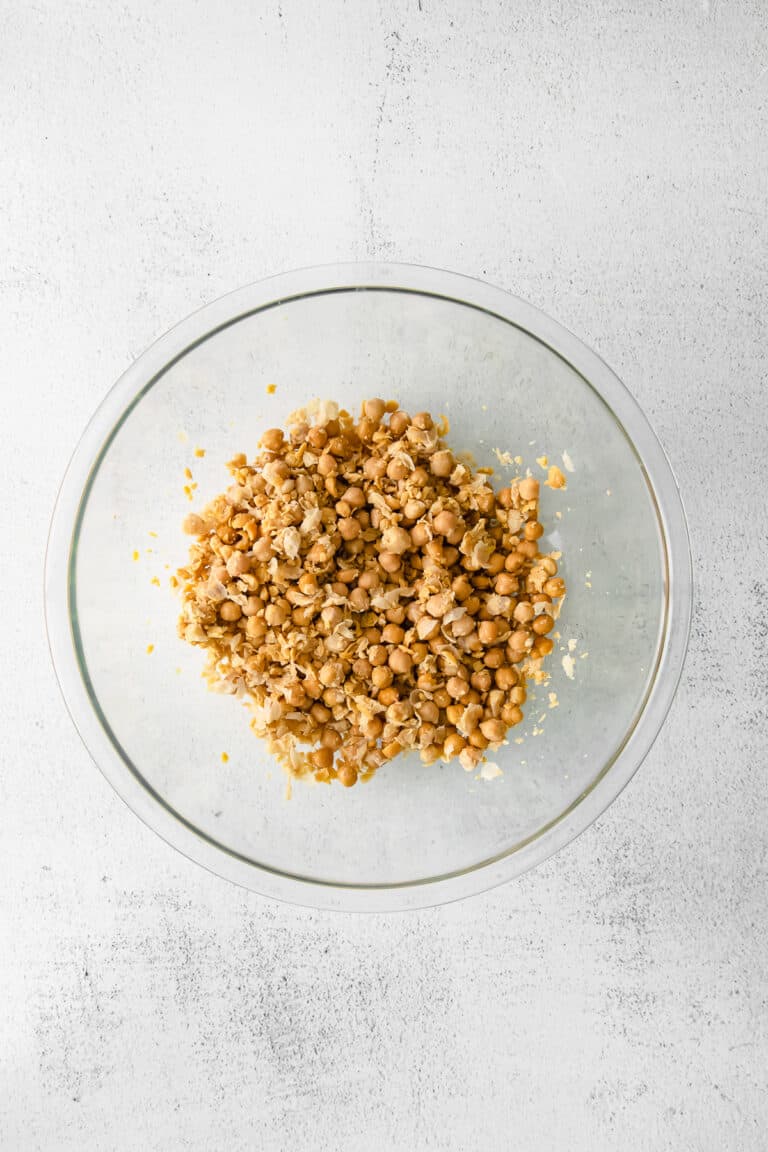 How to Make This Salad
Prep Garbanzo Beans
The first step in this salad is to drain and rinse your garbanzo beans. Then, you need to prep them for the salad.
Chickpeas have a casing around them and we recommend removing them because you're going to be mashing them and it's much better to remove them.
The casings come off very easily. All you have to do is rub the garbanzo beans between two pieces of paper towel and they should fall right off.
Mash Garbanzo Beans
Use a fork, wooden spoon, or potato masher to mash the majority of the garbanzo beans. It's okay if some of them are still whole.
Chop Veggies
Finley dice the celery, onion, and pickles.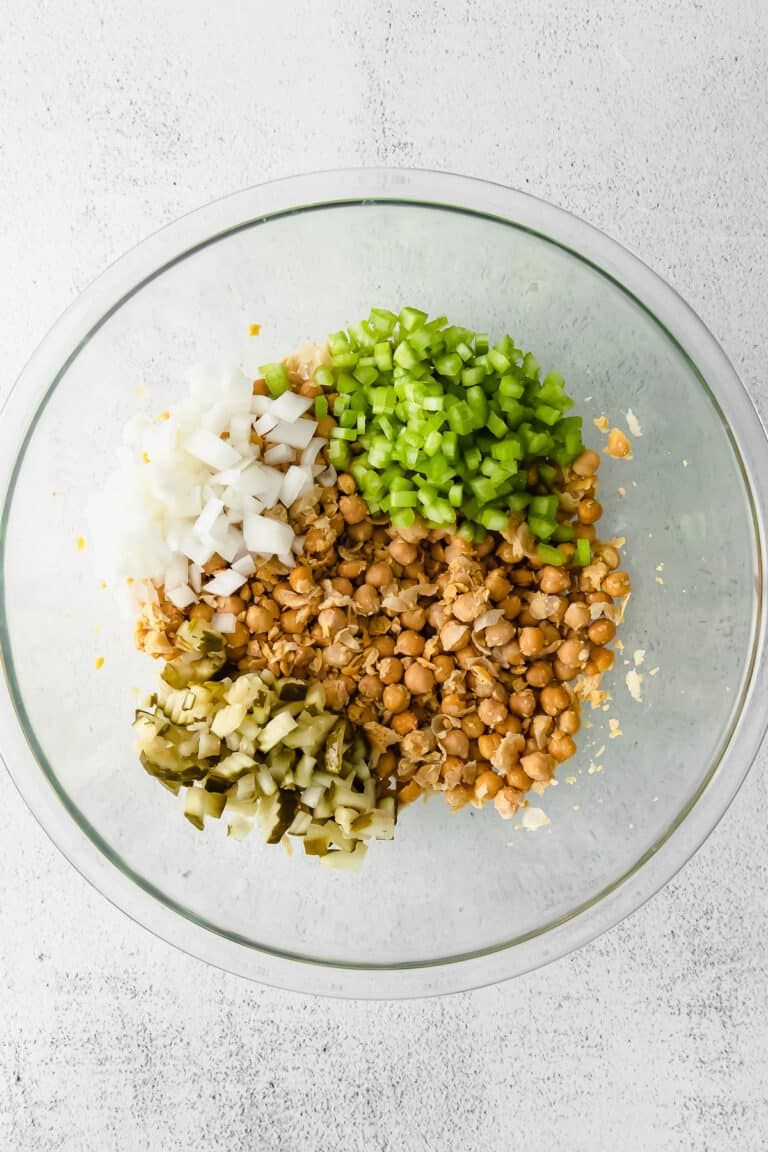 Mix Sauce
Combine Greek yogurt, mayo, lemon juice, pickle juice, and the spices and mix to combine.
Combine Salad
Toss the mashed garbanzo beans with the diced veggies and then add the sauce. Mix to combine everything together. Sprinkle with fresh dill and paprika.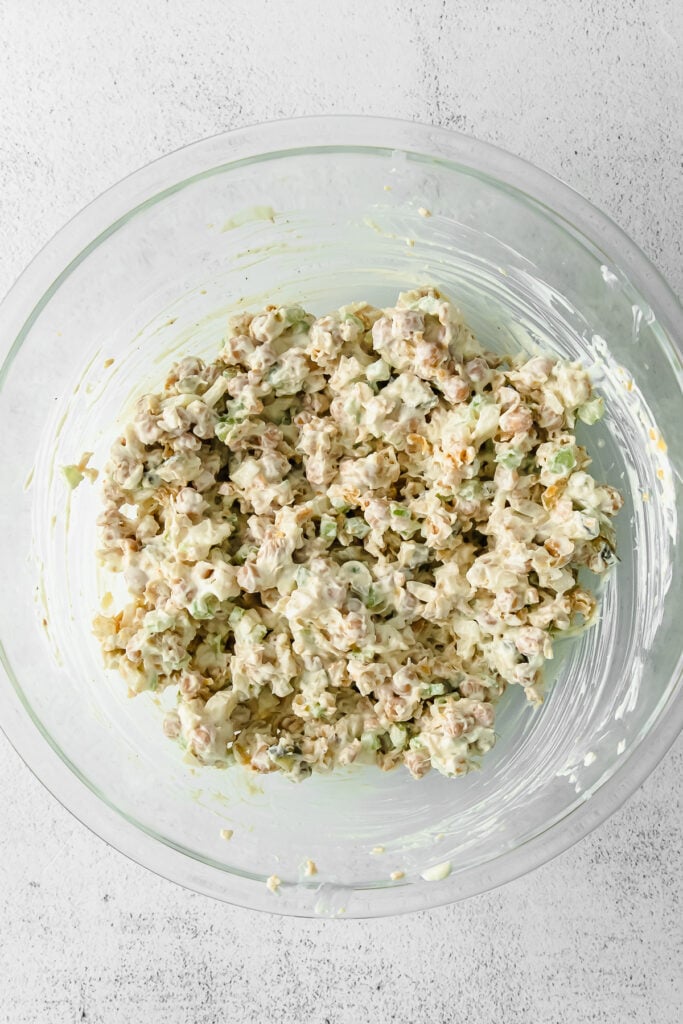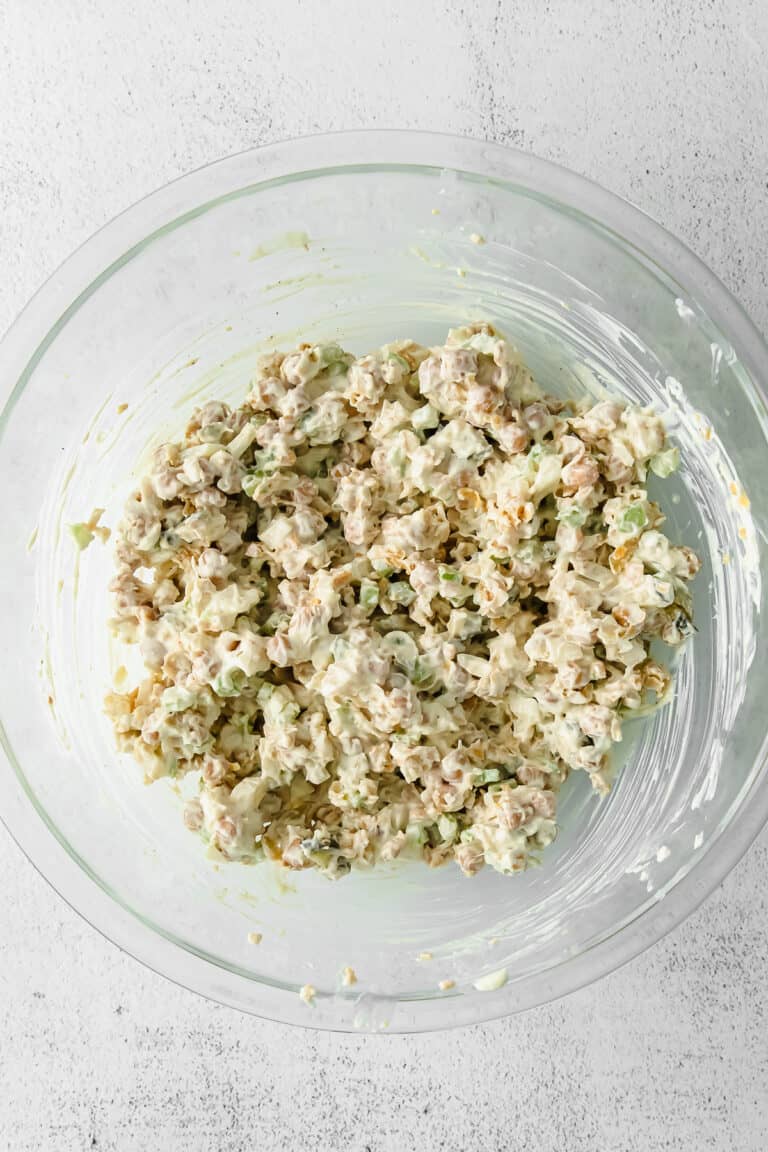 Ways to Eat This Salad
Chickpea Salad Sandwich: our favorite way to eat this salad is in between 2 pieces of bread or a croissant as chickpea salad sandwich. You can add other ingredients such as lettuce, sliced tomatoes, etc. to complete your sammy.
On Crackers: feel free to eat this as more of a snack or appetizer on crackers.
On Toast: Top a piece of toast with this salad and then serve it with a fried egg for a breakfast rendition.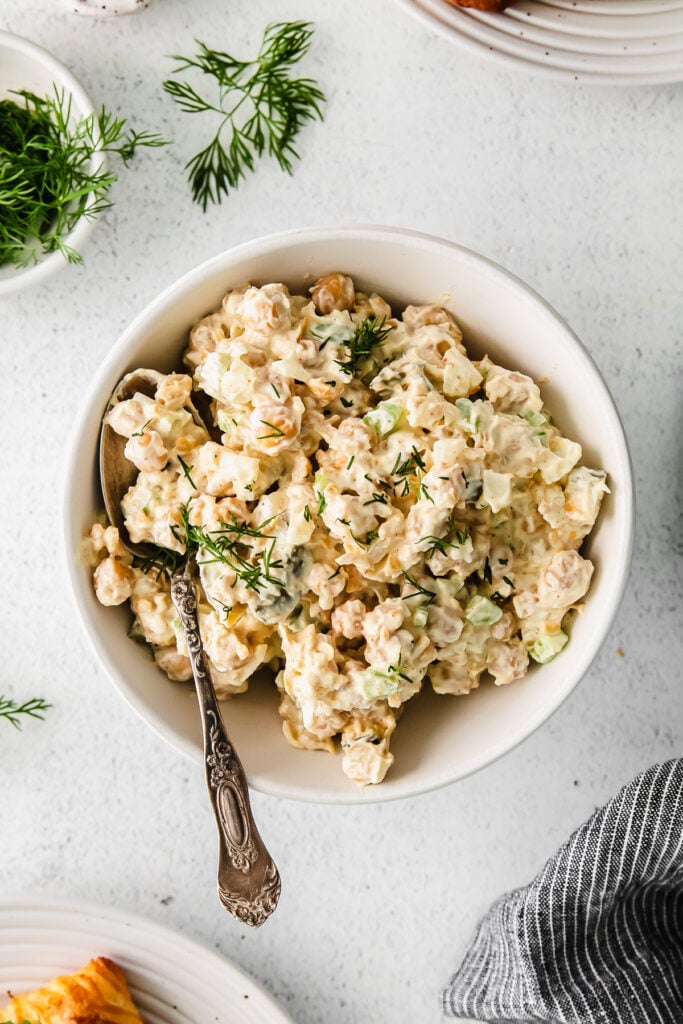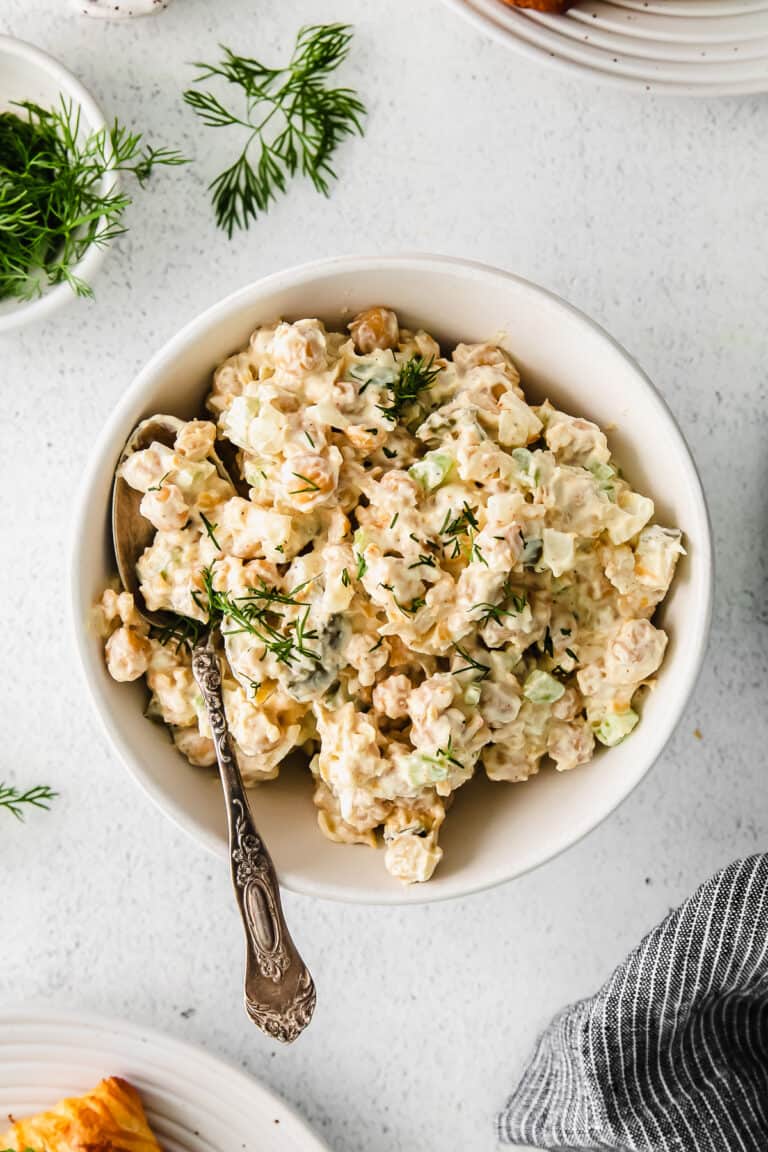 Storage
Store chickpea salad in an airtight container in the fridge for up to 5 days.
Can you freeze chickpea salad?
We don't recommend freezing this salad as Greek yogurt doesn't freeze super well.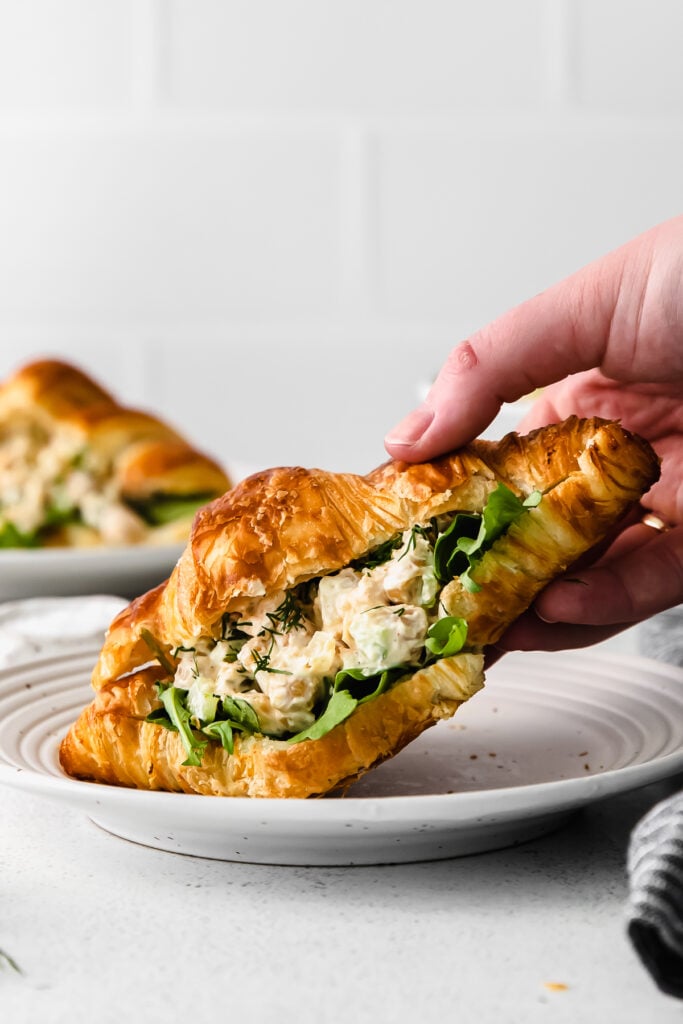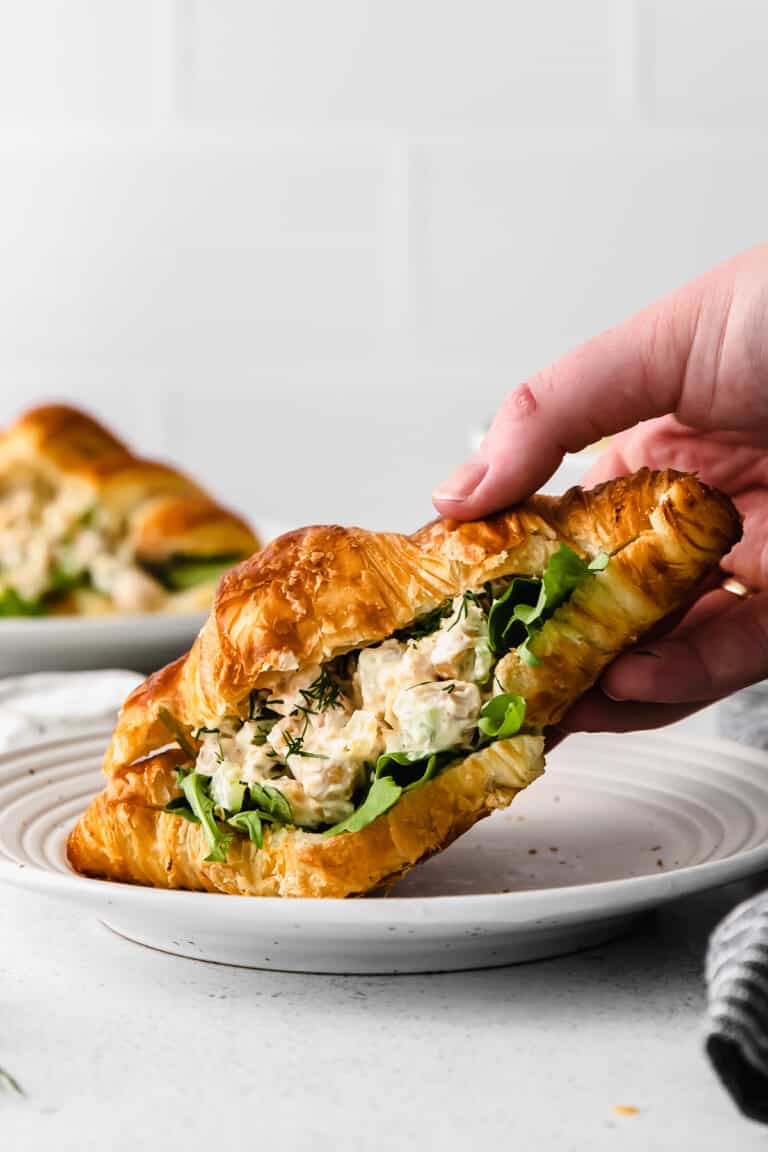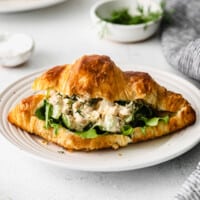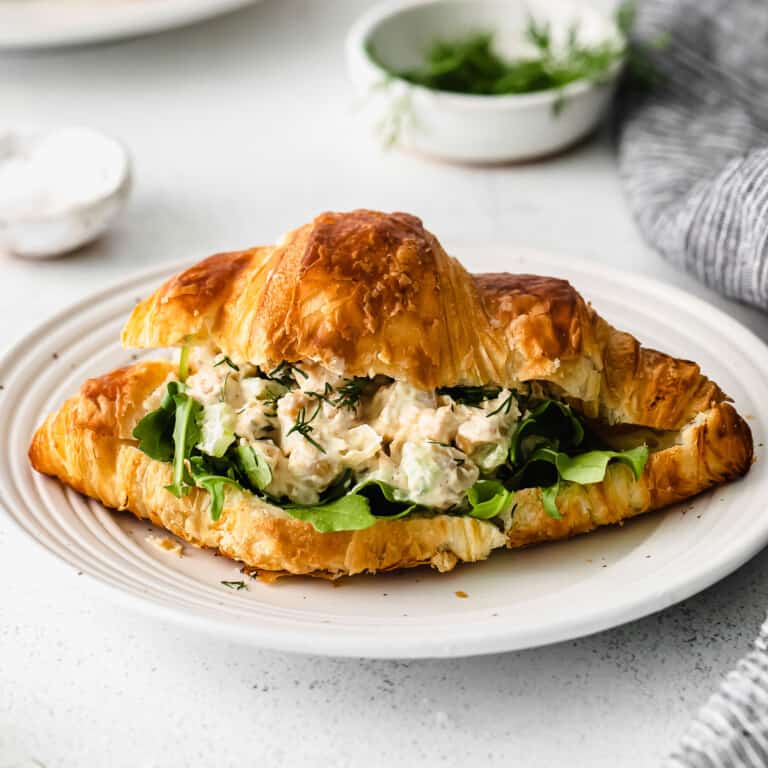 Easy Chickpea Salad
This delicious chickpea salad is made with mashed chickpeas, dill pickles, celery, Greek yogurt, mayo, and lemon juice for classic chicken salad flavors, but plant-based!
Ingredients
2

15-oz.

cans garbanzo beans

drained and rinsed

3

stalks celery

minced (~½ cup)

¼

large white onion

minced

⅓

cup

dill pickles

minced

1

cup

full-fat Greek yogurt

2

tablespoons

mayonnaise

1

tablespoon

lemon juice

1

tablespoon

pickle juice

1

tablespoon

yellow mustard

1

teaspoon

garlic powder

¾

teaspoon

salt

½

teaspoon

ground pepper

½

teaspoon

paprika

1

teaspoon

fresh dill

minced
Instructions
Begin by removing the casings from garbanzo beans. Pour the garbanzo beans into a bowl and use a dish towel or a paper towel and rub the garbanzo beans with the towel. The casings will begin to fall off the beans. Repeat this step until most of the casings fall off. Not all the casings will fall off. Remove the casings from the bowl. 

Use a wooden spoon, potato masher, or fork to mash the majority of the garbanzo beans (it's okay if there are some whole ones). 

Add the celery, white onion, and pickles to the garbanzo beans. Mix ingredients together and set aside. 

In a separate bowl, add the Greek yogurt, mayonnaise, lemon juice, pickle juice, mustard, garlic powder, salt, and pepper to a bowl, and mix. 

Pour the Greek yogurt sauce over the garbanzo bean mixture and mix until combined. 

Sprinkle it with paprika and fresh dill. 

Serve on a sandwich, over greens, or on its own.
Tips & Notes
Removing the casings from the garbanzo beans helps to add moisture to the garbanzo beans and to keep the casings from getting caught in your throat. 

Be sure to really mash half the beans, it will elevate this recipe. 

We prefer using mostly Greek yogurt but feel free to use more mayo if you'd like.
Nutrition facts
Calories:
331
kcal
Carbohydrates:
45
g
Protein:
19
g
Fat:
10
g
Fiber:
14
g
Sugar:
4
g