Soak your oats in brewed coffee overnight and top them with salted date caramel for a yummy treat in the morning.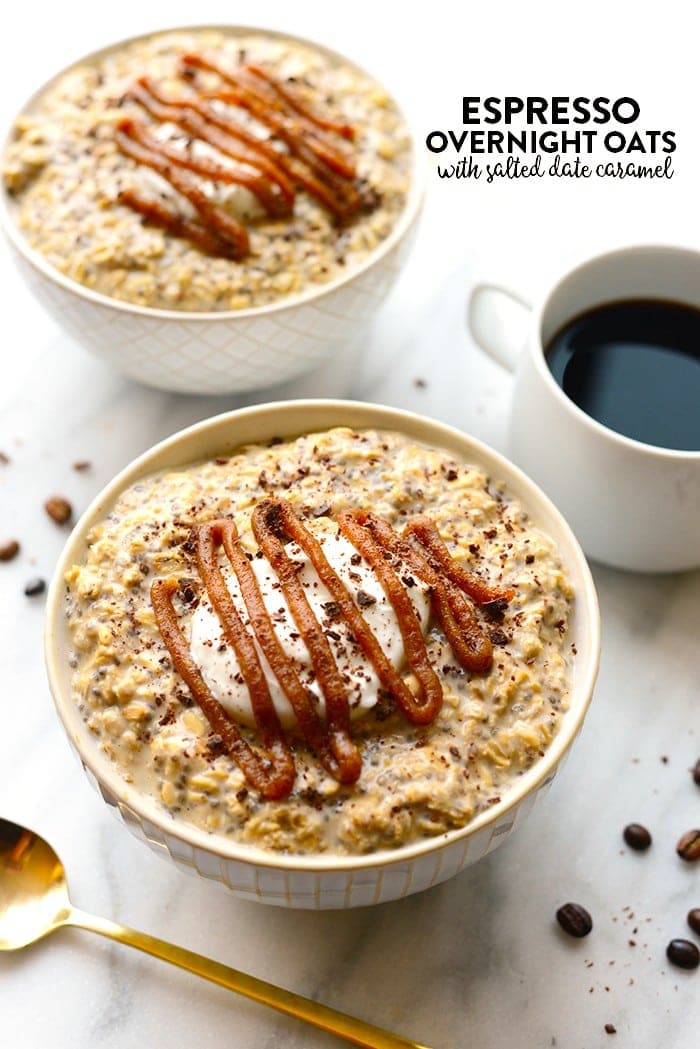 Are you sick of overnight oat recipes yet? I know my bajillion Instagram friends aren't because EVERYONE IS MAKING THEM! Makes me so proud.
This week has been cray. Usually, Lin and I take Mondays to do admin stuff for FFF- answer emails, schedule out social media, do some planning, recoup from the weekend, etc. However this week, we jumped right into recipes. Between FFF and freelance, we've got a lot of work to do by next week. Do you follow us on Snapchat yet? —> FitFoodieFinds <— If you don't you're missing out on a lot of behind the scenes in the Fit Foodie Kitchen. Just saying.
So- we borrowed a juicer from one of our friends to do a client recipe and it's like MAGIC. I love juice but I have never owned a juicer because they are so expensive. Can I just say that juice with strawberries and/or pineapple makes me wanna SPLURGE?
Speaking of friends. I gave this particular overnight oat recipe to one of my girlfriends who lives in my building (HEY ANG) and I've got her hooked on these bad boys. Two weeks ago I literally had about 50 batches of overnight oat recipes, so I happily gave them away to people that I like. Anyway- Ang came down to my apartment the other night RAVING that she's made these every day since I brought them over. Drink your coffee and eat it too, people.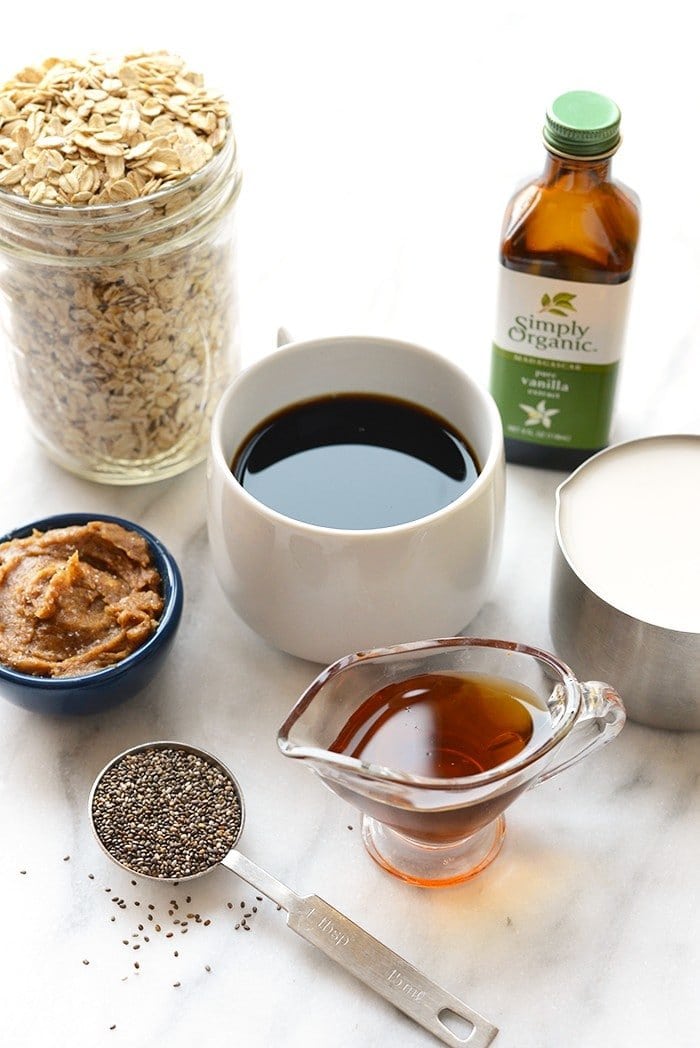 PS: if you are looking for a nummy cold brew coffee to try…which is what we used for this recipe (you can sub for hot coffee, too), check out Bizzy Coffee! It's organic cold brew coffee concentrate and by just adding water and ice, you've got yourself your morning joe. Team Fit Foodie LOVES supporting local companies. YEAH MINNESOTA START-UPS.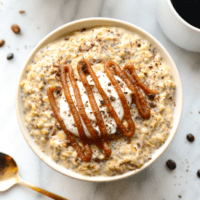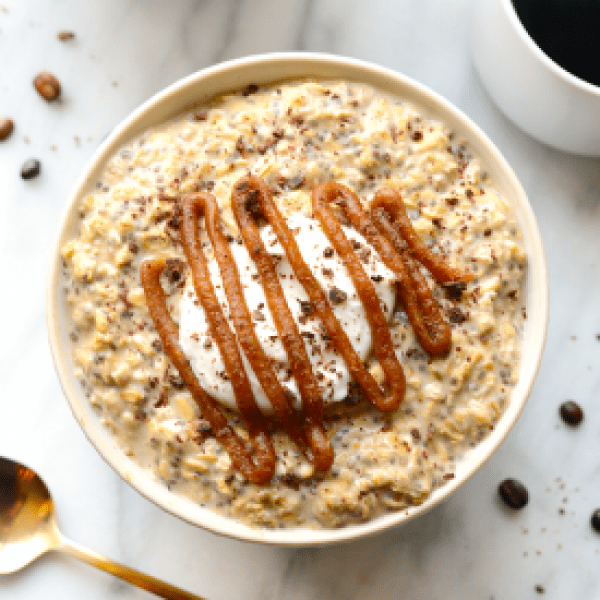 Espresso Overnight Oats with Salted Date Caramel
Have your oats and coffee too with these delicious Espresso Overnight Oats!
Instructions
For Oats
First, mix all dry ingredients together in a large bowl.

Add wet ingredients and mix again.

Place in the refrigerator, covered, for at least 2 hours or overnight. Serve cold.
For Date Caramel
Place 4 Medjool dates into a high-speed food processor. Process on high until pureed. Depending on how soft your dates are, you may need to add water. Add by the 1/2 teaspoon.
Tips & Notes
**Feel free to double this recipe.
**It should stay good refrigerated for up to 3-4 days.
**Depending on how thick you like your overnight oats, you may add a splash of almond milk before serving.
**Nutrition facts are without the toppings.
Nutrition facts
Calories:
241
kcal
Carbohydrates:
41
g
Protein:
7
g
Fat:
5
g
Fiber:
5
g
Sugar:
13
g

Foot Update
I'm excited that things are healing great with my foot! I got x-rays yesterday and while you can still see the break, it's definitely healing compared to the x-rays from 5 weeks ago. The doc said I should stay in the boot for 2ish more weeks, but that I can slowly start to walk on it. I got a brace that I will wear after the boot comes off. He also gave me the okay to bike/row, which I have already been doing. Basically, he said if it hurts, don't do it…but that I should be good to go within a month or two! That's the news I was expecting and hoping for so…YAY!