When you have family that has an amazing hobby farm, tons of fruit trees, and the most gorgeous property in central Illinois, YOU GO FOR THE HARVEST. Am I right? My Aunt Lisa and Uncle Frank really do have the most spectacular home and I'm excited that I finally got to be apart of their fall harvest. This year we only made time for a full day on the farm, but next year we're already scheming for a week 😀 Harvesting a giant garden and tons of fruit trees is the easy part…it's what to do with everything once it's picked!
Today I am giving you a recap of our time spent helping with the harvest + sharing some of our favorite Fit Foodie seasonal recipes that you need to make right NOW!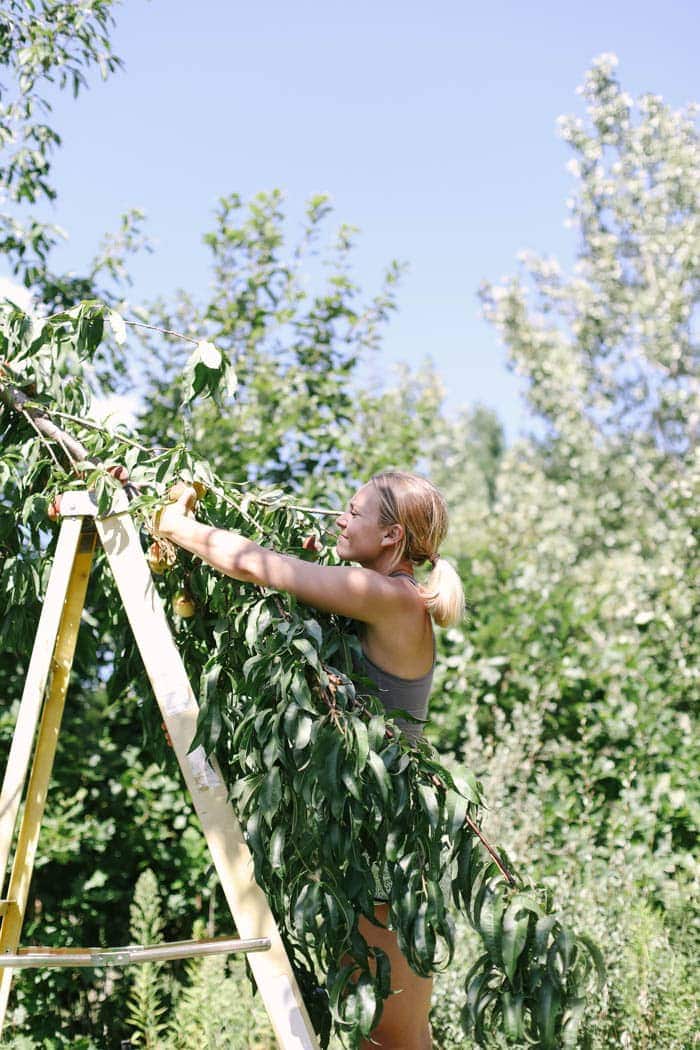 Last week, Linley and I flew down to Chicago, spent the night with mommy, and then drove 2 hours south the next morning to meet my amazing Aunt to help with the harvest. Lisa is a wonder woman. She's a nurse anesthetist by day (and night sometimes), super mom and garden extraordinaire by night! Lisa grew up on a farm, so let's just say she knows her shit. As we were walking through her garden she was rattling off all of this amazing information about the land. Like types of weeds, tips and tricks of when to pick and when not to pick, how to keep the raccoons out of the trees, etc. We're already working on convincing her to come to Minneapolis next year to help Linley and I start a garden at Linley's new house in South Minneapolis. PRETTY PLEASE!
When we got to my aunt's, she gave us a brief tour of her property. It was was a sunny, warm August day and the sound of the the bugs buzzing made me feel super nostalgic. I also felt instantly energized and inspired because I was in the company of powerful passionate women…including my mom and Linley!
We started the harvest journey inside of her giant hobby garden picking anything and everything. I swear everything seemed to be ripe on that very day, so we really had a hay day picking all different kinds of veggies from tomatoes, to beets, to zucchinis, to kohlrabi! I'm talking bucket loads of fresh, juicy, giant vegetables. You could pretty much call it a vegetable jungle. After the garden we shifted gears to the main reason we came down…PEACHES. Frank and Lisa have peach trees, apple trees, plum trees, and pear trees. Lisa said that they worked EXTRA hard to protect the fruit trees this year because the raccoons like ripe fruit just as much as we do and have been known to strip all of their trees from everything. Those little rascals. A lot of the peaches were perfectly ripe and others were just about ready. When picking fruit off trees, you want to make sure it's at peak ripeness if you're going to use it that day (which is what we were doing!).
Once we got all of our produce inside, it was time to was and GET WORKING. Look at the line-up of things we made/did:
Roasted Tomato Basil Soup
No-Cook Salsa
Canned Peaches
Peach Sauce (like applesauce, but peach sauce!)
Peach Vodka
Peach Nectar
Steamed Beets in the Insta Pot
See what I mean about needing a week+ at this place! Both Linley and I had never canned anything before, so it was really cool to learn how the whole canning process works. If you're looking to learn how to can, I found this great article from Serious Eats. If Lisa had more time in her day, I told her she needed to start a blog all about at home gardening and what you can make with your produce! Anyways we made and canned a salsa recipe as well as peach, peach sauce, and peach nectar. Peach nectar might be the most amazing invention I've ever seen. Since I don't have a recipe on my site for peach nectar (yet), I found a great one here. Basically you boil peaches just long enough to peel the skin off of them and then blend the partially cooked peaches with some water. Strain the liquid from the sauce and BOOM you've got both peach nectar and peach sauce!
Can I just say — frozen peach nectar + vodka = heaven.
I seriously wish I could have spent a full week just cooking with Lisa (wait I think I've said this a million times already). She has so much knowledge when it comes to using the ENTIRE piece of fruit or vegetable. For example- she doesn't toss peach pits..she infuses her vodka with it to make peach vodka (recipe here!!). Dats genius.
I hope you enjoy all of the photos below! We're excited to use all of the wonderful tips and tricks we got form Lisa in future Fit Foodie recipes. Hopefully next year we will have a bad ass garden of our own. So, THANKS FRANK AND LISA for letting us be apart of your harvest this year! Oh, and I am obsessed with your dog Brody 🙂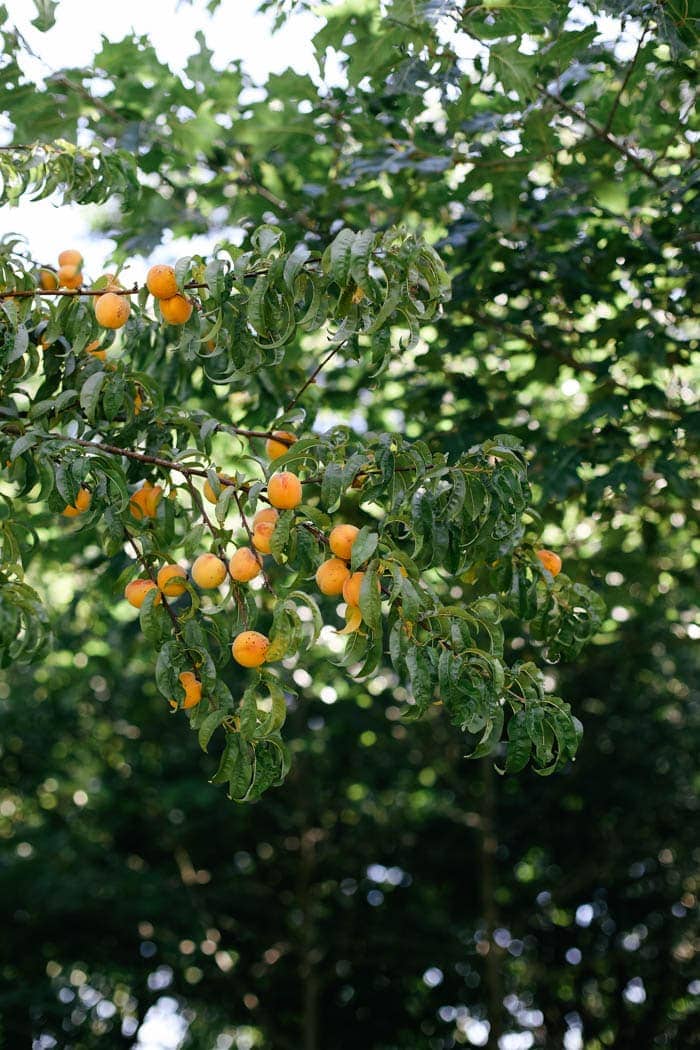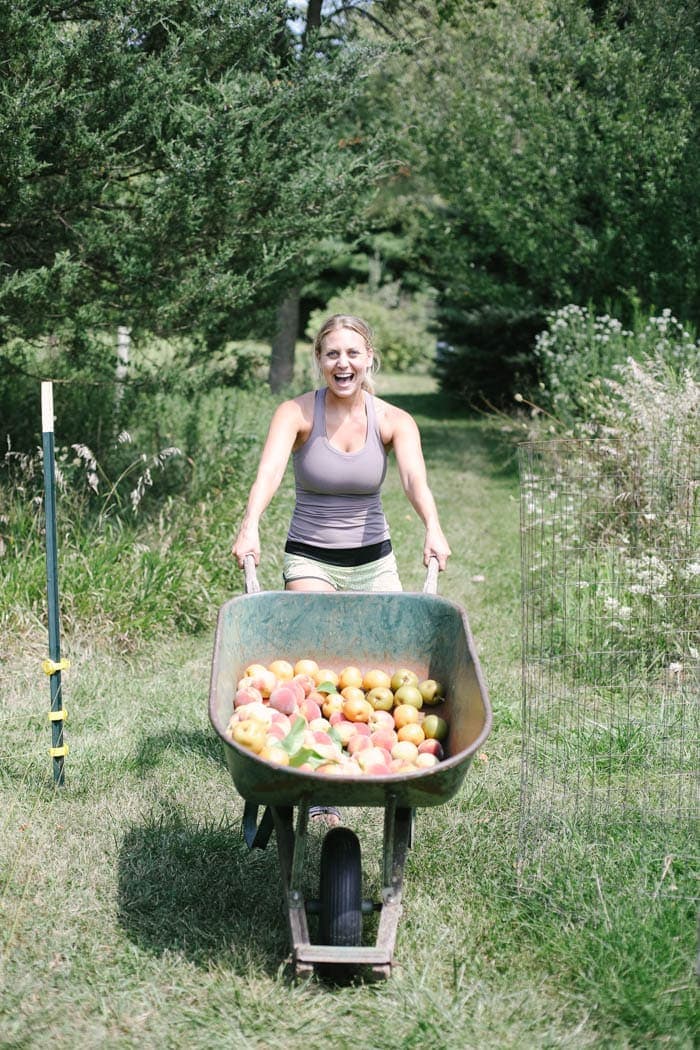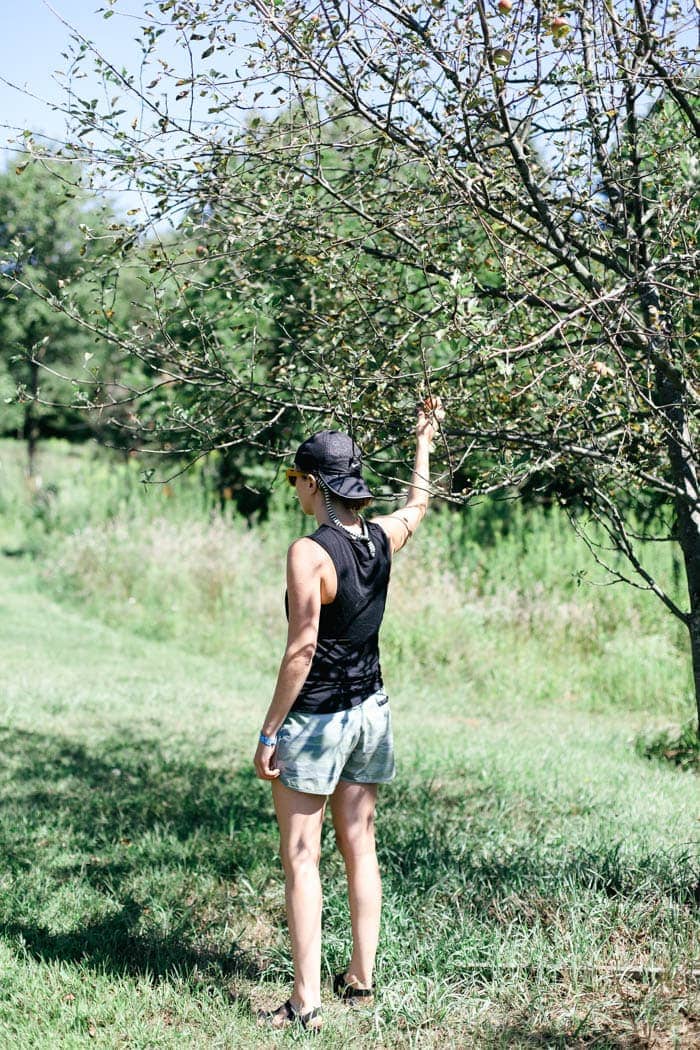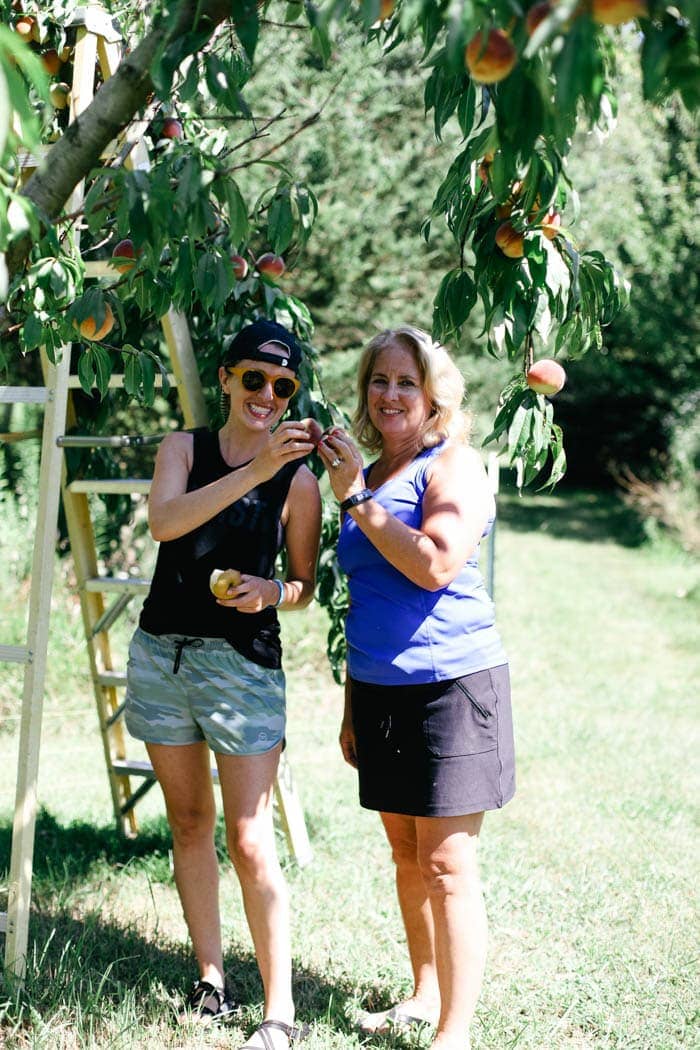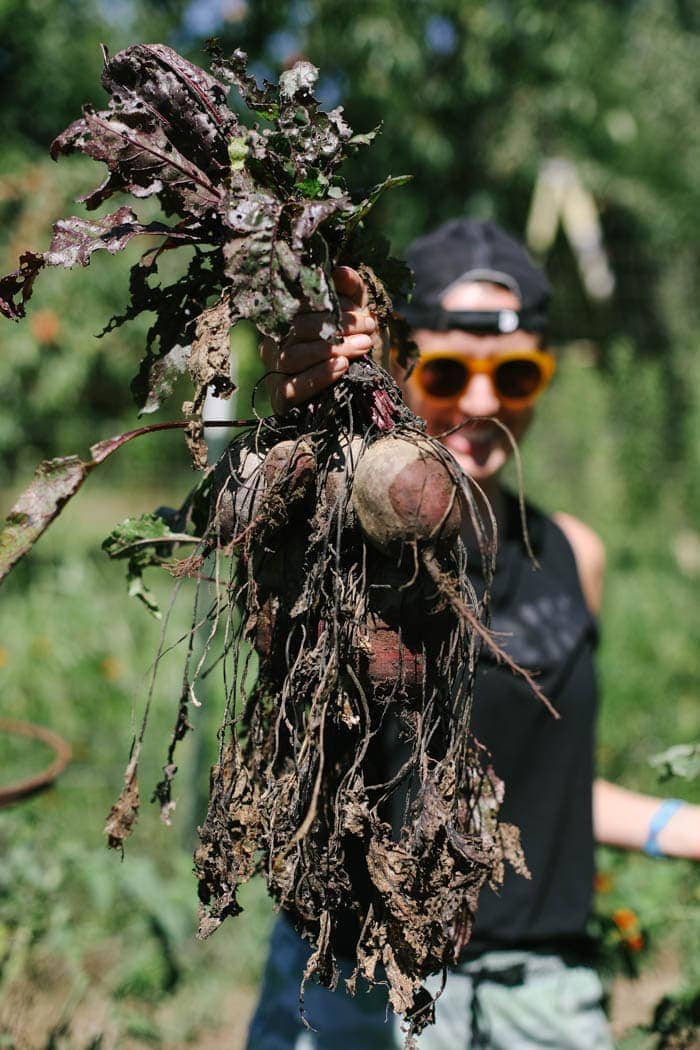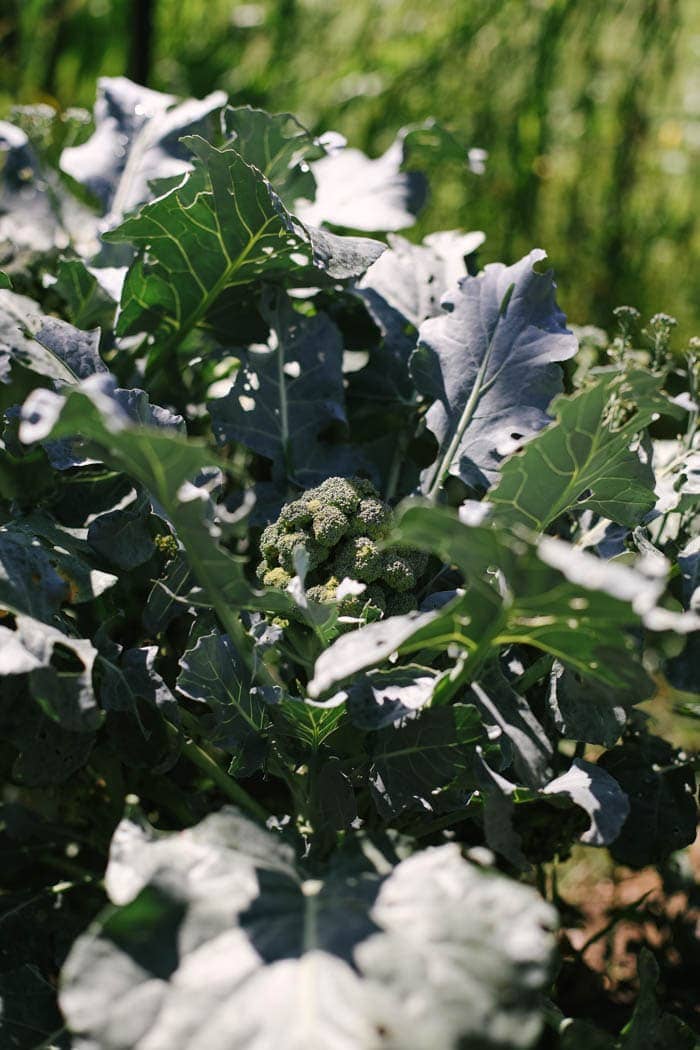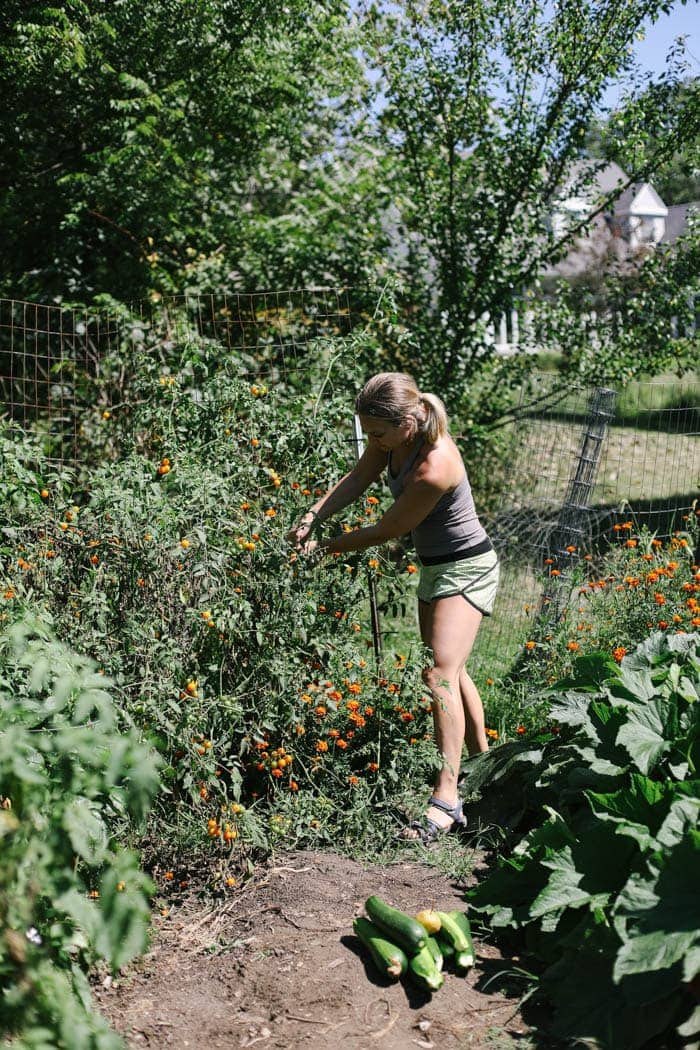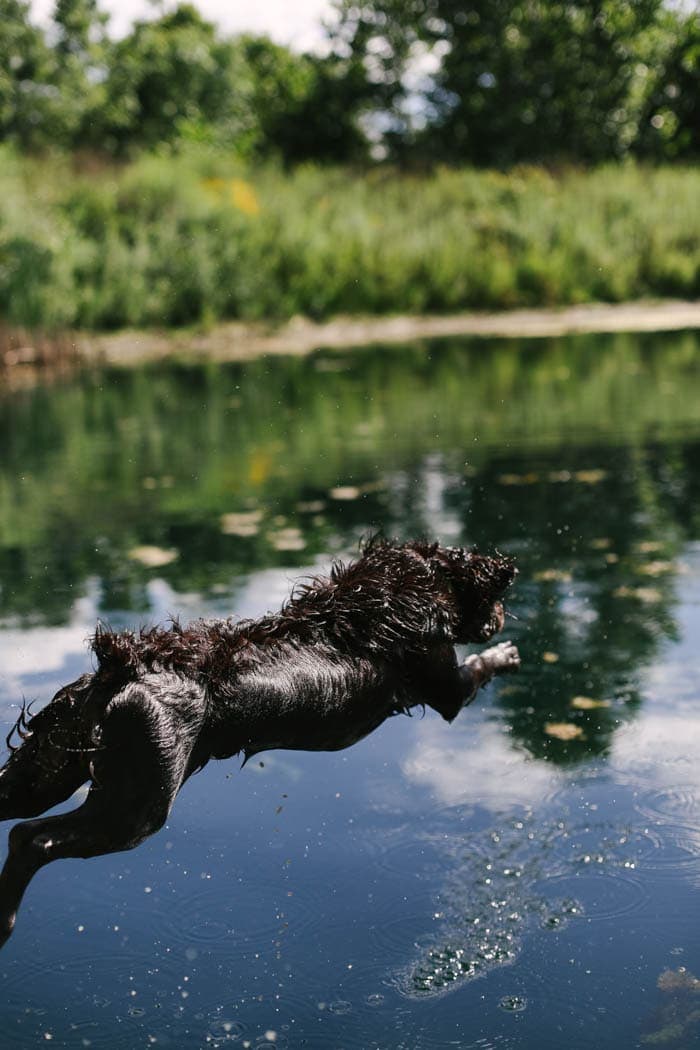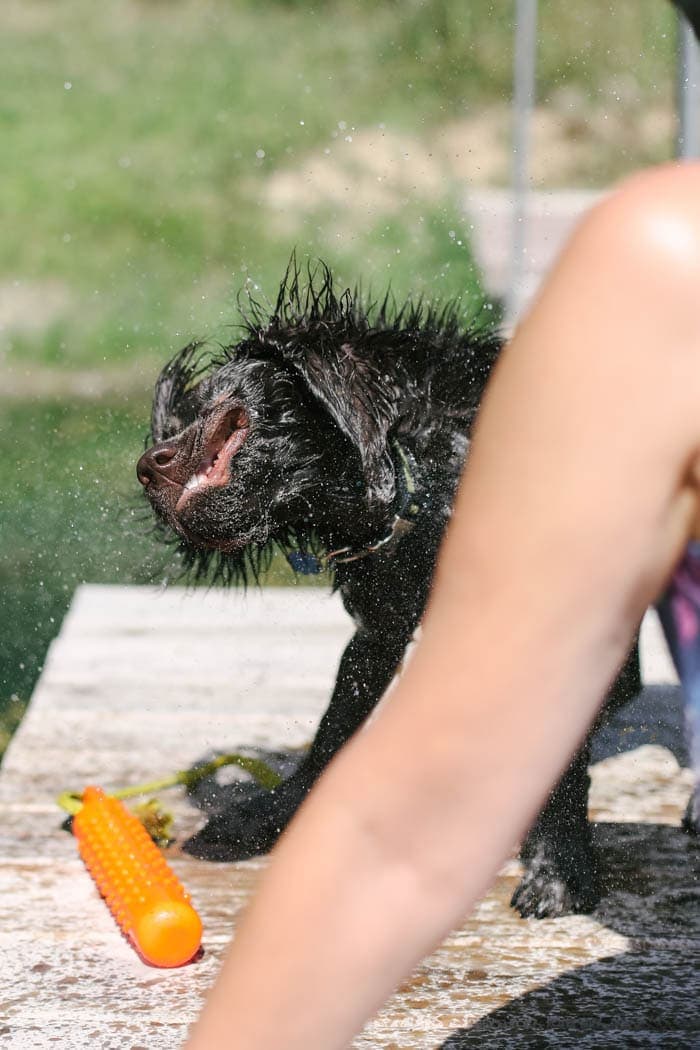 I thought I would leave you with some of our favorite Fit Foodie seasonal recipes you should make RIGHT NOW! We're talking tomatoes, zucchini, peaches, and kale!
Tomato
Homemade Roasted Tomato Basil Marinara Sauce
Creamy Vegan Pasta with Sauteed Kale and Tomatoes
Whole Wheat Sun Dried Tomato Basil Pasta
Sun Dried Tomato, Kale, and Quinoa Mac n' Cheese
20 Minute Healthy Tomato Bisque Soup
Zucchini
Whole Wheat Zucchini Chocolate Chip Muffins
Peaches
How to Make Easy Peach-Infused Vodka
Roasted Peach and Gouda Grilled Cheese
Strawberry Peach Quinoa Crumble
Grilled Apricot Quinoa Parfaits
Kale
Crock-Pot Chicken Tortilla Soup with Kale
Sun-Dried Tomato Kale Chicken Sausage Quinoa Bake
Dark Chocolate Date Protein Smoothie
I have quesitons for you! 1. Do you have a garden? If so, what are you harvesting right now? 2. What seasonal recipes have you been cooking up a storm lately?