These Honey Whole Wheat Scones from the Love Real Food Cookbook are the perfect base scone recipe to create your own wonderful variation. They are made with white whole wheat flour, honey, and full-fat coconut milk (instead of oil)!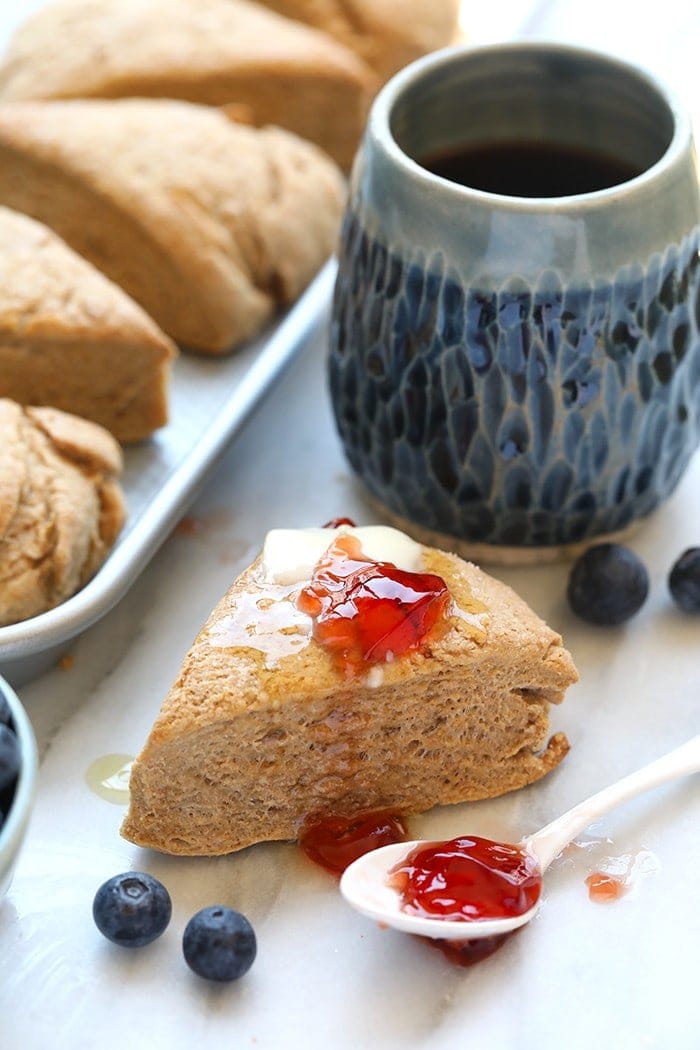 I am so so sooooo excited to be sharing a recipe from my friend Kathryne's new cookbook, Love Real Food. Kathryn runs the famous blog Cookie and Kate and I first met her in Israel (of all places!) while we were on the Vibe Israel Wellness Tour back in 2014. This was a trip of a lifetime where we ate our way through Tel Aviv, explored an Israeli Kibbutz, floated in the Dead Sea, and took olive oil shots together. How was that almost 3 years ago?! It's not often that you get to spend 10 whole days with other bloggers, but Kathryne and I did and became instant friends. I've admired her website and business since the day we met and her book has been a long time coming. I've flipped through it at least 5 times and I am so impressed by every recipe, every photo, and every word! Kathryne is one of the most meticulous, amazing women I've ever met and her book is no exception!
IT'S AMAZING.
IT'S VIBRANT.
IT'S EVERYTHING.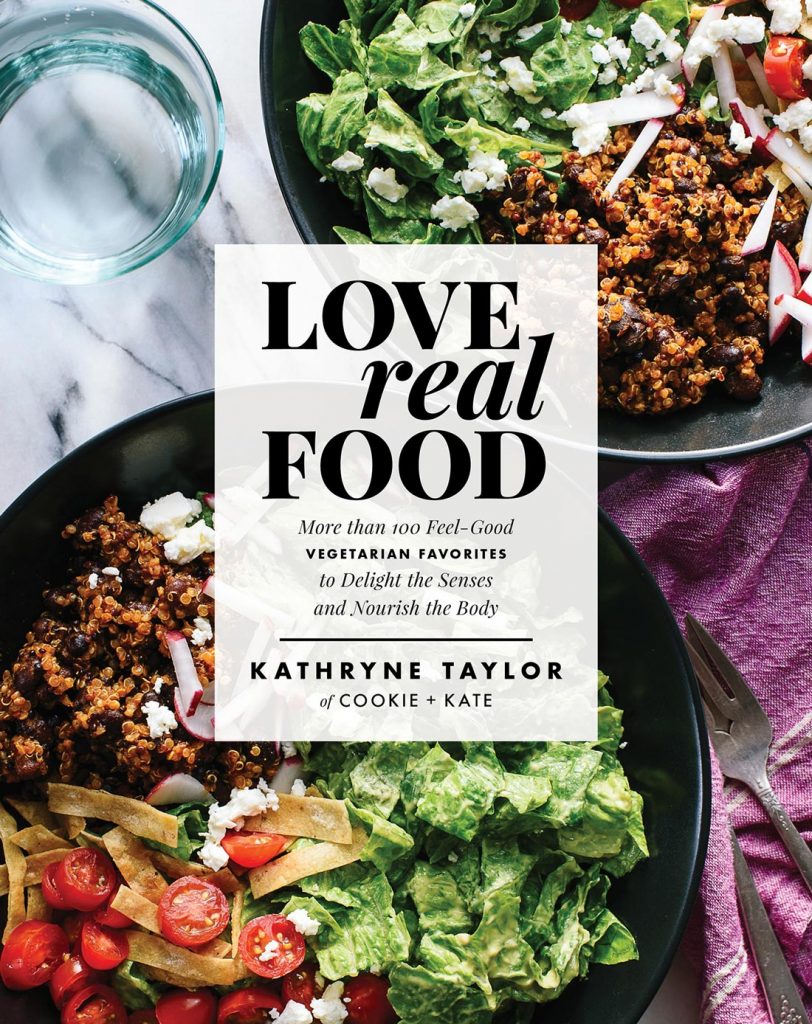 When I got it in the mail and found out I was allowed to share a recipe, I went right to the breakfast section. I've never actually made a homemade scone, so this particular recipe was an easy choice.
Scones made without eggs or butter? WHAT? That's right. You only need 8 total ingredients for these babies and none of them are eggs or butter. The base is made from white whole wheat flour, they're sweetened with honey, and softened with full-fat coconut milk. When I read coconut milk I was surprised, but it makes a lot of sense. It gives it the moisture it needs plus great flavor.
The greatest part about these scones is that they are not too sweet. I am a sweet girl, but a not too sweet girl. I also love that you can pretty much flavor them however you want by adding a berry, chocolate, dried fruit, etc! These will most definitely be a staple in my kitchen and I can't wait to play around with flavor combos.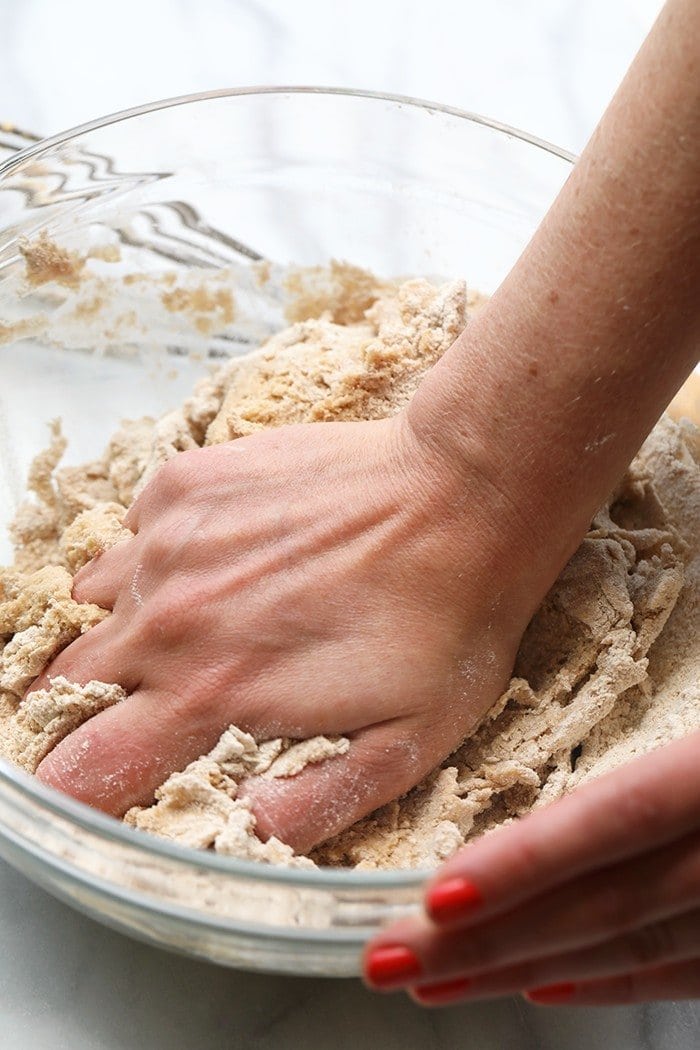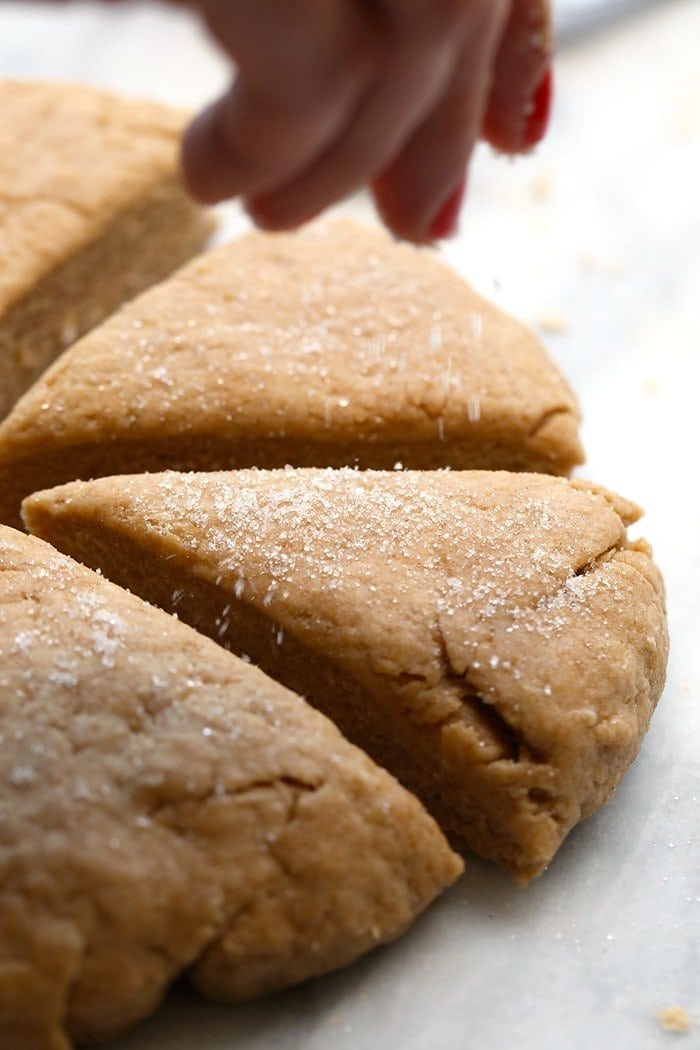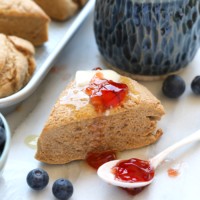 Honey Whole Wheat Scones
These Honey Whole Wheat Scones from the Love Real Food Cookbook are the perfect base scone recipe to create your own wonderful variation. They are made with white whole wheat flour, honey, and full-fat coconut milk (instead of oil)!
Prep:
15 minutes
Cook:
25 minutes
Total:
40 minutes
Ingredients
2.5 cups

white whole wheat flour

2.5 teaspoons

baking powder

1/2 teaspoon

fine sea salt

1/2 teaspoon

ground cinnamon

1 cup

canned coconut milk,* plus more for brushing on top

1/4 cup

honey

1 teaspoon

vanilla extract

1 tablespoon

turbinado sugar
Instructions
Preheat the oven to 350°F. Line a large rimmed baking sheet with parchment paper. In a medium bowl, combine the flour, baking powder, salt, and cinnamon. Whisk to combine.

In a 2-cup liquid measuring cup or small bowl, combine the coconut milk, honey, and vanilla. Whisk to blend. Pour the wet ingredients into the flour mixture and mix with a big spoon until you have a cohesive dough. If the dough is sticky and unmanageable, add another tablespoon of flour and stir just until incorporated. Repeat if necessary.

Lightly flour your work surface and turn the dough over onto it. Knead the dough a few times, just enough to bring the dough together. Then press the dough into an even round about 1 inch thick all around.

Use a sharp chef's knife to cut the round into 8 even wedges, as you would a pizza. Separate the wedges and place each one on the prepared baking sheet several inches from the next. Brush the tops of the scones liberally with coconut milk and sprinkle them with the turbinado sugar.

Bake until the tops are lightly golden brown and firm to the touch, 25 to 27 minutes. Promptly transfer the scones to a cooling rack to cool. These scones are best enjoyed the day of, but can be stored for a couple of days at room temperature, or up to 3 months in the freezer.
Tips & Notes
*Ingredient Note: Be sure to use regular (not light) coconut milk for the right texture; it's still lower in fat than heavy cream, and lighter milks of any variety won't work the same. If you open your can and find that the heavy cream component has separated from the coconut water, you'll need to gently warm the two together until you can whisk them back together, either in the microwave or on the stove. 
Nutrition Facts
Serving Size:
1
Calories:
200
Sugar:
11
Sodium:
180
Fat:
4
Carbohydrates:
34
Fiber:
4
Protein:
5
Category:
Breakfast
Method:
Oven
Cuisine:
American
Keywords: whole wheat scones
Also- can we rave about my new cup for a second! I've mentioned this a bunch of times on Instagram lately, but over the past few months I've gotten back into the pottery studio once or twice a week and this piece in particular is my new baby. I absolutely love stemless, textured coffee mugs and I'm already working on 3 more to complete the set!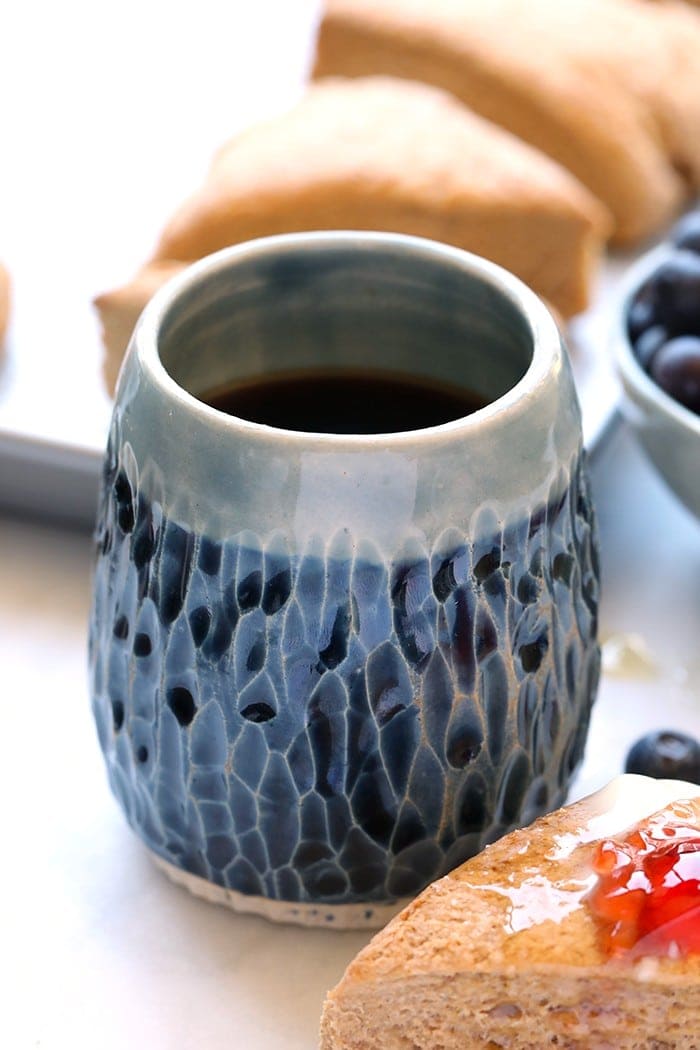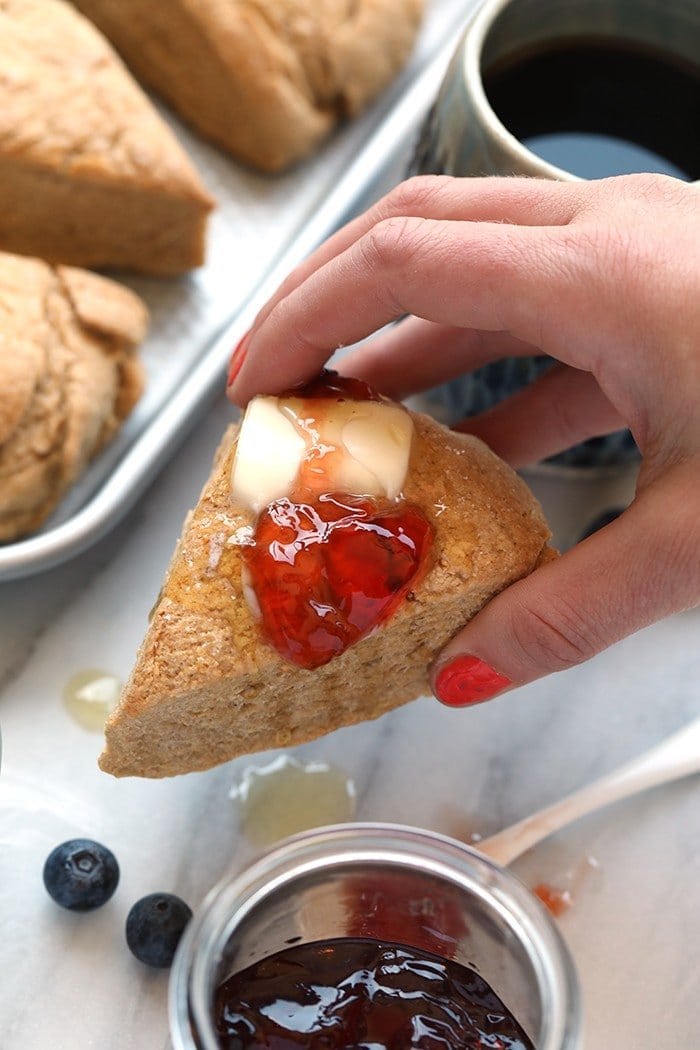 What you get when you buy this cookbook:
100+ recipes, all of which are meatless
90% brand new recipes, plus a few blog favorites (better than ever!)
36 of the recipes offer tested "Change It Up" tips for how to change the recipe with the seasons, etc.
Vibrant photos of every recipe
Where to buy: