Make snack time easy and healthy tonight with our stovetop popcorn tutorial. In under 10 minutes, this low-calorie snack is popped and ready to go
I have to say that stovetop popcorn can be a little bit intimidating if you've never made it before. Heck, I've been making it my whole life and I still get nervous that the popcorn is going to overflow while I'm making it or that the bottom of the pot is going to burn.
That's why we thought we'd put together the ultimate homemade popcorn tutorial so that you can eat perfect, airy stovetop popcorn every single time you make.
Ingredients + Kitchen Tools
First things first here are the basics of what you need to get started:
Popcorn kernels – any kind of unpopped kernel will work. We like to buy ours in the bulk section because it's super cheap
High heat oil – we recommending either olive oil or avocado oil 
Sea Salt – what is popcorn without salt?
Medium to large pot with cover – the cover is key. Make sure to grab a pot with a cover because you'll need it to heat the kernels.
What kind of kernels to buy
There are a few different kinds of popcorn kernels out there. The most common two are yellow and white kernels, which can be found at most grocery stores. Either of these two work for this recipe, so use what you can find!
Here are some brand suggestions for our favorite popcorn kernels out there:
Best Oil for Stovetop Popcorn
Olive oil and avocado oil are are the best option when it comes to making popcorn on the stove. Why? They have a light flavor and work well with medium/high heat. Hoping to cut back the fat?
I have a little secret for you: sometimes I don't use oil at all! It just depends. One reason why I like to use oil is that it gives the popcorn a little bit extra flavor and I've found that it pops more evenly. But, I am here to tell you that this recipe works sans oil!
Best Pot for Stovetop Popcorn
You'll need a medium to large-size pot depending on how much popcorn you want to make.
For reference, 2 tablespoons of kernels will make around 5 cups of popped popcorn. This recipe yields around 10 cups of popped popcorn, so you want to make sure you have a pot big enough to fit that amount of popcorn!
My favorite pot to use is a nonstick Calphalon pot WITH a lid. Making sure your pot has a lid is super important because you cook your kernels with the lid on.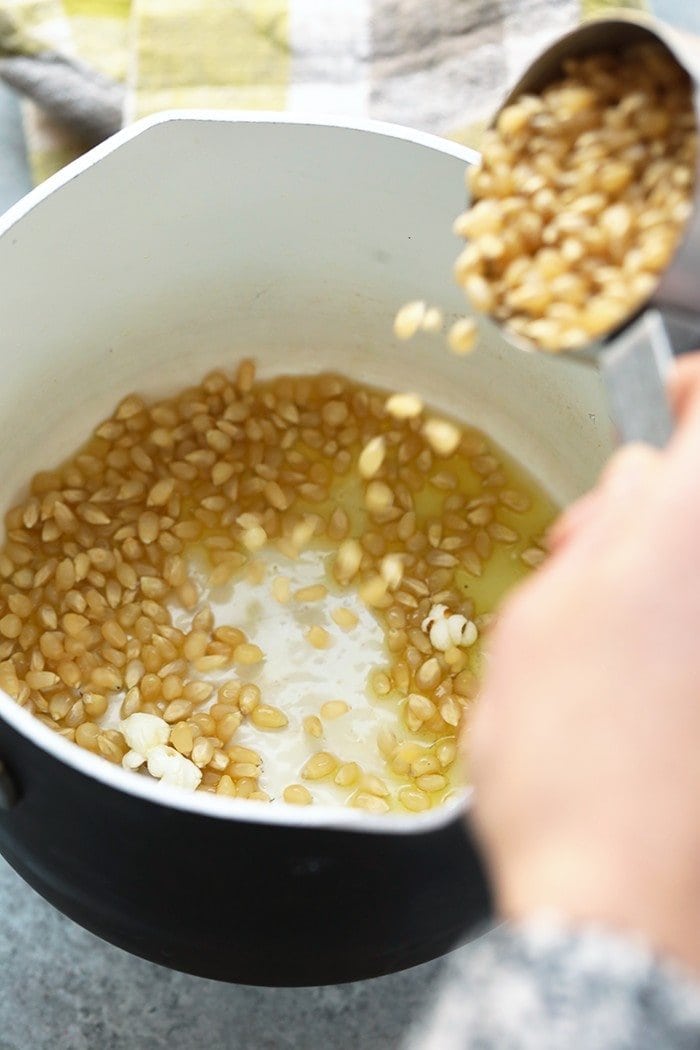 How to Make Popcorn on the Stove
Making popcorn on the stove is easy! This might be the easiest tutorial you've ever read and bonus, it only takes 10 minutes!
Step 1: Begin by heating your saucepan over medium/high heat. Then, drizzle on oil, spreading it out as evenly as you can.
Add a few kernels to the bottom of your pot and cover and shake them around every so often. The oil will begin to heat up. When those two kernels pop, you know you're ready to add the rest of the kernels!
Step 2: Add the rest of the kernels and salt and cover again. Shake the pot every so often so that the kernels don't burn on the bottom of the pot. You'll notice after a few minutes that the kernels will begin to pop. YAY!
Keep on shaking until the popping slows down to about 1 every 3 seconds.
Once the popping slows down, you know you're pretty much out of kernels and your stovetop popcorn is ready! If you forgot to salt your popcorn beforehand, no worries! You can add whatever toppings your heart desires at this point too.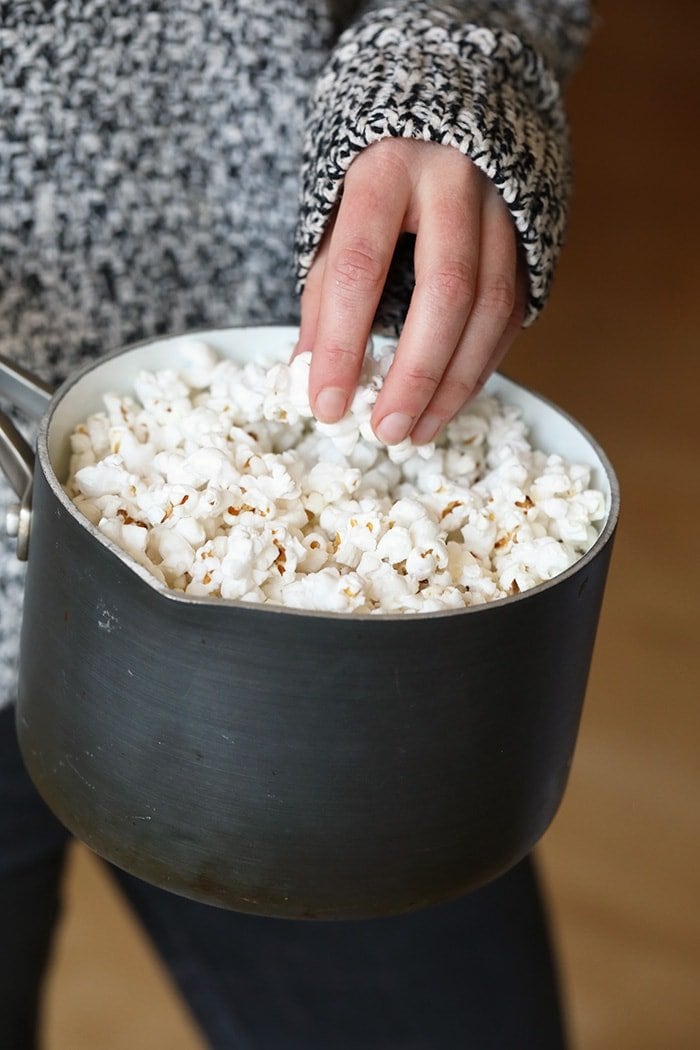 Popcorn Q&A
Homemade popcorn is a great way to pack in extra fiber, whole grains, and a little bit of protein, too! We love making stovetop popcorn at home instead of buying the prepackaged kind because we can control how much oil, salt, and sugar are used.
Did you know…Per 2 tablespoons of unpopped popcorn (a single serving), you get around 5 cups of popped popcorn? Heck yes!
Is popcorn healthy? Popcorn is a great healthy snack for adults and kids. It is a 100% whole grain, low fat (if made at home), and high in fiber. 2 tablespoons of unpopped popcorn (a single serving) is: 110 calories 2g fat, 25g carbs, 5g fiber, 0g sugar, and 3g protein.
How many carbs in popcorn? In one serving of popcorn (2 tablespoons unpopped or around 5 cups popped), there are about 25 grams of carbs.
Is popcorn gluten free? Popcorn is gluten free. If you are a celiac or allergic, just make sure to buy a certified gluten free popcorn product so that there is no cross-contamination with other grains.
How many calories in popcorn? In one serving of popcorn (2 tablespoons unpopped), there are 110 calories. Do note that this does not count any oil or seasonings used!
Is popcorn low carb? Since popcorn is technically a whole grain, I wouldn't consider it low carb.
Is popcorn paleo? Unfortunately, since popcorn is a grain and made from corn, it is not considered paleo.
Benefits of popcorn? Homemade popcorn has fiber, protein, and is a whole grain. Plus, per one serving of popcorn, you get 5 cups of popped popcorn, which makes for an enjoyable snack for everyone!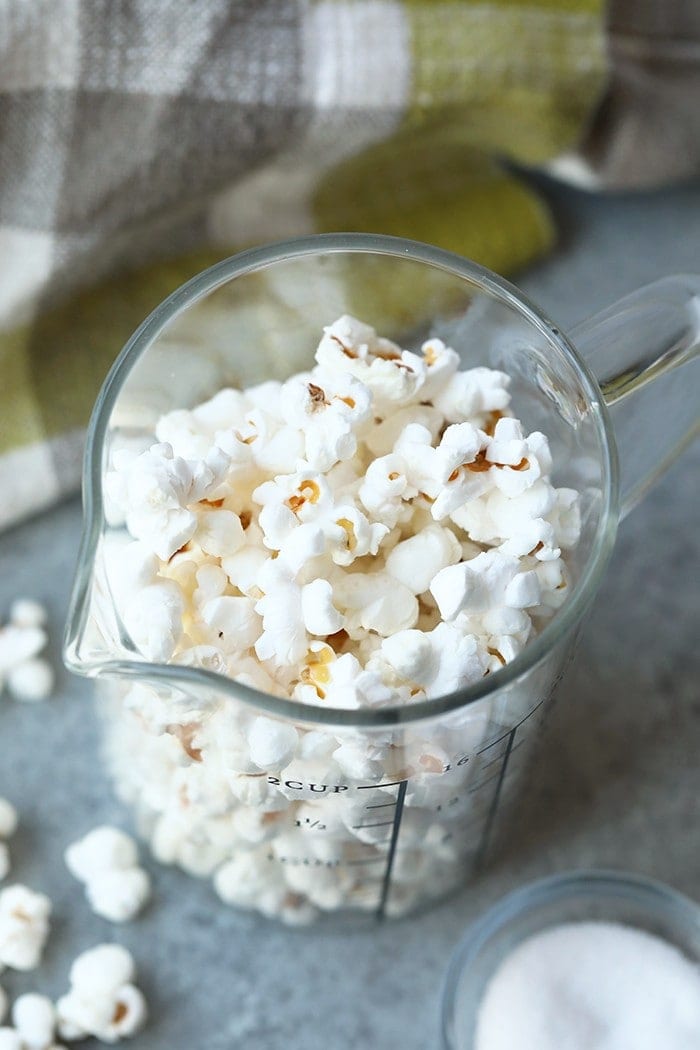 Popcorn Seasonings to try!
Don't like boring old salted popcorn? Try one of these homemade seasonings to spice things up!
More Popcorn Recipes
Looking for more fun popcorn recipes? Check out: 4 DIY Easy Popcorn Snack Mixes HERE. You'll find how-to recipes for…
Churro
Parmesan Garlic
Peanut Butter Dark Chocolate
Ranch
Watch how to make this recipe!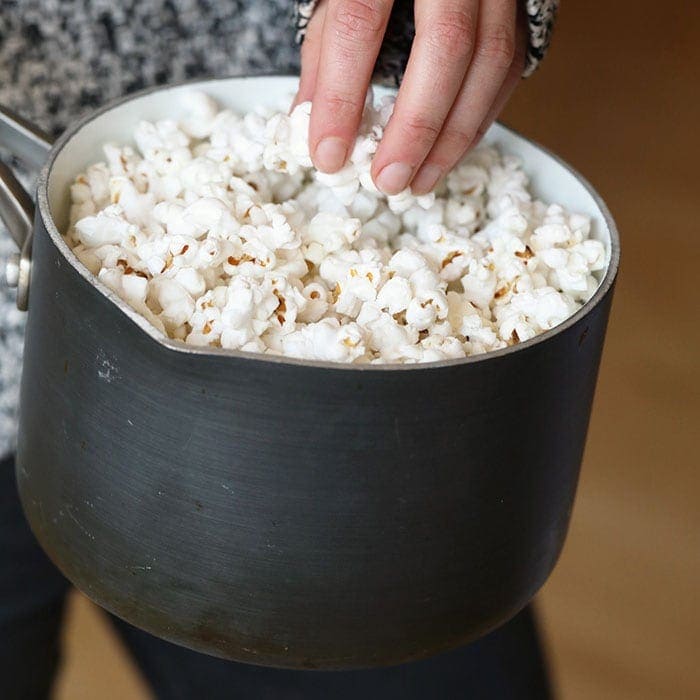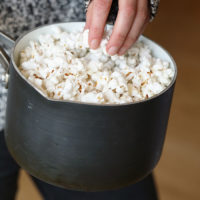 How to Make Stovetop Popcorn
Get perfect popcorn every time with this stovetop popcorn tutorial. All you need is popcorn kernels, a high heat oil, and salt!
Prep:
5 minutes
Cook:
10 minutes
Total:
15 minutes
Ingredients
1/4 cup

popcorn kernels

1/2 tablespoon

olive oil*
salt, to taste
Instructions
Place 1/2 tablespoon of oil on the bottom of a medium to large pot. Make sure your pot is at least 2.5 quarts so that it can fit the popped kernels. Turn heat to medium/high and place two unpopped popcorn kernels in the oil. Cover and let sit, shaking periodically.
Once the two popcorn kernels have popped, you can add the rest of the unpopped popcorn. Sprinkle with a pinch of salt, cover, and shake kernels so that they are fully coated in oil.
Continue to periodically shake kernels (with the top on) about every 20 seconds so that the kernels don't burn. Soon enough, they will begin to pop!
Continue shaking pot as the popcorn pops. Once there are about 2 or 3 seconds in between pops, you know the popcorn is done popping and it's time to eat!
Option to add more salt or any other seasonings your heart desires!
Nutrition Facts
Serving Size:
1/2
Calories:
170
Sugar:
0
Sodium:
0
Fat:
8
Carbohydrates:
26
Fiber:
7
Protein:
4
Category:
Snack
Method:
Stovetop
Cuisine:
American
Keywords: stovetop popcorn, how to make popcorn on the stove