The broccoli cheese soup of your dreams…that's actually healthy! Made with roasted broccoli and cauliflower, garlic, and white cheddar cheese, this broccoli and cheese soup needs to be added to your rotation.
If you're a soup gal like us, I promise your tastebuds will dance after making this creamy broccoli and cheese soup. It's similar to our Loaded Caulifower Potato Soup in that it's made with roasted veggies and then creamed in the blender.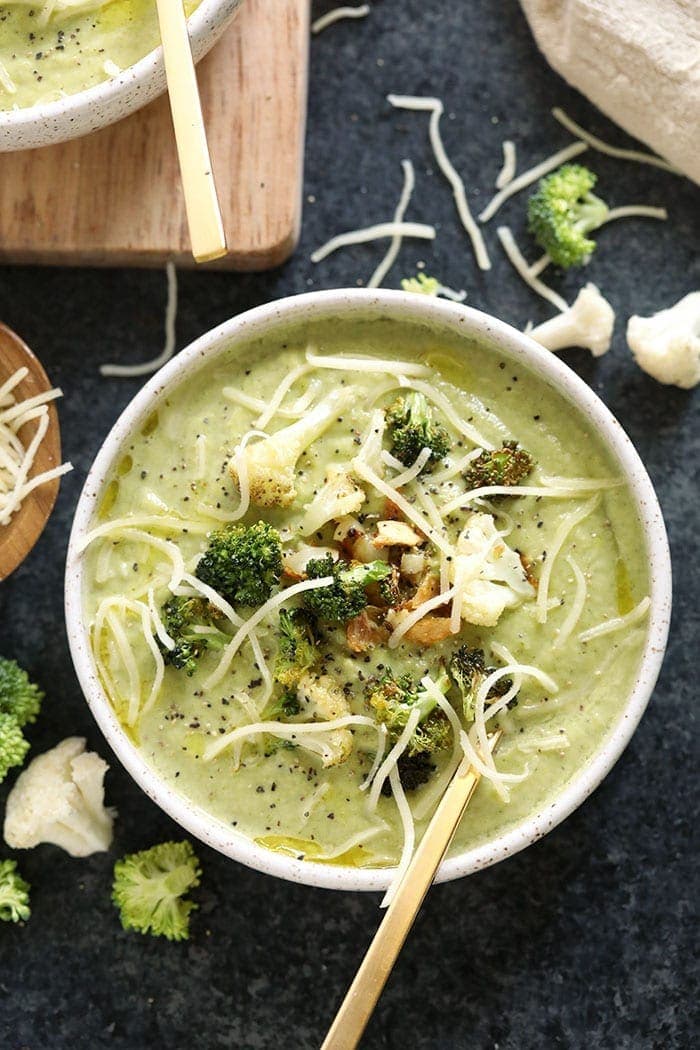 The More Veggies, the Better
It's soup season my fellow slurpers! Yes, you can eat soup all year round. It is a great meal to make in bulk for the family and super easy to meal prep!
Another thing I love about soup recipes is that they are easy to pack with all of the VEGETABLES. This broccoli cheese soup has a base of not only broccoli but cauliflower too!
We wanted to be sure you had your fair share of veggies when you heated up this big batch of soup.
Here are all the reasons you need to make this broccoli cheese soup ASAP, people
Healthy. This broccoli cheese soup has a base of veggies, that's it! No fillers or frills! With a base of broccoli, cauliflower, onions, and garlic you are bound to get regular and be stocked with all the fiber you'll need.
Wait, but it has cheese! Yes, cheese CAN be healthy! Everything in moderation. The sharp white cheddar cheese that we cream into this soup adds a healthy dose of protein and deliciousness.
Blendable. We love that this broccoli cheese soup is blended up in a high-speed blender (we use a Vitamix). All you have to do is cook up your veggies, heat up the broth, and put it all in a blender.
It turns this broccoli cheese soup into a deliciousness. Another reason we love blending this soup is that it helps to make sure your soup will not turn out grainy.
Freezable. If you want to make a big batch of this broccoli cheese soup to freeze for later, be our guest! The only tip I have for you is to hold off on adding the cheese!
Read more about how to freeze soup here! 
Creamy. Who doesn't love a thick and creamy soup? Especially when it's cold outside? This healthy broccoli soup is delicious with a warm piece of bread dipped into it!
Versatile. Not a fan of cheddar cheese? Feel free to leave it out! There are so many swaps you can make in this soup. Feel free to roast whatever vegetable that float you fancy with the broccoli and cauliflower!
Delicious. It's just hella good.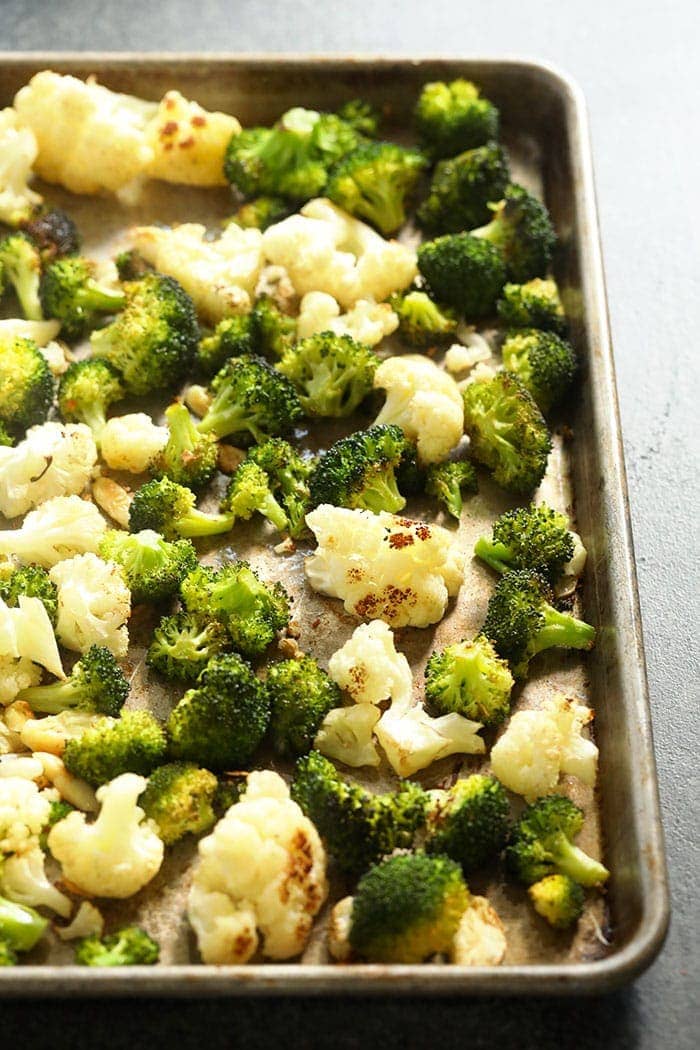 Broccoli Cheese Soup Q & A
Before you take the plunge to whip up a batch of this broccoli cheese soup, let's go over the most commonly asked questions surrounding this soup!
Why is my broccoli cheese soup grainy?
Sometimes broccoli cheese soup is grainy for a couple of reasons.
Your heat might be too high. After adding cheese into the broccoli cheese soup if your heat is too high it could curdle the cheese.
Your veggies may not be cooked. Make sure that when you roast the vegetables that you roast them until they are fully cooked. Raw veggies may not blend as smoothly as you need them to.
You need a high powered blender. Having a high powered blender like a Vitamix or food processor will help make sure your soup is blended to perfection!
How do you add cheese to soup without curdling?
To avoid curdling the cheese in this broccoli cheese soup, do not add cheese to the soup while overheat. We recommend following the directions and blending this soup in a blender (which removes it from direct heat).
If you are reheating this soup, be sure to heat this soup over low heat!
How do I make this broccoli cheese soup vegan?
This broccoli cheese soup CAN be vegan! Omit the cheddar cheese in this recipe and whip up this vegan cheese sauce instead! Add the vegan cheese sauce to the blender at the same time you would have added the cheddar cheese.
Still creamy. Still delicious.
Does broccoli cheese soup freeze well?
Yes, broccoli cheese soup does freeze well! We suggest freezing this broccoli cheese soup BEFORE adding in the cheese. However, if you have already made a big batch feel free to freeze the soup as is.
Just remember when reheating dairy, it may turn out a little bit grainy! Be sure to reheat the soup over low heat and add extra broth!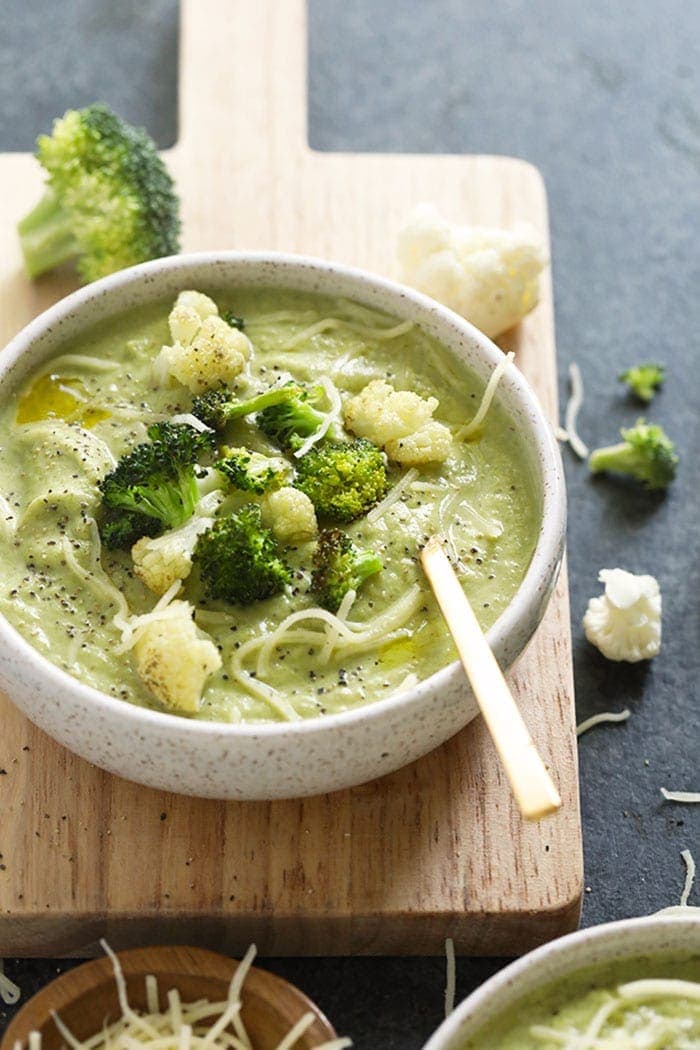 Healthy Soup Recipes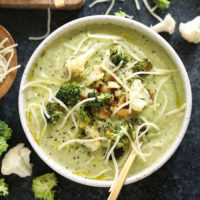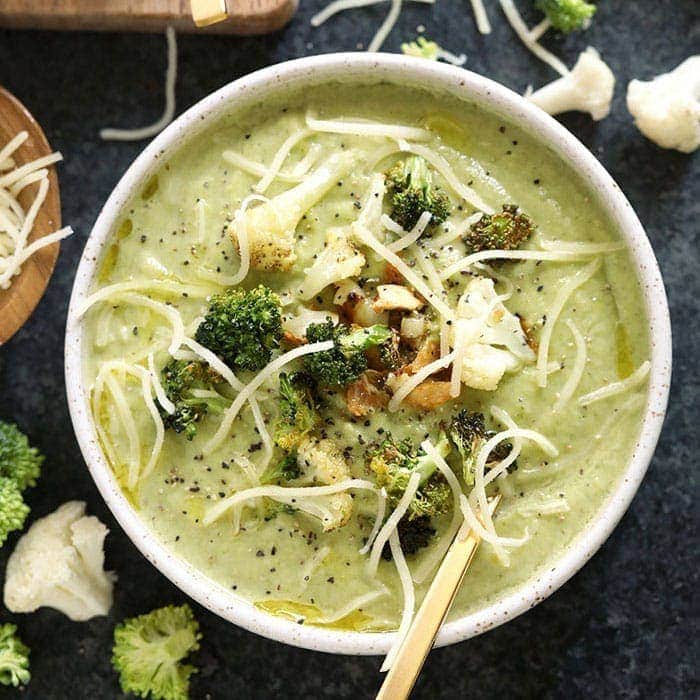 Healthy Broccoli Cheese Soup
The broccoli cheese soup of your dreams...that's actually healthy! Made with roasted broccoli and cauliflower, garlic, and white cheddar cheese, this broccoli and cheese soup needs to be added to your rotation.
Ingredients
4

cups

cauliflower florets

5

cups

broccoli florets

10

cloves

of garlic

peeled

3

tablespoons

olive oil

divided

1/2

medium yellow onion

finely diced

3

cups

vegetable broth

2

cups

shredded white cheddar cheese

1/4

teaspoon

ground black pepper

1/4

teaspoon

salt
Instructions
First, preheat oven to 400ºF.

Next, place cauliflower, broccoli, and garlic on a baking sheet. Drizzle on 3 tablespoons of olive oil and toss so that everything is fully coated.

Roast veggies at 400ºF for about 20 minutes, or until the broccoli begins to brown.

While the veggies are roasting, sauté yellow onion in about 1 tablespoon of olive oil with a pinch of salt. Once they are translucent, add in veggie broth and let simmer for a few minutes.

Place everything in a high-speed blender (including the cheese) and blend for about a minute, pureeing the vegetables and turning everything into a creamy soup. If you like your soup a little thinner, add more vegetable broth!
Tips & Notes
This recipe was slightly modified and the photos were updated on September 18, 2019.
Nutrition facts
Calories:
418
kcal
Carbohydrates:
17
g
Protein:
19
g
Fat:
33
g
Fiber:
5
g
Sugar:
7
g