Our lululemon holiday wish list is here, and we can't wait to show you how versatile these pieces are.
From gym to street to office to planes and trains and day to night, whether you're shopping for yourself of a loved one (or both!) this holiday season, you won't want to miss this goodness!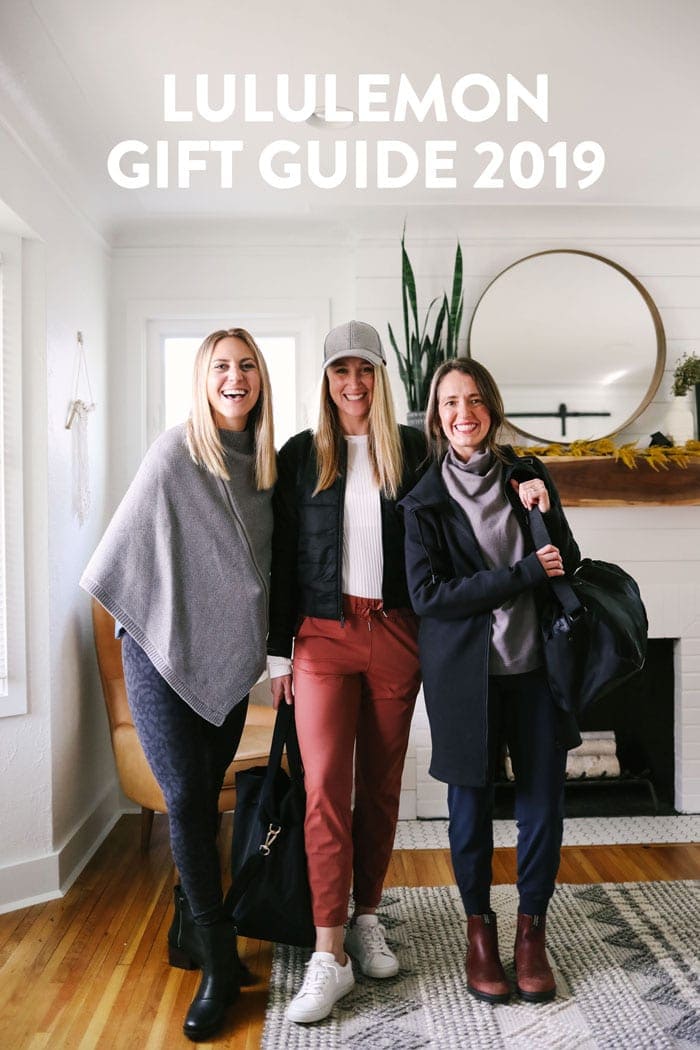 Today we're sharing our full 2019 holiday wish list, as well as a gift guide for all the guys in your life. Happy holiday shopping, friends!
Table of Contents
Try-On Video
The Office
Workouts
Travel
Going Out
Cold Weather
On the Go Bags
Gift Guide for Guys
Try-On Video
Want to see these outfits in action? Check out our try-on session below!
Lululemon for the Office
If you work in a semi-casual work environment, these outfits are for you! Super versatile pieces that layer well are perfect for a chilly commute and changes in office temperatures during your workday.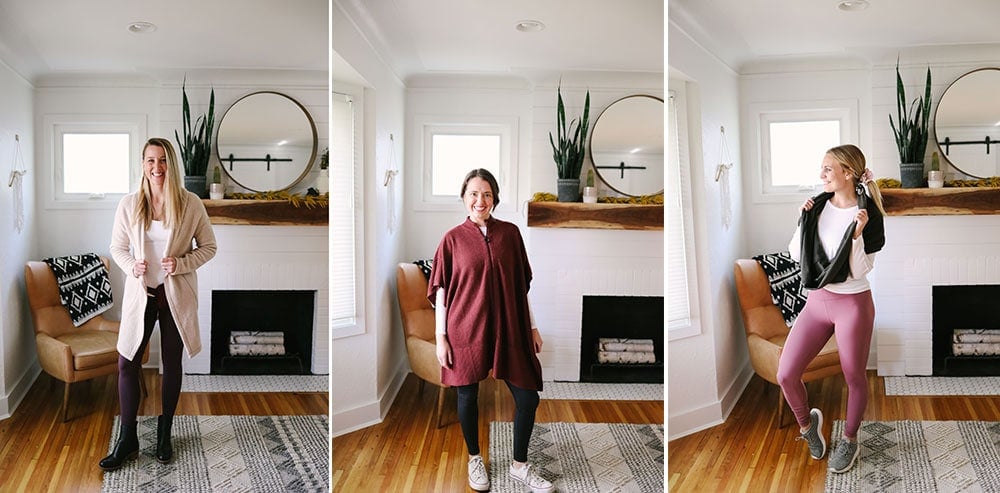 Emily
Sincerely Sherpa Wrap: This wrap sweater seriously feels like you're wearing a soft and fuzzy blanket. We love the pockets and that this sherpa comes in so many great colors! (wearing: size 6)
Wunder Under Hi Rise (28″): These leggings are my go-to for high-intensity workouts, but I love that because they're a little more structured you can absolutely dress them up in the right colors with a long sweater like this. (wearing: size 6)
Free to Be Tank: The luxury fabric of this tank gives it a dressier feel without compromising comfort (haiii, built-in shelf bra!). (wearing: size 6)
Linley
Call Me Cozy Wrap: This wrap is a perfect warm layer that you can add to any outfit! It is a great layer for the office because it is business casual plus adds a fun pop of color to whatever you're wearing. (one size fits all)
Back in Action Long Sleeve: Say hello to this simple, yet sophisticated long sleeve. There is a slight boat neck line that makes it feel like you are dressing up a little bit. It is soft, cozy, and a perfect undershirt for any wrap. (wearing: size 2)
Align Pant (28″): The align pants are so soft that you feel like you're not wearing anything! Pairing a dark align pant with any sophisticated top really dresses up any outfit for the office. (wearing: size 4)
Lee
Swiftly Relaxed Long Sleeve: This cozy long sleeve tee is a great layering option for the colder months. It's a relaxed fit, so you can easily tie it to stay on-trend. (wearing: size 4)
Vinyasa Scarf Rulu: The scarf you can wear 100 ways! I love the vinyasa scarf not only as a traditional neck warmer, but as a wrap, sweater, and so much more. (one size fits all)
Align Pant (28″): Align pants are my go-to pants if I'm feeling a bit bloated or just want to be 100% relaxed. You can dress them up or down and they really are perfect for every occasion. (wearing: size 6)
Lululemon for Workouts
We're firm believers that your workout gear should not only make you feel like the queen you are, but also never ever restrict your movement. And we're loving all the minimal seams, breathable fabric and super harvest-y color palates of this season's lululemon workout tops and leggings.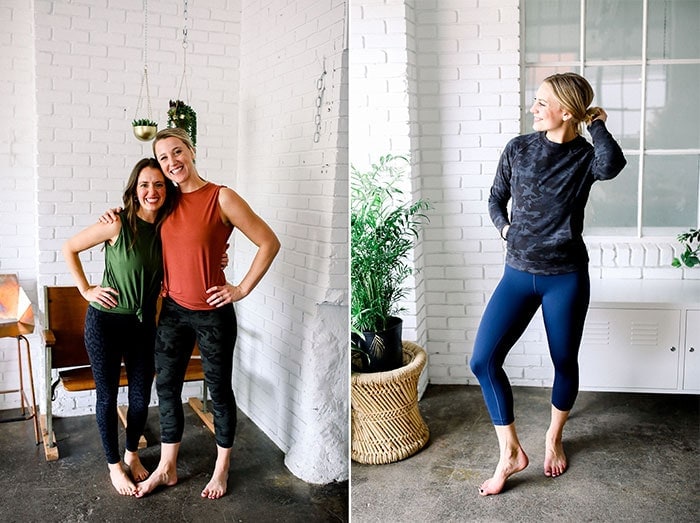 Linley & Emily
Brunswick Muscle Tank: This is one of our new favorite workout tanks. And bonus: it's also adorable tucked into the front of jeans for a more casual look. The high neck and super soft feel make this tank so versatile. (Linley wearing: size 2, Emily wearing: size 4)
Align Crop (21″): They're soft, form-fitting, and the perfect high-rise crop for any workout. The align pant is our "butter pant" because it literally feels like butter! (Emily wearing: size 6)
Align Pant (28″): These are identical to the align crop, but a pant that hits right at the ankle. (Linley wearing: size 4)
Lee
Wunder Under Crop Full-On Luxtreme (21″): Wunder Unders are truly the best workout legging known to man. They keep everything sucked in and they don't ride up or down! I swear by them for pretty much every kind of workout…including yoga! (wearing: size 6)
Scuba Crew: The Scuba Crew is a favorite to throw on post-workout, especially in Minnesota when the weather gets chilly. (wearing: size 6)
Lululemon for Travel
lululemon is our go-to for travel days because it's always comfortable, easy to layer, and dresses up enough to go somewhere directly to or from the airport.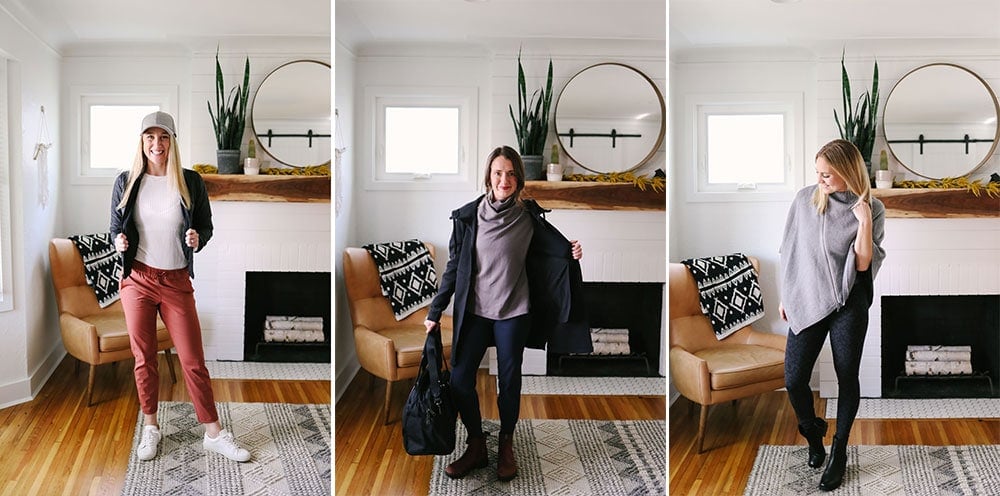 Emily
Non Stop Bomber Reversible: This bomber is a great layering option for travel, and is 100% reversible, making it two outfits in one when you're limited on packing space for a trip. (wearing: size 6)
Rest Less Pullover: This pullover has a great textured stripe pattern on it, and is super trendy all while being made of moisture-wicking fabric. Win win. (wearing: size 6)
On the Fly Pant: We're big on the fly fans over here! These pants are super soft and comfy and don't easily wrinkle (aka perfect for travel!). Plus, I'm loving all the colors they've added this holiday season, including many jewel tones and this harvest-y orange. (wearing: size 6)
Baller Cap: Have an early flight and don't want to take the time to wash your hair before traveling?! This hat's for you. Made of super soft fabric and adjustable in the back, this hat is perfect for anything on the go (even working out thanks to the sweat-wicking lining!). (one size fits all)
Linley
Long Horizons Hoodie: This long zip-up hoodie will be your new favorite layer with any outfit! It is perfect for travel because you can take it on and off easily while still having a really cute look for the airport. (wearing: size extra small) 
Principal Dancer Funnel Neck Sweater: If you're looking for a sweater that is both comfortable and sleek, this funnel neck sweater is for you. This lunar rock color adds a little extra flare to a cozy travel outfit. Layers on layers! (wearing: size 4)
Align Joggers (28″): Who wants to sit on an airplane with uncomfortable pants? Nobody! A darker color in these align jogger can dress up any travel outfit, plus the bonus of the align joggers is the buttery fabric. You'll be perfectly comfortable no matter how far you are traveling! (wearing: size 4)
Out of Range Duffel: The ideal duffel bag is a duffel bag that has a lot of space, but doesn't bulk up too much! This out of range duffel has plenty of space for a carry on, but will still be able to fit under your seat!
Lee
All Yours Boyfriend Tee: The AYBT (as we like to call it) is probably my all-time favorite shirt to wear on the plane. It's super soft and can be worn oversized or tied in the front or back. I have it in 5 colors and I'm not mad about it. (wearing: size 4)
On the Go Poncho: This poncho comes in handy when you just don't know what the temperature is going to be…like on an airplane! It's warm and trendy. (one size fits all)
Wunder Under Hi Rise (28″): I wear them to the gym, but they are also my go-to pant for travel because they are just that comfortable! (wearing: size 6)
Lululemon for Going Out
lululemon for evening activities, you say!? We're firm believers that you should be oh so very comfy in your outfit even when you're out on the town for the evening. Jazz these outfits up even more with fun jewelry, sassy shoes, and of course, lipstick!

Lee
Non-Stop Bomber Reversible: Two jackets in one? YES PLEASE! This bomber is lightweight but comfy and it dresses any outfit up! Did I mention that it's reversible?! (wearing: size 6)
Brunswick Muscle Tank: This is my favorite tank to do a front tuck with. I love that it's high-neck, super soft, and versatile if I want to wear it out or to the gym. (wearing: size 4)
On the Fly Wide Leg (7/8): Wide leg pants are my new thang. I'm a girl with quads and wide-leg pants make any outfit comfortable. Throw on a pair of heels and these crops are good to go out with! (wearing: size 8)
Linley
Every Moment Crew: Who says you can't be comfortable when you're out on the town? This velour crew is a great going out top because it sasses up your outfit while secretly being very comfortable. (wearing: size 4)
Align Pant (25″): Hello camouflage align pant! Camo takes any outfit up a notch and the 25″ align pant shows a little skin at the ankle and leaves room for a cute sassy tennis shoe or bootie! (wearing: size 4)
Everywhere Belt Bag: There is nothing more convenient than having everything you need right on your hip! This everywhere belt bag is adorable and gives you easy access to lipstick, your phone, and anything else you may need out on the town. (one size fits all)
Emily
Short and Sweet Sherpa Jacket: We love that the sherpa trend is sticking around this winter! Especially with this short zip-up with an oversized hood that really can be dressed up for an evening out. Oh, and it's reversible, too! (wearing: size S)
Align Pant (28″): The polar shift emboss black pattern is super jazzy, and resembles a cracked glass print that's a little bit shiny making these Aligns perfect for an evening out. And dress these up even more with a pair of boots, and you're on your way! (wearing: size 6)
Lululemon Cold Weather Jackets
We were absolutely giddy to see that lululemon was adding so many cold weather jackets to their collection this holiday season. These will be a great addition for the long winter here in Minnesota.

Cloudscape Jacket: This jacket takes the traditional puffy up a notch with 700-fill down and water resistant fabric. We love that it zips all the way up to your chin for colder days when you don't have a scarf. (wearing: size 6)
Roam Far Wool Bomber: Waterproof wool, what is up! This bomber is a great transition season (ie: late Fall, early Spring) jacket with oversized pockets, and comes in this dark grey and an adorable ballet pink color. (wearing: size 6)
Roam Far Wool Coat: We can't get enough of this boxy wool trench coat! Definitely something you can dress up for a casual evening out. Only downside: there are only buttons down the front, and not a zipper, which would be nice for colder weather. (wearing: size 6)
Wunder Puff Jacket: This super soft down puffy jacket has a winter-worthy hood and a cinch waist to keep the wind out in colder conditions. (wearing: size 6)
Lululemon Bags
lululemon's bags and accessories are not just for workouts! We've added these duffels, fanny packs and clutches into our everyday collection this season.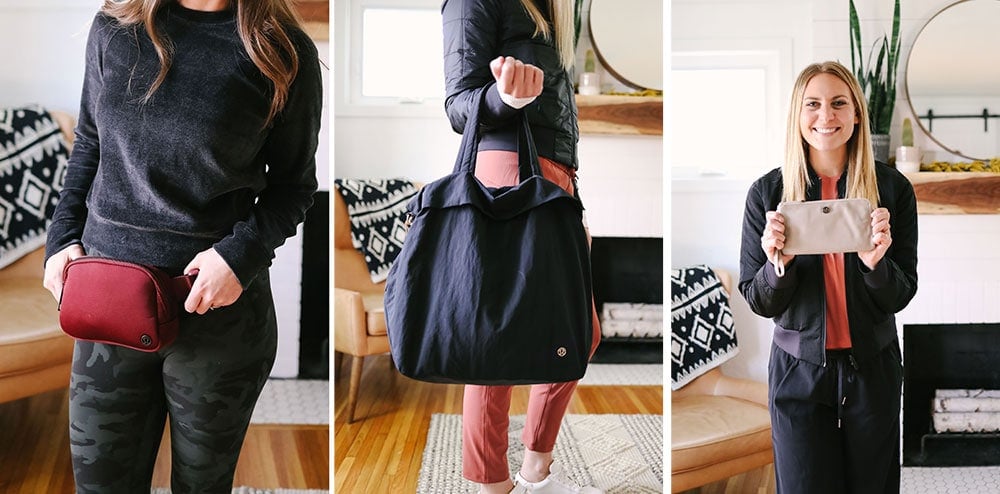 Everywhere Belt Bag: This belt bag is not your average fanny pack! It has a spacious main pocket with a smaller pocket for all of your essentials! You can dress it up or you can dress it down. The options are endless! (one size fits all)
On My Level Bag: This bag fits so. much. stuff! But instead of being a deep black hole, the interior is separated into two sides, and has zipper pockets as well. (size large)
Double Up Pouch: The perfect clutch for any night out. It's also the perfect size to carry your phone, credit cards and a few lipsticks! (one size fits all)
Lululemon Gift Guide for Guys
Are you buying for the guys in your life this year?! If so, we rounded up some of our lululemon faves for da men. And don't worry, this list was approved by Mark, Bryce and Cole (the guys in our lives!).
Tops
Bottoms
Jackets
Accessories
This post was sponsored by lululemon. We were compensated, and all opinions are our own. Thanks for supporting Fit Foodie Finds!