Say hello do this delicious pineapple coleslaw! This easy coleslaw recipe is made with red cabbage, radishes, carrots, and more. It is coated in a healthy and tangy coleslaw dressing that compliments all of your favorite BBQ dishes.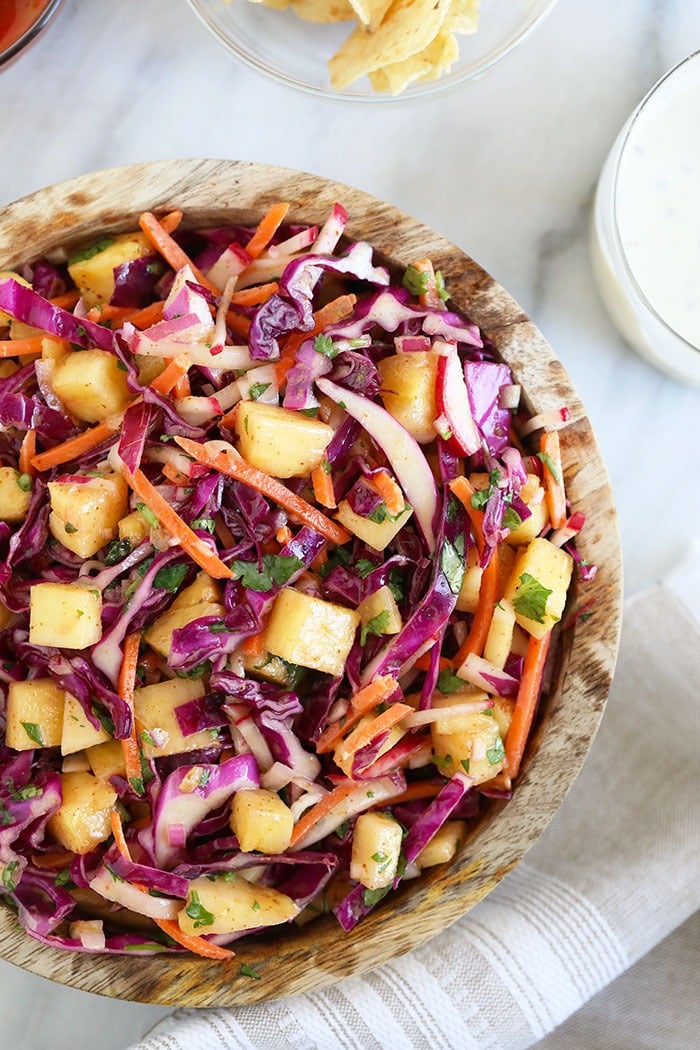 Summer Side Dishes – Bring on the Veggies
Did you know that Minnesota doesn't have snow all year round? It's true! Some people don't know where Minnesota is on a map and some people think that it is a frozen tundra all year round. I'm here to tell you that Minnesota has four seasons and that summer in Minnesota is magical.
One of the best parts about Minnesota summers is that the people soak. it. up. When May rolls around (after the one or two snowflakes that fall in early May), people are outside riding bikes, sitting on patios and everything in between.
We live in Minneapolis and the Minneapolis food scene steps it up in the summer. People put on their summer apron and restaurants cook up delicious BBQ and there is always a slight hint of charcoal in the air. I'm obsessed.
Who doesn't love a good grilled steak or BBQ chicken in the summer, but when it comes to summer recipes, I'm a sucker for all of the BBQ side dishes. I love picking fresh vegetables and making salads, and serving main summer dishes with my favorite FFF sides.
However, if I had to choose the summer side I make the most it would be COLESLAW.
Vinegar Coleslaw vs. Creamy Coleslaw
This is the great debate of coleslaw recipes. Do you like coleslaw that is made with lots of different shredded vegetables and lightly dressed with tangy vinegar and citrus?
Or are you a more traditional coleslaw person that loves a basic shredded cabbage that is dressed with a thicker and creamier dressing?
Personally, I tend to lean towards a coleslaw with a lighter dressing and an assortment of shredded veggies that add all kinds of different crunchy textures. I also love the combination of sweet, salty, and tangy. Ya just can't beat it.
Thankfully, this Pineapple Coleslaw is the perfect combination of a vinegar coleslaw and a creamy coleslaw recipe!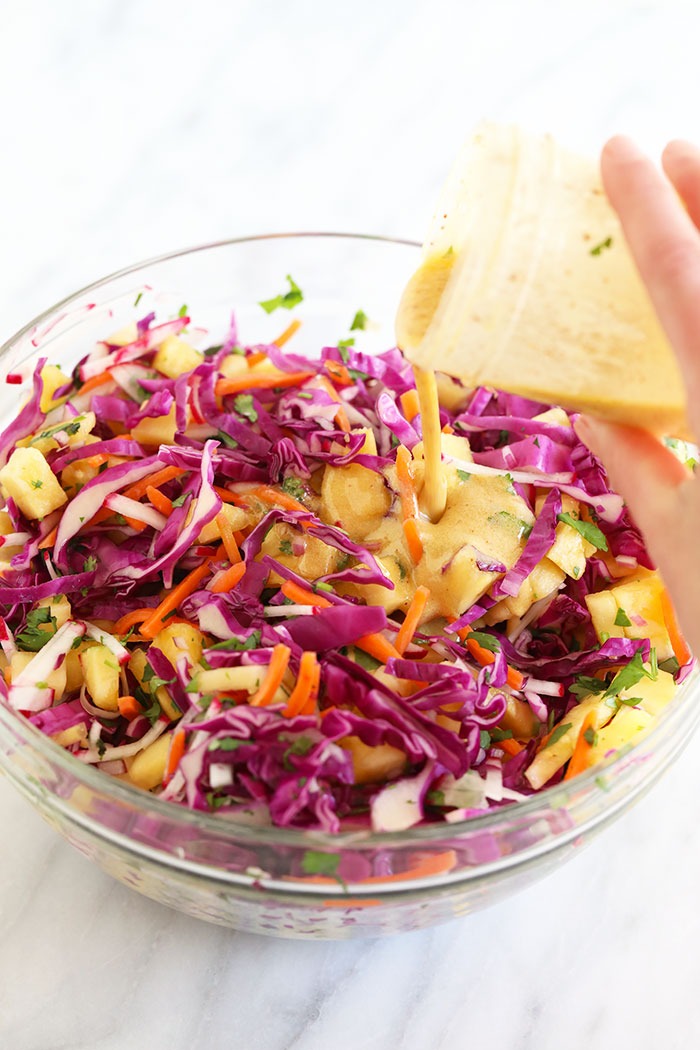 Pineapple Coleslaw
This pineapple coleslaw is a staple in our house! The beauty of this recipe is that it is delicious if you follow the exact recipe in the recipe card AND it's delicious if you decide to make some substitutions. My favorite part of this recipe is that it has all the characteristics of a traditional coleslaw recipe with some new and fun twists.
The tangy (vinegar) and sweet (pineapple) combination of this coleslaw is where it's at. It really hits every part of your tongue. I love to squeeze as many veggies into recipes and I can! I just love the peppery kick the radishes add to this recipe.
Feel free to substitute any of vegetables or fruits with your favorites. If you don't have pineapple, try strawberries or mango. If carrots aren't your thing, drop them and add some chopped broccoli or sliced pea pods. YUM. Make this recipe your own.
Coleslaw Dressing
The coleslaw dressing is the perfect balance of vinegar and creaminess. We used apple cider vinegar and a tablespoon of our favorite vegan mayo (but not too much) to create a coleslaw dressing with the perfect consistency.
You can use whatever type of vinegar you would like, just remember if you use rice vinegar you made need a little bit more because it is not as potent as  ACV.
Mix everything together for this pineapple coleslaw and serve it at your next BBQ or meal prep it for a week full of flavor!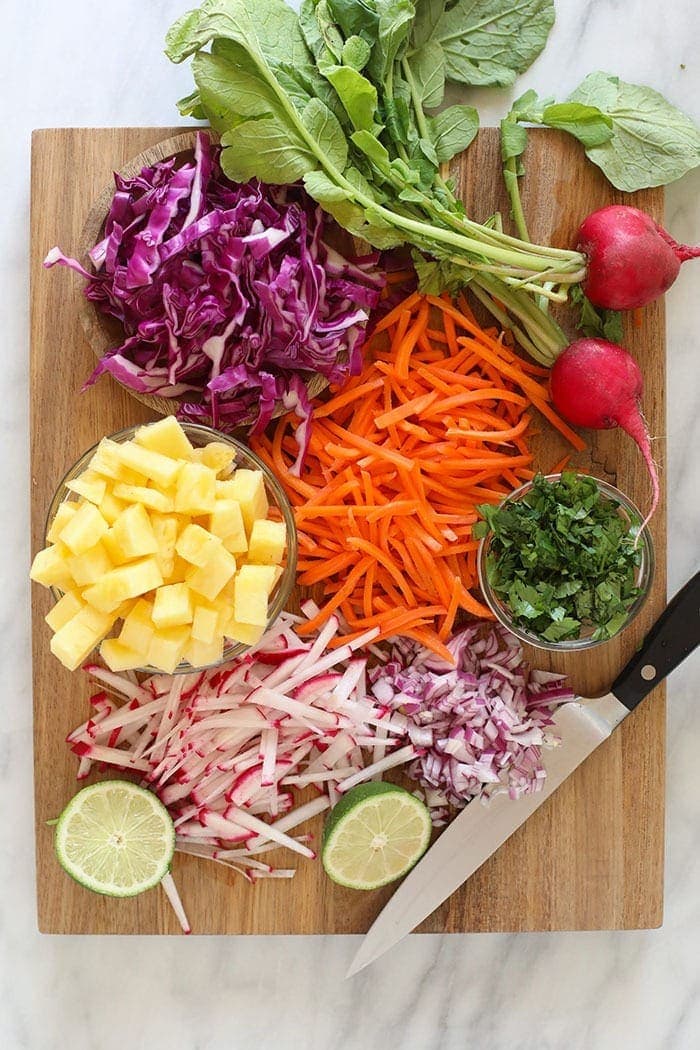 Healthy Summer Side Dishes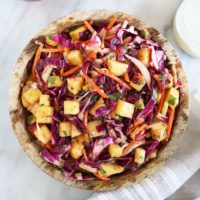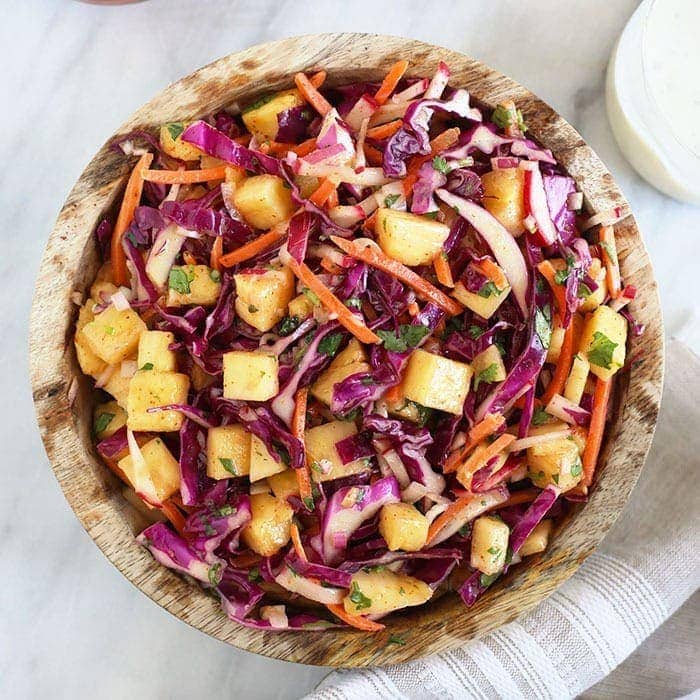 Pineapple Coleslaw
Say hello do this delicious pineapple coleslaw! This easy coleslaw recipe is made with red cabbage, radishes, carrots, and more. It is coated in a healthy and tangy coleslaw dressing that compliments all of your favorite BBQ dishes.
Prep:
20 minutes
Cook:
0 minutes
Total:
20 minutes
Fat
10
Carbs
13
Protein
1
Ingredients
For the Dressing
1/4 cup

olive oil

1 tablespoon

apple cider vinegar

1 teaspoon

chili powder

1 teaspoon

maple syrup (or honey)

1 tablespoon

vegan mayo (any kind will work)

1/4 teaspoon

salt

1 tablespoon

lime juice

1/2 teaspoon

dijon mustard
For the Coleslaw
1 cup

shredded purple cabbage

1 cup

sliced radishes (

2

large radishes)

1 cup

matchstick carrots

1/2 cup

diced red onion (about

1/4

onion)

1/2 cup

chopped cilantro

1

small pineapple, finely chopped (

4 cups

finely chopped)
Instructions
For the Dressing
First, add all ingredients for the dressing into a jar, cover tightly, and shake until all contents are combined.
Place the jar into the refrigerator for later.
For the Coleslaw
Mix all ingredients for the coleslaw into a large bowl.
Pour dressing over all ingredients and toss well until all ingredients are covered with.
Place the coleslaw into the refrigerator and let it chill for at least 30 minutes.
Serve alone or with any of our healthy grilling recipes!
Nutrition Facts
Serving Size:
1/6
Calories:
139
Sugar:
8
Fat:
10
Carbohydrates:
13
Fiber:
3
Protein:
1
Category:
Side
Method:
No Bake
Cuisine:
American
Keywords: pineapple coleslaw