Learn how to cook spaghetti squash in the oven with this simple baked spaghetti squash recipe.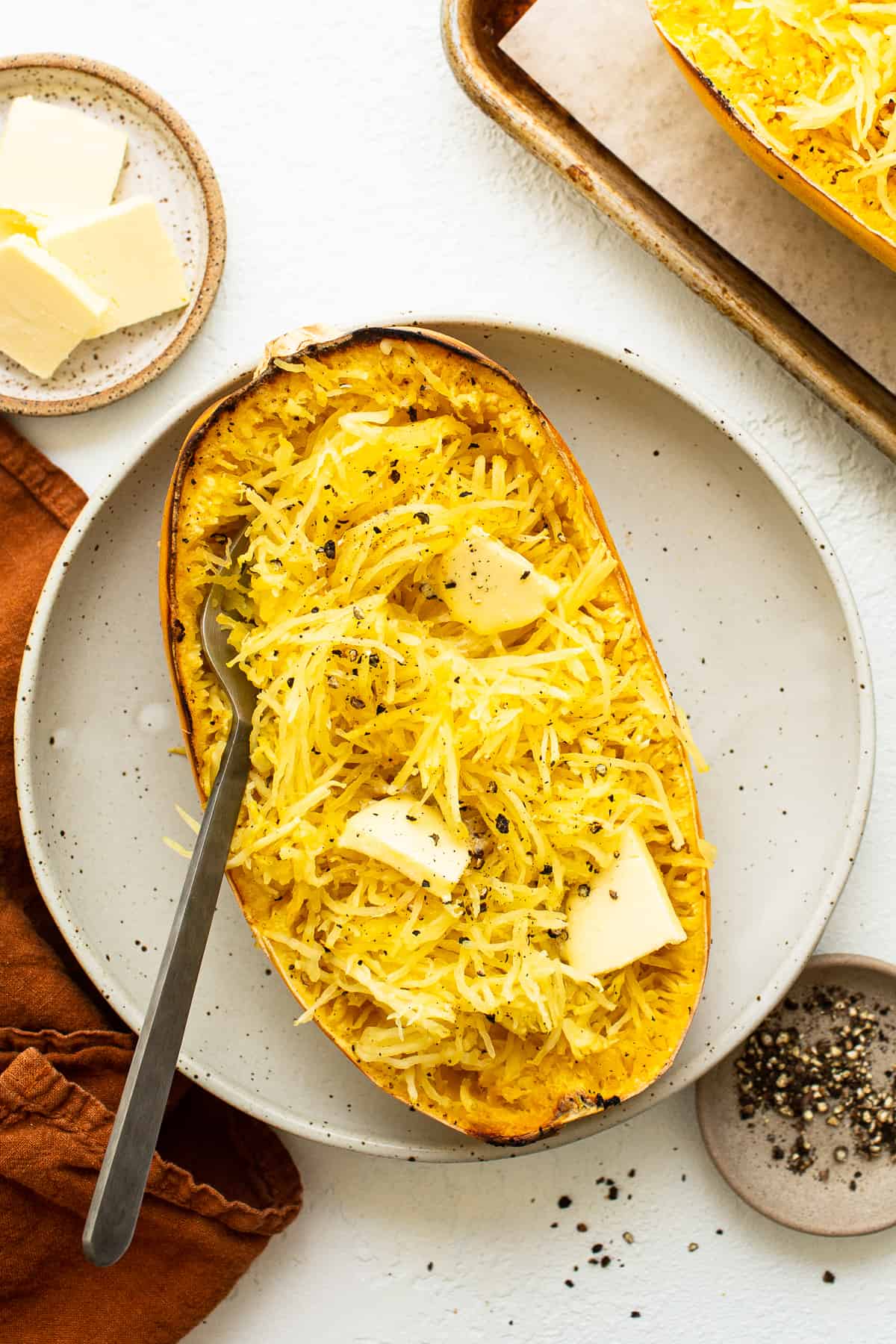 What is spaghetti squash?
Spaghetti squash is a vegetable that when baked, has a stringy texture and an appearance that resembles spaghetti. It has a neutral flavor and is relatively low in calories.
What does spaghetti squash taste like?
Spaghetti squash is a mild-tasting squash that has a slight sweetness to it. It's less sweet than butternut squash but sweeter than a russet potato.
Is spaghetti squash healthy?
While spaghetti squash is a starchy carb, it's packed with vitamins A and C and contains 2g fiber and 1g protein per serving.
When is spaghetti squash in season?
Spaghetti squash is in season from early fall all the way through winter. If you live in the US, you can likely find spaghetti squash year-round at your local grocery store.
Spaghetti Squash Nutrition
Per 1 cup cubed:
31 calories
1g fat
7g carb
2g fiber
3g sugar
1g protein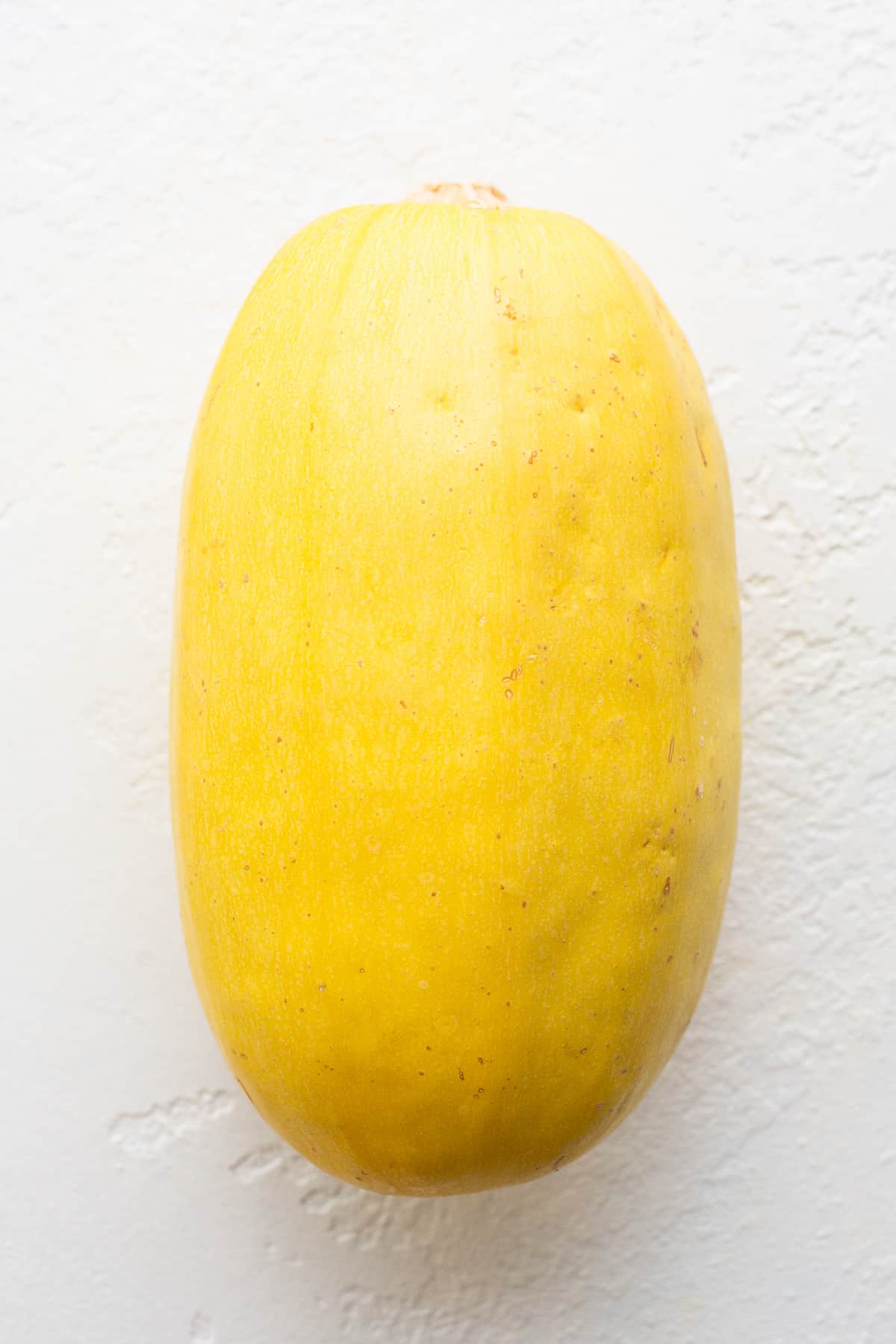 What You Need Roasted Spaghetti Squash
Roasting spaghetti squash is genuinely the best way to eat spaghetti squash. It cooks perfectly and it's so easy to make! Here's what you need:
Spaghetti squash: we used around a 2 lb. spaghetti squash, but any size works. Do note that if you use something bigger, you will likely need to roast it longer to get it fork-tender.
Olive oil: we prefer olive oil for roasting squash, but you can also use avocado oil.
Salt and pepper: salt and pepper are the basics for what we recommend when roasting cooking spaghetti squash in the oven.
Latest Vegetarian Recipes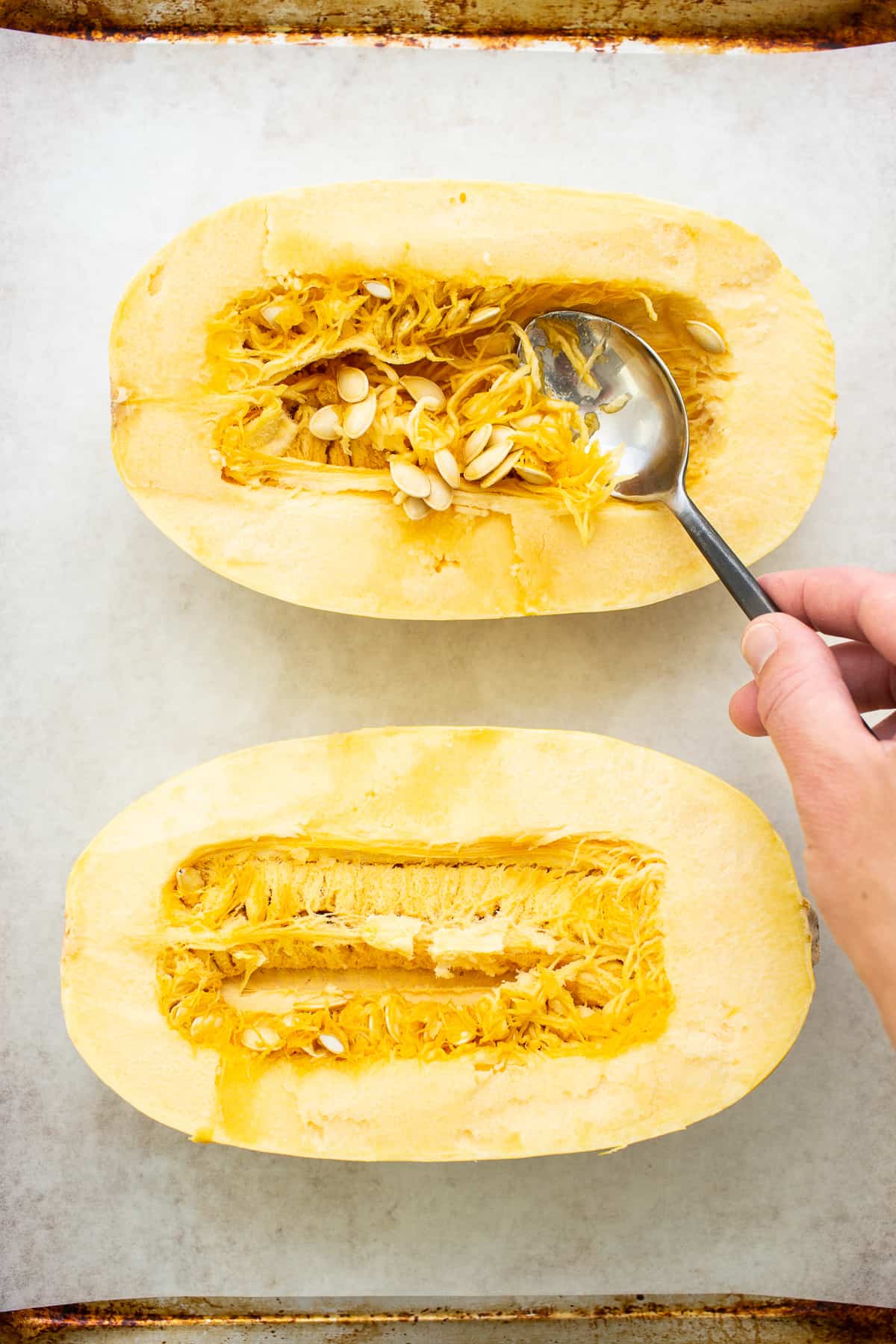 How to Bake Spaghetti Squash
Slice spaghetti squash: first things first, use an extremely sharp knife to slice your spaghetti squash in half hot dog-style.
Remove innards: use a spoon to scoop out the innards. Make sure to remove all of the seeds and stringy flesh.
Oil and season: place the spaghetti squash on a parchment-lined baking sheet, flat-side up, and drizzle both halves with olive oil. Then, season with salt and pepper.
Roast: roast the squash at 400ºF for 20 minutes. Flip the squash over and roast for another 20 minutes,
Let rest: remove the squash from the oven and let rest for 5 minutes,
Fluff: use a fork to "fluff" the spaghetti squash so that the flesh resembles spaghetti.
Serving Suggestions
Many people love to use spaghetti squash in place of noodles because it's a true vegetable instead of a processed pasta. Here are some ways you can enjoy your spaghetti squash:
Top Tips
Use a sharp knife: when slicing your spaghetti squash, make sure to use a sharp knife or it will be very difficult to cut.
Squash size matters: we used a 2 lb. spaghetti squash and 40 minutes was perfect. If you use something bigger, be prepared to increase your baking time.
Let rest after baking: your squash will be piping hot when it comes out of the oven, so make sure to let it rest before forking!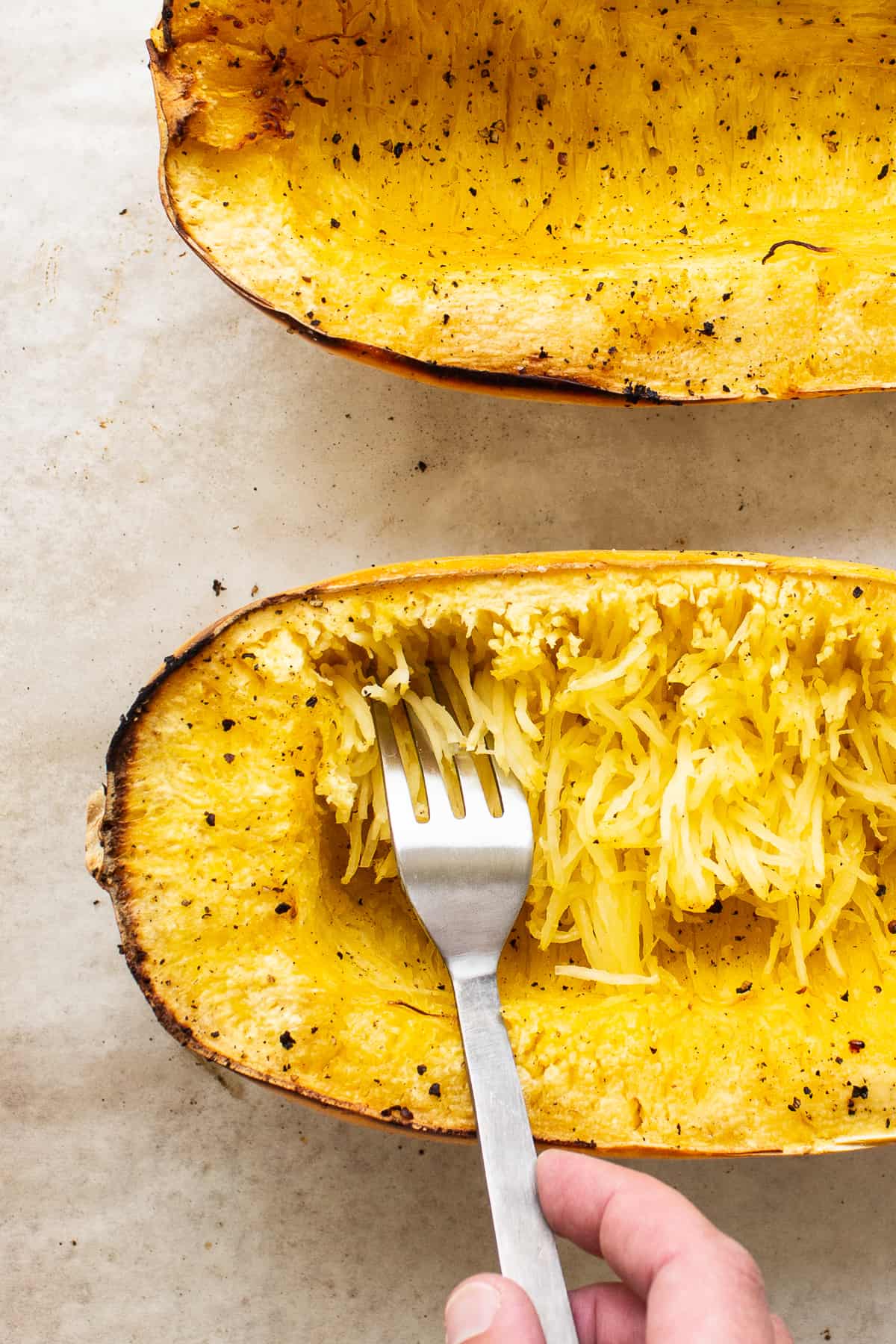 Storage
Store leftover roasted spaghetti squash in an airtight container in the fridge for up to 3-5 days.
To reheat: reheat in the microwave on high for 60-90 seconds.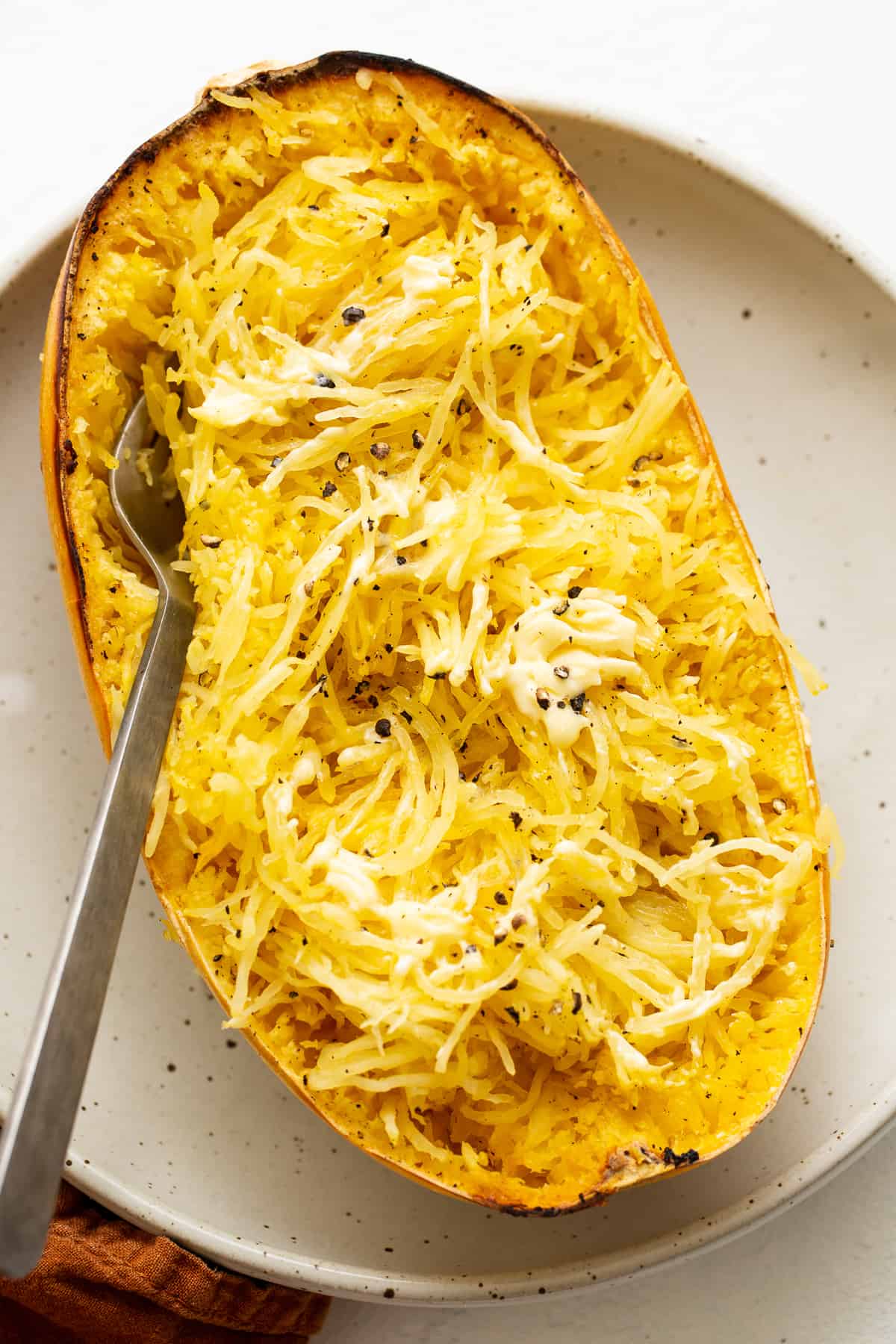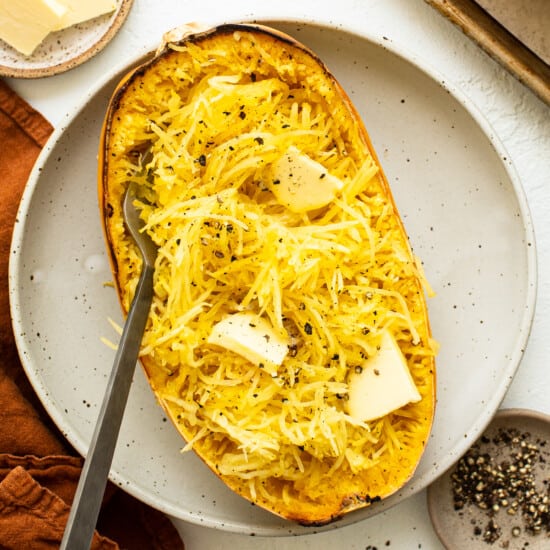 Simple Baked Spaghetti Squash
Baked spaghetti squash is the easiest way to cook and serve spaghetti squash. Learn how to cook spaghetti squash in the oven with this simple tutorial!
Instructions
Preheat the oven to 400ºF and line a baking sheet with parchment paper.

Next, use a large sharp knife to carefully slice the spaghetti squash in half lengthwise (hotdog style). Remove the innards of the spaghetti squash out with a spoon.

Drizzle about 2 teaspoons of olive oil over each half of the spaghetti squash and then season each half with ¼ teaspoon of salt and ¼ teaspoon of ground pepper.

Place the spaghetti squash open side-down on the lined baking sheet and bake for 20 minutes at 400ºF.

After 20 minutes, flip each half of the spaghetti squash over and bake for another 20 minutes. We recommend checking the squash with a fork after 10 minutes to make sure your spaghetti squash isn't getting mushy. Every oven is different so the time may vary.

Remove the spaghetti squash from the oven and let it rest for 5 minutes before carefully "fluffing" the edges of the squash with a fork to loosen the spaghetti squash from the skin of the skin.

Serve immediately with a tab of butter, more olive oil, or a scoop of pesto and enjoy.
Tips & Notes
We used a 1.75-lb squash for this recipe. The size of the squash will determine how long you have to bake your squash.
Nutrition facts
Calories:
204
kcal
Carbohydrates:
32
g
Protein:
3
g
Fat:
10
g
Fiber:
7
g
Sugar:
13
g
Photography: photos taken in this post are by Ashley McGlaughlin from The Edible Perspective.