Satisfy your sweet tooth AND get your protein in with this Peanut Butter Banana Toast for Toast Tuesday!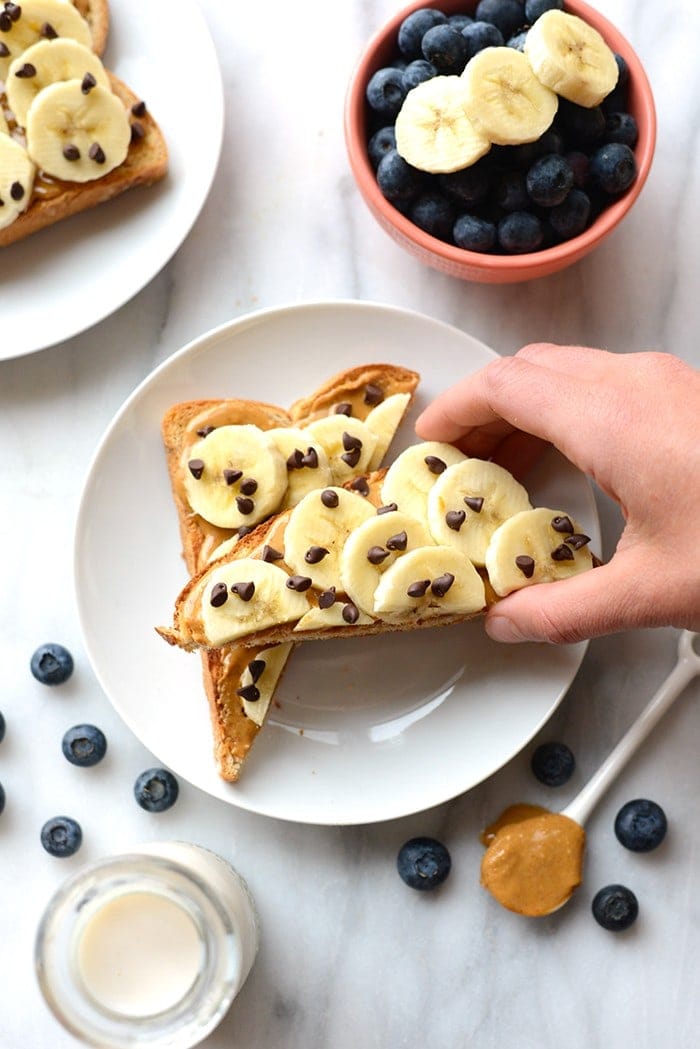 Happy Toast Tuesday everybody!
It's been almost been a MONTH since Lee and I have been in the same room. I think that's the longest we've been apart for TWO YEARS. Can you believe that?! We are surviving thanks to FACE TIME! Luckily she gets home at the end of the week and we will be reunited. #YAY
Any who, Toast Tuesday. I wanted to dig a bit deeper this week. Chat you with you people about whats going on in @linleysbrain. Anyone here in there late-twenties? (Ooo Ooo I AM). Twenty-seven and going strong, my party people.
Are you in that stage of life where all of your people are are engaged, married, or having babies? I am. It's absolutely WONDERFUL. I love my people. I love seeing my people happy. I love partaking in conversation and planning of major life stages in my people's lives. It's a crazy BLAST. I sometimes (in the midst of having so much fun in everyone else's life stages) stop to take a breath only to realize that I myself am not married, with child, or even engaged…and suddenly I feel like I'm behind in life. It's the strangest feeling and kind of a new feeling for me over the past year.
I have always been a free spirit…like hella-free (ask Lee). I am the kind of person that moves to third world countries on a whim, tries new (sometimes crazy) things, and my room tends to always be messy. I wouldn't have it any other way. I've always felt like I am where I'm supposed to be. THEN, all of the sudden… rings, weddings, and babies started happening and my heart skipped a beat and decided to tell my brain "Get going, you lazy terd. It's time to pro-create.", I was like…#whattheWHAT? Thankfully, I haven't been paralyzed in that anxious state, because I have super logical and loving people around me that remind me there are no rules or regulations I am supposed to be following and to take a chill-pill.
For all of you out there that are in your late twenties and are feeling like your lagging behind, take a breath. You are not behind. You are just where you need to be. You are not taken off the eligible bachelor(ette) list if you aren't engaged, married, and popping out kids by thirty. Phew, right? Take your time. Find what you love to do and do it FIERCELY. When you're living a life that screams you, everything will fall into place. #clicheBUTtrue
No, I don't have it all figured out. But, the key is to NOT tackle it all by yourself. It's much easier to go through all of these strange late-twenties feelings with people. Grab those people who lift you up, make you laugh, and hold on tight. I've been grabbing late night wines, sending early morning texts a lot more in the last year to make sure I keep myself in-check.
Life is good, people and OH-so-SWEET. Let's make sure we don't wish it away, are ya with me? WAWHOO!
You know what else is good and oh-so-sweet? This Peanut Butter Banana TOAST. A serious GO-TO for #TeamFItFoodie.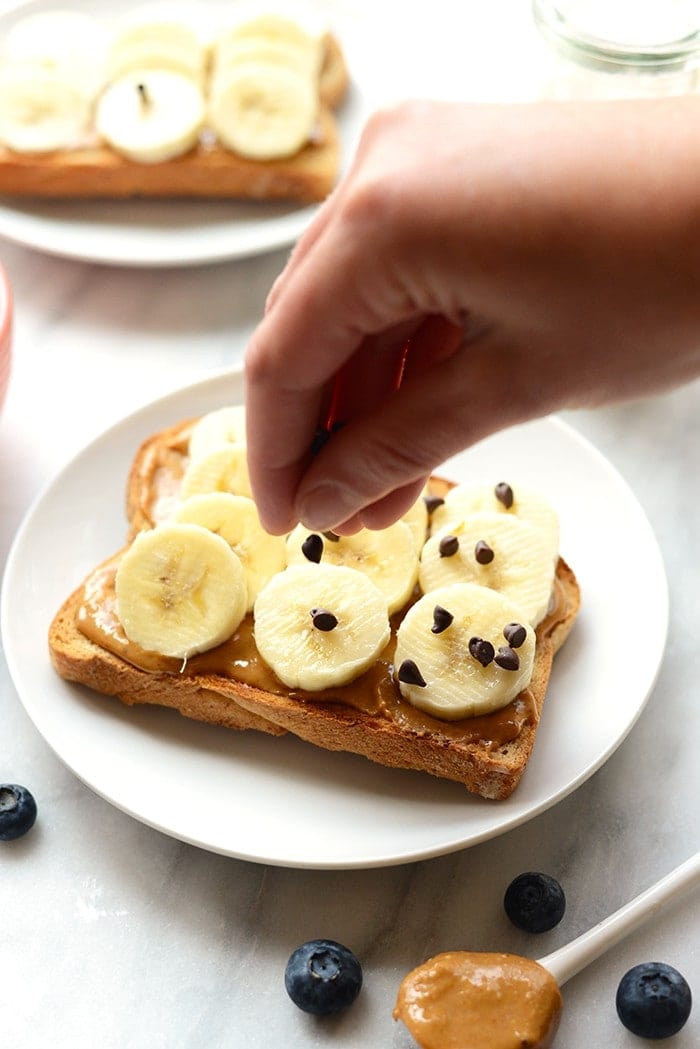 It's so easy and SATISFYING. Something most people don't know about me is that I can't eat bananas alone (it's a texture thing). I have to eat them on top of oats, with granola, or (my favorite) ON TOAST! Chocolate chips are obviously a bonus and even better if you happen to have tiny chocolate chips in the freezer, because look at them…they are so dang cute. Get your sweet, savory, and protein in with some Peanut Butter Banana Toast!
Now go. Go and get your TOAST ON.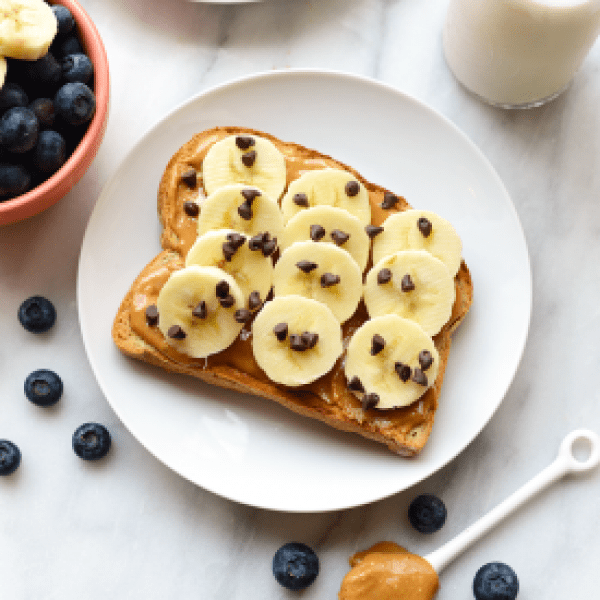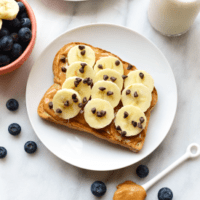 Toast Tuesday – Peanut Butter Banana
Prep:
5 mins
Cook:
5 mins
Total:
10 minutes
Ingredients
1

piece of your favorite bread, toasted

1 tablespoon

of peanut butter

1

banana, sliced

1 teaspoon

mini chocolate chips, optional
Instructions
First, pop your bred in the toaster
When bread is toasted to perfection, spread peanut butter evenly over the top of the toast.
Next, evenly lay bananas over the top of the peanut butter.
Lastly, sprinkle chocolate chips over the top of everything.
ENJOY
Nutrition Facts
Serving Size:
1
Calories:
324
Fat:
11
Fiber:
7
Protein:
9