These healthier chocolate cupcakes are lightened up with white whole wheat flour, Greek yogurt, and coconut sugar for the perfect, not-too-sweet dessert that your sweetie will love!
Looking for more healthier desserts to vie that special someone, look no further than these chocolate cupcakes or our raspberry chocolate almond butter cups or even these sugar cookie cut-outs!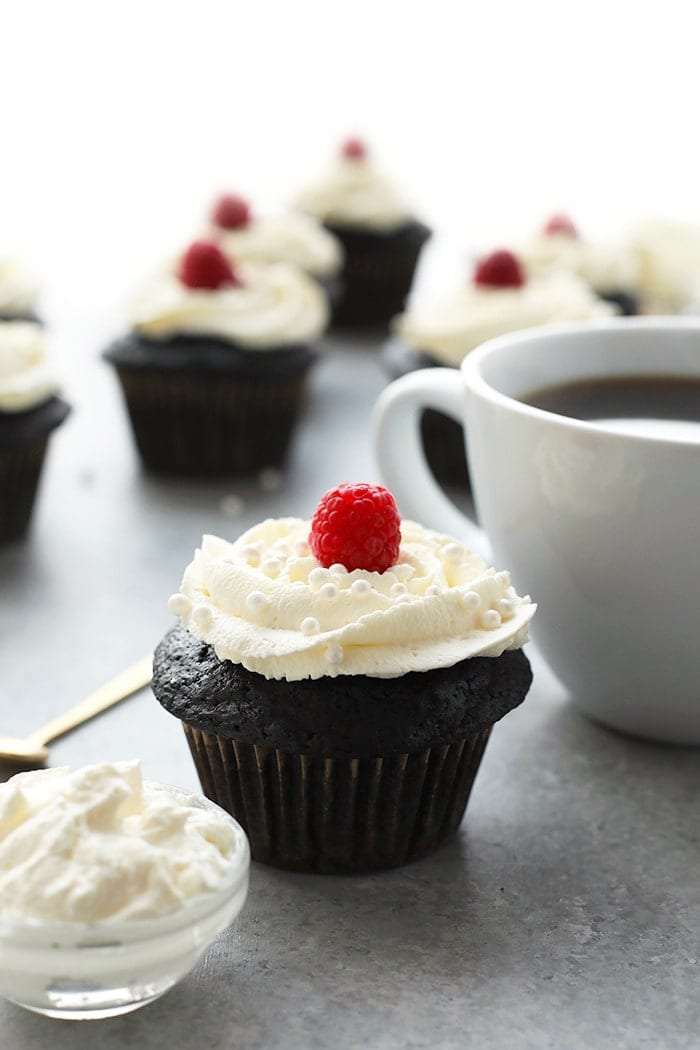 Cupcakes > Cake!
Cupcake, do the cupcake danceeeee! I can't tell you how many times I've searched the internets for a healthier cupcake recipe. And it seems like there are so many delicious healthier cake recipes, but few and far between when it comes to cupcakes. And ain't nobody like a dry or dense cupcake recipe. So, this led us to the decision to finally take the reins and make one of our own!
And let me tell you, cupcakes are just oh so fun to style and photograph. I pretty much just love photographing beautiful desserts of ALL kinds. Sometimes it's really hard to make a quinoa casserole look pretty, but I NEVER have this issue with cupcakes.
They are just so pretty.
Plus it finally felt like the perfect time to use our new brass measuring cups from Anthropologie.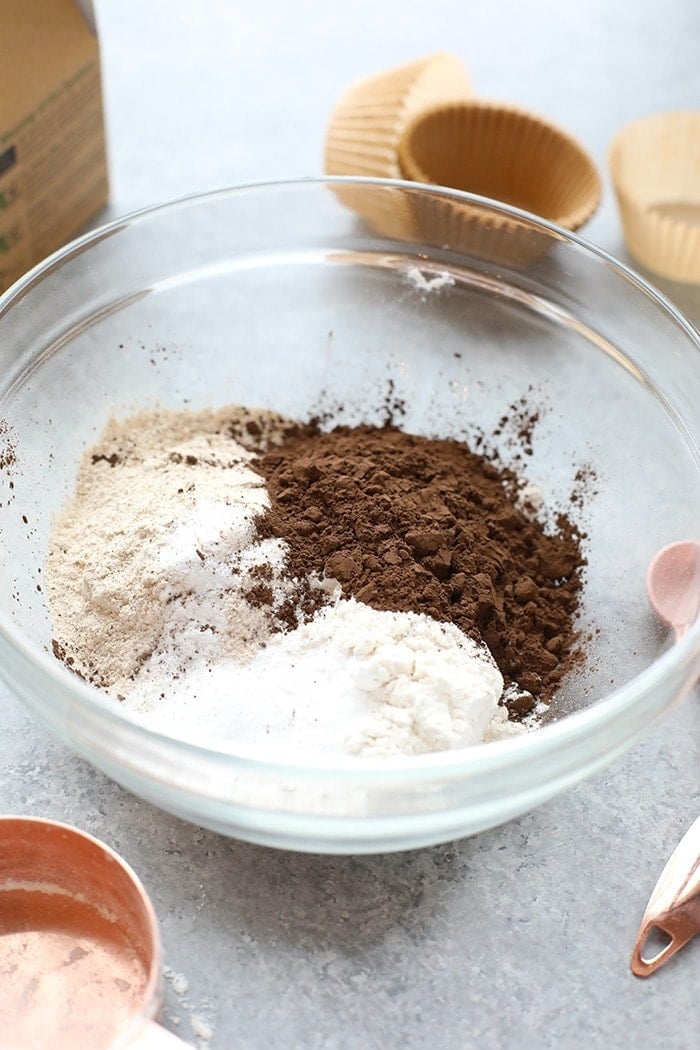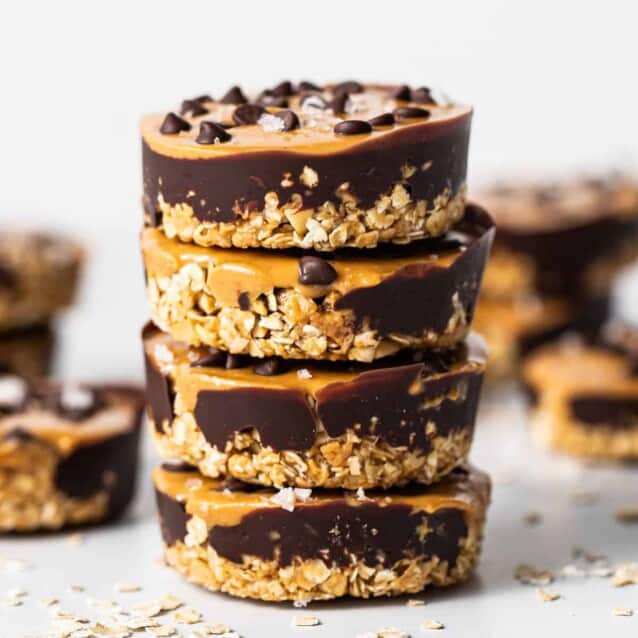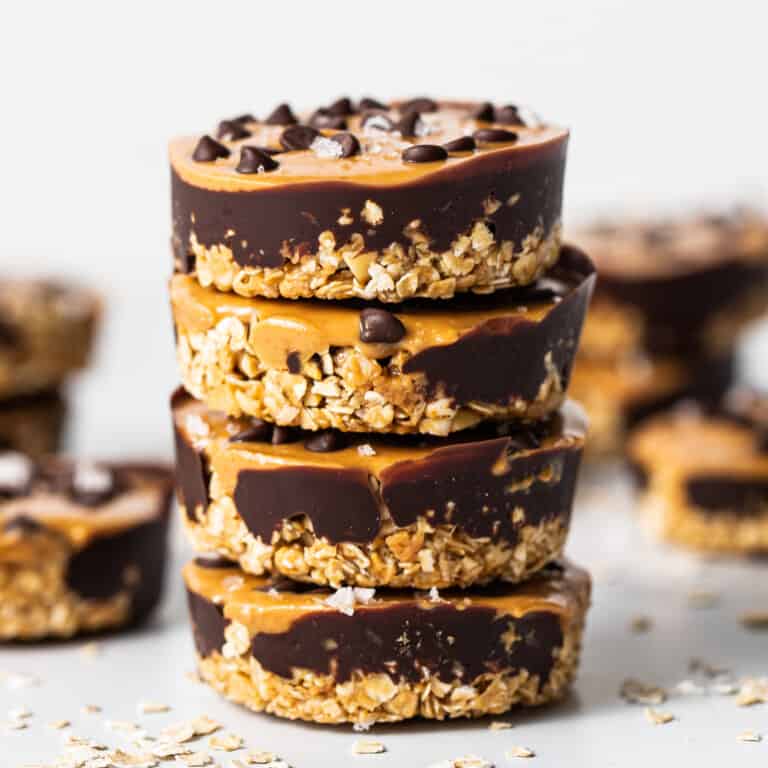 Subscribe!
Love desserts? Us too! Subscribe to our emails and get all of our best desserts straight to your inbox.
Cupcake Decorating!
My favorite part of cupcake making is obviously the cupcake decorating. I literally lay in my bed at night for a good half hour watching dessert decorating tutorials. It just never gets old watching the swirl again and again and again. I'm the same way with cookie decorating. I can just sit there for hours watching someone decorate cookies.
Can someone please agree with me?!
DESSERT VIDEO TUTORIALS FOR LIFE.
A Not-Too-Sweet Cupcake
So, before you jump into making this recipe…I want to preface that this IS NOT an overly sweet cupcake. We asked ourselves, how do you make a healthier cupcake? Well, there are a couple of things you can do:
Try and use as many whole grains as possible
Lower the sugar content a bit
Take down the fat content and sub for Greek yogurt
So, this is exactly what we did! I actually have grown to not like my dessert recipes super sweet. So, I am warning you: if you're expecting a cupcake with 100g of sugar, this is not the recipe for you. The frosting isn't super sweet either. Pro Tip: If you are craving more sweet, just keep on adding honey to your frosting until it's at your preferred sweetness.
That is all. ENJOY.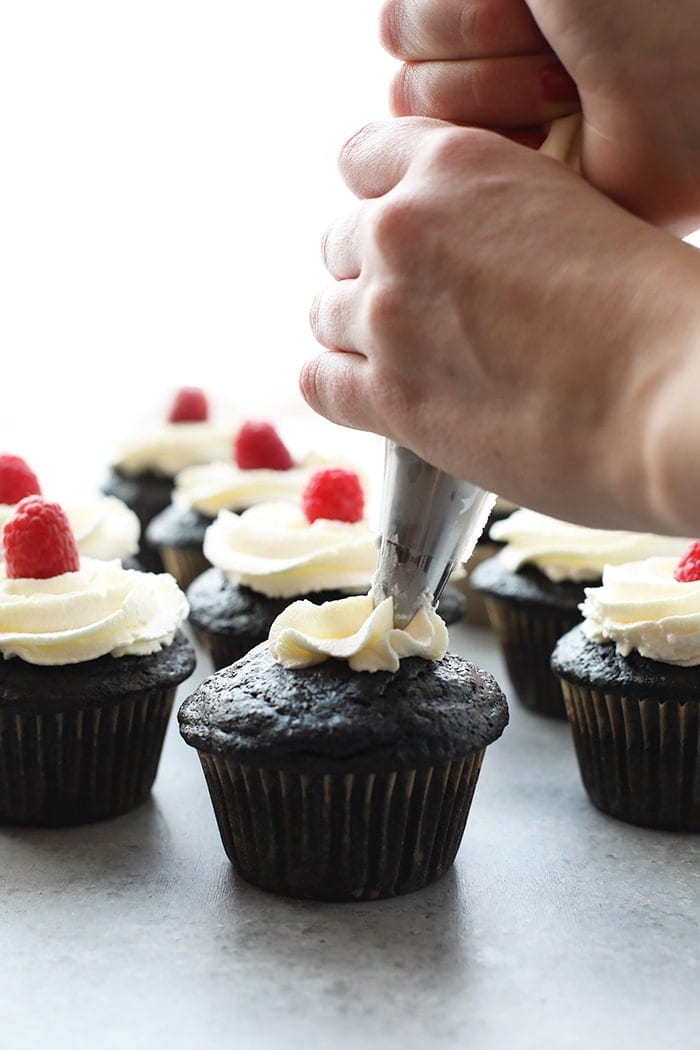 More Healthy Desserts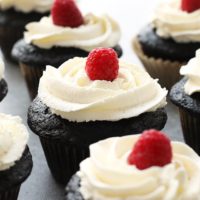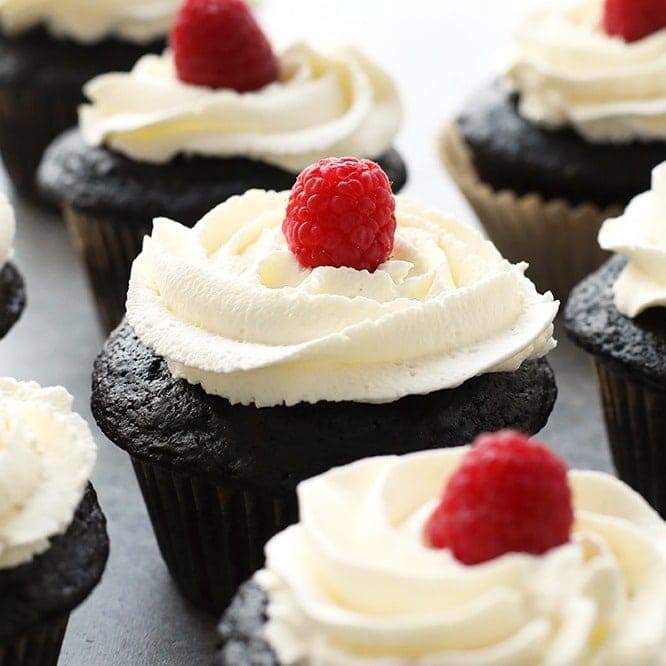 Healthier Chocolate Cupcakes
This healthier chocolate cupcake recipe is lightened up with white whole wheat flour, Greek yogurt, and coconut sugar for the perfect, not-too-sweet dessert that your sweetie will love!
Ingredients
For the Frosting
1

cup

heavy whipping cream

2

tablespoons

honey
Instructions
For the cupcakes
First, preheat your oven to 350ºF and line a cupcake tin with cupcake liners. Spray with cooking spray.

Next, in a large bowl, cream brown sugar and coconut oil with a hand mixer. Then, add the rest of the wet ingredients and mix until combined.

Mix together dry ingredients in a medium size bowl and then using a sifter, sift the dry ingredients into the wet so that you get all of the clumps out of the flour.

Use a hand mixer to combine until smooth. You may need to stop a few times to scrape the sides.

Fill each cupcake tin about 2/3 to 3/4 of the way full. You should fill around 16 cupcakes.

Bake at 350ºF for 18 minutes.
For the frosting
Place 1 cup of heavy cream and 2 tablespoons of honey in a large bowl. Use a hand mixer to whip until stiff peaks are formed. Option to add more honey by the tablespoon for a sweeter frosting.

Frost right before serving (as it is dairy!).
Tips & Notes
*This cupcake is not a SUPER sweet dessert. If you'd like it more sweet, I suggest adding more honey to the frosting and keeping the cupcake recipe as is!
*The nutrition information is for the cupcake only and does not include the frosting.
*Frost cupcakes right before serving.
Nutrition facts
Calories:
108
kcal
Carbohydrates:
18
g
Protein:
3
g
Fat:
3
g
Fiber:
1
g
Sugar:
11
g