These avocado eggs are an easy low carb breakfast that you can meal prep for the whole week. All you need are ripe avocados, eggs, and your favorite toppings like bacon or chives.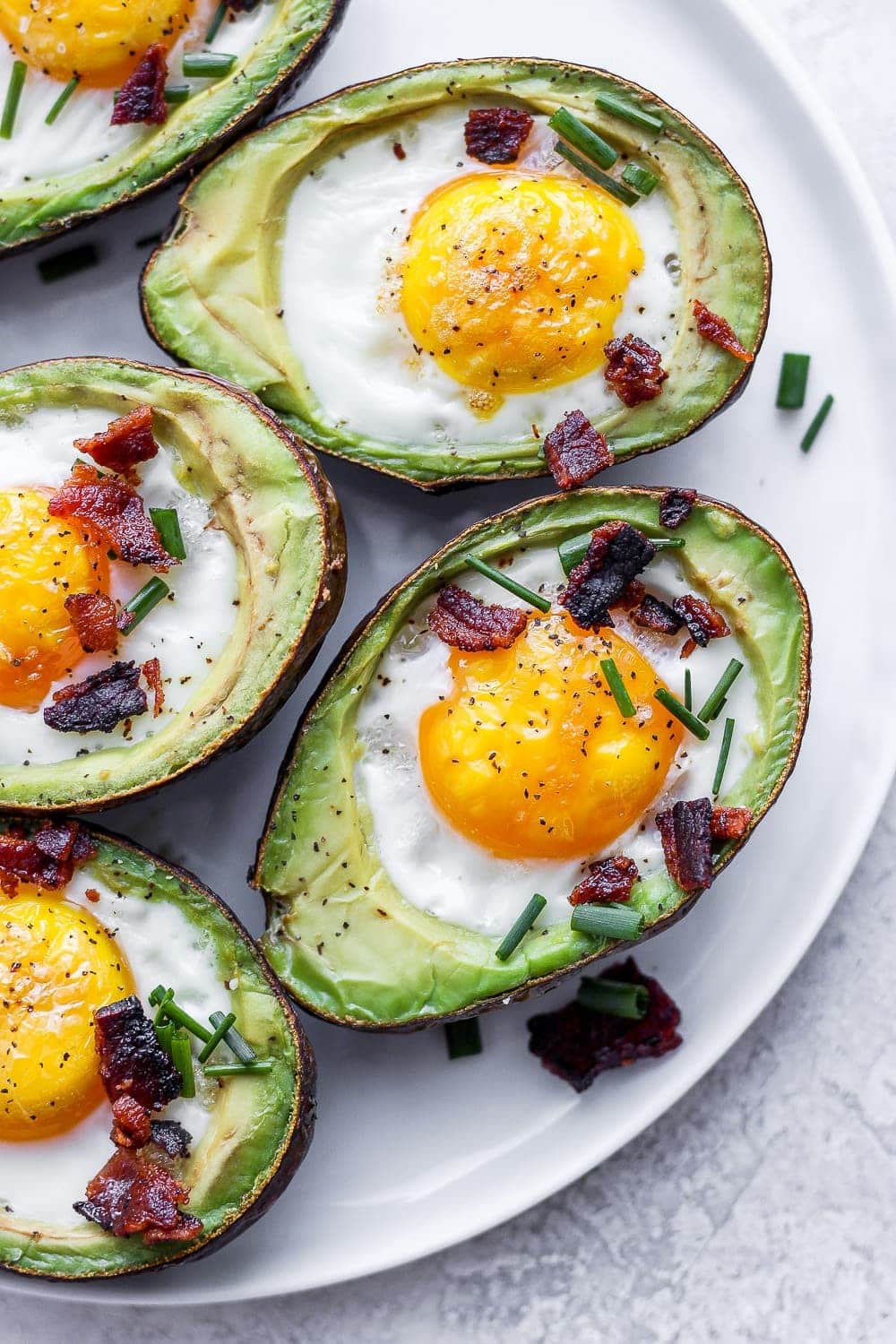 How to Make Avocado Eggs
If there is one thing you do in the land of meal prep, learn how to bake eggs in the oven! Having baked eggs on hand during the week is a serious game-changer. You can have baked eggs on their own, on a salad, or as a side for any meal. They are just the best.
These avocado baked eggs are are a delicious baked egg recipe with the added bonus of healthy fats! They are easy to make and perfect for breakfast, lunch, or dinner!
There are only a few steps to take before you'll be enjoying a delicious baked eggs. Here is how you make them!
Slice the avocados. Begin by halving the avocados with a sharp knife and removing the pit and widening the hole of the avocado.
Place the eggs in a pan. Place the avocados in a pan with the opening facing up. Be sure they are steady and snug in the pan so they don't move.
Crack the eggs. Carefully crack the eggs into opening in the avocados and sprinkle the eggs with salt and pepper.
Bake. Place the avocado eggs in the oven and bake the eggs at 425ºF for 18-22 minutes.
Top. Remove the avocado eggs from the oven and top them with your favorite toppings.
Add a little extra flavor before placing the avocado eggs in the oven by sprinkling 1/4 teaspoon of garlic powder or chili powder over the eggs.
Avocado Egg Tips
How to Choose Avocados
Make sure that you buy large, ripe avocados for this recipe! You will want large avocados so that there is room to crack an egg into the middle of the avocado.
When you are prepping the avocados for this recipe, remove the pit carefully and then dig out a little bit of the avocado meat with a spoon to make a larger hole. You'll need that room for the egg.
here's a tip
When you are making the hole in the avocado bigger for the egg, try to make the hole wider, not deeper. That will reduce your bake time! The deeper the hole, the longer the bake time.
Storage Options
To store these avocado eggs, let them cool completely and place them in a meal prep container. Squeeze lemon juice over the avocados and store them in an airtight container for up to 3 days in the refrigerator.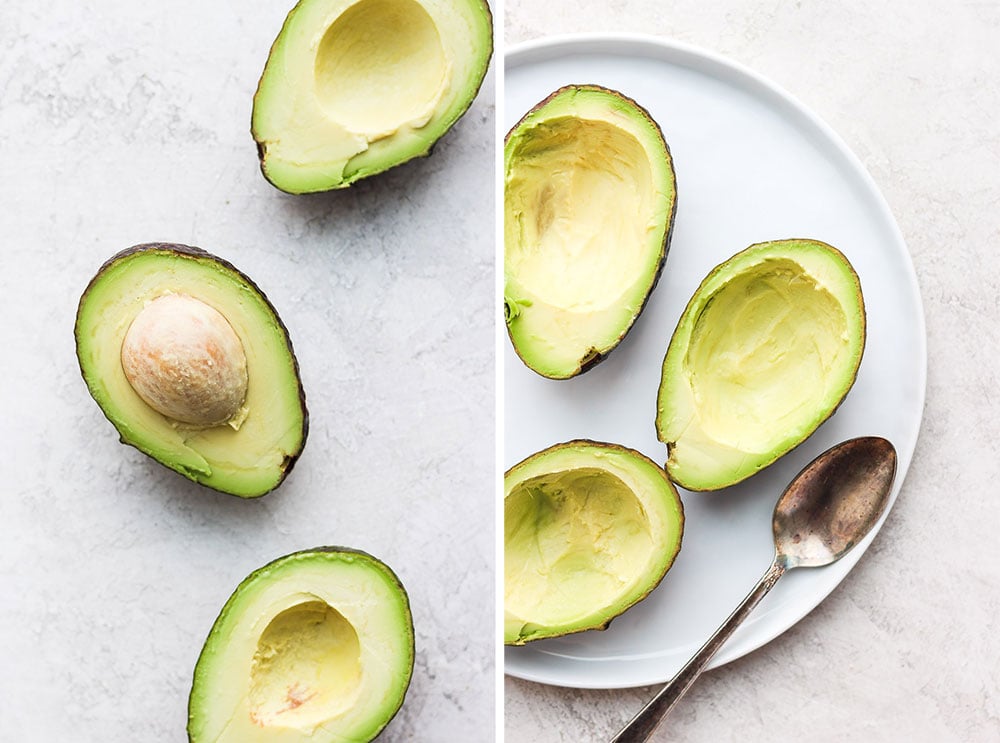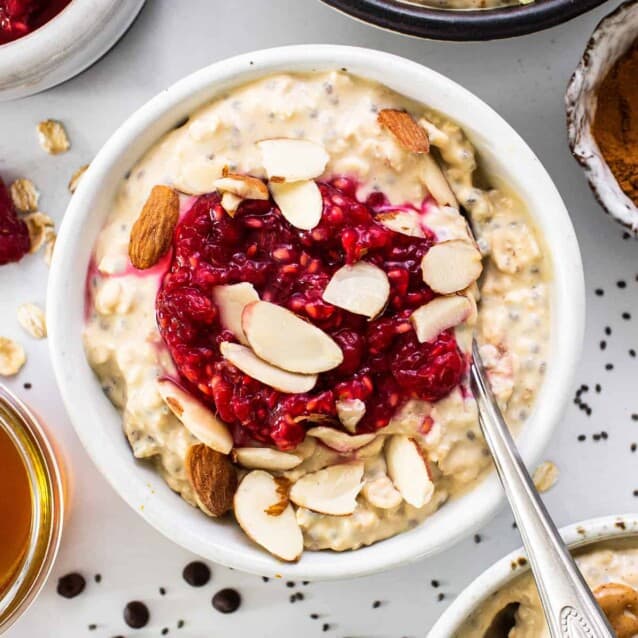 Need Breakfast Inspo?
Subscribe to our emails and get all of our best breakfast recipes straight to your inbox.
Buy the right eggs
We recommend buying medium eggs rather than large or extra-large. The larger the egg you buy, the more avocado you will waste by trying to make a hole big enough to fit the egg.
Also, when the egg is too big for the hole, you end up with a bit of a mess in the pan. Once an egg white begins to slip out of the avocado hole, there is no turning back, they are so slippery!
Bake Your Avocados in THIS Pan
What vessel (or pan) you use to bake your eggs totally depends on how many avocado halves you are making at a time. Our recipe calls for 3 large avocados which makes 6 avocado baked eggs.
The key is to find a pan that can stabilize the avocados. We like to use a couple of loaf pans because the sides help to keep the avocados upright so the egg whites do not jiggle out of the avocados when you place the pan in the oven!
Here are some other pans that would work if you are making larger meal prep batches!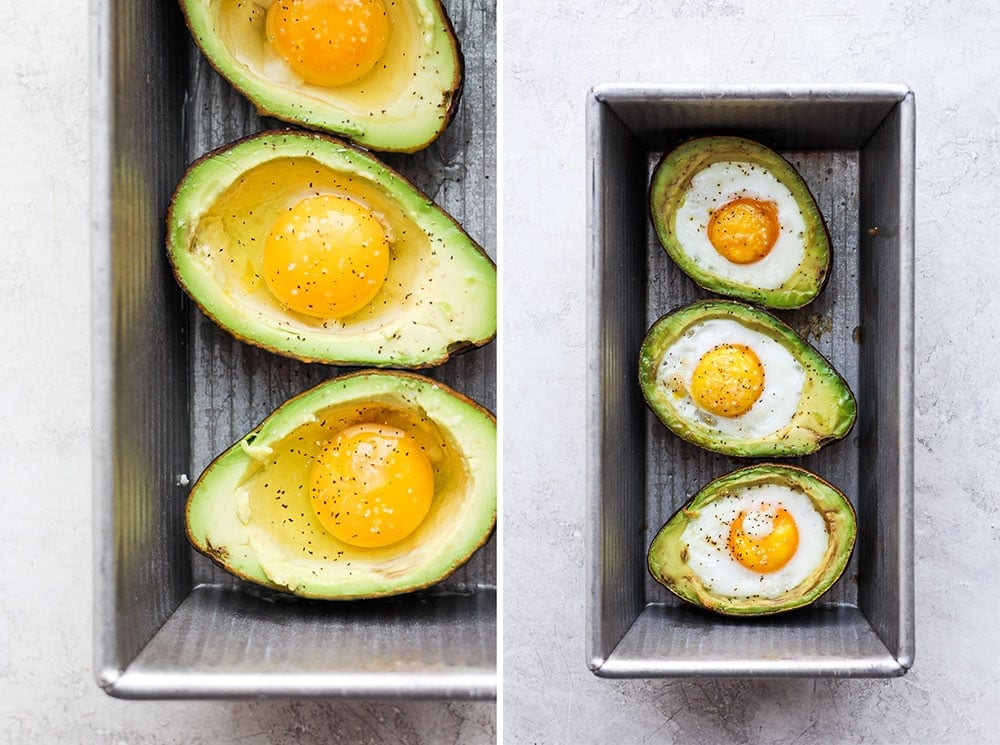 Topping Ideas
Cracking an egg into an avocado is pretty simple. Honestly, we love eating these avocado baked eggs with a little salt and pepper with a chunk of cheddar cheese on the side.
However, it is so fun to mix up these avocado baked eggs by adding delicious toppings to them! Here are some fun topping ideas and ways to make these avocado baked eggs an entire meal.
Bacon + Chives + Cheddar- Keep the toppings simple and sprinkle bacon crumbles, chives, and cheddar cheese to the top of these avocado baked eggs. It adds a little bit more protein and you just can't beat the flavor combo.
Salsa + Cilantro+ Greek Yogurt – A little bit of salsa, fresh cilantro, and greek yogurt will go a long way. We love the hot and cold combination! Heck, you could even scoop the avocado and egg out with a tortilla chip. HOLY YUM.
Mexican Style Avocado Baked Eggs- To make these avocados into more of a meal, season some ground beef with our taco seasoning. Cook the ground meat and top the avocados with ground meat, salsa, greek, and fresh cilantro!
Mediterranean Baked Eggs- This is also a great option to make these avocados into a full meal! While the eggs are baking in the oven, mix up a bowl of our quinoa tabouli. Then, when the avocados are done, sprinkle some tabouli over the avocados with a little crumbled feta and you're golden!
How do you like your eggs?
Everyone likes their eggs a little differently. You have control over how runny your egg is by changing the bake time. 18 minutes will get you an over-easy yolk and 22 minutes will give you an over hard yolk.
Remember that all ovens are different so if you are picky about the consistency of the egg or egg yolk, keep a close watch on the eggs after 15 minutes until the eggs reach your desired consistency.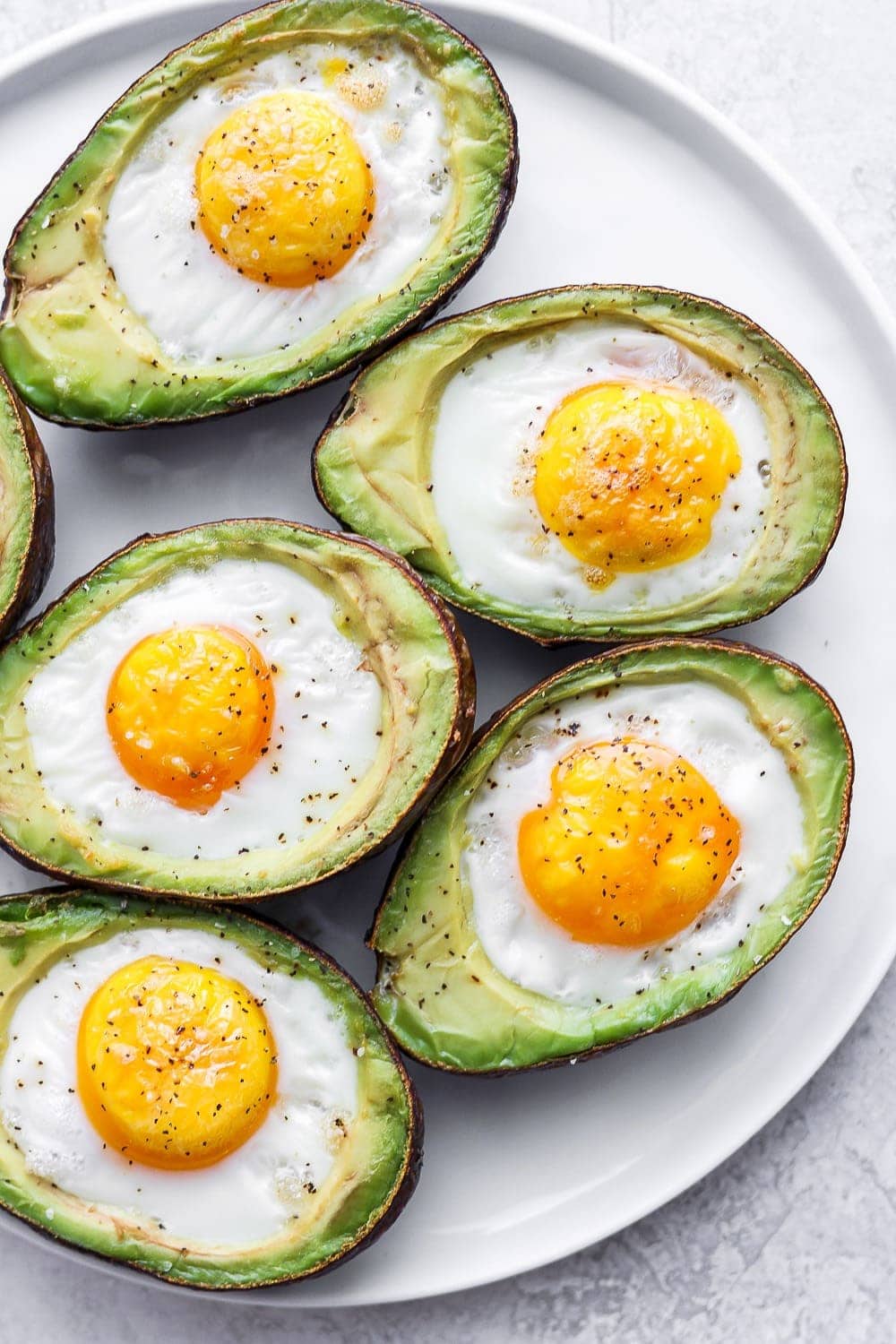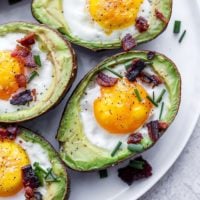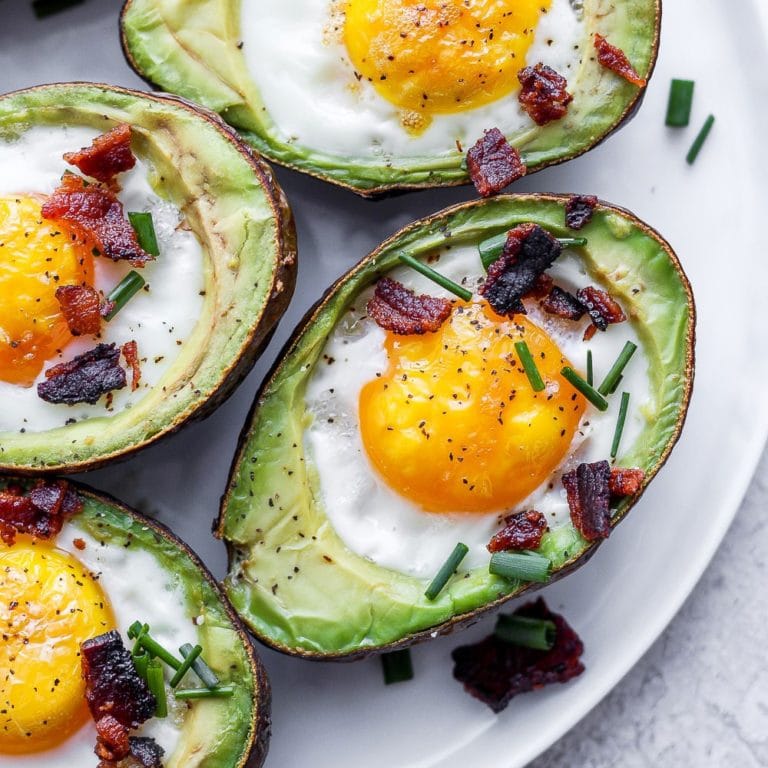 Avocado Eggs (Avocado Baked Eggs)
This avocado egg bake recipe is easy to make and perfect for any meal during the week. 
Ingredients
3

large ripe avocados

room temperature

6

medium eggs*

salt

to taste

pepper

to taste

optional toppings
Instructions
First, preheat oven to 425ºF and spray 2 loaf pans* with nonstick cooking spray. 3 avocado halves will fit perfectly into 1 loaf pan.

Next, slice 3 large avocados in half (hotdog style) and remove the pits.

Then, remove 1 tablespoon to 1.5 tablespoons of flesh from each half, making sure to go wide, not deep. The reason for this is so that more egg can fit in each avocado half. Make sure not to waste the flesh. We recommend eating it 😀

Place avocado halves inside loaf pan, lining them up next to each other so they don't wiggle. Then, crack an egg into each half. Some egg white might spill over the top, that is okay! We found that medium-sized eggs worked best and large/jumbo were too big.

Season the tops of your eggs with salt and pepper.

Then, bake at 425ºF for 18-22 minutes or until your eggs reach the desired consistency.

Top with your favorite toppings and enjoy!
Tips & Notes
eggs: large eggs will work too, but you might have some overflow egg white.
loaf pan: loaf pans seemed to work perfectly in order to keep the avocado halves stable so the egg doesn't tip out. If you only have 1 loaf pan, just do 2 rounds of baking.
Nutrition facts
Calories:
320
kcal
Carbohydrates:
14
g
Protein:
8
g
Fat:
28
g
Fiber:
10
g
Sugar:
0
g
Photos by: The Wooden Skillet.