Whip up a batch of these pumpkin gingerbread energy balls during pumpkin pie spice season! They make a perfect healthy fall snack that you can meal prep for the week!
Need to use up the rest of your canned pumpkin? Make these paleo pumpkin pancakes or these 4 ingredient gluten free pumpkin muffins.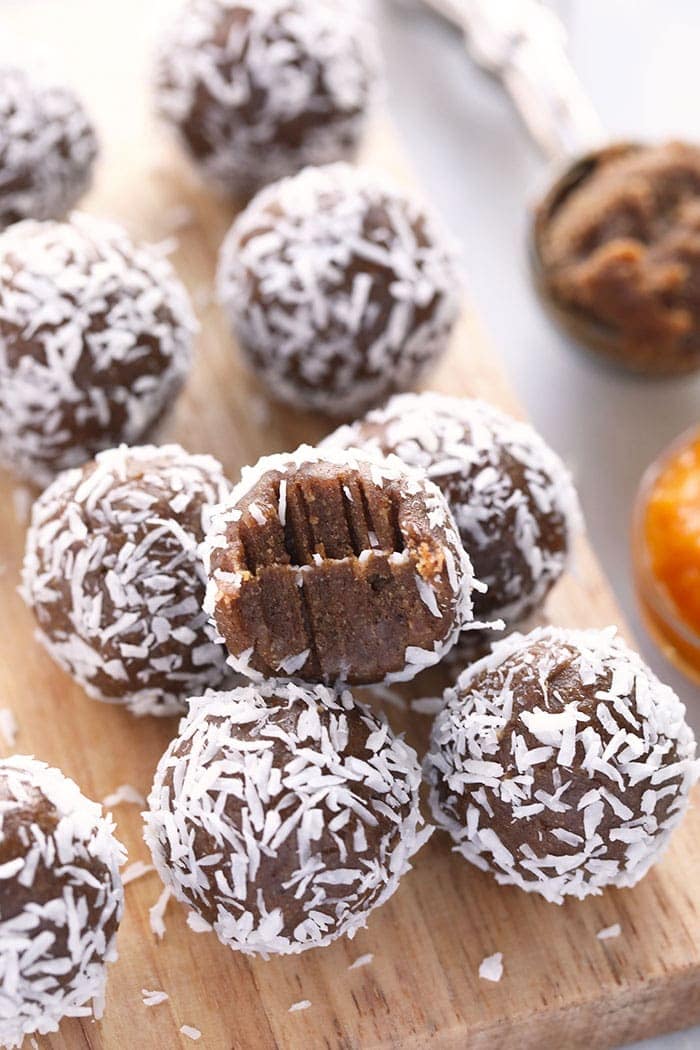 The Best Fall Snack
When the leaves change and it's time to change out your sandals to boots, I start craving everything pumpkin. Get ready and stock up on pumpkin puree so you can make these delicious pumpkin gingerbread energy balls!
These pumpkin gingerbread energy balls have all the flavors of fall that you are looking for! These healthy energy balls are also great meal prep snacks for a season that gets so busy that you forget to nourish your body.
Here is everything you'll need to make these pumpkin gingerbread balls. Let's get started.
Ingredients You Need
Medjool Dates
Pumpkin Puree
Maple Syrup
Unblanched Almond Meal
Pumpkin Pie Spice
Ground Ginger
Shredded Coconut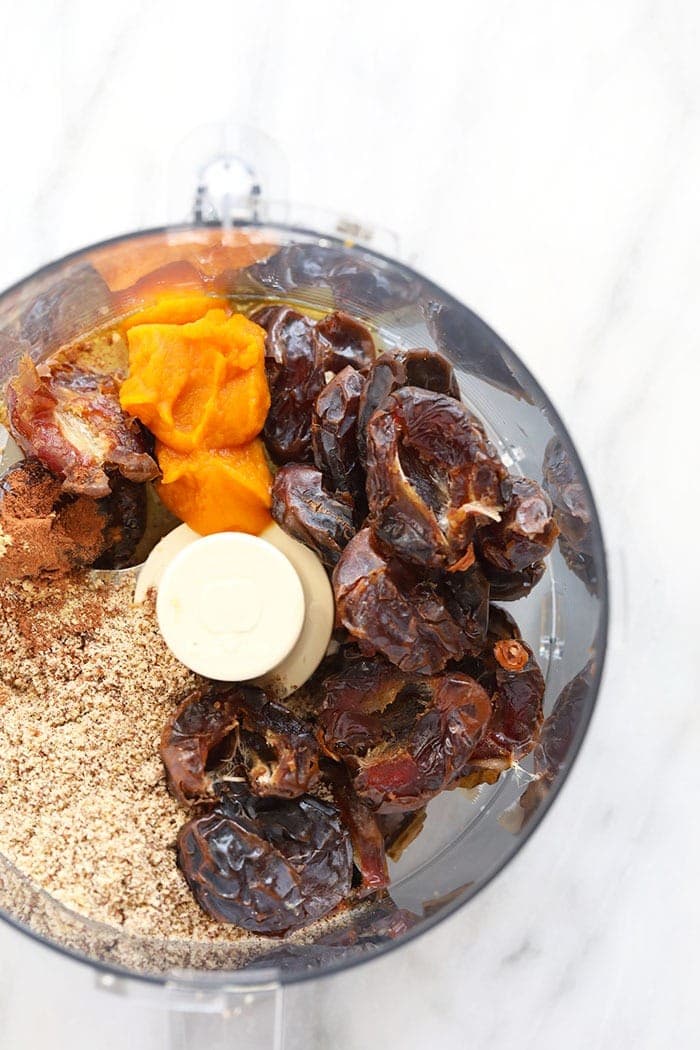 Energy Balls Tips + Tricks
Energy balls are a great snack to have ready during any season of the year! Once you have the perfect balance of wet ingredients to dry ingredients you are on your way to the perfect energy ball.
Here are a couple tips and tricks specific to these delicious pumpkin gingerbread energy balls.
It's all about the flavor. The fall flavors in these pumpkin gingerbread energy balls really make this ball perfect for the season! We use our homemade pumpkin pie spice and extra ginger to give them the delicious gingerbread flavor.
Just a little pumpkin puree. Don't go overboard on the pumpkin puree! We add just enough pumpkin to make it a delicious pumpkin treat, but too much pumpkin will add TOO much moisture and the balls will not form correctly.
If your energy balls end up with too much moisture, try adding a tablespoon of almond flour to your food processor at a time until the energy balls hold their form as a ball.
Secondly, make sure to buy pumpkin puree NOT pumpkin pie puree! Both come in a can and they are next to each other in most grocery stores!
Make sure your dates are good. Picking out dates is a little bit different than picking out a peach at the grocery store. Some co-ops give you the option to to hand pick your dates, but most medjool dates come in packages so you never know if you have moist dates!
You will know if you have good dates if it is easy to take the pit out of the middle and if they feel tender when you try to pinch them in-between your fingers.
If the pits are hard to remove and the dates are dry, have no fear! There is hope. Soak your dates in water overnight and that will rehydrate your dates.
How to store the energy balls.  After you have rolled all of the energy ball dough together, set them on a baking sheet so that the energy balls are not touching, and place them in the freezer for at least 30 minutes.
You do this so your energy balls don't freeze together.
After the balls have frozen, place them in a freezer safe container and place them in the freezer until you are ready to eat one. Remove one ball from the freezer and let it thaw (it takes about 15 minutes)

Healthy Energy Ball Recipes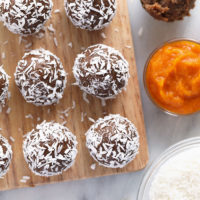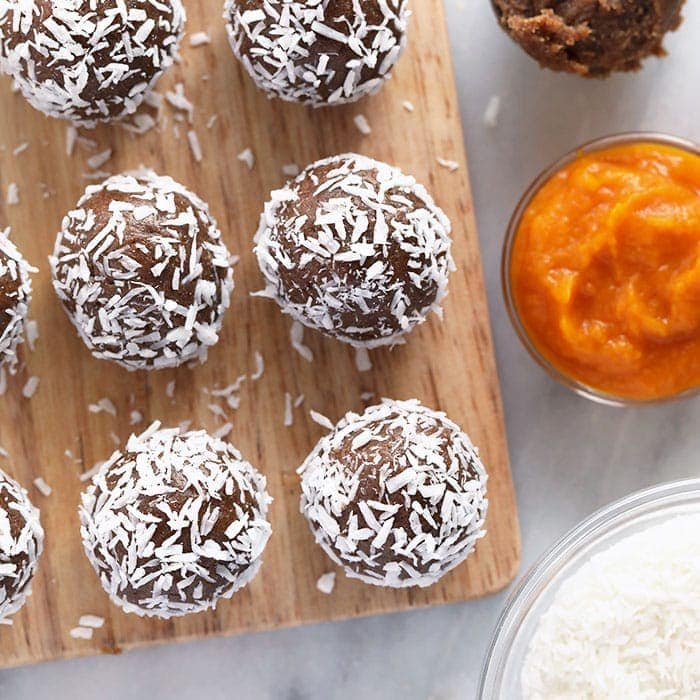 Pumpkin Gingerbread Energy Balls
Whip up a batch of these pumpkin gingerbread energy balls during pumpkin pie spice season! They make a perfect healthy fall snack that you can meal prep for the week!
Instructions
First, prepare Medjool dates, by removing their pits.

Then, place Medjool dates and the rest of the ingredients into a high-speed food processor.

Process on high for 1 to 2 minutes, stopping to scrape the sides. A dough should form and it should be slightly sticky but should easily hold shape when you roll it into a ball.

Using a 1 tablespoon cookie scoop, scoop dough into your palms and roll into a ball. Repeat until all the dough is gone.

Next, place 1/3 cup of unsweetened shredded coconut into a small bowl.

Roll each ball in the shredded coconut, pressing the coconut shreds into the dough to form a "snowball." Repeat until all balls are covered.

Eat immediately or freeze for later.
Tips & Notes
This recipe was slightly updated on November 11, 2019.
Medjool dates: make sure that the dates you are using are soft and easily malleable.
Nutrition facts
Calories:
164
kcal
Protein:
3
g
Fat:
7
g
Fiber:
4
g
Sugar:
19
g