Need a quick snack? These healthy, protein-packed energy balls recipes make the perfect snack all week long! All you have to do is throw your favorite healthy energy balls ingredients into a food processor, blend, form into a ball, and enjoy. Check out our favorite energy balls recipes here, as well as a basic energy ball recipe that you can get creative with and deviate from.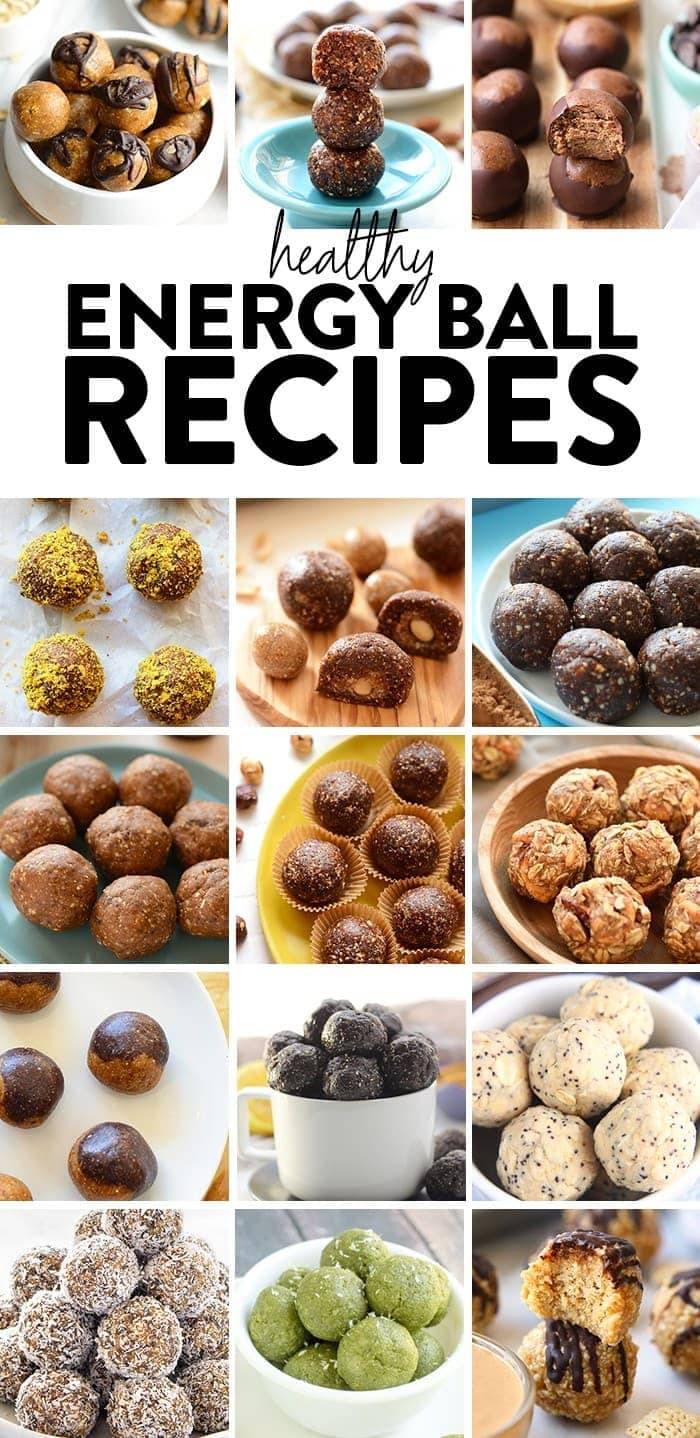 All Things Energy Balls
It is no surprise that we love energy balls on Team Fit Foodie! Whether you call this amazing snack energy bites, protein balls, or energy balls, we hope you love them just as much as we do! Why do we love energy balls? Well, they are a perfect snack to make at the beginning of every week that is both healthy and delicious. We love energy bites because they are…
No-bake snacks
Perfect for a meal-prep snack
Healthy and packed with protein + fiber
Easy to mix and match ingredients
How to Make Energy Balls
Our Peanut Butter Energy Balls are a Fit Foodie Finds fan favorite and it is because you just can't beat the peanut butter and chocolate combo. Can't have peanuts or peanut butter? Have no fear, you can use any nut or nut butter of your choice. You'll also need a few other ingredients in order to make your own combination. No matter what energy bites recipe you decide on, you can always add in protein powder to give your energy balls an extra boost. Just make sure you add in a little extra dry fruit or water. Also, check out our Protein Powder Review for our favorite protein powders! Alright, here are the basics of what you need:
Dried Fruit: The majority of our energy balls recipes are made with a Medjool date base. Medjool dates are sticky and naturally sweet, which make for the perfect no bake energy balls binder. We've also used other dried fruit such as figs, apricots, and dried blueberries.
Nut Butter/Nuts: The energy in energy balls comes from foods that are densely nutrition like…nuts! We like to use a nut or nut butter in our energy balls for healthy fats and a yummy texture.
All-Natural (Sticky) Sweetener: In addition dried fruit, you'll need another binder such as honey, brown rice syrup, or maple syrup. We like to stick with all-natural sweeteners to avoid refined sugars.
Mix-Ins: Lastly, you'll want to usee other mix-ins such as chia seeds, flax seeds, dried coconut, chocolate chips, spices, etc. to give your energy balls some uniqueness!
Lastly, feel free to use whatever food processor you'd like to prepare your energy balls, but we LOVE our Ninja and will always recommend using a Ninja Food Processor.
Energy Balls Pantry Staples
Energy Balls Quick Q&A
How do you make an energy ball? Energy balls are made with dried fruit, nuts, seeds, and other mix-ins. You'll likely need a high-speed food processor in order to pulverize everything into a dough in order to form your energy balls.
Are energy bites healthy? Energy balls are typically packed with healthy fats, fiber, and protein, making them an excellent, healthy on-the-go snack!
How do you store energy balls? Store energy balls in a freezer-safe bag in the freezer for up to 3 months or, in an air-tight container in your refrigerator for up to 2 weeks.
Basic Energy Balls Recipe
Need a quick snack? These healthy, protein-packed energy ball recipes make the perfect snack for a mid-morning pick-me-up! All you have to do is throw your favorite energy ball ingredients into a food processor, blend, form, and enjoy. Check out our favorite energy ball recipes here, as well as a basic energy ball recipe that you can make your own!
Prep:
20 Minutes
Cook:
0 Minutes
Total:
20 minutes
Ingredients
1 cup

dried fruit (pitted Medjool dates, figs, apricots, etc.)

2 cups

rolled oats

1 cup

nut butter OR

2 cups

nuts

½ cup

all-natural sweetener (honey, maple syrup, or agave nectar)

1/2 cup

mix-ins of your choice
Instructions
Place rolled oats in a high-speed food processor and process on high for about a minute until you've formed oat flour.
Then, add the rest of the ingredients to food processor and process for another 1 to 2 minutes until your dough is formed. It should look and feel like cookie dough. If it feels too dry, add in a little more sweetener and if it feels a little too wet, add in more rolled oats.
Using a 1 tablespoon scooper, scoop out the dough and then roll between your palms to form your balls. Repeat until dough is gone.
Store energy balls by placing on a baking sheet and then into the freezer for 15-20 minutes. Once partially frozen, transfer into a freezer-safe gallon-size bag and store in the freezer for up to 3 months.
Tips & Notes
The texture of energy balls depends on how drippy your nut butter is or how oily your nut of choice is. If balls are too dry add a bit more nut butter or a couple teaspoons of water.
Nutrition information based on Peanut Butter Energy Balls recipe.
Nutrition Facts
Serving Size:
1 ball
Calories:
97
Sugar:
11
Fat:
4
Carbohydrates:
13
Fiber:
1
Protein:
2
Category:
Snack
Method:
No-Bake
Cuisine:
American
Keywords: energy balls, energy balls recipe
I think Fit Foodie Finds has 100+ energy balls recipes (okay, exaggerating…), but I wanted to pull in some of my favs from FFF as well as from other healthy food bloggers! Check it out.