This Guinness Beef Stew is our spin on a classic Irish Stew. It is so rich, flavorful, ad perfect for a cozy day in. It's made with seasoned beef chunks, Guinness beer, and vegetables.
Delicious Guinness Beef Stew
There is nothing better that a hot bowl of beef stew on a chilly day. This Guinness beef stew is rich, made with tender chunks of beef, and packed with veggies. It is our take on an Irish Stew and we are so excited about it.
Traditional Irish beef stew uses lamb, but we are trading out the lamb for a chuck roast and it cooks until it gets tender, juicy, and delicious.
Why you'll love it!
Reasons why you'll love it.
This Guinness beef stew is the ultimate comfort food. A big bowl of stew will cure anything.
The beef chunks in this stew are flavorful and break down into tender pieces of meat.
You can serve this stew over mashed potatoes, noodles, or on its own. Whatever your heart desires.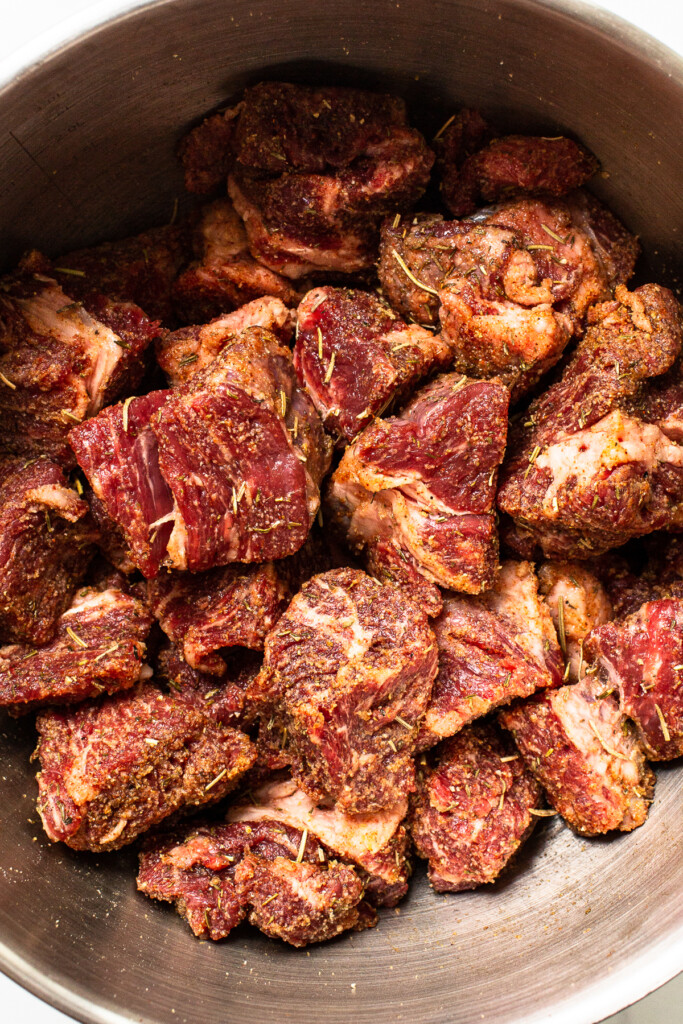 Featured Ingredients
Guinness beer: Irish beef is traditionally made with a dark Guinness beer. If gives the stew a delicious depth of flavor.
Chuck roast: when you are shopping for beef for your Guinness stew, you shouldn't have a hard time finding a chuck roast, most grocery stores carry a good chuck roast.
Flour: we use a little bit of flour in the beef dry rub which helps thicken the beef stew while it simmers.
Vegetables: we use a delicious mixture of onions, garlic, mushrooms, carrots, and celery as our veggies for this beef stew recipe.
Tomato Paste: there is a bit of tomato paste in this recipe to help thicken your beef stew.
Beef Broth: if you every want to take a delicious soup or stew up a notch use beef broth. It adds a ton or richness and flavor to every soup or stew.
Substitute Other Root Vegetables
If you have other root vegetables in your refrigerator that you think would be great in this Guinness beef stew, we support you! Below is a of root vegetables (and other veggies) we wouldn't hesitate to use in this stew.
parsnips
yukon gold potatoes
sweet potatoes
celery root
butternut squash
Best Beef for Beef Stew
How do you choose the best beef for this Guinness Beef Stew? We love boneless chuck roast for beef stew for a couple reasons:
It's a tougher cut of meat than many leaner alternatives, but when cooked low and slow in a Dutch oven it breaks down the meat and becomes oh so tender and delicious.
Beef chuck is a cheaper cut of meat meaning this high-end tasting beef stew is super budget-friendly.
Pro tip: you'll sometimes see chuck roast labeled as a chuck tender roast in grocery stories. This just means it's a cut of the chuck roast, and it will still work well for this recipe!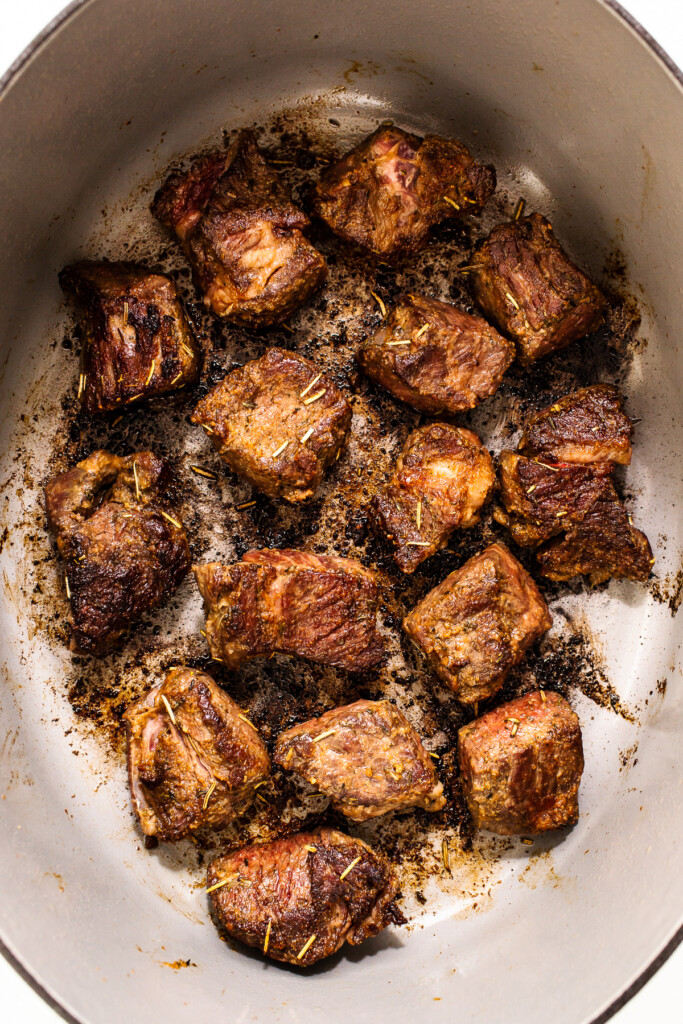 Simple Instructions
Chunk the beef and toss in spices. Cut your beef chunks into 2-2.5-inch chunks and toss them with the dried spices and let the beef sit in the spices for 30 minutes to tenderize.
Brown the meat. Once the meat has sat, brown the beef in a Dutch oven until the beef is browned.
Add all ingredients to the Dutch oven. Deglaze the skillet with beef broth and remove the little brown bits from the bottom of the Dutch oven. Then, saute all the veggies in the dutch oven to soften them. Finally, add the rest of the ingredients to the Dutch oven and be sure you whisk in the tomato paste.
Simmer. Bring the broth to a boil and then lower the heat to simmer and simmer the stew for 1.5-2 hours or until the beef is tender.
Enjoy. Serve this stew over mashed potatoes or on it's own.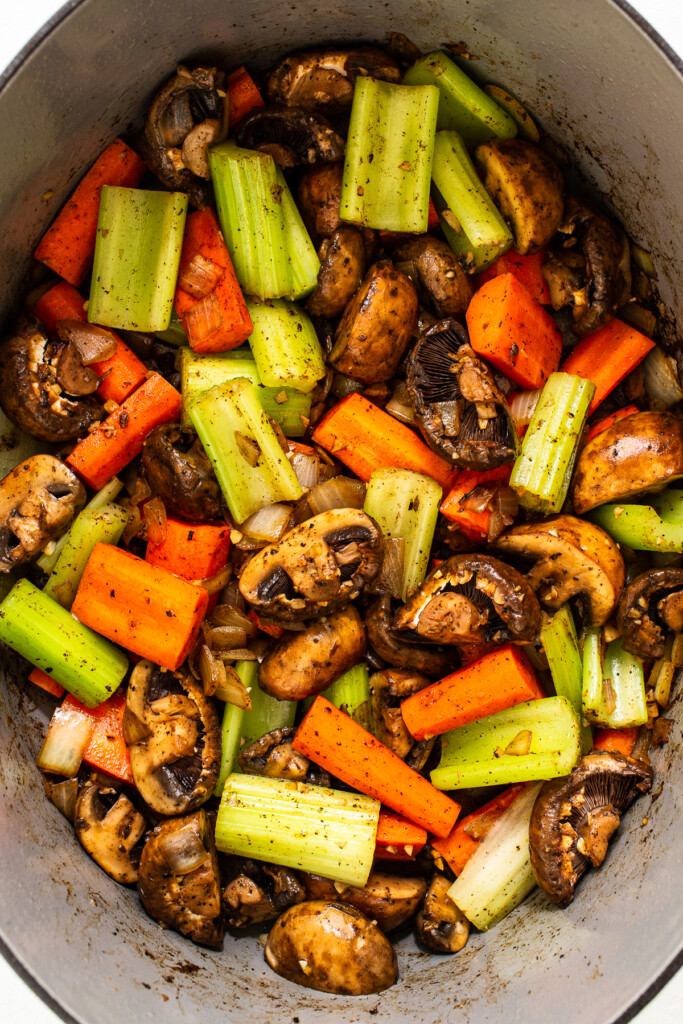 Our Top Beef Recipes
If you're really craving beef and need more inspiration, here are some of our favorite beef recipes!
More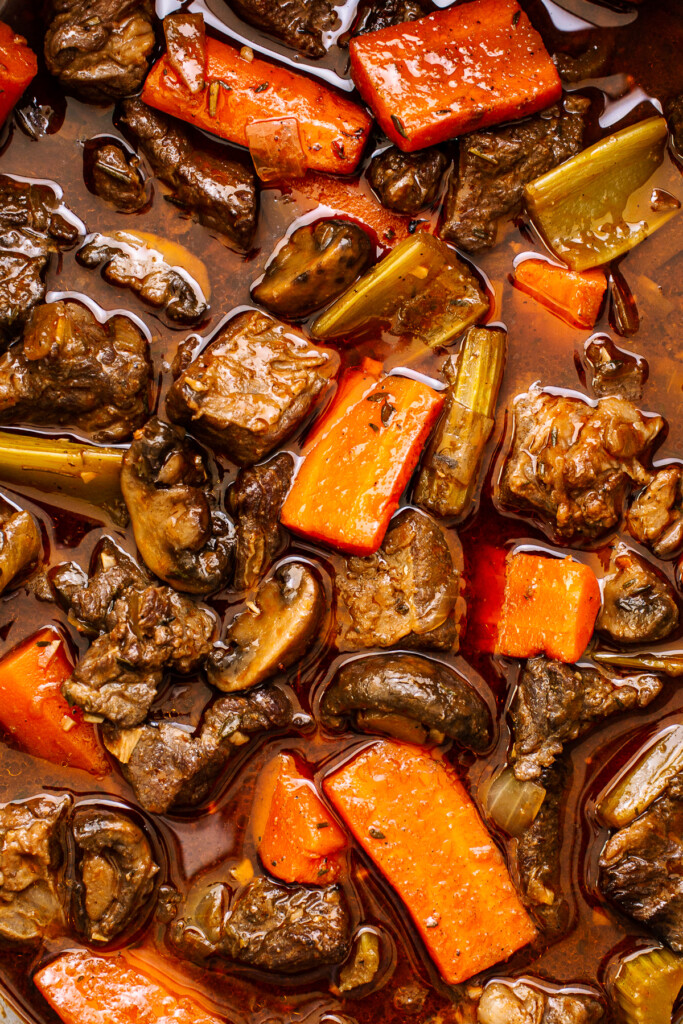 Top Tips
Always brown the beef. Browning the beef before cooking your stew in the slow cooker does require an extra dish (in this case a pan!), but it draws out the delicious flavors of the beef, which allows it to soak into every bit of this stew as it cooks down. We promise this step is 100% WORTH IT.
Add a little spice. To add a bit of a bit to your stew you can add some red pepper flakes to the dry rub or add a few teaspoons of hot sauce to the stew. It sounds strange, but tastes good.
Don't have Guinness beer? If you don't have Guinness beer, have no fear. You can use any darker beer. Stouts tend to taste the best.
FAQ
How do I thicken beef and Guinness stew?
There are a few different ways you can thicken beef stew.
–> You can make a corn starch slurry by mixing about 1/2 cup of the hot stew broth with a few teaspoons of corn starch. Whisk the two ingredients together and then add it to the stew. It should thicken quickly.
–> You can make a roux with milk, butter, and flour.
Can you make Irish stew without Guinness beer?
Yes, you can make Irish stew with a different beer, an NA beer, or replace the beer all together with more beef broth.
What to Serve with Slow Cooker Beef Stew
Serve this deliciously savory beef stew with something starchy (what better to soak up that yummy broth with!)
How to Store Guinness Beef Stew
Store this stew in an air-tight container in the fridge for 3-4 days.
To Freeze: let cool completely before transferring into an air-tight container, making sure to remove as much air as possible. Place into the freezer for up to 3 months.
How to Reheat Guinness Beef Stew
We love to reheat this Guinness beef stew just as it was cooked — low and slow!
In the Oven: Allow the beef stew come to room temperature (about 30 minutes) before placing in an oven-safe dish with a lid. Reheat at 350°F for 45 minutes, or until reheated thoroughly.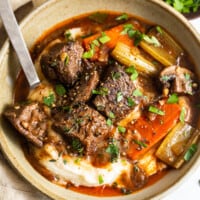 Guinness Beef Stew
Grab a can of your favorite dark beer and make a big pot of this Guinness beef stew for the week!
Instructions
First, begin by preparing your chuck roast. Cut the beef into 2-2.5-inch pieces and then place into a large bowl.

Next, mix together your beef stew seasoning by placing rosemary, pepper, thyme, onion powder, paprika, garlic powder, brown sugar, 1.5 teaspoons salt, and 1 tablespoon of flour into a small bowl. Mix to combine and then sprinkle on top of beef chunks and toss to coat the beef.

Wrap the beef in plastic wrap and place it in the refrigerator. Let the beef sit in the dry rub for 30 minutes or up to 2 hours.

Remove the beef from the refrigerator and let the beef come to room temperature.

Heat a large Dutch oven over medium/high heat. Add 2 tablespoons of olive oil. When the olive oil is fragrant, add half of the beef chunks to the skillet. Brown beef chunks for 1.5-2 minutes, flip, and brown for another 1.5-2 minutes. Then, remove the first batch of beef chunks and repeat with the remaining half. Once browned, remove all beef from the skillet and set aside.

Next, deglaze the skillet by pouring 1/4 cup of the beef broth into the skillet and scrape the skillet with a spatula to free all the brown bits from the pan.

Add 1 additional tablespoon of olive oil to the pan and add the onion. Sprinkle the onion with ¼ teaspoon of the remaining salt. Saute the onion in the beef broth for 3-4 minutes. Add garlic.

When the garlic is fragrant add the celery, carrots, and mushrooms to the pot and saute all the veggies together for an additional 3-4 minutes.

Next, add the can of Guinness, remaining beef broth, Worcestershire sauce, maple syrup, tomato paste, and the remaining salt into the Dutch oven and whisk it all together until the tomato paste has dissolved into the broth.

Place the fresh thyme bundle into the dutch oven and make sure it is submerged into the liquid.

Bring the stew to a boil, give it a stir, and then cover. Turn the heat to low and let the stew simmer for 1.5-2 hours, stirring occasionally. You will know when the beef stew is done if the beef is fork tender and pulls apart easily.

Once the beef is tender, remove the thyme bundle from the stew. If the stew is your desired thickness, serve the stew. If you would like your stew a bit thicker, remove ¼ cup of the broth from the stew.

Add the last tablespoon of flour to the liquid and mix until thick. Add back into the stew and whisk until it is combined. Bring to a gentle simmer and the stew will thicken.

Serve this Guinness beef stew over mashed potatoes.
Tips & Notes
Be sure you let the beef sit in the beef seasoning long enough, it helps tenderize the meat.
You can use any type of mushroom that you would like!
Letting the beef stew simmer over low heat for 1.5-2 hours is crucial. If you don't let the stew simmer, you will end up with tough beef.
This Guinness Beef Stew (also known as Irish Stew) is meant to be served over mashed potatoes!
Nutrition facts
Calories:
472
kcal
Carbohydrates:
29
g
Protein:
49
g
Fat:
20
g
Fiber:
6
g
Sugar:
17
g
Photography: photos taken in this post are by Ashley McGlaughlin from The Edible Perspective.