There's nothing better than a 5-minute, single-serve dessert that is both vegan and paleo friendly. Make this Raspberry Banana Soft Serve with Chocolate Swirl for a guilt-free treat!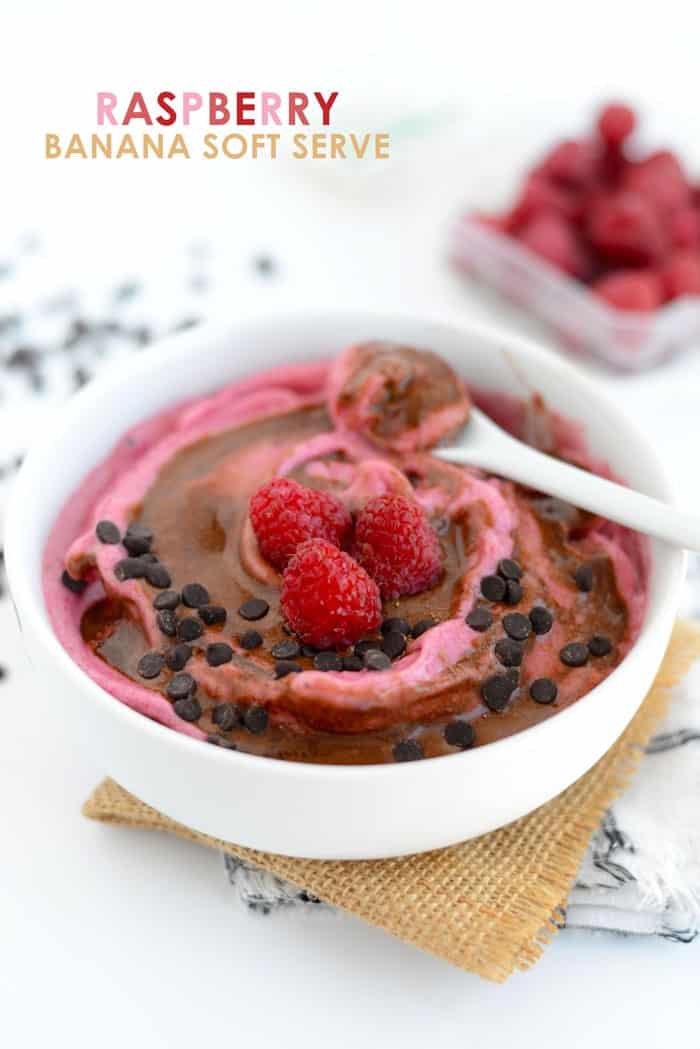 Breakfast, dessert, a snack, lunch. This can be whatever the heck you want it to be because the ingredients involved are whole foods AND there is absolutely no added sugar, other than the sweetness from the banana.
Talk about an all-star recipe!
I wanted to make something pink and festive for the upcoming holiday…which is actually the day Blake and I officially became "boyfriend and girlfriend."
Want to know how it happened? Well- we had been dating for about a month and he planned a Valentine's dinner date at a farm to table restaurant in Minneapolis called, In Season. We got a gorgeous 5-course meal fully equipped with a bottle of wine. I can't remember exactly what we were talking about (probably the oatmeal bar I planned on opening…never happened), but I remember stopping in the middle of the conversation and saying…"so, umm…I think I'm going to call you my boyfriend now." His response- "Good, because I've been calling you my girlfriend for about 2 weeks." Classy Blakester.
And that's how it happened.
Wanna know why he's still a keeper? Because he asks me to make him banana soft serve instead of ice cream. Because he eats quinoa and can pronounce it right. Because he's my #1 Fit Foodie supporter. Because he loyal and kind and fun and a realist and looks really good with a beard (which I think is HOT).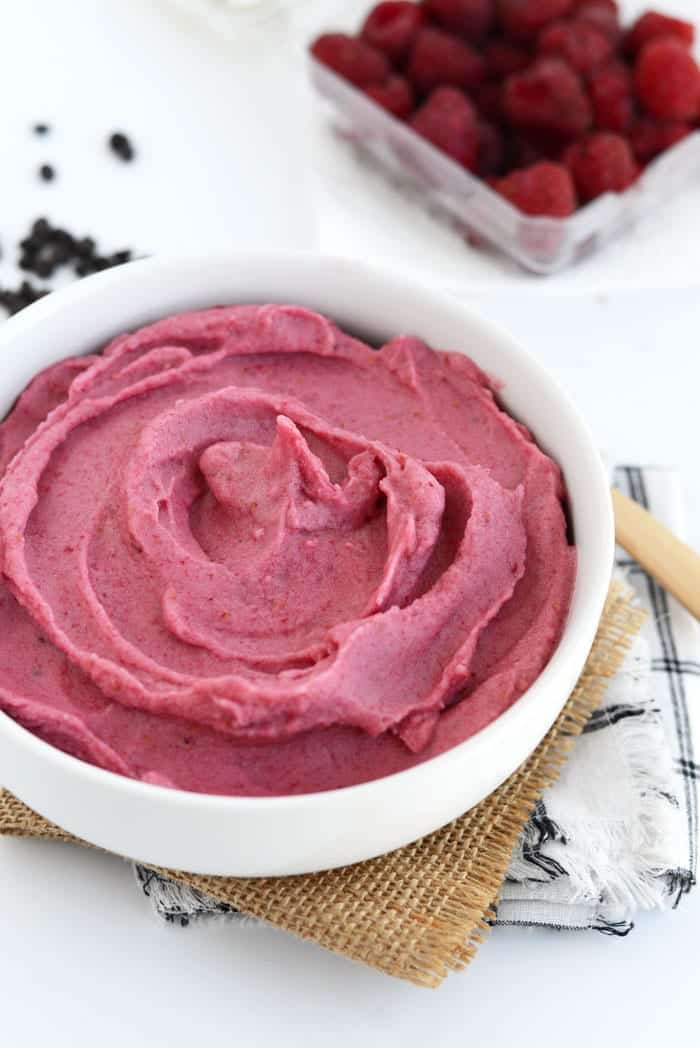 Don't ask where all the sap came from because I just type what I think 😀
I guess I was thinking about Blake during this one 😀 …probably because our condo is a wreck from the backsplash he just put up. You see, we haven't been home to 100% clean up, so there is a giant pile of supplies (including a wet saw) in the living room. I honestly can't complain because it looks so good! The man is meticulous. Stay tuned for a before and after post!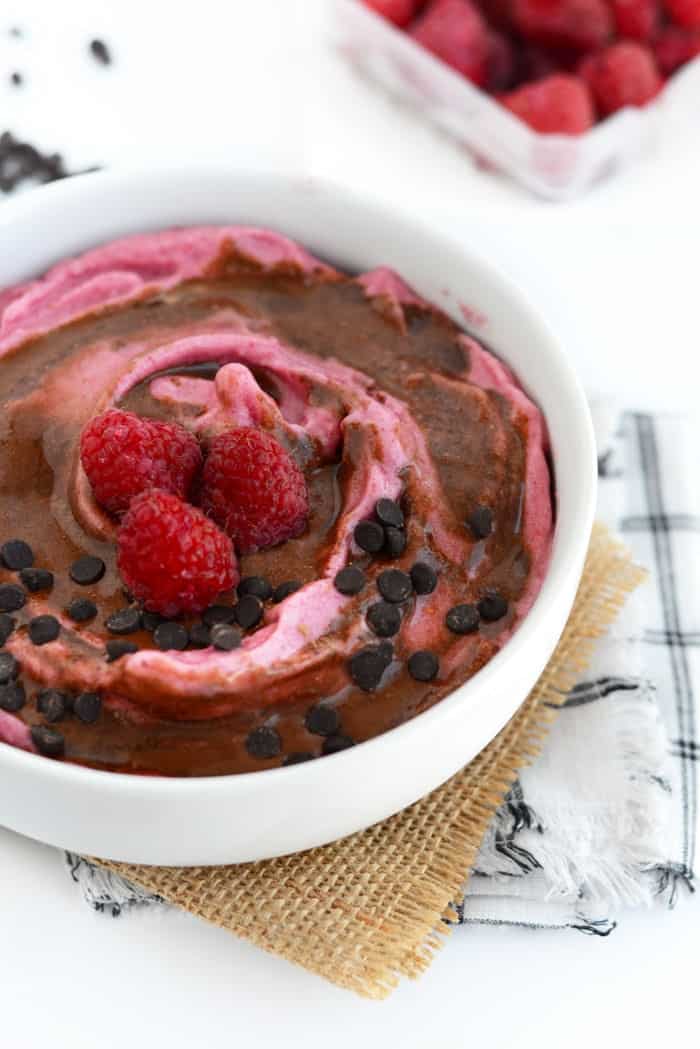 I LOVE banana soft serve.
Banana soft serve of all kinds. With fruit, with chocolate, plain…you name it! It's my saving grace because I'm an ice cream addict, but I know what's in ice cream so I try to limit myself to only eating the real stuff every so often.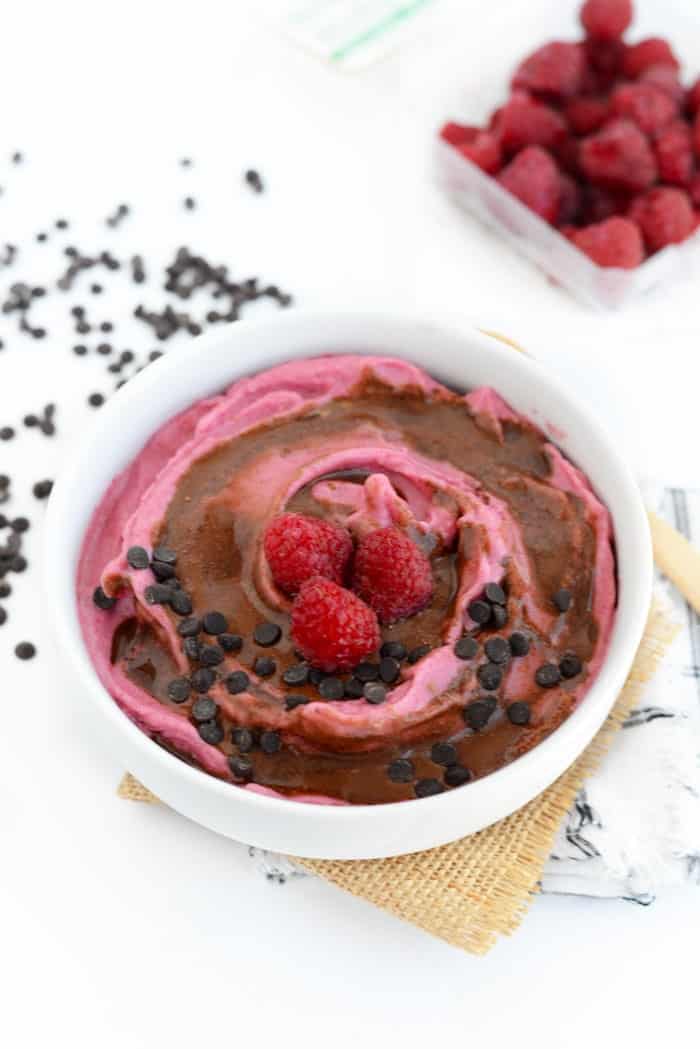 I think I almost broke my wrist getting this shot. #Ididitforthephoto
😀
Yah that's a real hashtag…look it up. You'll prolly find only posts from Davida and I. We speak the truth.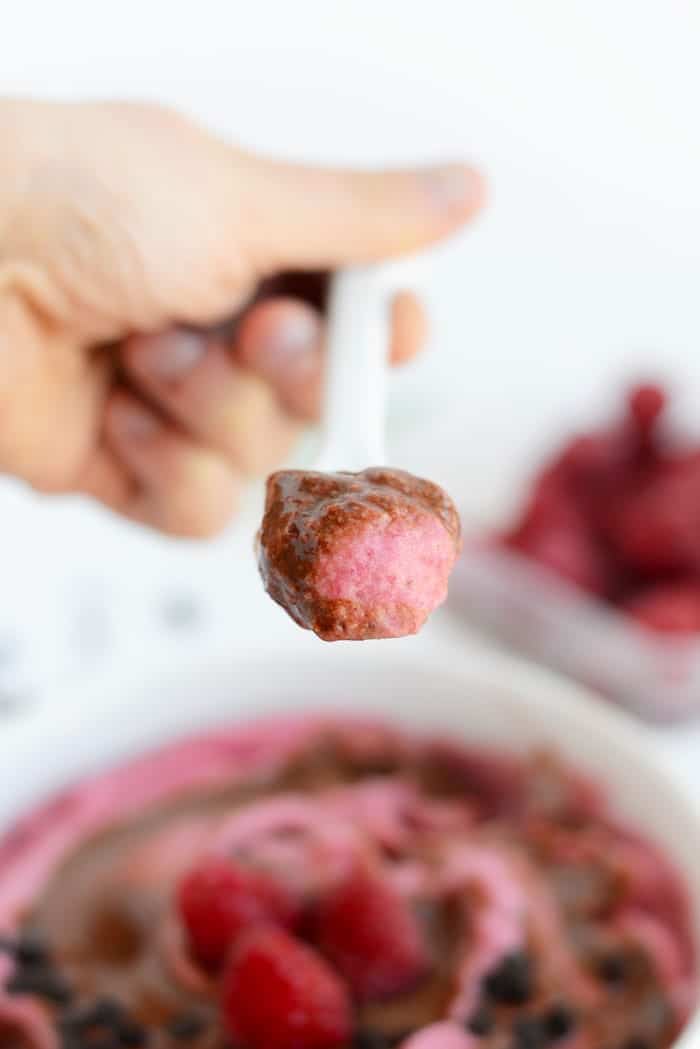 BRB. TTYL. TTFN….
I'm going to go eat another one of these bowls 😀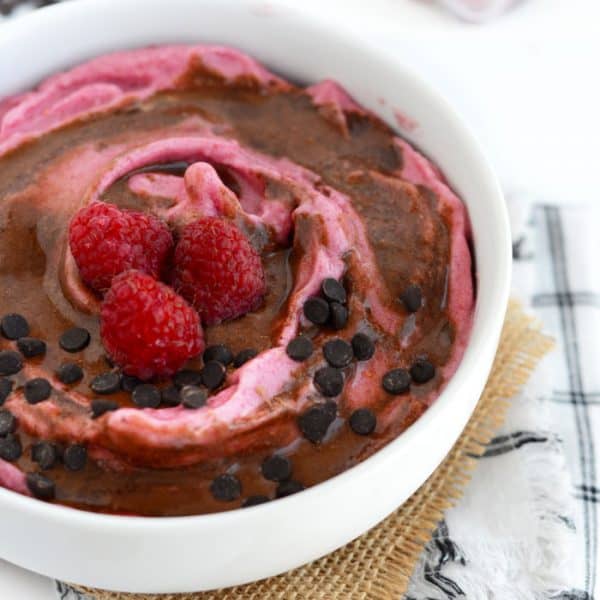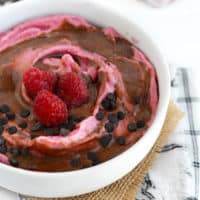 Raspberry Banana Soft Serve with Chocolate Swirl
Prep:
5 mins
Total:
5 mins
Ingredients
For the Soft Serve
1.5

bananas, frozen

1 cup

raspberries, frozen

1/4 cup

+

1

to

2

tablespoons unsweetened almond milk
For the Chocolate Sauce
2 teaspoons

cocoa/cacao powder

2 teaspoons

maple syrup

4 teaspoons

water
Instructions
For the Soft Serve
Place frozen banana and frozen raspberries in a small food processor. Then, add in 1/4 cup of almond milk. Pulse and blend until everything is smooth. Depending on how soft/frozen your fruit is, you may need to add a few more tablespoons. Do it slowly. Once smooth, place in the freezer for 5-10 minutes to harden up just a bit.
For the Chocolate Sauce
Mix together all ingredients until smooth.
Nutrition Facts
Serving Size:
1/2
Calories:
156
Sugar:
21
Fat:
1
Carbohydrates:
35
Fiber:
7
Protein:
2

Love single-serve desserts? Check out my HEALTHY Single-Serve Desserts E-book. 34 delicious recipes for just $7.99 (gluten free, paleo, and vegan options).

How did you become "boyfriend/girlfriend" with your significant other?
What's your favorite banana soft-serve/ice-cream topping?!