Make a batch of these rhubarb muffins for a delicious summer treat. They are made with tart rhubarb, applesauce, a little brown sugar and other whole ingredients.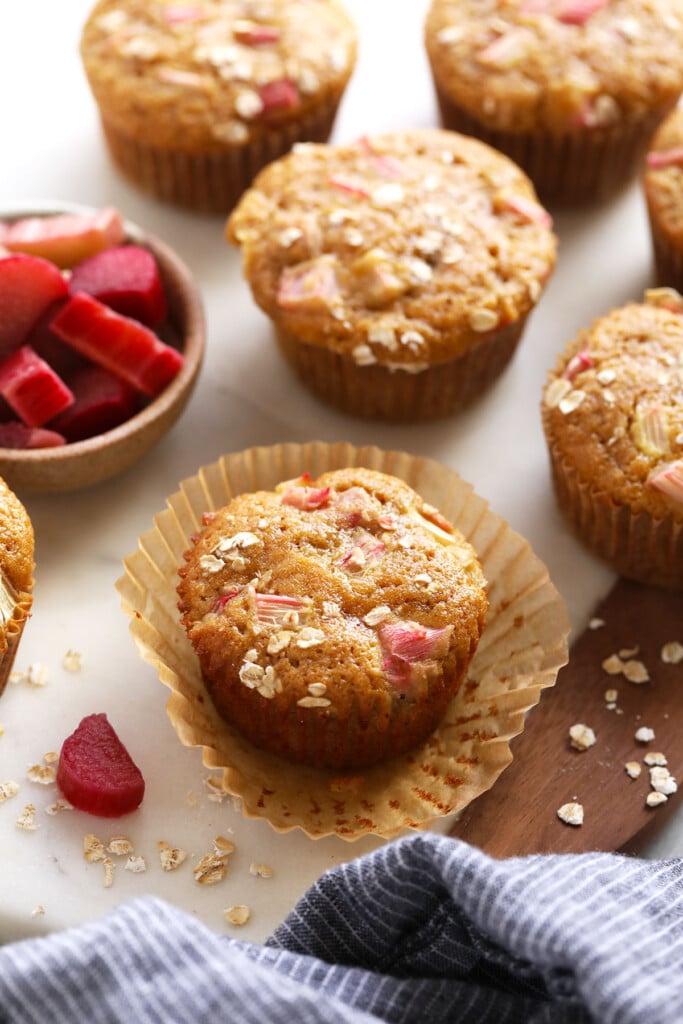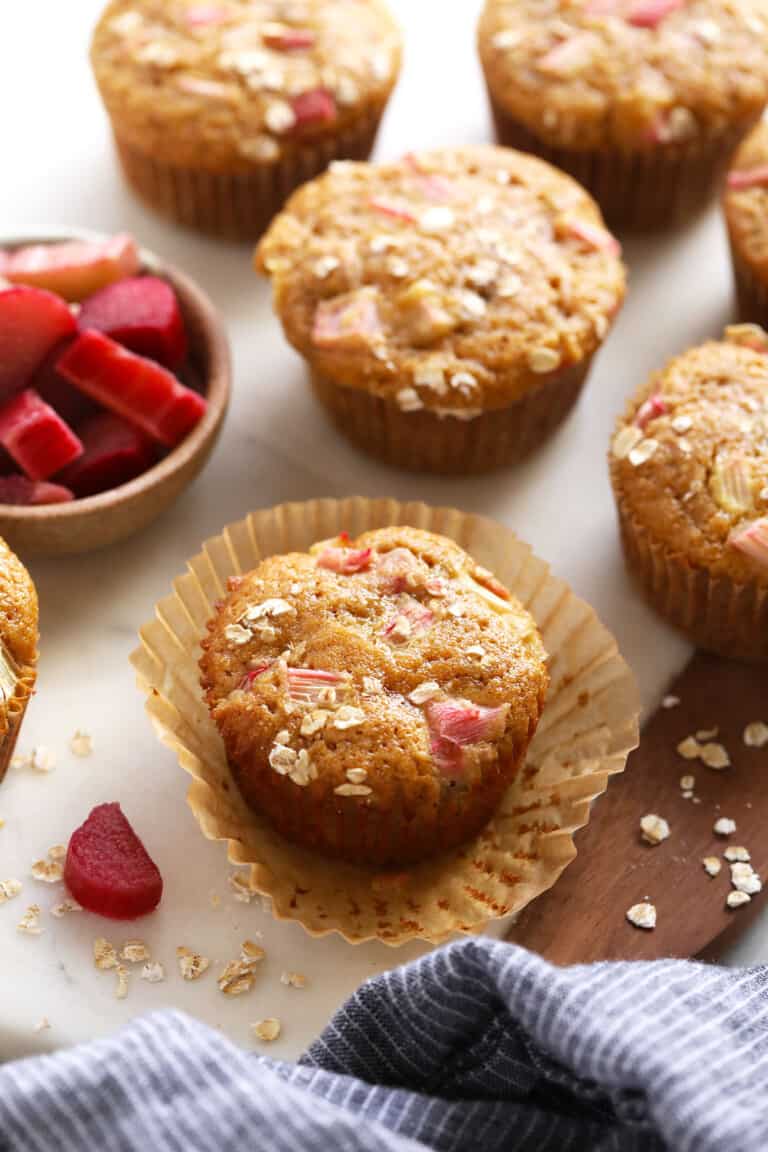 The Best Rhubarb Muffins
There is nothing better than looking out into your yard at the beginning of summer and seeing big rhubarb leaves in your garden. That means it's time for some rhubarb baking.
We love our Strawberry Rhubarb Oatmeal Bake and are excited to share this rhubarb recipe with you today.
It's always nice to have a couple different rhubarb recipes in your back pocket because if you're a rhubarb person, you tend to have enough rhubarb for the neighborhood in your freezer.
why we love these muffins
They are a delicious combination of tart + sweet.
You can bake a batch of these muffins for a healthy go-to for the week.
These muffins come out fluffy and moist every time.
Things to Remember
Rhubarb Season
Rhubarb season starts in may and goes until the end of June. There is a perfect period of time where rhubarb is perfectly tart and sweet. If you wait until later in the season, rhubarb can become very bitter.
Where to find rhubarb
There are a few different ways you can acquire rhubarb.
You can plant rhubarb in your yard (or inherit some from your neighbors or grandma).
Rhubarb is sold in the frozen section of some grocery stores.
How to Freeze Rhubarb
Freezing rhubarb is a great way to preserve rhubarb while it is both sweet and tart. It can be hard to use rhubarb all at once during that small window!
Also, when you are gifted rhubarb or have it in your backyard it usually comes in large quantities so it is nice to freeze it for later.
To freeze rhubarb:
Rinse the rhubarb and cut it into bite size pieces.
Dry the rhubarb off so it is not wet (you don't want all the pieces to freeze together).
Place the rhubarb pieces into a freezer safe bag and freeze it for up to 6 months to use for baking.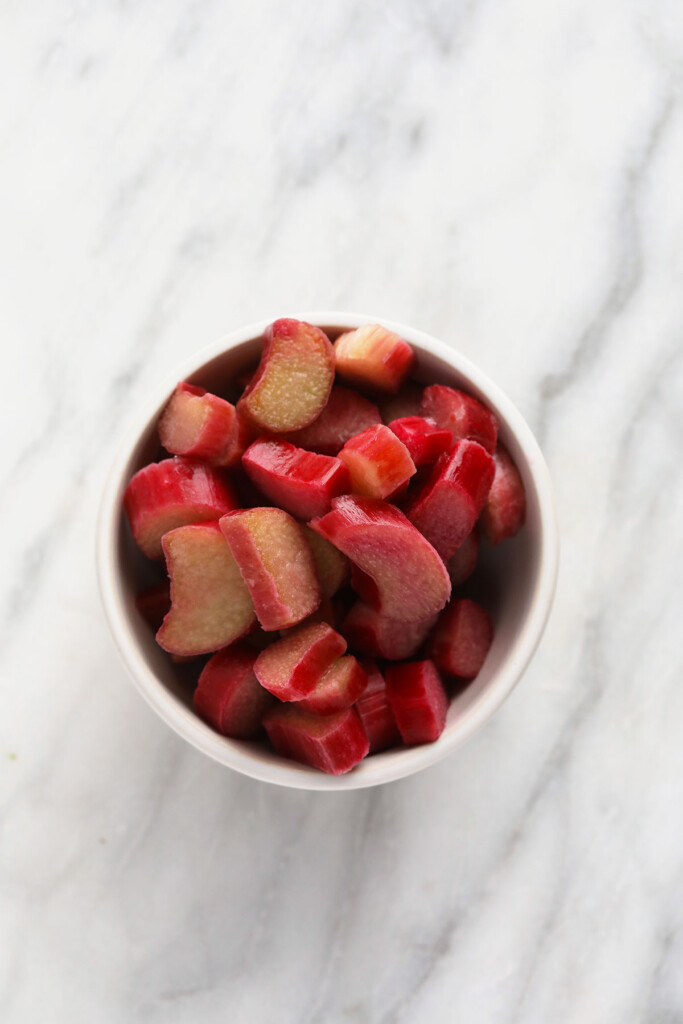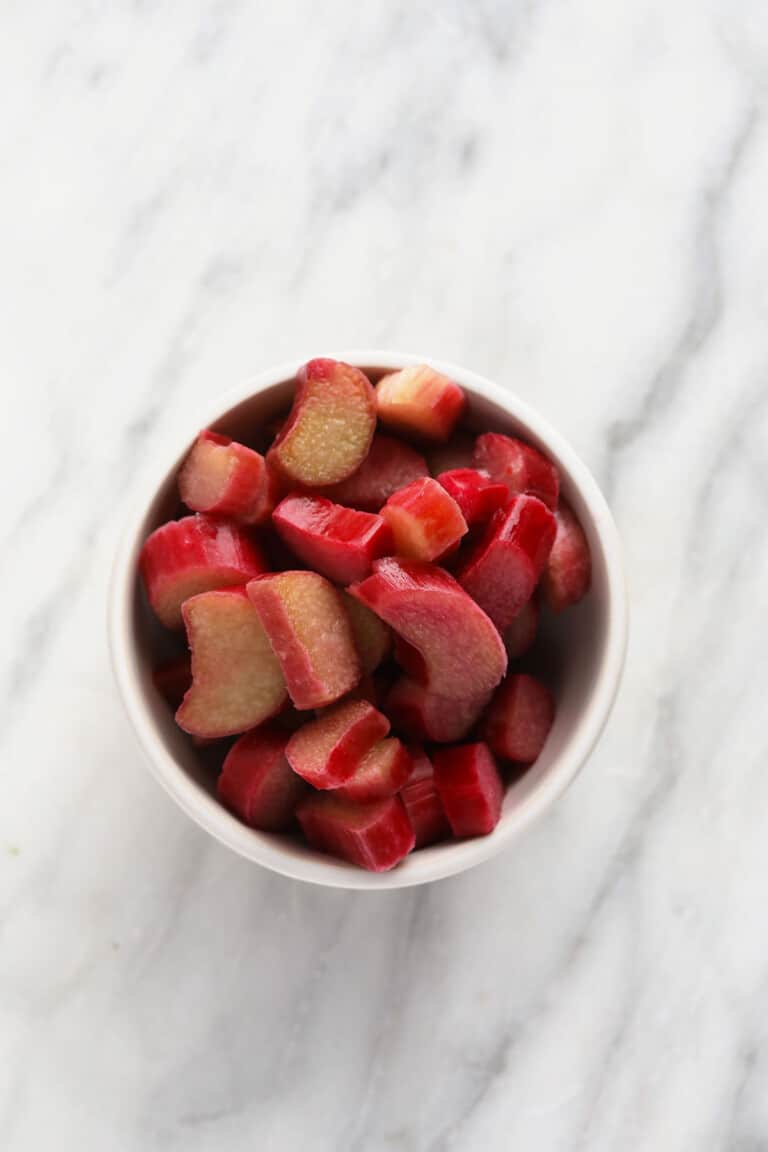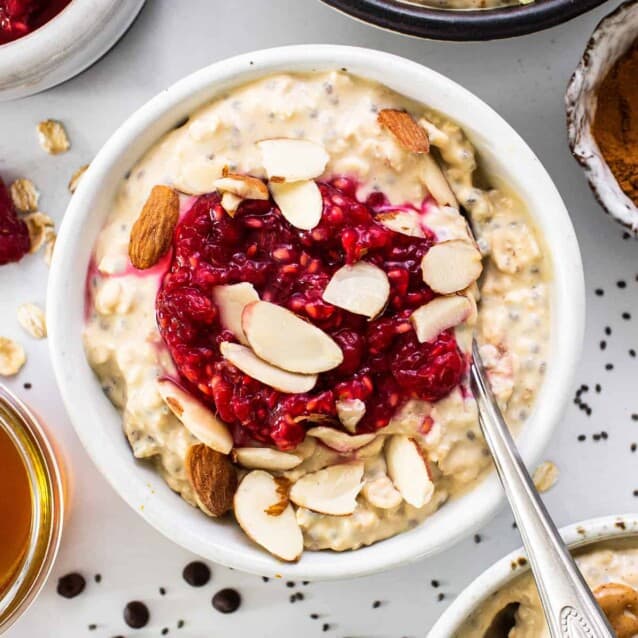 Need Breakfast Inspo?
Subscribe to our emails and get all of our best breakfast recipes straight to your inbox.
Ingredients You Need
The ingredient list for this rhubarb recipe is simple and short. Here is everything you'll need plus some substitutions.
All-purpose flour- the all purpose flour in this recipe makes them fluffy and light!
White whole wheat flour– we use a combination of flours to add some whole grains to the muffins.
Light brown sugar, packed (or coconut sugar)– we only use a little bit of brown sugar or coconut sugar to sweeten these muffs!
Baking soda– don't forget the baking soda, it fluffs these muffins up.
Rhubarb– we like to dice up the rhubarb for these muffins. If you are using frozen rhubarb, be sure that you dry them off completely before folding them into the batter.
Unsweetened applesauce– we cut down on the brown sugar and use applesauce to both sweeten up these rhubarb muffins and keep them nice and moist.
Large eggs– use two large eggs to fluff up these muffins. You can also use a flax egg if you are out of eggs!
Maple syrup– another added level of flavor and sweetness is maple syrup. Honey will also work.
Unsweetened plain almond milk– we like to think out our muffin batter with a little bit of almond milk. Any milk will do.
Coconut oil– don't skip the oil!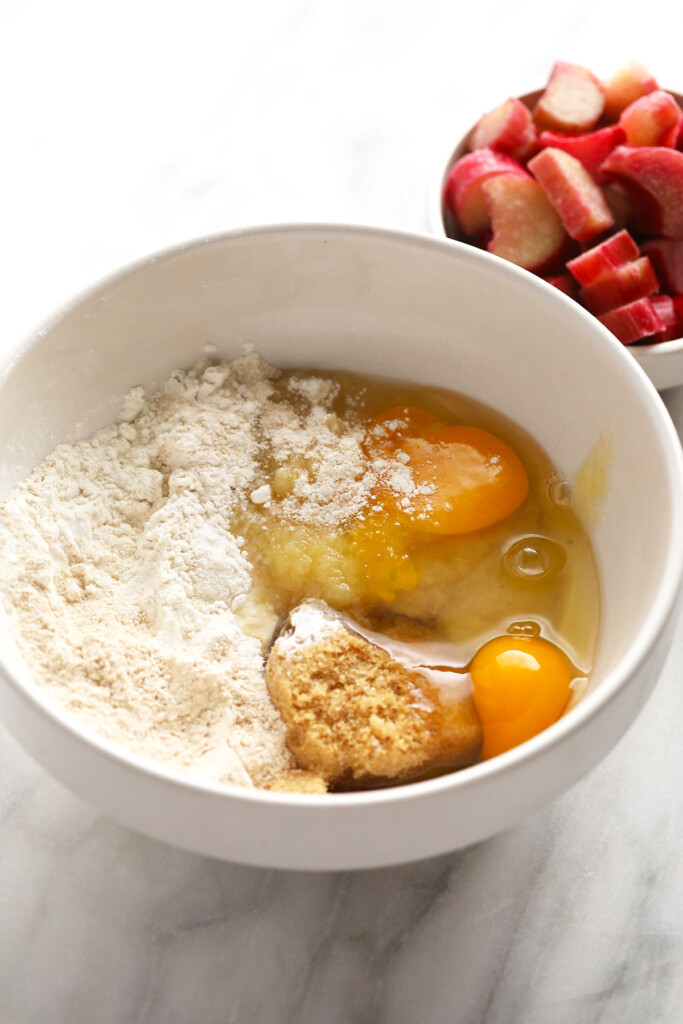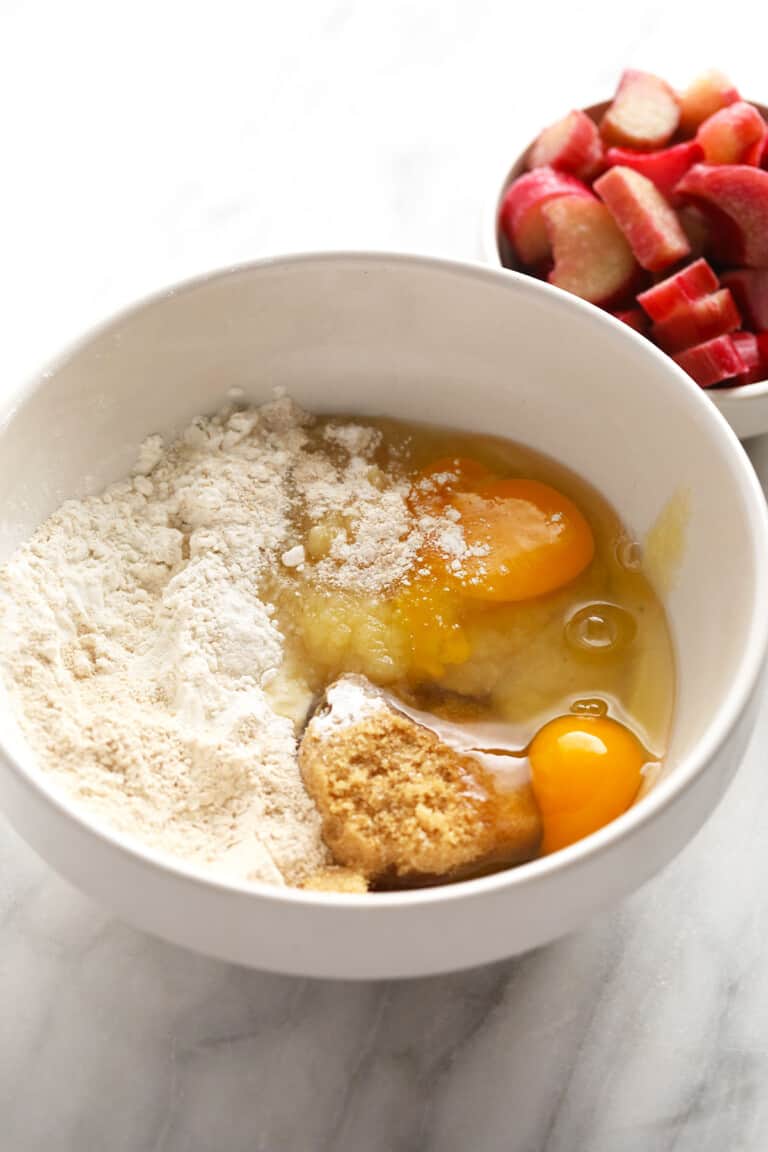 How to Make Rhubarb Muffins
Measure: It helps to measure out all of the ingredients for this rhubarb muffin recipe before you mix everything up in a bowl. Measure out all of your ingredients, remove moisture from the rhubarb, and you'll be set. Don't forget to spray the muffin tin and muffin liners.
Mix: Toss everything into large mixing bowl and mix until all ingredients are combined. You want the batter to be thick but still drippy. Be sure not to over mix the batter for these muffins or you'll end up with super dense muffins.
Line + Fill Muffin Cups: Once the batter is ready, use a cookie scoop or a 1/4 cup of batter and fill the muffin tins or liners 3/4 of the way full.
Optional Topping: Here you have the option to sprinkle rolled oats and tiny pieces of extra rhubarb if you want to add some texture and prettier muffins.
Bake: Bake these muffins for 18-22 minutes. Remember the the muffins will continue to bake for a few minutes when you remove them from the oven.
Cool: Remove the muffins from the oven and let them sit for a few minutes before removing the muffins from the muffin tin and onto the cooling rack.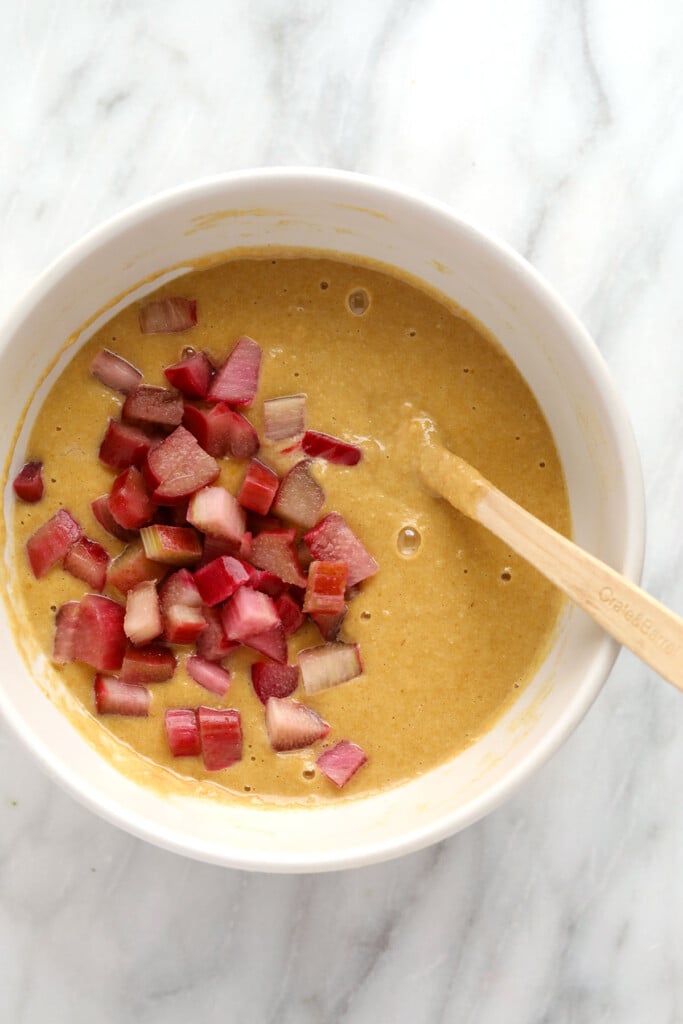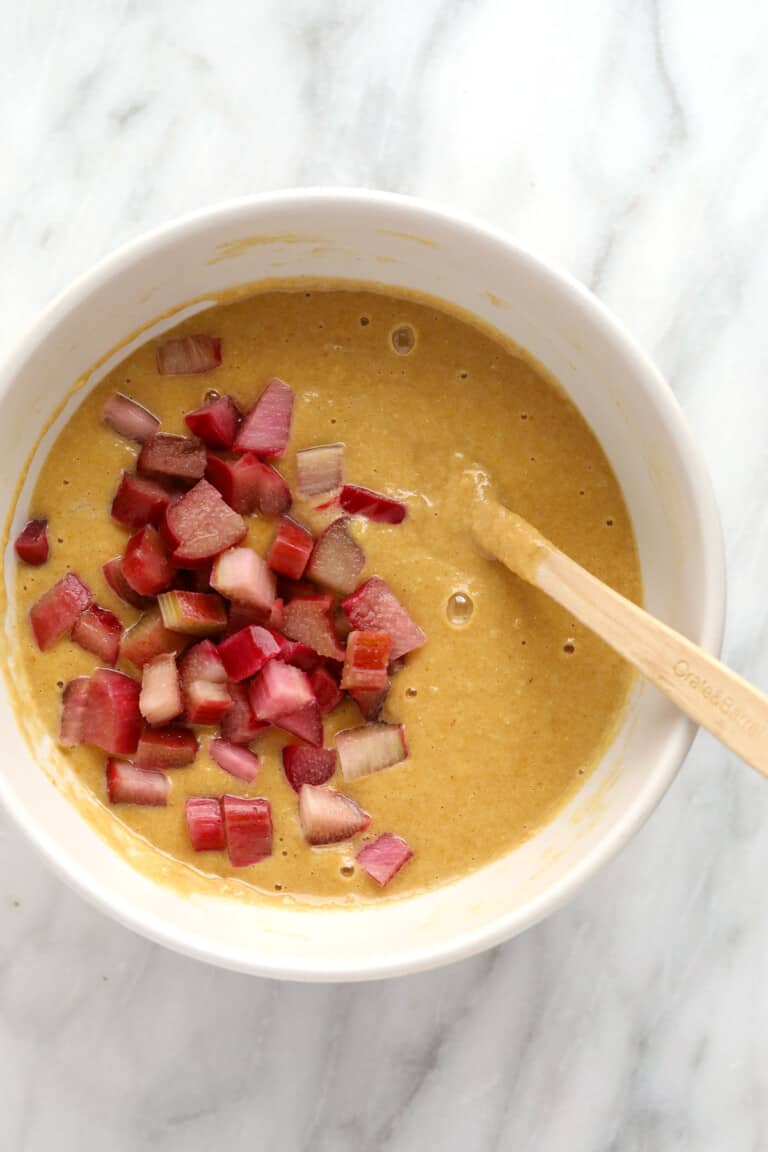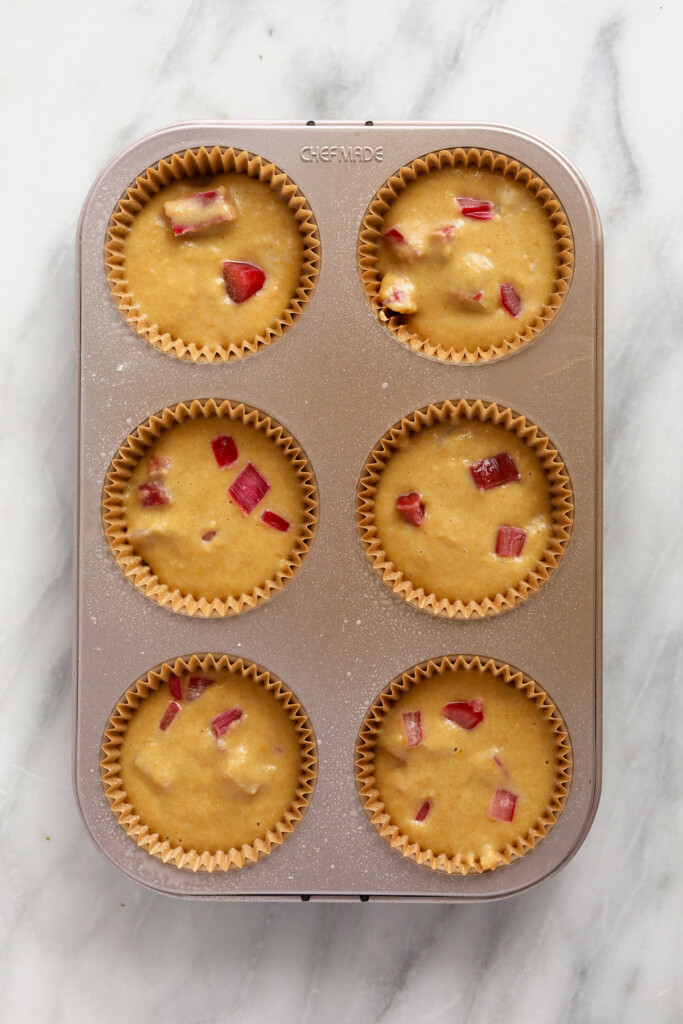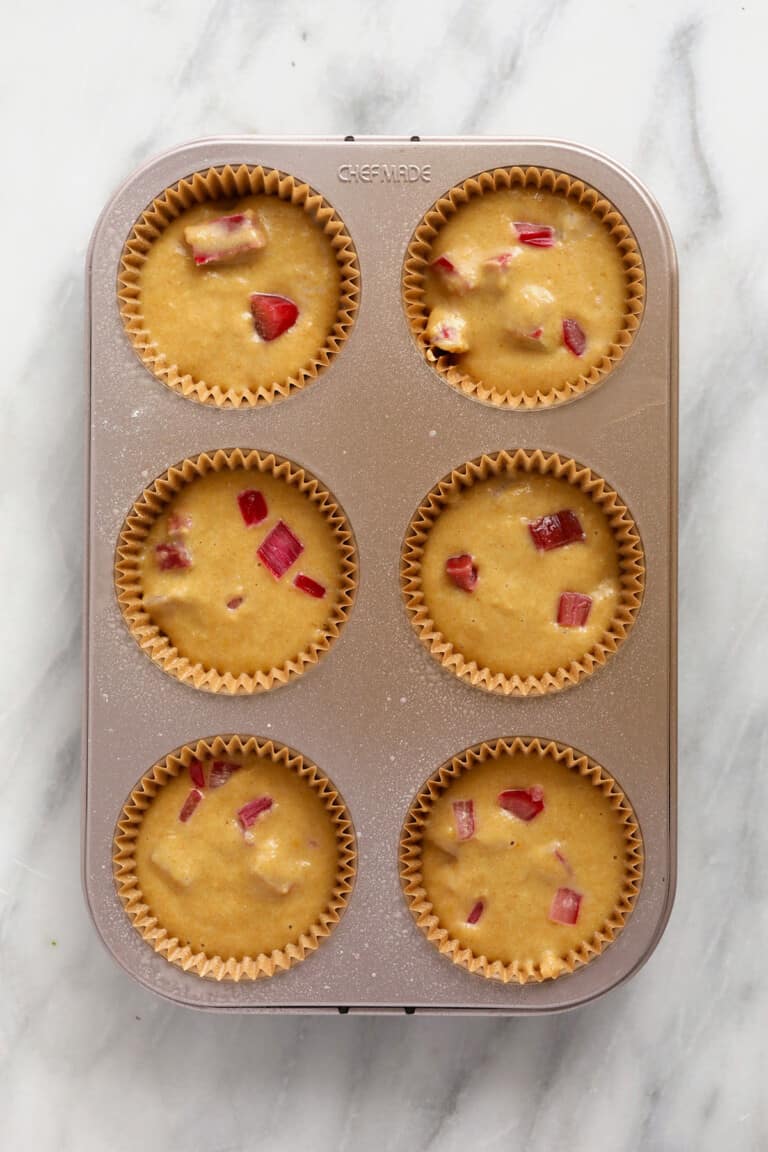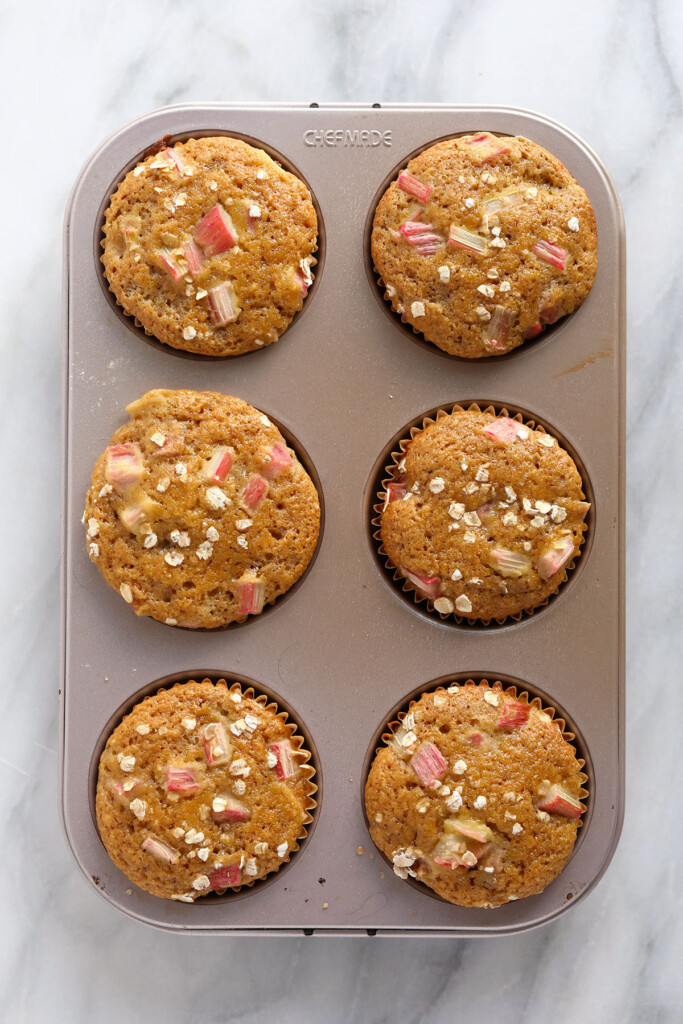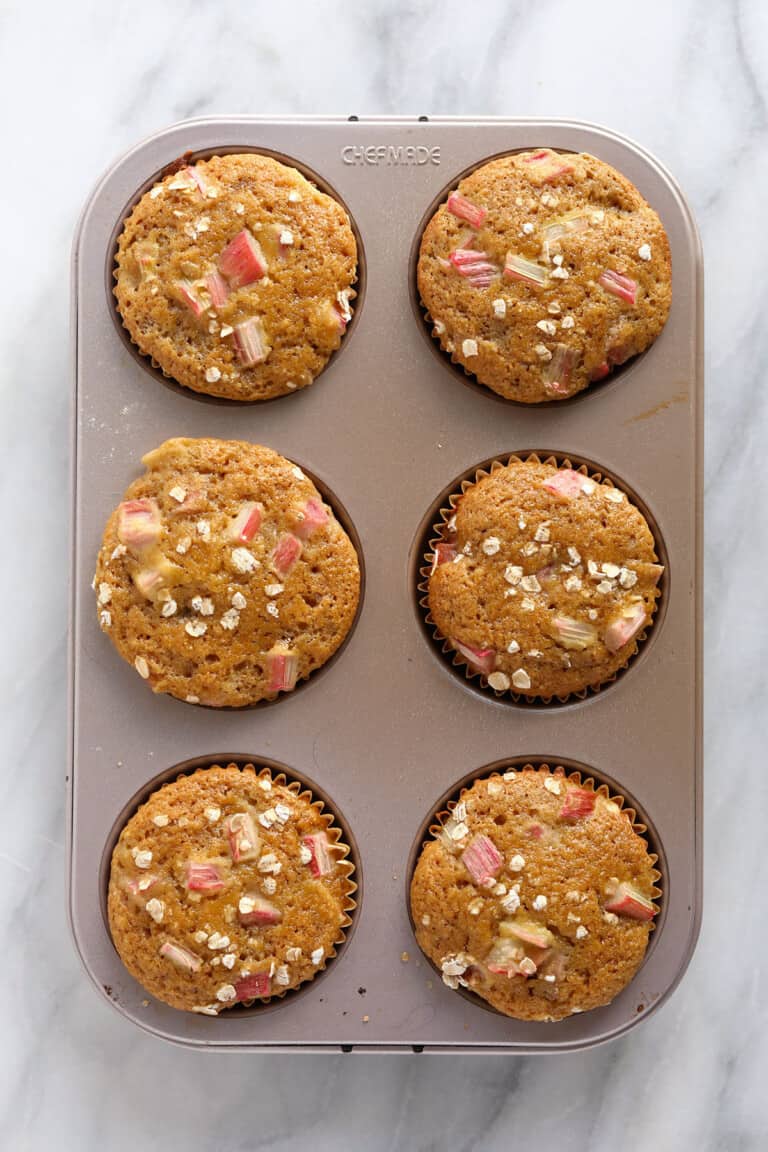 Storage Options
To store these rhubarb muffins, let the cool completely and then place them in an air tight container and store the in the fridge for up to 7 days.
Freezing Instructions
To freeze your rhubarb muffins let the muffins cool completely and them place them in a freezer safe bag. Store the in the freezer for up to 3 months.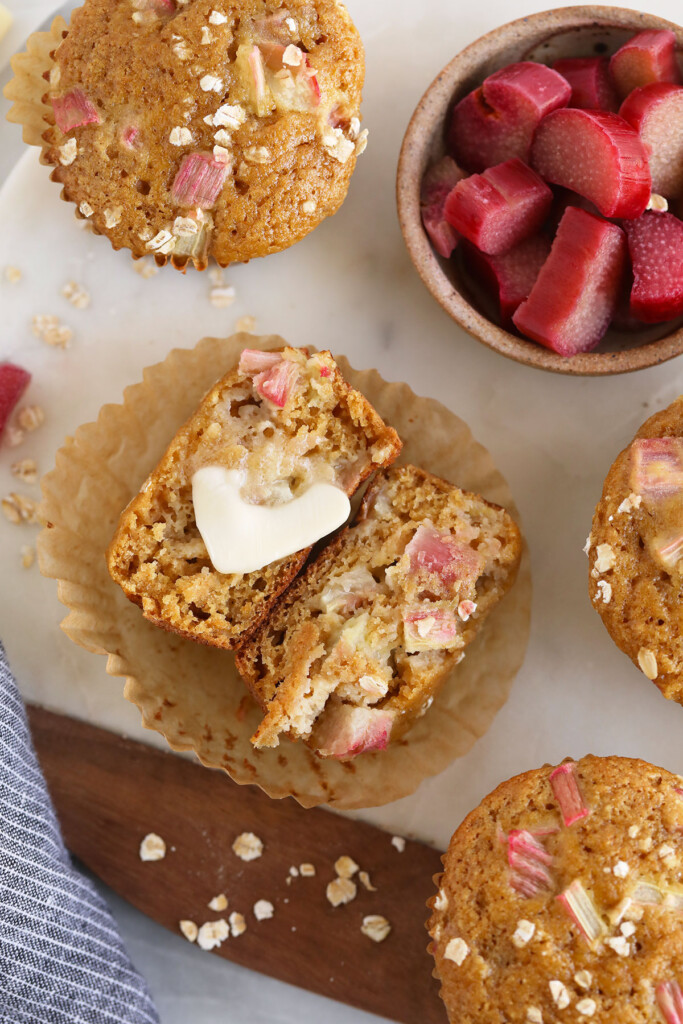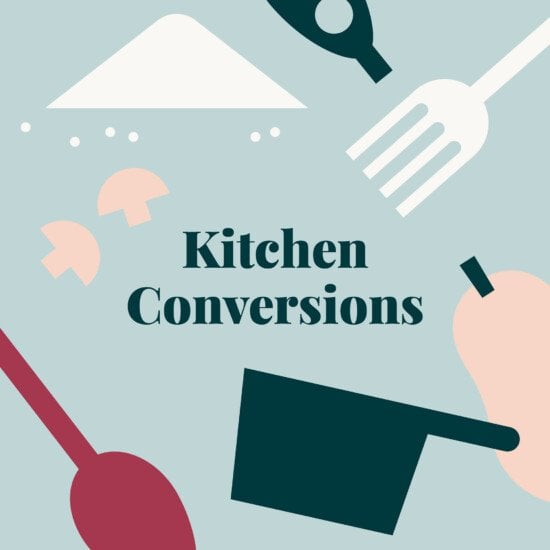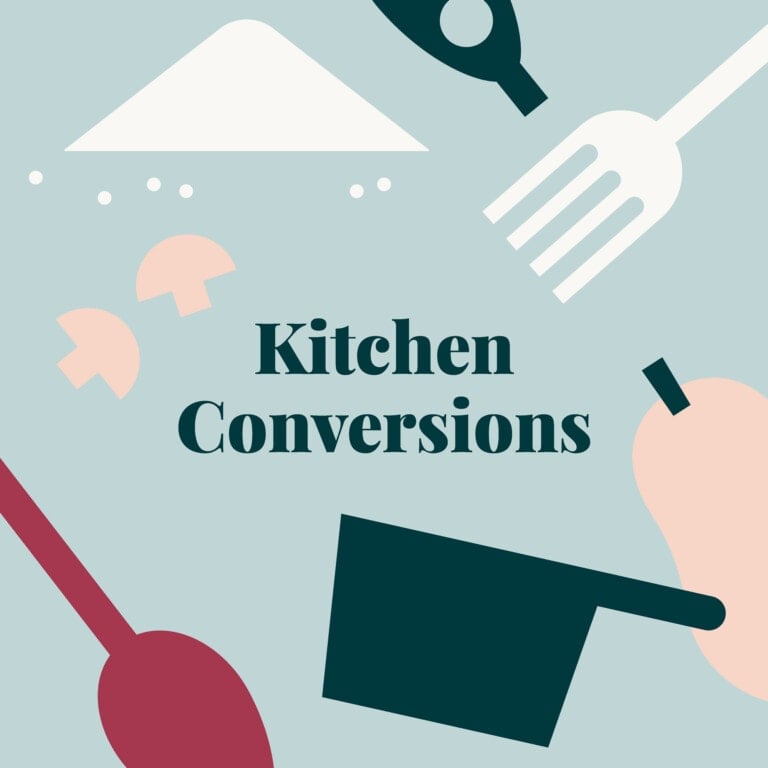 make it easy
Print Your Own
Keep common kitchen conversions like tablespoons to teaspoons and Fahrenheit to Celsius on hand at all times with our printable kitchen conversions chart.
get it now
Learn More Kitchen Conversions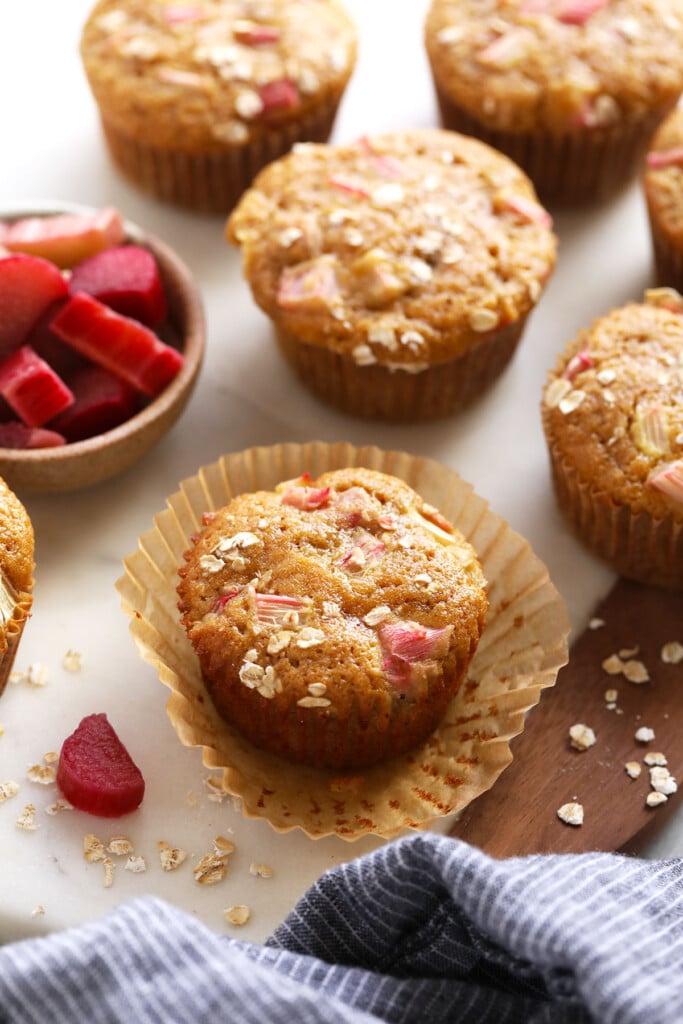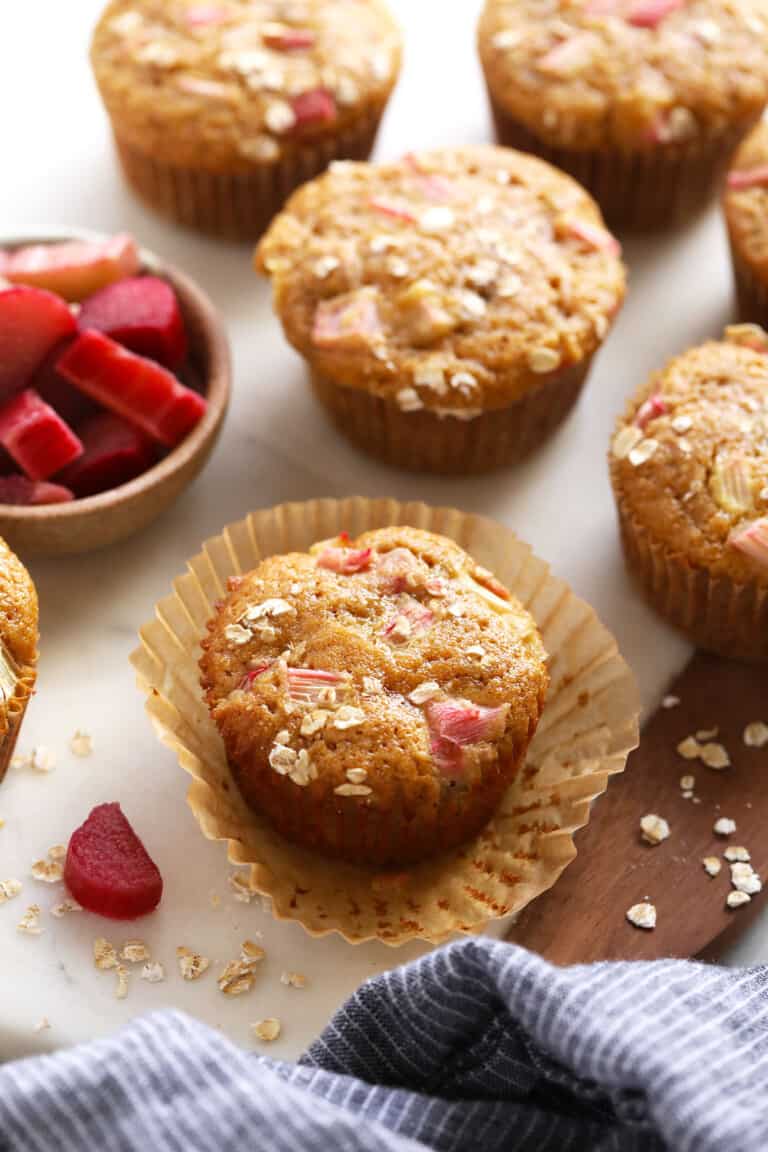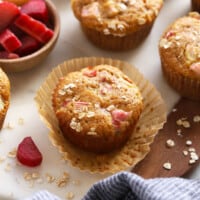 Rhubarb Muffins
Make this rhubarb muffin recipe next time you are looking for a quick and healthy breakfast or snack recipe. 
Instructions
First, preheat oven to 350ºF and line a muffin tin with muffin liners or spray with nonstick cooking spray.

Add the applesauce, eggs, maple syrup, and almond milk to a large bowl and whisk everything together.

Add all of the dry ingredients and mix again.

Finally, add melted coconut oil and mix one last time.

Evenly spoon batter between 12 muffins in your tin, filling them about 2/3 of the way full.*

Bake at 350ºF for 16-18 minutes or until a toothpick comes out clean.

Let cool for at least 10 minutes before removing from muffin tin to continue cooling on a cooling rack.
Tips & Notes
*Optional Topping: Here you have the option to sprinkle rolled oats and tiny pieces of extra rhubarb if you want to add some texture and prettier muffins.
Nutrition facts
Calories:
182
kcal
Carbohydrates:
34
g
Protein:
4
g
Fat:
4
g
Fiber:
2
g
Sugar:
15
g