Tis the season of apples and cinnamon! You're going to love these HEALTHY caramel apple cinnamon waffles made with 100% whole wheat flour, apple chunks, tons of cinnamon, and a homemade caramel sauce made from full-fat coconut oil!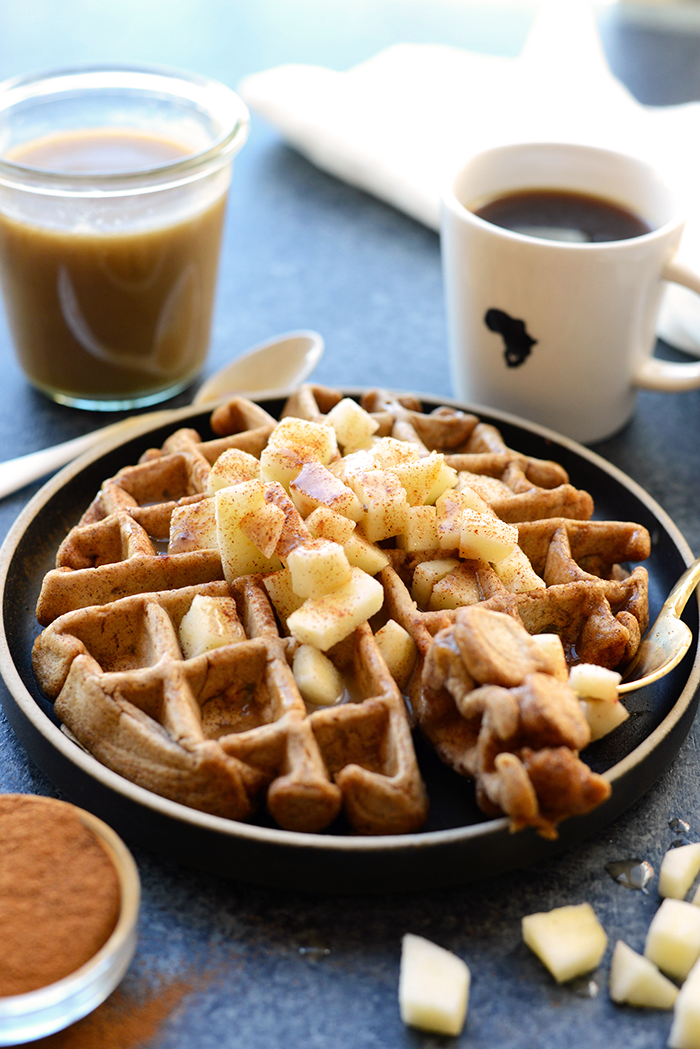 Yes, you read that right.
HEALTHY.
CARAMEL APPLE CINNAMON.
WAFFLES.
---
---
It's a thing and it needs to happen in your kitchen ASAP.
Please tell me you've tried Eggo's Cinnamon Toast Waffles? I used to LOVE those things as a kid. Well, these taste exactly like that plus they include apples and are 10x better for you! The waffle itself is an apple cinnamon base made with fresh, crunchy apples, whole wheat flour, and coconut oil. They're topped with my new favorite sauce in the whole wide world – – –
Lexi's Clean Kitchen's All-Purpose Caramel Sauce, which is actually made from full-fat coconut milk. WHATTTTT? Who woulda thunk you could make a delicious caramel sauce that's made from healthier ingredients. The vanilla bean in this recipe is unreal. Okay, so this recipe is from inside of Lexi's new AMAZING cookbook. I am so proud of her and the hard work she put into this thing. She literally designed this book from top to bottom. We're talking all of the photography, the recipes, graphics…EVERYTHING. I was so excited when I got it in the mail that it's actually been sitting on my coffee table 🙂
You can buy her cookbook TODAY on AMAZON or Barnes and Noble.
It's packed with 150 recipes that are paleo and gluten-free friendly. We're talking amazing food made with real ingredients to make them good for you. I'm most excited about the dessert and sauce section. THAT'S RIGHT A SECTION FOR SAUCE.
Three cheers for the LCK cookbook!
Healthy Caramel Apple Cinnamon Waffles
Prep Time:

10 mins

Cook Time:

3 mins

Total Time:

13 minutes

Author:

Lee Hersh

Yield:

3-4 waffles
Ingredients
Dry
1.5 cup white whole wheat pastry flour
1 cup apples, diced
1/2 teaspoon baking powder
1/2 teaspoon baking soda
1 1/2 tablespoons cinnamon
⅛ teaspoon salt
Wet
2 eggs, large
1 teaspoon vanilla extract
1/4 cup maple syrup
2 tablespoons coconut oil, room temperature
1 cup unsweetened almond milk**
For the All-Purpose Caramel Sauce
1 cup full-fat coconut milk
1/2 cup maple syrup
1 tablespoon unsalted butter
1/2 teaspoon vanilla extract
seeds scraped from 1/2 a vanilla bean
pinch of fine sea salt
Instructions
For the Waffles
First, preheat your waffle iron to medium heat.
In a large bowl, mix together all dry ingredients.Then add wet ingredients, minus the coconut oil.
Partially melt the coconut oil and add that to the batter. I microwave my coconut oil for about 20 seconds. Mix until smooth.
Spray waffle iron with coconut oil cooking spray on both sides. Then, scoop in about ⅔ cup of batter. Close the waffle iron, flip, and let cook for about 1 minute and 30 seconds to 2 minutes and 30 seconds (depending on how hot your iron is).
For Lexi's Clean Kitchen's All-Purpose Caramel Sauce
Combine the ingredients in sauce pan and bring to a boil over medium heat. If it begins to boil over, quickly stir down and momentarily slide it off the heat. Reduce heat to low and let simmer for 30 minutes or until the caramel begins to thicken and can coat the back of a spoon. For thicker caramel, let simmer longer.
Remove from heat and let cool for 5 minutes. The longer it cools, the thicker it will be.
Store the cooled caramel sauce in an air-tight container for up to 2 weeks.
Notes
**The batter should be a little thicker than pancake batter, but not too thick! Start with 1 cup of almond milk and add a tablespoon at a time if it's too thick.
***To make pancakes: add about ¼ cup to ⅓ cup more almond milk to thin the batter out a little bit. Cook over medium heat for about 1.5 minutes per side.
If you make these waffles- don't forget to share them on Instagram and tag @FitFoodieFinds and #FitFoodieFinds!