A dessert-take on energy balls! These blueberry cashew energy truffles are made with dried blueberries, raw cashews, and dates and are dipped in a thin coating of dark chocolate.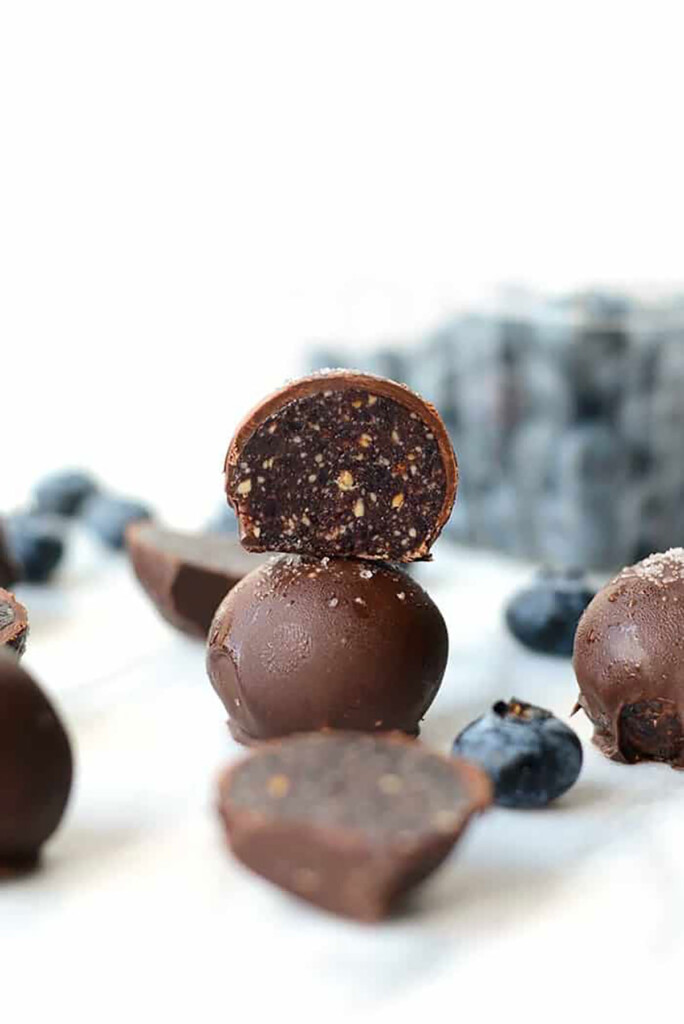 These blueberry cashew energy truffles are a truffle meets energy ball kind of dessert. I can't count on my two hands how many times I've made this recipe over the years. I first started off by making them without chocolate, and now the chocolate coating is a must!
What is in blueberry cashew energy truffles?
Cashews: the basis of this nutritious dessert is made up of raw cashews.
Dates: because dates are super sticky, they help bind these truffles together.
Dried blueberries: dried blueberries are such a fun add-in for energy balls.
Dark chocolate: melted dark chocolate makes these a true dessert!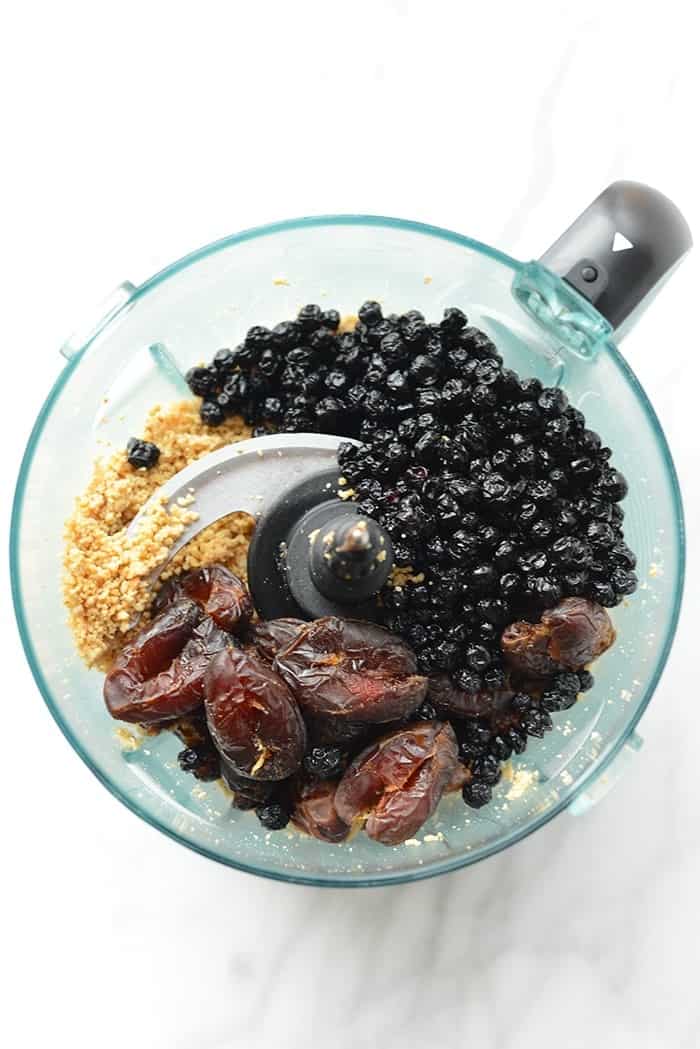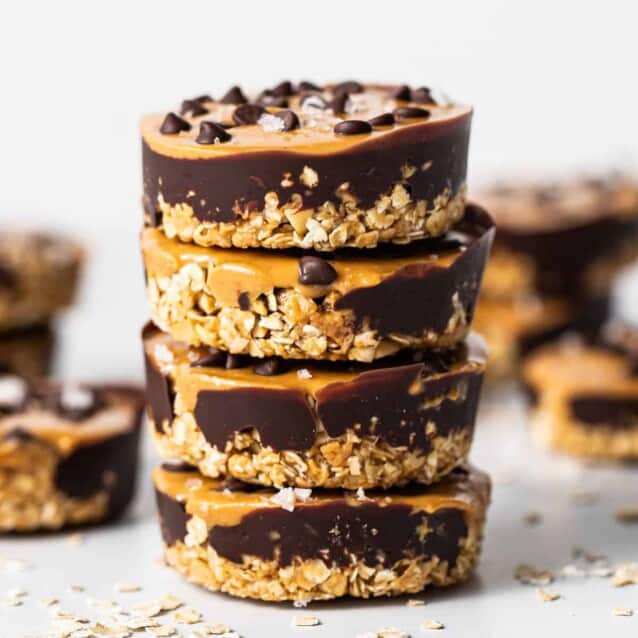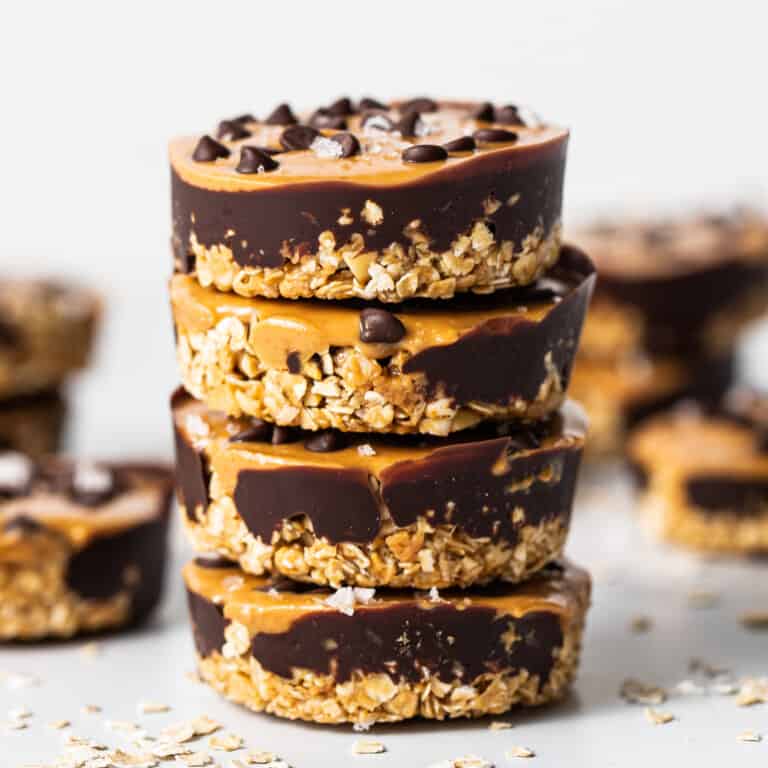 Subscribe!
Love desserts? Us too! Subscribe to our emails and get all of our best desserts straight to your inbox.
Variations
The great thing about this recipe is that it's super customizable. Can't do cashews? Try raw almonds or walnuts. Don't love dried blueberries? Try raisins or any other dried fruit.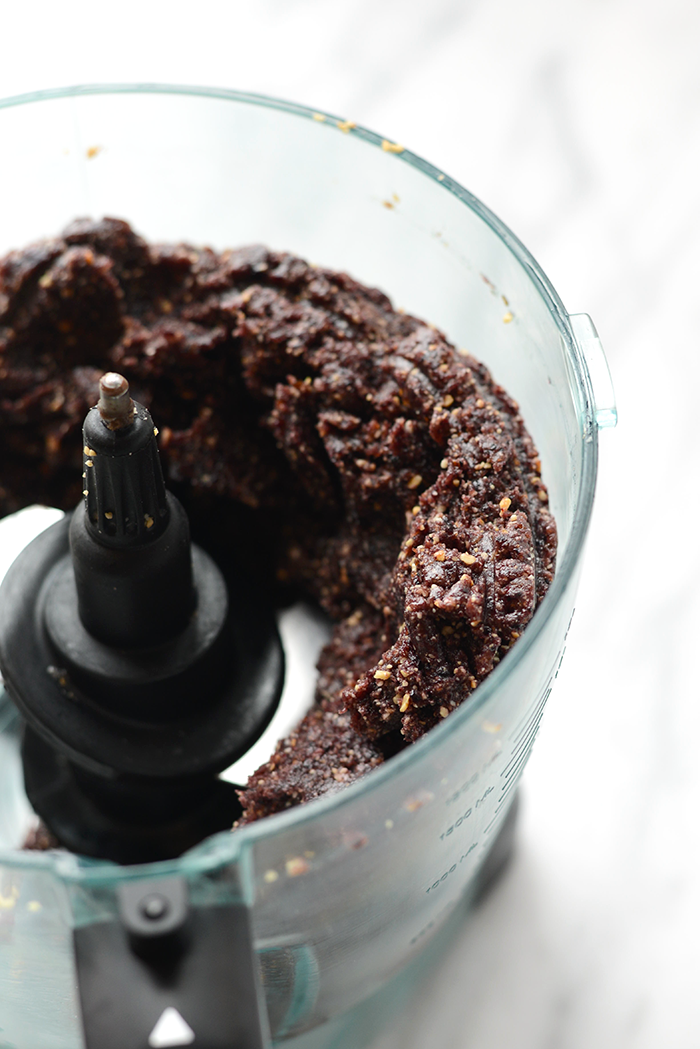 Storage
We prefer to store these energy truffles in the freezer so that they stay better longer. Transfer the energy truffles to a baking sheet, making sure they aren't touching. Freeze for at least 1 hour. Once partially frozen, transfer the balls into an airtight container or plastic bag and freeze for up to 3 months.
When you're ready to eat: let them thaw on the countertop for 5 minutes and enjoy.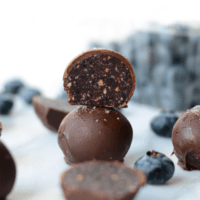 Blueberry Cashew Energy Truffles
Make these delicious clean eating blueberry truffles for a sweet treat made with dried fruit and dark chocolate! They are easy to make with only 8 ingredients!
Instructions
First, line a cookie sheet with parchment paper and set aside. Then, place cashews in food processor and mix until you've created a fine meal.

Add in pitted dates, dried blueberries, salt, vanilla extract, and water and process for 2-3 minutes. You will likely need to stop a few times to scrape the sides. Depending on how soft your dates are, you might need to add a teaspoon or two more of water in order to get your dough to loosen up a bit. It should be sticky my malleable.

Using a tablespoon scoop, scoop out dough and roll between the palms of your hands to form a ball. Repeat.

Place chocolate and coconut oiil in a microwave safe bowl and melt. Then using two forks, dip each blueberry ball into the chocolate and fully coat it. Set on a parchment-lined cookie sheet. Repeat to all balls and then place cookie sheet into the freezer for at least 1 hour.
Nutrition facts
Calories:
141
kcal
Carbohydrates:
14
g
Protein:
2
g
Fat:
10
g
Fiber:
2
g
Sugar:
8
g