These Green Curry Chicken Meatballs are the ultimate flavorful meal-prep recipe. They are high-protein, low-carb, and full of amazing Thai-inspired curry flavor!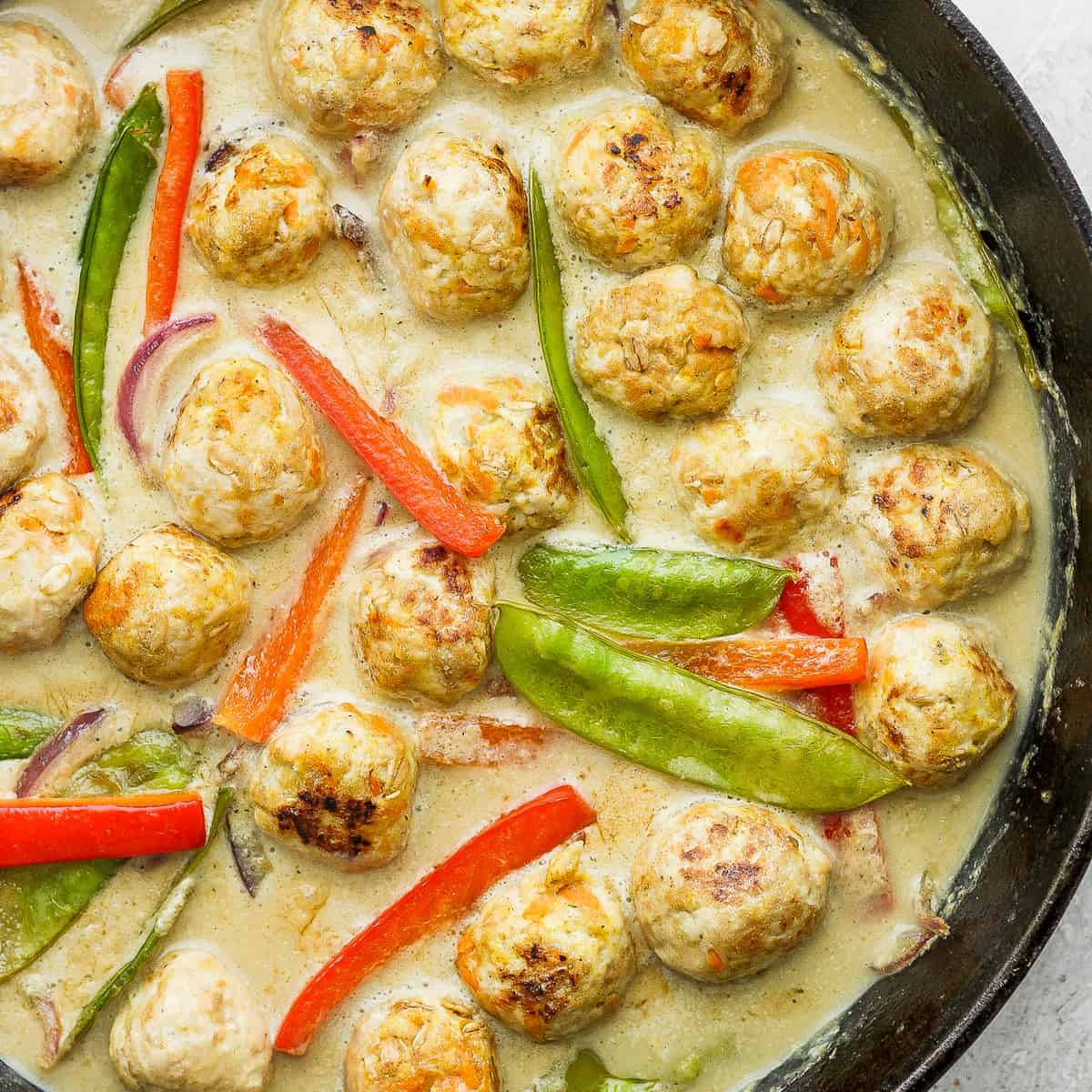 Green Curry Chicken Meatballs
Love meatballs? Us too. These green curry chicken meatballs have so much flavor, are simmered in a delicious green curry sauce (that is so easy to make btw), and are perfect for an easy weeknight meal.
things we love about this recipe
Here are a few reasons we love this recipe so much.
No need to turn on the oven!
These chicken meatballs are high in protein and veggies.
They are perfect for meal prep.
The green curry simmer sauce is so flavorful.
There are so many ways to serve these meatballs.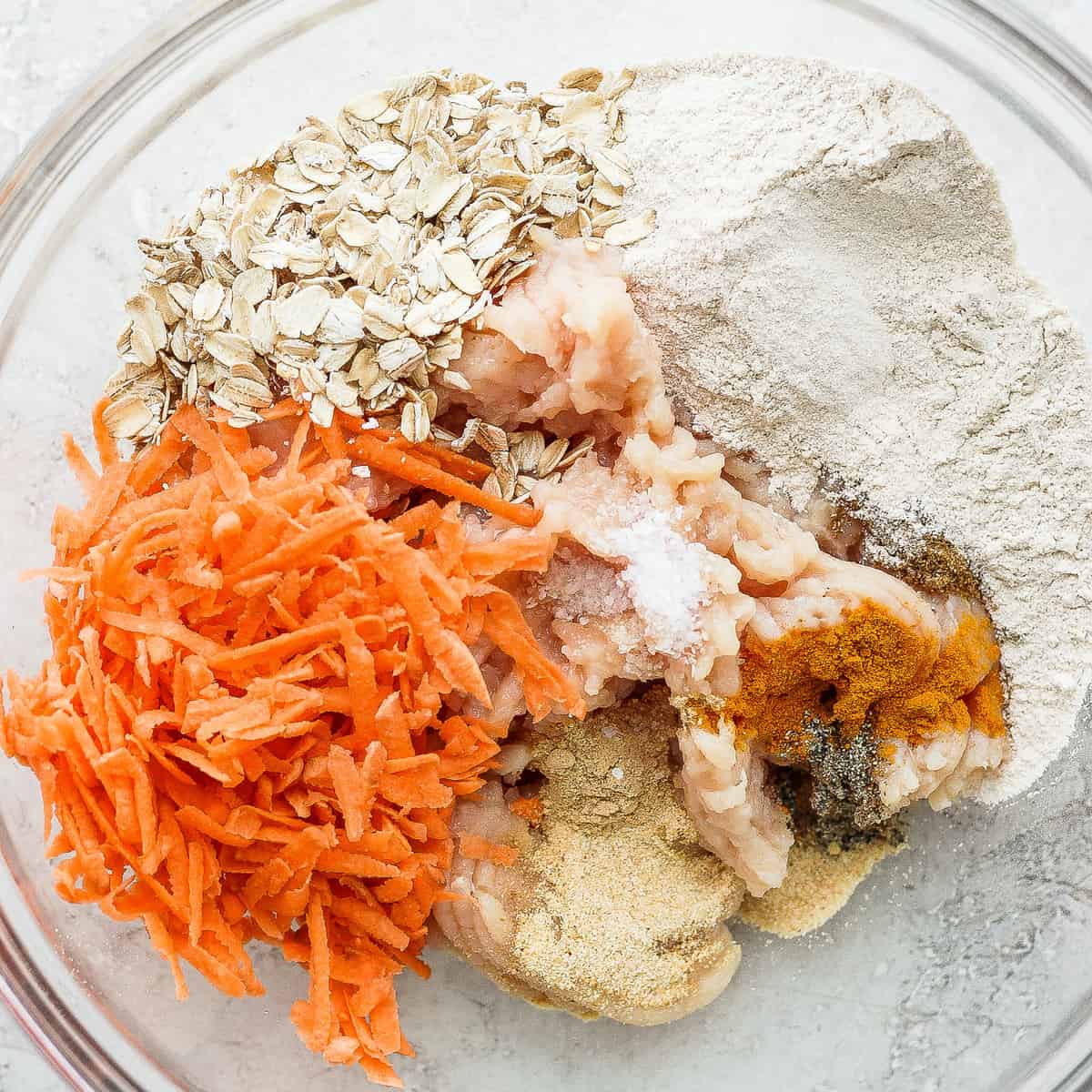 Featured Ingredients
Ground chicken: these meatballs are made with ground chicken so they are a bit leaner.
Sweet potatoes: shredded sweet potatoes are the "secret" ingredient in this recipe. It adds moisture and a binding agent to the meatballs.
Oats and flour: both oats and flour are a binder and a fill for the meatballs. You need them for this recipes.
Spices: we do a delicious combination of spices in the meatballs to flavor the meat and compliment the green curry sauce.
Coconut milk: the curry we use for this recipe has a coconut base and that comes from the coconut milk. It is creamy and pairs perfectly with the meatballs and spices.
Thai curry paste: this is a Thai-inspired dish. We use a Thai green curry paste that is commonly found in the grocery store.
Veggies: we made this a well-rounded meal by simmering peppers and onions in the curry sauce along with the meatballs.
Easy Swaps
Need to make some recipe swaps? No problem. Below are some common recipe swaps for this recipe.
Ground chicken —> ground turkey, ground pork, ground beef or a combination
White whole wheat flour—> all-purpose flour
Thai green curry paste—> Thai red curry paste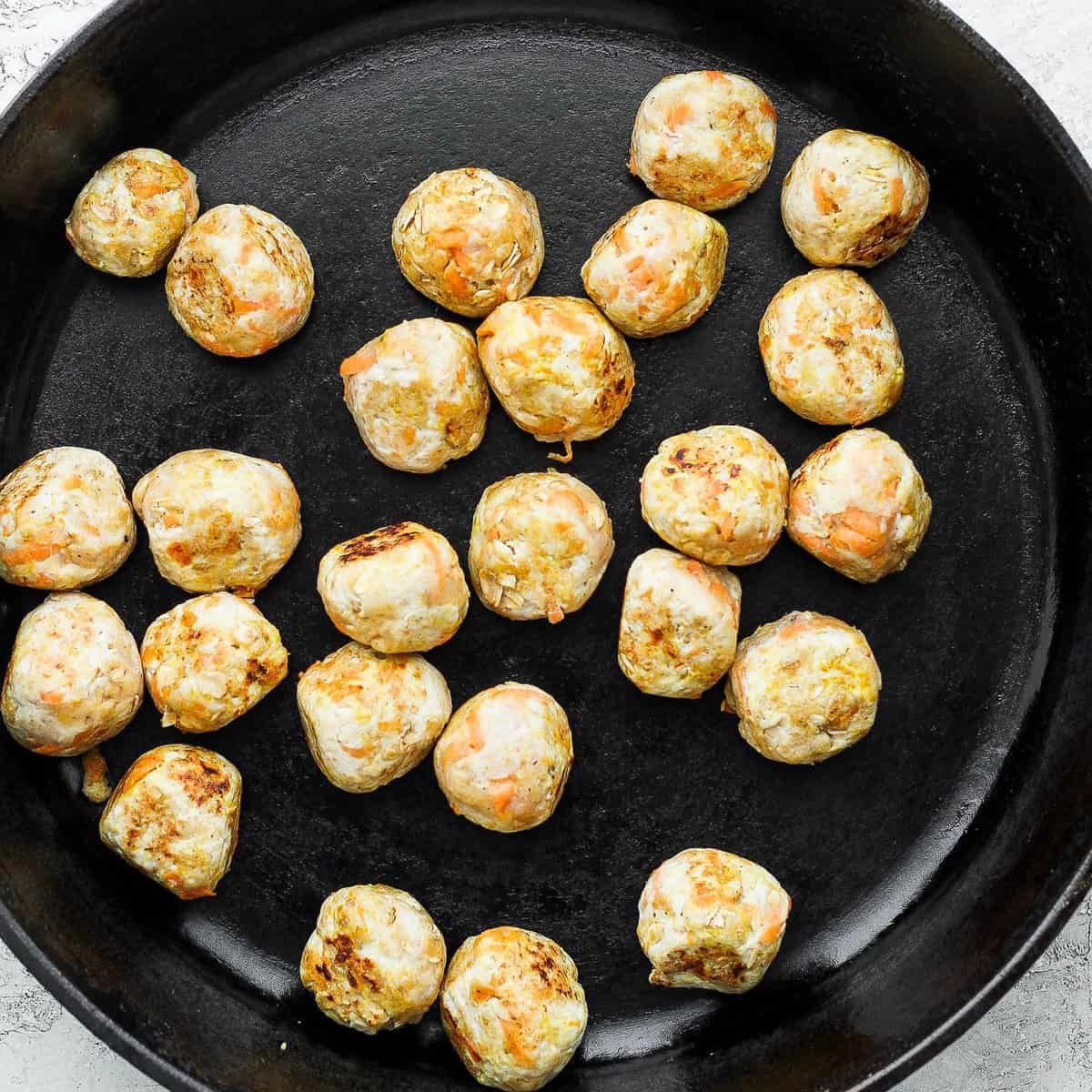 Simple Instructions
Make chicken meatballs. Add the ground chicken, oats, flour, grated sweet potatoes, spices, and olive oil in a bowl and gently mix the ingredients together until combined. Use a tablespoon scoop to scoop the chicken meatballs into balls and roll them into meatballs.
Brown the meatballs. Heat a large cast-iron skillet over medium/high heat. Add olive oil. When the oil is hot brown the meatballs on all sides. Be sure to only brown the chicken meatballs on the outside and be sure not to fully cook them. They will continue to cook later. Remove the meatballs from the pan.
Make the curry sauce. Add the coconut milk, curry paste, lime juice, dragon sauce, salt, and pepper to a bowl and whisk the ingredients together.
Sauté vegetables. Leave any brown bits in the bottom of the pan and add the last of the olive oil. Sauté the vegetables for 2-3 minutes.
Simmer ingredients together. Add the curry sauce to the vegetables and bring the sauce to a boil. Add the chicken meatballs and simmer the chicken meatballs in the sauce until they are fully cooked.
Serve. When the meatballs are fully cooked, serve the chicken meatballs, veggies, and green curry sauce over rice.
Serve this with Chicken Meatballs
You can eat these green curry chicken meatballs all on their own or serve it over rice, quinoa, or whatever your heart desires. Below are our top recommendations.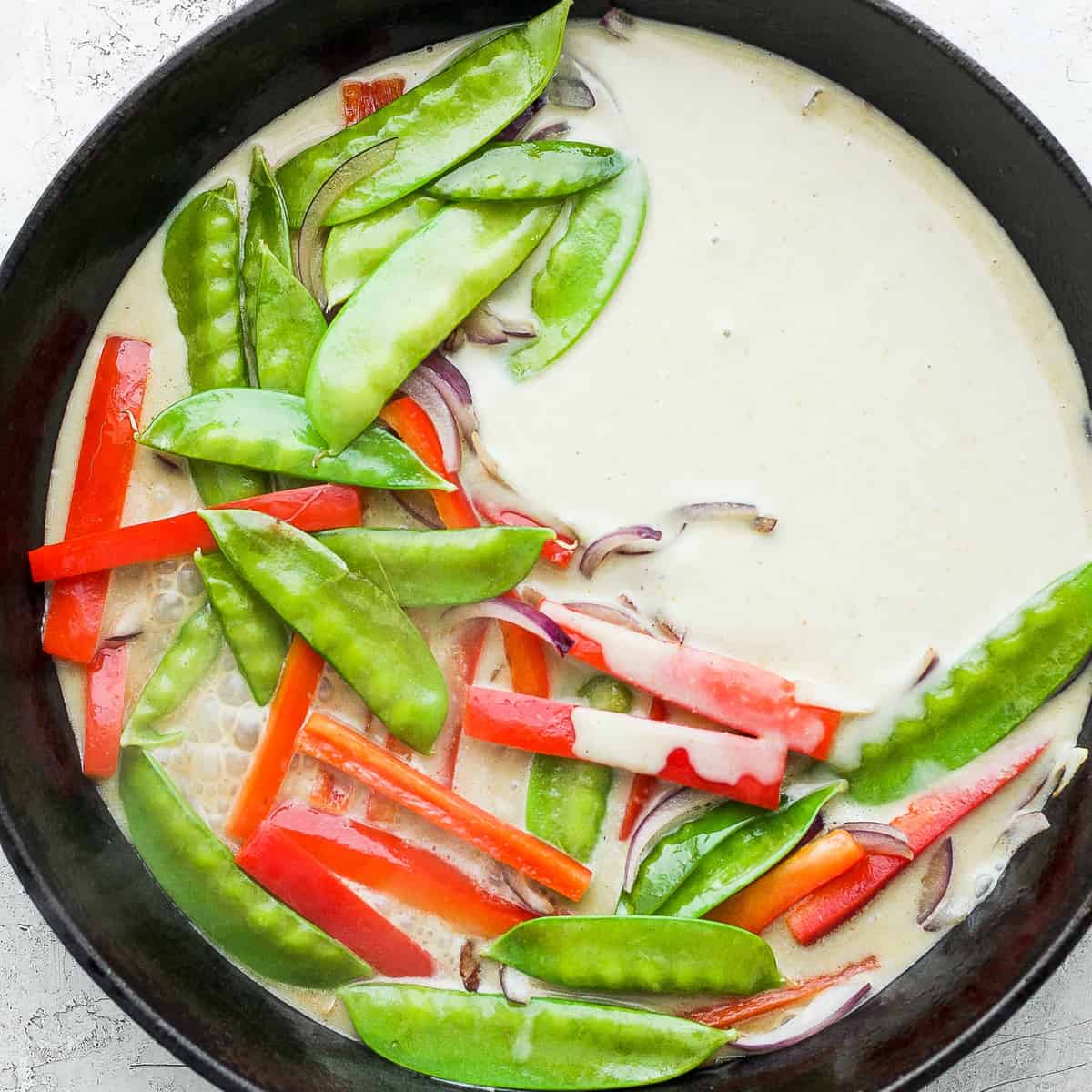 Chicken Meatball FAQ
How do you keep meatballs moist? 

The beautiful thing about meatballs is that you can really make them your own. We added moisture to these chicken meatballs by adding sweet potatoes, (yes, sweet potatoes). Baked chicken can sometimes dry up and the moisture from the grated sweet potatoes helped keep the chicken.
How do I add moisture to meatballs?

Add fat. Make sure to choose meat that has some fat! The fat melts and breaks down in the meatball which adds a ton of delicious flavor and moisture.
Be gentle. When you roll meatballs, try not to pack the meat so tight. Leave room in the meatball for the ingredients to expand and breath.
What can I use instead of eggs in meatballs? 

Eggs are used as a bind for meatballs. If you don't want to use eggs, try a flax egg, a chia seed egg, or like in this chicken meatball recipe, the shredded sweet potato acted as a bind for the meatball!
What should I eat with meatballs?

It depends on what kind of meatballs you make. These green curry sweet potato chicken meatballs are delicious by themselves or served over rice, quinoa, or rice noodles.
Storage
To store this meal, let the chicken and curry sauce cool completely before placing it in an air-tight container. Store it in the refrigerator for up to 5 days. Be sure to store this meal separately from any grain (rice, quinoa, etc.).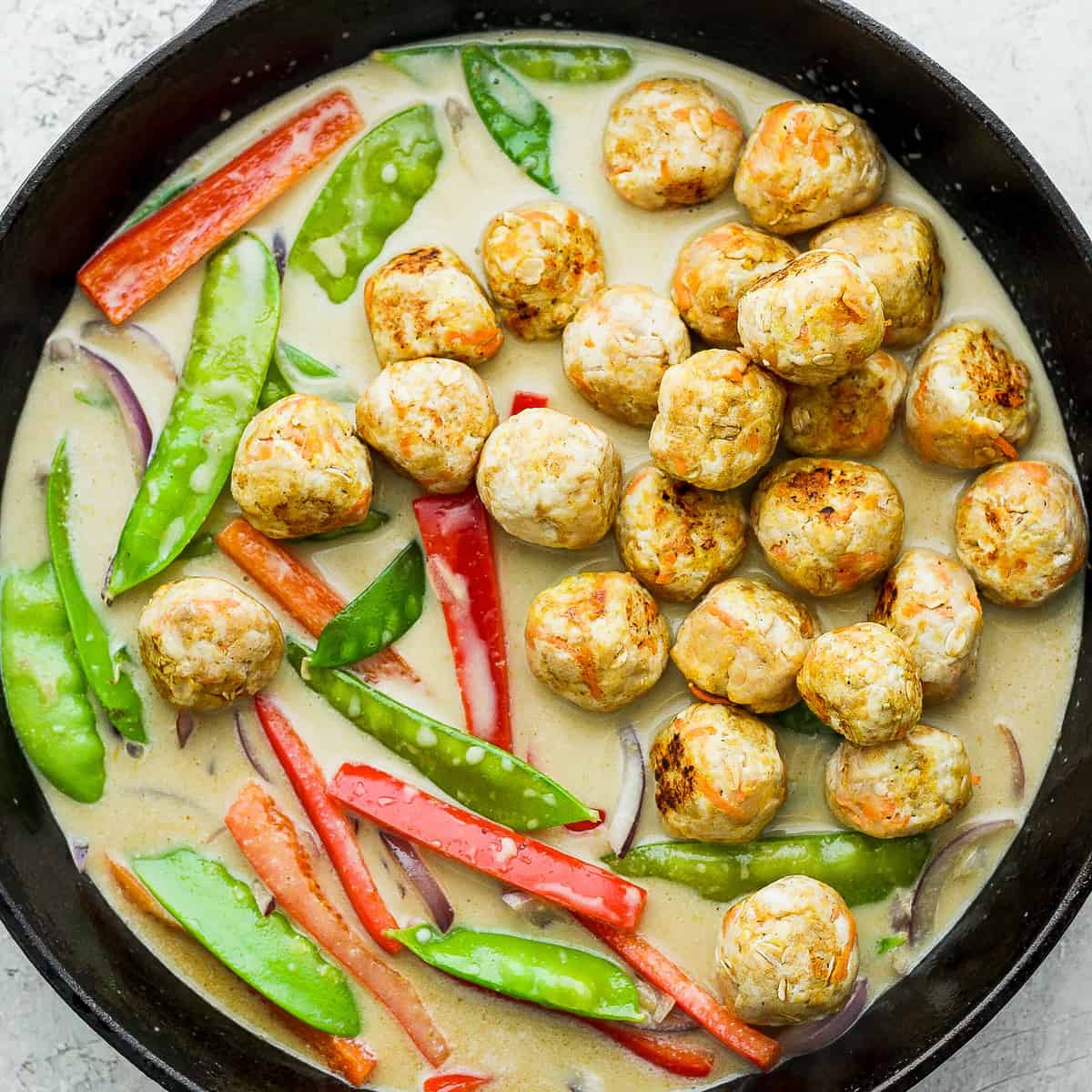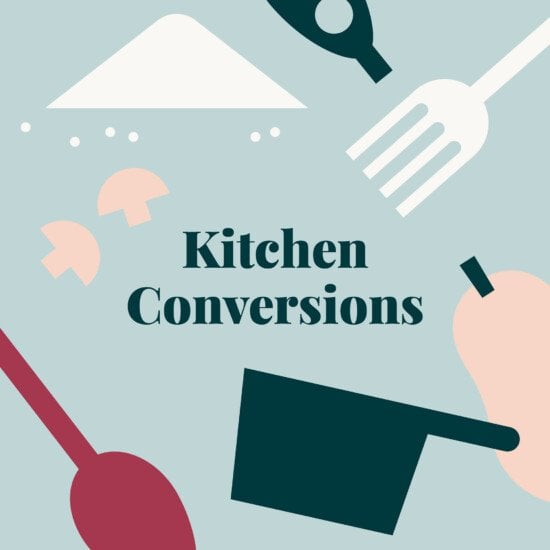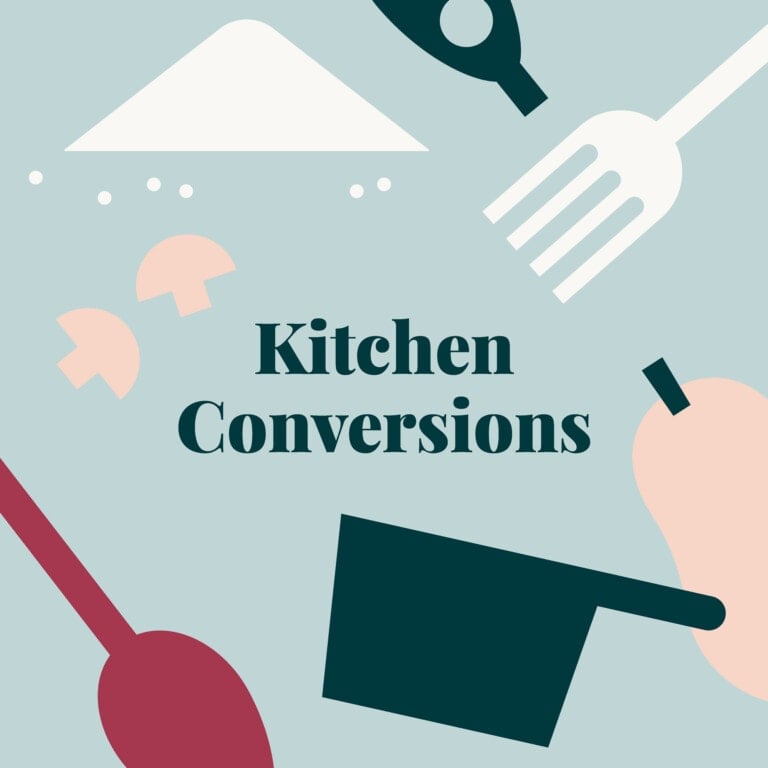 make it easy
Print Your Own
Keep common kitchen conversions like tablespoons to teaspoons and Fahrenheit to Celsius on hand at all times with our printable kitchen conversions chart.
get it now
Learn More Kitchen Conversions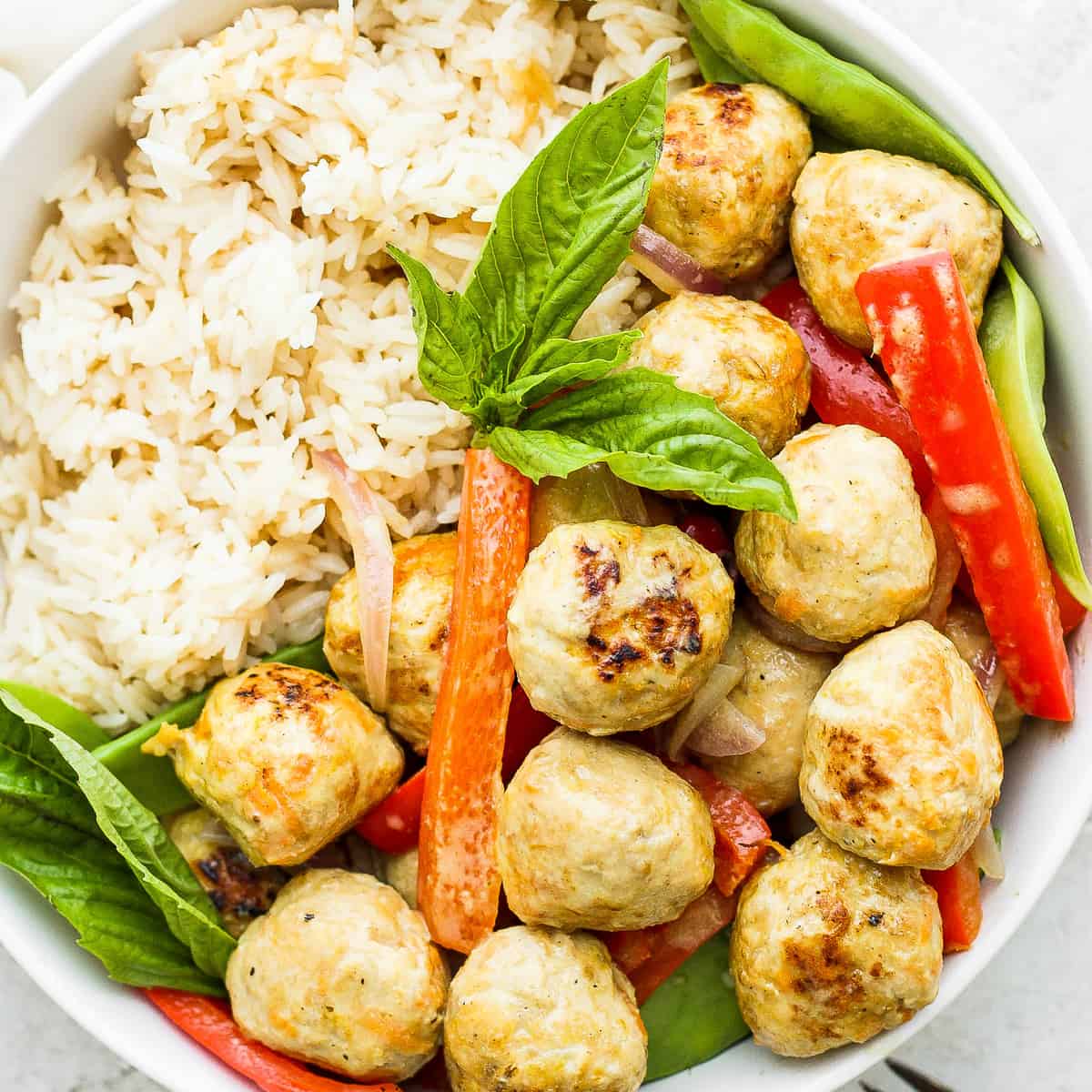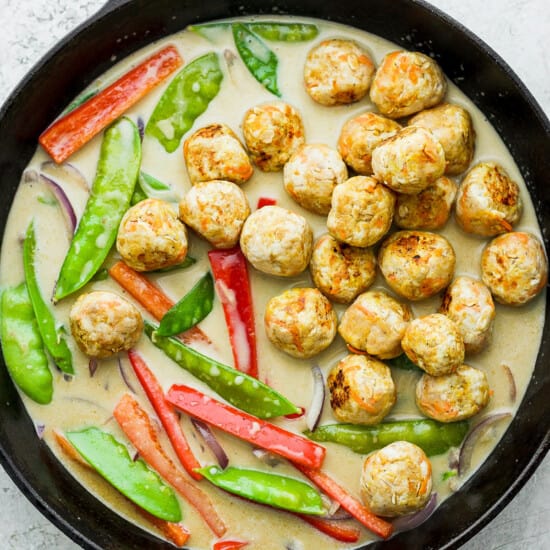 Green Curry Chicken Meatballs
These delicious curry meatballs are made with grated sweet potatoes and simmered in a delicious green curry sauce.
Ingredients
For the Meatballs
1

pound

ground chicken

1/4

cup

old fashioned rolled oats

gluten free if desired

1/4

cup

white whole wheat or gluten free oat flour

1

small sweet potato

grated (~1/2 cup, squeezed)

1

teaspoon

garlic powder

1/2

teaspoon

ground ginger

1/4

teaspoon

ground turmeric

1/2

teaspoon

ground cumin

1/4

teaspoon

salt

1/8

teaspoon

pepper

1

tablespoon

olive oil
Instructions
Preheat oven to 375ºF.

In a large bowl, mix together all ingredients for the meatballs (except for olive oil).

Heat a large, oven safe skillet over medium heat and add olive oil to the pan. Then, using a tablespoon cookie scoop, scoop out mixture and mold into a ball with your hands. It works best if your hands are slightly moist with water. Place in skillet. Repeat.

Brown meatballs for 4-5 minutes (you don't want them to be fully cooked). Remove from heat. Set meatballs aside.

In a separate mixing bowl, mix coconut milk, curry paste, lime juice, dragon sauce, and salt and pepper. Set aside.

Heat olive oil in the same skillet you used for the meatballs. Add red onion, red pepper and snow peas. Sauté vegetables for 2 minutes. Add coconut curry sauce to the pan. Bring to a boil.

Add browned meatballs to the skillet so they are sitting in the curry mixture. Place in the oven and bake at 375ºF for 15 minutes.
Nutrition facts
Calories:
364
kcal
Carbohydrates:
18
g
Protein:
17
g
Fat:
25
g
Fiber:
3
g
Sugar:
3
g
Photography: photos taken in this post are by Erin from The Wooden Skillet.