Crispy, simple, homemade chicken nuggets made with a delicious breadcrumb topping and loads of flavorful spices.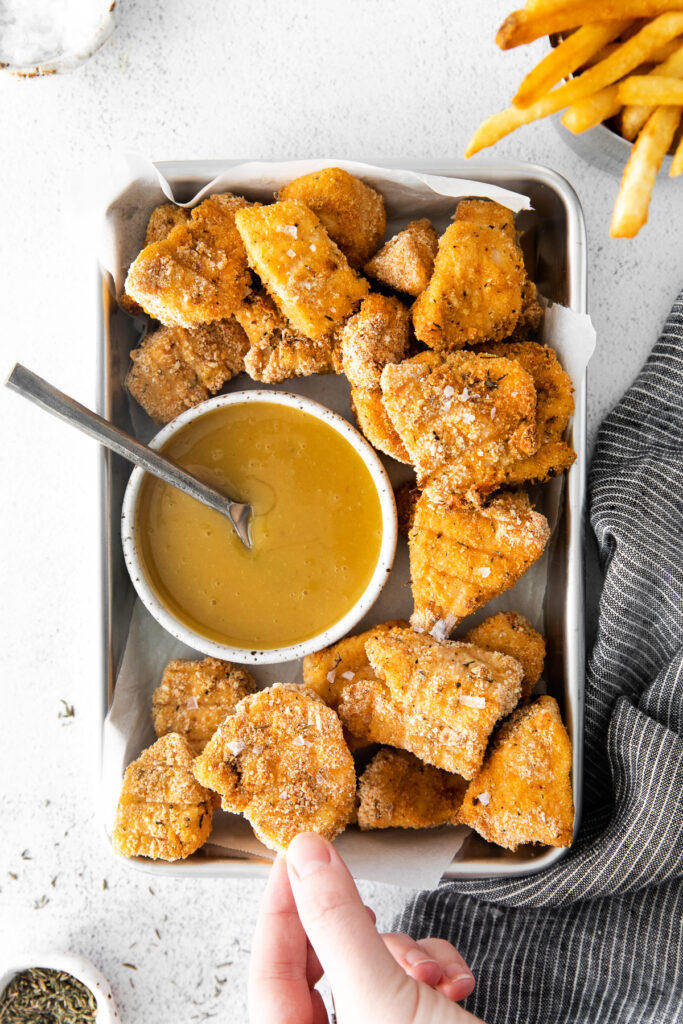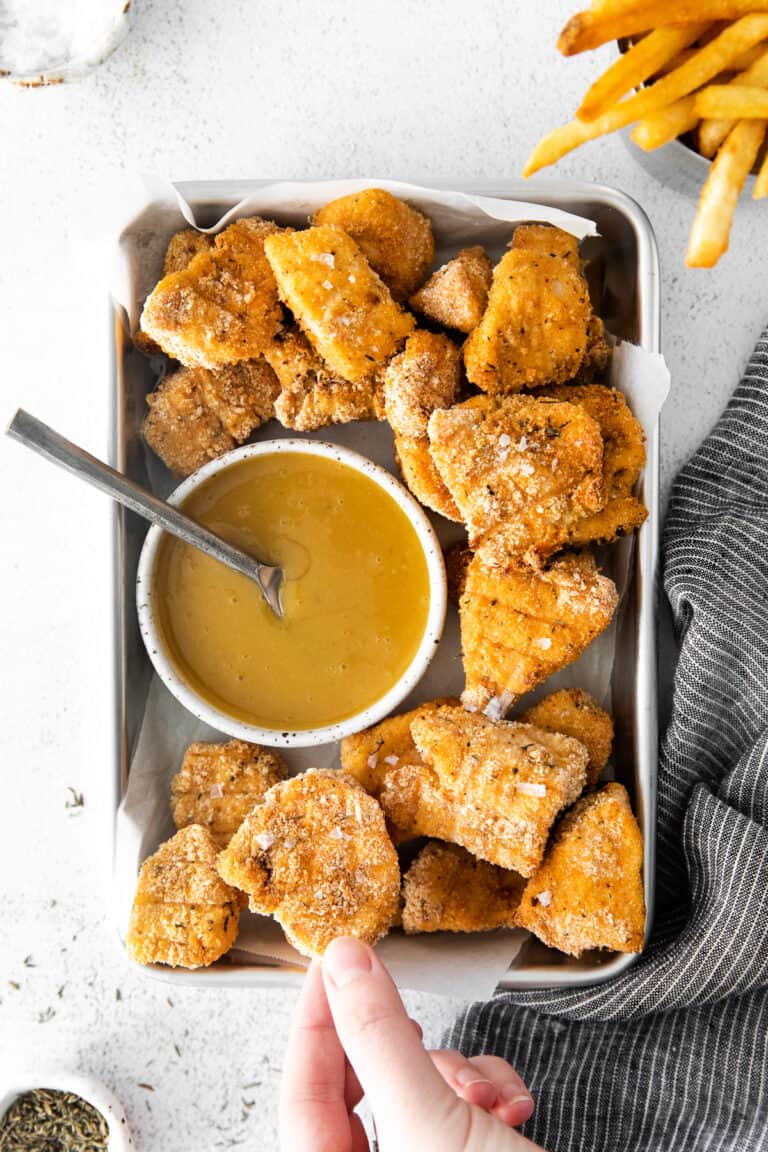 Best Baked Chicken Nuggets
Growing up we were a McDonald's chicken nugget kind of family. Heck, I still am a chicken nuggets (and tenders) person! I've been loving our Air Fryer Chicken Tenders with a side of Crispy Baked Sweet Potato Fries, lately.
Today we're teaching you how to make a simple, at-home chicken nuggets recipe that is made in the oven! They're coated in an egg wash, then dredged in a yummy breadcrumb mixture, and finally crisped up in the oven to perfection,
This chicken nuggets recipe is
Ready in 30 minutes
Easy to freeze
Kid-friendly
High-protein!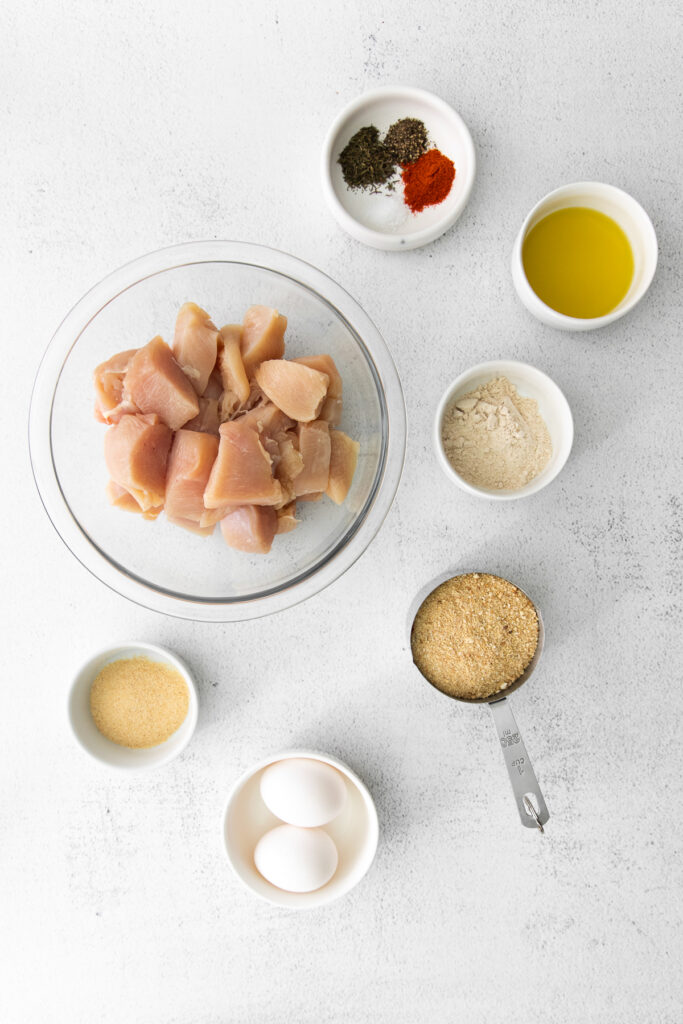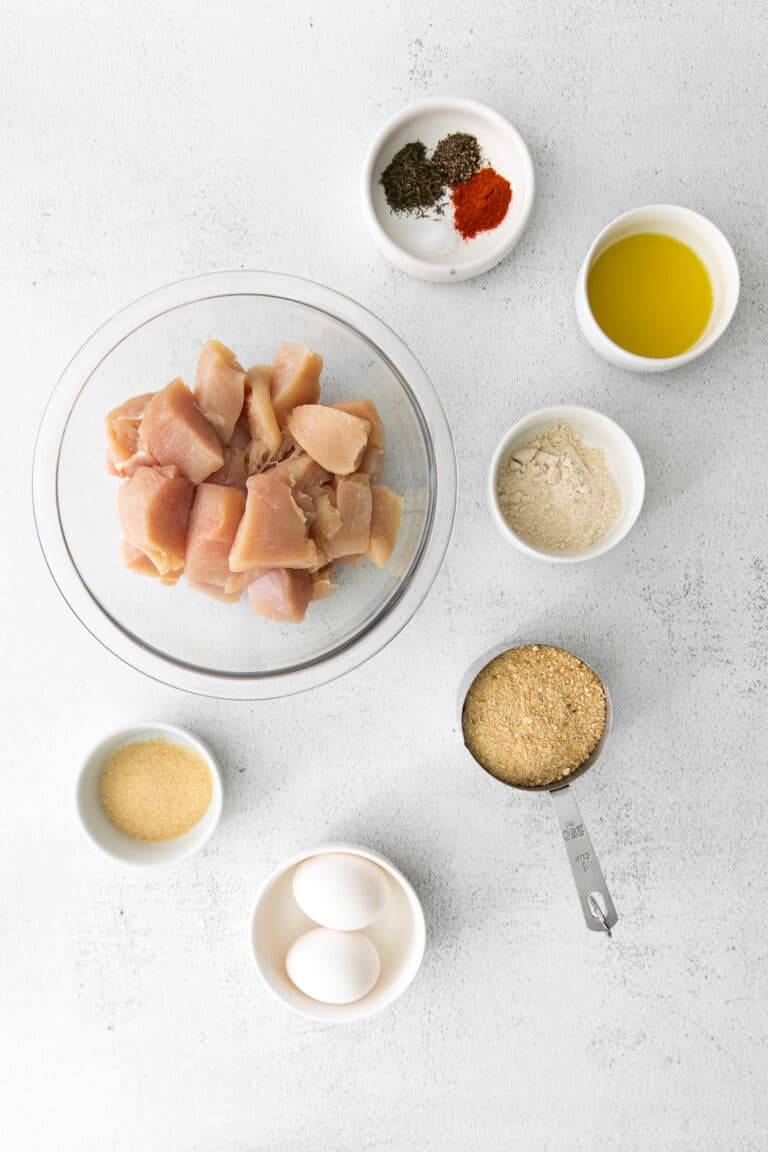 Tools You Need
No worries, you don't need any crazy kitchen tools like air fryers or Instant Pots for this chicken nuggets recipe! Here are a few kitchen tools you do need:
Ingredients for Crispy Chicken Nuggets
Chicken breast: white meat is best when making homemade chicken nuggets. Make sure to buy boneless, skinless chicken breast.
Breadcrumbs: for this recipe, you can either use plain breadcrumbs, whole wheat, or gluten-free. Any of these options will work. Heck, you could even use Italian-flavored breadcrumbs!
Eggs: eggs are used as an egg wash to make sure the breadcrumb topping sticks.
Olive oil: olive oil helps crisp up the breadcrumbs. Don't skip this part!
Spices: spices used in the topping include garlic powder, thyme, paprika, salt, and pepper. Feel free to add whatever else you are craving.
Make them spicy!
Like your chicken nuggets a little bit spicy? Try adding a little of the following:
red pepper flakes
smoked paprika
cayenne pepper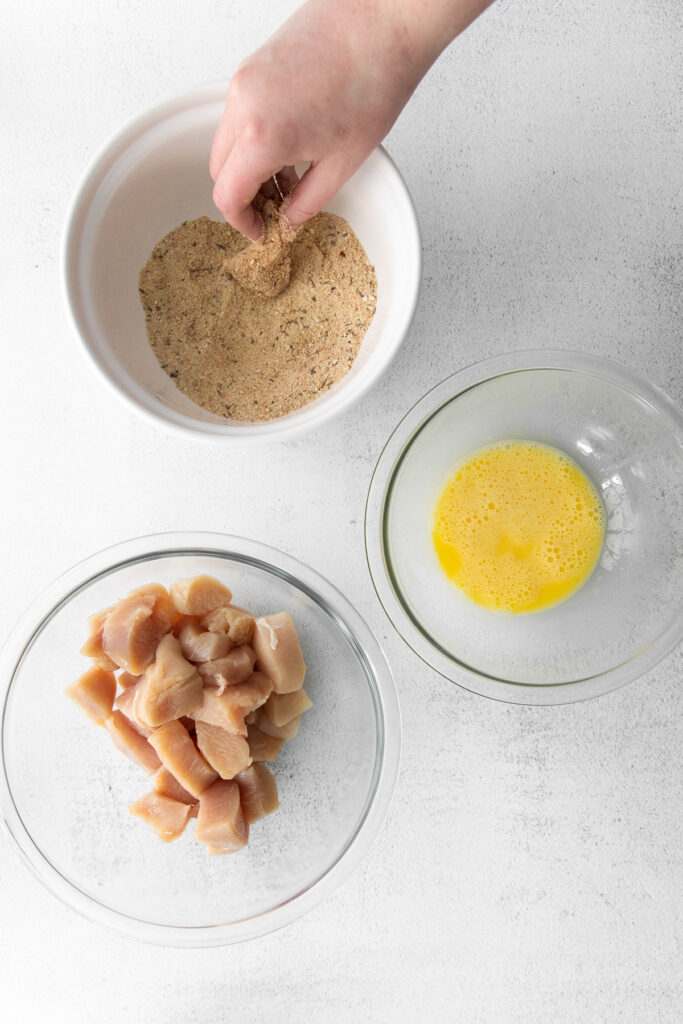 How to Make Baked Chicken Nuggets – The Rundown
Cut chicken: first, slice the chicken breast into nuggets. We cut ours into 1-inch-thick nuggets.
Dip in egg wash: dip each nugget into an egg wash.
Dredge in breadcrumb topping: dredge the chicken nuggets into the breadcrumb topping. It's best to do this one at a time to make sure things don't get soggy.
Drizzle with olive oil: arrange chicken nuggets on a wire rack that is situated on top of a baking sheet. Drizzle them with olive oil.
Bake: bake chicken nuggets at 400ºF for 14-16 minutes flipping around halfway through or until they reach an internal temperature of 165ºF.
Do I have to use a wire rack?
Always use a wire rack when making homemade chicken nuggets. I repeat, always use a wire rack! The rack lifts the chicken off of the baking sheet, which prevents them from getting soggy.
Can I cook these in the air fryer?
Yes! You can make these homemade chicken nuggets in the air fryer.
Spray the basket of your air fryer with nonstick cooking spray.
Cook the chicken nuggets in batches by spread out the breadcrumb coated chicken nuggets on the bottom of the basket, making sure they aren't touching.
Air fry at 400ºF for 4 minutes. Flip the nuggets over and air fry for 1 more minute,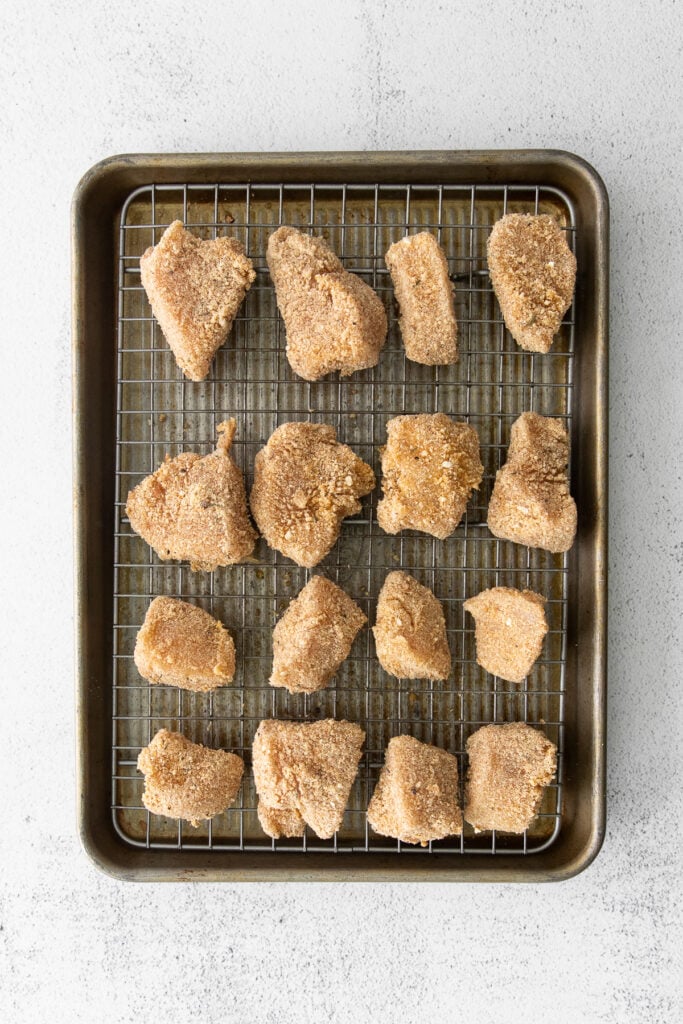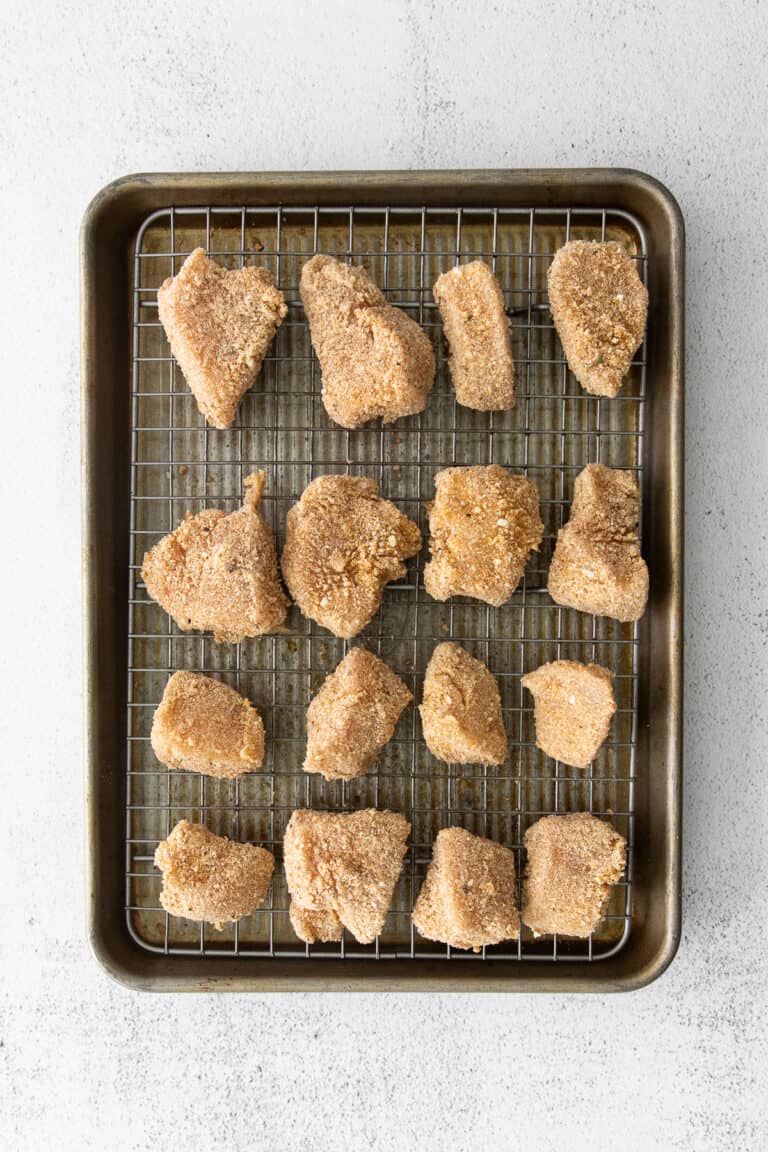 Top Tips to Get Perfect Crispy Chicken Nuggets
Sizing matters: make sure to cut your chicken nuggets around the same thickness so that they bake evenly.
Always use a wire rack: love that crunchy, crispy texture of classic chicken nuggets? The way this is achieved is by using a wire rack. By using a wire rack, heat can circulate around the entire chicken nuggets, making them nice and crispy.
Use oil instead of cooking spray: we tested spraying the chicken nuggets with cooking spray, but the best result was with a drizzle of olive oil.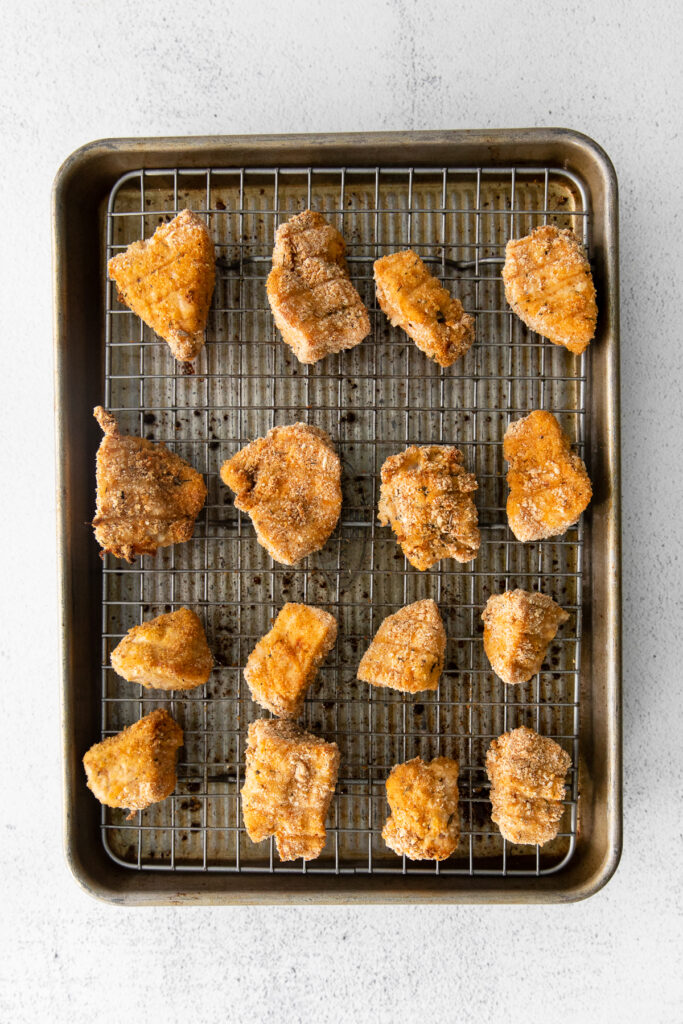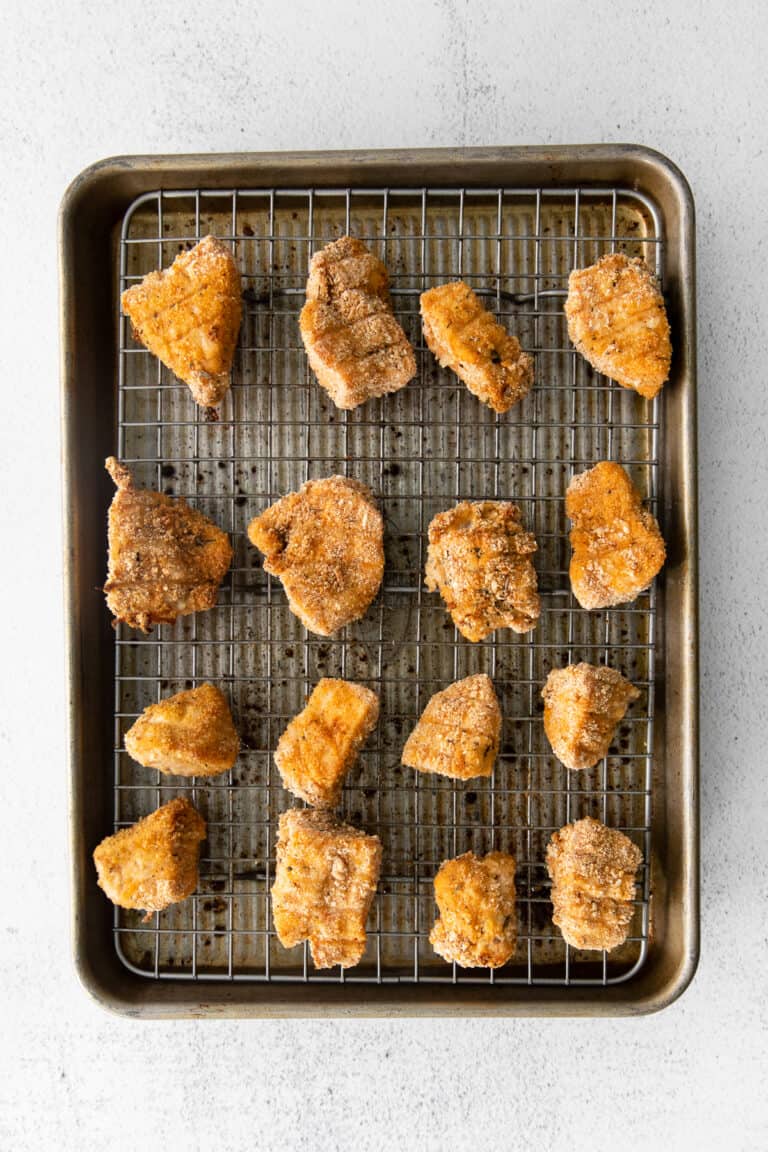 Sauce Ideas
Chicken nuggets aren't chicken nuggets without something to dip them in. Here are some of our favorite homemade sauces to pair your nuggets with!
Ketchup and honey are always a good idea, too! And, my personal favorites.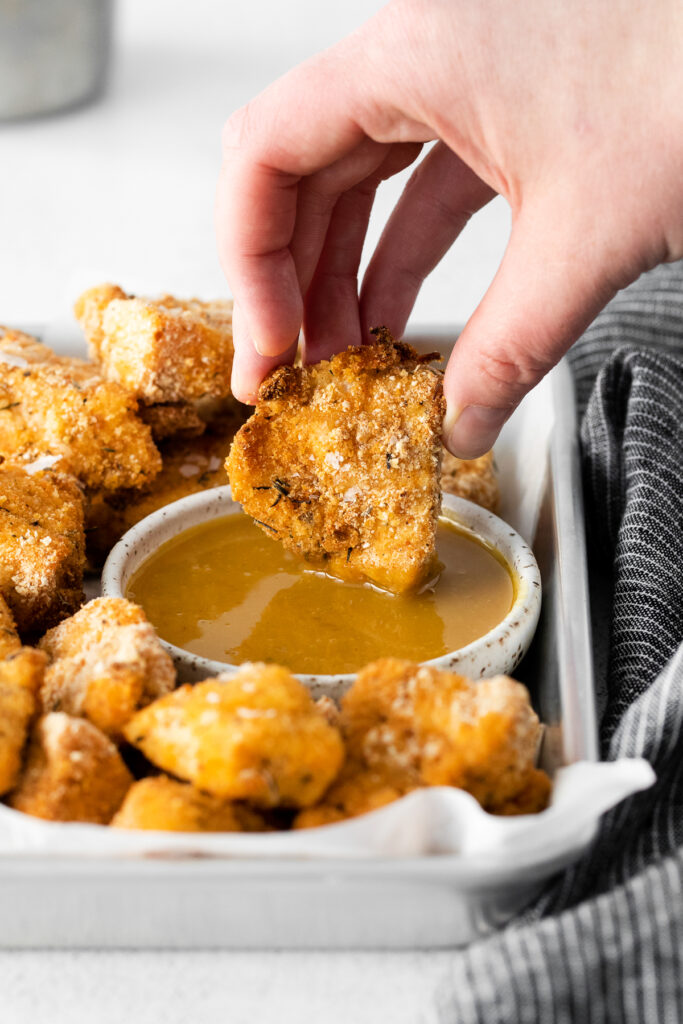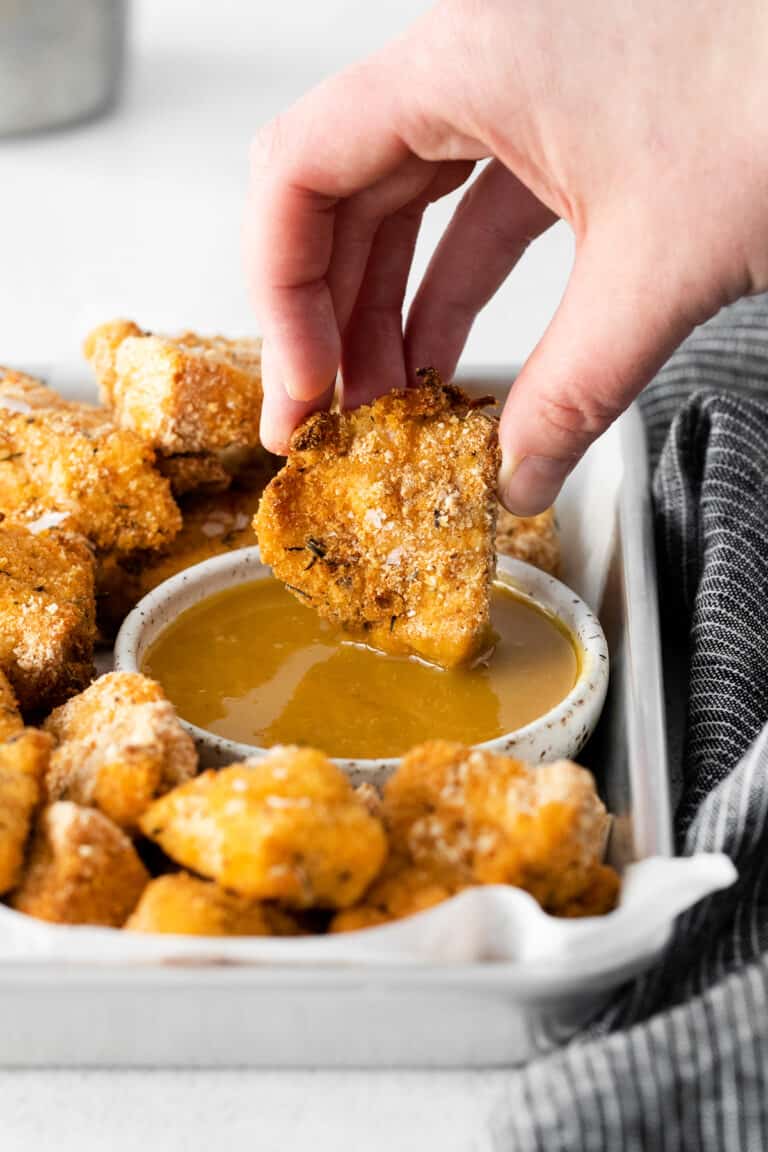 Storage
Got leftovers? Simply let your baked chicken nuggets cool completely. Then, transfer them into an airtight container and store them in the fridge for up to 3-5 days.
Can I freeze chicken nuggets?
Let chicken nuggets cool completely.
Then, transfer them to a baking sheet.
Freeze for 1 hour.
Then, transfer them into an airtight container or gallon-size plastic bag.
Freeze for up to 3 months.
quick tip!
Easily double or triple this recipe so that you can freeze them for later for easy access during your busy week.
Use the multiplication feature in our recipe card to easily multiply the recipe by 2x or 3x.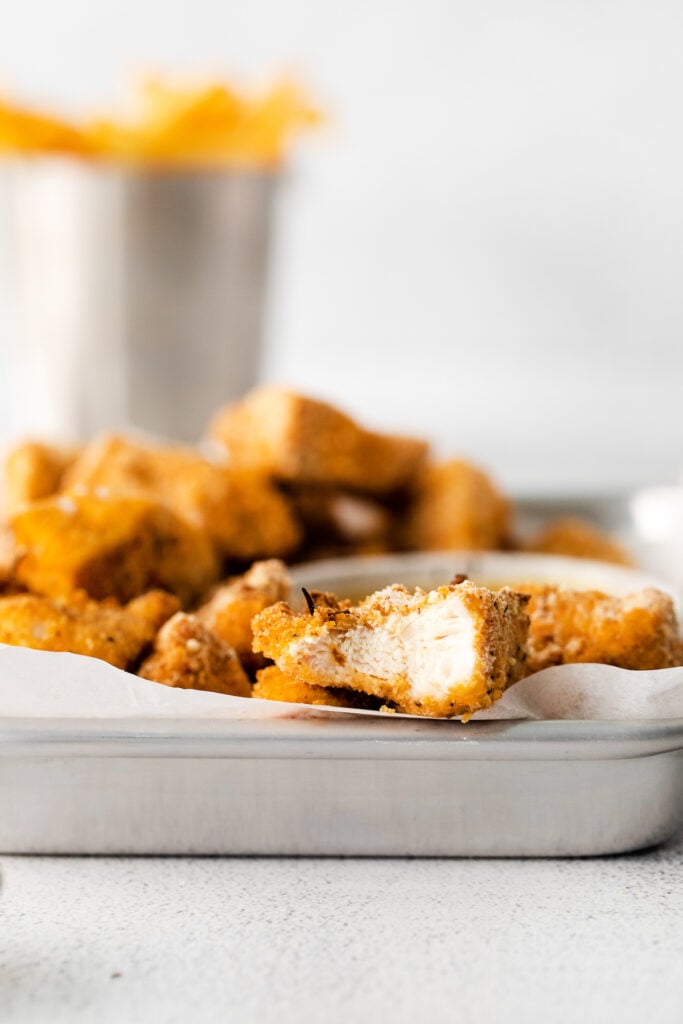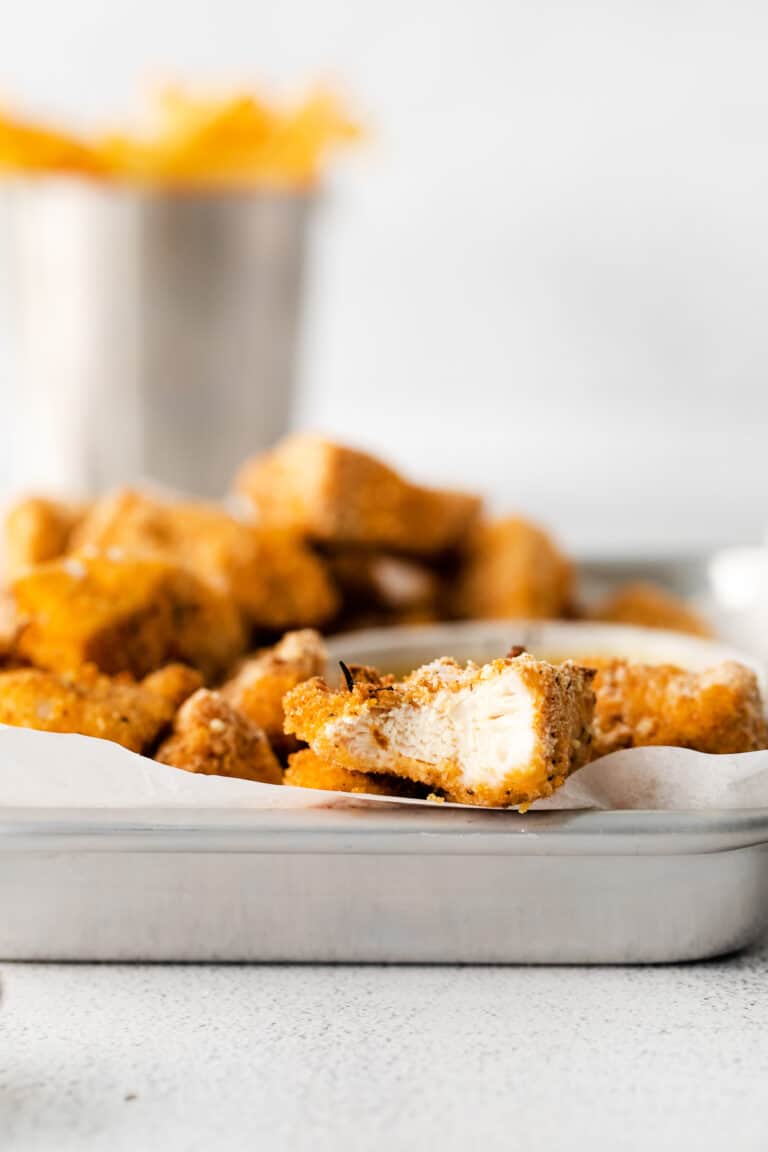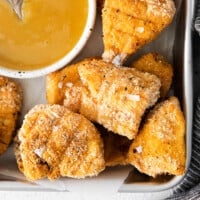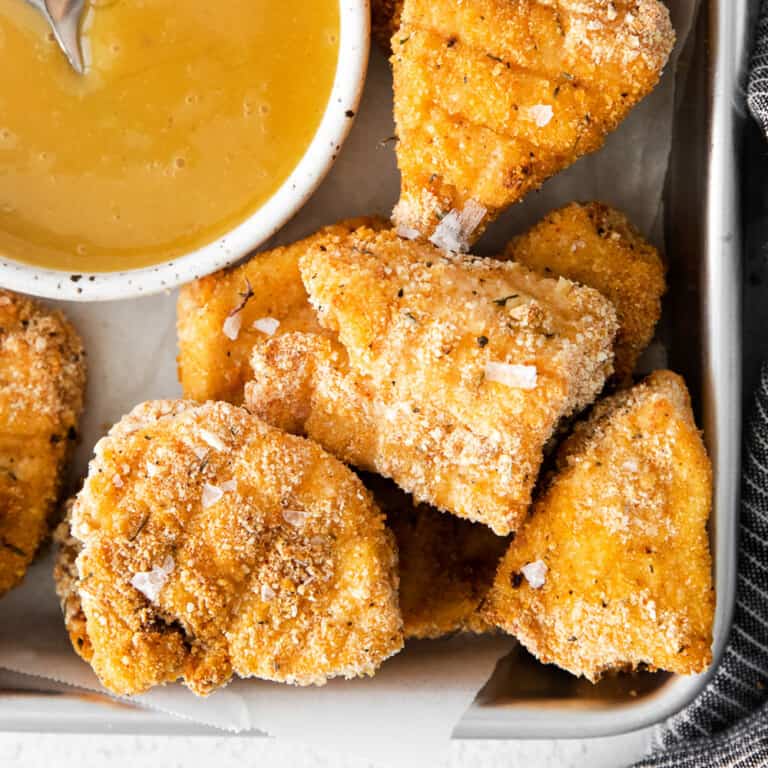 Homemade Chicken Nuggets
Homemade chicken nuggets are with chicken breast, an egg wash, and a yummy breadcrumb topping. Then, they're baked on a wire rack to get the ultimate golden brown, crispy chicken nuggets!
Instructions
Preheat the oven to 400ºF and place a metal rack on top of a baking sheet. Spray the rack with non-stick cooking spray. Set aside. 

Prepare the chicken breasts by cutting the chicken into 1-inch "nuggets." Set aside. 

Next, add the panko, flour, garlic powder, paprika, thyme, salt, and pepper to a large bowl and stir everything together until combined. 

Crack eggs into a separate bowl and whisk the eggs until combined. 

Then, dip each chicken nugget into the egg wash, completely coating each piece of chicken. Then, dip the nuggets into the bread crumb mixture, coating each side. It's easiest if you do this one at a time to make sure that the chicken gets fully coated.

Place the chicken nuggets on the cooling rack that is on the baking sheet. 

Drizzle the chicken nuggets with olive oil. 

Bake the chicken for 14-16 minutes, flipping the chicken tenders at around 7 minutes. 

Turn the oven to broil and broil the chicken nuggets for 1-2 minutes or until the chicken becomes golden brown.

Remove from the oven and enjoy with honey mustard, BBQ sauce, ketchup, or any other dip.
Tips & Notes
Nutrition information was calculated using 1.5 lbs. chicken breast and serves 6 people.
Nutrition facts
Calories:
234
kcal
Carbohydrates:
14
g
Protein:
31
g
Fat:
6
g
Fiber:
2
g
Sugar:
1
g