These homemade frozen burritos are so easy to make and a lifesaver when you don't know what to pack for lunch!
Make Ahead Burritos are the best kind of meal prep if you ask me! Check out some of our other popular freezer burritos >> Fajita Breakfast Burritos and Make Ahead Breakfast Burritos.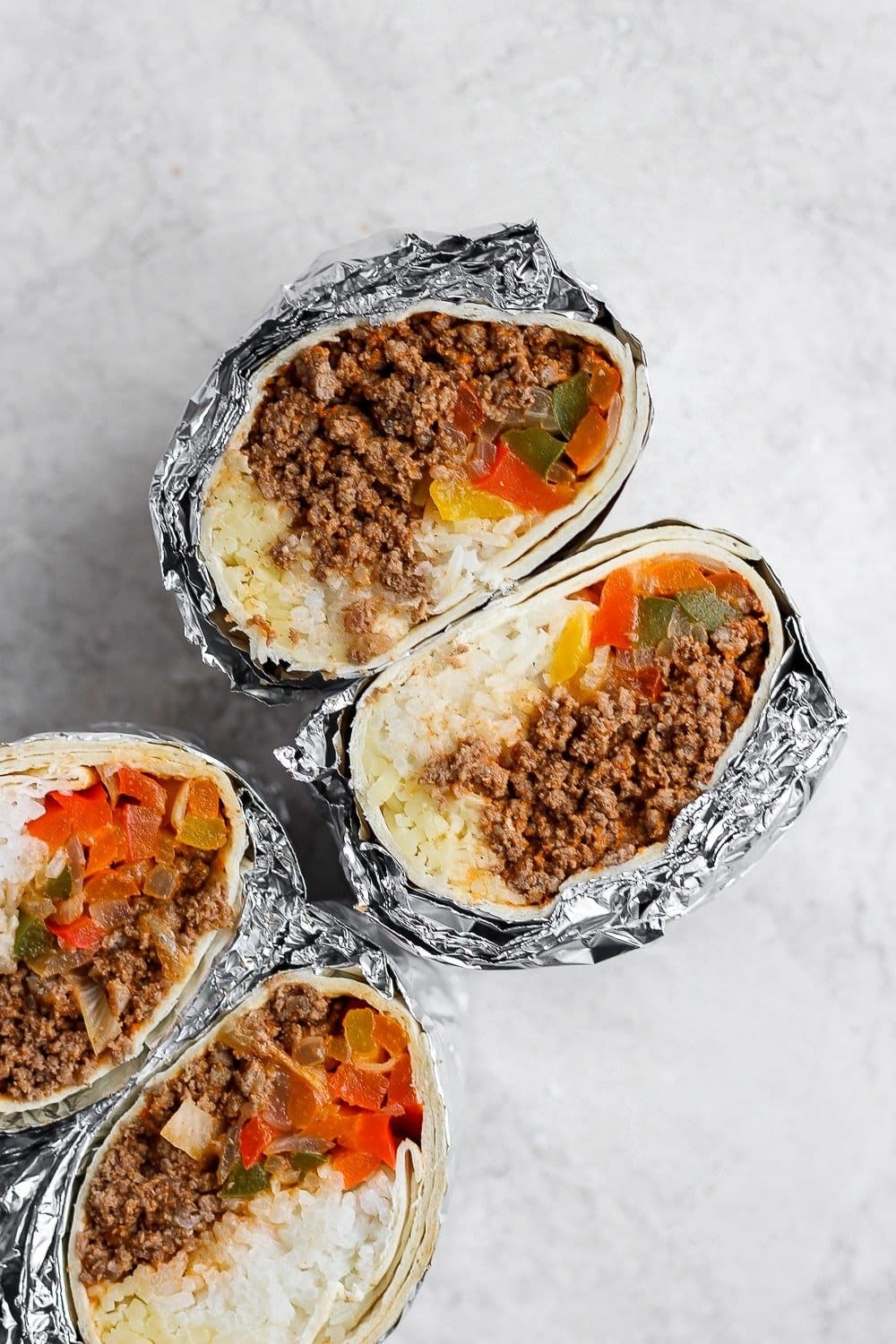 Take an hour out of your day to prep 16 of these make Homemade Frozen Burritos. They're made with beef, tons of veggies, and white rice. Bonus, they're THE BEST lunch meal prep ever!
Amazing Lunch Meal Prep
There is seriously nothing worse than waking up in the morning with "nothing to pack for lunch." That's why we love making meals just like these burritos because they're easy to freeze and thaw for lunch at work or school! Check out some other recipes that are good for freezing:
Are frozen burritos unhealthy? If you make your own make-ahead freezer burritos at home, they are going to be much healthier than the store-bought kind because you can monitor what goes in them!
How to Make Ground Beef Burritos
Step 1: All the Veggies
Fajitas actually inspired the veggies in these burritos. Re: adding fajita veggies to your burrito at Chipotle 😀 We kept things simple with peppers and onions and even repurposed more of our taco seasoning to flavor it!
Feel free to choose whatever kind of bell pepper and onion your heart desires. We got fancy and used 3 different colors of bell pepper and a yellow onion.
Method: instead of pan-frying these veggies, we actually decided to roast them on a baking sheet. The reason for this is that it's hands-free and super simple AND these an cook while you make the other components of these burritos on the stovetop!

Step 2: Rice
Now that your veggies are in the oven, it's time to get your rice cooking. We chose to use white rice for this recipe, but you can totally make this your own and use any grain!
Method: We used the stovetop, but you can also make one of these grains in your Instant Pot or really any method you prefer!
Step 3: Ground Beef
While your veggies are roasting and your rice is cooking, it's time to whip up your meat! We're super sneaky and actually used our ground beef taco meat recipe, cuz it's that good! All you need are 4 ingredients to make the best taco or burrito meat and it all starts with a good lb. of high-quality beef.
Method: The easiest way to brown ground beef is on the stovetop. It takes less than 10 minutes and doesn't need too much attention!

How to Wrap a Burrito
Wrapping a burrito is quite simple. The key here is making sure you use a tortilla that's big enough to fit all of your fillings! Our biggest tortilla tip is: use a flour tortilla! Corn + whole wheat tortillas don't hold-up as well as flour.
Place all ingredients in the center of your tortilla. Make sure they are quite compact. Then, take one end of your tortilla and fold it over the ingredients, slightly tucking it under the ingredients.
Then, fold outside ends in making sure nothing can fall and roll your burrito tightly to form a nice solid wrapping!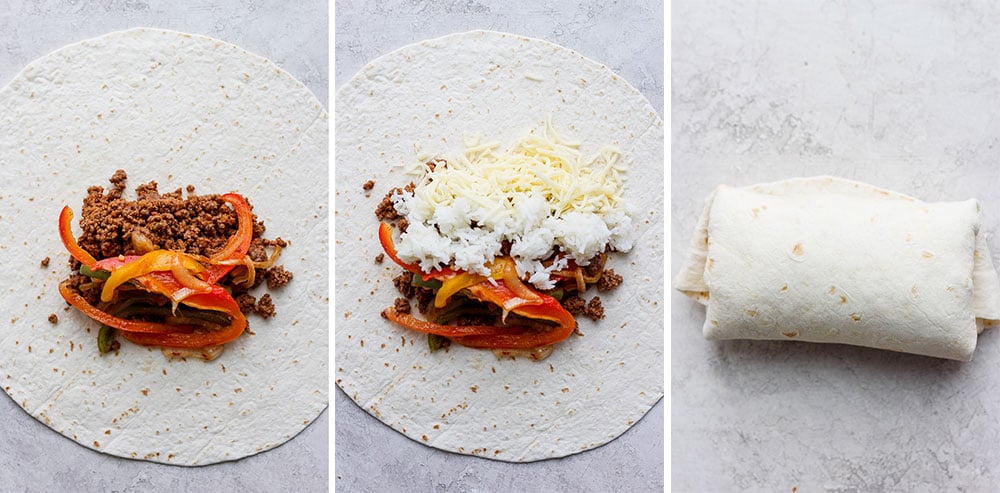 How to Freeze Burritos
Let burritos cool completely. This part is important because it will help prevent freezer burn.
Next, tightly wrap each burrito with a piece of tin foil, making sure there are no gaps and that the burrito is fully covered. Some people like to first wrap them with plastic wrap, but we don't think it's necessary.
Remove as much air as possible from in between the burrito and tin foil. This part also helps prevent freezer burn.
Use a Sharpie to write the name of the burrito and a "best-by date" (3 months from the time you make it) on each burrito.
Freeze for up to 3 months!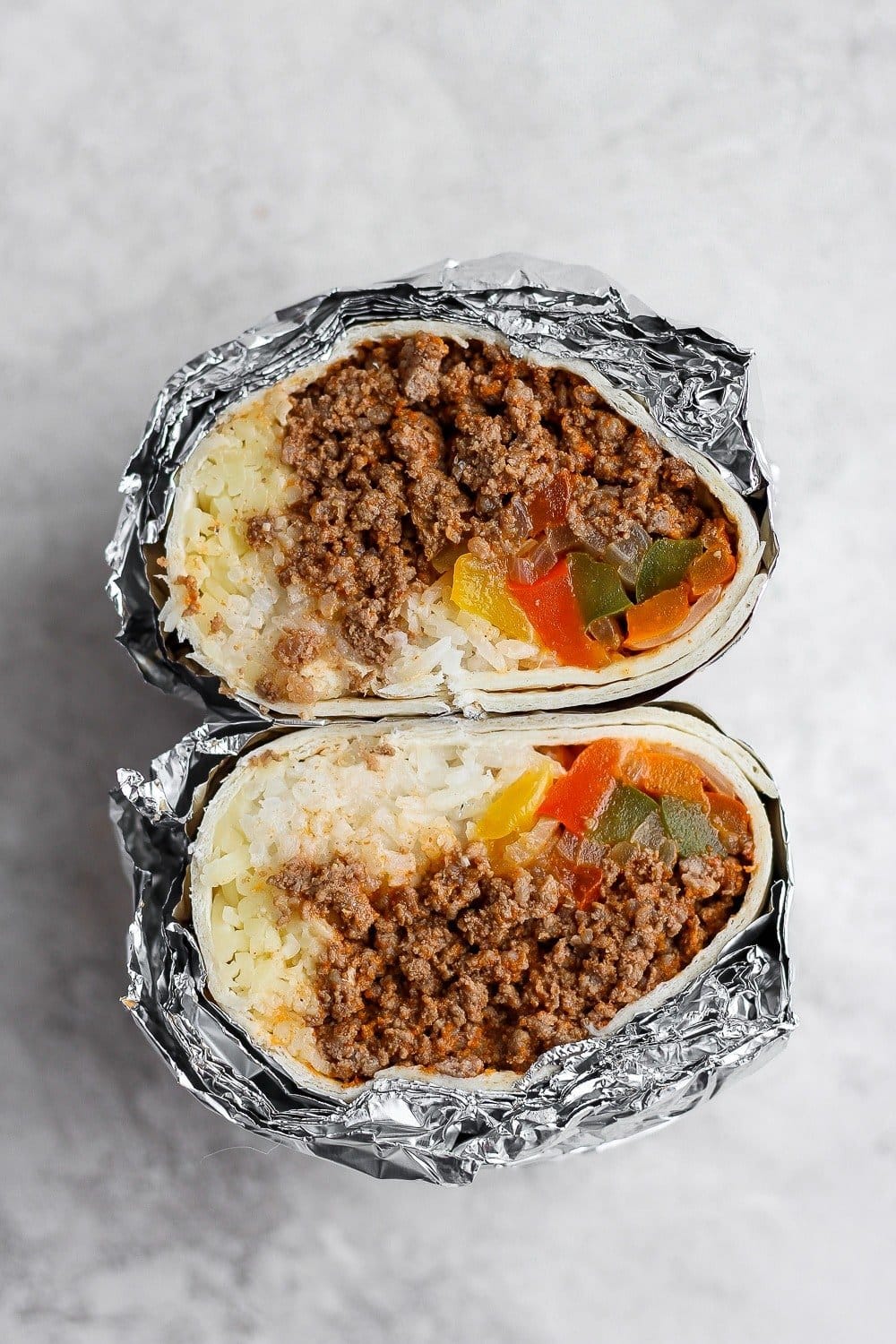 How to Reheat a Frozen Burrito
How long do you cook frozen burritos? The easiest way to reheat a frozen burrito is by first unwrapping the tin foil and then defrosting it in the microwave for a few minutes before microwaving on high for 1 – 2 minutes.
Oven option: this is where the tin foil comes in real handy! Preheat oven to 350ºF. Place frozen burrito(s) in the oven fully wrapped in tin foil. Bake for 30-40 minutes or until the burritos are thawed and hot.
More Freezer Burritos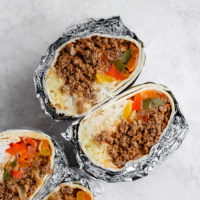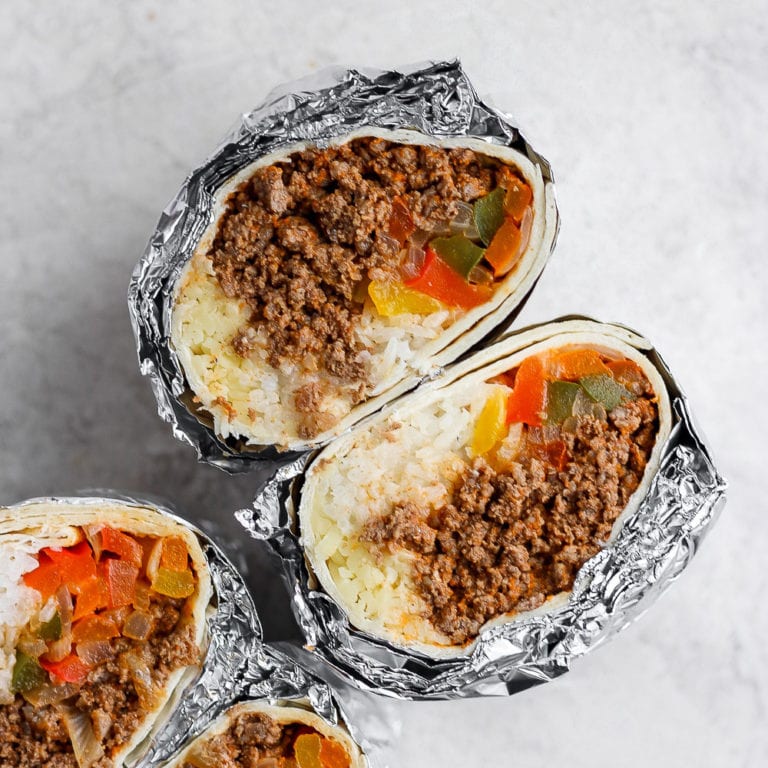 Make Ahead Freezer Burritos
These homemade frozen burritos are so easy to make and a lifesaver when you don't know what to pack for lunch!
Ingredients
Veggies
5

bell peppers

any color, thinly sliced

1

large yellow onion

thinly sliced

2

tablespoons

olive oil

2

tablespoons

taco seasoning
Rice
1

cup

long-grain white rice

2.25

cups

water
Beef
2

lbs.

85% ground beef

2

tablespoons

tomato paste

5

tablespoons

taco seasoning

¾

cup

water
Other
8

oz.

shredded white cheddar cheese

16

large flour tortillas
Instructions
Veggies
First, preheat oven to 375ºF.

Then, prepare bell peppers and onion by thinly slicing.

Place veggies on a large baking sheet and drizzle with olive oil.

Then, season with taco seasoning and toss.

Bake at 375ºF for 20-25 minutes or until onions become translucent.

Set aside.
Rice
Place 1 cup of white rice and 2.25 cups of water into a small bot.

Bring to a boil over medium/high heat.

Once boiling, reduce heat to low and cover. Let simmer for around 15-20 minutes or until all water absorbs.
Beef
While the veggies are cooking, heat a large nonstick skillet over medium/high heat.

Then, add in ground beef and saute for 7-10 minutes or until almost fully browned.

Add in tomato paste, taco seasoning, and water and continue cooking for a few more minutes until liquid reduces. 

Set aside.
Beef Burritos
Prepare beef burritos by laying out all 16 flour tortillas. 

Then, evenly distribute beef, veggies, and rice. 

Finally, sprinkle on a handful of cheese.

Tightly wrap each burrito by folding the sides in and rolling.

Then, wrap each individual burrito in a piece of tin foil and remove as much air as possible.

Store in the freezer for up to 3 months.
Nutrition facts
Calories:
384
kcal
Carbohydrates:
36
g
Protein:
19
g
Fat:
18
g
Fiber:
3
g
Sugar:
3
g