These crispy dry rub chicken wings are flavorful, perfectly crispy, and an amazing appetizer for any occasion! Throw them in the oven for your next party, you won't be disappointed.
Wondering what to serve with these amazing dry rub chicken wings? We like to serve our wings with crunchy celery and dip them into our favorite greek yogurt blue cheese dip.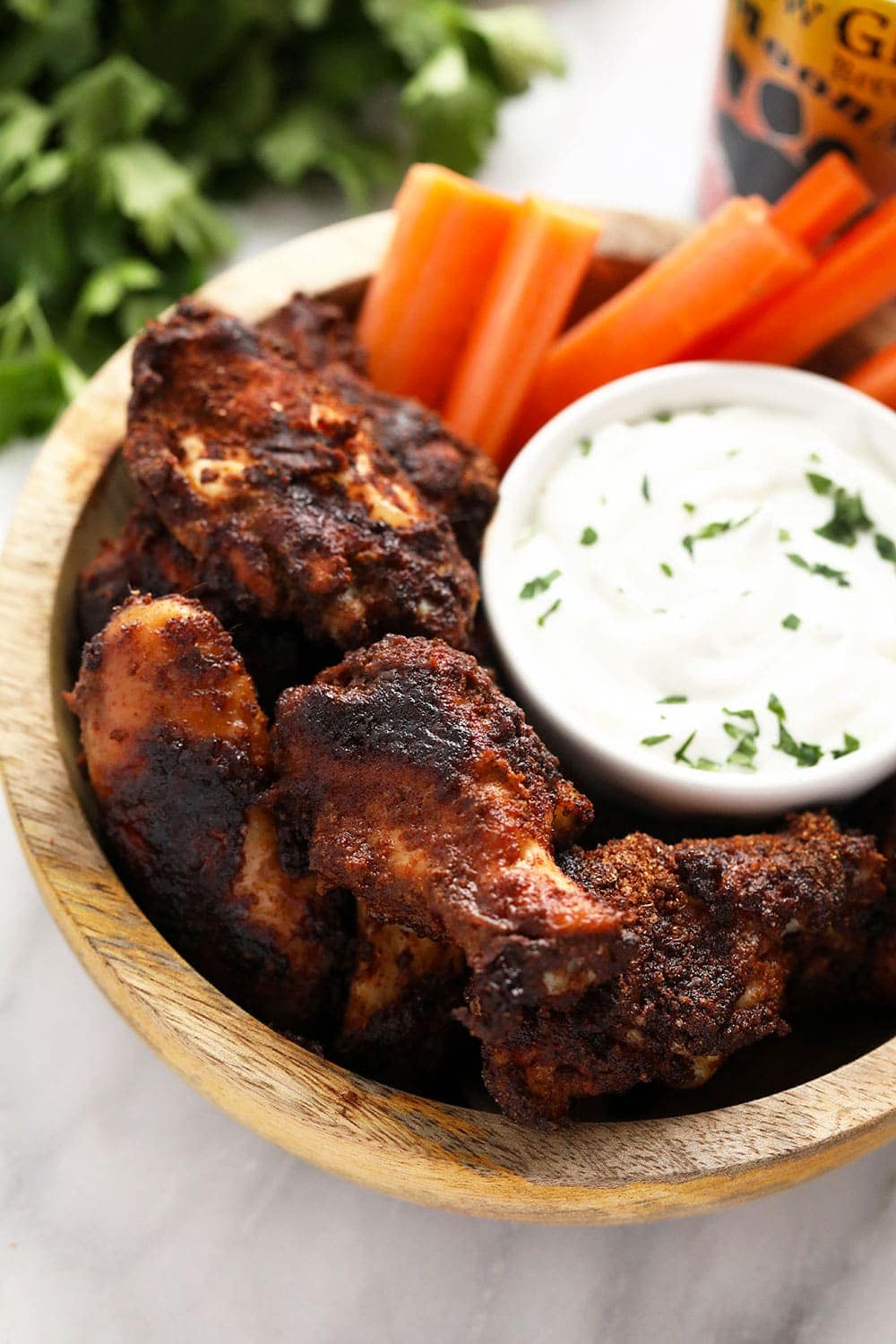 It's Wing Ding Time
Wings. They are a classic appetizer that so many of us crave on game day! Whether you are all about the game on game day or are just in it for the food, you have got to give these delicious dry rub chicken wings a try!
I love wings all of all kinds! I don't discriminate against hot sauce wings or dry rub chicken wings. Give me a delicious honey BBQ wing, teriyaki or Asian-style wings, or a garlic butter wing (truly the flavor options are ENDLESS!), and a good dip and I'm all set.
Our classic buffalo wings are a favorite Fit Foodie Finds classic recipe and we thought it was time to add dry rub chicken wings to the collection. And? WE LOVE THEM!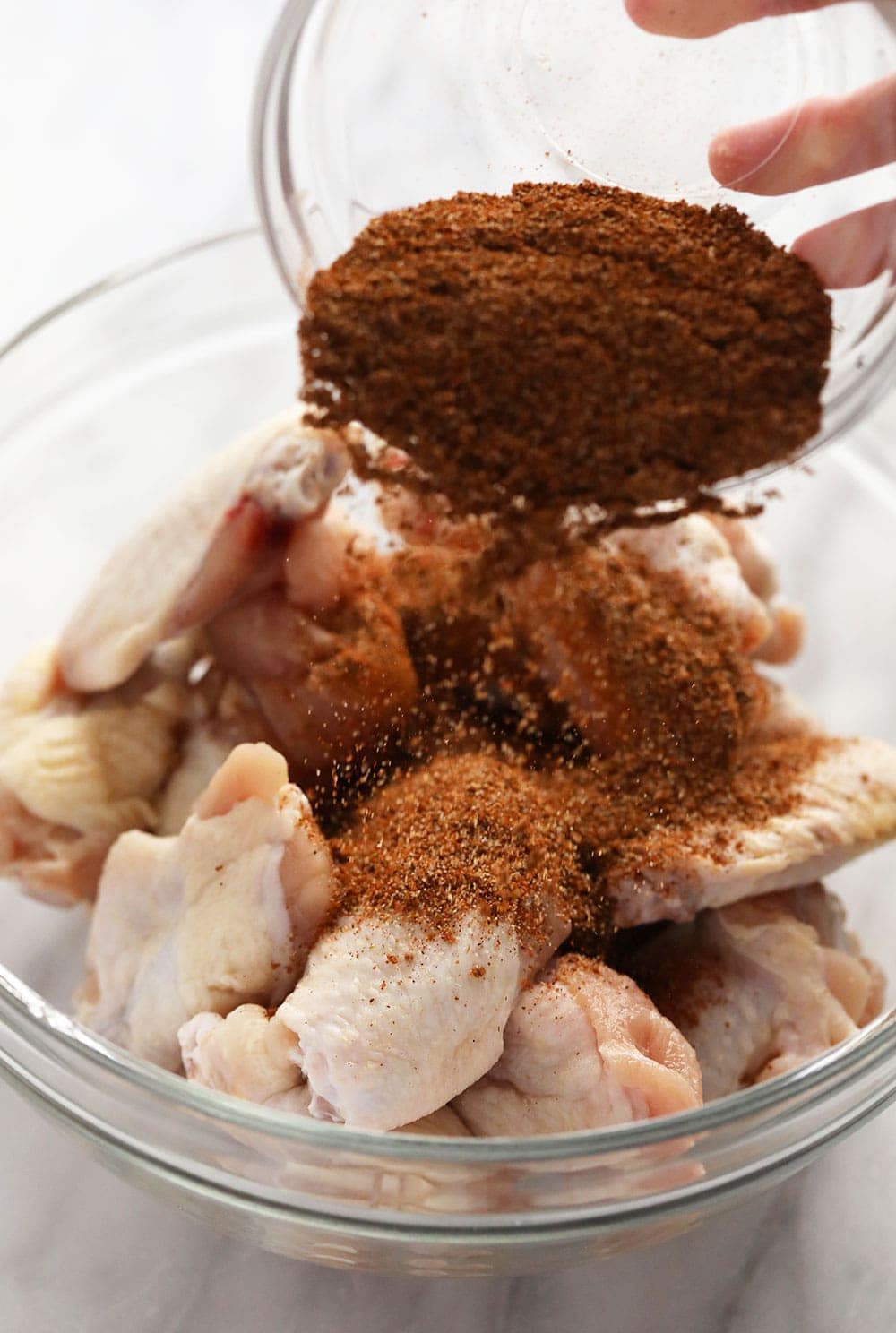 The Perfect Game Day Recipe
Why should you make these chicken wings for your next game day? Let me count the reasons.
Bake or Fry? These dry rub chicken wings are baked, NOT FRIED. They are a healthier appetizer option or any of your entertaining needs.
Easy Dry Rub: If you're looking for a dry rub chicken wing with a ton of flavor, this is your wing. You probably have everything you need in your pantry to make the dry rub for this wing!
Quick and Easy: Not only are these wings delicious, but they are easy to make. Because we're using a dry rub, there's no need to marinade the wings for a long period of time before baking. Once you coat your chicken drums and drumettes in dry rub, they bake for 30-45 minutes. While the wings are baking you have plenty of time to relax or prepare another healthy appetizer before the big game!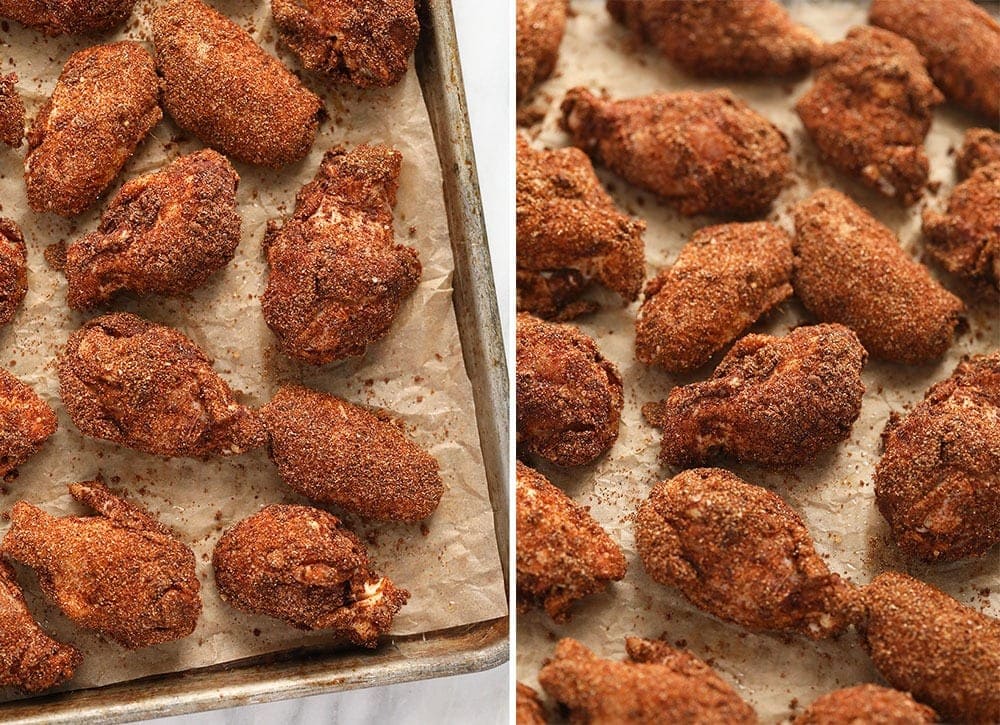 The Best Dry Rub for Chicken Wings
Now, before we talk about the best way to prepare dry rub chicken wings, lets talk about the dry rub! We use our homemade dry rub for chicken on mostly everything, but especially on chicken wings! Our dry rub for chicken is the perfect combination of smoky, savory, and sweet!
Tips + Tricks for a Good Dry Rub
There are a few things we like to keep in mind when we are mixing up a dry rub for chicken wings.
Use an array of spices: Make sure you have a balanced array of spices we like to use savory spices like chili powder, paprika, ginger, garlic powder, etc.) and balance it out with a little sweetness from coconut sugar, brown sugar, or cinnamon!
Sweetness balances out the spice and the sugar caramelizes a bit in the oven which gives the chicken wing skin perfect crispiness!
Add Your Own Spice: Our dry rub for chicken wings is not very spicy! However, if you are a spicy person feel free to add a bit of chipotle powder or cayenne pepper for a little extra heat.
Keep a batch on hand: We like to make a double (or even triple) batch of dry rub so we can have a jar of dry rub on hand for a last minute chicken wing craving!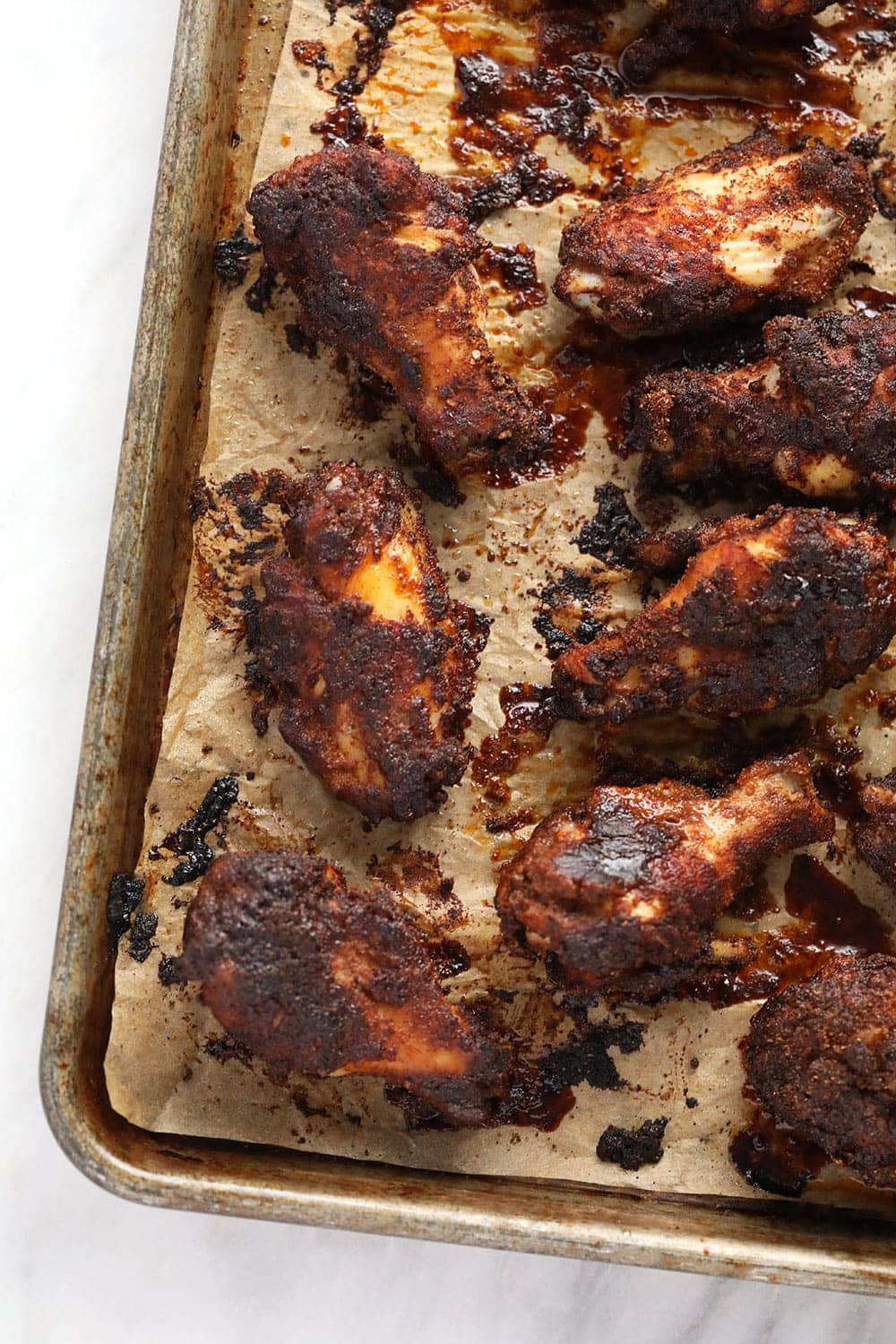 How to Make the CRISPIEST Chicken Wings
Who wants a soggy chicken wing? Nobody! Our goal was to make a delicious dry rub wing that was flavorful and crispy! Here's how we did it…
Make sure you remove all access moisture from the chicken wings by plotting them with a paper towel.
The spices act as a sort of crispy crust on the chicken wings so we suggest tossing the chicken wings in half of the spice rub and then individually dipping each wing in the remaining dry rub for optima crunch.
Some people like to put a wire rack onto a baking sheet and bake the wings on top of that. If that is your jam, go for it! we like to bake our wings right on a pan or on parchment and flip them every 10-15 minutes so each side gets a turn to be crispy!
Dry Rub Chicken Wings – Q&A
How do I keep chicken wings warm and crispy?
When your wings are done baking, feel free to keep them in the oven on low heat until you are ready to serve them. If you want them to crisp up a bit more, try broiling them for 2-3 minutes!
What dry rub is best for crispy wings?
We love our dry rub for chicken. It has amazing flavor and is the perfect dry rub for these wings! However, any of the dry rubs below would be amazing on chicken wings, too!
What is the best dip for chicken wings?
The greek yogurt + cream cheese dip we whipped up for these chicken wings is seriously amazing, but if you prefer another wing ding dip, here are some other great options!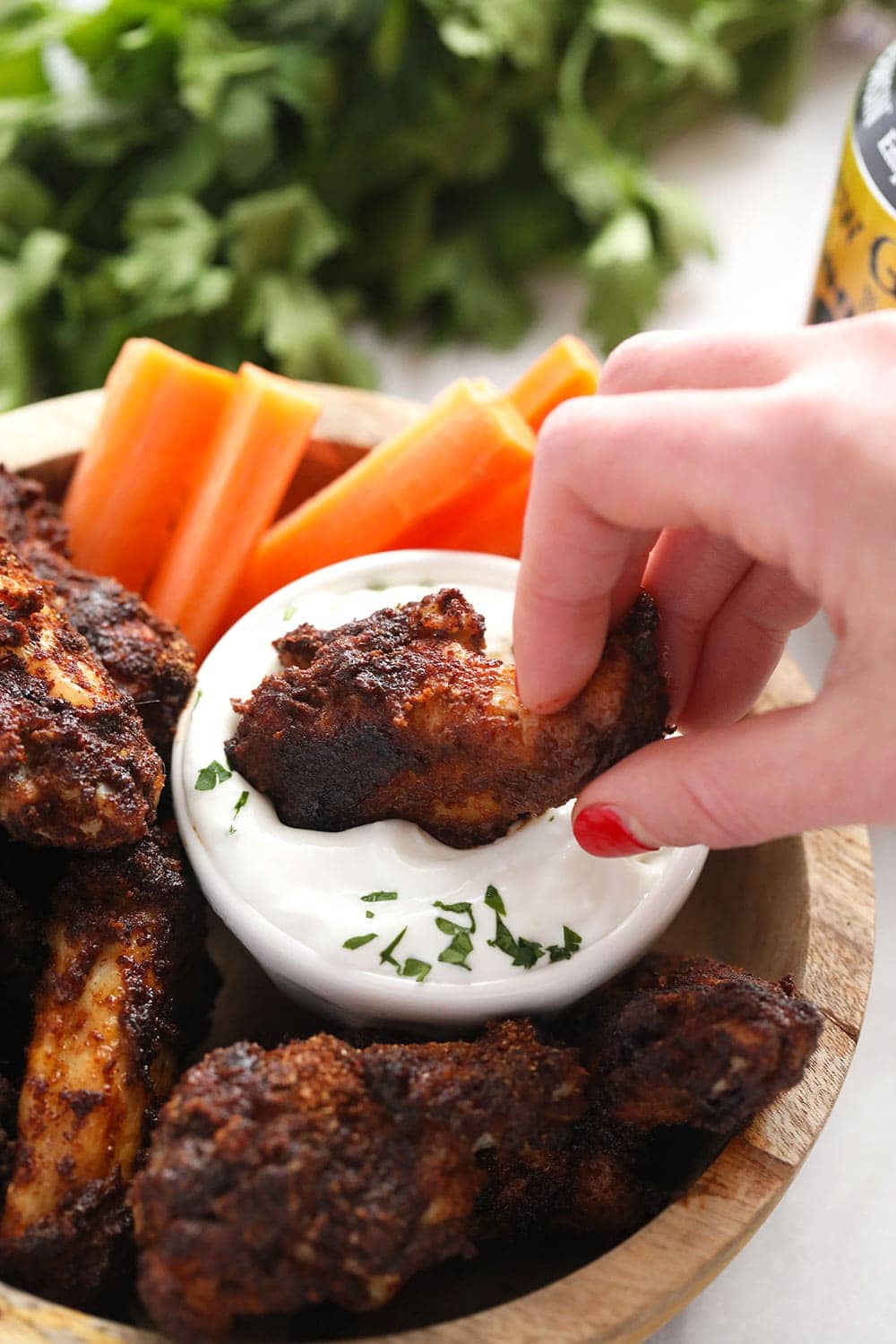 How do I reheat chicken wings?
To reheat these wings, set your oven to 325ºF and bake the wings for 15-20 minutes. If you would like to crisp them up a bit more, broil them for 2-3 minutes after you warm them up.
What do I serve with chicken wings?
These crispy chicken wings are a great appetizer to serve on their own with a blue cheese dip or ranch dressing, but we love jazzing up our wing spread with the following:
Celery sticks
Carrot sticks
​Green onion
Broccoli salad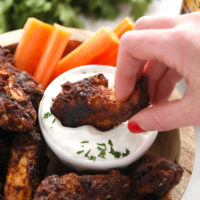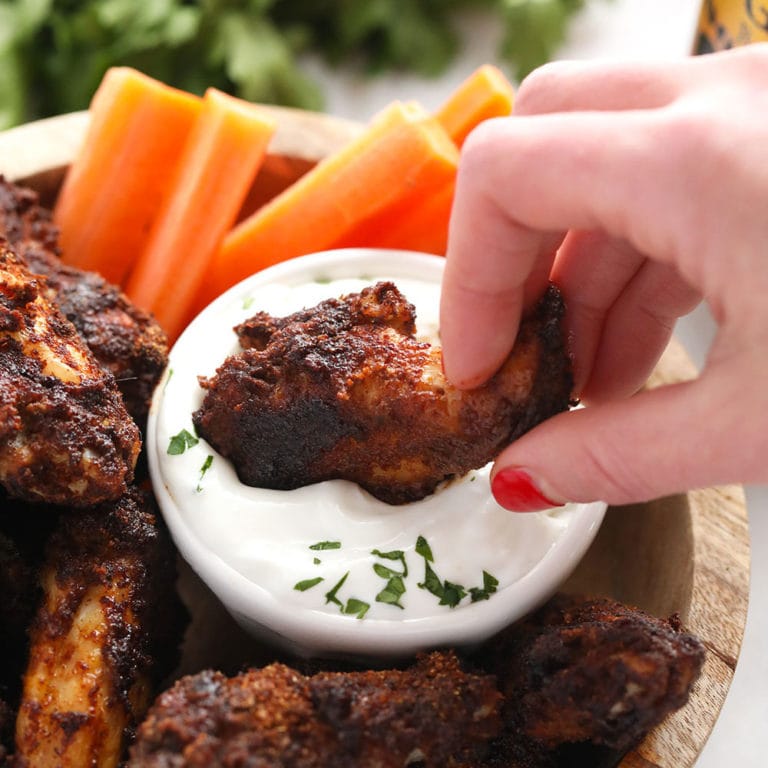 Dry Rub Chicken Wings
These crispy dry rub chicken wings are flavorful, perfectly crispy, and an amazing appetizer for any occasion! Throw them in the oven for your next party, you won't be disappointed.
Instructions
First, preheat the oven to 400ºF and spray a baking sheet with non-stick cooking spray or cover with tin foil. Set aside.

Next, remove thawed chicken wings from the refrigerator and use a paper towel and pat chicken wings to draw out excess moisture. Taking extra moisture out of the chicken wings will help them crisp up. Set chicken wings aside.

Prepare our homemade chicken dry rub by placing all of the spices into a medium-sized bowl and mix. This recipe calls for around 1/2 cup of dry rub which is 2 batches of our homemade dry rub.

Now it's time to coat the chicken wings. Take one chicken wing and dip it into the dry rub mixture, making sure the wing is completely covered on both sides. Place the wing on the greased baking sheet. Repeat until all chicken wings are completely covered in dry rub.

Drizzle olive oil over the chicken wings (or spray with nonstick cooking spray) and place the baking sheet in the oven and bake at 400ºF for 15 minutes. Flip the chicken wings and bake for an additional 15 minutes*.

Remove from the oven and serve with blue cheese dressing.
Tips & Notes
Bake time: our chicken wings were on the smaller side. You may need to continue baking depending on how large your chicken wings are.
Nutrition facts
Calories:
325
kcal
Carbohydrates:
2
g
Protein:
25
g
Fat:
24
g
Fiber:
0
g
Sugar:
1
g