Ever heard of beer brats? Beer boiled brats are by far the most delicious way to cook brats. Start by boiling your brats in beer and then finish them off with a sear on the grill, some ketchup & mustard, and relish too!
In this post, we are teaching you how to cook beer brats. We're also sharing some tips and tricks to getting perfect beer boiled brats every time.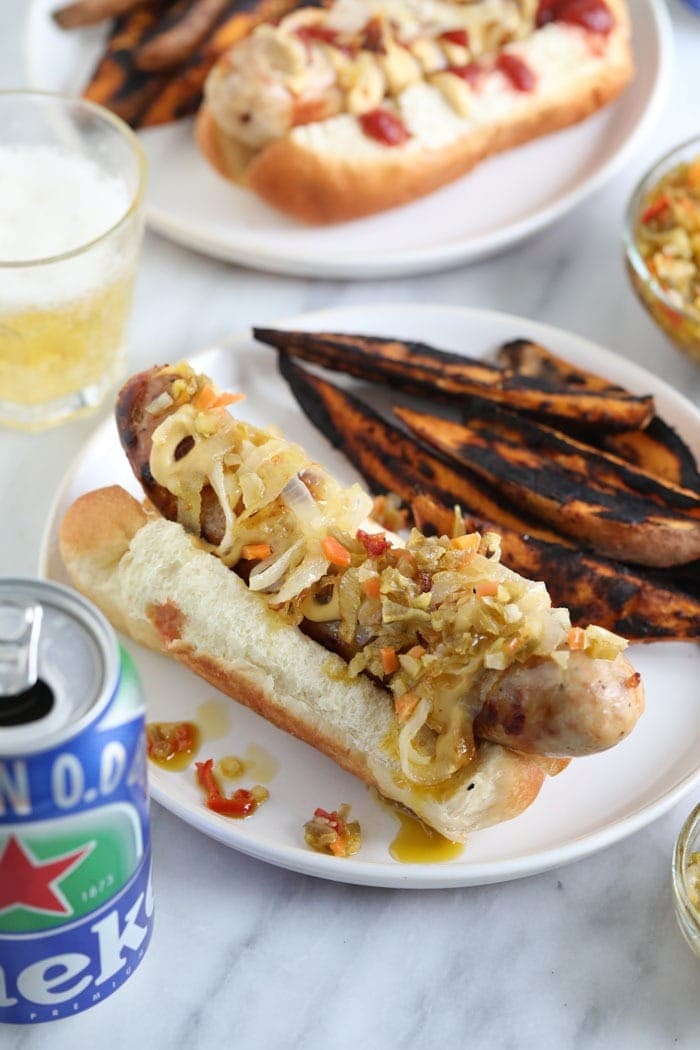 If you've never had a beer brat, you've never truly experienced a good ol' fashioned Wisconsin brat! Growing up in Milwaukee, cooking brats in beer is just what we did. Not only does the beer infuse a delicious hoppy flavor, but it's so easy!
What is a brat?
First things first, what is a brat? A brat AKA "a bratwurst" is a German-style sausage that is typically made with ground pork.
Brats can also come made with other cuts of meat such as veil or chicken. They can even come as a blend of meats and other add-ins such as cheese, jalapeños, etc.
What is a Wisconsin beer brat?
A beer brat is when you boil uncooked brats in a couple of cans of beer to fully cook it on the stovetop. Oftentimes, they are finished off on the grill.
We truly believe beer brats are superior to any other kind of brat because they are so dang delicious.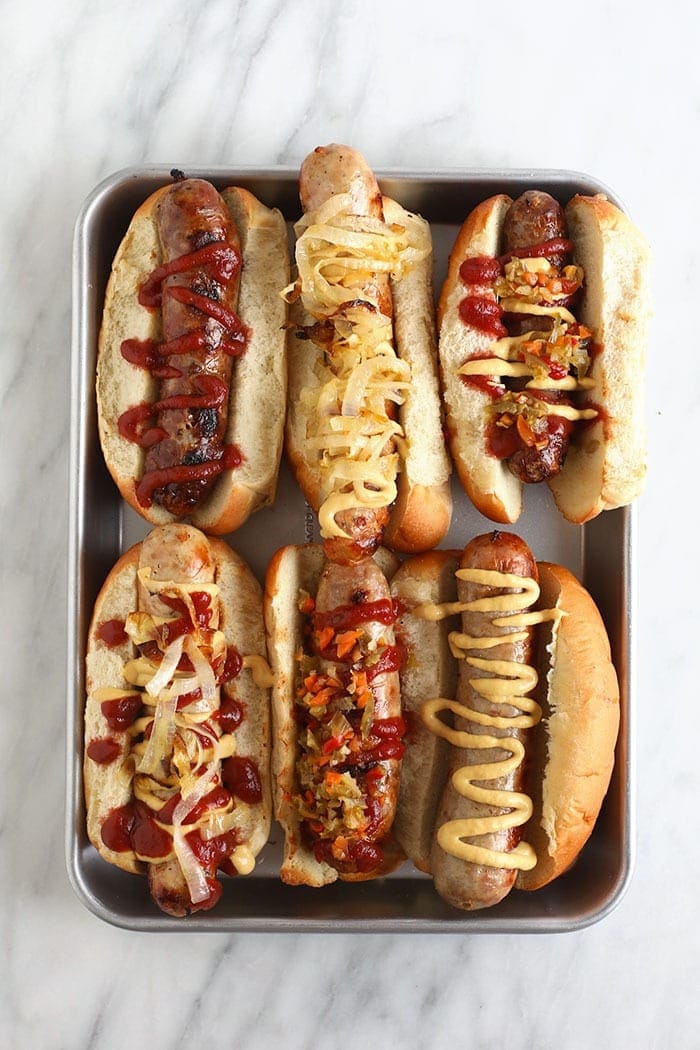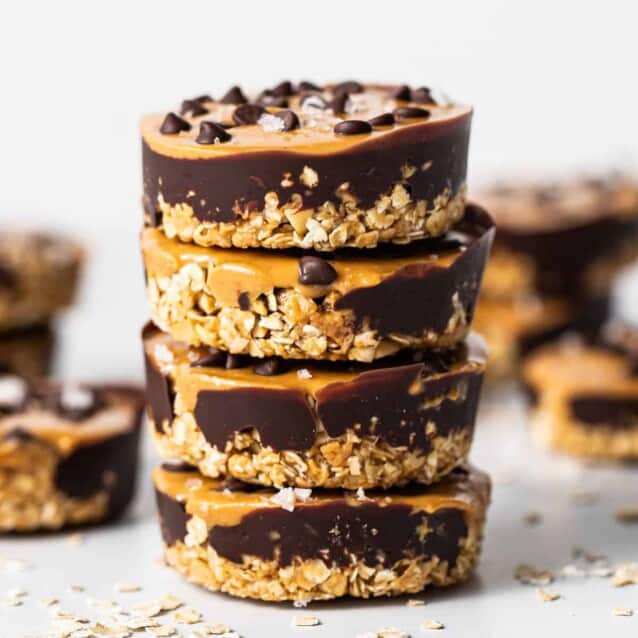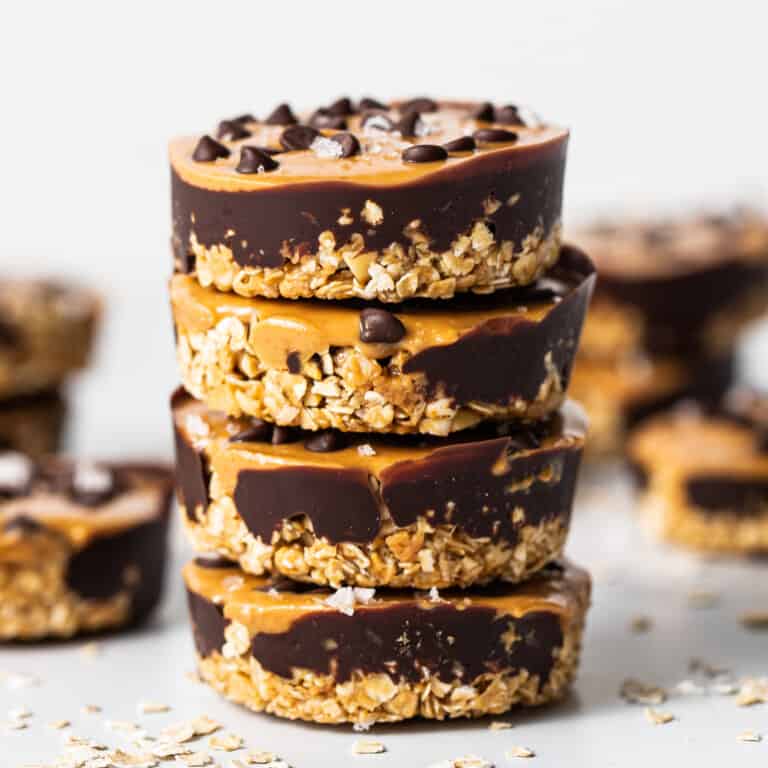 Get our Top 10 5-Star Recipes!
Join our email list for new recipes and BONUS: get our top 10 ⭐️⭐️⭐️⭐️⭐️ recipes e-book!
What kind of brats are best for beer brats?
There are lots of bratwurst brands on the market, but we definitely have a favorite –>Johnsonville! They make so many different variations and they are based in Wisconsin. It just makes sense.
What kind of beer should I use?
When it comes to what kind of beer to use to boil your beer grats in, it's all about preference. We prefer using a light beer such as:
Coors Light
Michelob Ultra
Heineken
You can really use any kind of beer your heart desires. Heck, you could probably even make cider brats and boil your brats in cider!
Are beer brats alcoholic?
Beer brats actually don't have any alcohol in them because the alcohol is burned off during the boiling process. Thus, beer brats are non-alcoholic and kid-friendly.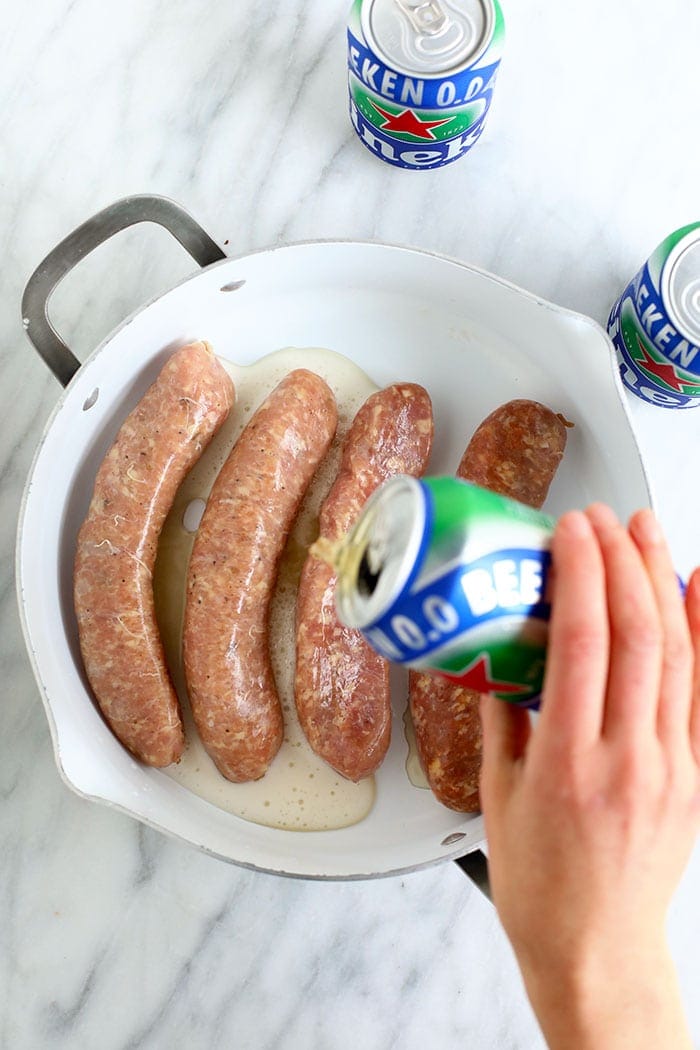 How to Make Beer Brats
Cooking brats in beer is so easy. From start to finish, this recipe should take you around 10 minutes. You'll be using your stovetop and grill to finish them off.
Step 1: Boil Brats
Start by placing your uncooked brats on the bottom of a large pot. You can boil as many brats as you want. Then, pour on a few cans of beer on top of them. The goal here is to completely submerge your brats so that they boil evenly.
Turn burner to high and bring beer to a rolling boil. Then, lower the heat to low/medium and let your brats simmer for around 10-15 minutes, uncovered. Your time will vary depending on the thickness of your brat.
Step 2: Sear Brats on Grill
Heat grill to around 450ºF. Grill brats for around 5-8 minutes, turning every few minutes.
The goal here is to give your brats some char so that's why the temperature is set a little higher. Since you've already fully cooked the brats from boiling them in beer, you want to make sure you don't overcook them on the grill.
Other cook methods: if you don't have access to a grill, we suggest searing your brats on the stovetop. This will give them some extra texture!
temperature tip
Grill brats until they've reached an internal temperature of 145ºF, which is the FDA's recommendation for pork.
Step 3: Toppings
Now that the brats are cooked and ready to go, it's time to doctor them up! We suggest slightly toasting your buns on the grill. Otherwise, you can go bunless!
Topping Ideas
ketchup
mustard
relish
sauerkraut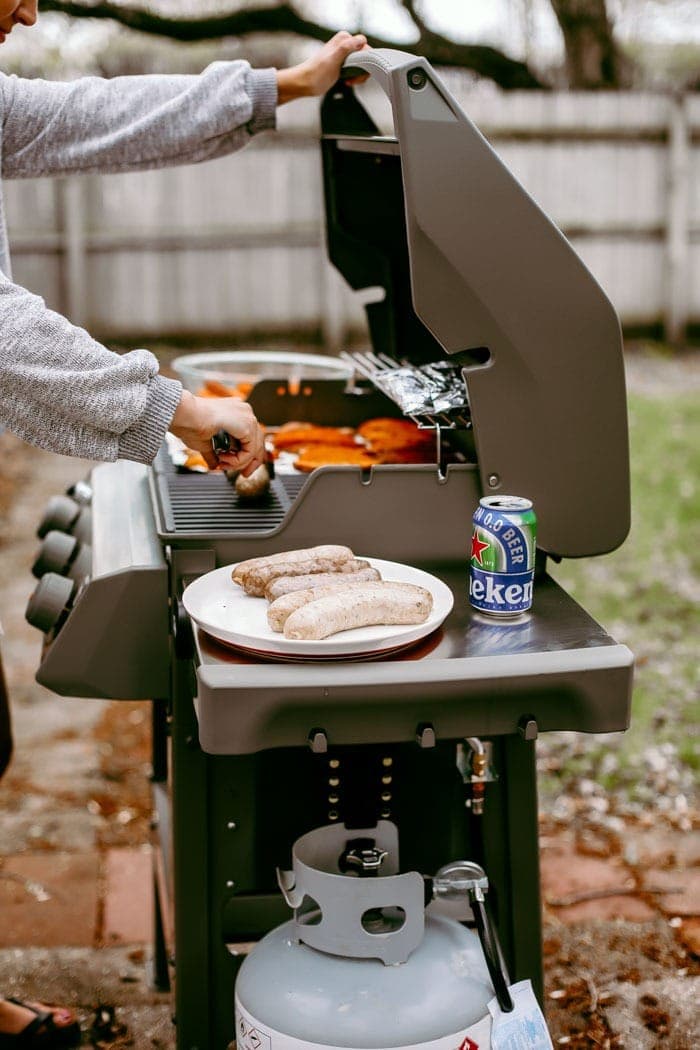 How to Cook Beer Brats FAQ
How long to boil brats in beer? Boil uncooked brats for anywhere from 10-15 minutes. The thicker your brat, the longer you'll want to boil. You know they are fully cooked when the internal temperature reaches 145ºF. They should be firm to touch and no longer pink on the inside.
How long do I cook beer brats on grill? Since your beer brats are technically already cooked from boiling them, the grill part is really for extra flavor. We suggest grilling for around 5-10 minutes to get those glorious grill marks.
Do my brats have to be uncooked? While they don't technically have to be uncooked, it's really the best way to make this beer brats recipe! If you are using cooked brats, you can let your brats soak in beer overnight instead of boiling them. You won't get the full flavor effect using this method, but it's a close second.
What kind of brats can you use for beer brats? Any kind of brat works for beer brats! We tested this recipe with both chicken brats and pork brats and they came out amazing. Our preferred brands is Johnsonville.
Are beer brats healthy? You might be surprised, but yes! Depending on the kind of brat you use, beer brats are a great, protein-filled dinner option. For the healthiest beer brat, we suggest using an uncooked chicken brat/sausage.
Are beer brats alcoholic? No! Beer brats are not alcoholic. When you bring the beer to a boil, you are actually boiling the alcohol out of the beer. If you're concerned, we suggest using Heineken 0.0 for this recipe, which is what we use anyways!
What beer goes with brats? Light beers go really great with beer brats and that is what we suggest.
Can you soak brats in beer overnight? Yes, you can soak brats in beer overnight, but we highly recommend cooking brats in beer instead of soaking.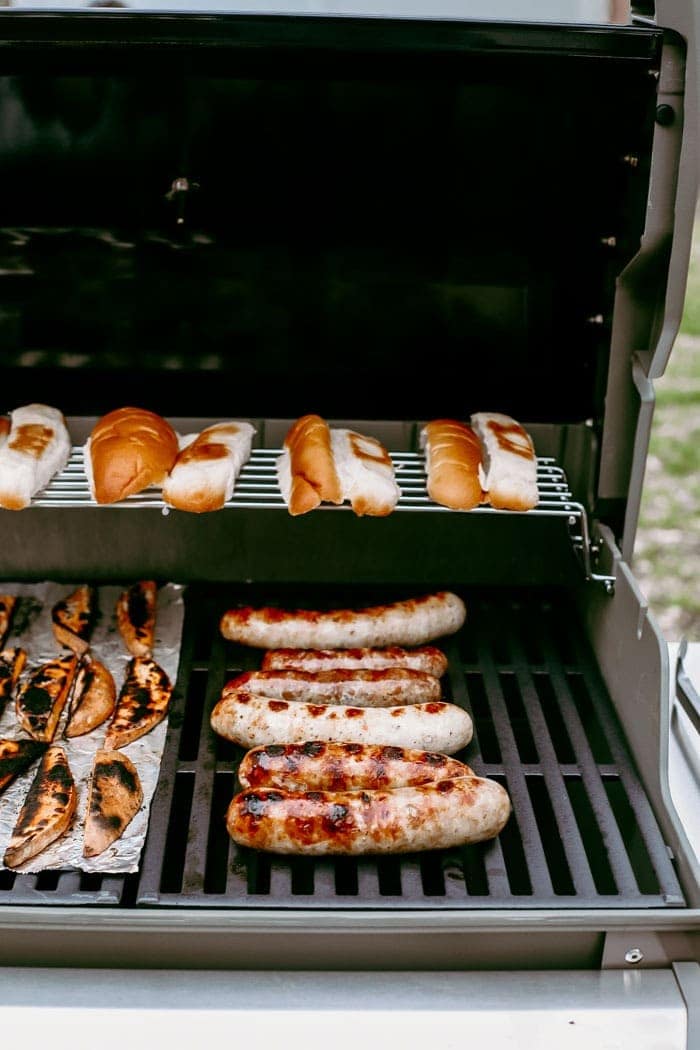 Serving Suggestions
Baked Potato Salad: This baked potato salad is loaded with cheddar cheese, bacon, chives, hard-boiled egg, and a dill pickle sauce! It's the perfect potato salad to serve at your next BBQ or party.
Black Bean Corn Salad: Looking for a simple cold salad that doubles as relish and triples as a dip? Make our black bean corn salad. It's made with fresh ingredients cilantro, jalapeño, cotija cheese, and lime juice.
Grilled Potatoes in Foil: These foil pack grilled potatoes are an easy side to add to any bbq. All you need to do to make these grilled potatoes in foil is toss them in olive oil, spices, and create a foil pack!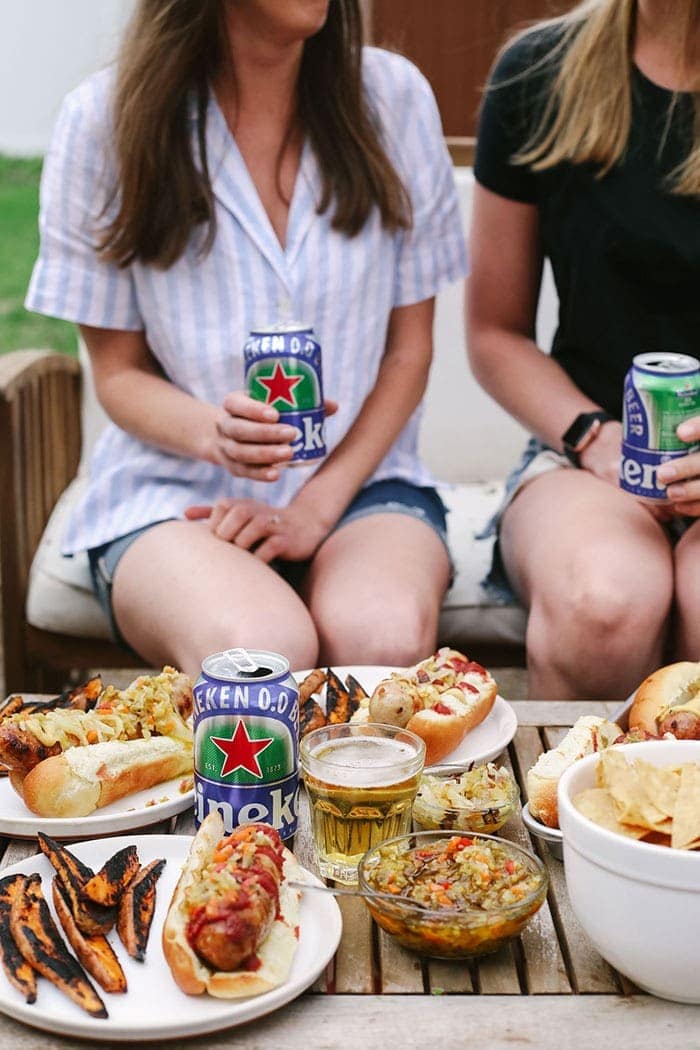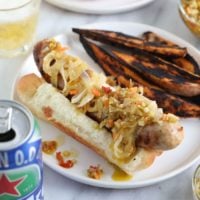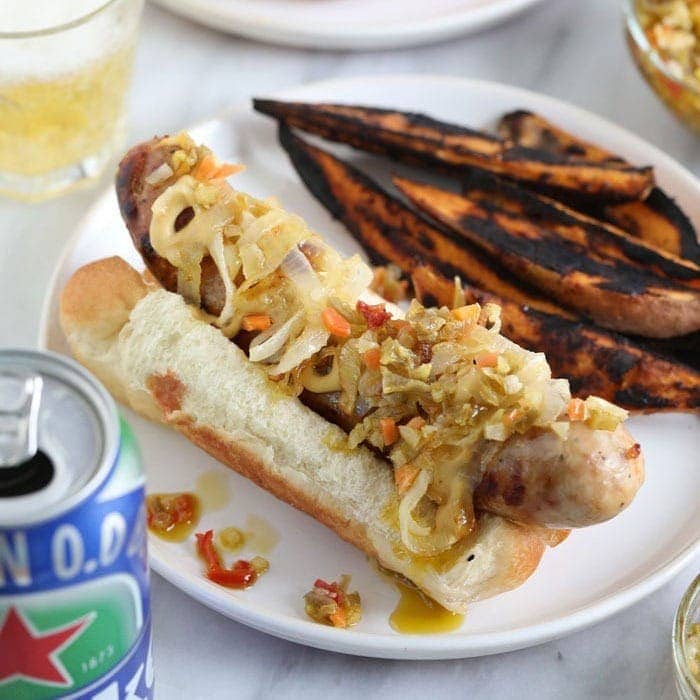 Wisconsin Beer Brats Recipe
Make Wisconsin beer brats by boiling uncooked brats in beer and then searing them on the grill. Your brats will come out juicy and flavorful every time!
Ingredients
6

uncooked brats

we prefer pork brats

3

cans of light beer

we recommend Heineken, Coors Light, or Michelob Ultra

6

hot dog buns
Optional Toppings
Ketchup

Mustard

Relish

Caramelized Onions
Instructions
First, place uncooked brats on the bottom of a large pot. Then, pour in around 3 cans of of beer. You want to make sure that the brats are fully covered to ensure even cooking.

Turn heat to medium high heat and bring the beer to a rolling boil. Then, reduce the heat to low/medium and let simmer, uncovered, for around 10-15 minutes. If you are cooking thicker brats, cook them closer to 15 minutes.

As the brats simmer, the beer will begin to foam, this is good! Just make sure you watch your pot so that the beer does not boil over. About halfway through cooking, poke each of the brats to make sure they don't explode (you'll understand). You know your brats are done cooking when they have firmed up and are no longer pink inside.

Preheat grill to 450ºF. Grill brats for around 5-10 minutes, rotating every few minutes. Since the brats are already fully cooked from the beer boil, this is really just to add char so make sure not to overcook! Cook brats until they've reached 145ºF internally.

Serve brats on a toasted bun and with all of your favorite toppings!
Tips & Notes
Nutrition information is for brats and buns only.
Nutrition facts
Calories:
398
kcal
Carbohydrates:
36
g
Protein:
16
g
Fat:
21
g
Fiber:
1
g
Sugar:
4
g