Make yourself and the family a big bowl of chili this week! Whether you are looking for a classic beef chili, a vegetarian chili, or a delicious chicken chili, we've got the recipe for you!
No matter what chili recipe you choose, remember to make a big batch of this Homemade Chili Seasoning and keep it in your pantry so you have it on hand to make chili whenever you want!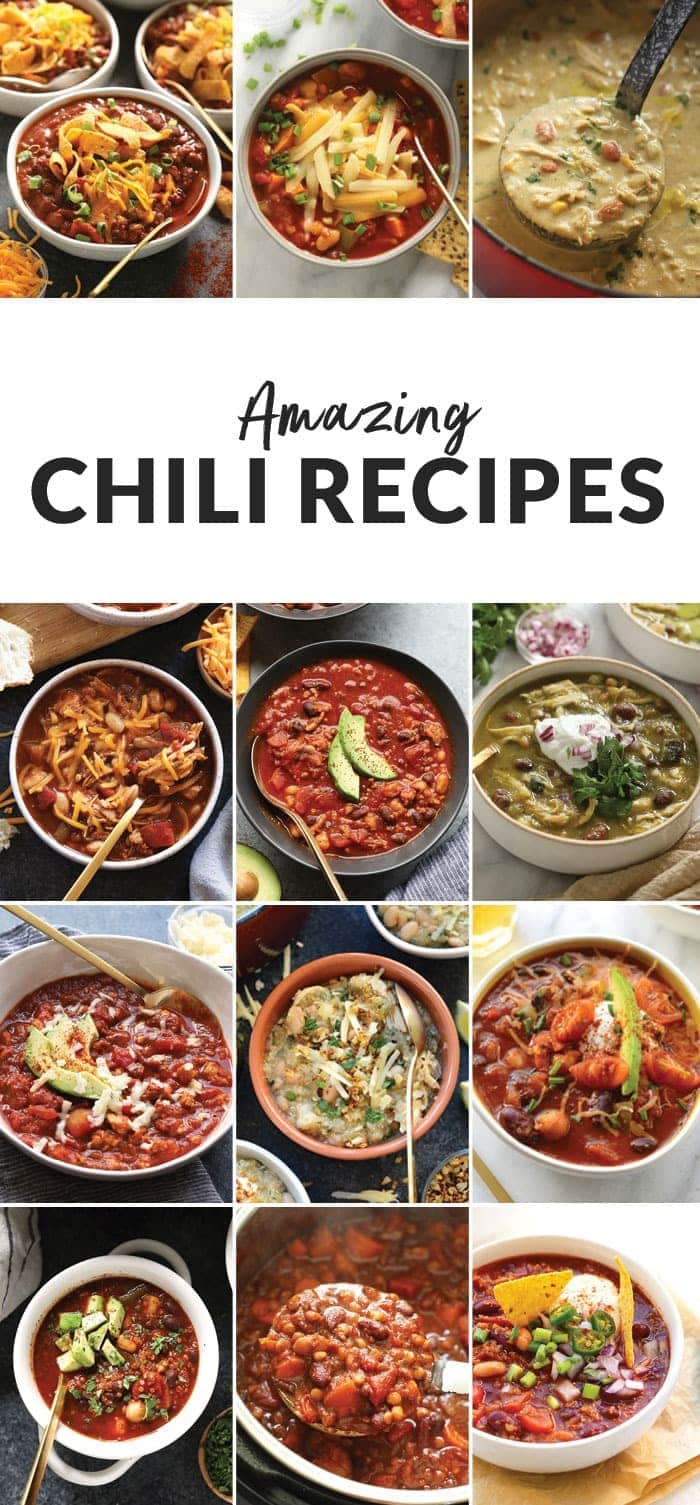 Chili for Every Season
Whenever I make a big batch of chili for dinner, it's like the world slows down. There is something special about chili isn't there? It is a meal that is ready in a jiffy and can feed the masses or last all week!
Chili is a great recipe for many different seasons and events, too! Chili is known for the perfect meal as fall approaches! It's the perfect meal to cozy up with and eat on the couch.
However, chili is also a great recipe for game days, parties, and everything in between! I like to make a big batch of chili when I host for the holidays. It's easy to make chili the night before and heat it up on the stove the next day! It makes hosting just a breeze!
Set Up Your Pantry
The key to making quick chili recipe for dinner is to have your pantry stocked with all of your chili recipe essentials! When chili season rolls around, make sure you get doubles or triples of all the ingredients below for chili whenever you're craving it!
Tomato sauce
Diced tomatoes
Tomato paste
Broth (any kind)
Kidney beans
Navy Beans
Pinto Beans
Salsa
Green chilis
Maple Syrup
Lentils
Quinoa
Homemade chili seasoning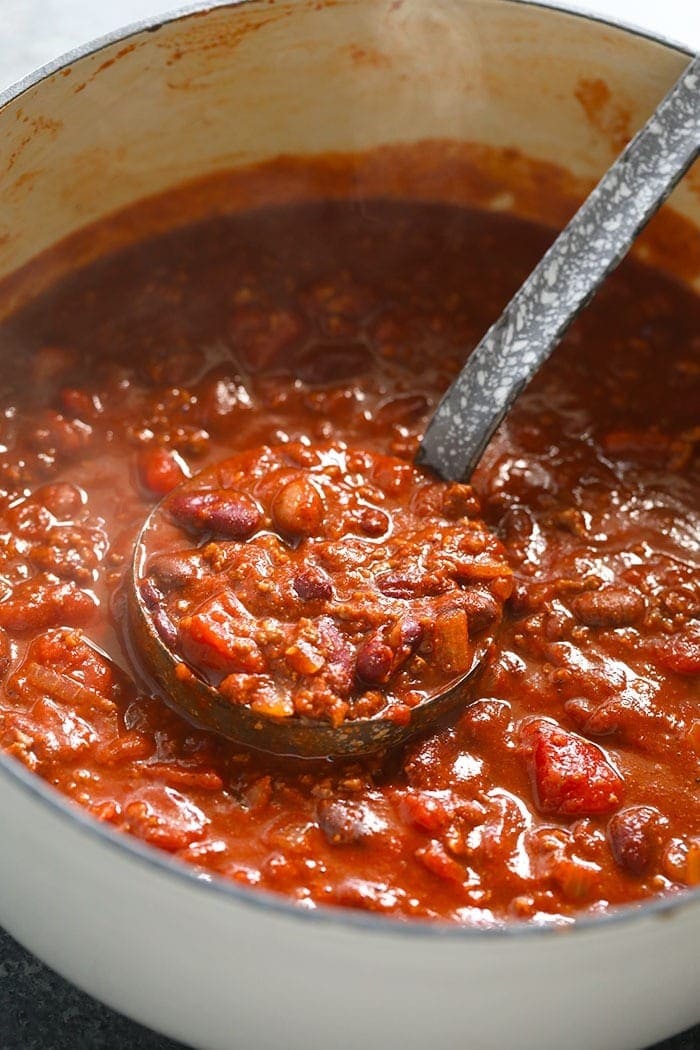 All the Questions
What is the best secret ingredient for chili?
The best secret ingredient for chili is a little bit of sugar. Whether you use white sugar, brown sugar, or my favorite, maple syrup, a little bit of sugar will bring out all of the savory spices of your chili.
Does traditional chili have beans?
Traditionally, chili used to be served without beans, but in my opinion, it's so much better with beans!
How do you make chili more flavorful?
To make chili more flavorful, we suggest using more homemade chili seasoning. We always recommend making your own spice blend at home because you can really control the flavor that way. Other ways to add more flavor include:
More salt
A couple tablespoons of your favorite hot sauce
More heat (diced jalapeño, hot sauce, or green chiles)
Add a jar of salsa
Top your salsa with fresh herbs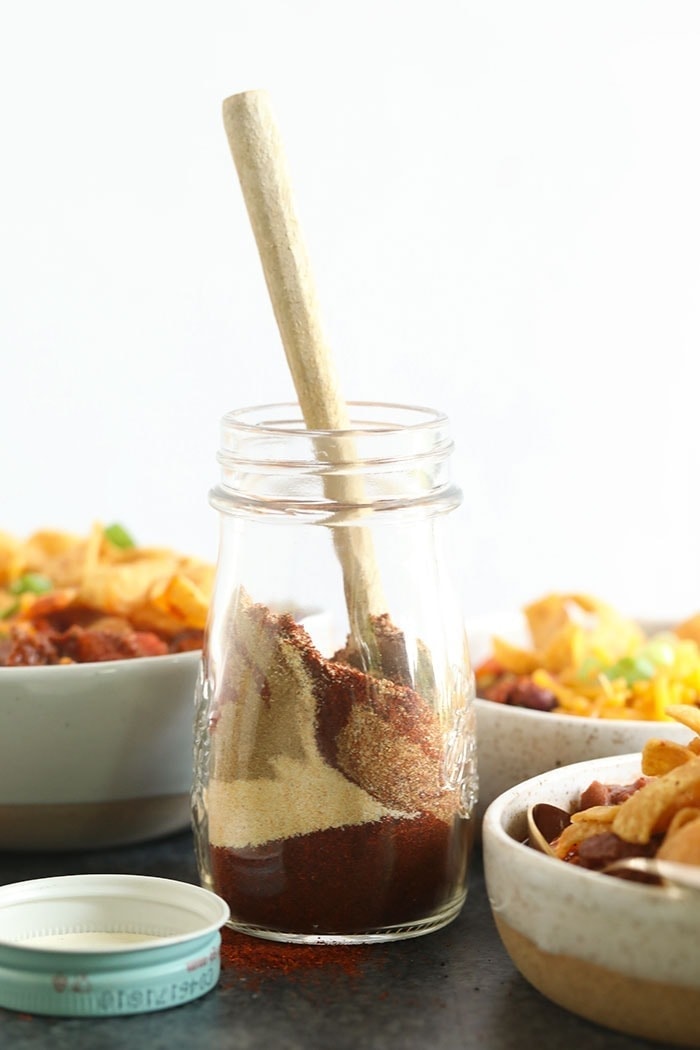 What do I serve with chili?
There are some great side dishes and accompaniments that go great with chili! Here are some of our favorites!
What are good chili toppings?
Good chili toppings include shredded cheese, green onion, sour cream or Greek yogurt, Fritos, tortilla chips, and chives.
How do you store chili?
You can store chili two ways, in the refrigerator or in the freezer.
Refrigerator- Before storing chili, always be sure the chili is cooled completely. Next, place chili in an airtight container. Chili lasts for 5-7 days in the refrigerator.
Freezer- To freeze chili let it cool completely before placing it in an airtight container and then placing it in the freezer. Chili will last for up to 3 months in the freezer.
Chili Recipes
Here are all of our favorite chili recipes! Remember to feel free to make adjustments to make these chili recipes your own. There is a recipe for everyone!
The best chili recipe you'll ever eat is right here! Our beef chili is made with ground beef, beans, diced tomatoes, and a homemade chili seasoning.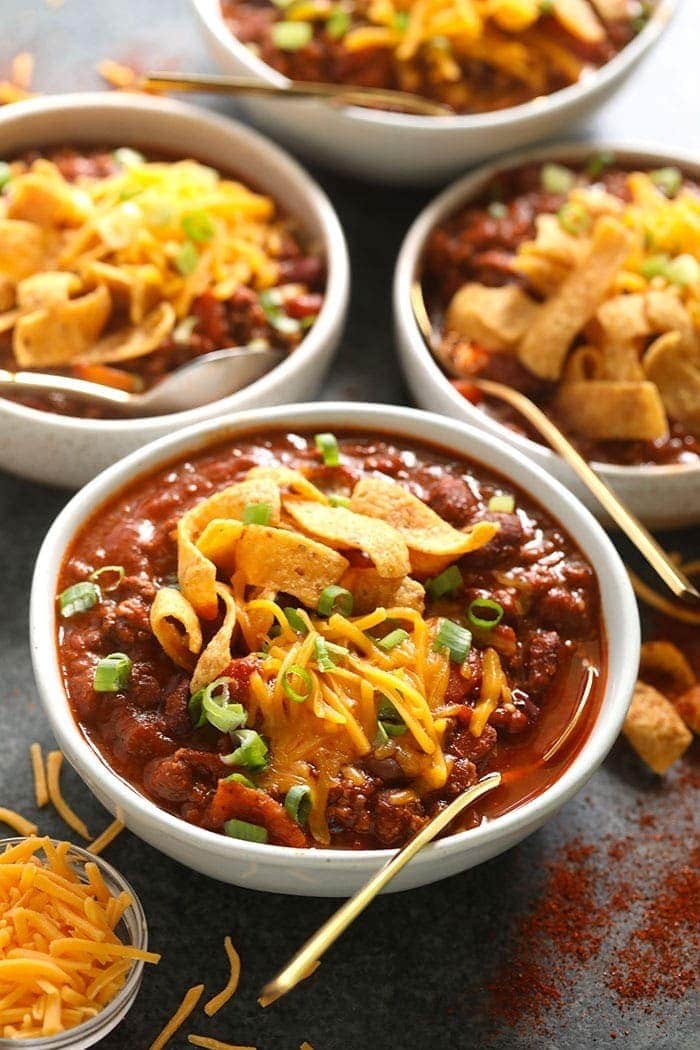 Vegetarian Chili Recipes
Vegetarian Chili so tasty you won't even know it's meatless. This vegetarian chili recipe is made with beans, sweet potato, diced tomatoes, and a delicious homemade chili seasoning.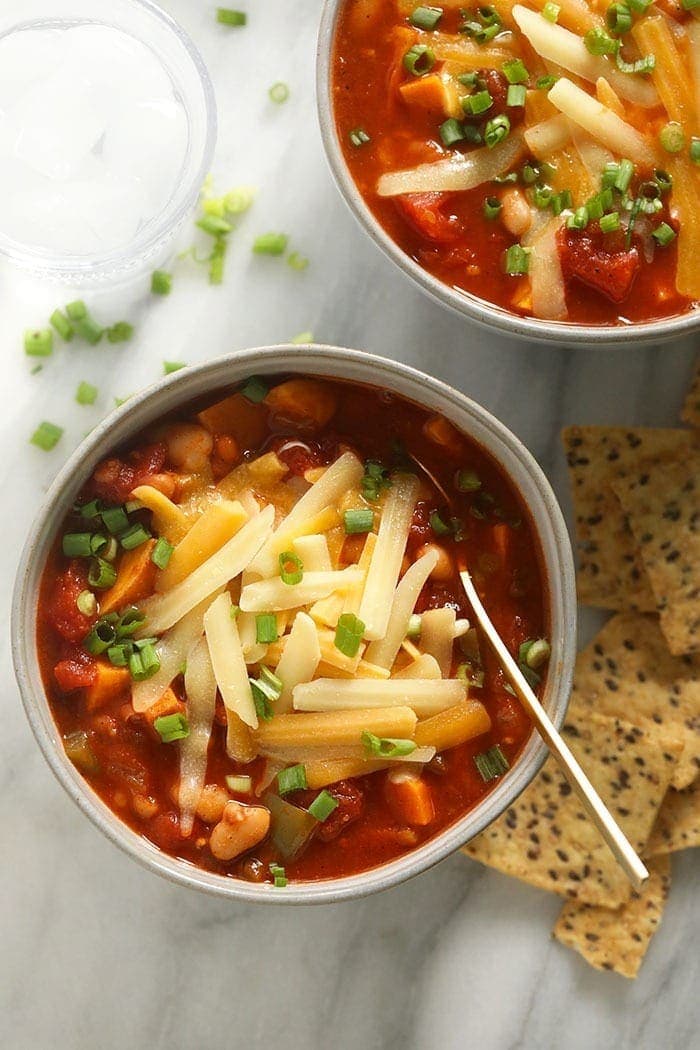 Fun Recipes with Chili
Chili mac and cheese might be the best dinner of all time. Make it once and eat it all week long. Bonus, it's kid-friendly and protein-packed!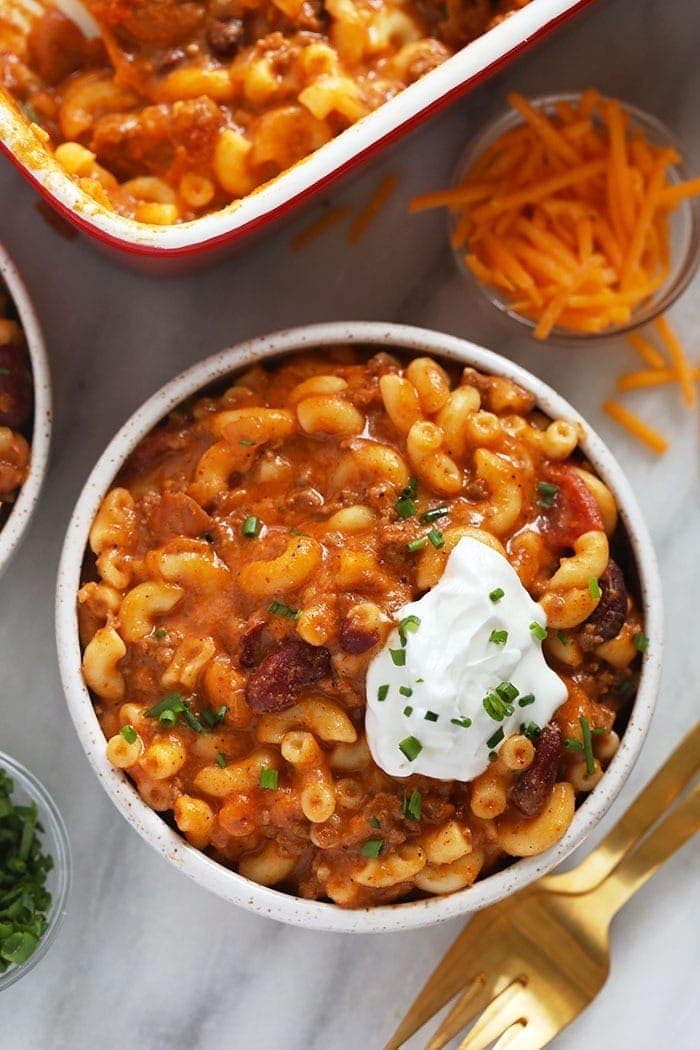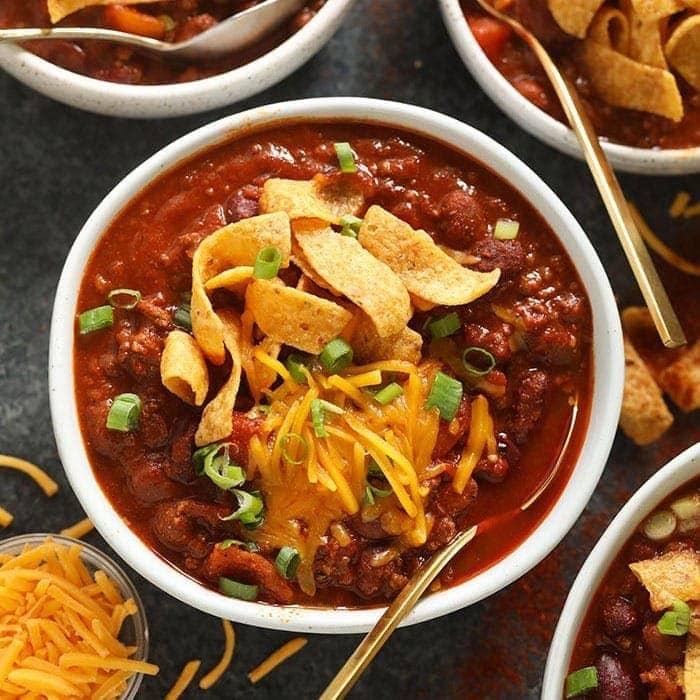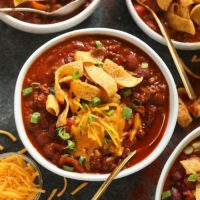 Basic Chili Recipe
This ground chicken chili is packed with protein and perfect for a quick and delicious weeknight dinner!
Prep:
15 minutes
Cook:
15 minutes
Total:
30 minutes
Fat
9
Carbs
36
Protein
22
Ingredients
1

lb. ground chicken (turkey or beef works too!)

2 tablespoon

s olive oil*

1 tablespoon

 minced garlic

1

15-oz. can pinto beans drained and rinsed

2

15-oz. cans kidney beans, drained and rinsed

1

 28-oz. can diced tomatoes

1

15-oz. can tomato sauce

1

4-oz. can green chilis

3 tablespoon

s tomato paste

1/4 cup

 homemade chili seasoning

1 cup

broth (any kind)

1 tablespoon

hot sauce (any kind)

1 tablespoon

maple syrup
Optional Toppings
Greek yogurt
Shredded cheddar cheese
Cilantro
Green onions
Instructions
Place olive oil and minced garlic into a large stockpot and heat over medium/high heat.
When the olive oil is fragrant, add in ground chicken and and saute until fully cooked.
Add in the rest of the ingredients and bring to a boil.
Reduce heat to low and let simmer for around 10 minutes.
Serve with optional chili toppings and enjoy!
Tips & Notes
*Nutrition information is for 8 servings
Nutrition Facts
Serving Size:
1/8
Calories:
314
Sugar:
8
Fat:
9
Carbohydrates:
36
Fiber:
10
Protein:
22
Category:
Chili
Method:
Stove-top
Cuisine:
American