Post workout snack or dessert? How about both! These Chocolate Protein Buckeyes are grain-free, made with Organic Fuel Chocolate Whey Protein Powder, nut butter, and a dark chocolate coating. They're low carb, high protein, and only 123 calories.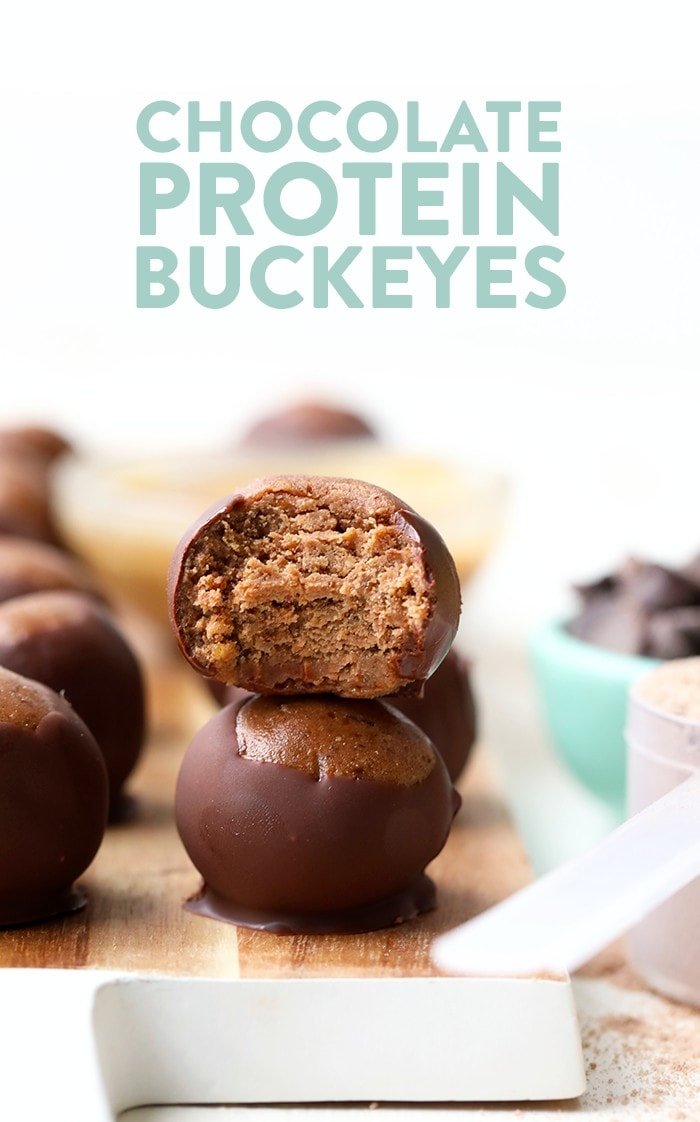 Please tell me you've tried Organic Valley's new protein powder. It. Is. So. Good.
And, I am picky when it comes to protein powder! Today's recipe is in partnership with Organic Valley, our favorite dairy brand (read why I love them here). I've always been a whey protein powder kind of girl, so when I was introduced to this stuff it was love at first bite. Why do I love this protein powder over others? Well, let me tell you — there's absolutely NO antibiotics, synthetic hormones, toxic pesticides or GMO anything. This protein powder comes from real organic milk, made by Pastured-Raised cows, on Organic Valley family farms. 2 scoops will get you 26g protein at only 140 calories. Guess what the coolest part is? There are only 5 total ingredients in this protein powder and I can pronounce every single one of them. I'd say that's pretty rad.
Over the past couple of weeks, I've gotten a few questions on where you can purchase Organic Fuel Chocolate Whey Protein Powder and I've personally seen it at Whole Foods and on Amazon, but you can use their awesome product finder to locate stores near you. Yes, this protein powder does cost a little bit more, but for good reason. This video does a great job explaining why Organic Valley products cost more and it's simple — because more good stuff goes into it.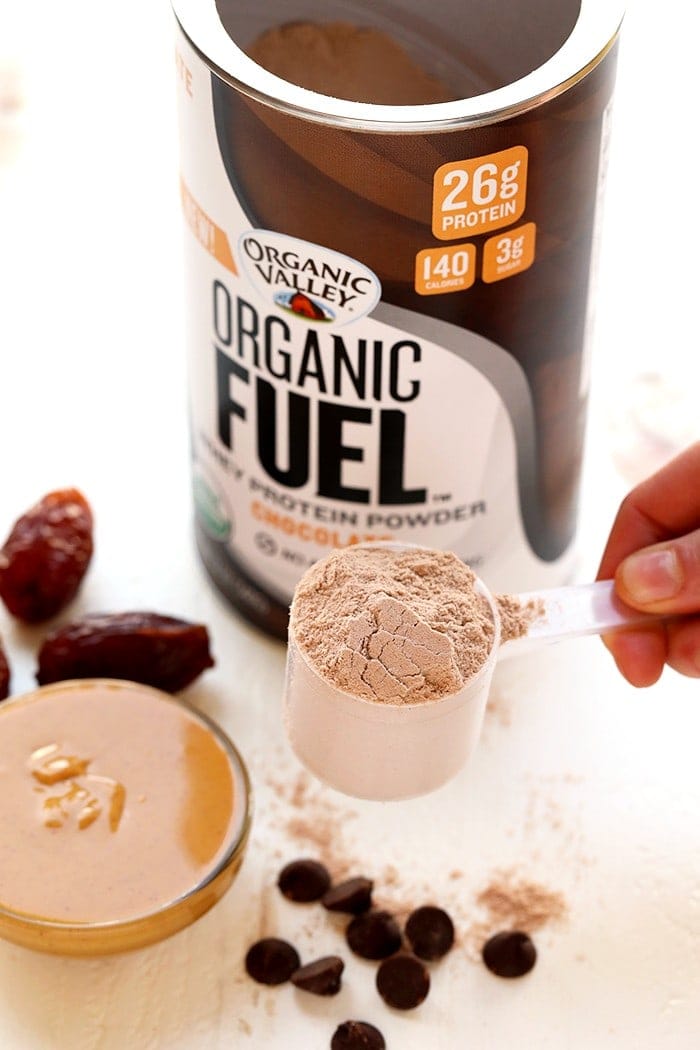 You guys know that I love me a good energy ball and that I have a ball bag in my freezer at all times. Search balls on Fit Foodie Finds and you'll find 20+ recipes. They really are the best grab-and-go snack, post-workout fuel, breakfast, dessert, etc. Adding a scoop of protein powder or two is always a good idea. Energy Balls are pretty calorie dense, so the more protein you can pack in there the better. This chocolate buckeye ball recipe is made with Organic Fuel Chocolate Protein Powder. Here's what else you'll need:
Storage
I find that these balls keep the best when stored in the freezer. Usually what I do is after I make all of the buckeyes, I put them back on a baking sheet and into the freezer to freeze. Once frozen, I transfer them into a freezer-friendly gallon-size bag.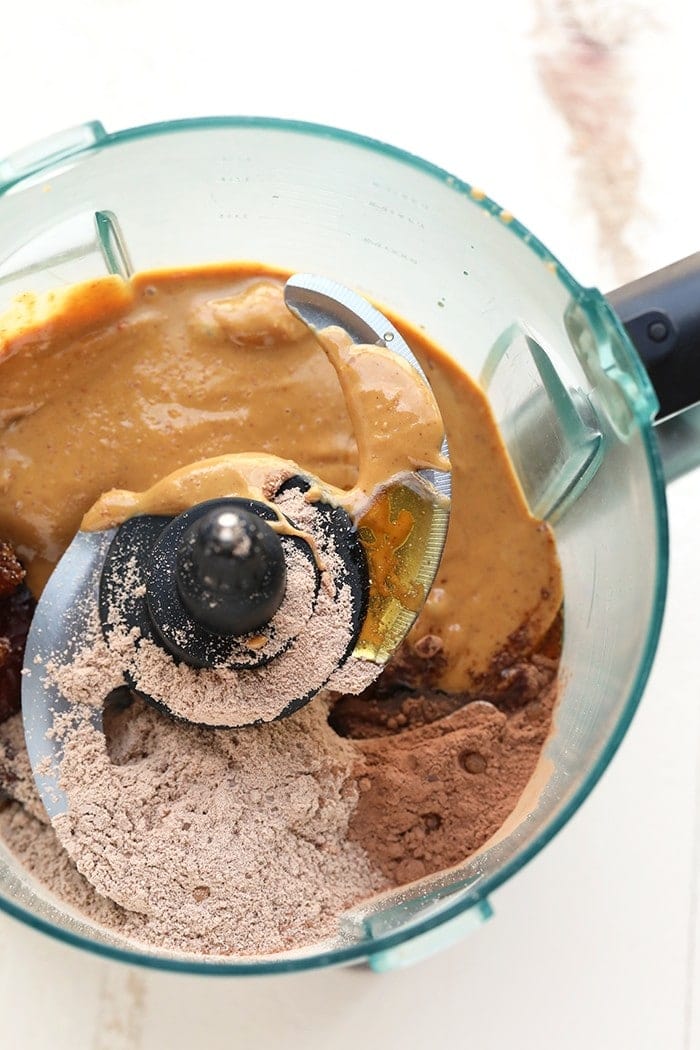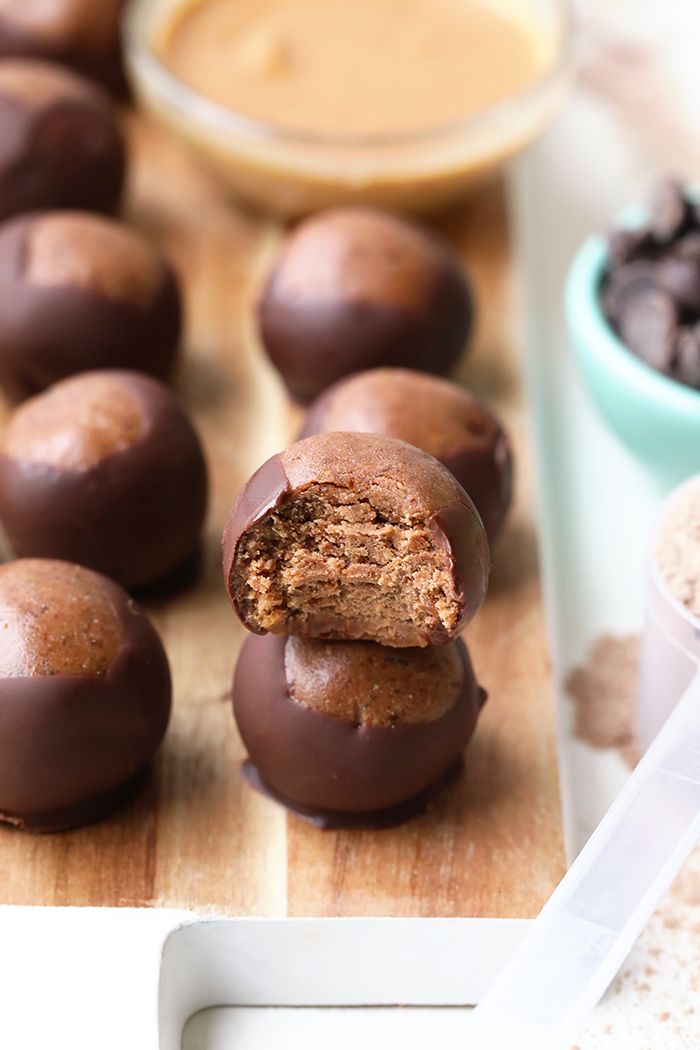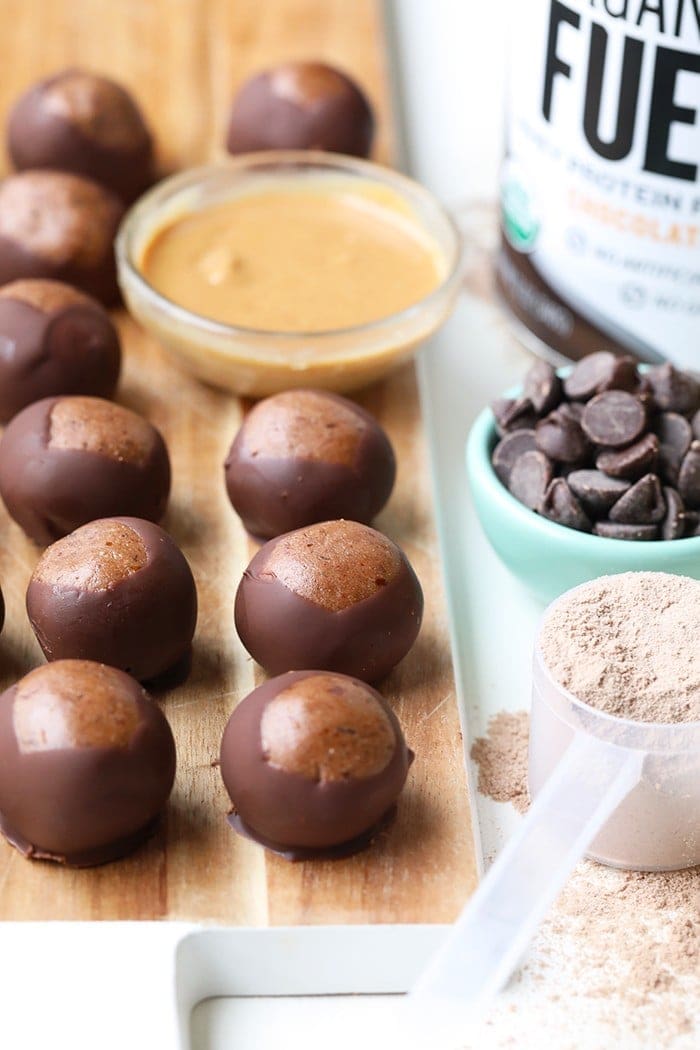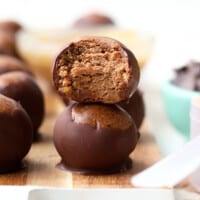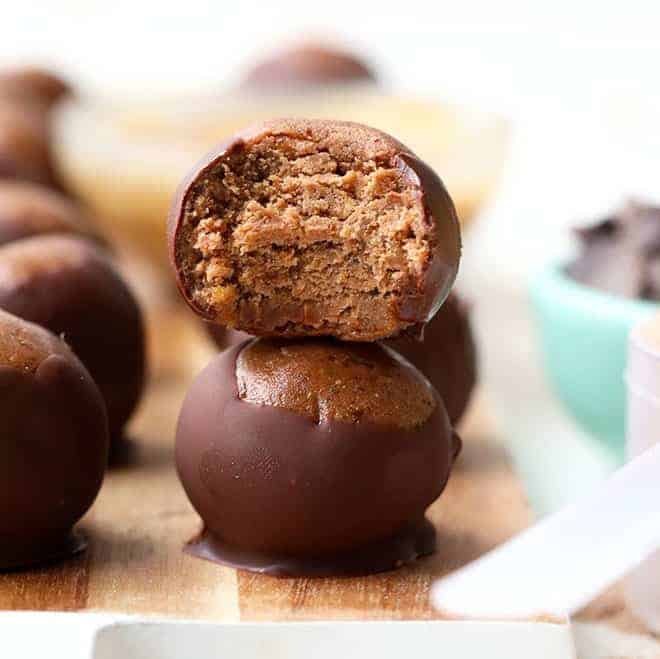 Double Chocolate Protein Buckeyes
These Chocolate Protein Buckeyes are grain-free, made with chocolate protein powder, nut butter, and a dark chocolate coating. They're low carb, high protein, and only 123 calories.
Instructions
Place peanut butter, dates, protein powder, cocoa powder, maple syrup, and salt in a high-speed food processor. Process on high until you've pulverized the dates and created a dough-like consistency. Depending on how drippy your peanut butter is and how soft your dates are, you may need to add a teaspoon or two of water. You want your dough to be a similar consistency to cookie dough.

Next, scoop out a tablespoon of dough at a time and roll between your palms. Place on a parchment-lined baking sheet. Repeat until all dough is gone. You should get around 24 balls.

Once all balls have been rolled, transfer baking sheet into the freezer for 20 minutes.

While the balls are in the freezer, make your chocolate coating.

Place 1 tablespoon of coconut oil and 1/2 cup of dark chocolate chips in a small bowl. Melt in the microwave for 60-90 seconds, stopping to stir a few times so it doesn't burn.

Once balls have firmed up, remove from freezer. Use a fork to dip balls into chocolate, coating almost completely, but leaving a hole at the top for the "buckeye."

Tap fork on the side of the bowl so that you can remove as much excess chocolate as possible. Then, use a wooden skewer or toothpick to slide buckeye off of your fork and back onto the parchment-lined baking sheet. Repeat until you've coated all balls.

Place sheet back into the freezer for at least 30 minutes to firm up.
Tips & Notes
We recommend using an all-natural, drippy peanut butter for this recipe. We prefer Kirkland, Whole Foods, and Trader Joe's brands of all-natural peanut butter.
Make sure the medjool dates you are using are fresh and soft.
Store these buckeyes in the freezer for up to 3 months. We like to place the already frozen buckeyes into a freezer-safe gallon-size bag.
Nutrition is calculated with only 1/3 cup chocolate chips and 1/2 tablespoon of coconut oil because you will have some chocolate leftover.
Nutrition facts
Calories:
124
kcal
Carbohydrates:
12
g
Protein:
4
g
Fat:
7
g
Fiber:
2
g
Sugar:
9
g

So tell me, are you a vanilla or chocolate protein kind of person? And, have you tried Organic Fuel yet?!
This post is sponsored by Organic Valley. I was compensated and all opinions are my own. Thank you for supporting Fit Foodie Finds and making this website possible!