Did you know that oatmeal can be savory? Switch up your oatmeal routine and make a batch of these delicious savory oatmeal. Mushrooms, sage, oats, and more, it is a savory breakfast dream!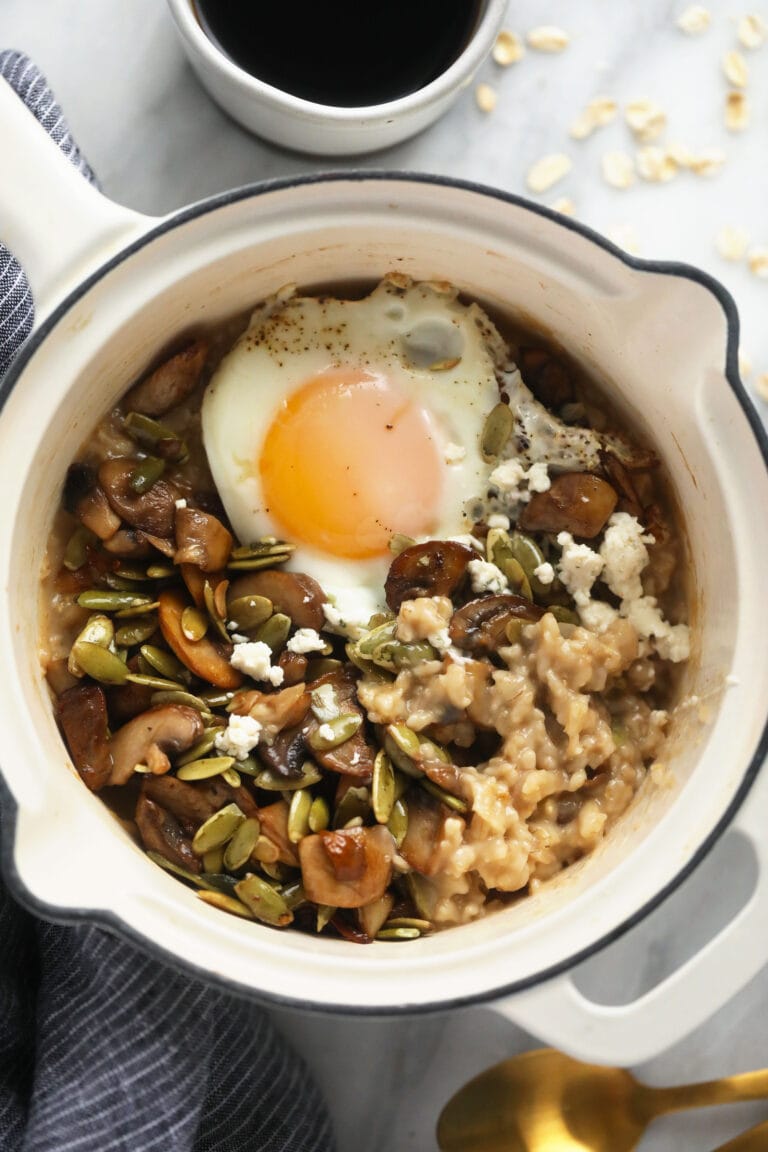 The Best Savory Oatmeal
We are all about oatmeal recipes. Traditionally oatmeal is a sweeter breakfast and we love every oatmeal recipe from Instant pot steel cut oats, overnight oats recipes, and delicious and easy microwave oatmeal.
Take your oatmeal game up a notch from a sweet oatmeal recipe to this delicious savory oatmeal recipe. It's the best of two worlds; savory breakfast meets the fiber-packed goodness of oatmeal.
Why do we love savory oatmeal?
It's a great way to add savory flavors and vegetables to your oats.
Savory oatmeal is ready in under 20 minutes.
This savory oatmeal is so creamy you won't be able to get enough.
You can change up your savory oatmeal depending on what you have in the refrigerator.
All the Ingredients You Need
The combination of ingredients and flavors in this savory oatmeal are some of our favorites. Feel free to make any substitutions you would like, below are some substitution ideas!
Olive oil– the olive oil creates a delicious savory base, especially when you sauté the garlic and the onion in the olive oil. Feel free to substitute olive oil for your favorite oil.
Onion– Any onion would be delicious in this recipe. Even shallot would be a great addition if you don't have onion.
Garlic– No fresh garlic? No problem. Use an 1/8 teaspoon of granulated garlic instead.
Rolled oats– We suggest using rolled oats becuase it adds the perfect amount of bite to the savory oatmeal.
Beef broth– The beef broth adds the savoriest of flavors to the oatmeal. However, any broth will work!
Water
Maple syrup– Sweet maple syrup adds a little breakfast flavor and a balance of sweetness to the savory oatmeal.
White mushrooms– Cooked white mushrooms are a delicious umami addition the savory oatmeal. If you can't fined white mushrooms, use any type of mushroom.
Salt– Don't skip the salt, it brings out every flavor in the oatmeal.
Fresh sage leaves– A little fresh sage goes a long way, if you can't find sage, fresh thyme or oregano would be great flavors, too.
Eggs– Put an egg on it! It wouldn't be breakfast without an egg!
Pepitas– The pepitas add a delicious crunch to the savory oatmeal. Sunflower seeds or sliced almonds would work as well.
Goat cheese crumbles– A little goat cheese adds a creamy tartness to the savory oatmeal. Boursin cheese would be a great substitution.
Can I use steel cut oats instead of rolled oats?
Yes, you can use steel cut oats in the recipe. You would need to up the liquid by 1/2 cup to 1 cup (either broth or water). You will also need to allow the oatmeal to simmer a bit longer, too.
topping options
If you want to try different add-ins or topping combinations try one of the combinations below.
Peppers + onions + Kilbasa
Scrambled Eggs + Bacon Bits
Ham + Cheese
Sun Dried Tomatoes + Fresh Mozzarella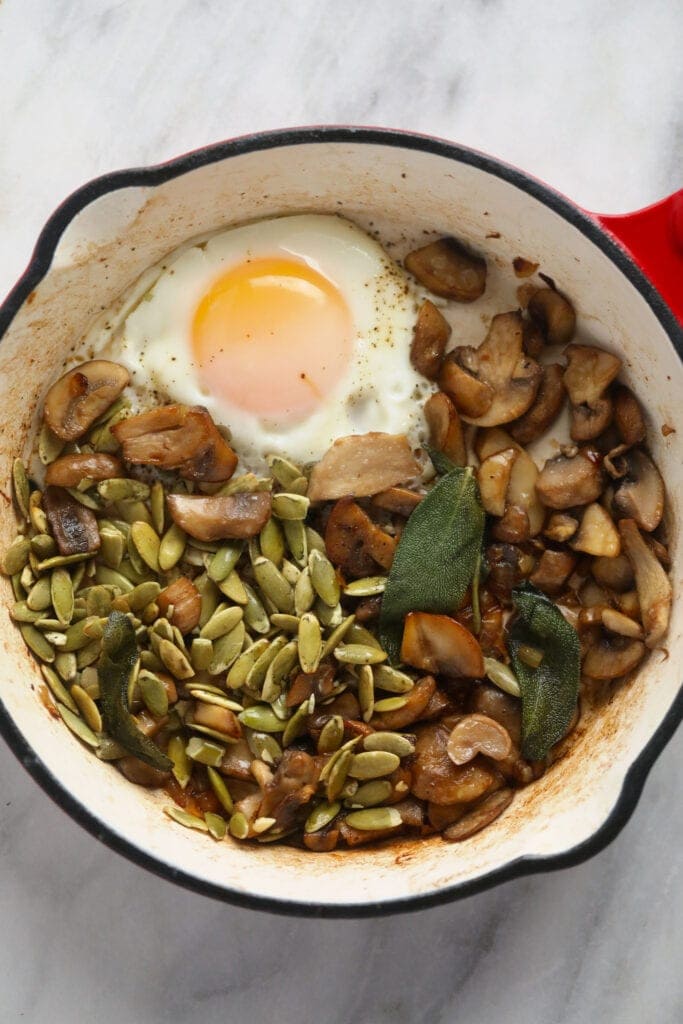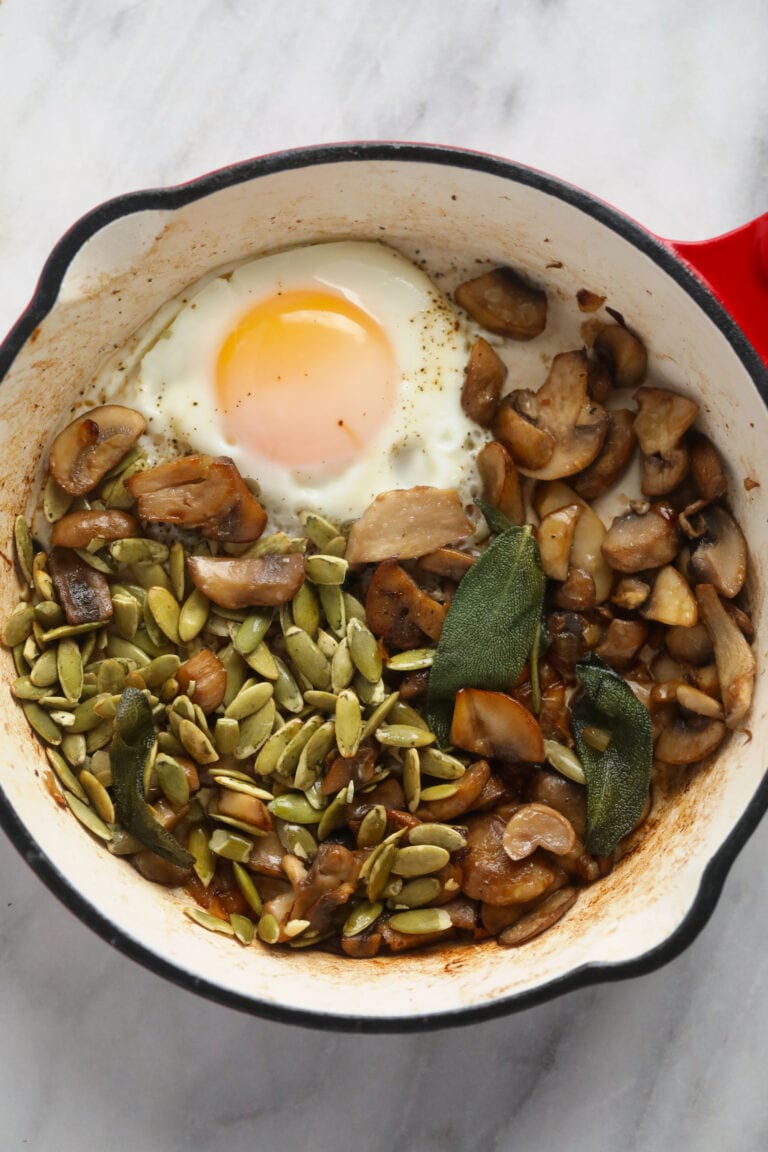 How to Make Savory Oatmeal
Savory oatmeal is ready in 20 minutes. Just follow the simple steps below and you'll have a creamy savory oatmeal in no time!
Create a Base
The base of this oatmeal is so important. It creates the savory flavors that make this the best oatmeal ever. Be sure to sauté the garlic, onions, and salt (don't forget the salt) long enough that a fond is created at the bottom of the pan.
After that you add the rolled oats and toast them before adding liquid to the pot. Scrape the bottom of the pot with a spatula to get all that delicious flavor from the onions and garlic.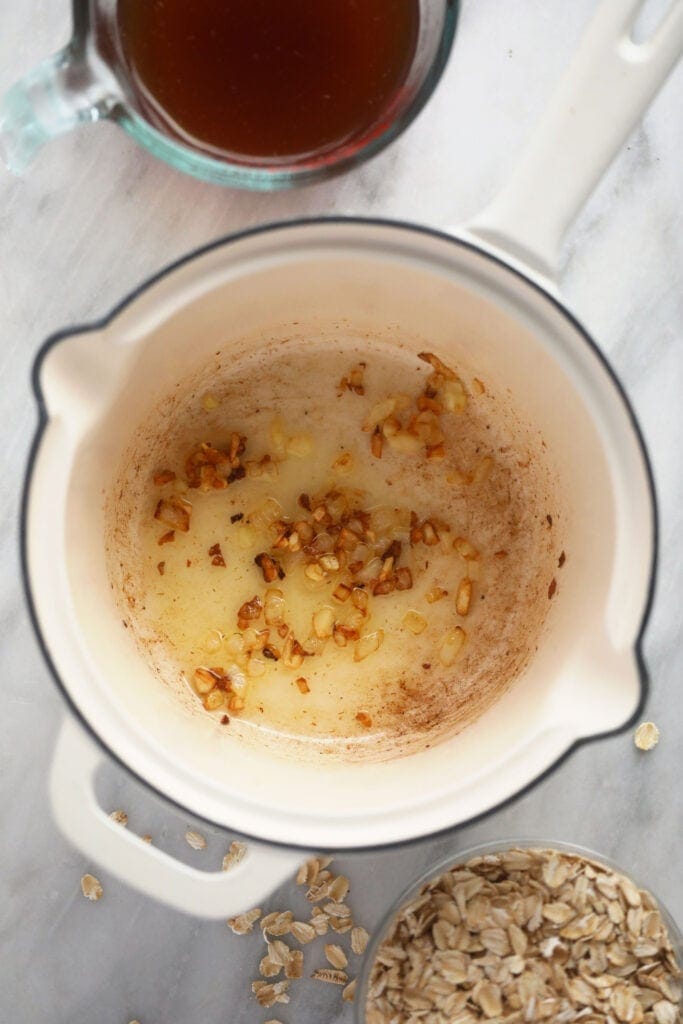 Cook the Oats
Once you've added the oats, broth, water, and maple to the pot and everything is combined, simmer the oats over medium heat, stirring consistently.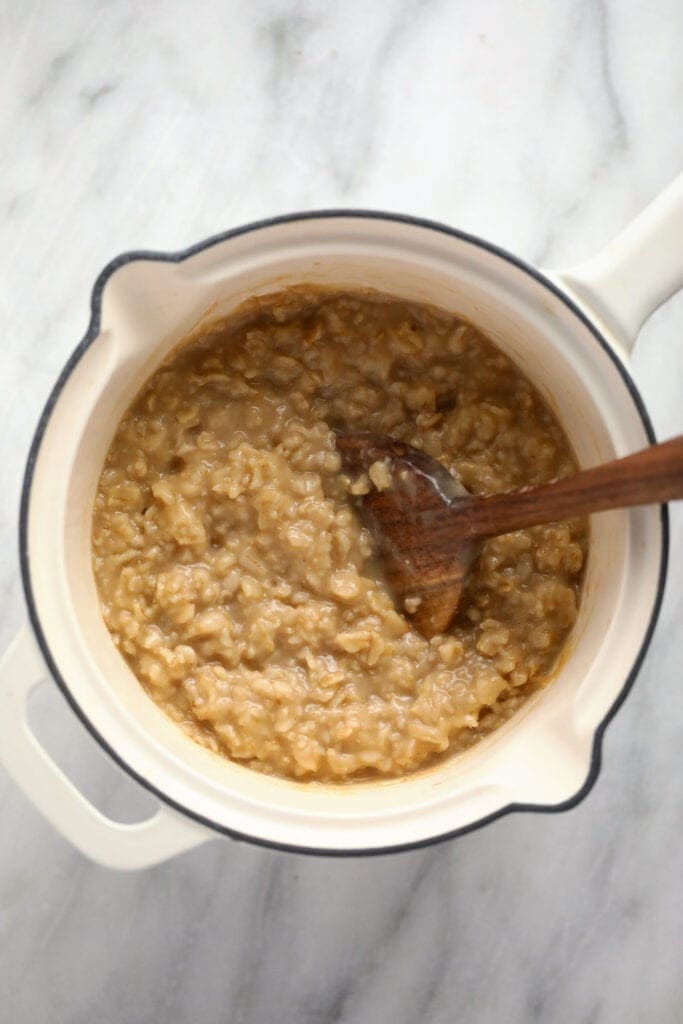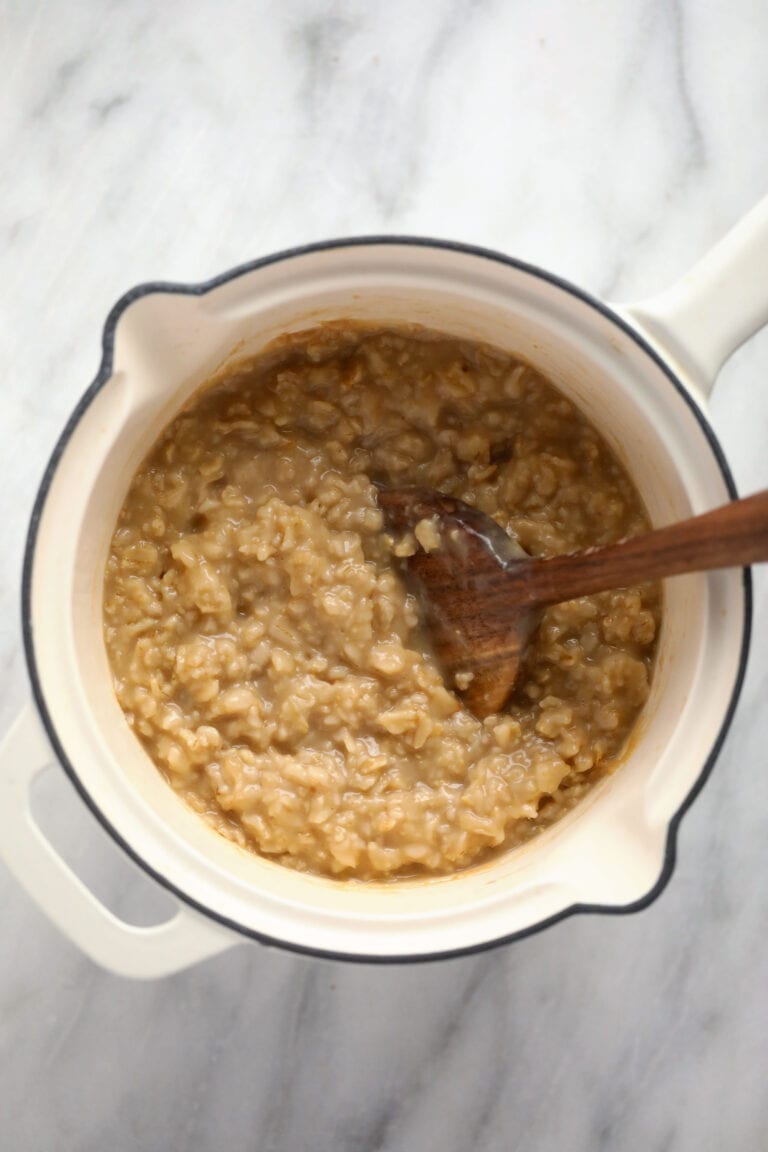 Prepare the Toppings
While the oatmeal is simmering, prepare the toppings for the oatmeal by first cooking the chopped mushrooms on low with salt and the fresh sage leaves for 8-10 minutes.
When you are cooking mushrooms, be sure to add enough salt (to draw the moisture out of the mushrooms and enough olive oil (so the mushrooms brown).
Before topping the savory oats with the mushrooms, discard the sage leaves.
Prepare fried eggs in a skillet to however you would like them!
Serve the Savory Oats
Once the oats are ready, top them with mushrooms, a fried egg, pepitas, and goat cheese crumbles.
Savory Oatmeal 101
What can you add to oatmeal for flavor?
If your oats need more flavor, add pinch or two more of salt! Other great flavor options for this savory oatmeal are below.
Hot sauce
Sriracha
Chimichurri
Is it OK to eat oatmeal for dinner?
Yes, of course it's ok to eat oatmeal for dinner. Especially savory oatmeal.
What does salt do in oatmeal?
Salt brings out the flavor in any dish, even oatmeal.
How do I store oatmeal?
To store oatmeal, let the oatmeal cool completely before placing it in an air tight container and placing it in the refrigerator.
How do you reheat oatmeal?
To reheat this savory oatmeal, place the oatmeal in a small pot and add 1/4 cup of water or broth. Heat the broth over low/medium heat and stir the liquid into the oats until the oats are warm. Add as much liquid as you would like to create the consistency you are looking for.
Can you freeze oatmeal?
Yes, you can freeze oatmeal. We recommend freezing this oatmeal before adding the cheese. To freeze this oatmeal, scoop it into a greased muffin tin and place it in the freezer.
Once the oatmeal has completely frozen, place the oatmeal cups in a freezer safe bag.
When you are ready to reheat the oatmeal, place a few of the oatmeal cups in a bot with some water or broth and warm it up over low heat, carefully breaking up the frozen oatmeal cups.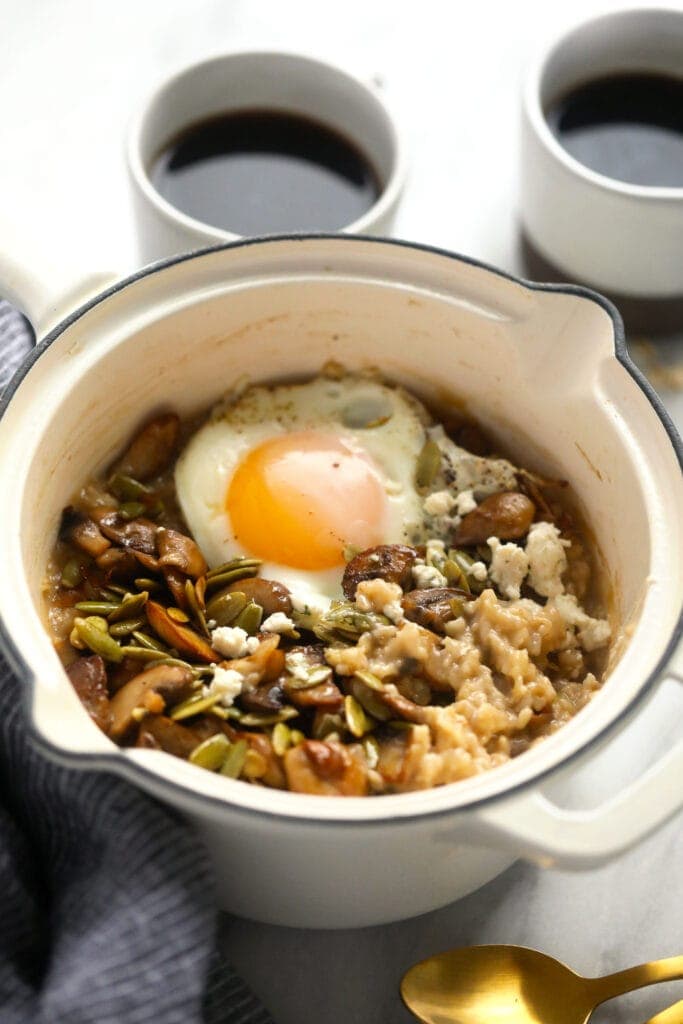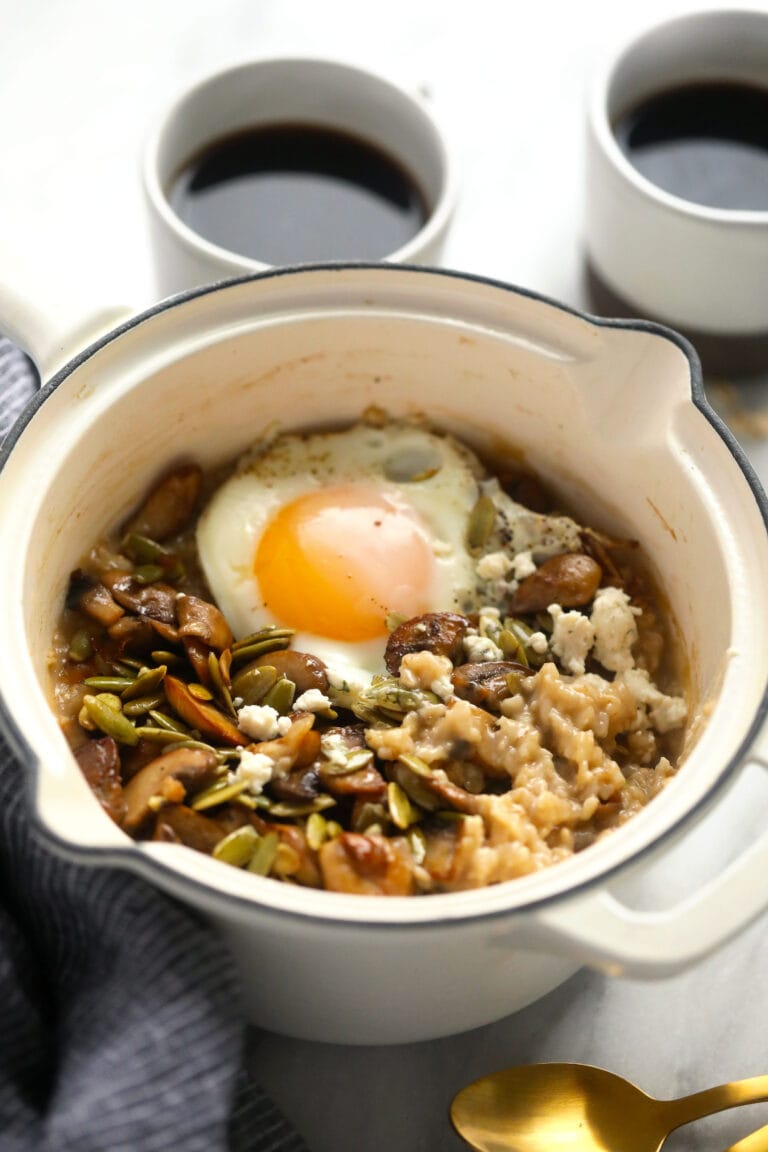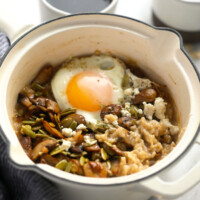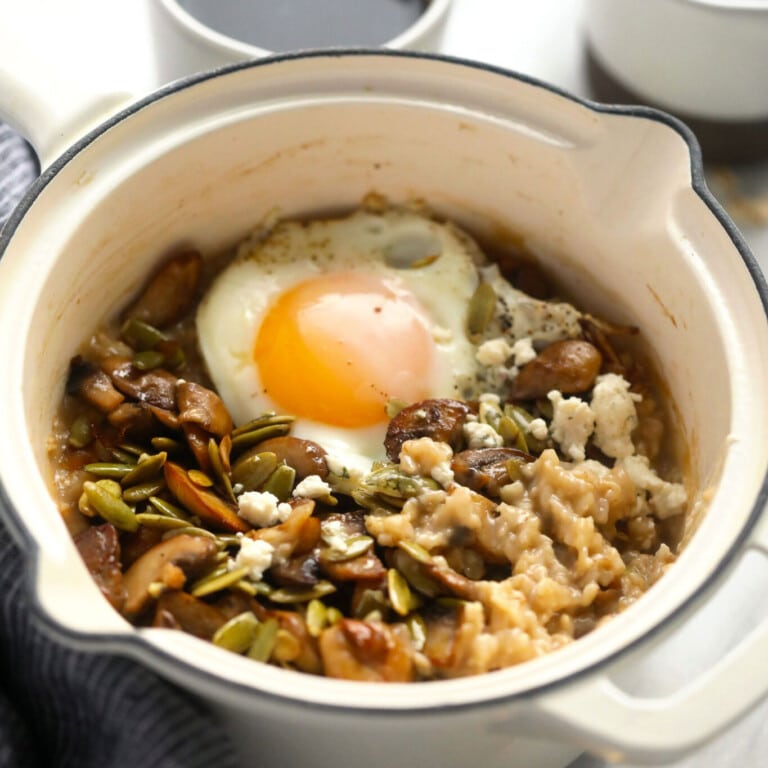 Savory Oatmeal Recipe
Did you know that oatmeal can be savory? Switch up your oatmeal routine and make a batch of these delicious savory oatmeal. Mushrooms, sage, oats, and more, it is a savory breakfast dream!
Instructions
Place olive oil on the bottom of a medium pot. Heat over medium-high/heat. When olive oil is fragrant, add onion and garlic. Saute for 2 minutes.

Next, add rolled oats and toast over medium heat for 2 minutes. Finally, add beef broth, water, and maple syrup and continue heating over medium heat. Stir every so often and cook or around 10 minutes until thickened.

While the oatmeal is thickening, prepare the mushroom topping. Heat olive oil in a medium saucepan over medium/high heat. Add mushrooms, onion, salt, and 3 sage leaves. Saute for around 8-10 minutes to cook down the mushrooms.

Discard the sage and remove the mushroom topping and set aside.

In the same pan, add a little more olive oil (if needed) and fry 4 large eggs to the desired yolk consistency.

Finally, serve savory oatmeal topped with the sauteed mushrooms, fried egg, pepitas, and goat cheese.
Nutrition facts
Calories:
365
kcal
Carbohydrates:
29
g
Protein:
17
g
Fat:
16
g
Fiber:
5
g
Sugar:
5
g