Looking to serve a crowd? Cook up this tender slow cooker pulled pork for a hand-off, easy meal that everyone will love.
Our slow cooker pulled pork recipe is made with a delicious pork dry rub and bbq sauce and then is slow-cooked for hours in your crockpot!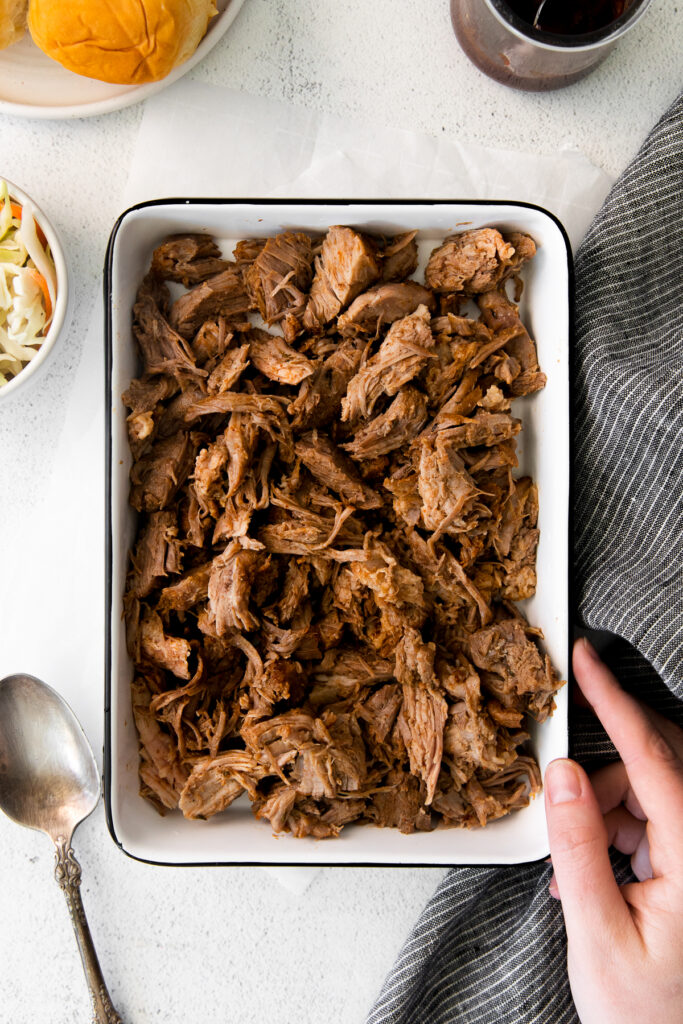 Keep This Slow Cooker Pulled Pork in Your Back Pocket
I think we should rename this post to Back Pocket Slow Cooker Pulled Pork. It's a recipe that everyone should truly keep in their back pocket for busy nights.
You can serve this yummy pulled pork recipe on a Hawaiian bun, in a bowl, in a burrito, the list goes on. It's truly an all-purpose recipe that you should have on hand.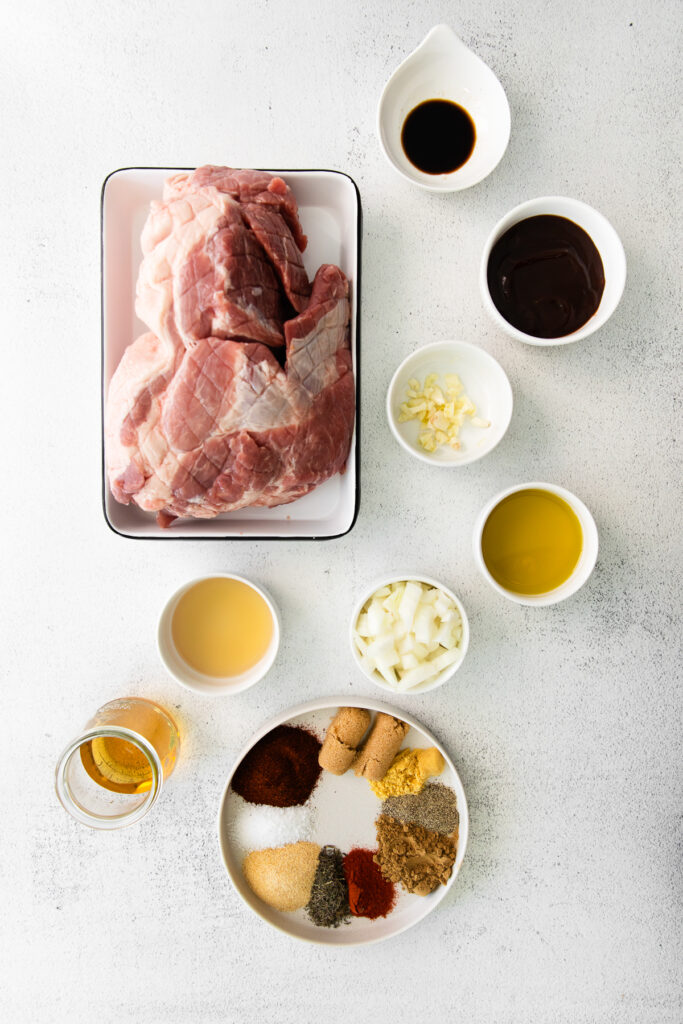 What kind of pork do you need?
We're recommending a pork 4-5 lb. bone-in pork shoulder or 3-4 lb. boneless pork shoulder. We love using pork shoulder in the slow cooker because of its fat content. When cooked low and slow, it will come out fall-off-the-bone tender.
You can also use a pork butt for this recipe if you can't find a pork shoulder.
We do not recommend a pork loin or pork tenderloin because of how lean they are. It's difficult to get lean pork to shred, so avoid using those cuts.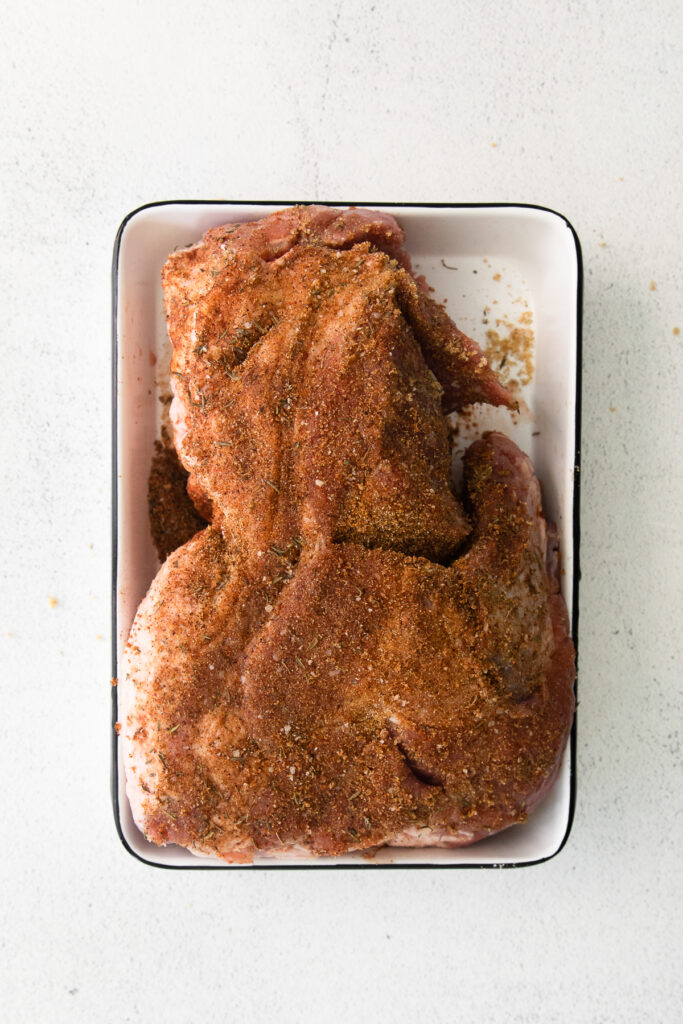 How to Make Pulled Pork in Crock Pot
Season Pork: the start of every yummy pulled pork recipe should start with a delicious seasoning. In this recipe, we're using chili powder, garlic powder, paprika, thyme, mustard, brown sugar, salt, and pepper.
Sear Pork: sear pork shoulder over medium/high heat in olive oil for a few minutes on each side.
Slow Cook: add the pork shoulder along with the onion, garlic, apple cider vinegar, bbq sauce, bourbon, and Worcestershire sauce to the slow cooker. Cook on low heat for 6-8 hours or until the pork can be easily shredded.
Shred Pork: remove the cooked pork from the slow cooker discard the bone and an=y excess fat. Then, use 2 forks to shred it. Mix it with 1 – 1.5 cps of the leftover liquid. Option to add more bbq sauce, too.
Serve: Serve crock pot shredded pork any way you wish! Scroll down for ideas.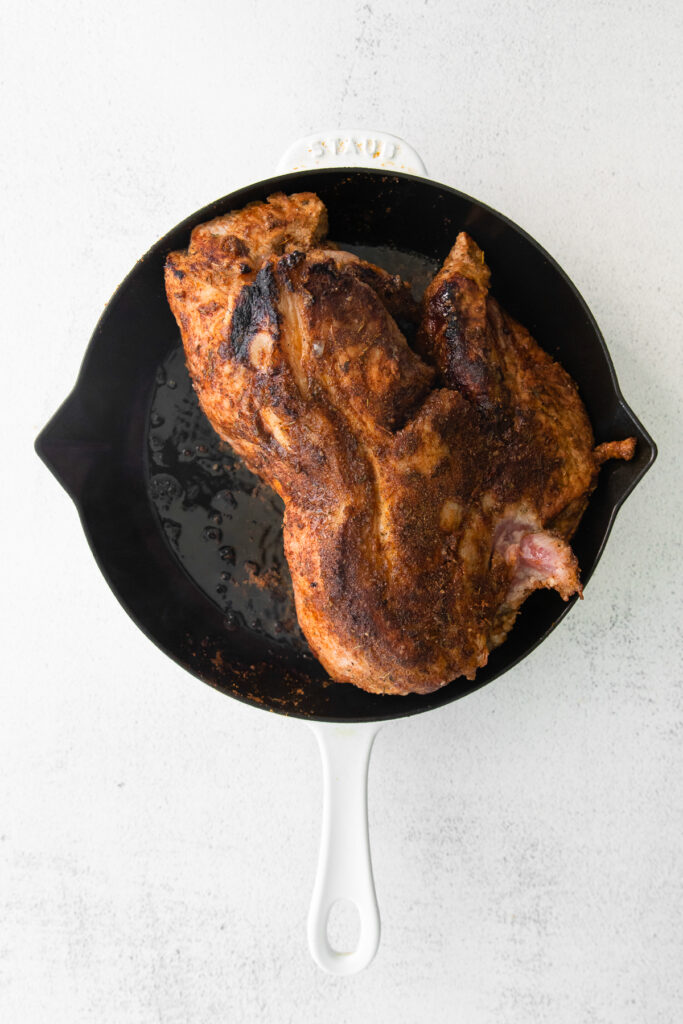 Top Tips for Perfect Slow Cooker Pulled Pork
Sear Before Slow Cooking
We love searing pork shoulder before slow cooking because it helps infuse your meat with the yummy spices. It also creates a crust, making for amazing texture in every bite.
Always Add Liquid
Adding liquid to your crock put with pork shoulder is always a good idea. It adds moisture and will prevent your pork from drying out.
Cook Low and Slow
We recommend cooking your pork shoulder low and slow. This is to ensure it gets that fall-off-the-bone texture and comes out nice and tender!
Discard Fat
Before shredding, we recommend discarding any large pieces of excess fat. This is to prevent your pulled pork from being overly fatty and greasy.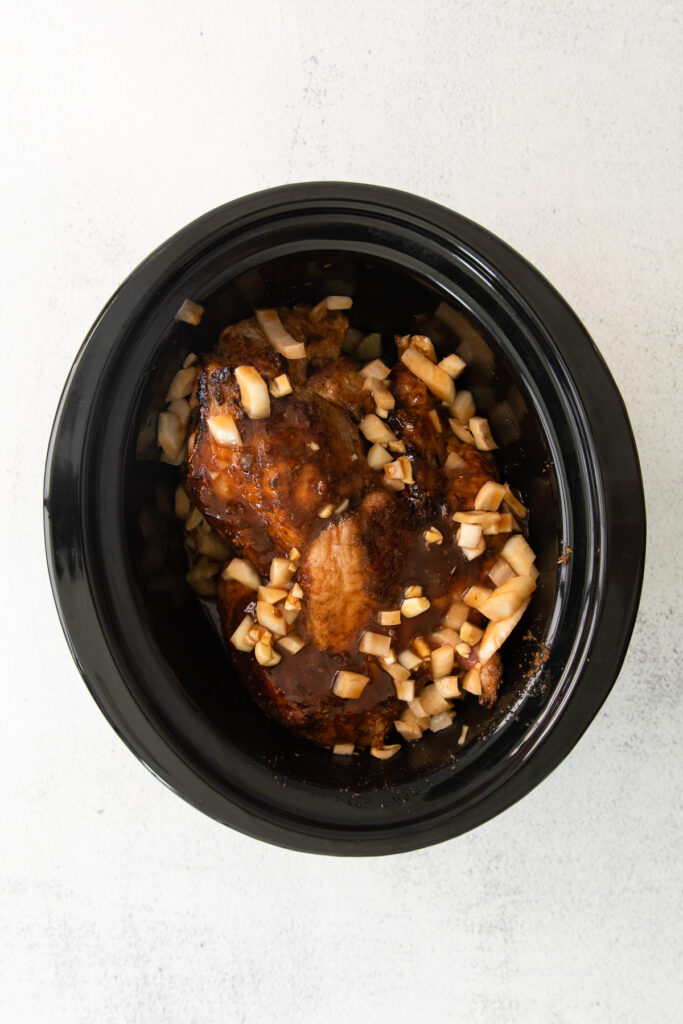 Do you need liquid in slow cooker for pulled pork?
You don't technically HAVE to add liquid into your slow cooker for pulled pork because the pork will generate moisture. However, we do recommend adding some kind of liquid to the crock pot to make sure things stay nice and moist.
Should I sear pork before slow cooker?
It isn't necessary to sear pork before slow cooking, but we do recommend it. By searing the pork you create an amazing "crust" that will add flavor and texture.
Can you overcook pulled pork in a slow cooker?
It is very difficult to overcook pork in a slow cooker, but it is possible. Make sure you have enough moisture in your slow cooker so that things don't get tough and cook your pork on low to prevent overcooking.
Is it better to cook pulled pork on high or low?
We recommend cooking pulled pork in crock pot on low so that it can cook low and slow and become nice and tender.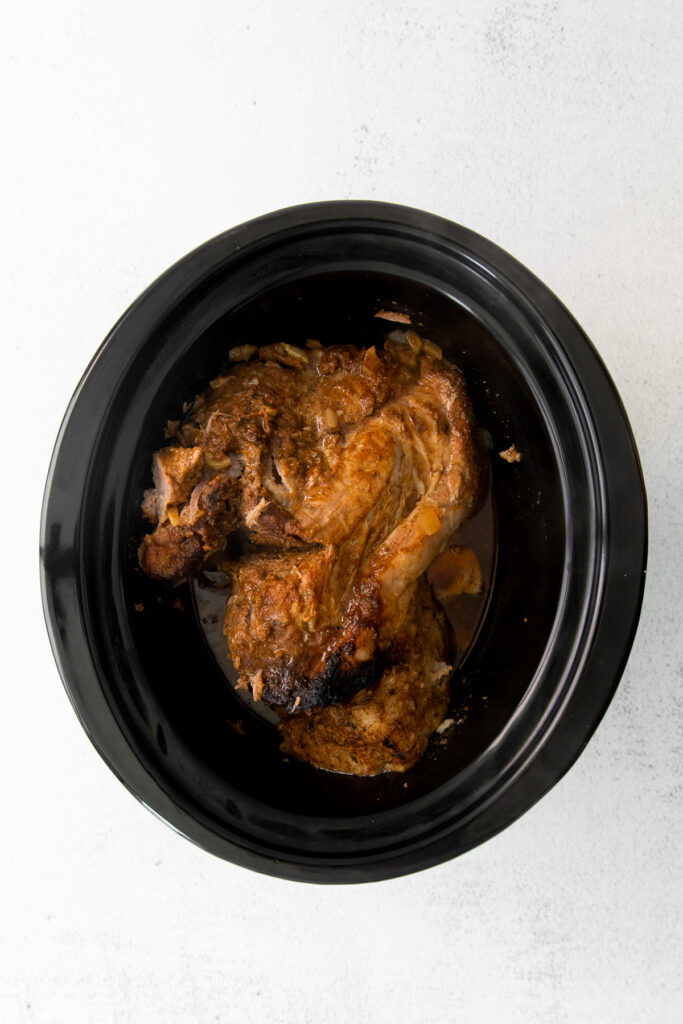 Instant Pot Instructions
We have a great recipe for Instant Pot Pulled Pork HERE, but if you were hoping to use this exact recipe in your Instant Pot, here are some quick instructions below.
Season pork as directed in the direction.
Add olive oil to Instant Pot. Turn on the saute feature and sear on all sides for 2 minutes on each side. Remove pork.
Deglaze Instant Pot with 1/3 cup of water or broth and the bourbon and use a wooden spatula to scrape up the brown bits. Then, place the trivent into your Instant Pot.
Add the pork shoulder back in and then add the rest of the Ingredients.
Seal Instant Pot and cook on high for 90 minutes. Quick release the Instant Pot.
Depending on how big your pork shoulder is, your pork might be done and ready to shred. If it's not fall-off-the-bone, continue cooking in incriments of 10 minutes.
Once your pork is done, use 2 forks to shred it. Mix in the liquid and add more bbq sauce, if desired.
Recipe Variations
Make it spicy: Add in a (or a couple!) sliced jalapeño to make the shredded pork nice and spicy.
Pork Enchiladas: instead of BBQ sauce, swap it for enchilada sauce. Then, once the pulled pork has cooked, add 1/2 cup more enchilada sauce.
Pork Tacos: swap the spices for some homemade taco seasoning and then add 1/2 cup of salsa instead of BBQ sauce. Serve in a tortilla.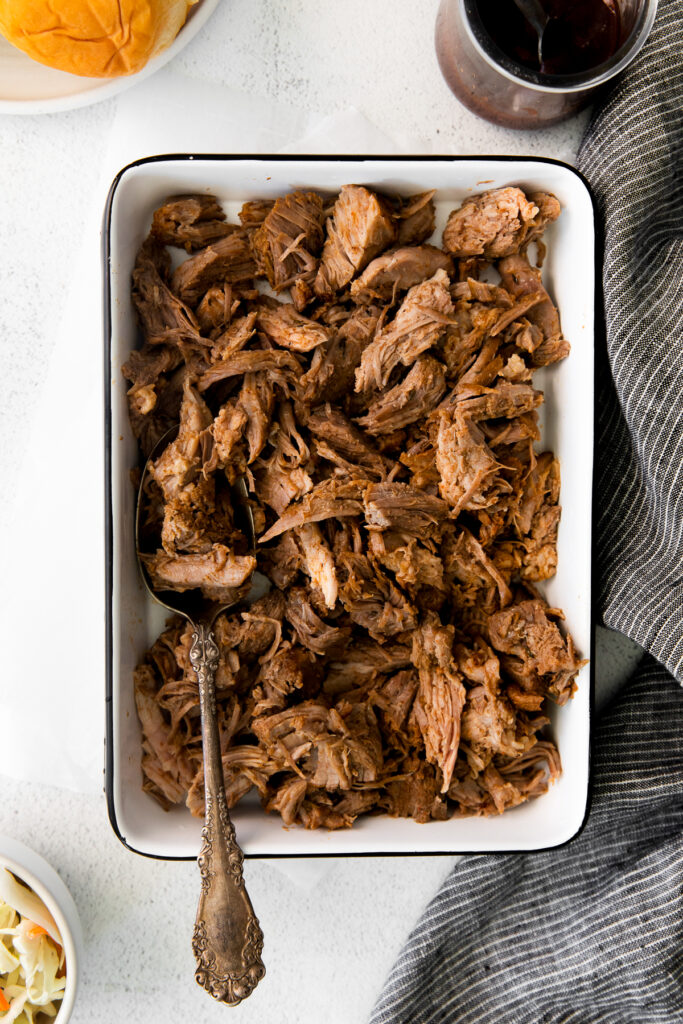 Storage
Let leftover pulled pork cool completely. Then, store it in an airtight container in the fridge for up to 3-5 days.
How to Reheat
Microwave: microwave on high for 1.5 to 2 minutes or until hot.
Stovetop: add a little olive oil to a frying pan. Heat pulled pork over medium heat for 3-5 minutes, or until thot.