Hoping to find a go-to fluffy pancake recipe that comes out perfect every time! You will love these brown butter fluffy pancakes made with simple ingredients.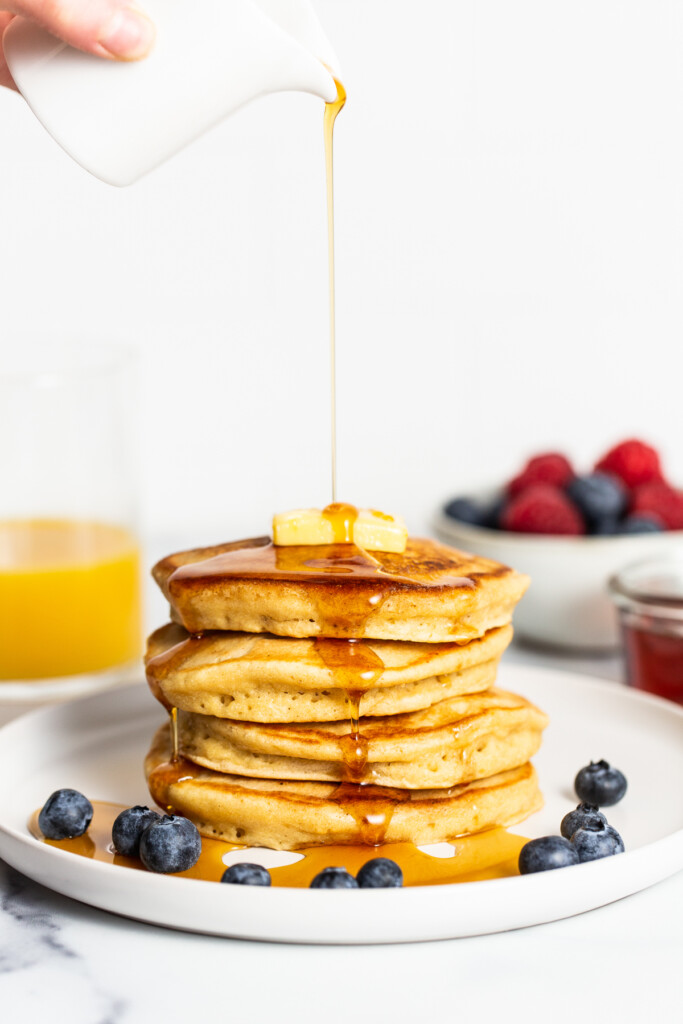 Best Fluffy Pancake Recipe!
Pancakes for breakfast is always a good idea. Especially with a side of bacon or breakfast sausage.
This is seriously the best fluffy pancakes recipe and I'm excited for you to try it. They're made with simple ingredients and ready in less than 20 minutes.
In this post, we're sharing tips and tricks on how to make fluffy pancakes (we've got a few up our sleeve). You're not going to want to miss this one!
Why you'll love them!
Simple ingredients
Made with brown butter
So fluffy
Easy to freeze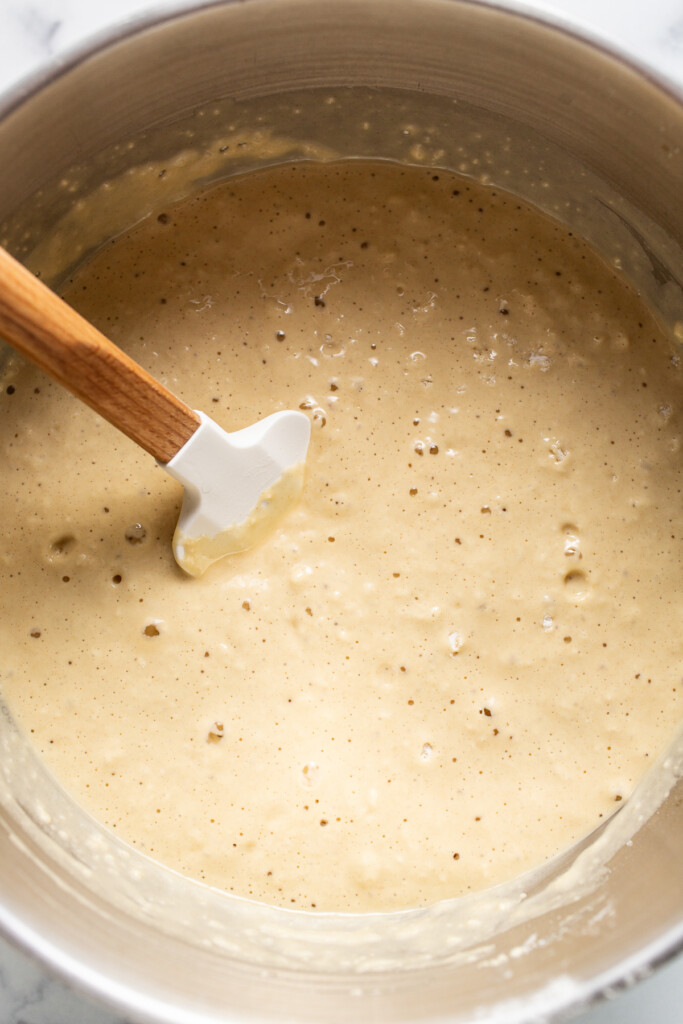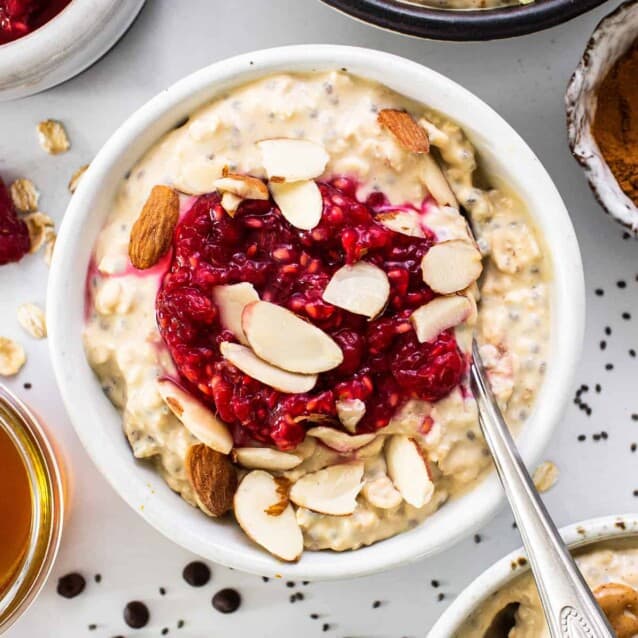 Need Breakfast Inspo?
Subscribe to our emails and get all of our best breakfast recipes straight to your inbox.
The Key to Fluffy Pancakes
Egg Whites – make sure to whisk the egg whites until stiff peaks form. This is very important!
Don't overmix – gently fold the egg whites into the pancake batter so that they don't lose their air bubbles. Make sure not to vigorously mix.
Baking powder is key: this recipe calls for 3 teaspoons of baking powder. Yes, 3! We've tested this multiple times. Just trust us!
Cook pancakes immediately: once your batter is ready, make sure to cook the pancakes immediately. If you let the batter sit, the baking powder will deactivate and your pancakes won't be as fluffy.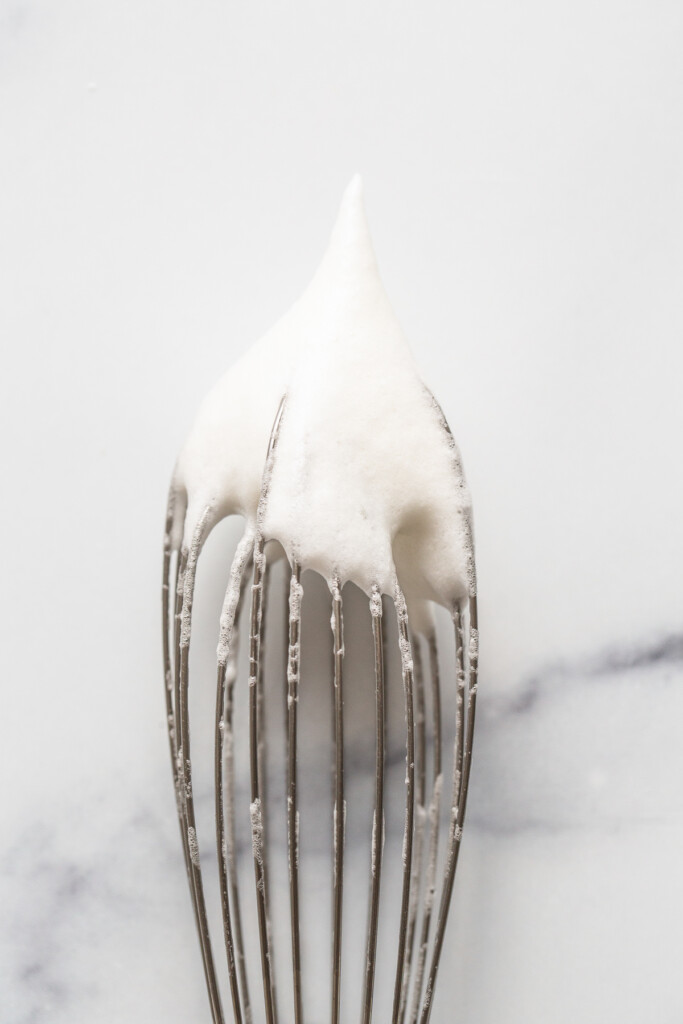 Simple Ingredients
Flour: we kept things simple with this recipe and used regular old flour. We have not tested this with any other flour, but are confident that white whole wheat would work too.
Baking powder: this recipe calls for 3 teaspoons of baking powder. It will activate immediately and make your batter nice and bubbly.
Butter: we thought we'd take the flavor up a notch and use brown butter! It's easy to make and really makes these pancakes.
Eggs: in the directions you'll see we have you separating the egg whites from the yolks. It's important not to skip this part and to make sure to whisk the whites to stiff peaks.
Brown sugar: a little bit of brown sugar helps bring out the brown butter.
Almond milk: any kind of milk will work for this, but we prefer almond milk.
How to Make Fluffy Pancakes
Wondering how to make pancakes fluffy? Here's a quick rundown!
Mix dry: mix the dry ingredients together in a large bowl and set aside.
Make brown butter: melt and stir butter in a sauce pan for around 6-8 minutes until browned.
Mix wet: combine wet in another bowl.
Beat egg whites: add egg whites into a tall bowl. Then, whisk until stiff peaks form.
Combine: Mix the wet and dry ingredients and gently fold the egg whites into the batter.
Cook: cook the pancakes in butter over medium/low for 2-3 minutes. Flip, and conitnue cooking until browned.
Serve: serve pancakes with maple syrup and your favorite toppings.
Variations
Add berries: an easy way to make this your own is by adding any kind of chopped berries. Both fresh and frozen would work.
Chocolate chips: chocolate makes everything better. It's true.
Make it whole grain: swap the all-purpose flour with white whole wheat to make these whole grain.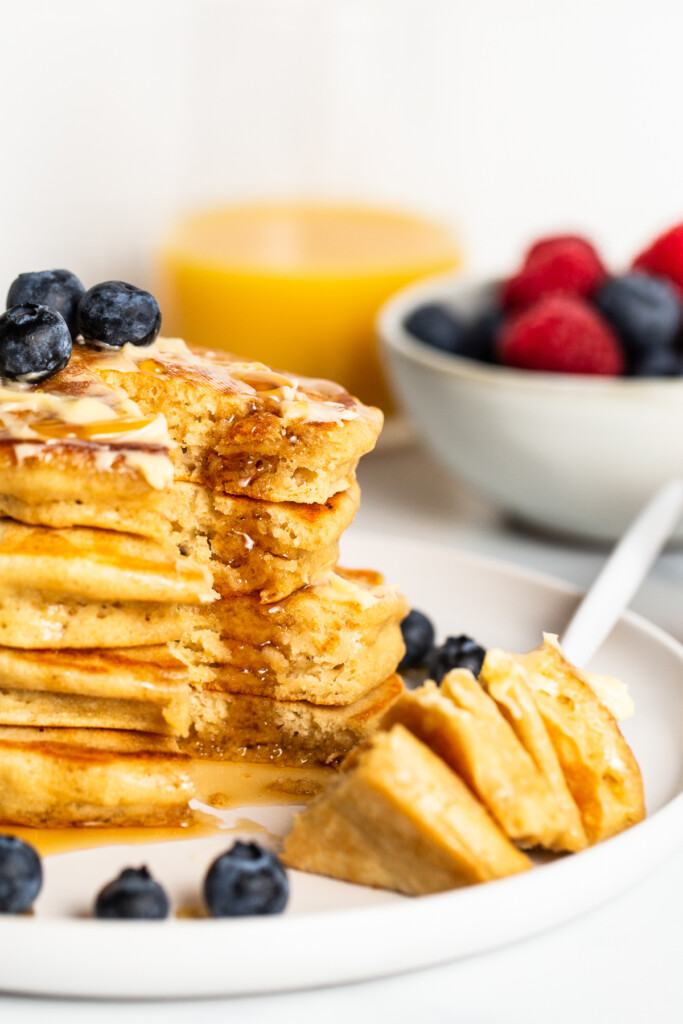 How to Freeze Fluffy Pancakes
Let pancakes cool completely.
Next, stack 2 pancakes on top of eachother and wrap in a piece of plastic wrap.
Then, tightly wrap in a piece of tin foil.
Freeze for up to 3 months.
To thaw: unwrap the frozen pancakes and let them sit on the counter for 5 minutes. Pull them apart and then place them into a toaster and toast until golden brown and hot.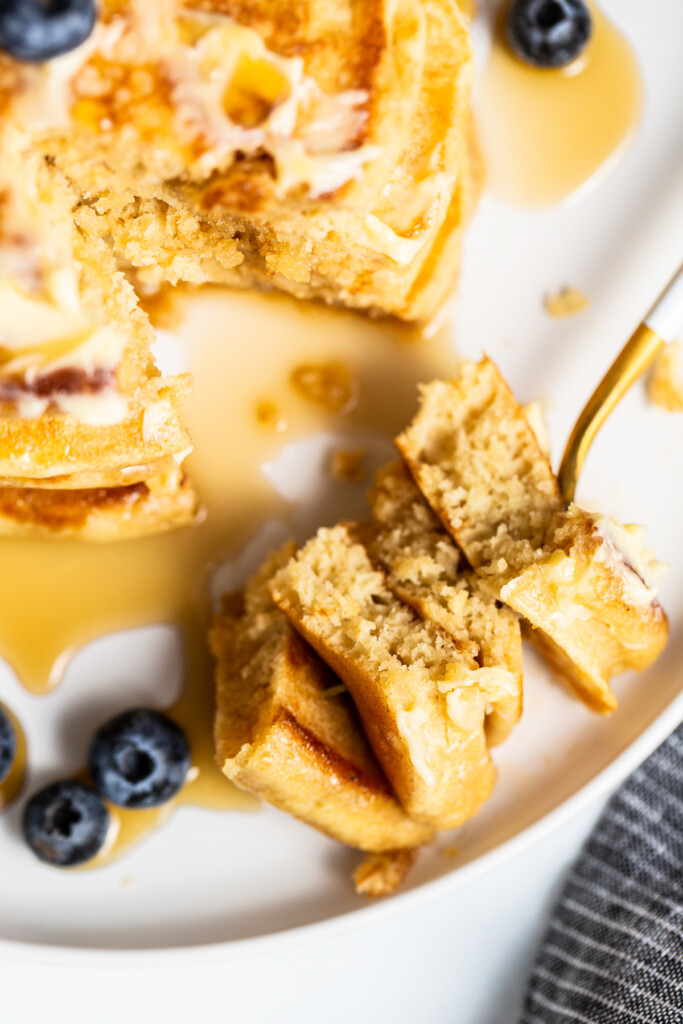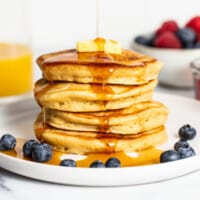 Easy Fluffy Pancakes
These delicious, fluffy pancakes are made with super simple ingredients and in less than 20 minutes. In this post, we're sharing our top tips on how to make fluffy pancakes.
Ingredients
1.5

cups

all-purpose flour

3

teaspoons

baking powder

½

teaspoon

salt

3

tablespoons

unsalted butter

cut into 3 pads

2

large eggs

3

tablespoons

brown sugar

1

teaspoons

pure vanilla extract

1

cup

+ 2 tablespoons unsweetened almond milk*
Instructions
Begin by mixing the dry ingredients together. Add the flour, baking powder, and salt to a bowl. Whisk them together and then pour the ingredients through a fine mesh strainer to make sure there are no lumps in the dry ingredients. Set aside.

Make the brown butter by heating a light colored skillet pan* over medium/low heat. Add butter to the pan.

When the butter has melted, use a silicone spatula or wooden spoon to stir the butter for 6-8 minutes until the butter starts to turn a golden brown color.

Small specs of brown will begin to form (these are toasted milk solids). When those milk solids are golden brown, remove the butter from the heat and pour the melted butter into a separate container. Be careful not to leave the butter on the heat long after the milk solids turn brown, it is very easy to burn the butter. Set butter aside.

Mix the wet ingredients together. Add the egg yolks to a large bowl and whisk them together. Add the brown sugar and vanilla extract to the eggs and cream the two together until homogenous. Add the almond milk to the eggs and brown sugar and whisk the two together. Set aside.

Next, beat your egg whites. This is what is going to make your pancakes extra fluffy. Add the egg whites to a metal bowl and whisk them until they begin to form stiff peaks. You can do this with a whisk or an eclectic mixer.

Now, mix all the ingredients together. Add the dry ingredients to the bowl with the egg and brown sugar mixture. Mix until combined.

Then, add the brown butter to the pancake batter and mix until well combined.

Finally, fold the egg whites into the pancake batter. Be careful not to only mix. Only mix to combine. You want to keep the batter light and fluffy.

Prepare the pancakes right away after mixing up the batter. This is important. Heat a large non-stick skillet over medium/low heat. Add a little butter to the skillet.

When the butter is melted, add about 1/3 cup of the batter onto your pan and cook for 2-3 minutes on each side, flipping when the bubbles start to form in the center of the pancakes. Flip when the pancake is golden brown and fluffy. Repeat until all of the pancake batter is gone.

Top with your favorite toppings.
Tips & Notes
 The three components that make these pancakes fluffy are; 1.baking powder 2. whisked egg whites and 3. making sure you make the pancakes right after you mix the batter.
The baking powder activates right when it touches wet ingredients. You want to cook the pancakes as soon as possible while the baking powder is active.
We use a light-colored pan to easily monitor when the brown butter begins to brown. If you use a dark-colored pan it is harder to see when the brown butter browns making it hard to keep it from burning.
When making brown butter, be sure you are watching the brown butter and mixing the butter pretty consistently so it doesn't burn.
This pancake batter is a thicker pancake batter, but you should be able to scoop it out of the bowl and into the skillet pan with only a little effort. So if your pancake batter is super thick, add 1 tablespoon more almond milk at a time. Fold the milk into the batter, try to keep the air bubbles in that batter.
Nutrition facts
Calories:
322
kcal
Carbohydrates:
44
g
Protein:
8
g
Fat:
12
g
Fiber:
2
g
Sugar:
9
g
Photography: photos taken in this post are by Ashley McGlaughlin from The Edible Perspective.