These Gluten-Free Apple Cinnamon Oat Pancakes are hearty and delish. They are made with 100% whole grains, no refined sugars, and real apple chunks!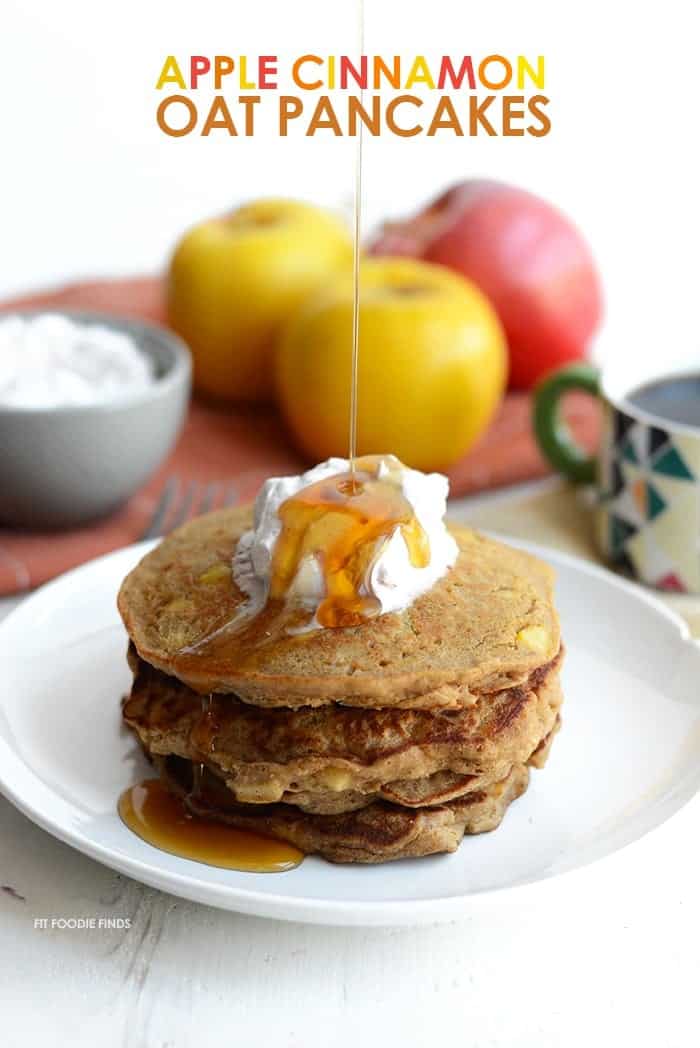 It's true, I'm a total pancake whore. I make em every week…usually on Sundays and make sure to make a GIANT batch so I can have leftovers. Pancakes are about the only thing Blake will eat "gluten-free" …as long as I don't use that "fake flour stuff" aka gluten-free all-purpose flour.
One day he will get over it and just eat the damn gluten-free cookies. And like em' too!
The other day I made spaghetti and totally lied to him telling him I used normal noodles. He takes one bite, looks up at me like a sad puppy as says…"DON'T DO THIS TO ME."
I proceeded to tell him that they were brown rice noodles, because he's grown to like those, and said OHHHHH no they're not. He caught me red handed. I was testing out a new noodle…quinoa noodles. Apparently it tastes like dog food in his opinion. I ate em' up like it was my job and licked my plate too!
Hmph.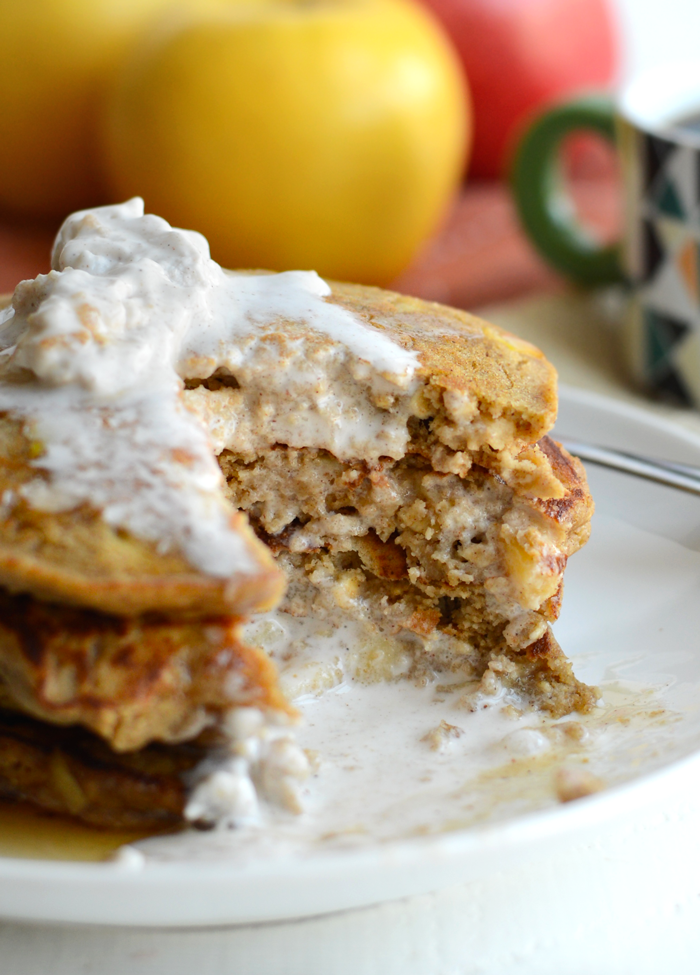 What I'm trying to say is that Blake approves of these pancakes!
And so do I for that matter.
Apple cinnamon is one of those flavors that I just can't get enough of. I could eat it all day erry day!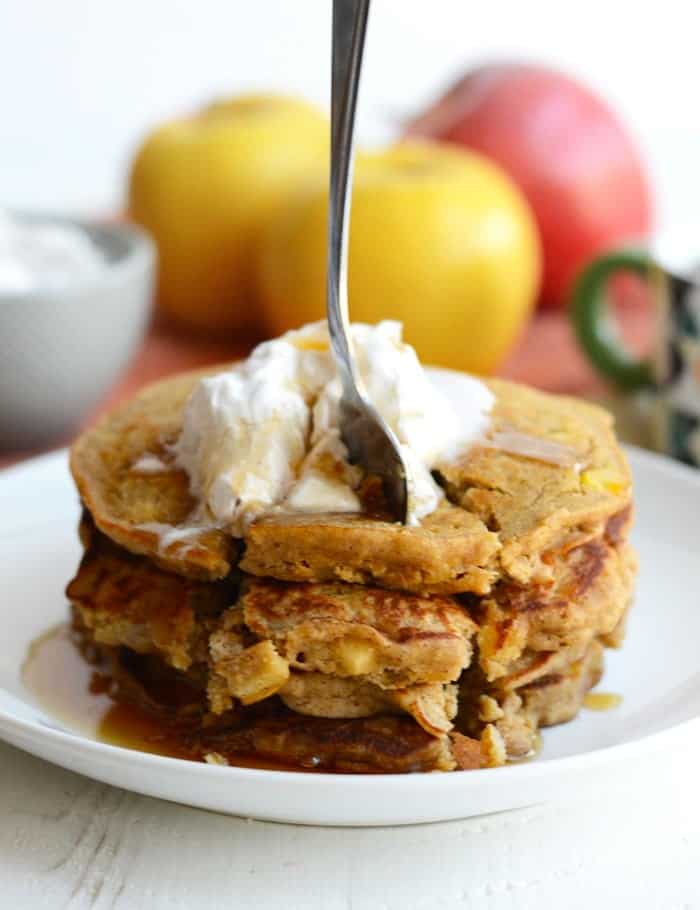 On top of these panny cakes, I made some vegan whipped cream sweetened with maple and a hint of cinnamon. AH MAY ZING. Lately I've been using the Trader Joe's brand coconut cream to make my whipped cream. I find that it holds shape much better than just full-fat coconut milk.
I could take a bath in that stuff.
It would actually, probably, definitely be really good for my skin if I did that 😀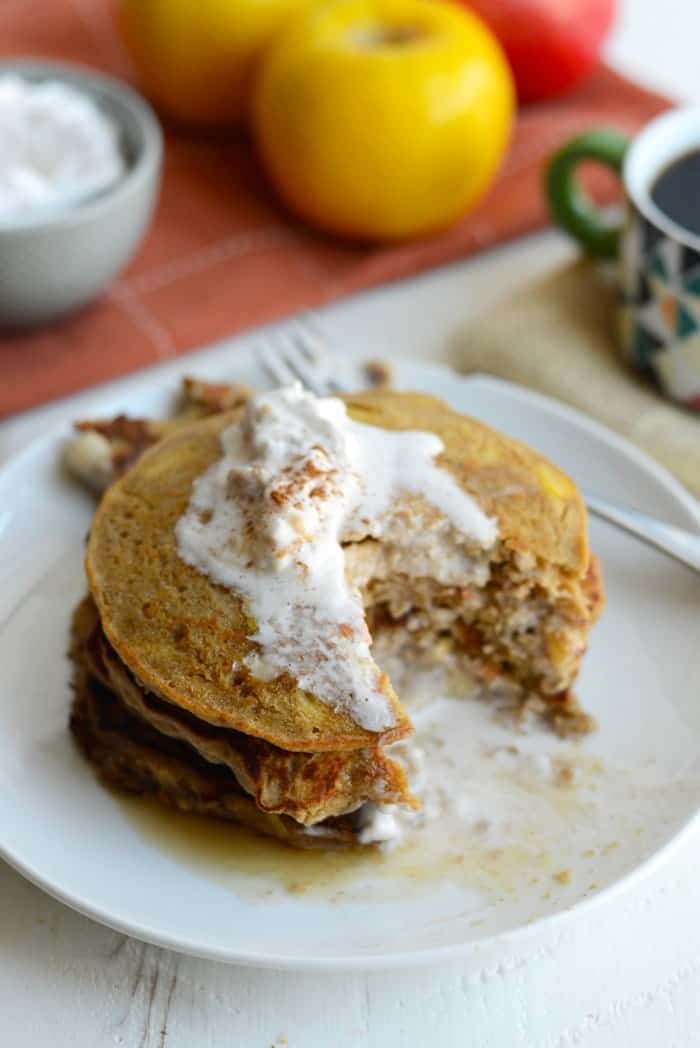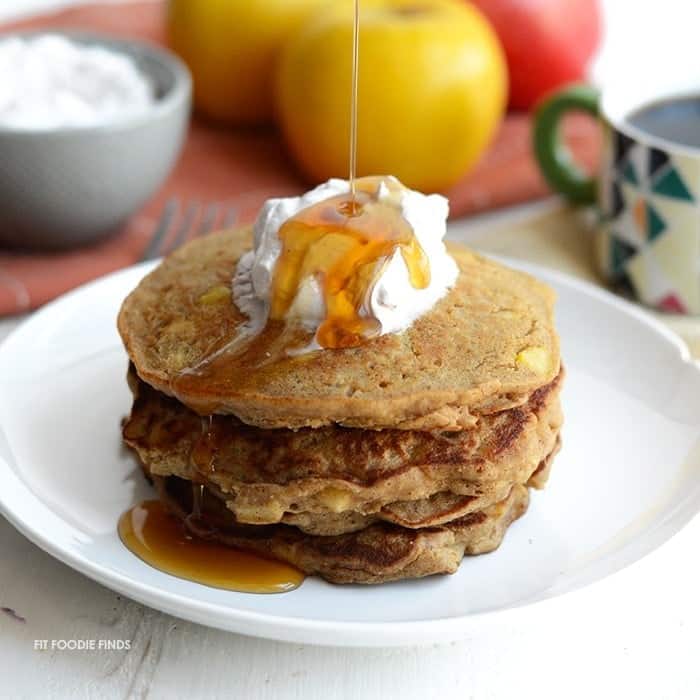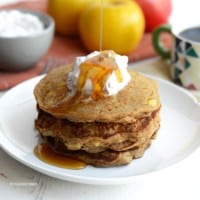 Gluten Free Apple Cinnamon Pancakes
Prep:
10 minutes
Cook:
10 minutes
Total:
20 minutes
Ingredients
Dry
Wet
2

eggs, large

1/2 cup

almond milk, unsweetened

2 tablespoons

agave nectar, or any kind of sweetener

2 tablespoons

coconut oil, partially melted
Instructions
First, heat a large pan to medium heat. Then, spray with coconut oil cooking spray.
In a large bowl, mix together dry ingredients. Then add the wet ingredients (minus the coconut oil) and mix. Add coconut oil and mix (we do this to prevent it from hardening).
Using a 1/4 to 1/3 measuring cup, scoop batter onto pan. Let cook for about a minute to a minute and a half per side!