This post is sponsored by Dole. All opinions are my own (always!).
I love foods that can be dunked and I loveeeee March Madness (Go Gophers)! I was challenged by DOLE to use one of their new Chopped Salad Products with a "dunking" twist. I chose to explore a recipe with the Chopped Asian Blend, which includes (drum roll please…)
Green Cabbage
Red Cabbage
Kale
Broccoli Slaw
Snapped Peas
Carrots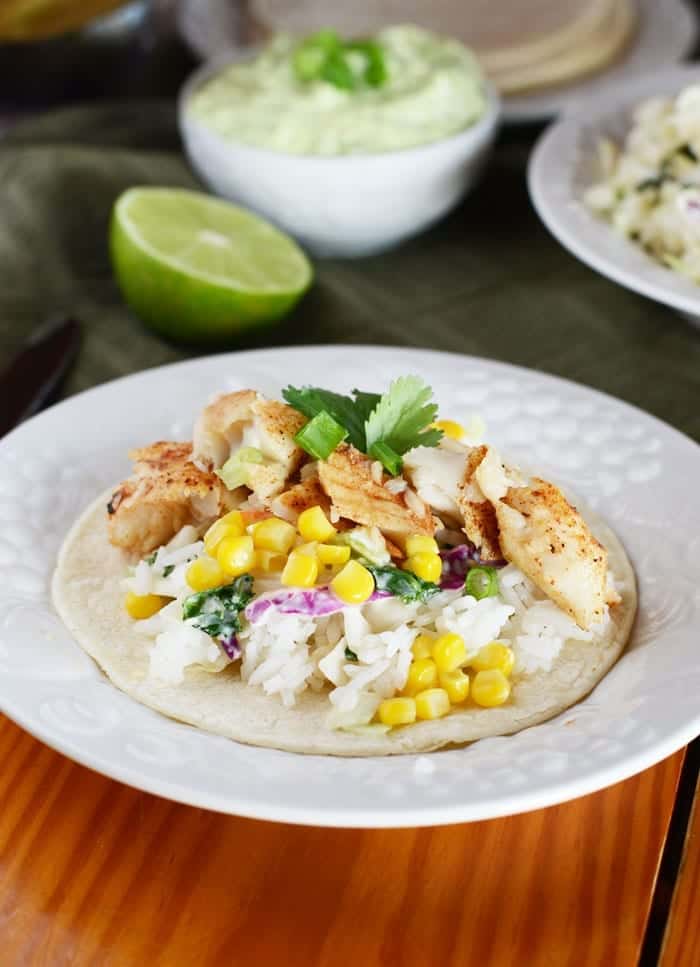 It's time to get creative my friends! I knew I didn't want to make something typical and I also knew I wanted to mix lots of flavors. Operation jerk + thai = Jerk Fish Tacos with Asian Slaw and Avocado Lime Sauce. It's gluten free, fresh, and healthy, too!
How could I forget, I made coconut rice too because I've been a little obsessed lately.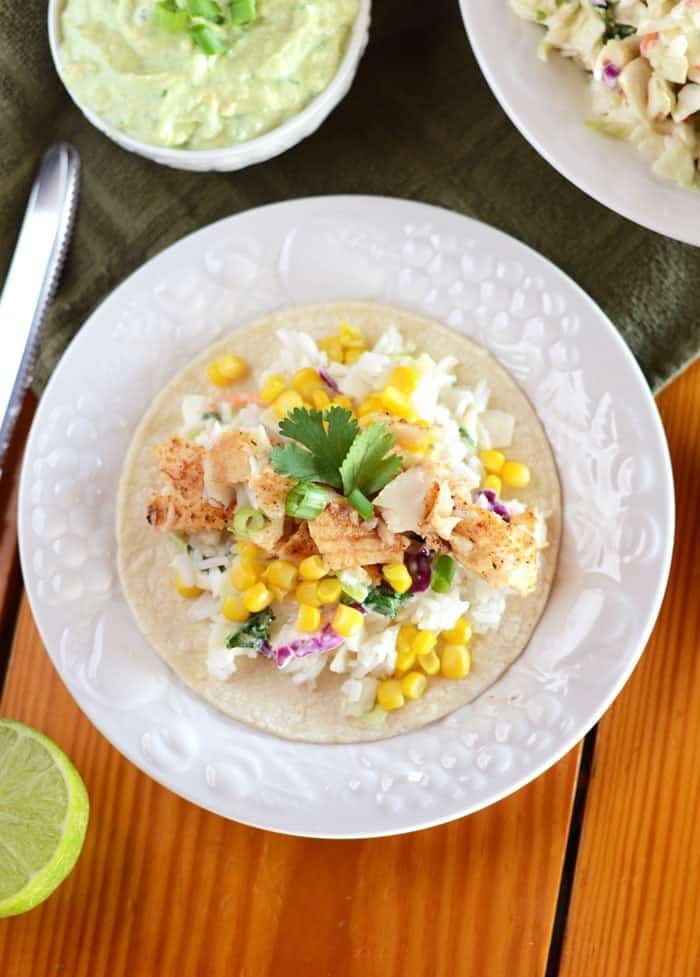 The avocado lime sauce is incredibly creamy and only calls for a few simple ingredients. I seriously think I'm going to start keeping this on hand at all times. Would be delish spread onto a piece of toast or in place of mayo on a sammie.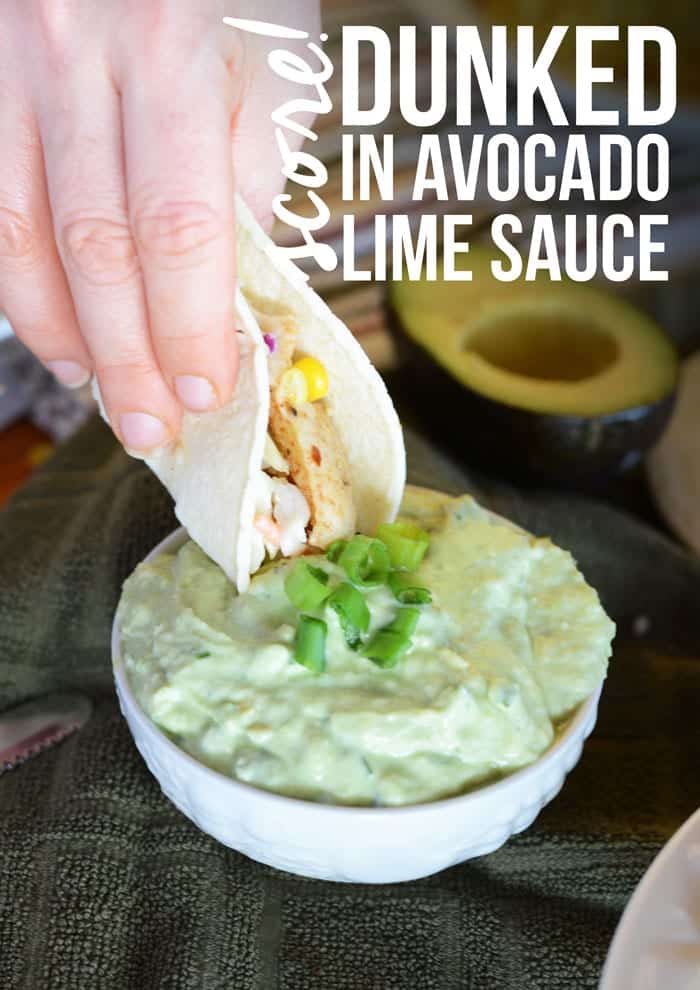 I used one of my favorite rubs from Penzey's Spices for the fish- Jerk Seasoning.
Recipe
Jerk Fish Tacos with Asian Slaw and Avocado Lime Sauce
Ingredients
For the Fish
-6 tilapia filets
-1 tablespoon EVOO
-squeeze of lime
-Jerk Seasoning
-pinch of salt
For the Asian Slaw
1

bag of Dole Asian Blend

1/2 cup

Greek yogurt

1/3 cup

Ginger Sesame Dressing (or your favorite Thai style vinaigrette)

1 tablespoon

sesame seeds
For the Avocado Lime Sauce
1

avocado, mashed/pureed

1/3 cup

Greek yogurt

2 tablespoon

s finely minced cilantro, fresh
squeeze of lime juice
pinch of salt

1

T almond milk
For the Rice
1 cup

basmati rice

1 cup

coconut milk (liquid from a full fat can)

1 cup

water

2 teaspoon

s oranic cane sugar
Instructions
For the Fish
Place a sheet of tin foil on a large baking sheet and coat with about a tablespoon of EVOO. Then, preheat your oven to 350F.
Next, squeeze some lime juice (I used half a lime) on the tilapia filets and lightly sprinkle on your Jerk seasoning to both sides. If your jerk seasoning is salt free, feel free to add a pinch.
Place tilapia filets onto baking sheet and bake for about 20 minutes at 350F or until they begin to brown. Let cool for a few minutes, then slice into bit size pieces.
For the Asian Slaw
In a large bowl, mix together 1 bag of Dole Asian Blend, 1/2 cup of Greek yogurt, 1/3 cup of Ginger Sesame Dressing, and 1 tablespoon of sesame seeds until combined.
For the Avocado Lime Sauce
In a medium size bowl, mash an avocado using a fork. Then, add in 1/3 cup Greek yogurt, a pinch of salt, a squeeze of lime juice, 2 tablespoons of minced cilantro, and a splash of almond milk. Mix with a fork until smooth.
For the Rice
In a medium size pot, bring 1 cup of basmati rice, 1 cup of coconut milk, 1 cup of water, and 2 teaspoons of organic cane sugar to a rolling boil. Then, turn burner to low and let simmer for about 10-15 minutes or until liquid is absorbed.
Similar
You are more than welcome to cook your fish any way you prefer. If it was nicer, I definitely would have pulled the grill out and given Blake full reigns. Instead, I baked the fish (and still gave Blake full reins). He's the meat man in this household!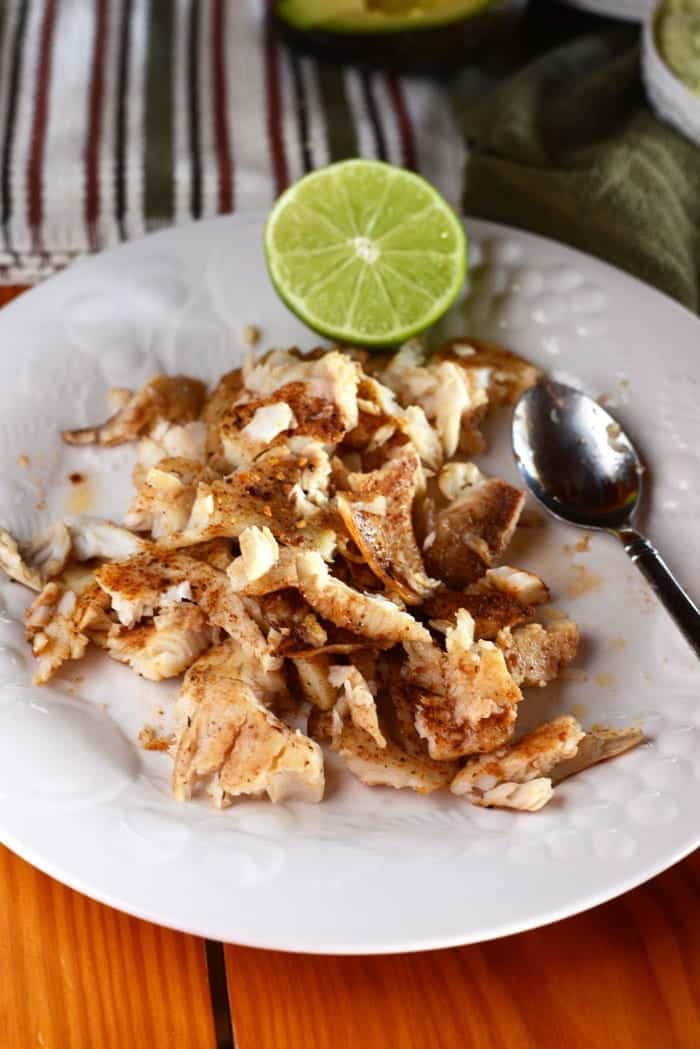 The Asian Slaw- All I can say is I am pumped I have leftovers! I will be eating this straight out of the tupperware :D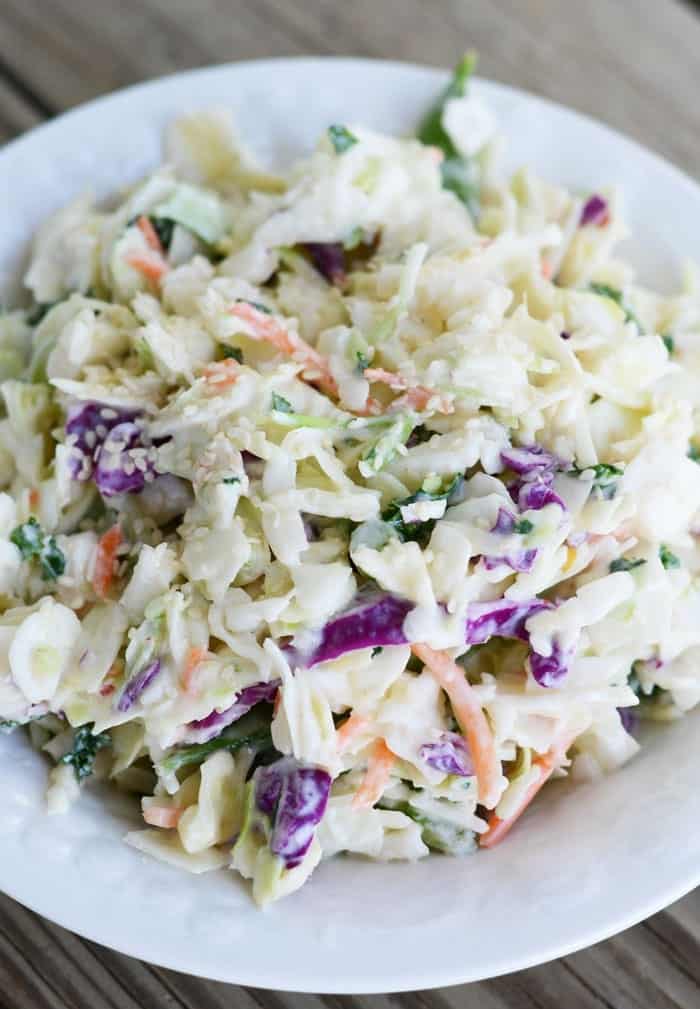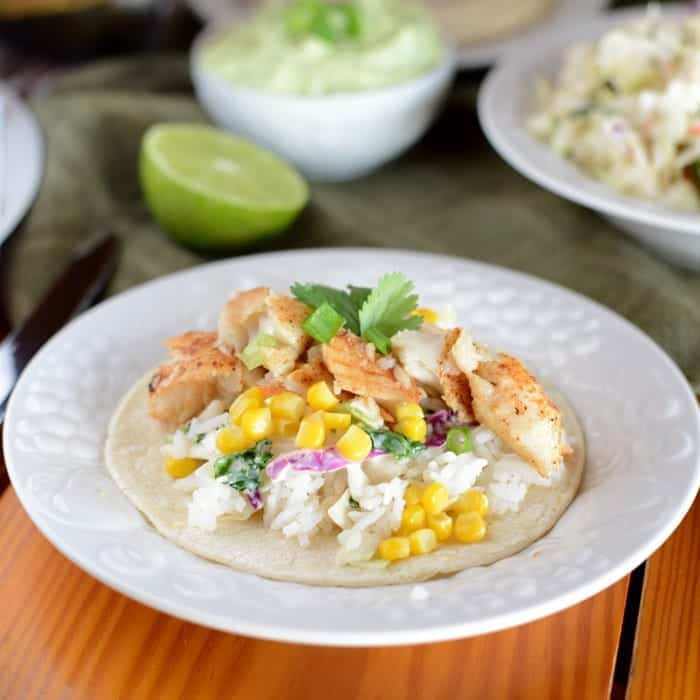 I love that the Asian Blend includes kale! Such a healthy, surprising twist! I have a few more bags to use up, so I am going to sauté some in EVOO and add in some bacon for breakfast :D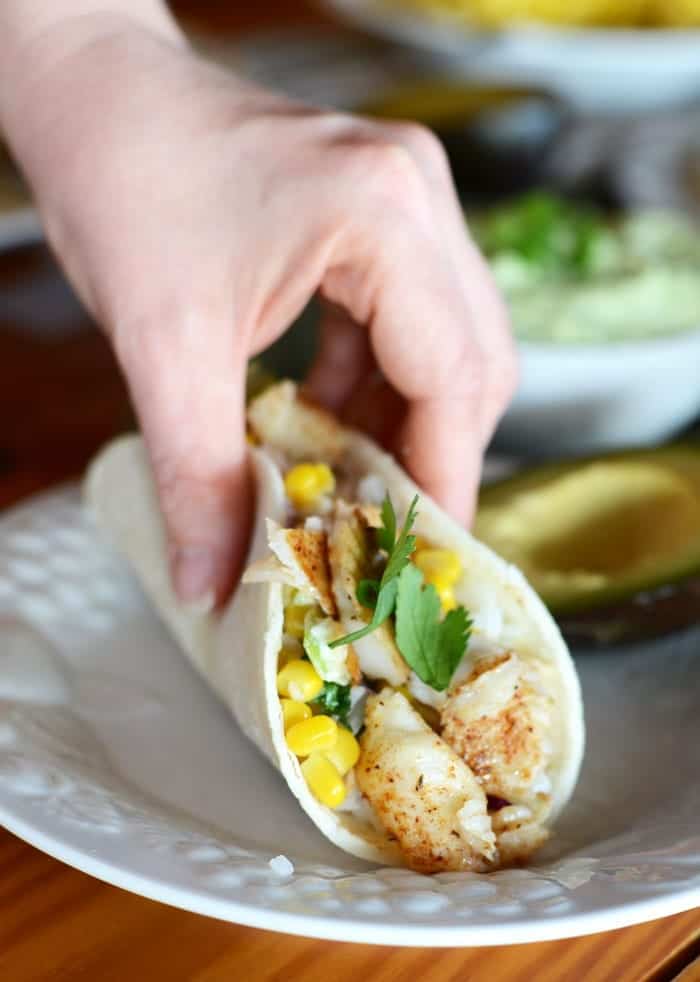 Chopped Salad Blends are genius, if you ask me. All of the things you need in one bag #winning Here are two more Dole Chopped Salad Blend Recipes to inspire you to make one of your own!
Super Dunk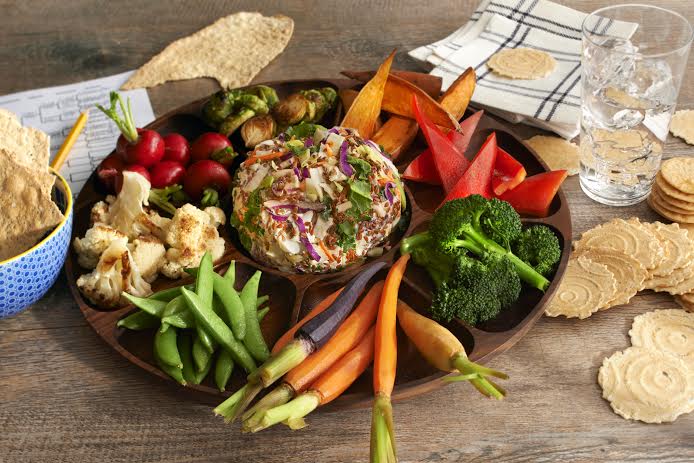 Avocado Spring Rolls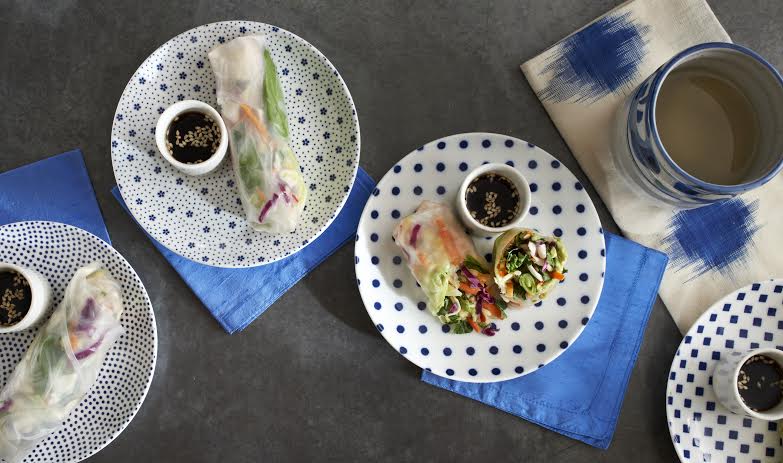 My question for you is- What flavors do you like to mix? Inspire me!