Got 30 minutes? Make this delicious Chicken Chop Salad with Homemade Creamy Honey Mustard Dressing for a quick and easy dish to bring on game day or eat during the week for dinner!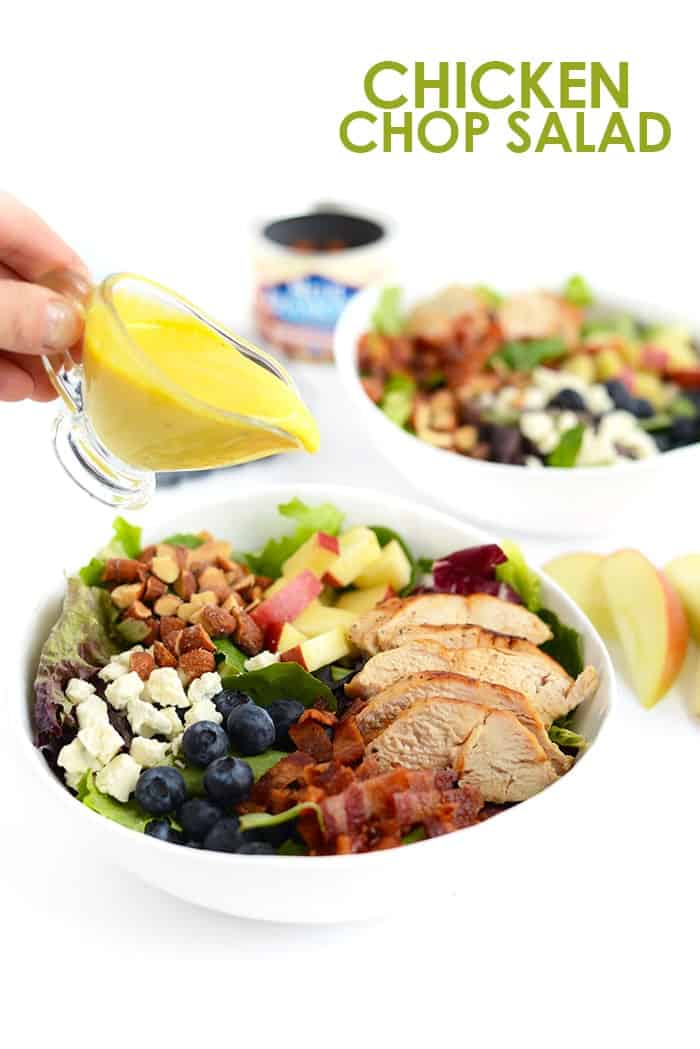 Kentucky Fried Chicken and a Pizza Hut.
WHYYY does that song get stuck in my head on repeat? It's the worst when you are laying in bed and can't fall asleep and the only thing that your brain wants to fixate on is that song.
Can you tell I had insomnia the other night?
So this salad.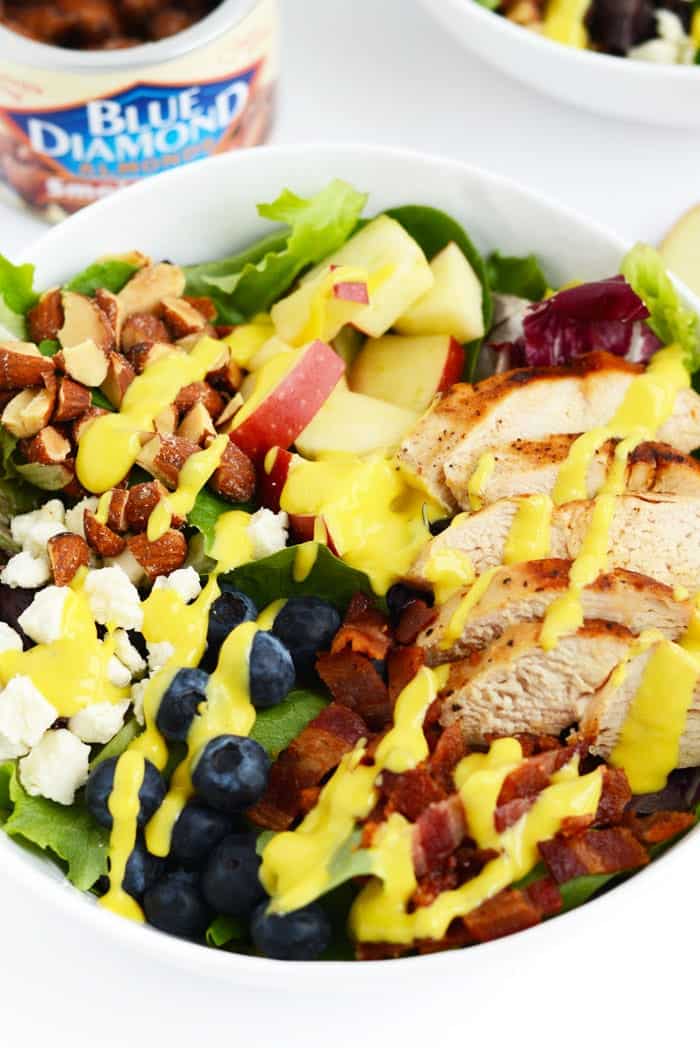 It has all my favorite foods in it…and then some!
I am excited to be working with Blue Diamond again for this one. The Smokehouse Flavor is one of my favorites…thank you Costco for having this flavor in bulk. For a while I was really stuck on how I could use these guys in a recipe, and then it hit me. SALAD TIME.
Am I the only one who appreciates a good game day salad? Whenever we go to a sports bar to watch the game, I always order a salad so that if I do end up ordering a cider or a glass of wine, I can at least have a healthy meal in front of me.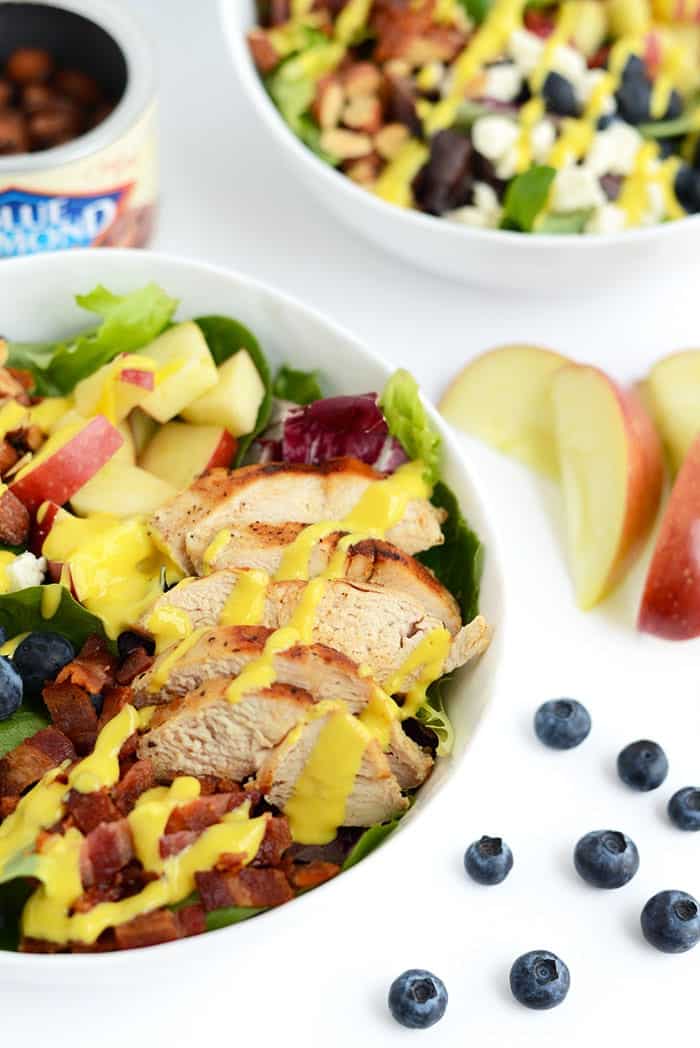 This salad is loaded with…
Crunch
Meat
Bloobs
Sweet & Salty Love
Sweet and salty is THE BEST combination ever. That's why Blue Diamond Smokehouse Almonds go perfect with a homemade creamy honey mustard dressing. A little bit-a sweet and a little bit-a salt. Mmmmmm nom.
Recipe
Chicken Chopped Salad with Creamy Honey Mustard Dressing
Nutrition Information
: 464 calories | 19g fat | 33g carb | 3g fiber | 17g sugar | 51g protein Note: You will not sure all of the dressing for 2 servings of this salad.
Prep Time:

10 mins

Cook Time:

12 mins

Total Time:

22 minutes
Ingredients
For the Chicken Breasts
2

chicken breasts

1 tablespoon

EVOO
~2 teaspoons garlic salt
salt and pepper to taste
For the Creamy Honey Mustard Dressing (adapted)
1/2 cup

2% Greek yogurt

2 tablespoon

s yellow mustard

3 tablespoon

s organic honey

1/2 teaspoon

garlic powder
pepper, to taste
For the Salads (serves 2)
4 cup

s spring lettuce mix

2 tablespoon

s gorgonzola cheese

1/4 cup

Blue Diamond Smokehouse Almonds

1/2 cup

diced apples

1/2 cup

blueberries, fresh

1/4 cup

bacon bits

2

cooked chicken breasts (see above)

4 tablespoon

s homemade honey mustard dressing (see above)
Instructions
For the Chicken Breasts
Heat EVOO in a sauce pan to medium heat. Then, season chicken with garlic salt, salt, and pepper. Place chicken breast on sauce pan and cover. Let cook for about 6 minutes and then flip. Cook for an additional 6 minutes. Check chicken breast and if it's still pink inside, continue cooking until cooked all the way through.
For the Creamy Honey Mustard Dressing
In a medium-size bowl, mix together all ingredients until smooth.
For the Salads (makes 2)
Place 2 cups of spring lettuce mix in each bowl. Then, top with gorgonzola cheese, almonds, apples, blueberries, bacon bits, chicken breast, and homemade honey mustard dressing.
Similar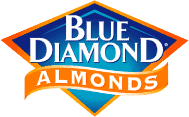 This post is sponsored by Blue Diamond Almonds. I was compensated and all opinions are 100% my own.
For more Game Changing Snacks, visit Blue Diamond Almonds on Facebook, Instagram and Twitter.