Love the crunch, but not the calories that comes with potato chips? Make these sea salt and vinegar kale chips with a hint of parmesan cheese for the most delicious and healthy snack ever!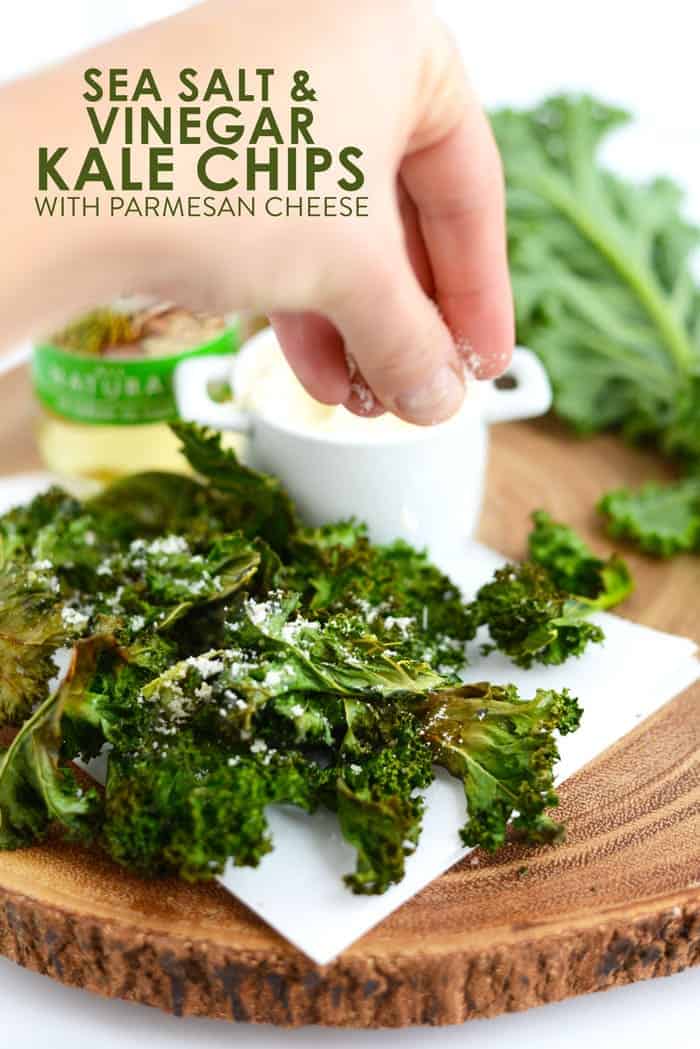 Kale chips.
I heard they either come out crunchy as can be or soggier than a wet sock.
Can you believe this was my first time making kale chips?! MAN, I've been missing out like yeah. I am a total texture person. I love me a crunchy homemade kettle chip, but I know they aren't that good for you. They're made with white potatoes and usually fried in some sort of saturated-fat filled oil. No me gusta.
Now these chips. A+, 100%, Gold-Star Status.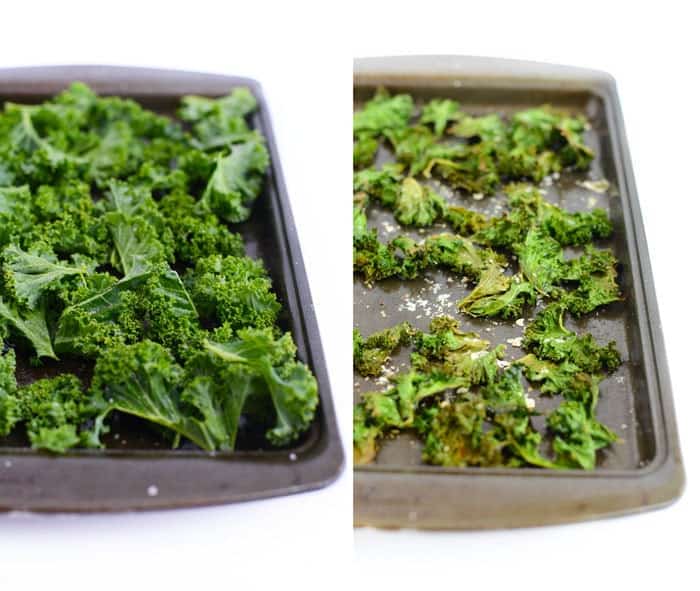 Kale chips are so easy to make!
I literally washed, dried, seasoned, and baked these guys in under 15 minutes. HUZZAH.
I was super excited to find a new use for my Nakano Rice Vinegar, too. Sea Salt and Vinegar is one of my favorite chip flavors, so I knew it would go great on these bad boys.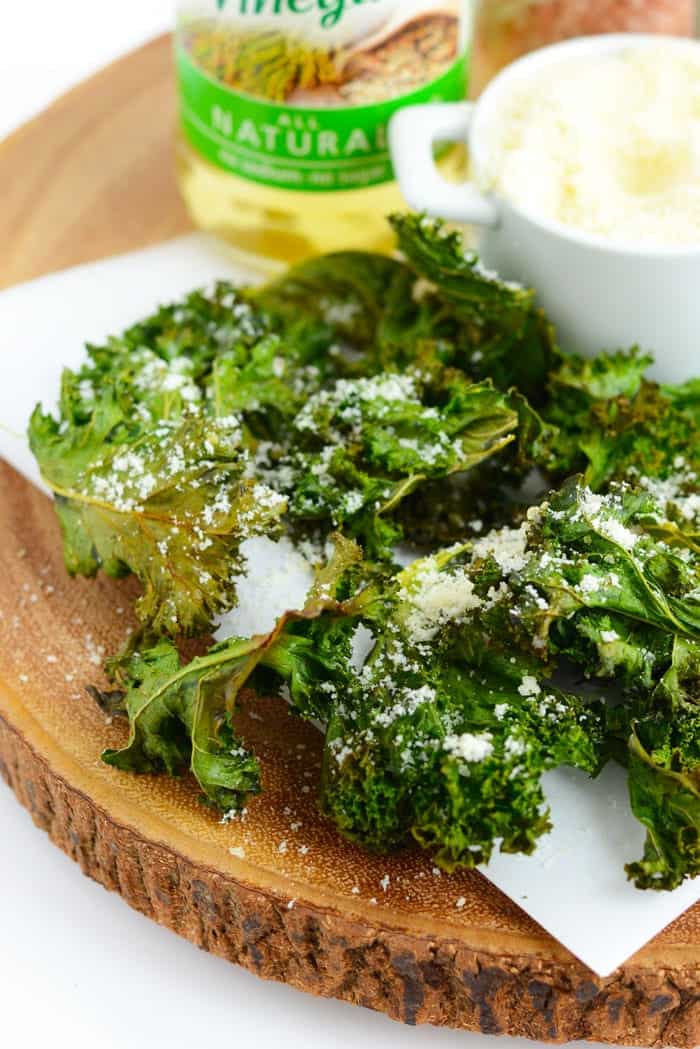 The parmesan was a last minute addition.
Cheese makes the world go round and really gave some more great texture to this recipe!
I feel like when I have kids, this is what I'm going to tell them a chip is 😉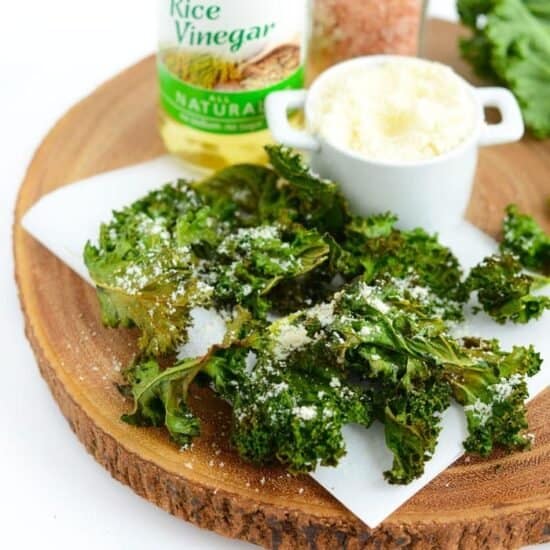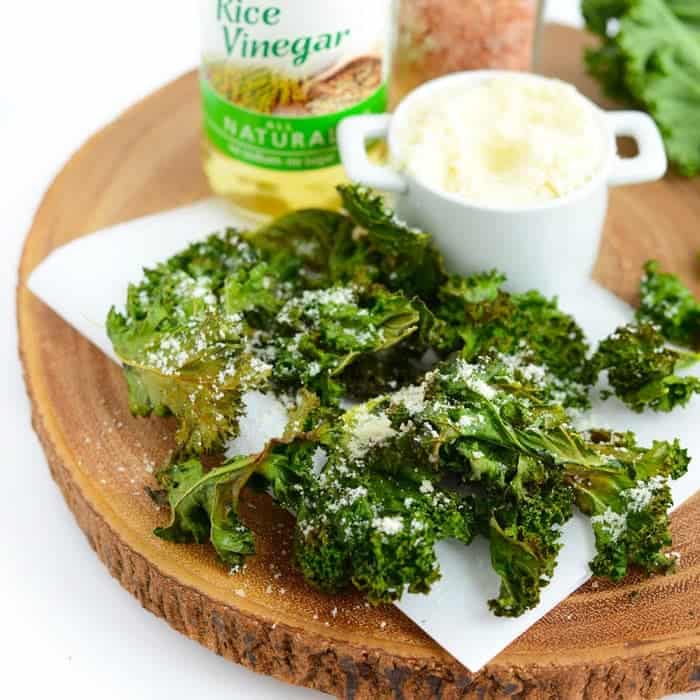 Sea Salt and Vinegar Kale Chips
Add some pizazz to your healthy snack with these sea salt and vinegar kale chips!
Instructions
First, rinse kale to remove any dirt. Then, pat the water off with paper towel, removing as much water as possible. Next, remove kale leafs from the stem and break into bite-sized pieces.

Then, prep baking sheet, by spraying with olive oil (or coconut oil) cooking spray. Then lay the kale evenly on the baking sheet, making sure none of the kale is overlapping one another.

Spray kale with more olive oil cooking spray. The, drizzle on about 2 teaspoons of Nakano Rice Vinegar and toss with your hands. Finally, season with Himilayan sea salt.

Bake at 350º for 10-12 minutes, or until kale chips turn golden brown and are crunchy. About half way through, I stopped and flipped the baking sheet around.
Nutrition facts
Calories:
48
kcal
Carbohydrates:
6
g
Protein:
4
g
Fat:
2
g
Fiber:
5
g
Sugar:
1
g

Kale chips- love em or hate em?