These vegetarian Mexican potato skins are the perfect healthy game day appetizer or for your next get together. They have the crispiest skin and the most flavorful toppings!
We love potato skins because they are an appetizer that everyone loves! Our buffalo cauliflower wings and vegan queso are two other FFF favorites!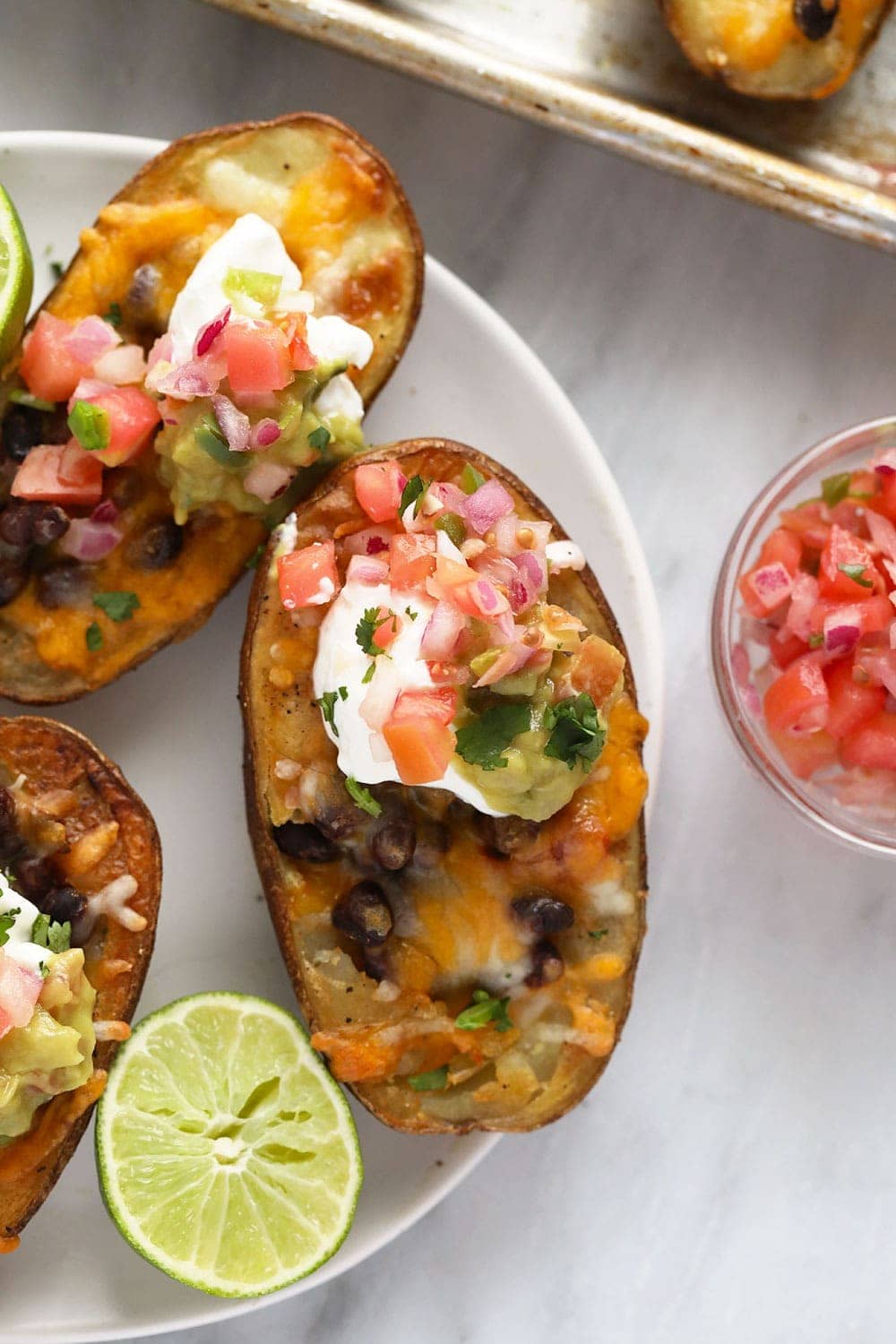 The Best Game Day Appetizer
We are big fans of Mr.Potato here on FFF. We love baked potatoes in foil, twice baked potatoes, and mashed potatoes- a potato in every form. Potato skins are the potato recipe of the hour and we're not upset about it.
Did you grow up on TGIF potato skins from the frozen section of the grocery store? ME TOO! Guess what? These vegetarian Mexican potato skins are a huge upgrade from those frozen potato skins that you're used to (no offense freezer tater skins).
We love potato skins for so many reasons!
Potato skins are the perfect appetizer to serve to the masses.
You can change up a potato skin with different toppings to keep things interesting!
The crispy skins of the potato are heaven on earth.
The Key to Crispy Skins
A potato skin isn't a potato skin without the crispiest outer skin! How do you make this happen you ask? You double bake your skins!
After you bake your potato halves and carefully hallow them it's time to really crisp of the potato skins before adding cheese and fixings.
To do this, you paint each potato skin with extra oil and place them skin side up on the baking sheet and bake them for a second time and an additional 5 minutes at 425ºF.
We prefer to use olive oil to crisp up the outsides of our potato skins, but you can use any of the oils below to wipe your potato skins.
Coconut oil
Avocado oil
Melted butter
Canola oil
Here's a fun idea–> If you want to add a little extra flavor to your potato skins sprinkle them with your favorite spice mix after you oil them. We suggest sprinkling a little taco seasoning or fajita seasoning! YUM.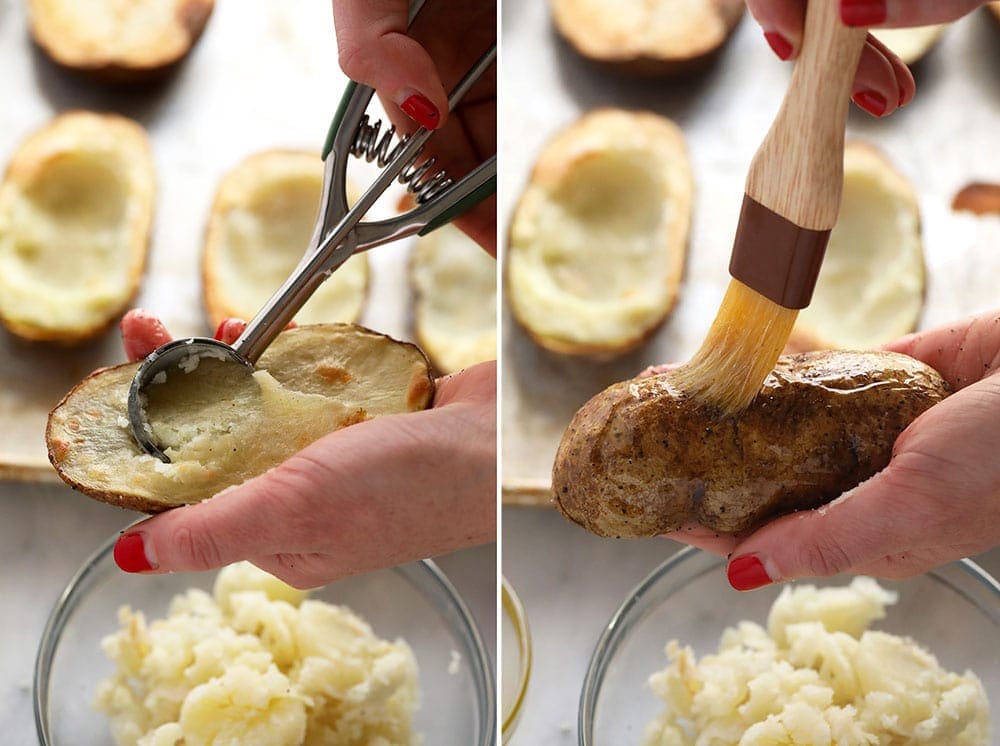 Potato Skins Qs
These Vegetarian Mexican Potato Skins are a both delicious AND healthy! We packed them with protein by adding black beans and cheddar cheese to the mix. The best part about these skins is that they are made with everyday ingredients that you have in your pantry right MEOW.
Before you take off to the pantry and pop a bunch of these potato skins in the oven, heck out some of the most frequently asked potato skins questions!
Are potatoes skins good for you?
Potato skins can be a healthier appetizer option if you top them with healthy and whole ingredients! These Vegetarian Mexican Potato Skins are protein packed with black beans and greek yogurt!
Feel free to add your favorite diced vegetables to the black bean mix for an added veggie boost!
Can I use any kind of potato for potato skins?
Yes! Feel free to use Idaho potatoes, sweet potatoes, or any other large potato for your potato skins!
What can you do with the inside of potato skins?
GREAT question! You don't have to waste the inside of these delicious potato skins! Here are some ideas on what to do with your potato skin innards.
Make a batch of these mashed potatoes!
Let them cool, place them in a reusable bag and make potato soup when you have enough innards.
Make potato pancakes!
Can you freeze potato skins?
Yes, you can freeze potato skins! We do not recommend freezing these Mexican Potato Skins. We recommend making a big batch of crispy potato skins, letting them cool, and then placing them in a freezer safe bag.
When you're ready to eat them crisp them up in the oven and then follow the directions in the recipe card below to make these specific potato skins!
Why would I freeze potato skins?
Double baking the potato skins takes up most of the time for this recipe. Making a big batch of potato skins and freezing them is a great way to cut your cook time in half next time you have a party!
How long do potato skins last in the refrigerator?
These potato skins can last up to 5 days in the refrigerator. Be sure the potato skins are fully cooled before placing them in the fridge.
We do not recommend topping the potato skins until immediately before serving the potato skins!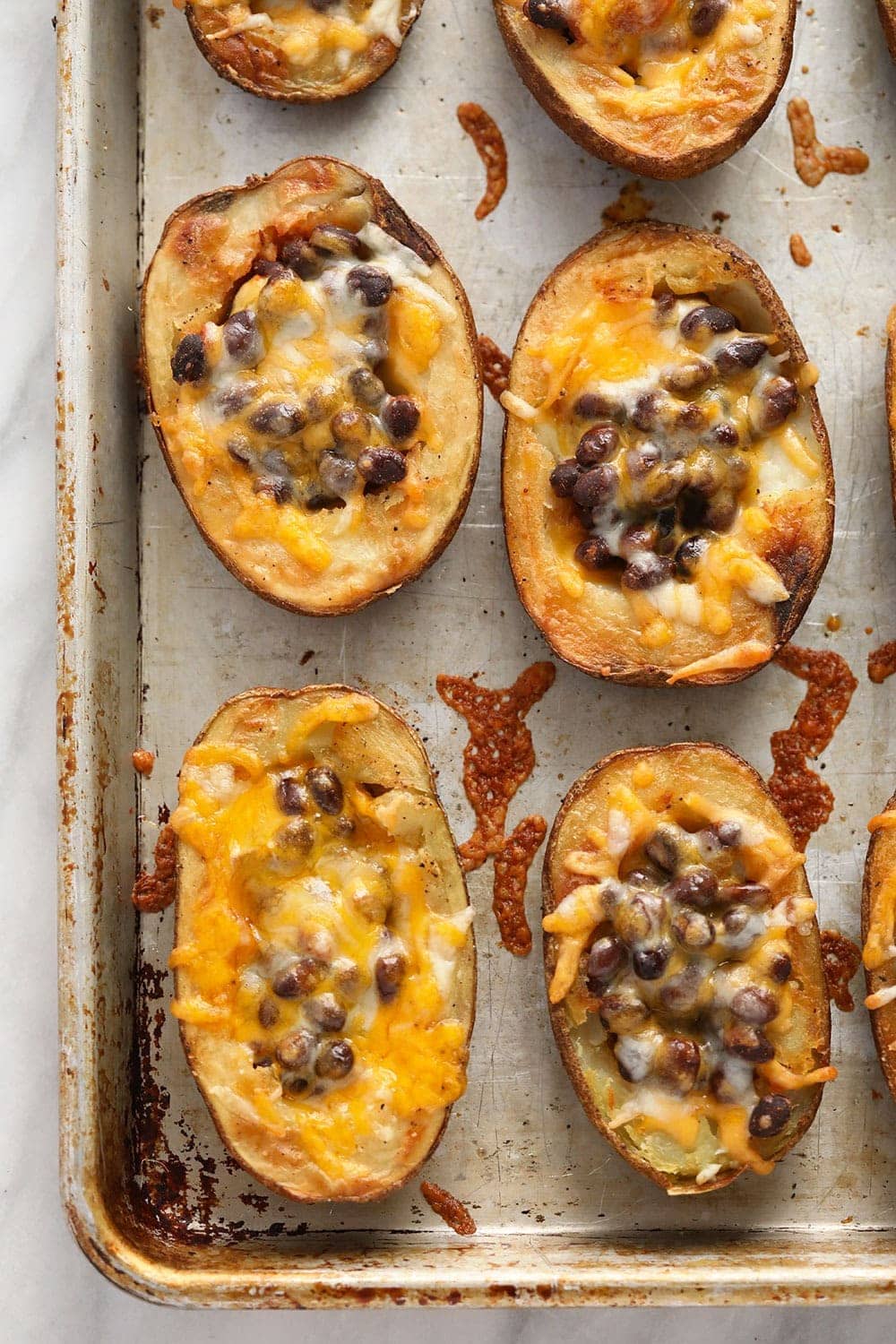 Choose Your Toppings!
The options are endless when it comes to topping these taters! We went with greek yogurt, guacamole and greek yogurt. However, get fancy or mix it up to make these taters your own! Here are a couple more topping ideas.
Fajita veggies would be delicious. Dice up peppers and onions and then sauté them, and then thrown them right on top!
If you are a meat eater taco meat or shredded chicken seasoning with taco seasoning would be delicious.
Cotija cheese crumbles would be a great addition!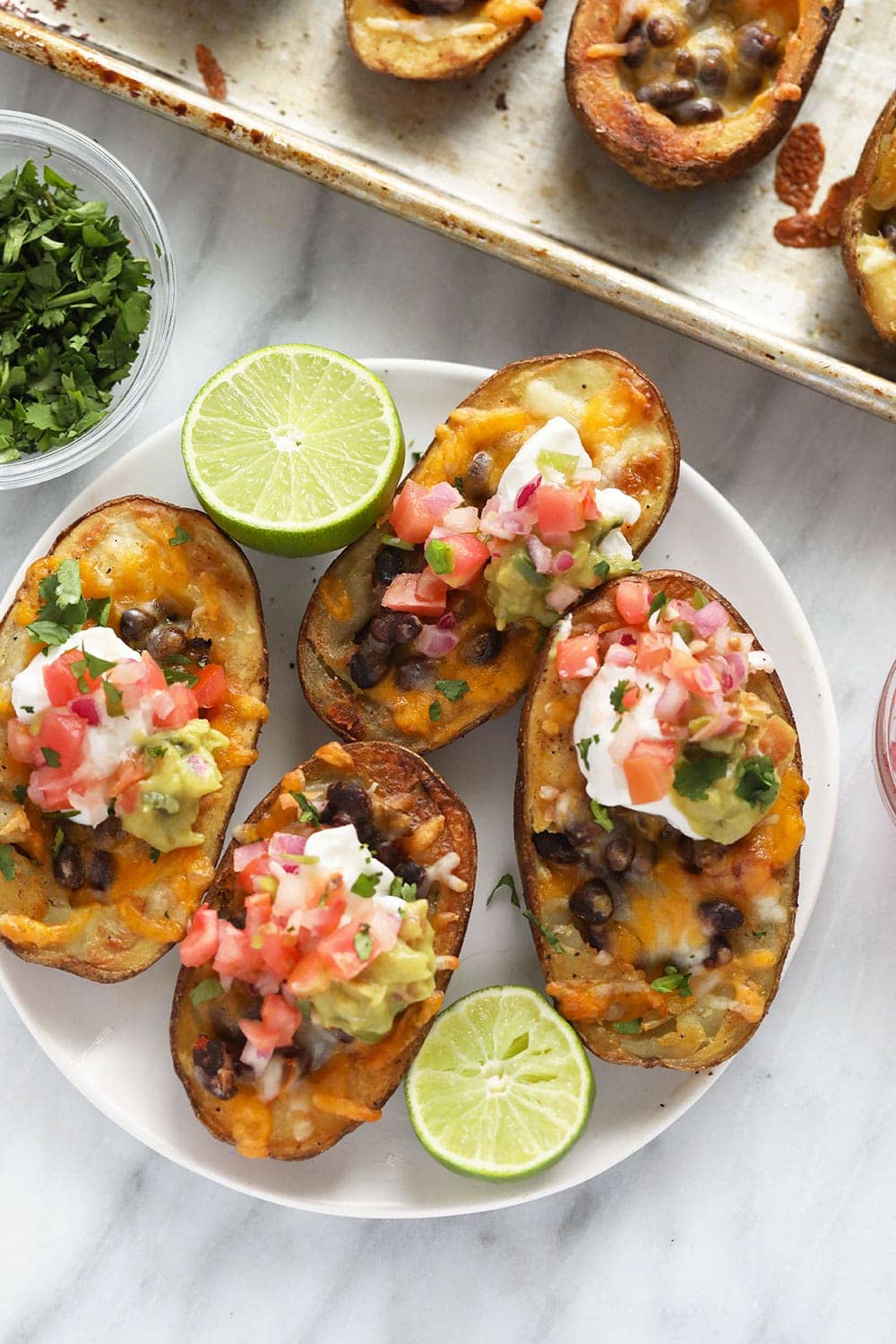 More Healthy Appetizers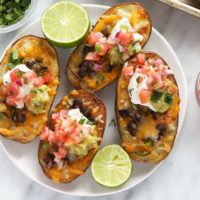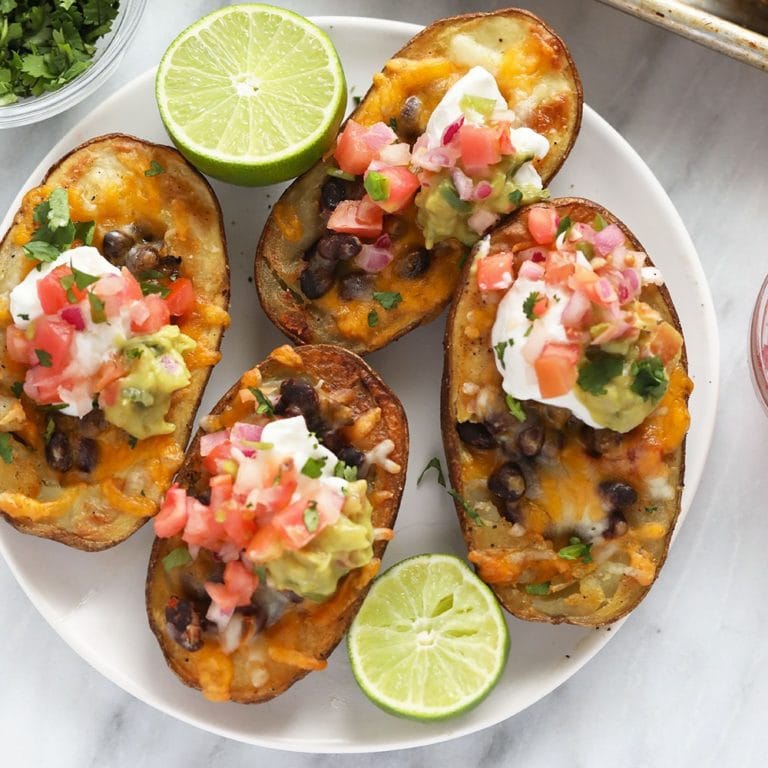 Vegetarian Healthier Mexican Potato Skins
These vegetarian Mexican potato skins are the perfect healthy game day appetizer or for your next get together. They have the crispiest skin and the most flavorful toppings!
Ingredients
Potatoes
Other Ingredients
1

cup

shredded cheddar cheese

1/2

cup

guacamole

1/2

cup

Greek yogurt

or sour cream

fresh cilantro
Instructions
First, preheat oven to 425ºF. Then, spray a large baking sheet with nonstick cooking spray.

Wash and pat dry russet potatoes. Then, slice them in half, hot dog-style and lay them skin-side down on the baking sheet.

Use a brush to brush both sides of each potato half with olive oil. You'll use about half the oil now and half later. Then generously season each potato half with salt and pepper, to taste.

Bake at 425ºF for 35-40 minutes, flipping the halves every 10 minutes. Flipping the potatoes is key to even baking. It also prevents one side from burning.

Once your potatoes are tender, remove them from the oven and use a cookie scoop to scoop a few tablespoons of flesh out of the middle of each potato half. You want to make sure you don't go all the way down to the skin and that you leave enough flesh for eating.

Use the brush to rub each (again) half with olive oil. This is going to make them nice and crispy. Place the potatoes skin-side UP on the baking sheet.

Bake potato halves at 425ºF for an additonal 5 minutes.

Remove potatoes from oven and set aside.

Now, prepare the black bean filling. In a large bowl, mix together black beans, taco seasoning, salsa, and fresh lime juice.

Then, spoon in around a tablespoon of fillig into each potato half and sprinkle on a generous amount of cheese.

Bake potato skins at 4250ºF for around 10 minutes. The goal here is to heat the black beans and melt the cheese.

Remove from oven and then top with guacamole, Greek yogurt, and fresh cilantro.

Eat immediately.
Nutrition facts
Calories:
138
kcal
Carbohydrates:
21
g
Protein:
5
g
Fat:
4
g
Fiber:
3
g
Sugar:
1
g