Need a little keto recipe inspiration? Look no further! We have gathered all of the best keto recipes on the internet! You will find keto breakfast recipes, keto dinner recipes, and more! We also dive into some of the most frequently asked questions about the keto diet, get pumped.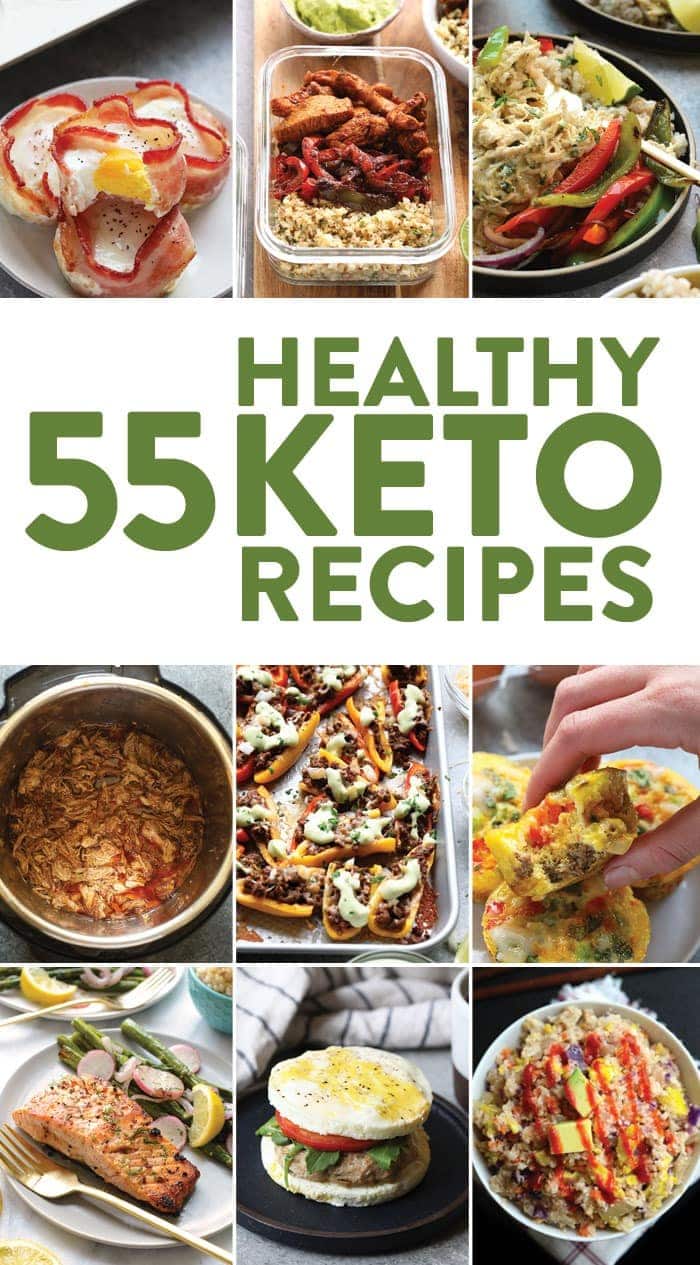 The Keto Diet
Raise your hand if you've scrolled by a social media post in the last 6 months that mentions the keto diet. WE HAVE! You know that we don't adhere to any diets here on Fit Foodie Finds, but we like to make sure we make it easy for our readers to find keto recipes if it is something they are trying!
We recently learned more about the ketogentic diet when we learned that it was recommended to friends and family members that have cancer. We learned that the keto diet is sometimes suggested to people who have been diagnosed with certain health problems. It was fascinating to learn about!
No matter if you are trying out the keto diet to see what all the rage is or if you are diving into the keto diet for health reasons, we've gathered some Fit Foodie Finds recipes that are keto-approved as well as some of the best keto recipes on the internet right now.
I'll be honest, when we were searching for recipes on Fit Foodie Finds that would actually be classified as keto recipes, they were few and far between. However, SO many of our recipes have one or two ingredients that could easily be swapped out to make a keto friendly recipe. Below are some Fit Foodie Finds recipes and ingredients suggestions for you to make them keto-friendly! Just to give you an idea of how easy it really is!
Easy Swaps for Keto Recipes
Facts About the Keto Diet
What is the keto diet?
Harvard health explains how the keto diet works here–> "The keto diet aims to force your body into using a different type of fuel. Instead of relying on sugar (glucose) that comes from carbohydrates (such as grains, legumes, vegetables, and fruits), the keto diet relies on ketone bodies, a type of fuel that the liver produces from stored fat."
We are not healthcare professionals, so if you are considering the keto diet, please talk to a health care professional to see if it is a good fit for you!
What can you eat on the ketogenic diet?
There are a wide variety of foods you can eat on the keto diet. It is also a personal journey, so tailor your keto meal plan with a health care professional. Some foods that are usually suggested for the keto diet are below!
Avocados
Olive Oil
Cauliflower
Broccoli
Peanut Butter
Coconut Oil
Eggs
Chicken
Steak
Cheese
Plain Greek Yogurt
Plain Cottage Cheese
What foods can't I eat on the keto diet?
The ketogenic diet is a low carb diet plan, so there are certain foods that professionals suggest to avoid if you are on the keto diet. Again, please talk to a healthcare professional for your personal needs and diet plan! Some commonly known foods to avoid on the keto diet are below.
Most fruit
Pasta
Quinoa
White Potatoes
Sweet Potatoes
Bread
Cashews
Pistachios
Soda
Candy
muesli
Keto Breakfast Recipes
Make one of these delicious keto breakfast recipes that are packed with eggs, protein, and your favorite cheese!

Keto Dinner Recipes
Do you love to meal prep your lunches and dinners for the week? These keto recipes are easy to make and perfect for meal prep for the whole week! These are great low carb options with a TON of flavor!

Keto Snacks/Dessert Recipes
Are you a sweet or savory snack person? This list is full of healthy keto recipes that are both sweet and savory!

Other Easy Keto Recipes
One great way to add flavor to any recipe is to make a flavor-packed homemade spice mix or dressing! We have put together some great options for spice mixes and dressing! They are all so delicious!