Looking for a hearty casserole packed full of veggies + protein + whole grains? Make one of these delicious healthy casseroles at any time of the year! There are vegetarian and meat options, but all are gluten-free, one-pot, and healthy casseroles.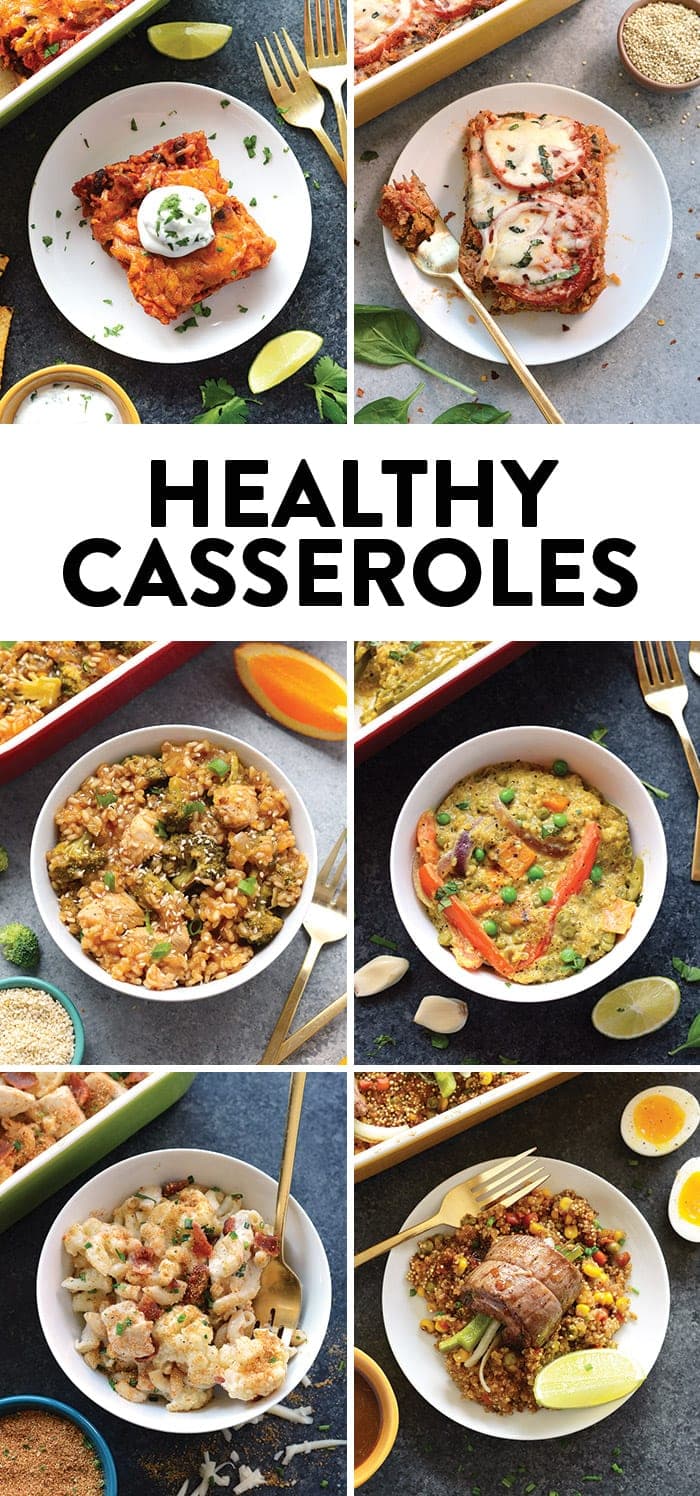 I had a conversation with a friend last week and she was so excited that fall weather has hit Minneapolis because now she can finally make casseroles! I agreed with her and then realized I never stopped making casseroles since last fall. It's true- casseroles are perfect year round. You can even throw them on the grill instead of your oven if you're anything like my mom. That's right- I asked my mom to test one of these recipes for me 2 weeks ago. I said, "mom, the one thing you HAVE to do is follow the directions." Got a snap from her with the casserole on the grill. LOL. Mom- that wasn't part of the directions, but I guess it works.
This past week has been so fun watching everyone in my life make healthy casseroles. I've gotten countless texts and IGs not only from readers, but from family members and friends! It makes me so happy when you guys make my recipes and then share them with your communities because if you don't, I'll never know if you actually like them or not 🙂 I'm sure you're just dying to know which one was my favorite casserole. Here's my line-up: 1. Healthy Chicken Enchilada 2. Naked Spinach Quinoa Lasagna 3. Sweet Potato Green Curry.
truRoots
I want to extend a huge thank you out to our amazing Casserole Week partner, truRoots. truRoots' product selection really was perfect for this project. I love my grains and truRoots really does whole grains the best out there. Out of these 6 casseroles, we featured 3 of their products: Sprouted Quinoa, Germinated Brown Rice, and Ancient Grains Pasta.
Looking for a specific truRoots product? Use their product finder feature on truRoots.com!

STORAGE
Refrigerator: Store all healthy casseroles in an airtight container, such as a glass pyrex
, for up to 5 days in the refrigerator.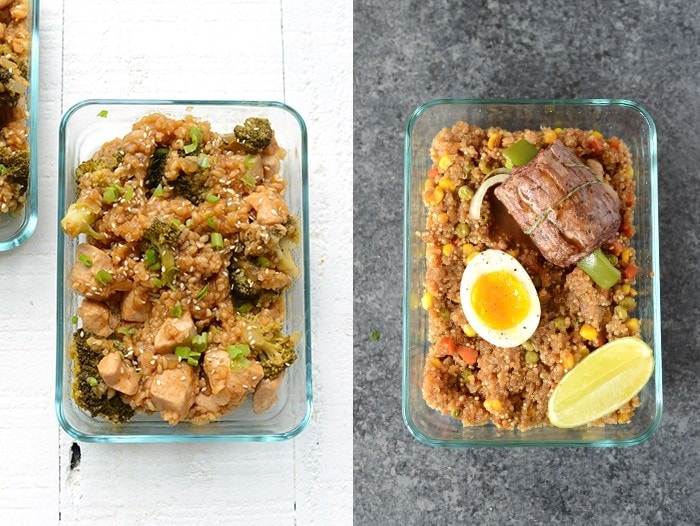 Freezer: If you plan to freeze, we suggest baking your casseroles in a disposable/aluminum casserole dish
. Place a piece of plastic wrap on top of cooked, cooled casserole and press out all of the air. Then, wrap the entire casserole in tin foil and place in the freezer. Write the name and date of casserole on the tin foil. To reheat, take the frozen casserole out of the freezer and let thaw in the fridge overnight. Either reheat single servings of the casserole in the microwave or reheat the entire thing in the oven (we suggest 40 for 20 minutes).
Supply List
Here's a list of products and small appliances that we used for all of these healthy casseroles during Casserole Week!
In just 60 minutes you can make this healthy chicken enchilada casserole that's packed with lean chicken, beans, tons of veggies, and brown rice. Throw everything into a casserole dish uncooked (that's right…UNCOOKED) and you've got yourself dinner for the entire family.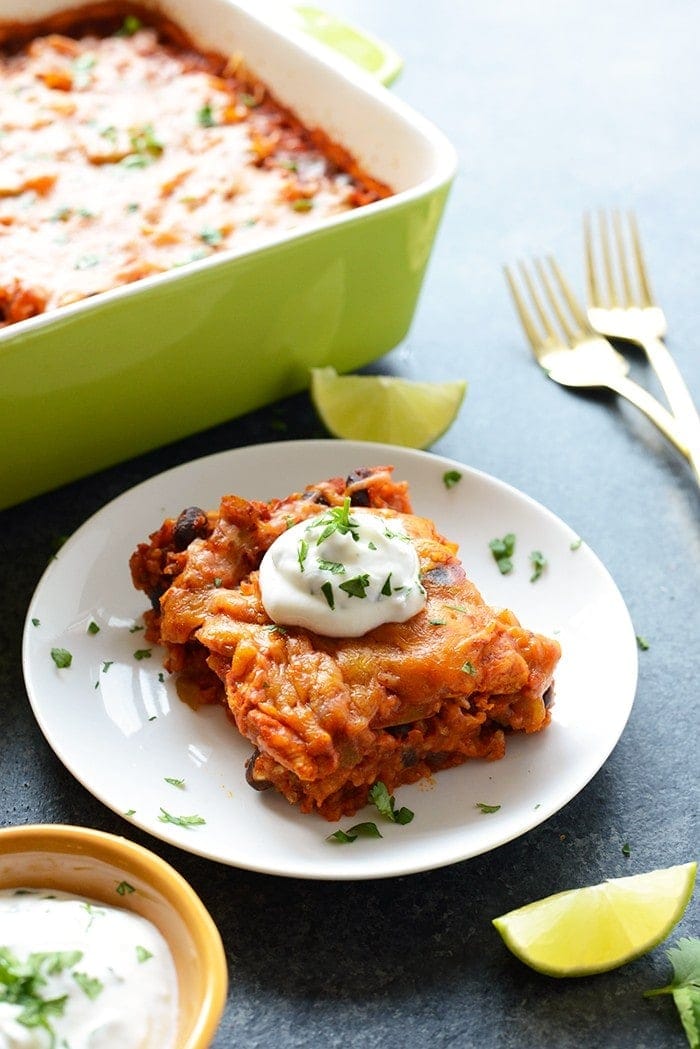 Curry just got even easier and more delicious than ever! In less than an hour you can have this delicious Sweet Potato Green Curry Quinoa Casserole ready for the entire fam.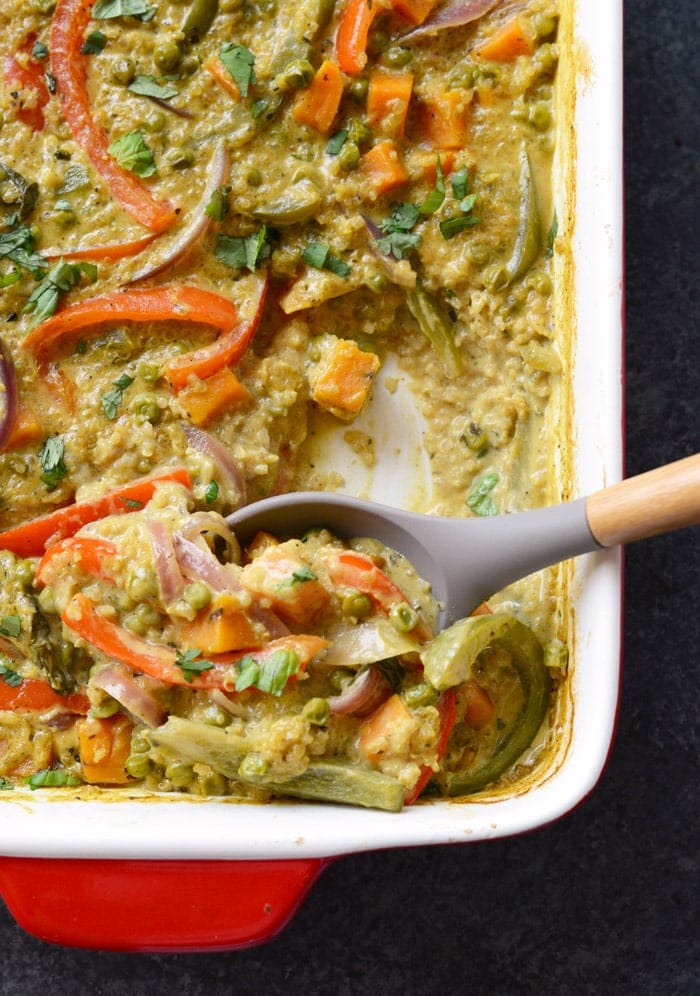 With just a few simple ingredients and a casserole dish you can have a dinner packed with veggies, protein, and whole grains, in just 60 minutes!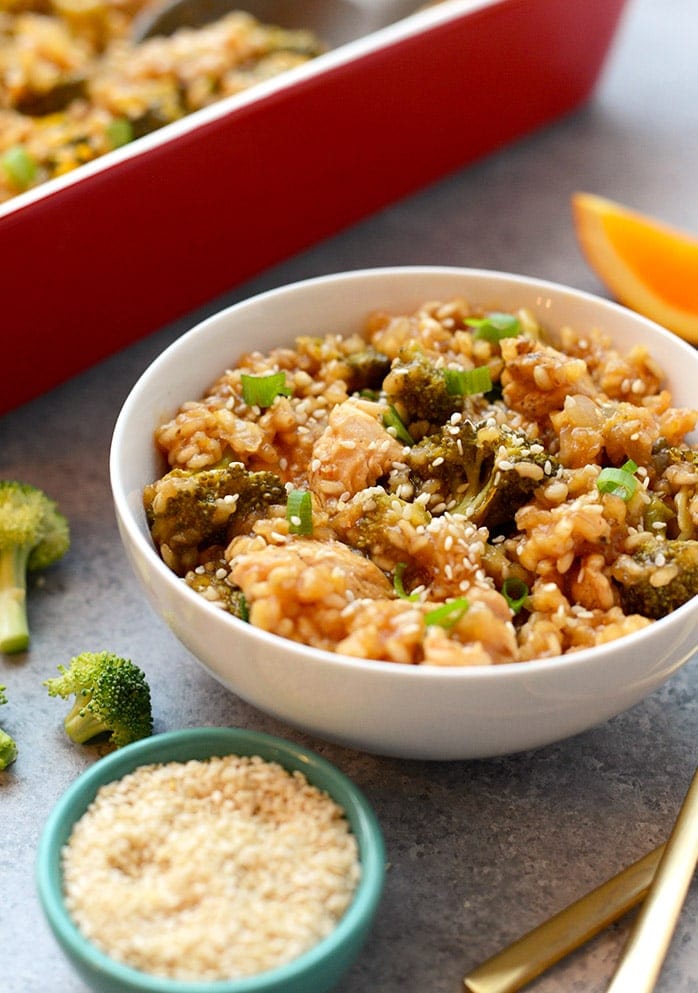 This recipe makes healthy comfort food a real thing! Make this Cauliflower Mac n' Chicken Casserole with ancient grain pasta for the most epic meal the entire family will love!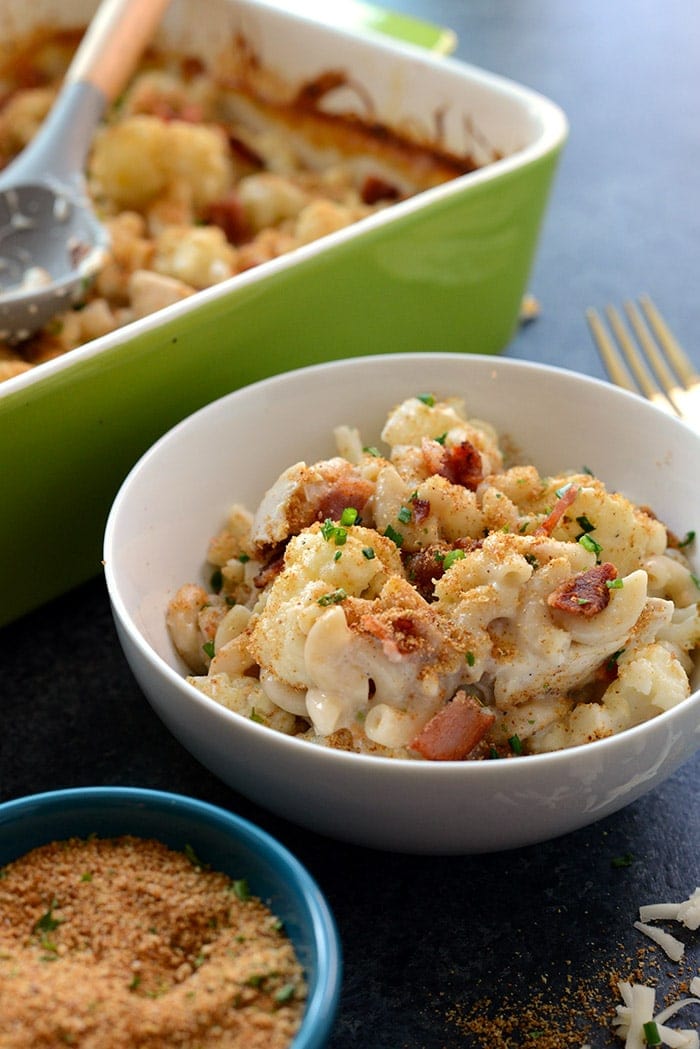 Try this lightened spinach quinoa lasagna casserole for a no-hassle, protein-packed dinner that's sans gluten and filled with so much flavor!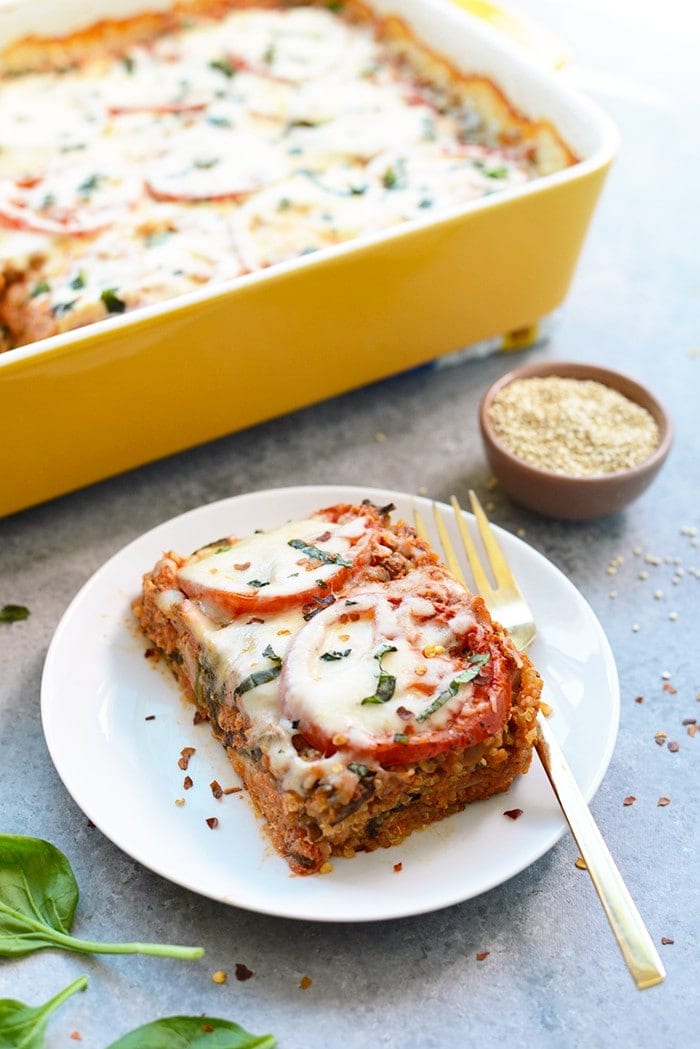 If you want to take your casserole game up a notch, try serving this Asian Stuffed Pepper Steak Quinoa Casserole to the family. It's high-protein and loaded with veggies!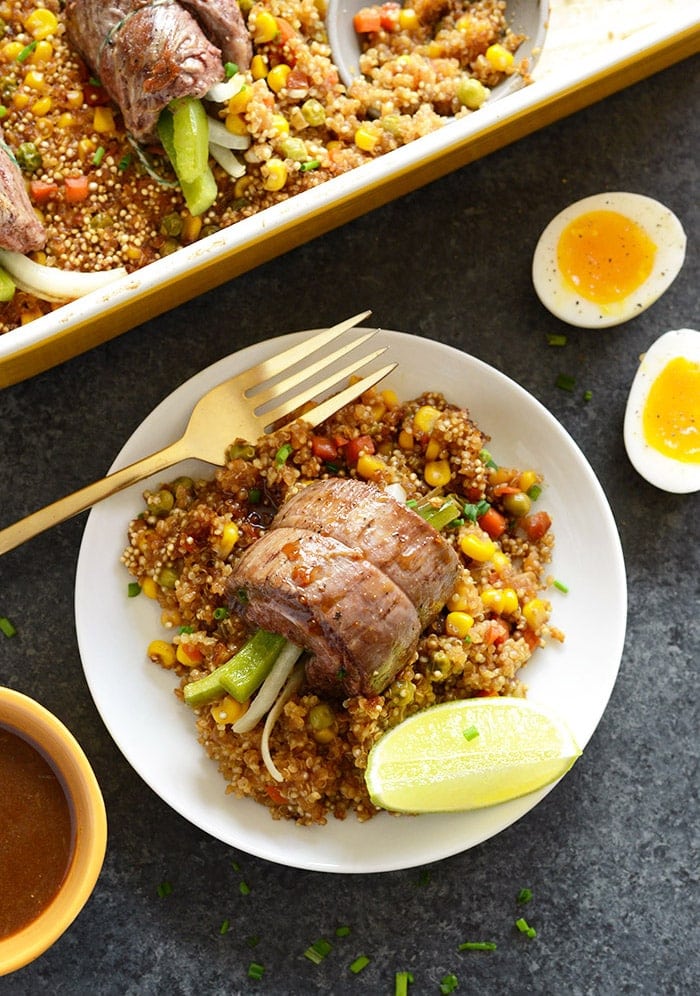 Casserole Week 2016 is in partnership with truRoots. I was compensated and all opinions are my own. Thank you so much for supporting Fit Foodie Finds and making this website (and my job!) possible! 

PS: if you make any of these casseroles, don't forget to hashtag #FitFoodieFinds and #CasseroleWeek2016 xoxo