Crockpot season is here and it's time to start making all of your favorite healthy slow cooker recipes!
In this post, we've rounded up some of the best healthy crockpot recipes from Fit Foodie Finds and other popular food-based websites on the Interwebs.
We know that you guys love your slow cooker because some of our most popular recipes on Fit Foodie Finds are our healthy slow cooker recipes. From crockpot steel cut oats to slow cooker pork roast to crockpot chicken chili, the slow cooker is one of our favorite ways to cook anything and everything.
Healthy + Slow Cooker
Let's talk about slow cookers for a second here and why they make healthy eating so easy!
Set it and Forget it: probably the best feature of the slow cooker is that all you have to do is turn it on and let it do its thing! Most recipes are made on high in 4 hours or on low for 8 hours.
Great for All Diets: slow cookers work for pretty much all dietary restrictions. All over the internet, you'll find vegetarian recipes, gluten-free recipes, paleo recipes, etc!
Meal-Prep: slow cookers are perfect for cooking large meals that make multiple servings. This is why it's our preferred choice in method when meal-prepping for the week. *PS: check out our Slow Cooker Freezer Meals post for more meal-prep inspo!
Easy Clean-Up: Since most healthy crock pot meals only require one piece of kitchen equipment (the crockpot), there is very little clean-up!
Your Q's Answered
Now, it's time to feast your eyes on all of Fit Foodie Finds' best healthy slow cooker recipes + a few from our friends on the internets!
You'll find a variety of easy healthy crockpot recipes that are both meat-filled and plant-based. You will also find meal-prep recipes galore featuring many vegetarian lunches, dinners, delicious breakfast recipes, and then some! 
Slow Cooker Breakfast Recipes
Let breakfast be a cinch with our favorite healthy slow cooker breakfast recipes! Here you'll find slow cooker oatmeal recipes, breakfast egg casserole, slow cooker French toast, and more!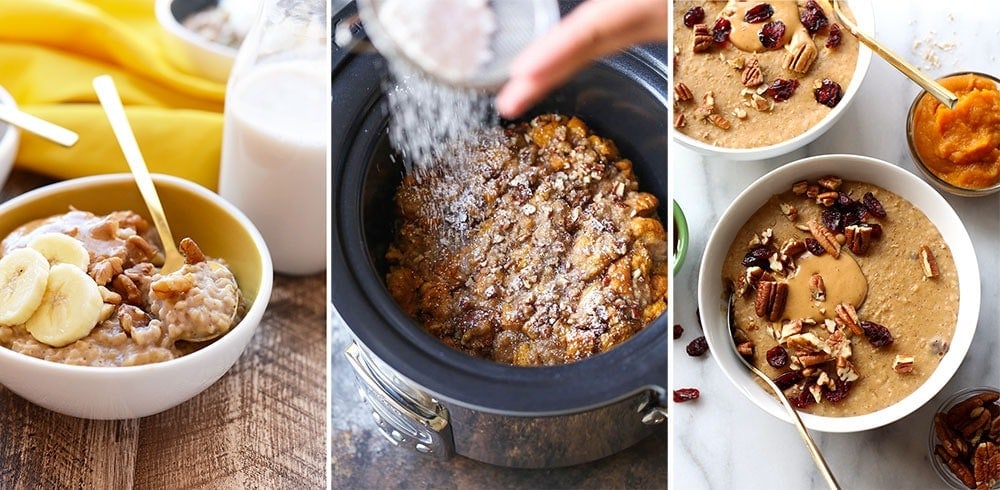 Healthy Slow Cooker Mains
Make healthy eating for the week a breeze by using your slow cooker! We've got healthy slow cooker recipes for meat lovers and vegetarians, too.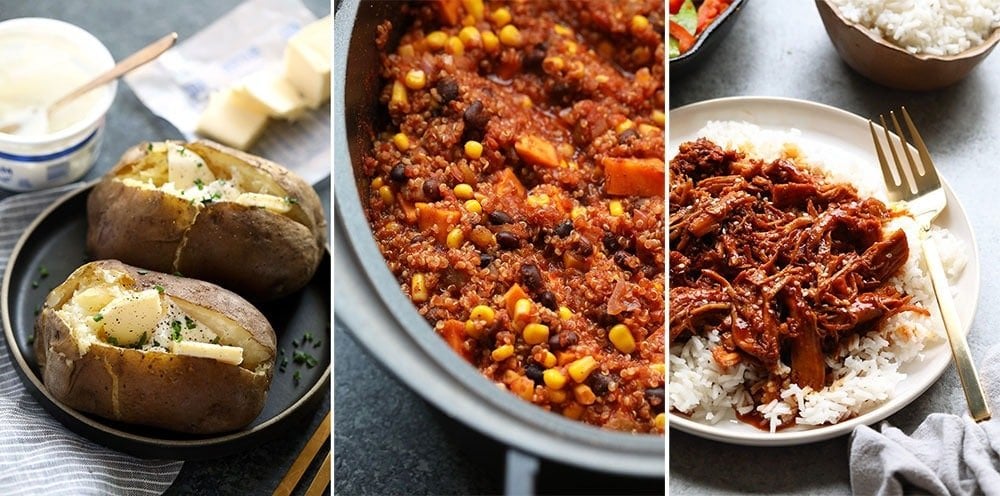 Other Healthy Slow Cooker Recipes
Looking for snacks or desserts that can be made in your crock pot! Here are a few healthy slow cooker recipes to fuel your cravings!