Keep these 50 Healthy Snack Ideas in your back pocket! From healthy snack ideas for kids to high-protein snacks to on-the-go snacks (and everything in-between!), these recipes are delicious and packed with nutrient-rich ingredients. Snack on, friends!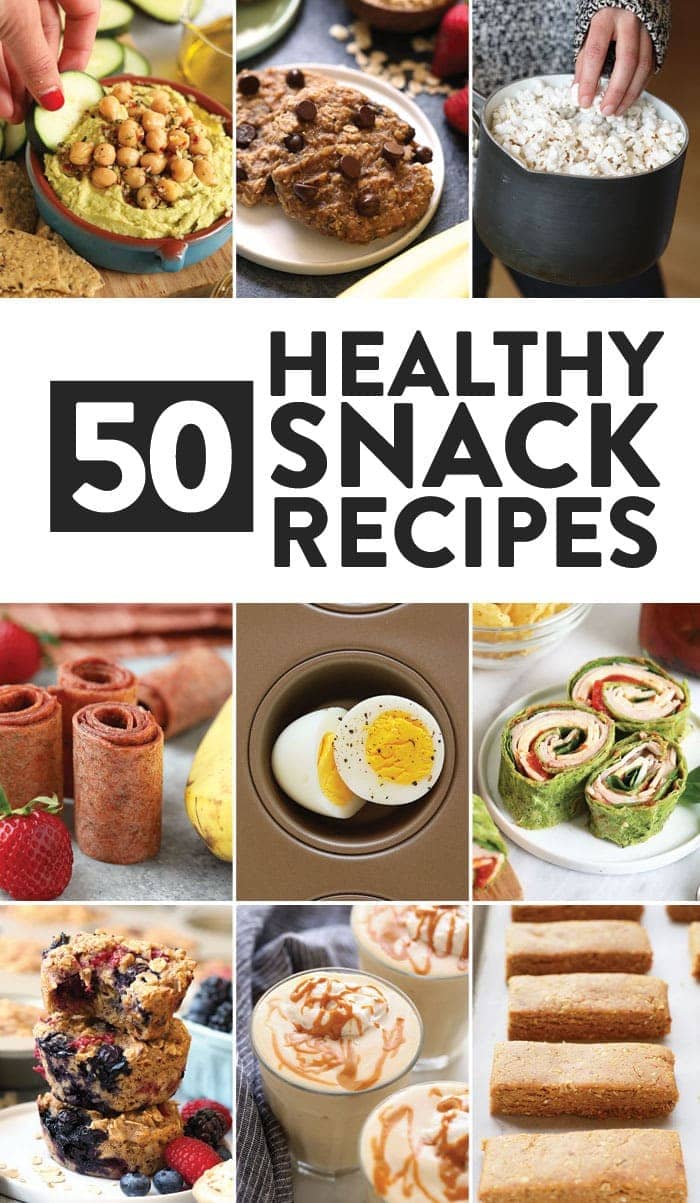 Our Favorite Healthy Snacks
We're big snack fans over here at Fit Foodie Finds! Whether we're looking to refuel after a workout, or need a little something-something between meals, we're always on the lookout for healthy snack recipes that don't compromise on taste and flavor.
Which is why we're so excited to share 50 of our favorite healthy snack ideas with you all! Bookmark this so you can reference back whenever you're looking for healthy snack inspiration 😀
What makes a good healthy snack?
When it comes to healthy snacks, we're always looking for options that are high in protein and packed with healthy ingredients. Smoothies (HERE are 100+ of our favorite smoothies!), energy balls (HERE are all our most popular healthy energy ball recipes!), and anything that can be meal prepped (meal prep lovers, HERE are our fave meal prep ideas!).
What types of snacks are high in protein?
Reach for a healthy snack that's high in protein to refuel after a workout, or keep your tummy satisfied til your next meal. We love protein-packed smoothies, easy-to-make egg cups, and no-bake energy balls and protein bars.
How can I make healthy school snacks?
Looking for healthy snacks that your kiddo will actually eat during snack time at school?! WE GOT YOU. Scroll on down for some of our favorite healthy snacks for school — from these peanut butter banana breakfast cookies to this easy fruit leather and even this healthy fruit pizza, you'll never be at a loss for school snacks again.
Sweet Snacks
Healthy snacks can absolutely satisfy that sweet tooth! From banana breads to chia pudding to healthy granola, look no further for healthy sweet snacks than right here (yes, you'll want to bookmark these and make them again and again!).

Savory Snacks
Savory snack lovers, these healthy and delicious snacks are for you! While many people find themselves eating more savory snacks in the evening, these are truly great any time of day! From easy hard boiled eggs to minimal ingredient hummus and even stove top popcorn, whip up any of these savory snacks — they won't disappoint.

Snacks for Kids
Healthy snacks that your kids will actually eat?! You betcha. These snacks are not only fun to eat but also packed with nutrient-rich ingredients. A win-win, if you ask us.

High Protein Snacks
Pre-workout, post-workout, mid-morning hangry-ness — all of the above?! These high protein snacks will give you the boost of energy you need, keeping you full and satisfied til your next meal.

On the Go Snacks
Looking for snacks that are easy to nosh on while you're on the go? We got you! From oatmeal cups to protein bars to muffins, these snacks can be easily eaten in the car, at work, or on the way to your next meeting.