These healthy dessert recipes taste amazing and are good for you at the same time! There are gluten-free, paleo, and vegan options in this dessert recipe round-up! If you're looking for a sweet treat for the week, this round-up is full of healthy cookies, brownies, nut butter cups, cakes, and more!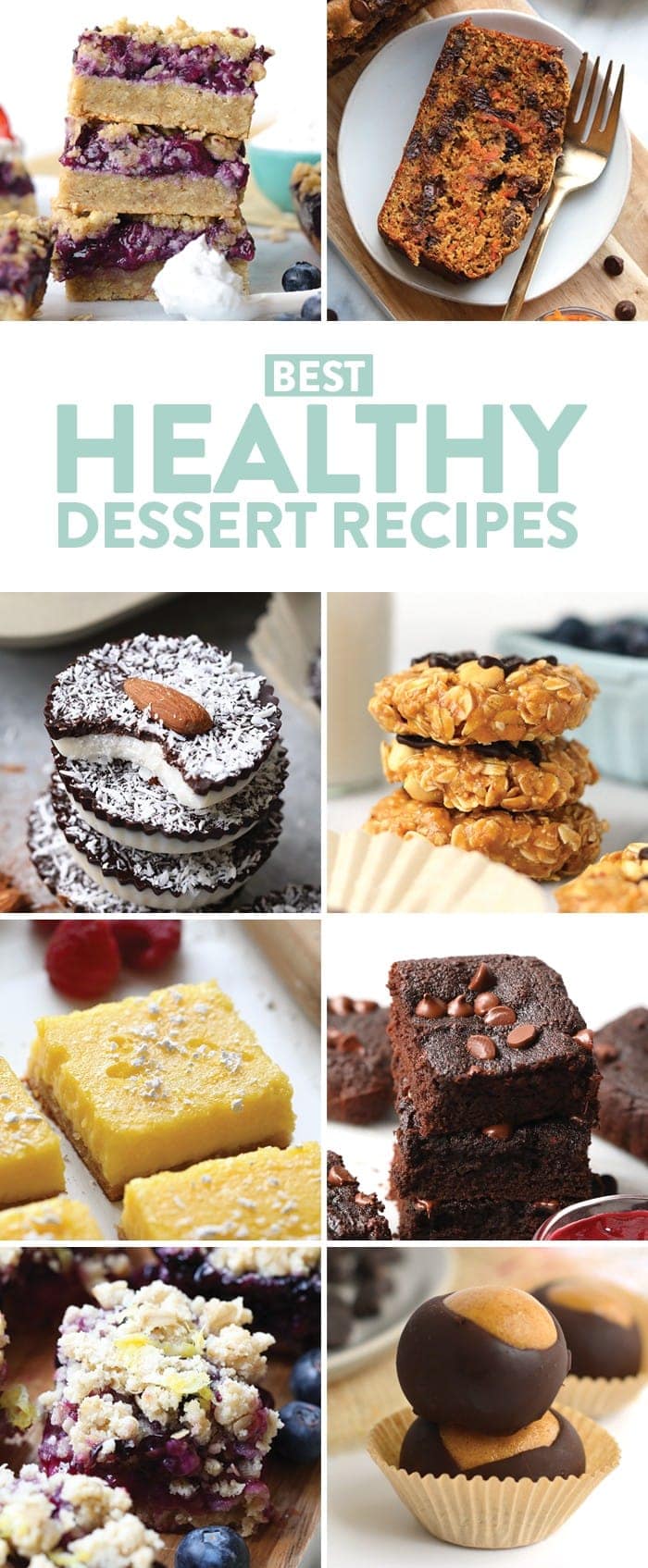 DESSERTS, everyone has their favorite desserts. Right? It's Linley here and I want to talk about chocolate desserts for a minute. When I was young, my favorite dessert was dirt cake. I'll give you a minute to really think about what dirt cake is——–>  chocolate pudding, topped with crushed Oreos, and then topped again with gummy worms. DING DING DING, there was nothing better.
I seriously could not get enough. Granted, anything with chocolate would do! I almost always asked for a chocolate cake of any kind for my birthday! Since my birthday is in May, we would always go up to my cabin for birthdays. One year, my mom made a huge chocolate cake for my birthday and when we went to light the candles my schnauzer (Tina) had eaten the whole cake. I was devastated and quite pissed at Tina. Thankfully, Tina lived and my mom was able to whip up another cake, but I tell you. A birthday without chocolate cake is no birthday at all.
Now that I'm all grown up, I still love a good dirt cake or some Oreo ice cream. I also love taking old and delicious dessert recipes and putting a healthy twist on them! That is one thing we love to do in the Fit Foodie kitchen. We take old classic, comfort food recipes, and we make them a bit healthier. Instead of using white sugar, we will use an all natural sweetener like honey or maple syrup or instead of white flour we will use wheat! There are so many different ways you can make small tweaks to make healthy desserts. We are all about it!
We have pulled together some of our favorite healthy dessert recipes on Fit Foodie Finds! If you are paleo, we have a brownie for you. Are you looking for a delicious vegan cookie? We have that, too! The options are endless when it comes to dessert on FFF. Another very important thing to remember is that you can make these recipes your own. If you don't have chocolate chips for some cookies, use raisins. If you aren't a huge fan of peanut butter, use cashew butter! You can't go wrong! Now, have some fun and throw your sweet tooth a party with some of these desserts!
Healthy Bars and Brownies
These healthy bars and healthy brownie recipes are a mixture of delicious chocolate brownies, classic healthy bar recipes, and crumble bars. If you are looking for a healthy dessert to bring to a party you can't go wrong with any of these recipes! You'll also notice that many of our brownie recipes have a secret ingredient, VEGGIES. Give one of these recipes a try today!

Healthy Candies and Cups
Candy without refined sugar? Yes, please! If you are looking for a healthier candy alternative for the kids or for a sweet treat after dinner, these healthy candy recipes are for you! We naturally sweetened peanut butter cups, buckeyes, truffles, and event peppermint patties so you have no guilt when you indulge in dessert!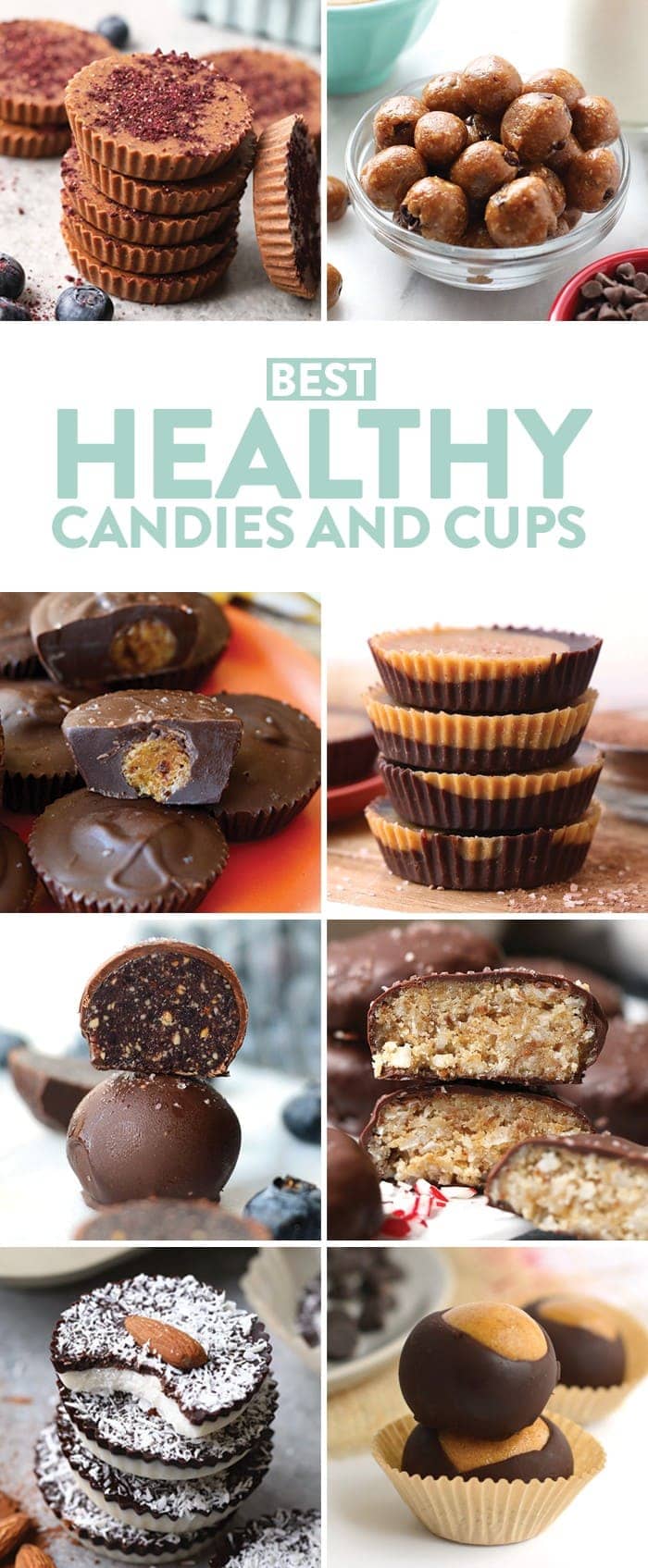 Healthy Cookies & Biscotti
Who doesn't love a good peanut butter cookie? These healthy cookies and biscotti recipes are healthy options for a sweet treat throughout the week. Make a batch of healthy peanut butter cookies and throw them in the freezer for a quick and healthy treat. We also love dipping our gluten-free almond biscotti in a cup of coffee in the morning!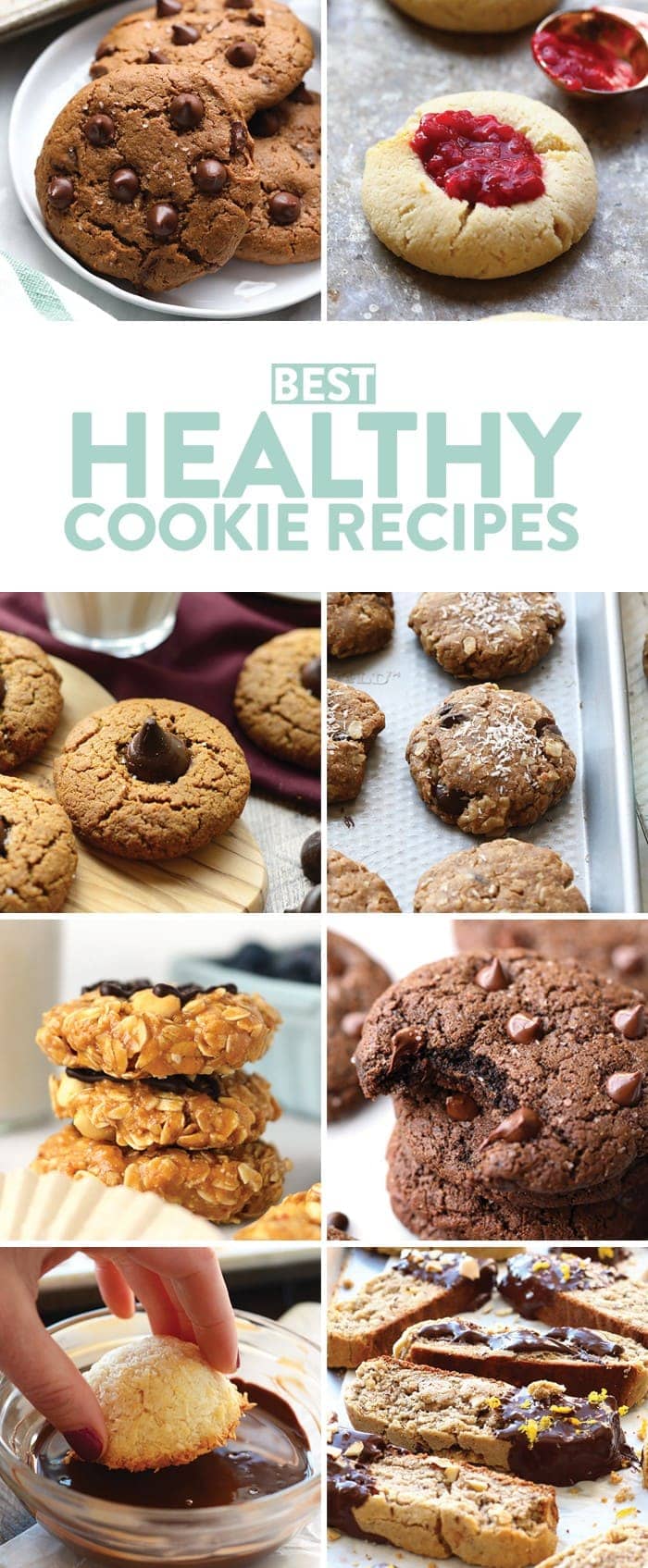 Healthy Muffins & Loafs
These healthy muffins and loaf recipes are a staple in the Fit Foodie kitchen. We pride ourselves on using whole and quality ingredients in our baked goods. Make our Whole Wheat Peanut Butter Apple Streusel bread for an easy breakfast this week or our banana chocolate chip muffins for a meal-prep snack!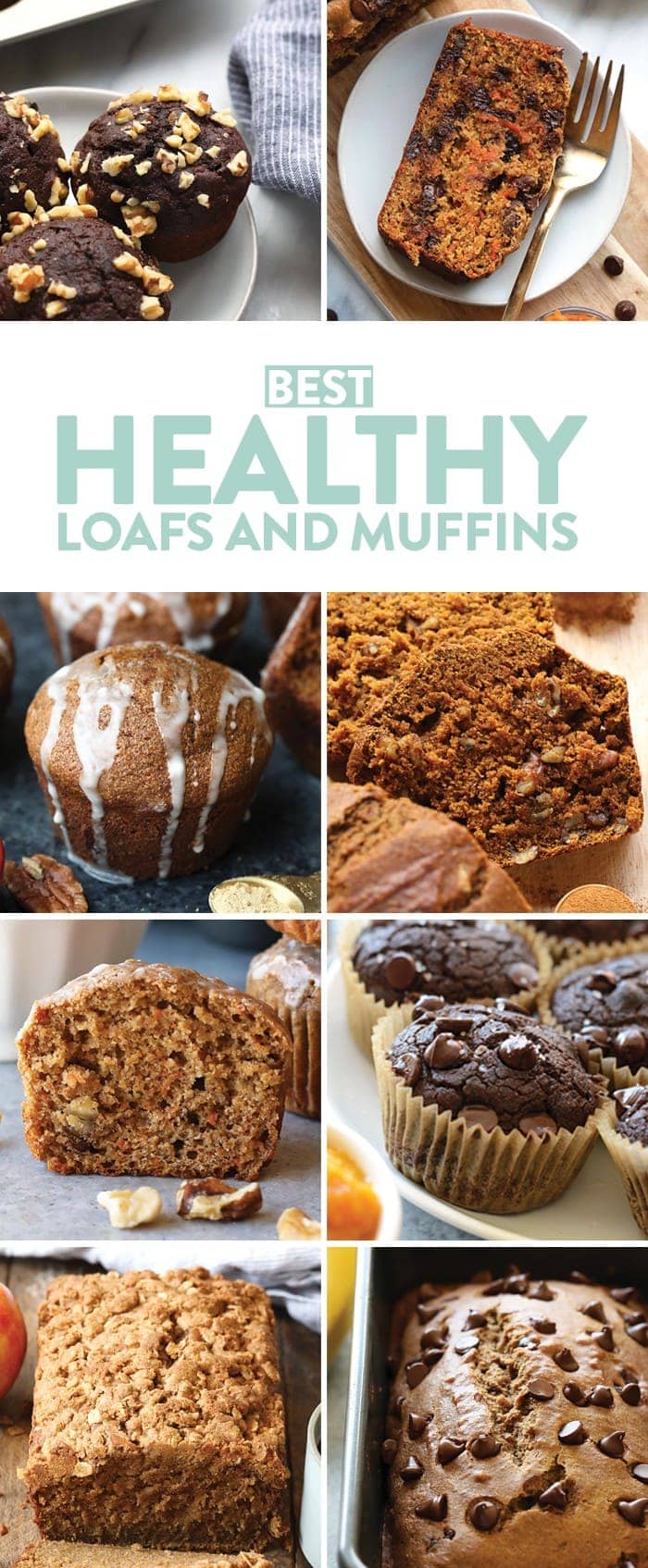 Tarts & Crumbles
Tarts and crumbles scream summer! These healthy crips and healthy crumble recipes are perfect for a BBQ or when you want to grill something sweet on the grill during the week. All you have to do is throw it together and toss it in the oven or on to the grill and you are set!
Other
Add one of these healthy desserts to the menu this week! Whether it's healthy chia seed pudding, a mug cake, or some delicious hot chocolate, you can satisfy your sweet tooth with something healthy and delicious!