SPRING IS HERE! And so is salad season 😀
I am back from Texas and ready to share some delicious Spring-inspired recipes this week, starting off with a collaboration with a few of my favorite blogger ladies! We are bringing you 6 delicious salads, fit for a healthy lifestyle and spring clean eating!
I couldn't be more excited to work with these ladies each month to bring you such fun collaboration posts! Let's meet the team first…
Kelly – Nosh and Nourish
Lee – Fit Foodie Finds
Davida – The Healthy Maven
Lexi – Lexi's Clean Kitchen
Ali – Inspiralized
Alrighty, let's break down all of these delicious salads. We each did one dish. Click on the link to get the full recipe!
Honey Lime Fruit Salad with Homemade Cinnamon Sugar Chips #paleo #grainfree #glutenfree
Chinese Chopped Salad + Orange Sesame Dressing #paleo #grainfree #glutenfree
Sushi Salad with Cauliflower Rice and Carrot-Ginger Dressing #paleo #glutenfree #grainfree
Jalapeño Carrot Rice Salad with Avocado, Roasted Pepitas & Charred Red Peppers #paleo #glutenfree #grainfree
I seriously can't handle how creative and talented these ladies are. So different, yet all so beautifully scrumptious!
The recipe I chose is a sprintime favorite of mine that I like to pair with chicken breast of as a dinner side salad. Strawberry Arugula Salad with Poppyseed Dressing. It's gluten free and grain free 😀 I share my favorite poppyseed dressing at the end of the post!
I used a base of arugula. Feel free to use spinach, kale, or mix different greens together.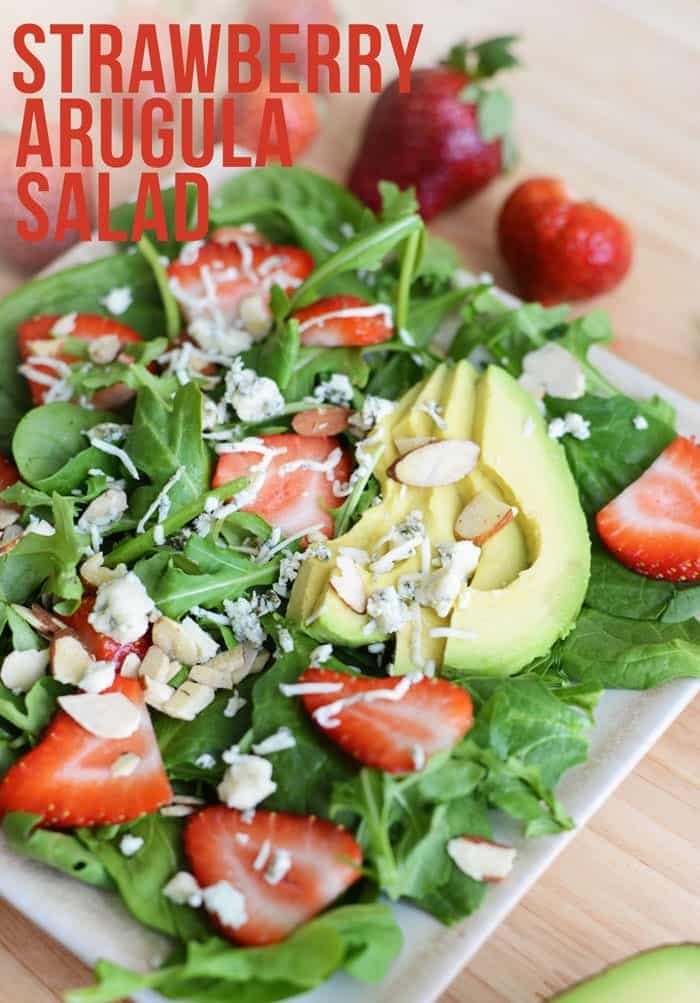 Strawberry Arugula Salad with Poppyseed Dressing
Ingredients
-handful of arugula
-5-10 sliced strawberries
-1 tablespoon slivered almonds
-1 oz. gorgonzola cheese, shredded/crumbled
-1/2 avocado, sliced
-1 tablespoon poppyseed dressing
I didn't say this in the recipe, but I have been adding a fresh squeeze of lemon to EVERYTHING lately. So fresh and so clean.
If you are ever looking for an easy poppyseed dressing…Marzetti is one of my favorite brands. Yes it has some added sugar in it…but it is certified gluten free and I'm all about things in moderation. Just my two sense 😀
Now go explore the other recipes!
What is your all time favorite salad? and salad dressing?