Our 2020 Thanksgiving menu is HERE and we're so excited to dig in (literally) and talk all things preparation and Healthy Thanksgiving recipes.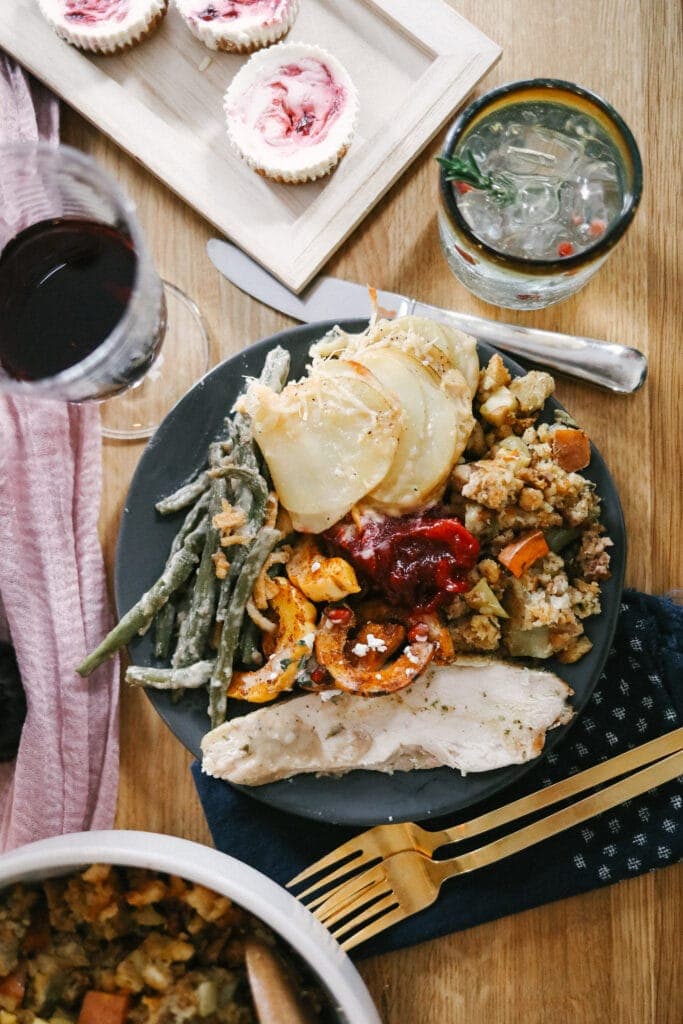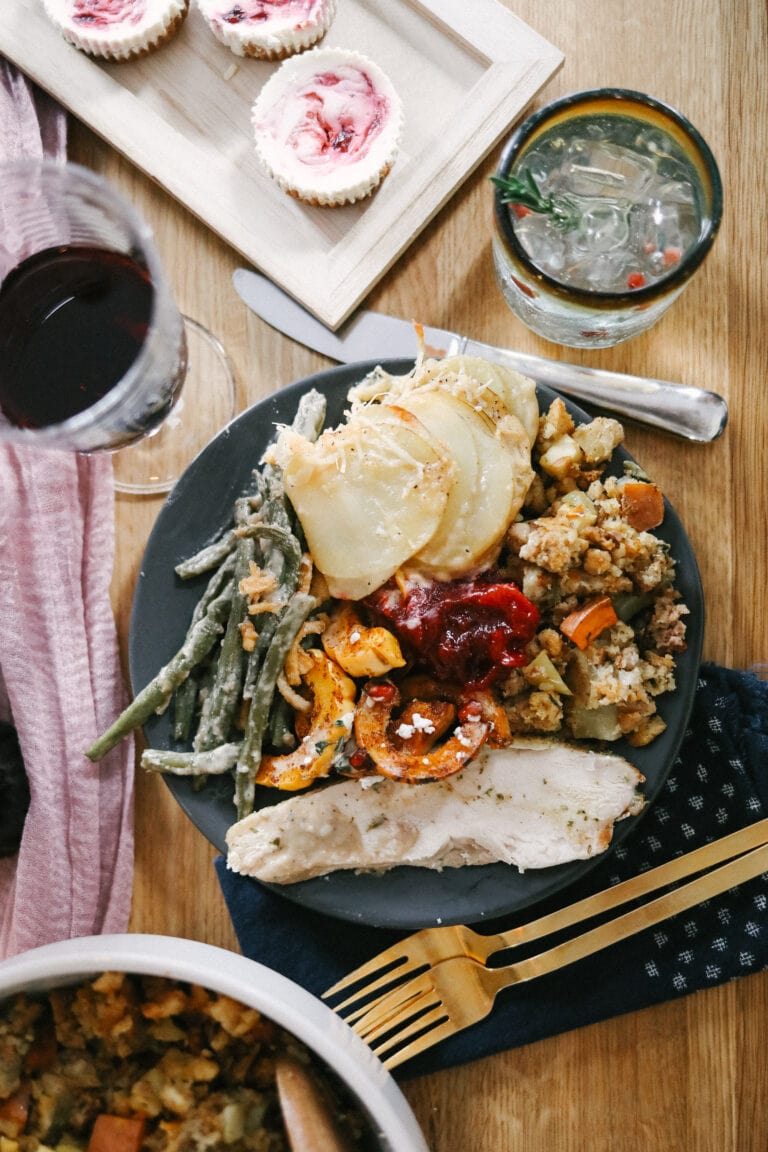 Hello, 2020 Thanksgiving!
This year, we're stepping outside of our comfort zone and deviating from our normal Thanksgiving recipe lineup.
It is, after all, a world pandemic, meaning we have to limit the number of guests we have at our Thanksgiving dinner + plan for smaller batch recipes (with a few exceptions because we heart leftovers).
Here's what you will find in this post:
2020 Thanksgiving Menu
Week-Of Preparation Guide
Inexpensive Decoration Ideas
More Healthy Thanksgiving Recipes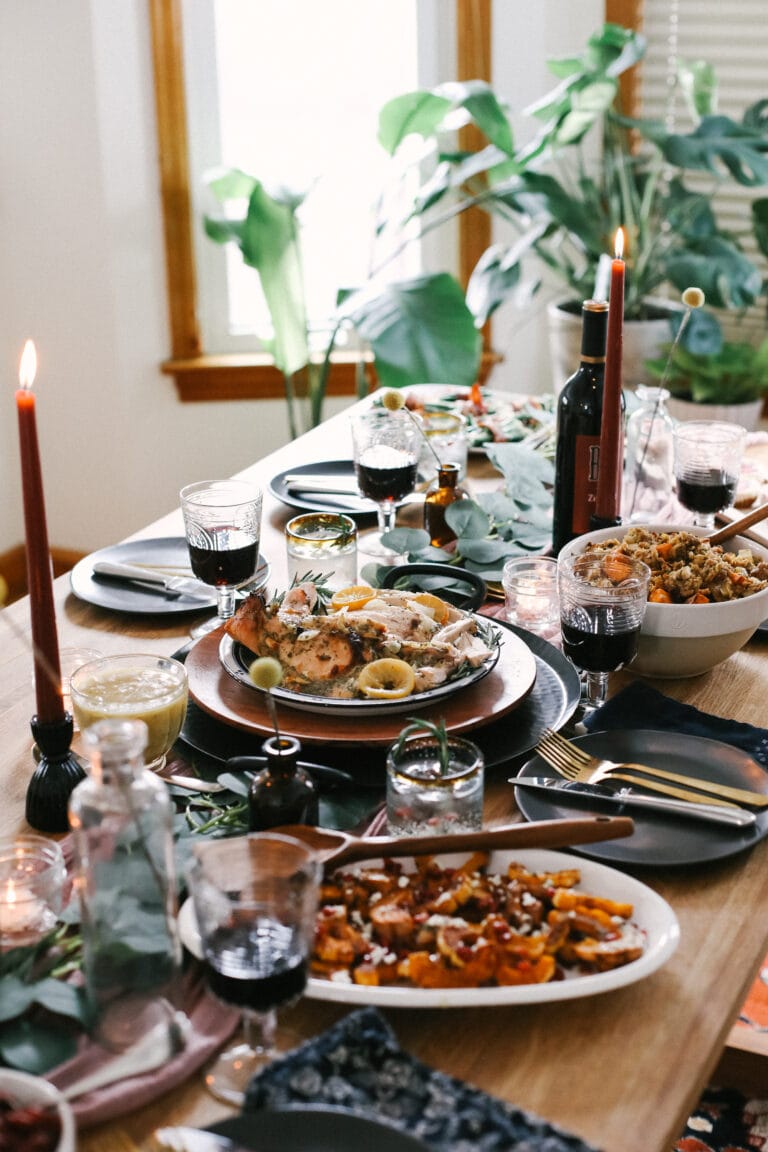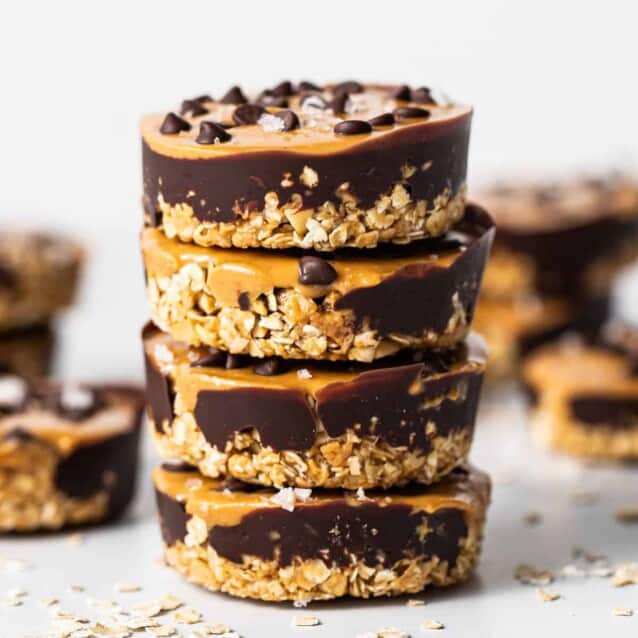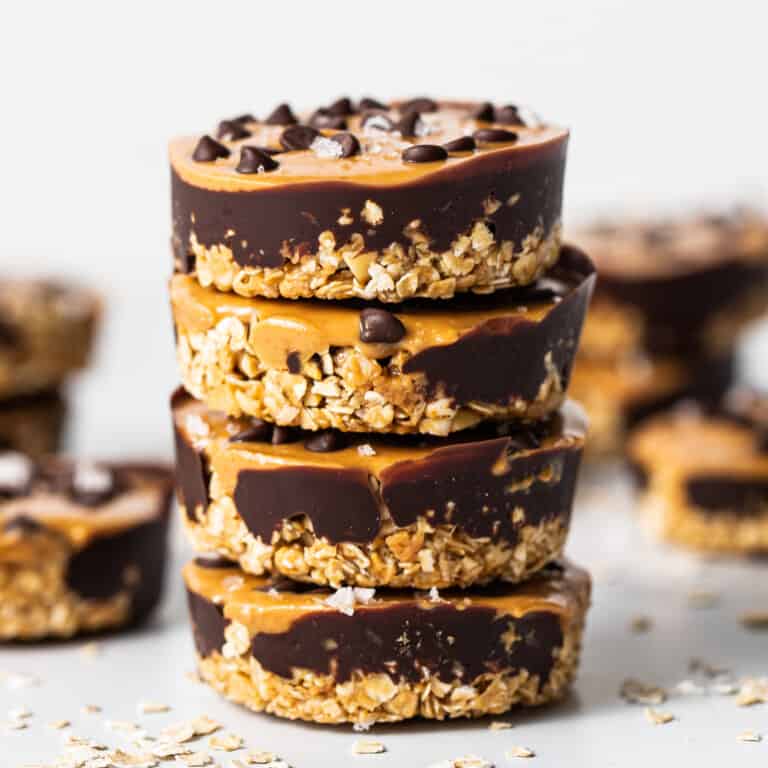 Get our Top 10 5-Star Recipes!
Join our email list for new recipes and BONUS: get our top 10 ⭐️⭐️⭐️⭐️⭐️ recipes e-book!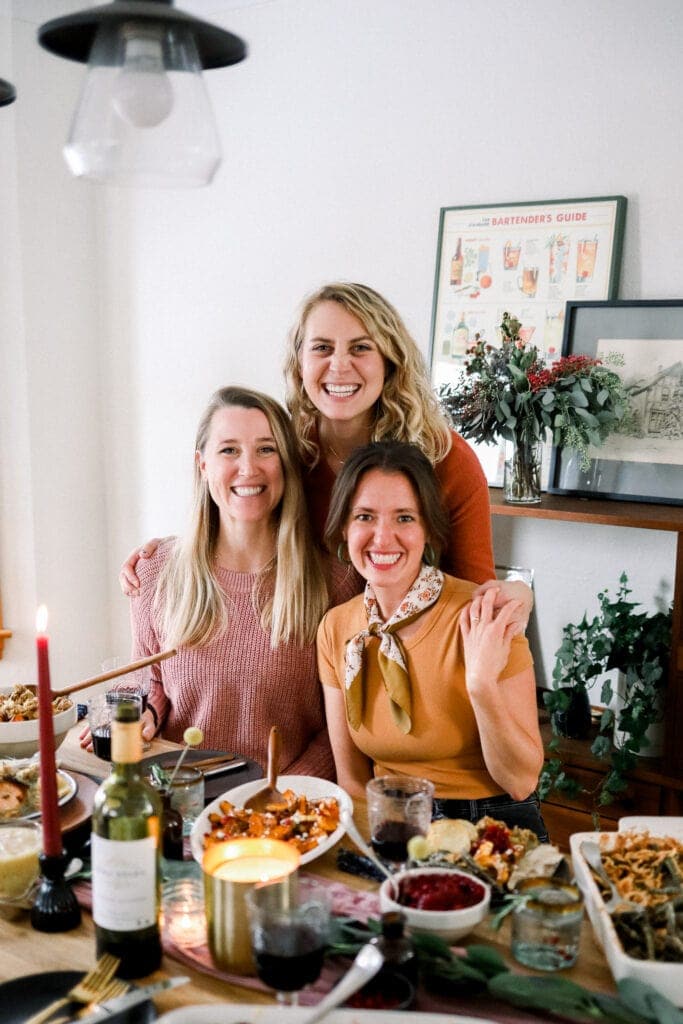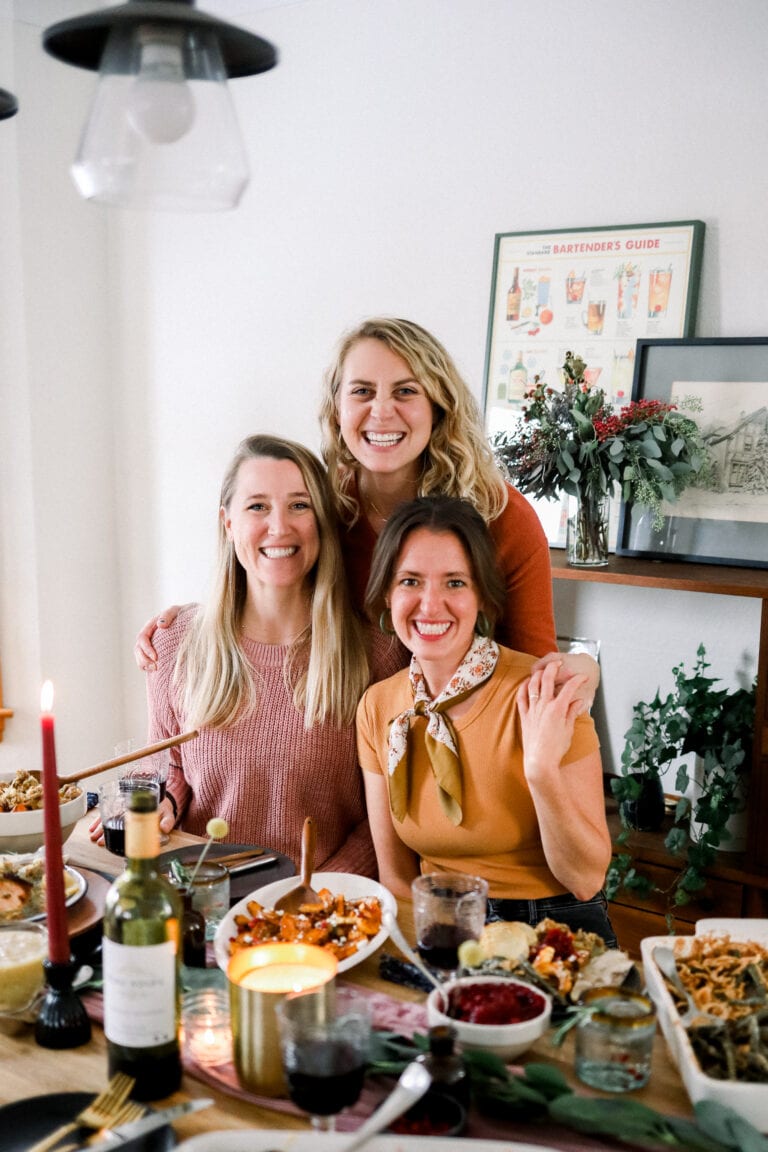 2020 Thanksgiving Menu
Like I mentioned above, we're stepping outside of our comfort zones from our normal, every-year Thanksgiving menu and adding in some flavor twists (hello ranch turkey!) and unique recipes.
There really is no better time to do something like this than 2020! I mean, we're not even serving classic mashed potatoes this year (IK, WHO ARE WE??). Keep on reading for our 2020 Thanksgiving Menu!
What We're Making
This roasted turkey breast recipe is perfect for a smaller Thanksgiving celebration! It is moist, flavorful, and goes great with any of your favorite Thanksgiving side dishes.
Please do note, that this turkey breast serves 4-6, so if you're looking to serve more, or have leftovers, just buy two!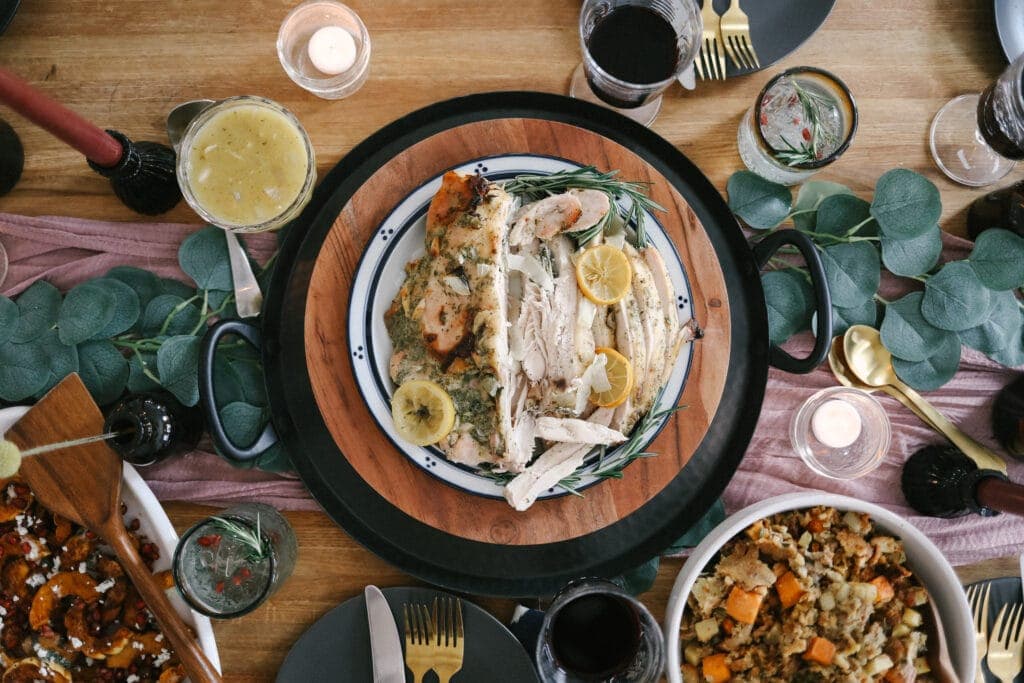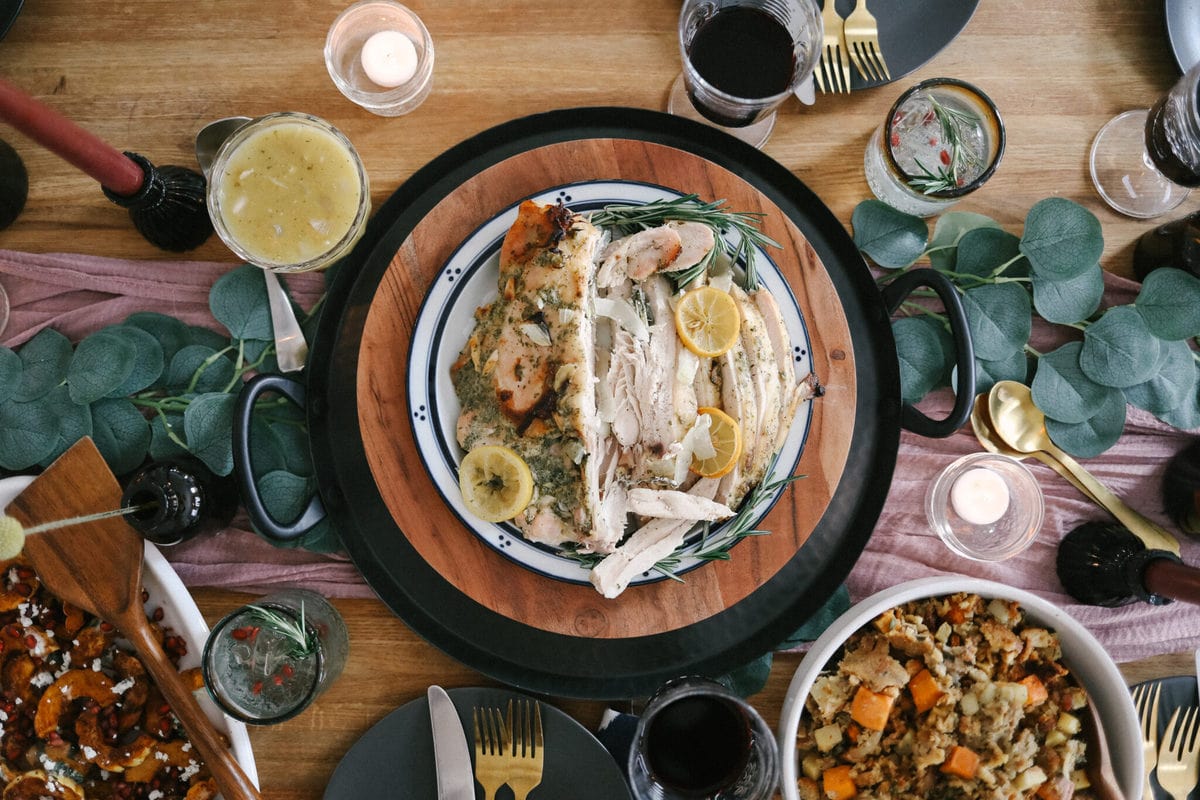 This Incredible Sausage Stuffing is as easy as it is delicious! The perfect complement to your holiday meal, this stuffing features store-bought stuffing cubes, which means you won't have to dry out your own bread.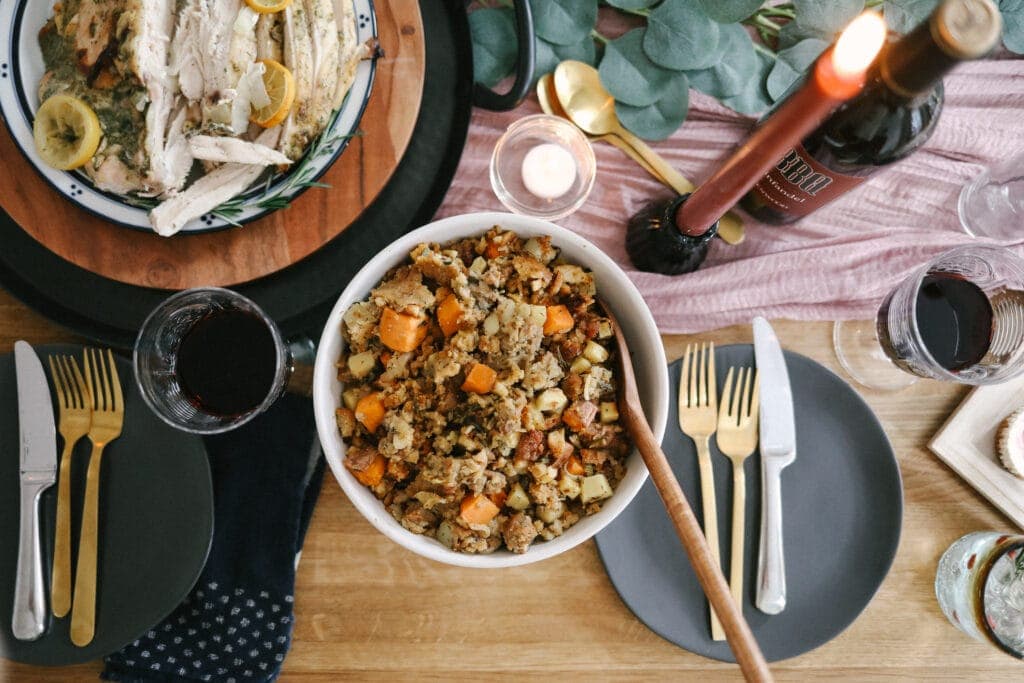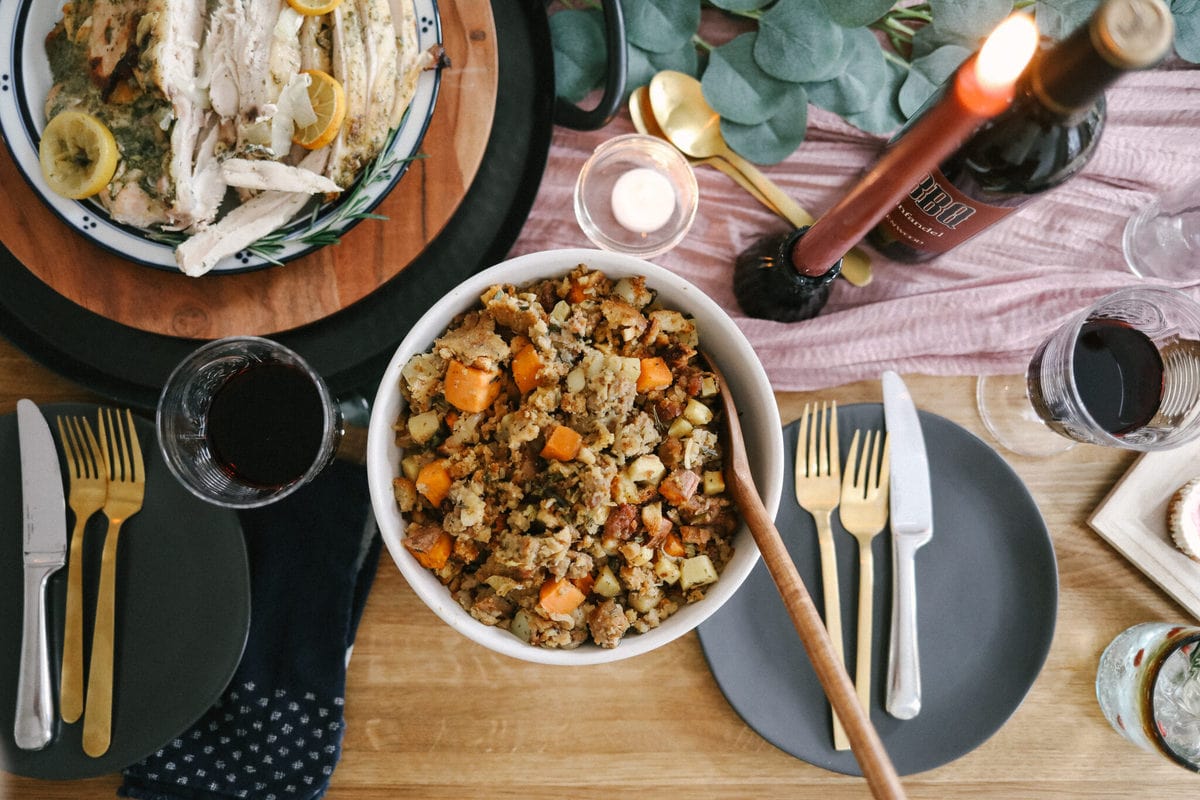 Say hello to the most delicious vegan green bean casserole recipe on the internet. This vegan green bean casserole is made with fresh green beans, mushrooms, a vegan roux, and fried onions!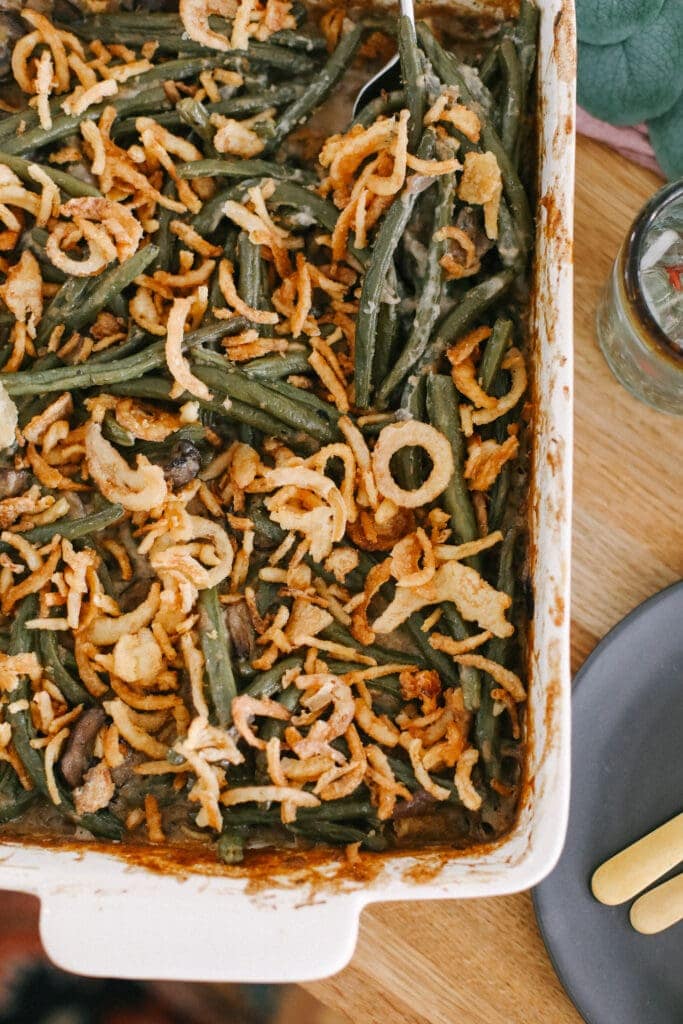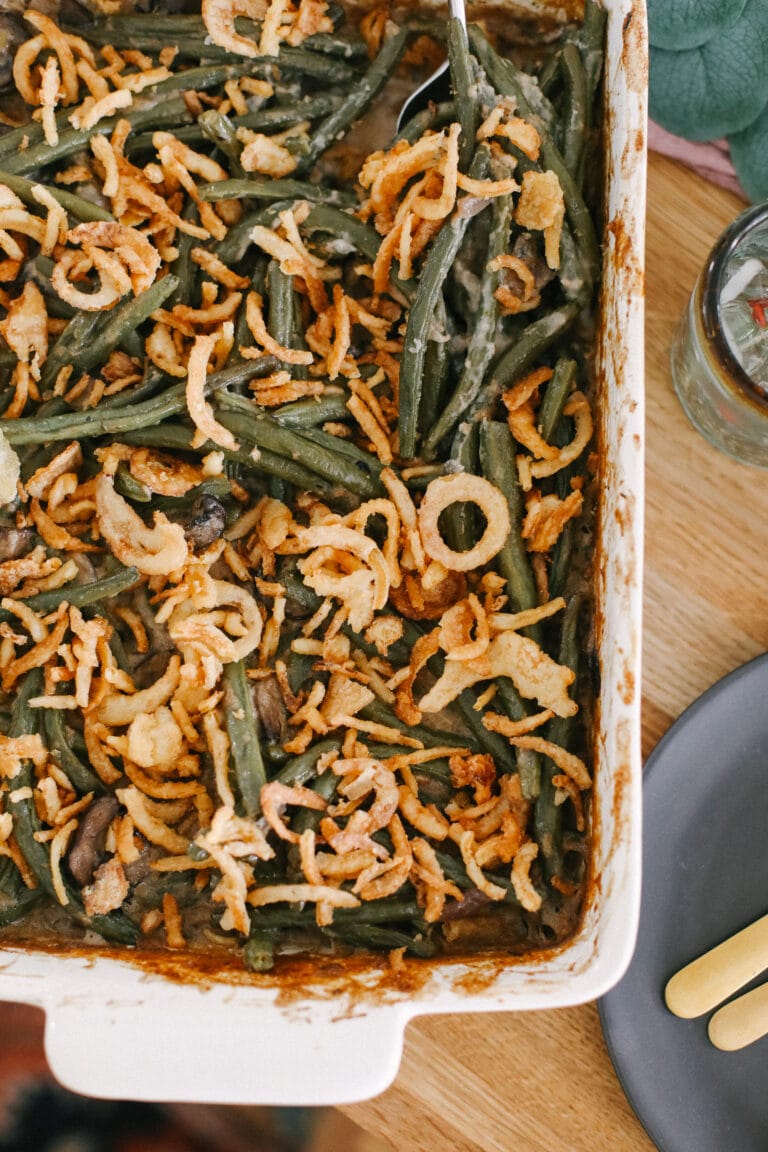 These cheesy scalloped potatoes are rich, creamy, and easy to make! They are made with a healthier cheese sauce made with Greek yogurt, thinly sliced potatoes, and fresh thyme. You'll never use another cheesy potato recipe again.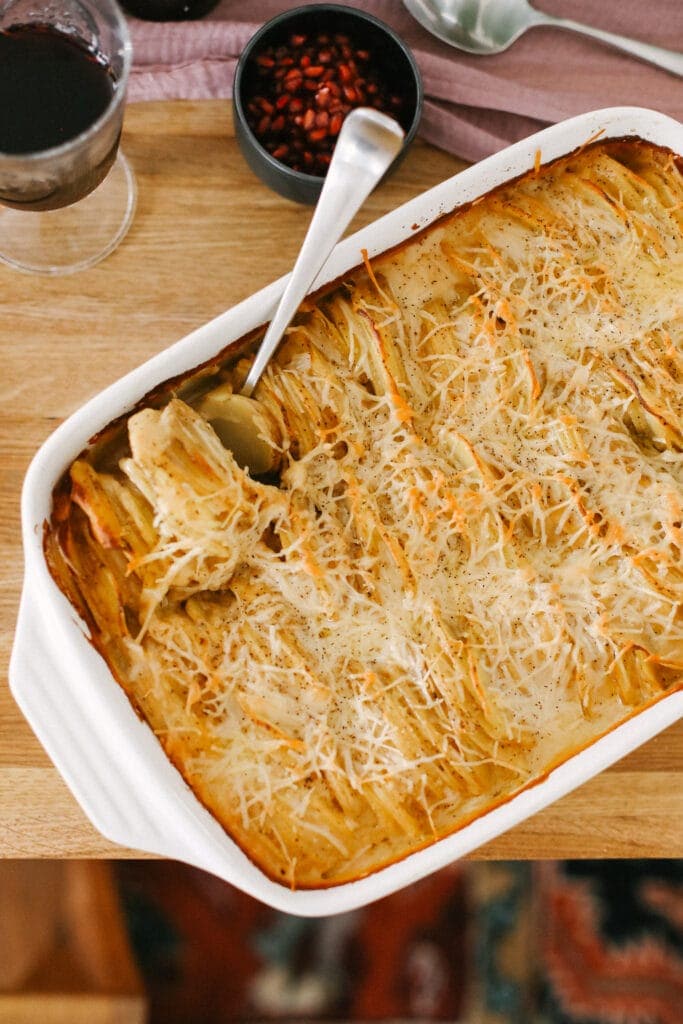 This Easy Roasted Delicata Squash is the perfect pairing to any harvest meal! Enjoy a creme fraiche drizzle with the rich savory flavors of delicata squash. No peeling required!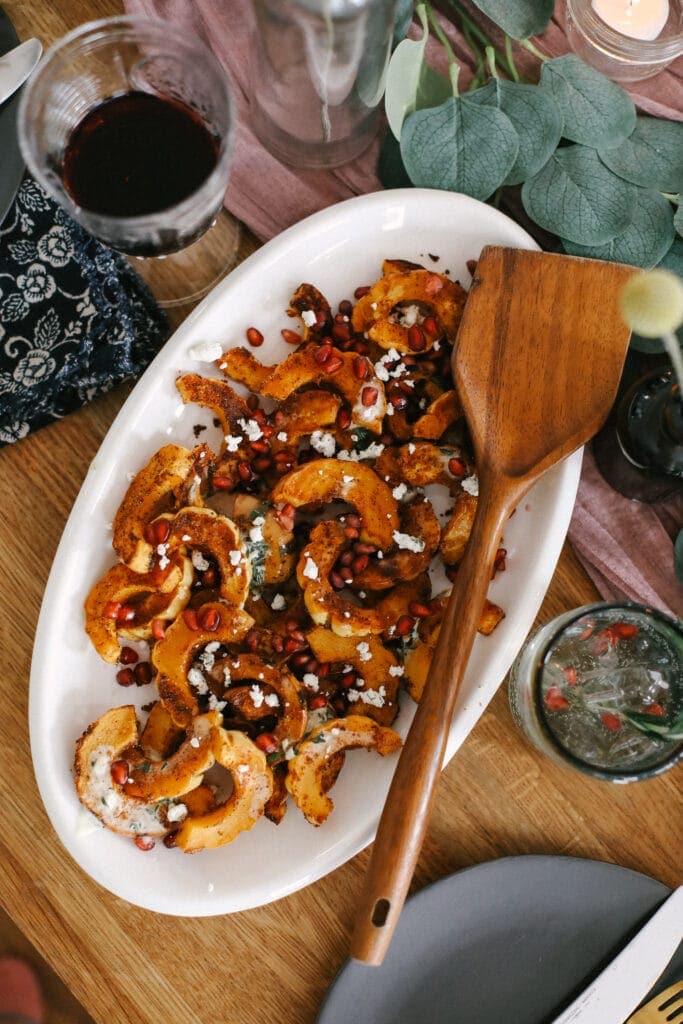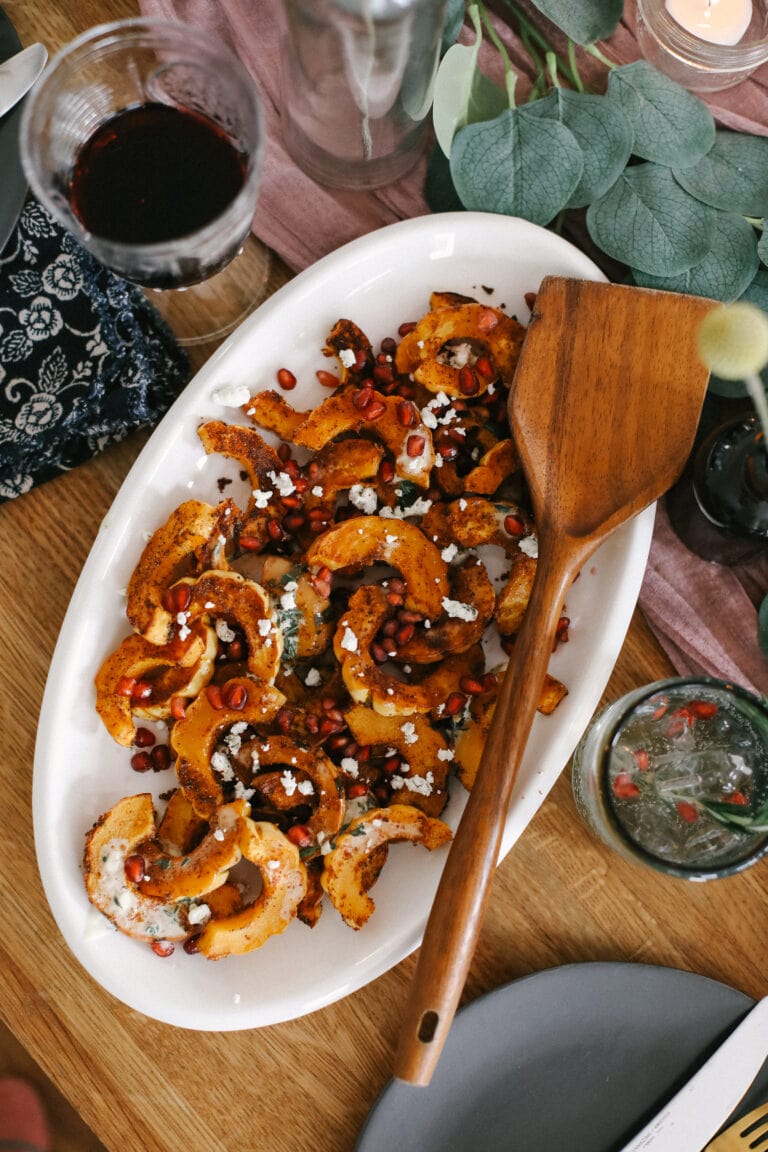 Why make boring ol' cranberry sauce when you can make lemon ginger cranberry sauce from scratch?! We're using fresh cranberries, grated ginger, lemon zest, and maple syrup for sweetener.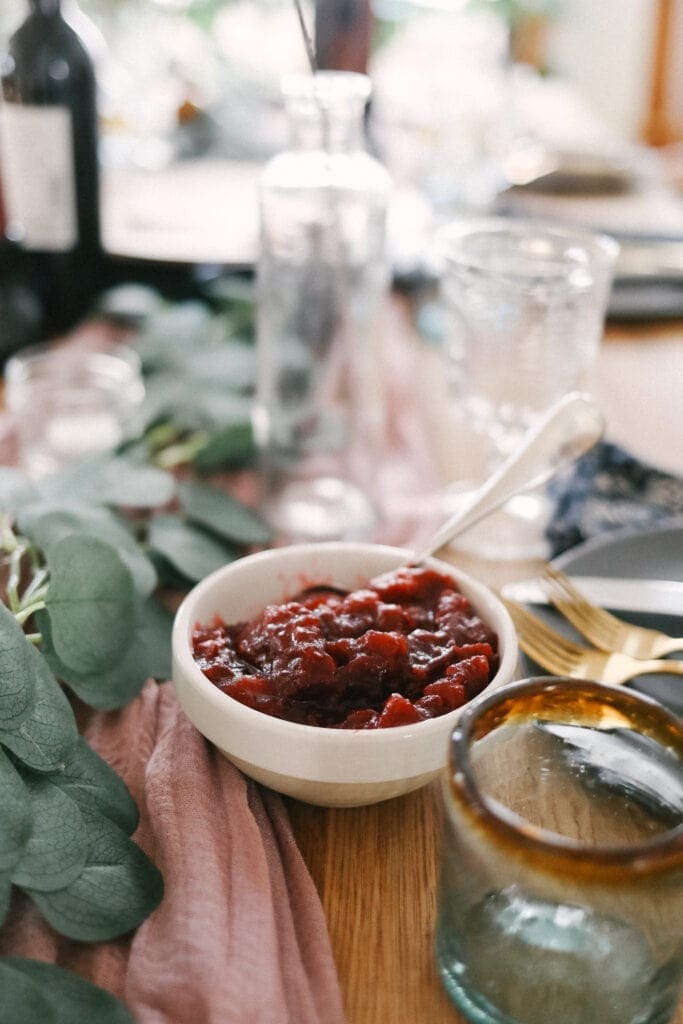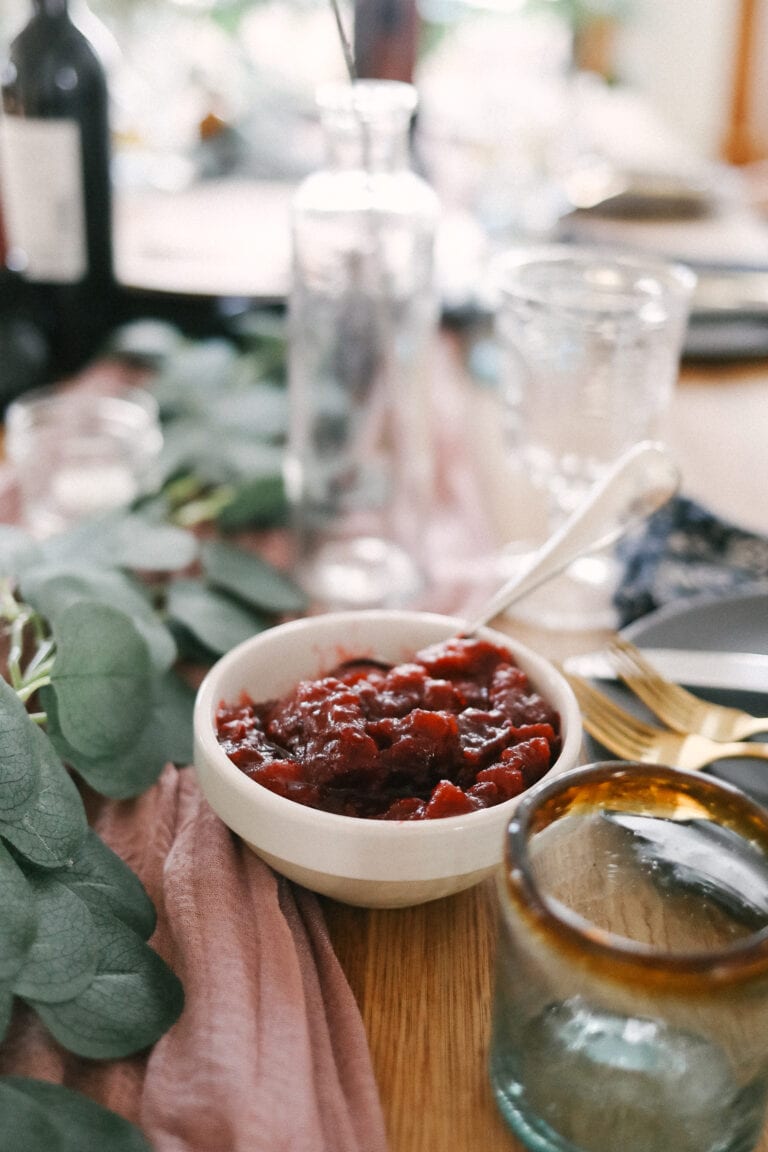 This Thanksgiving appetizer idea is finger-lickin' good. Little bundles of green beans wrapped in bacon and baked to perfection. Yes, please!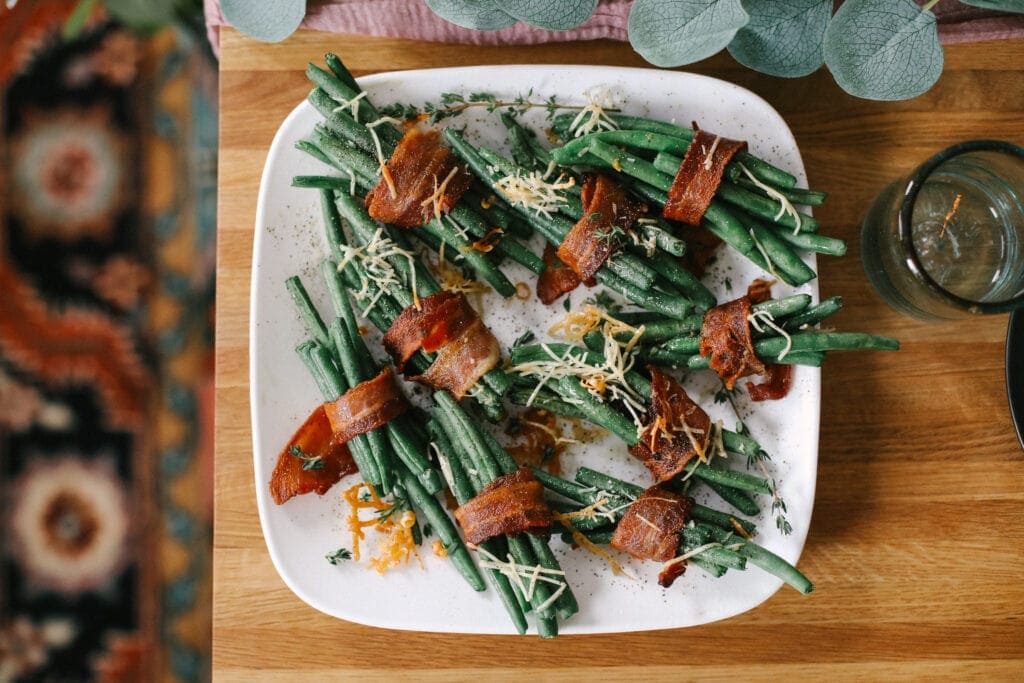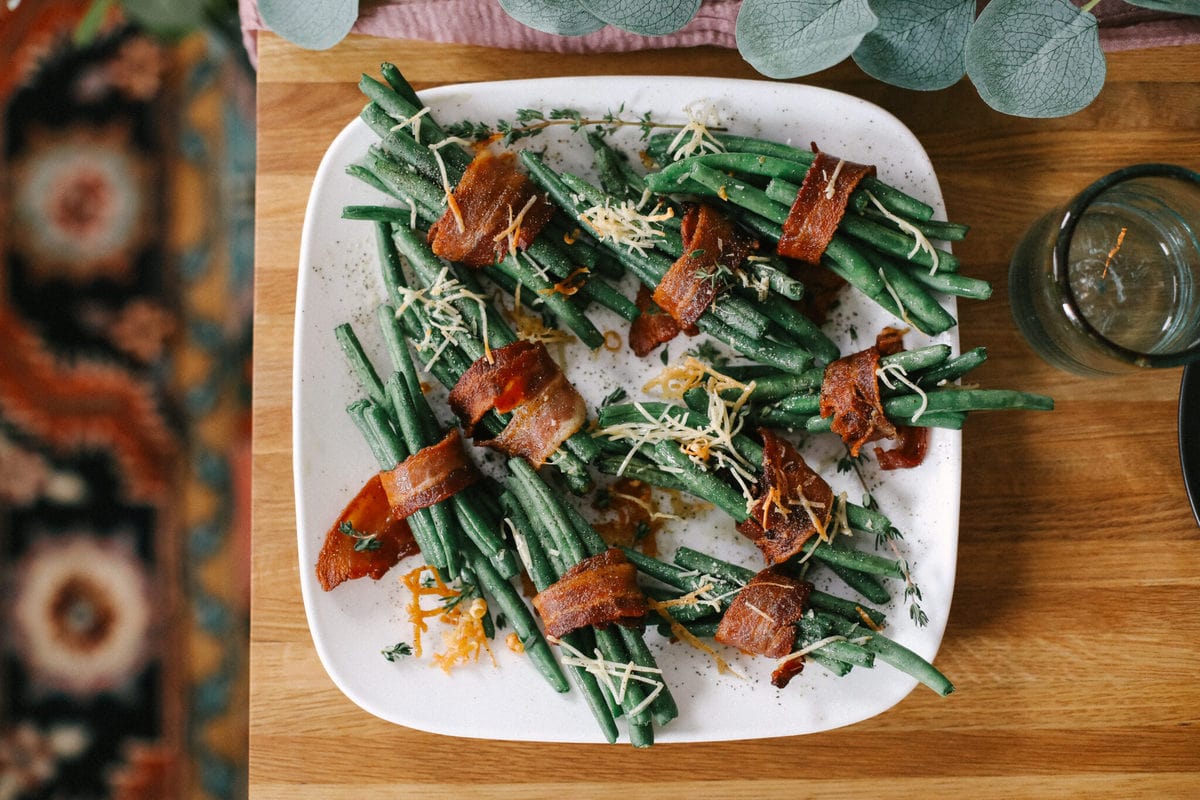 The most delicious, guilt-free dessert recipe made with a graham cracker crust, Greek yogurt cheesecake filling, and a cranberry sauce swirl!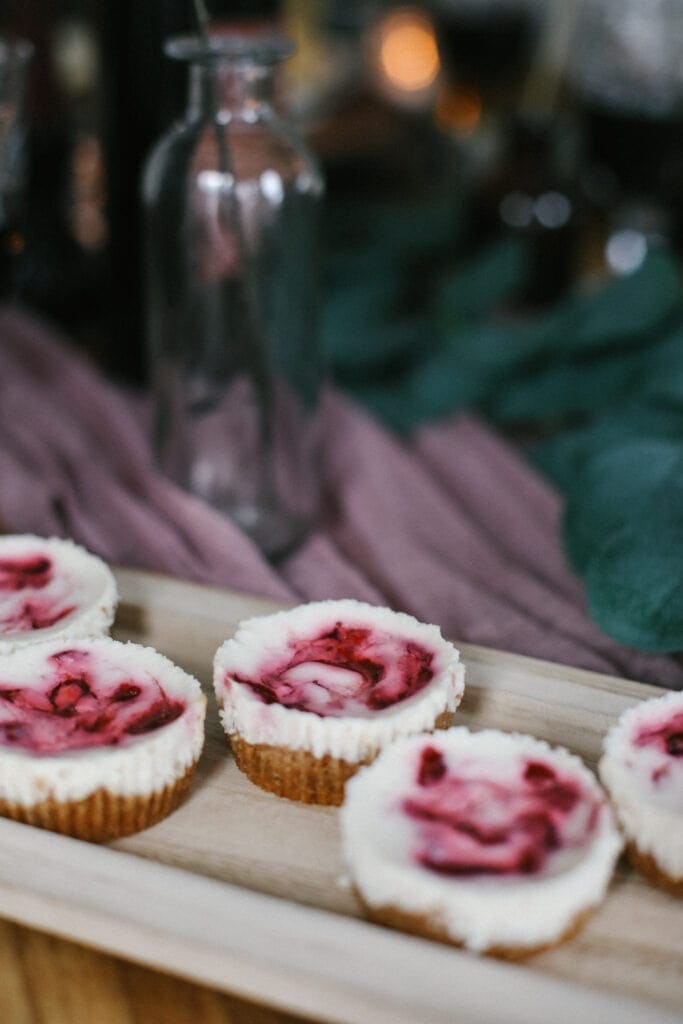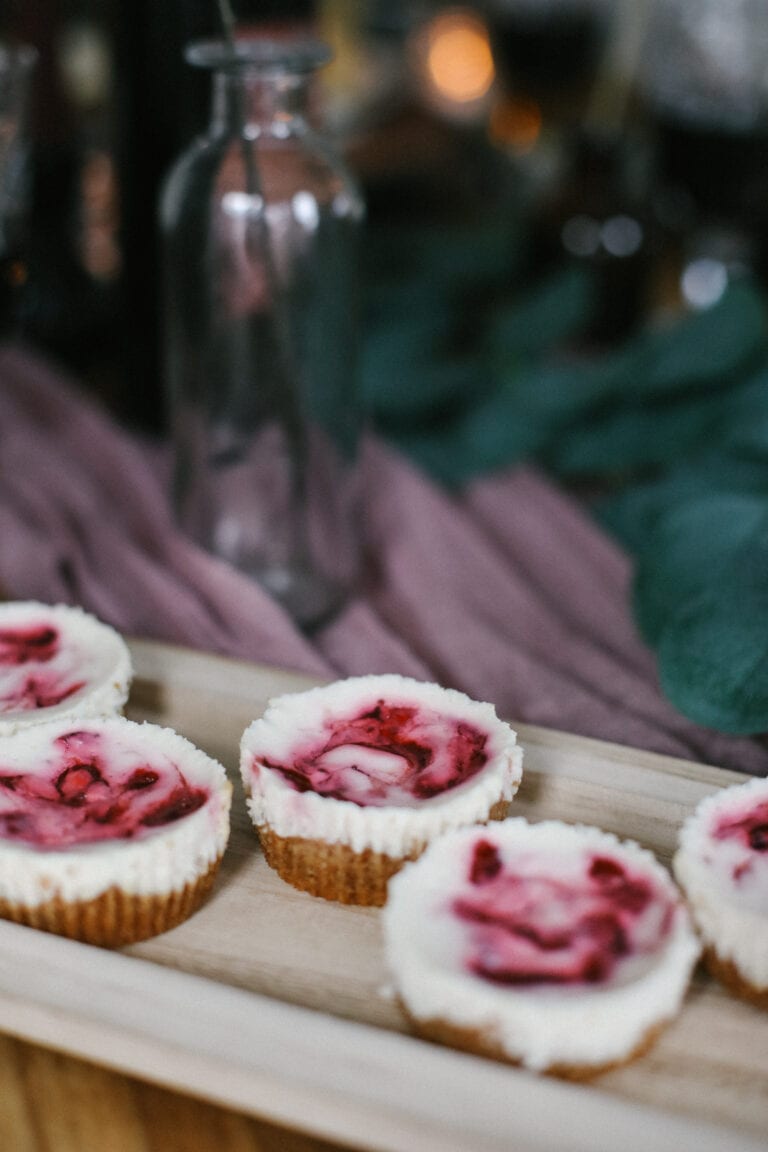 Week-Of Preparation Guide
Since we're Thanksgiving obsessed AND we care about *you*, we did a little test run for week-of Thanksgiving preparation!
Check out our M-Th preparation guide to make your 2020 Thanksgiving as seamless as can be!
menu
PS: for this guide, we're assuming you're making everything from this post so that we can give you an hour by hour breakdown on the day-of!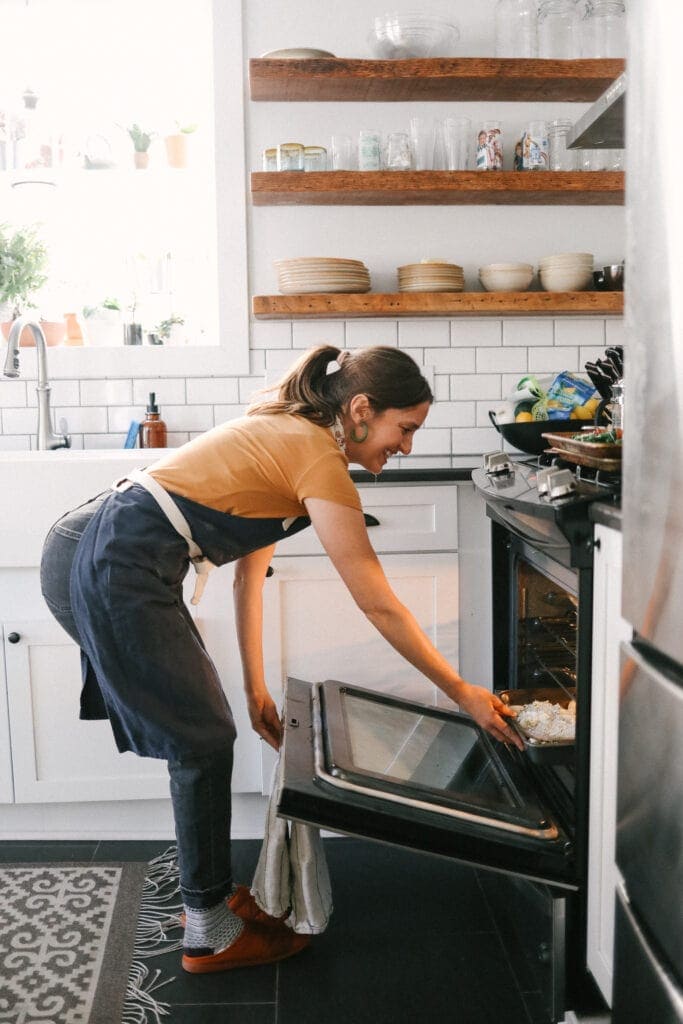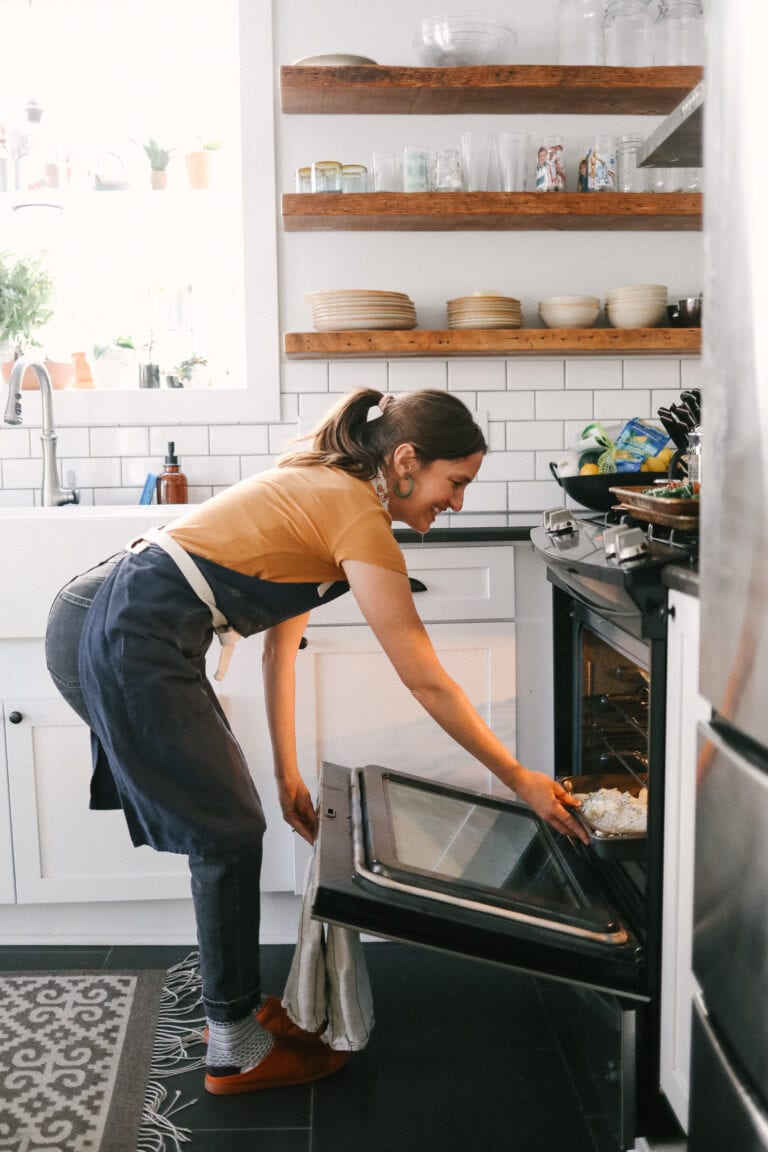 Monday
Finalize Thanksgiving menu
Make grocery list
Tuesday
Wednesday
thursday – Thanksgiving day
8 AM: Right away in the morning, season the Herby Ranch Roasted Turkey Breast with ranch seasoning (follow steps 2-4 in the recipe card) and place in the refrigerator to marinate.
9 AM: Prepare the Bacon Wrapped Green Beans (wait to do step 7). Set aside.
11:00 PM Prepare the Easy Roasted Delicata Squash (wait to add the garlic sauce until right before serving). Cover with tin foil and set aside.
12:30 PM Pop the green beans in the oven for 20 minutes at 400ºF. Cover with tin foil and set aside.
1:00 PM Turn the oven to 325ºF. Prepare the Herby Ranch Roasted Turkey Breast, but wait for the last step of the bake time (when you turn the heat to 400ºF and bake the breast for 10 minutes.) Cover the turkey and let it rest in the basting liquid.
2:00 PM Turn the oven to 350ºF and place the covered Cheesy Scalloped Potatoes in the oven to reheat.
2:15 PM Cover the Sausage Stuffing and Vegan Green Bean Casserole and place them into the oven with the cheesy scalloped potatoes and reheat everything for 30 minutes.
2:45 PM Remove the Sausage Stuffing and Green Bean Casserole from the oven. Keep covered until it's time to serve.
2:45 PM Turn the oven to 400ºF, uncover the potatoes, and sprinkle the parmesan cheese on top of the Cheesy Scalloped Potatoes and bake the potatoes for 5 minutes more or until the cheese is golden brown and melted. Remove from the oven and cover.
2:50 PM place the Bacon Wrapped Green Beans, Delicata Squash, and Turkey into the oven and reheat at 400ºF for 10 minutes to reheat. Remove from oven.
2:50 PM Add the fried onions to the green bean casserole.
2:55 PM Place the Vegan Green Bean Casserole, Italian Sausage Stuffing, Cheesy Scalloped Potatoes, Cranberry Sauce, and Cranberry Bites on the table.
3 PM: Drizzle the Delicata Squash with Garlic Sauce, Slice the turkey and drizzle it with basting liquid, and then place everything on the table and EAT.
3 Inexpensive Decoration Ideas
Cheesecloth Table Runner
Most of the time you see cheesecloth/gauze table runners like this at weddings, however, you can really class up any holiday meal with them. BONUS – they're super inexpensive. We get ours on both Amazon and Etsy. Here is a link to the one we're using here.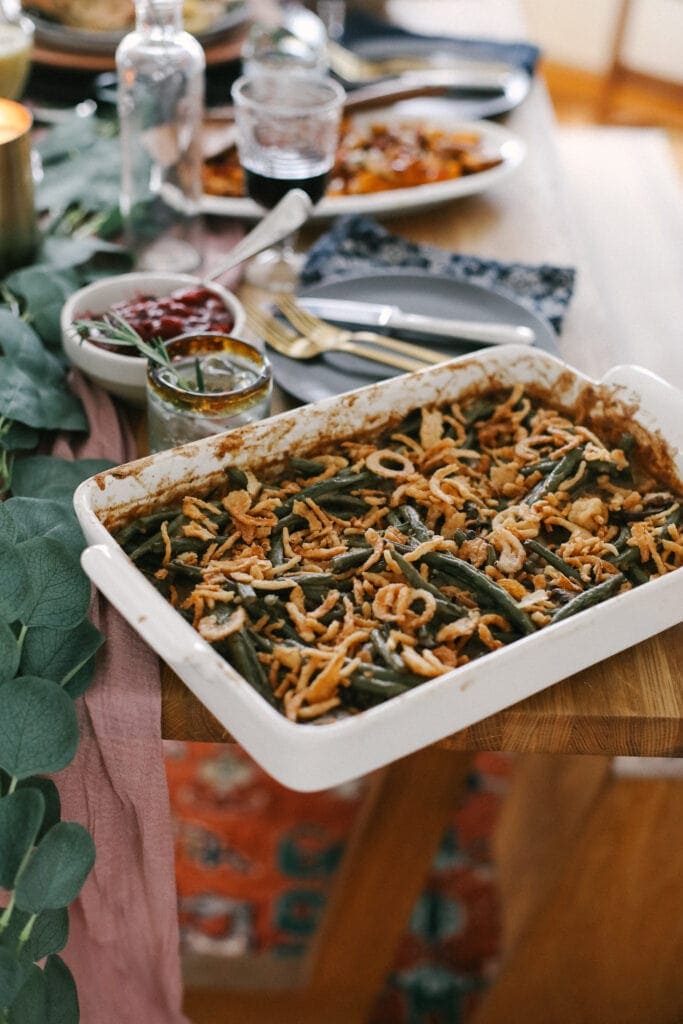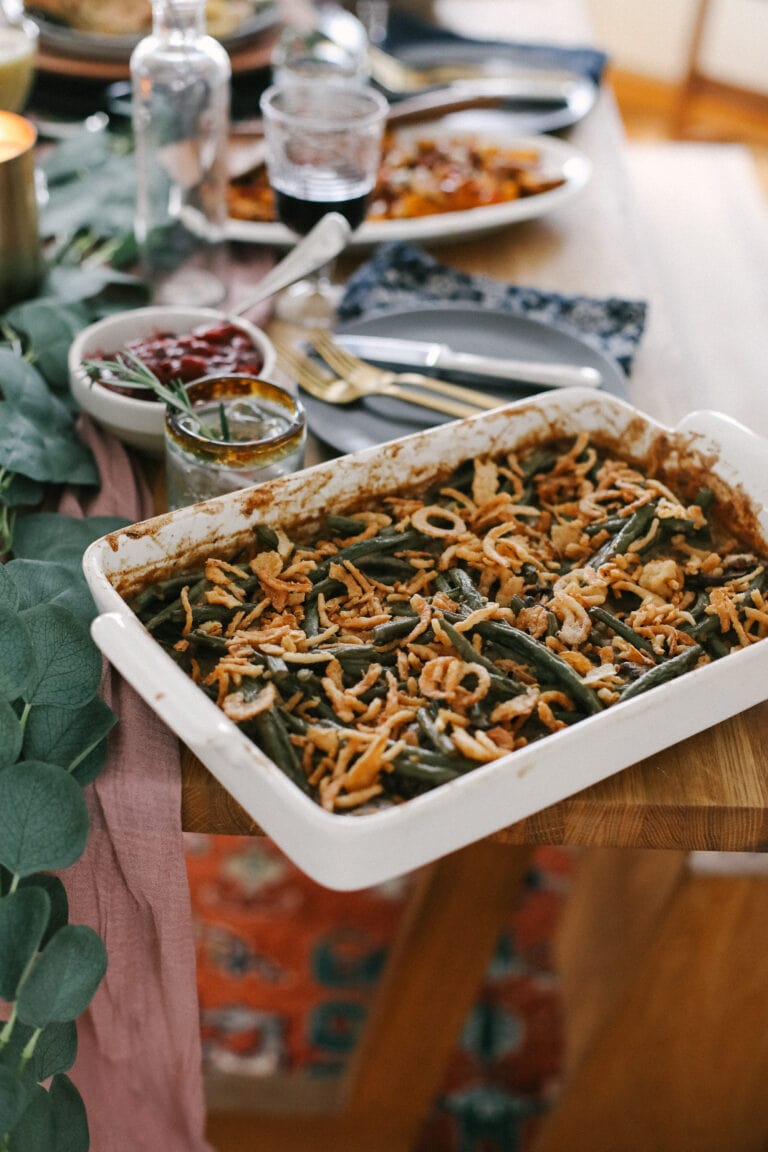 Decorative Vases + dried flowers
We have been obsessed with small decorative vases that we can put dried flowers in. These really fill any hole on your thanksgiving table and are so pretty!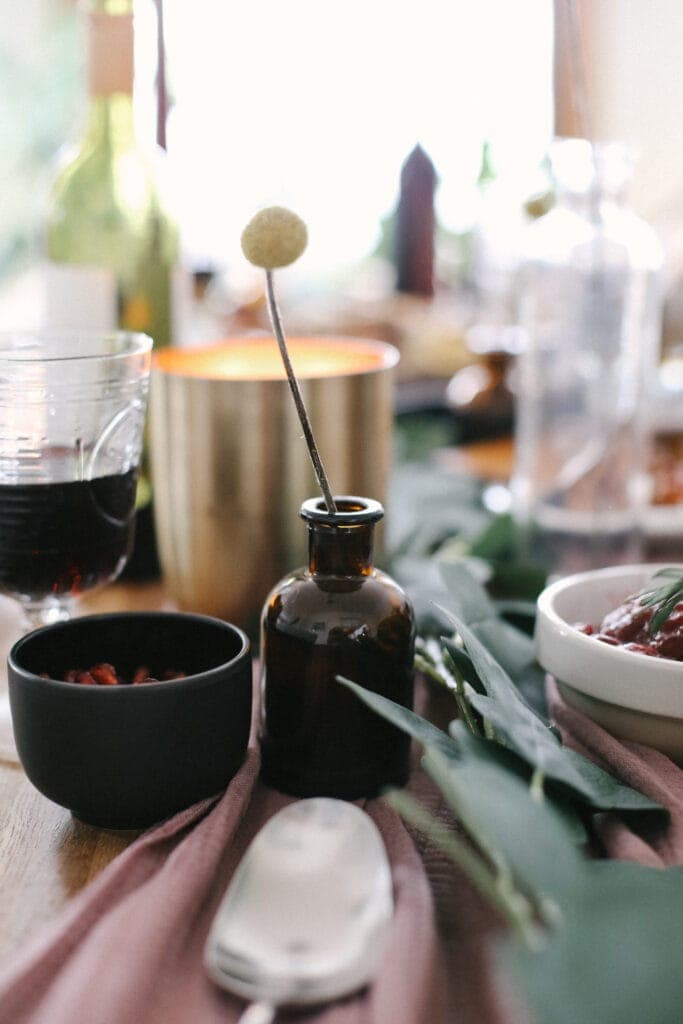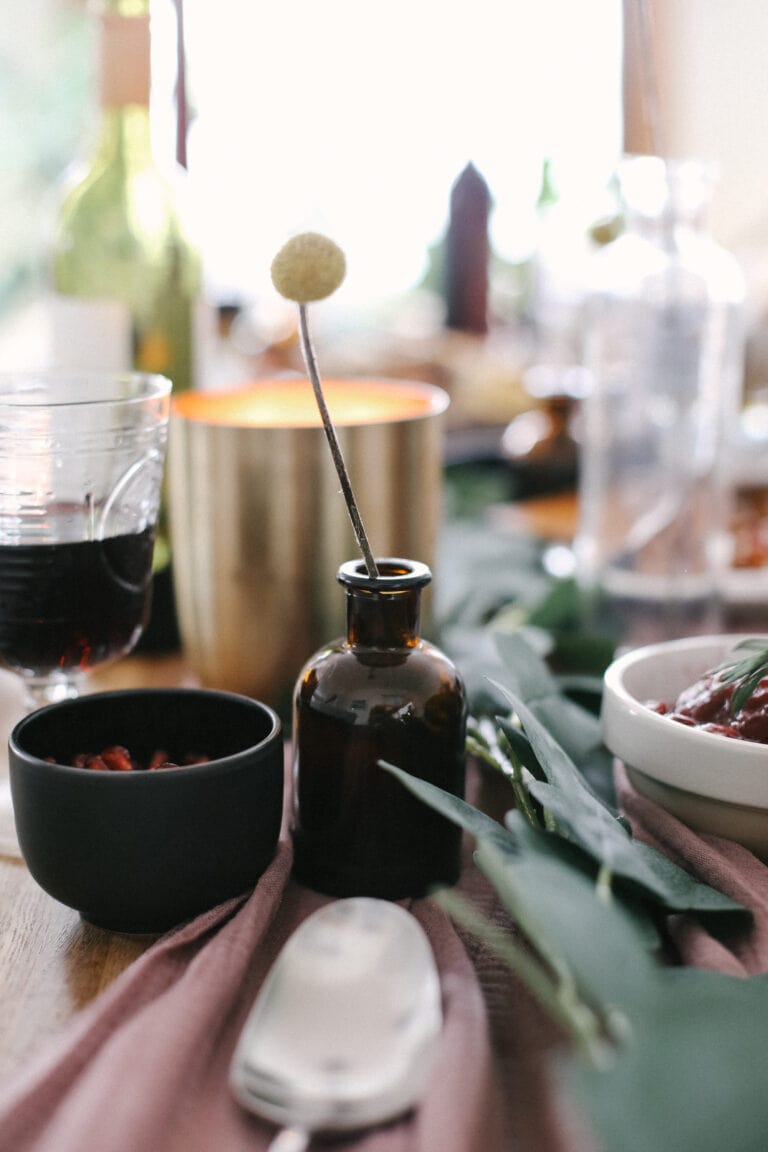 Candles candles candles
Candles can make any meal feel special. We love candle sticks, tea candles, and big candles! This year, keep things simple and use little jars you already own with tea candles. Check out some the candle lineup we used for this spread.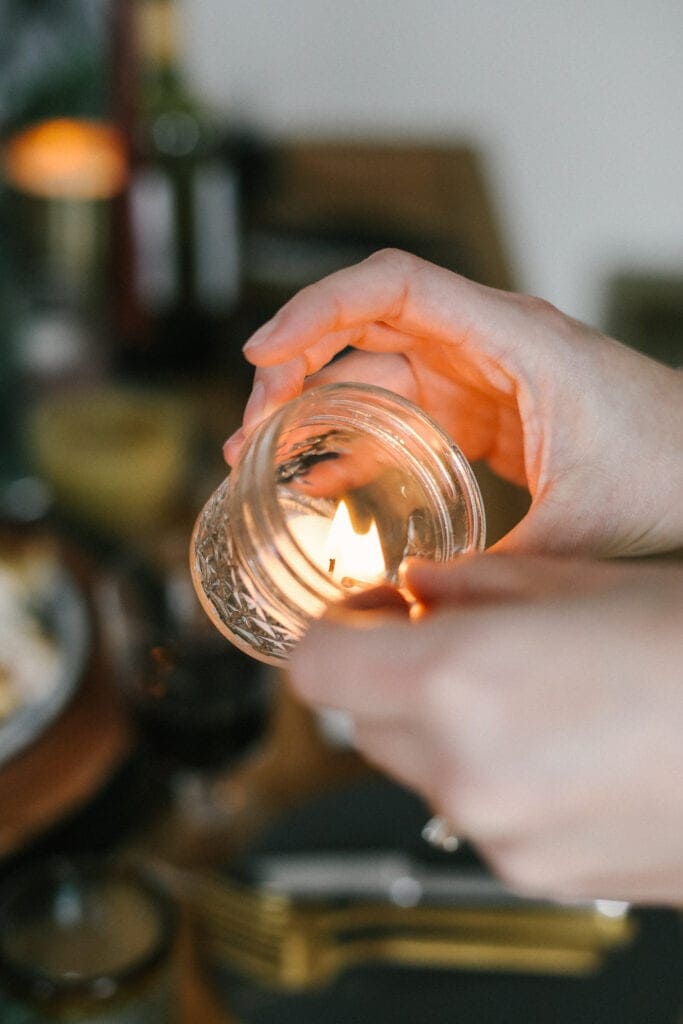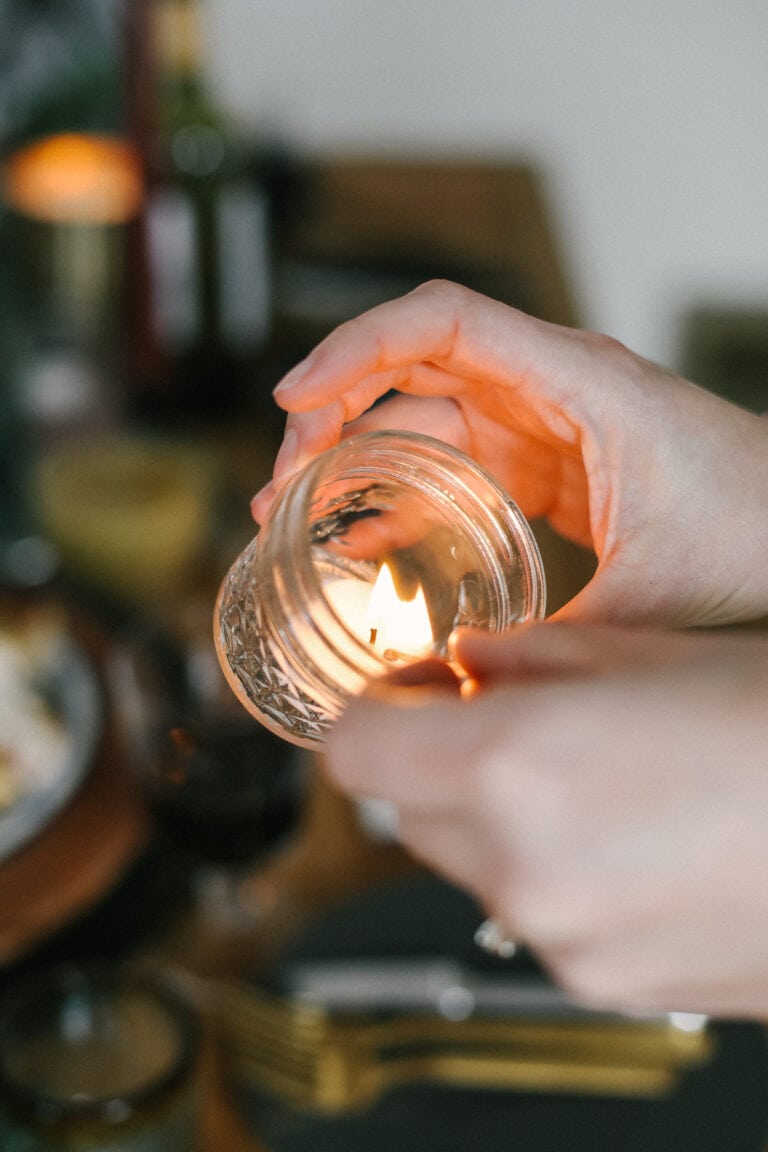 More Healthy Thanksgiving Recipes
You can find all of our most popular healthy Thanksgiving recipes here, but we thought we'd list out our favorites that serve anywhere from 4-8!
PS: some of these ideas are a little out of the box because, well, 2020 is out of the box! Also, am I the only one who eats spaghetti at pretty much every family holiday?
Mains
Sides
Drinks
Desserts