There is nothing better than a delicious appetizer to start a party off right. Choose one of these healthy appetizers for your next party, holiday gathering, or game-day!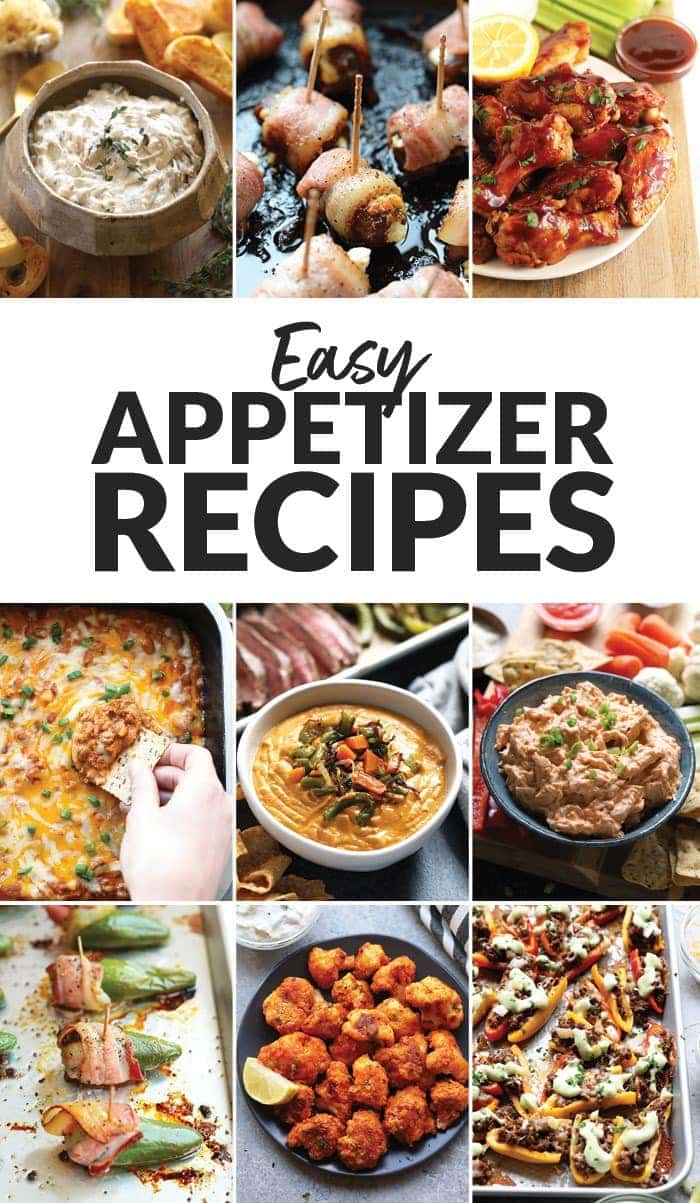 Who's in Charge of Appetizers?
Are you the person during the holidays that always volunteers to make an appetizer? It is one of our favorite dishes to make. Why? Because it is the first dish people run into at a party and are usually very excited to start eating!
Whether you are excited about appetizers or were just assigned to bring an appetizer to your grandma's house for Thanksgiving, here are our go-to appetizer recipes!
Appetizers 101
There are many different appetizer recipes to choose from and so many different ways you can serve your appetizers. Here are some tips and tricks to make your appetizers really stand out on the app table!
Use your best platter or plate! If you have a very colorful dish, serve it on a white dish and if you have a beige or white appetizer serve it on something colorful!
Add some garnish to your dish by adding fresh herbs to appetizer platters and bowls. It makes all the difference!
Feel free to make any of our appetizer recipes your own by adding a little more salt here, a little more maple there. Remember to add your own flare!
What is the easiest and most delicious appetizer recipe?
If you ran out of time and you have a party to get to ASAP, have no fear. A Charcuterie board is the perfect quick and easy appetizer. You can mix and match the ingredients based on your guests, the event, and anything else!
Check out our post on the ultimate holiday charcuterie board for inspiration!
When should I prepare appetizers for a party?
When you should prepare food for a party is always a difficult decision. If you are hosting a party, it is always a good idea to prepare appetizers the night before and heat them up as needed 30 minutes before guests are set to arrive.
If you are bringing an appetizer to a party, make your appetizer whenever it gives you the least amount of stress. Most of our healthy appetizer recipes can be mind the night before. You do you!
Are salads good appetizers?
Why the heck not? Salads can be a great appetizer option for any party! Make a salad and set small salad plates next to the bowl so people can have a light and healthy appetizer before dinner!
Can you freeze appetizers and serve them later?
There are some appetizers that you can freeze like meatballs or tater tots. We would not recommend freezing dips or dairy-heavy appetizers.
How do you store appetizers?
Most appetizers can be stored for 3-5 days in the refrigerator. Make sure to store them in an airtight container.
Healthy Appetizer Ideas
There are so many amazing appetizer recipes out there that are both delicious and healthy! We have gathered our top 15 appetizer recipes that are easy to make and the favorite at every party we go to!
Dips
Dips are a great appetizer option because they are an appetizer that serves a crowd. We have some delicious dips that are vegan, protein-packed, and healthy! Serve any of these dips with chopped veggies, tortilla chips, or your favorite crackers!
Finger Foods
Forget the flatware and go for the finger foods! We are big fans of nachos, wings, and homemade veggie chips! Serve any of these finger foods alongside some of the dips and they will complement each other nicely!

Bacon Wrapped Appetizers
We are big fans of bacon wrapped anything! Pairing any of your favorite hearty vegetables with bacon is always a good idea. If you need some inspiration, make one of our favorite bacon wrapped appetizers and serve them with a toothpick!

Sweet Appetizers
If you are more of a sweet tooth appetizer person, we have plenty of delicious sweet dips that you won't be able to resist. Our edible cookie dough dips are packed with protein and taste JUST like cookie dough! Serve these dips with fruit or your favorite cookies!