Welcome to our Guide to Emergency Food Prep. Here you will learn which healthy, long-lasting foods you should stock your pantry with during a crisis as well as tons of healthy meal ideas that use these pantry staples.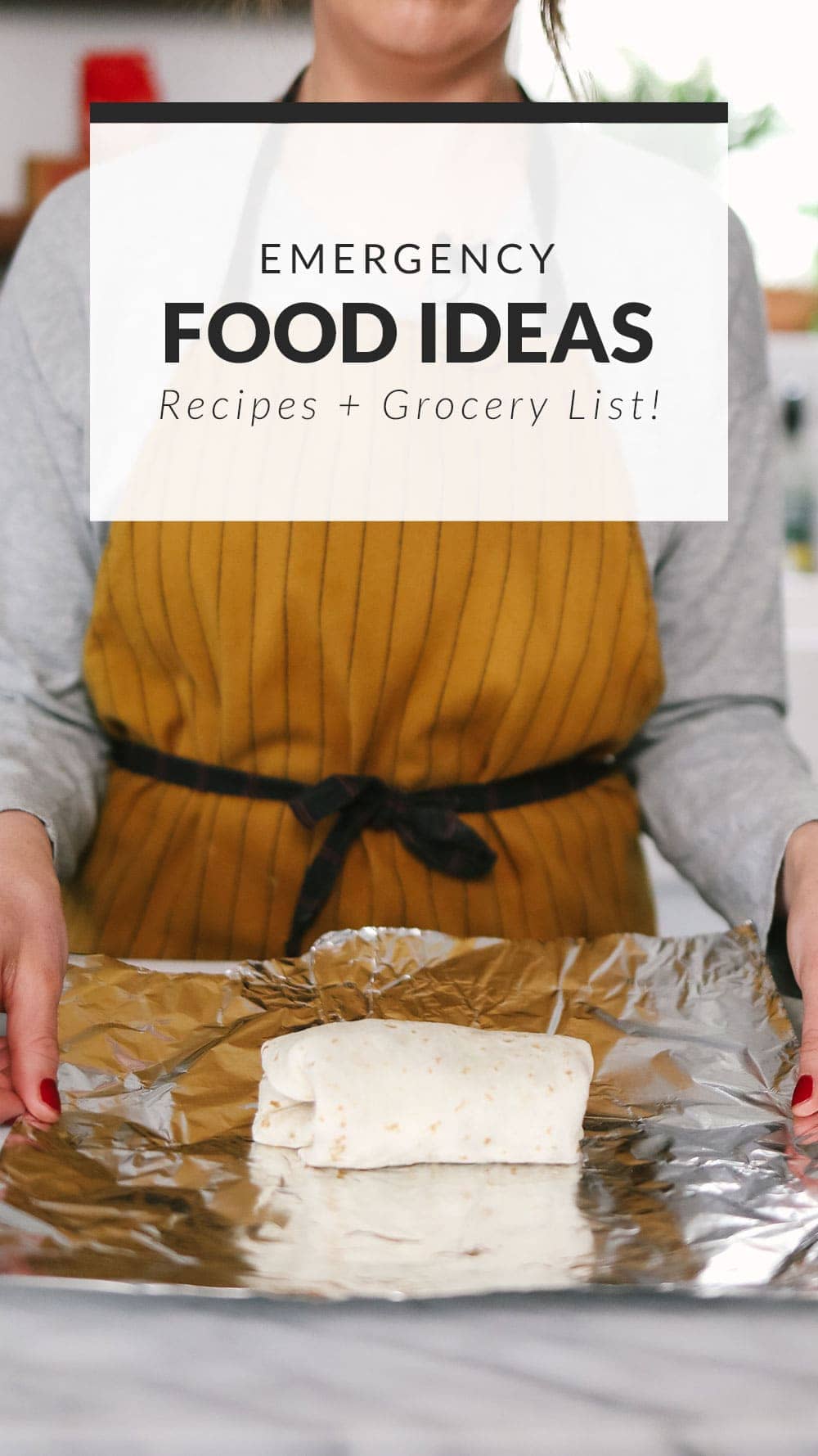 Table of Contents
Emergency Food Prepping
How to Stock Your Pantry During a Crisis
Tips for Emergency Prepping
Food to Stock Up On
Healthy Emergency Meal Ideas
Emergency Food Prepping
We are writing this post during the terrible times of COVID-19. Feeling taken back and not-so-prepared ourselves, we thought we'd share all of the steps we've been taking to prepare our kitchens for an emergency.
Obviously we are huge promoters of healthy eating and let me tell you, it can be done during hard times! While it takes a bit more planning and patience, eating healthy during an emergency is not only crucial for your current health, but for preventing illness.
More COVID-19 related Resources
How to Stock Your Pantry During a Crisis
There are so many ways you can prepare yourself and your family for a crisis. And, stocking your pantry, freezer, and refrigerator with an emergency food supply should be a top priority.
We've created a downloadable grocery list with our recommended emergency foods that you should stock up on. As always, we focused on whole, real foods and tried to refrain from suggesting pre-packaged foods that are packed with sodium and additives.
PS: keep scrolling down for a more in-depth look at this list! 
5 Tips for Emergency (healthy) Food Prepping
Meal plan: If you have the time, we suggest making a plan. Figure out what recipes you can make that can be eaten immediately and which ones you can make that can be frozen. That way, no food will go to waste and you won't be aimlessly walking through the grocery store.
Shelf stability matters: If you're hoping to purchase canned goods, take a look at the expiration date! Most of the time, the older cans get put to the front of the shelf at the grocery store, so reach back and grab the newest one!
Freezer meals rule: We love freezer meals because it makes healthy eating so much easier. Check out our freezer breakfast recipes as well as our freeze slow cooker recipes.
Don't be afraid of fresh fruit and vegetables: You'll notice that frozen foods, canned foods, and prepackaged foods go first. Don't be afraid to stock up on fresh fruits and veggies. Utilize your freeze for what you can't finish so you can thaw it and eat it later!
Buy in bulk: Buying in bulk not only saves you money in the long run, but also saves the planet! Plus, it's one of the last places people look when emergency food prepping.
Foods to Stock Up On
Canned Foods
When you are stocking up on canned foods, think low in sodium and high in protein. Also, take a look at the recipes you are planning to make and buy ingredients that you can use in those recipes (maybe even enough for a double batch).
Many of the meals that we recommend that you make during a crisis are meals that you can eat and freeze! Meals like chilis, soups, and casserole recipes.
Black Beans
Garbanzo Beans
Pinto Beans
Refried Beans
Canned Hominy
Canned Corn
Tomato Sauce
Diced Tomatoes
Canned Pumpkin Puree
Canned Sweet Potato Puree
Canned Butternut Squash Puree
Frozen Foods
Frozen foods are also a great way to eat whole foods when you may not have access to fresh produce or want to have vegetables and fruit on hand, but don't want them to go bad!
You can substitute frozen vegetables in many recipes that call for fresh vegetables. Just be sure you thaw the vegetables and get rid of excess liquid before adding it to a recipe.
We are also big fans of smoothies. Smoothies use ingredients that are frozen (ie: fruit and spinach) and shelf-stable liquids like almond milk!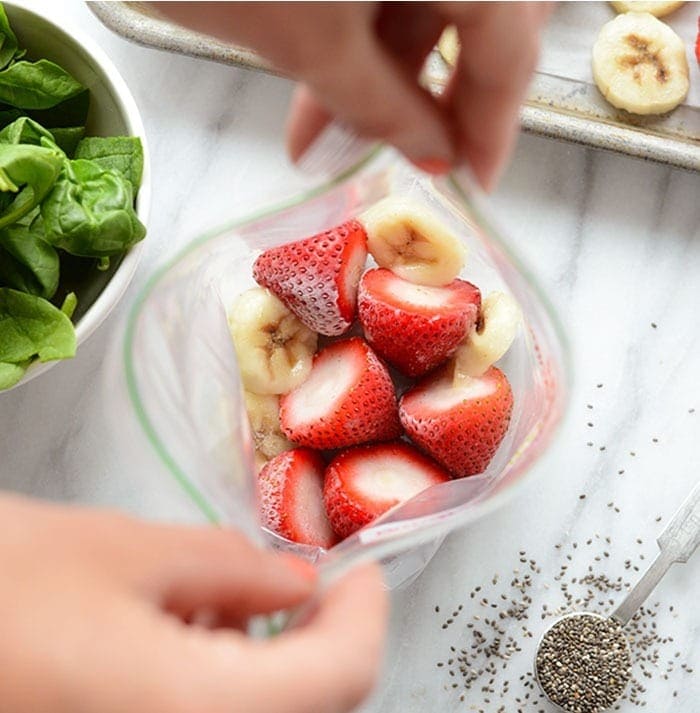 Here's an idea—>  You know that we love whole foods like straight-up fruit and vegetables. However, during times of need, you can totally stock up on healthier pre-packaged frozen meals like Annie's Burritos, Trader Joe's Orange Chicken, and even a healthier frozen pizza and dress it up with frozen veggies!
Frozen vegetable mixes
Frozen fruit mixes
Frozen strawberries
Frozen blueberries
Frozen corn
Frozen spinach
Frozen peas
Frozen broccoli
Frozen cauliflower
Frozen meat (chicken, salmon, beef, pork, fish)
Frozen tortellini
Frozen dumplings
Frozen pizzas (you can dress these bad boys up)
Frozen burritos
Dehydrated Food
When fresh eggs and milk run out at the grocery store, don't forget that there are dehydrated options for many of these staples. Dehydrated ingredients may not be super appealing, but you'd be surprised how good dehydrated vegetables are in soups, chilis, and marinara sauce!
Powdered milk
Powdered eggs
Dehydrated vegetables
Dehydrated fruit (strawberries, blueberries, bananas, etc.)
Packaged Foods
There are so many amazing packaged food options that you can stock up on to make healthy meals for you, family, and friends during a crisis! Again, we recommend finding a few easy recipes before heading to the grocery store so that you can focus on ingredients for those specific recipes.
Making sure you have flour, sugar, oats, butter, eggs, and other baking ingredients is another way you can stretch food! You can make bread, cookies, and more baked goods to freeze!
Dry pasta
QuinoaRice (brown and white)
Lentils
Vegetable broth
Chicken broth
Marinara sauce
Apple cider vinegar
Shelf-stable nut milk
Pancake mix
Oatmeal
Applesauce
Dried fruit (cherries, raisins, apricots, cranberries, dates, figs, mango, etc.)
Honey
Maple syrup
Oil (olive and coconut)
Vanilla
Sugar (coconut and brown)
Flour (white whole wheat and gluten-free)
Cornmeal
Chocolate chips
Baking soda and powder
Fresh Foods
Fresh food such as produce seems to be the last off the shelves in a crisis. If fresh food is available, we say buy it! You can use fresh produce in soups and stews! You can also buy fresh fruit and vegetables and freeze them yourselves!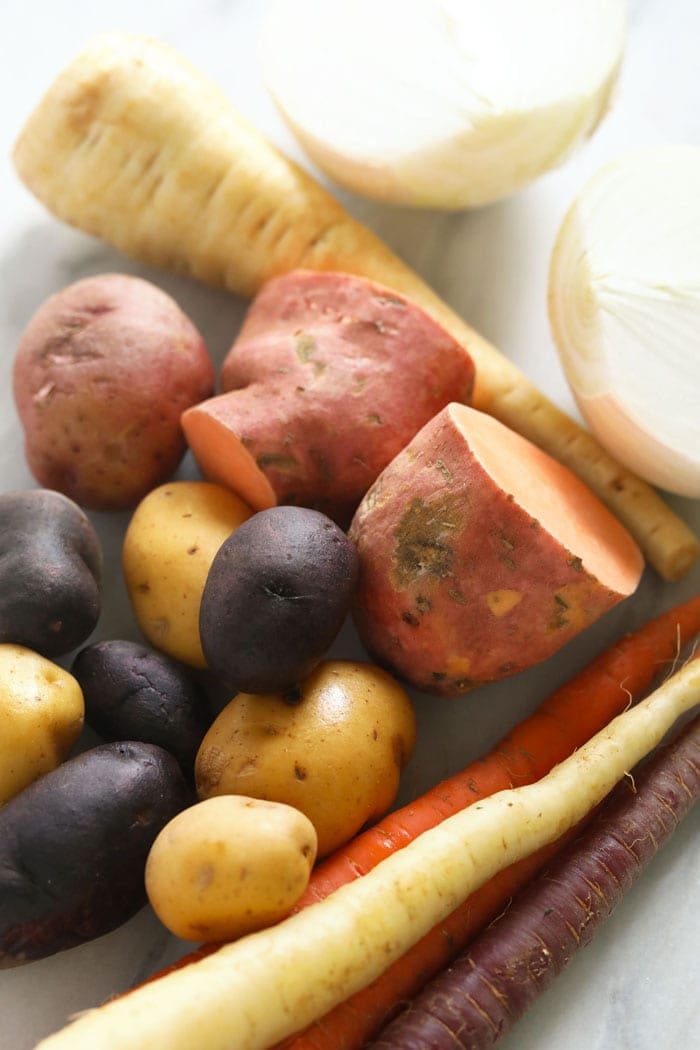 Root vegetables are some of the most shelf-stable vegetables you can purchase and have a longer shelf life. Plus, our roasted root veggie recipe is BOMB. Buying root vegetables and storing them in a cool, dry place is one way you can stretch fresh vegetables.
Potatoes (white and sweet)
Parsnips
Carrots
Beets
Onions
Garlic
Spices
Having a loaded spice cabinet is never a bad idea. When in crisis, having spices on hand that will flavor your meals is helpful to make food prep more fun and more tasty! What's even more helpful is pre-made mixes like our taco seasoning or fajita seasoning.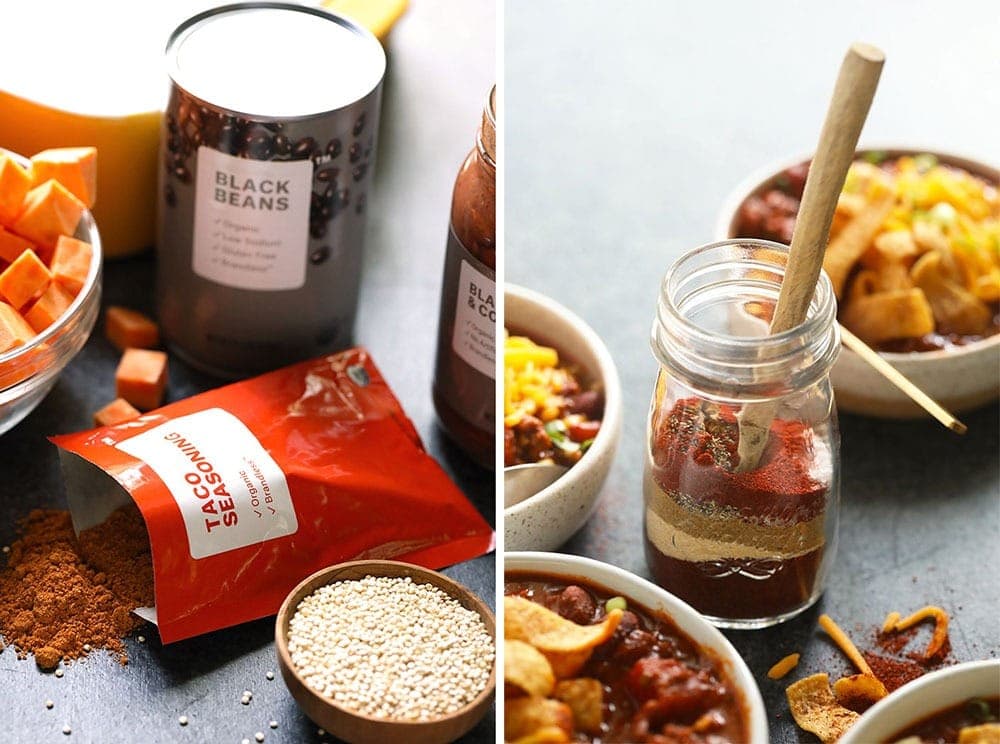 Top 10 Spices to Stock Up On
Salt
Black pepper
Taco seasoning
Garlic powder
Chili powder
Ground ginger
Ground cinnamon
Chili seasoning
Onion powder
Italian seasoning
Drink Mixes
Hydration is key when you are trying to stay healthy during a crisis! Getting enough water is the most important, but being sure that you are getting enough electrolytes is important, too!
And? Maybe you need to switch up how your hydrating, so having options is always good, too!
Storage Options
Since you're likely buying more food than normal during this time, make sure to stock up on storage options as well. Things like gallon-size plastic bags and tinfoil are about to be your best friend!
Gallon-size plastic bags
Tinfoil
Plastic wrap
Healthy Emergency Meal Ideas
Now that you know what healthy, whole foods to stock your pantry with, it's time to get some meal inspiration from your favorite food website…Fit Foodie Finds!
Lucky for you, we already have hundreds of recipes that can be made with pantry staples that you likely already have on hand. We're highlighting our favorites in bold below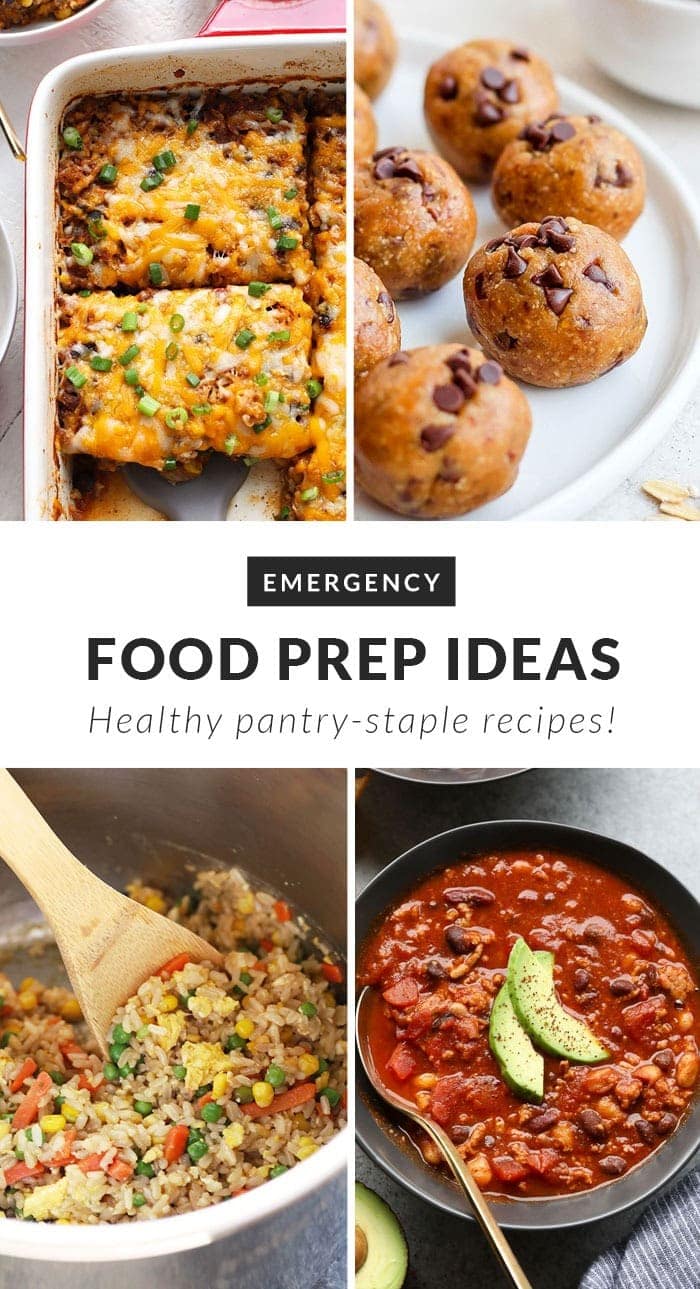 Breakfast
Mains
When looking to emergency food prep for lunches and dinners think casseroles, soups, stews, pastas, non-perishable salads, and bowls.
Casseroles
Soups/Stews/Chili
Pasta/Rice
Instant Pot Fried Rice– you need 6 total ingredients for this recipe: brown rice, frozen veggies, vegetable broth, olive oil, an egg, and an easy fried rice sauce.
Sun-Dried Tomato Basil Pasta– This recipe calls for mostly packaged goods and your favorite pasta!
Vegetarian Thai Curry Skillet– this is such a versatile vegetarian meal. Use green or red curry paste and whatever veggies you have on hand!
Non-Perishable Salads
Black Bean Corn Salad – a great vegetarian salad option when you're looking for a lighter fare that's made with pantry staples!
5-Minute Tuna Salad– if you love canned tuna, then this recipe is for you! You'll need 1 can of albacore tuna, a little Greek yogurt, chives (dry or fresh), lemon juice, salt, and pepper!
Bowls
Vegetarian Brown Rice Bowls: Use this bowl as inspiration. Pair any grain with a green, any veggies you have, and a fat such as guacamole or hummus.
Frozen Meals
Other
Snacks/Desserts